Pamela
Anderson
Pamela's calling and she's got plenty to say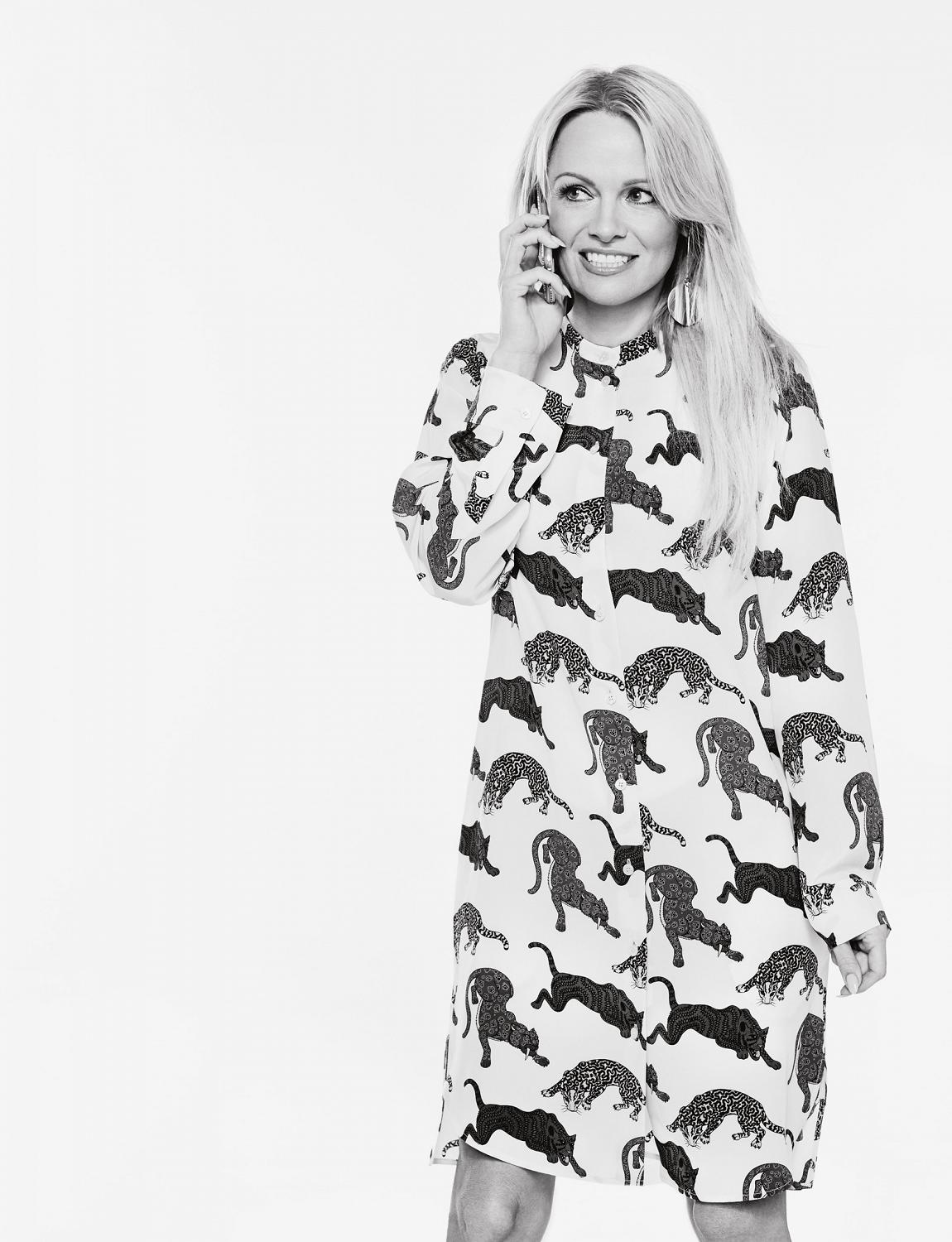 Here comes Pamela Anderson in her fancy vegan shoes, scheduled to hit the shops this winter. Amply proving there's life after Baywatch and Playboy, the 48-year-old Canadian has successfully diversified her interests way beyond those of the average swimsuit-sporting bombshell. Besides designing footwear, she's worked in the worlds of magic – as assistant to Hans Klok – and activism, recently writing a protest letter to Vladimir Putin and donating proceeds of her new book, Raw, to her foundation, which works to protect animal, human and environmental rights. Then there's her new cookery programme, The Sensual Vegan, in which the blond star works wonders with a mandolin and piles of beans. And next year will see Pammy on the big screen. A new film, Connected, in which she plays a discarded Malibu trophy wife, is about to do the rounds, and by all accounts she does it very well.
On a recent Sunday morning, Pamela Anderson stood barefoot in her Malibu kitchen, cooking up a vegan storm. The '90s sexplosion and former Baywatch star was dressed in her everyday beach uniform of skimpy white shorts and a T-shirt, taking cooking lessons from an amiable young teacher called Delahna Flagg. The pair had only met a few times but appeared to have a close rapport; it's easy to see why they've started recording an online cooking show, The Sensual Vegan, together. "Delahna is an expert at aphrodisiac dishes," Pamela offered excitedly, in her helium-high baby voice. "We're determined to eliminate Viagra, Cialis and that new one for women."

Pamela's kitchen is the sort other serious home cooks can only dream of. There are two splendid Miele ovens and a sub-zero fridge, lots of pots and pans and utensils hanging within easy reach, a built-in steamer and a coffee maker. "I have fancy things!" she said. "All the whistles and bells, baby!" On the counter is a little statue of the Virgin Mary. The kitchen flows straight into the living room – all squashy white sofas and a single black-and-white photograph of Iggy Pop taken by Laurie Lynn, the female half of the Chrome Hearts jewellery brand. And then there's the pool; this is Malibu, after all. The two-storey house is nestled between the mountains and the beach in a heavily guarded gated community where Marilyn Monroe and Arthur Miller once lived and Hollywood potentates like Steven Spielberg still make their home.
Pamela, a long-time vegan and activist, explained that her commitment to nutrition and better living is part of a "sensual revolution" she's trying to mount. It's a phrase she uses often, and the idea is the basis for a wellness book she's writing ( also titled The Sensual Vegan ), but then Pamela is given to repetition: she married two of her former husbands twice and famously had her breasts augmented, reduced and augmented again. She speaks with a rapid-fire delivery, her conversation spattered with famous names, though she's not trying to impress: her social circle includes plenty of fêted artists, such as Richard Prince and Marilyn Minter.
"Ed Ruscha says that I'm always leaving skid marks because I'm going a little too fast," she said, dropping another Los Angeles artist into the mix. She owns several pieces of his work, including a painting that she commissioned and has hanging in her bedroom. "PAMELA," it exclaims, in letters flying out a window. Ruscha says it's no surprise that her vivacious personality combined with her knowledge of contemporary art has charmed his fellow artists. "When I met her I felt like she had just stepped out of a musical production," he said in an email. "That's the effect she had on me." He and his brother, Paul, call her "Our Pamela".
While Delahna peeled away at some blisteringly hot beets ( "Look," Pamela said, "she's like a hairdresser – she has no fingerprints left!" ), her pupil talked about growing up in Canada on a diet of moose meat and venison with a father who liked to hunt. "It really wasn't that hard to quit," she insisted with a smile. But the conversation moved quickly on to the subject of her hair extensions – "These have got to come out," she said in frustration – and the recent renovations on her house. "I'm a Cancer, so I'm always fucking renovating," she said; the guesthouse behind the pool is currently undergoing an overhaul.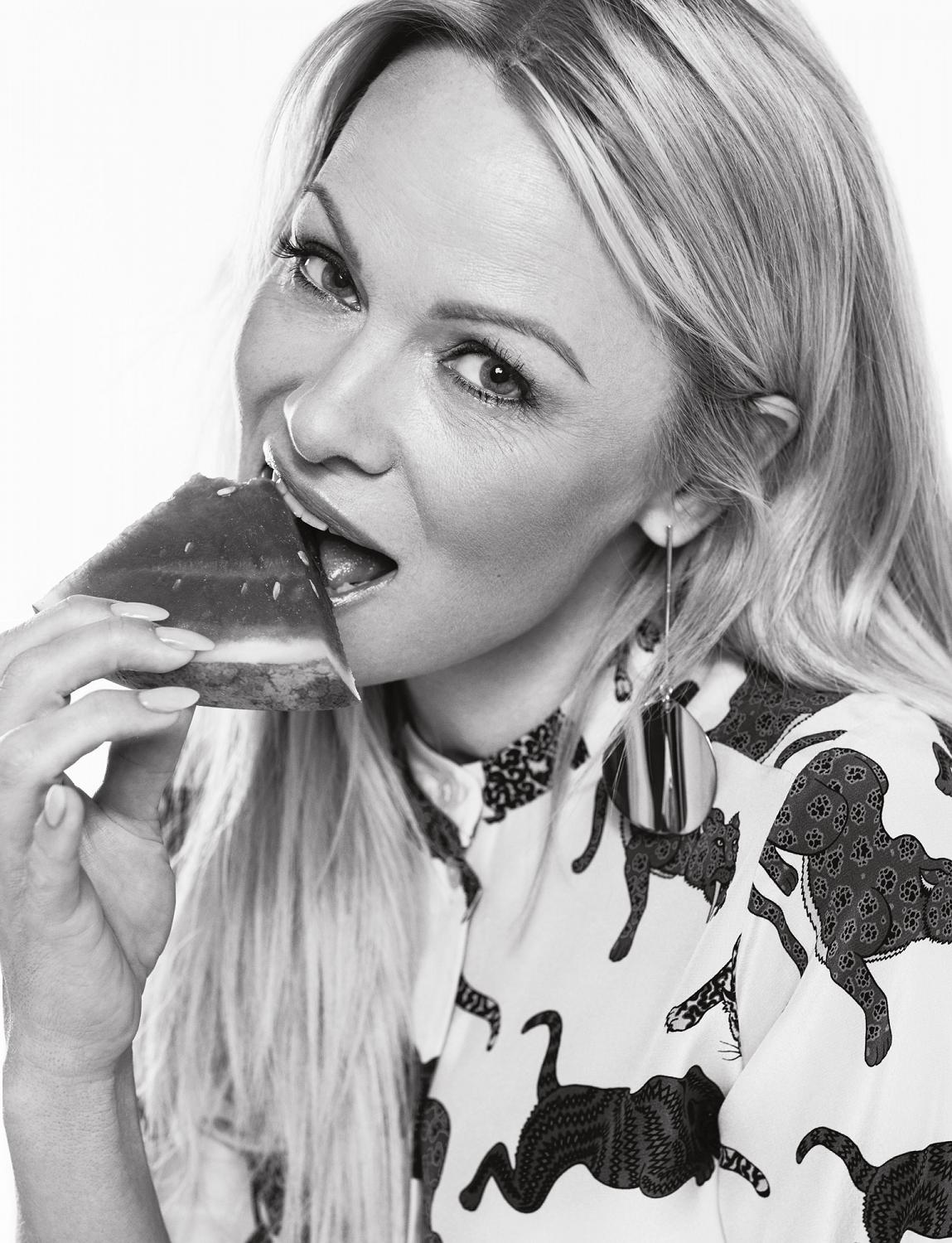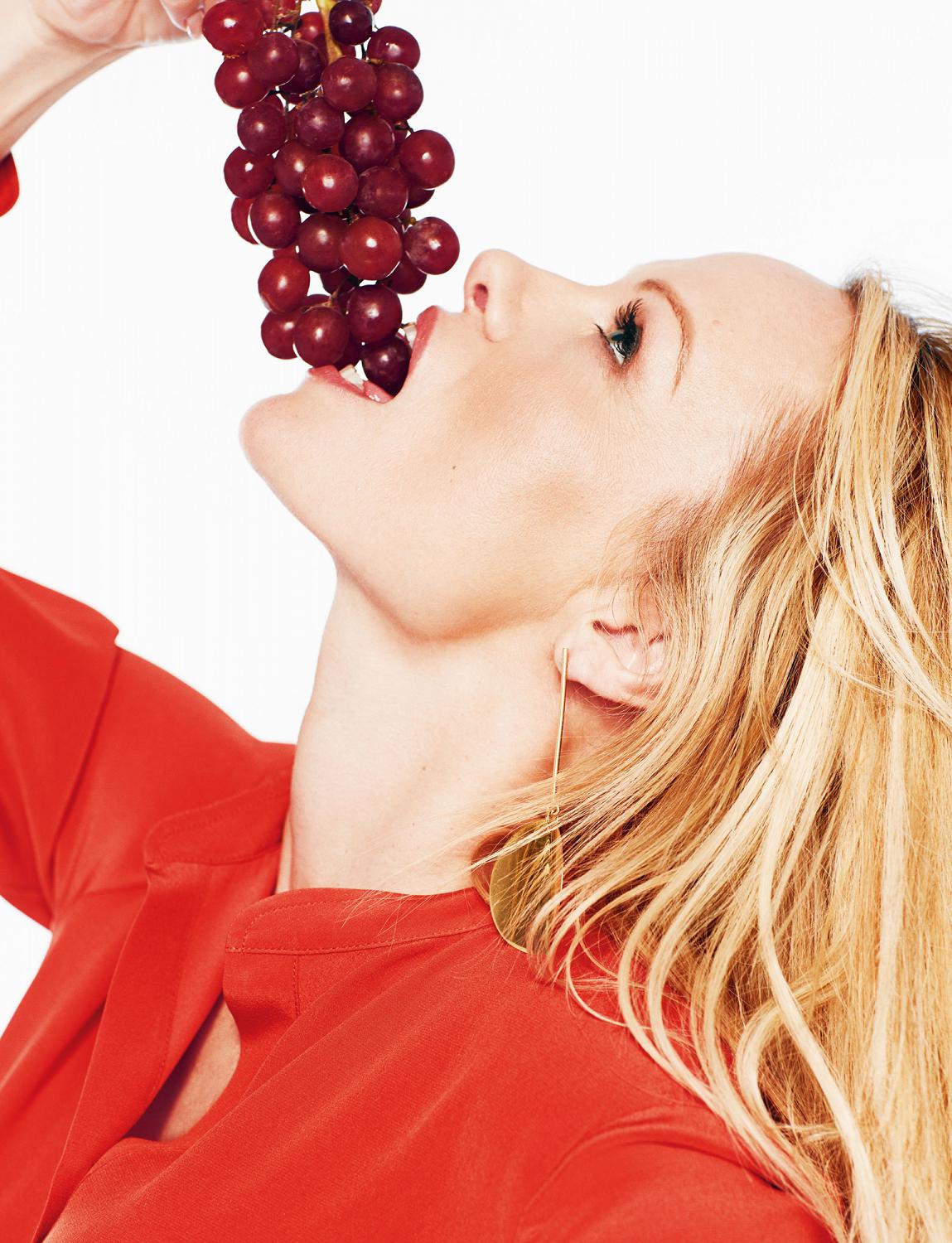 Brandon, 19, and Dylan, 17, her two sons with ex-husband rocker Tommy Lee, were due home any minute. Pamela said she was looking forward to spending time with them over the summer, not least because it would be their first time at home together since her messy divorce a few months earlier from Rick Salomon, a professional gambler best known for his part in the Paris Hilton sex tape. "My dog Jo-Jo passed away not long ago," said Pamela. "I think he committed suicide because he didn't like my husband. He just looked at me one day and said, 'I don't know what you're doing, but I can't do this anymore. I'm out.'" With that, she poured glasses of rosé and handed round some of the meze platter she and Delahna had whipped up. "I'm trying to be a better host," she explained. "Delahna" – who was finishing tidying up and preparing to leave – "says that if you cook you have more friends, which is a good thing. Usually my friends are my husbands, and when I let them go I'm all alone."
Spend any time with Pamela Anderson – sex symbol, actor, icon, activist, author, mother – and it's easy to see why she's held sway over popular culture for as long as she has, why she went viral before the term had taken hold (from 1995 to 2005 her name was the most frequently searched term on the Internet) and why the public has been seemingly spellbound by the soap opera that is her life. "She's a tremendous woman," said the designer Vivienne Westwood, her good friend and mentor. "I wish there were more like her in this world, because then it would be a better place. I'm not talking about her looks; I'm talking about her spirit. Pamela embodies beauty and intelligence. Not only is she a sex icon, she's a superwoman."
As far as Pamela's looks go, they aren't as artificial as they were in the '90s, when she surfaced from the water during the opening credits of Baywatch like a jacked-up latter-day Venus. The ample bosom still commands attention, but it's the perfectly proportioned face that draws you in. There are just enough incipient lines and telltale signs around the eyes and mouth to make believable her claim that she's never had work done. Along with the veganism, she swims and does a little Pilates and Gyrotonics, maintaining what her impressive genes originally bestowed. "I'm not into extreme workouts," she said. "I'd rather meditate."
As Westwood suggests, it's unfair to reduce Pamela to her appearance alone. She's witty and smart and has always appeared to be in on the joke, even when the barbs (usually about her prodigious boobs and supposedly tiny mind) have been far from kind. In a homogenous media landscape in which celebrities are guarded to the point of being boring, she's talked about everything from contracting hepatitis C from sharing a tattoo needle with Tommy Lee to being sexually assaulted by a female babysitter as a child. And with the possible exception of Angelina Jolie, it's hard to imagine any other celebrity matching Pamela's gumption in writing to Vladimir Putin this year to request that he block the passage of cargo ships carrying whale meat to Japan, and to Israeli Prime Minister Benjamin Netanyahu in 2014 to ban fur sales in his country. It's her willingness to open up and show her vulnerability that has kept the public interested in Pamela. For all her larger-than-life blondness, she is, in tabloid parlance, one of us.
Right now, Pamela is a single mother, reinventing her career at a stage of life when most actresses (let alone ageing pin-ups) are routinely shut out. But then, at 48, she's all too familiar with the vicissitudes of life, and she's never been slouchy about improving her lot. When she got into trouble with the IRS in 2012 over unpaid back taxes, she took the advice of her closest friend, the photographer David LaChapelle, and worked her way out of it – as a magician's assistant in Las Vegas, a guest on India's version of Big Brother and a contestant on Dancing on Ice 2013 (she was voted off in week one).
"David says I'm the least ambitious person in Hollywood. But I really believe in the process of things," Pamela said, looking remarkably lively for someone who'd flown in from overseas at 2am and got up four hours later. "I try to teach my boys that we all go through it sometimes, and, you know, to ride the wave, because things have a way of turning around." Brandon, when he arrived home, turned out to be something of a young Brando. He's being sought out for acting and modelling jobs. Dylan, a dead ringer for his dad, is a dedicated surf rat. He and his best friend have started a charity whose proceeds will take them to Africa this year, where they'll share their surfing skills.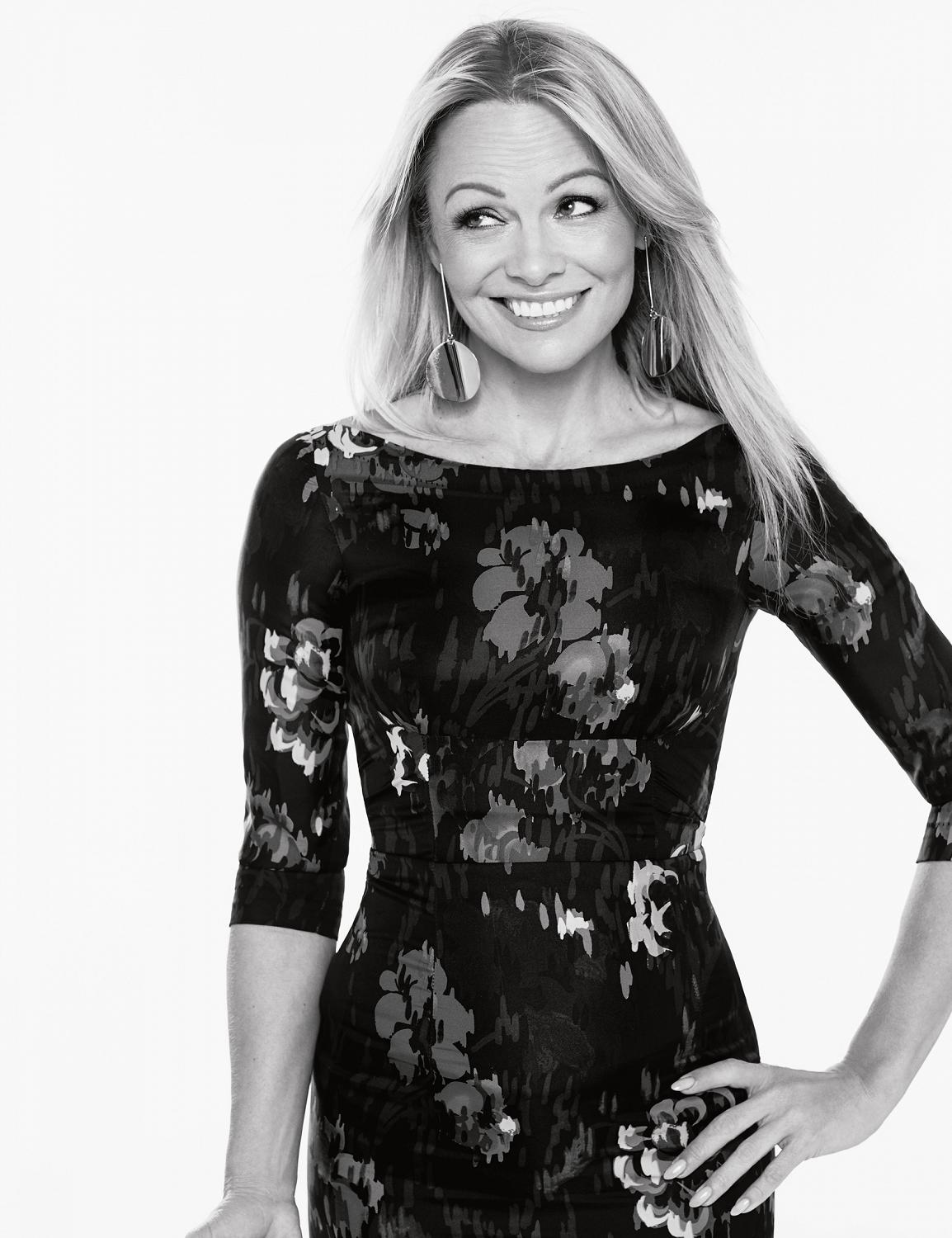 Pamela's acting renaissance centres on Connected, a short film by Luke Gilford that's set to do the rounds of the international festival circuit. In it, she plays Jackie, a discarded Malibu trophy wife who goes in search of meaning after her husband leaves her for a younger woman and her children go off to college. When SoulCycle and vitamins no longer do the trick, Jackie goes for a hyperbaric oxygen treatment and gets roped into a cult masquerading as a futuristic social network. In news that may surprise Pamela's detractors – and anyone who saw her in small-screen stinkers like VIP and Stacked – she really can act. In Connected, she gives the kind of raw mid-career performance that turned around the fortunes of Mickey Rourke and Matthew McConaughey in recent years.

"When I met Pamela a couple of years ago, she wasn't the pill-popping party gal that I'd heard about," says Gilford. "She was someone clearly searching for meaning, having been a symbol of everything plastic for so long. Usually, sex symbols either retreat into obscurity as they get older or they meet with a dehumanising public demise, like Marilyn Monroe or Anna Nicole Smith. Not many have tackled their legacy head-on and turned it into something meaningful, like Pamela's doing."
Initially Gilford asked Pamela's agent to set up a quick meet-and-greet. "But we started talking about juicing and fasting and ageing, and next thing you know we were on to real human connections in the age of super-connectivity," he recalls. "I hadn't seen her in anything since Borat, and I was fascinated to see her grapple with all these things, so I wrote a story around her. She was really scared but up for the challenge. She is very hardworking and did a ton of research and rehearsals, because people didn't believe she could pull it off. She has incredible emotional empathy with animals and humans and channelled that into an amazingly realistic performance."
Pamela said she'd always wanted to take acting more seriously. "I've always got away with murder, running around in a bikini and what have you," she laughed. "But I knew I was capable of more than I'd been asked to do in the past. Besides, I want to try new things, and if I'm going to act I want to play different people. Luckily, Connected was an art project, and like all art projects, they wanted me to look really, really bad, which was great."

More projects have come along too. She recently completed a short film with Keanu Reeves called SPF18, directed by the Los Angeles artist Alex Israel, and a feature with Nadia Litz, the emerging Canadian director who was one of the breakout talents at the most recent Toronto International Film Festival. "People have a very fixed image of who I am and what I can do, but I'd rather do more creative projects than just pop out another TV show," Pamela said. Next up is a film with the Bahraini filmmaker Hala Matar, in which she plays a flight attendant who gets hit on the head and can suddenly sing the Queen of the Night's aria from Mozart's Magic Flute. "I hope she only wants me to sing a couple of notes," Pamela said, "because it's only the hardest song ever to sing."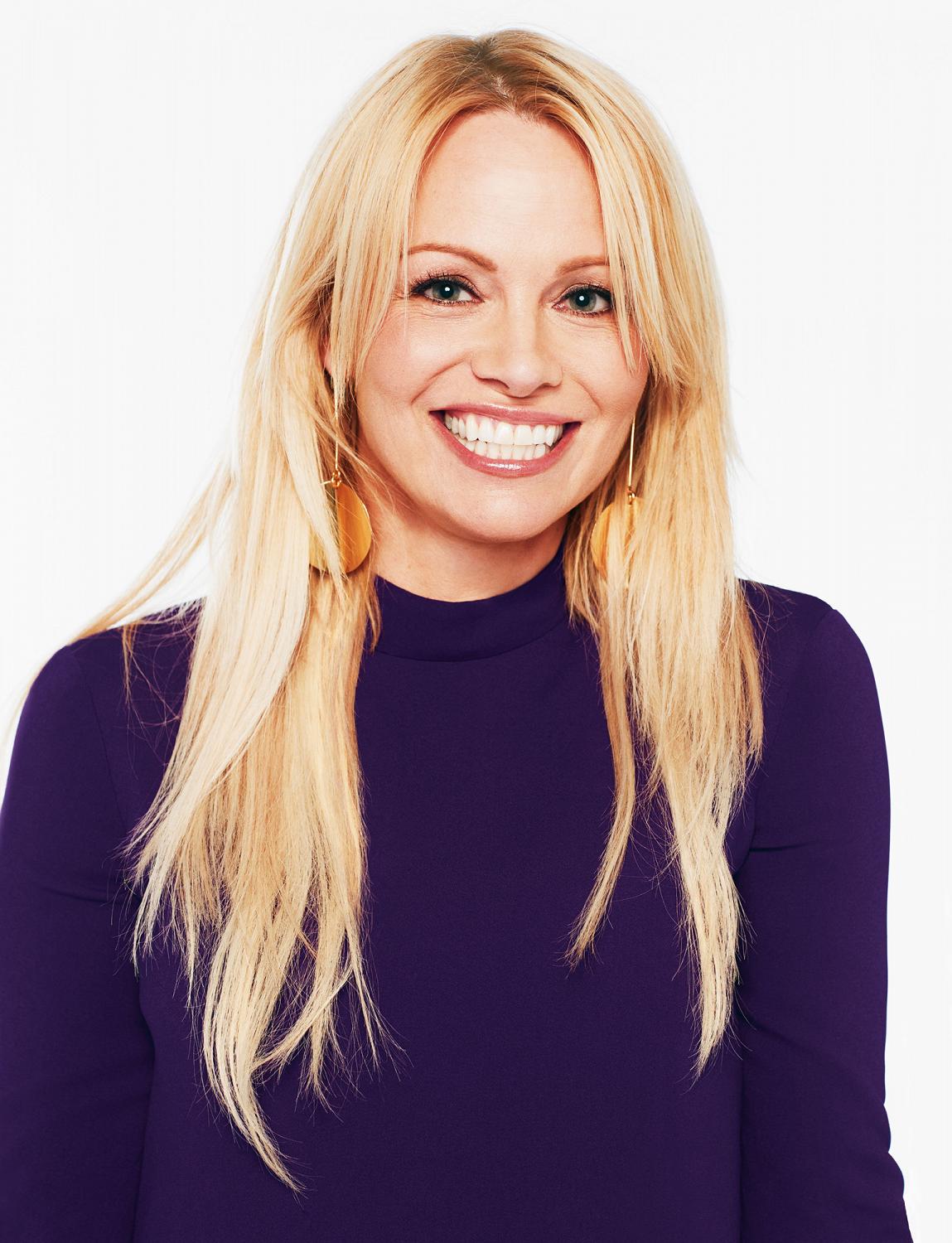 And then there's Vernon God Little, an on-again-off-again film project with Werner Herzog. Based on the Man Booker Prize-winning 2003 novel by DBC Pierre, it appears to have stalled for the moment because of copyright issues. "I would never have dreamed of working with someone like Werner; I just didn't see how it could be possible," Pamela said. "But he believes in me. I've always been around artists, but people saw what they saw and didn't connect the dots."

Pamela's transition from cultural punching bag to art-house muse and vegan lifestyle purveyor could be seen as her third act, given that she started out as a flat-chested Canadian brunette who morphed into a luscious American blond icon. Born in the small town of Ladysmith on Vancouver Island and raised by her furnace-repairman father and waitress mother, Pamela was famously discovered as a fresh-faced teenager wearing a Labatt's beer T-shirt on the giant screen at a football game in 1989. Before long, she'd moved to Los Angeles, become a Playboy Playmate (she's been on the cover of the magazine's American edition a record 14 times) and been cast in the sitcom Home Improvement as Lisa the Tool Time girl.
But it was playing lifeguard CJ Parker from 1992 to 1997 on Baywatch – which was shown in over 140 countries and became one of the most successful TV shows ever – that launched her into the stratosphere as Pamela Anderson the hyperreal Barbie, a ubiquitous double-D embodiment of the California dream. By the time she married Mötley Crüe drummer Tommy Lee in 1995 in Cancun, Mexico, after an ecstasy-fuelled four-day courtship, she was one of the most famous people on the planet.
"Pamela was everything to everyone all over the world," said David LaChapelle. "I was on assignment in India once and saw all these people sitting around a TV on the side of the street, transfixed. I remember thinking, What the hell is going on? Is there another war on? It turned out that they were watching Baywatch. I get back to New York and Los Angeles, and sure enough, everyone I know was watching Baywatch. It was insane how famous she was – I can only imagine how much bigger she would have been had social media been around when she was at her peak."
Not surprisingly, Hollywood came knocking, and in 1996 Pamela landed the lead role in Barb Wire, a post-apocalyptic remake of Casablanca set in a strip club. "It was meant to be a little dark comedy," she said, "but because of the attention I was getting at the time, they thought that they could turn it into this huge hit, which was a mistake."
The script of Barb Wire was as skimpy as a bikini, but in truth, even had the writers of Casablanca authored it, the only Anderson movie the general public was interested in was a stolen sex tape she'd made on her (first) honeymoon with Tommy Lee; it practically broke the Internet when it was posted online in 1997. The tape, stolen from a safe on the couple's property by a handyman who claimed they owed him money for renovations, made an estimated $77 million in less than 12 months – and that was just in legitimate sales. Anderson and Lee unsuccessfully fought to ban its publication and distribution in numerous courts and eventually settled out of court.
"People have a very fixed image of what I can do, but I'd rather do more creative projects than just pop out another TV show."
The tape's legacy – Lee was hailed as a stud, Pamela as a slut – was predictable, and people's desire to watch it seemingly endless. "That stupid tape," said Pamela, sitting in her kitchen 18 years on. "I can't believe the interest in it hasn't died down. It made for a very uncomfortable talk with my sons – you have no idea. But looking back at it, at least my hair looked good."

"That's the thing about Pamela – she's never lost her sense of humour," said Emma Dunleavy, a British photographer who's known and travelled extensively with Anderson for 20 years. "She's a great sport and is of the opinion that all of this – the good, the bad and the ridiculous – has made her into who she is today. You can't pick and choose. She's a global icon, and with that comes a lot of crap." Perhaps in a bid to rebalance the narrative, Pamela and Dunleavy have collaborated on Raw, a new scrapbook-style compendium of behind-the-scenes images of Pamela in various states of undress, taken by Dunleavy over the years.
"I'm really proud of Raw," Pamela said as we headed upstairs to look around the rest of the house, "because that's who I am and because it features my writing and my feelings, not just my looks." She showed me the boys' rooms, filled with computers and guitars, a few more works by Ed Ruscha and a Shepard Fairey. "Raising my kids – that, to me, is the most important thing in the world," she said. She speaks to them like adults, but she's clearly the one in control. "Then writing. The Sensual Vegan isn't just about food but about being compassionate and mindful. It's a real labour of love." We passed through her own bedroom, filled with light and books and flanked by six closets that spring open at the lightest touch. On the wall were two photographs of Marilyn Monroe from her famous last sitting with Bert Stern, a birthday present to Pamela from David LaChapelle. Along the way, she mentioned a recent meeting with Julian Assange, her line of environmentally friendly boots made from recycled TVs, and the possibility of a Broadway turn as Roxie in Chicago. Then we got on to the range of vegan bags and shoes she's designed with Amélie Pichard, which will be sold at Opening Ceremony from December. Pichard had based her Spring/Summer 2014 collection – think pink patent sandals with medium-height block heels – on the idea of a girl who wants to become Pamela Anderson. "So we were introduced by a friend," Pamela continued, "and decided to work together on some beautifully made vegan shoes – sexy, not hippie espadrilles. For now, it's eight styles and one bag." Then she asked, "Have you read this book?" and pointed to The Gods Will Have Blood by Anatole France
"Doing good work and just hanging out with Luke Gilford and his friends is great, because people are saying how I can really do this, how I can act," she offered finally as we headed downstairs. "But I don't think I ever just want to be an actress. I really am more interested in doing a cooking show. It drives my agent insane, but as he says, at least I'm not in a swimsuit, with big hair and eyeliner."