Tavi
Gevinson
From bedroom blogger to new-media mogul: Tavi's passion project becomes big business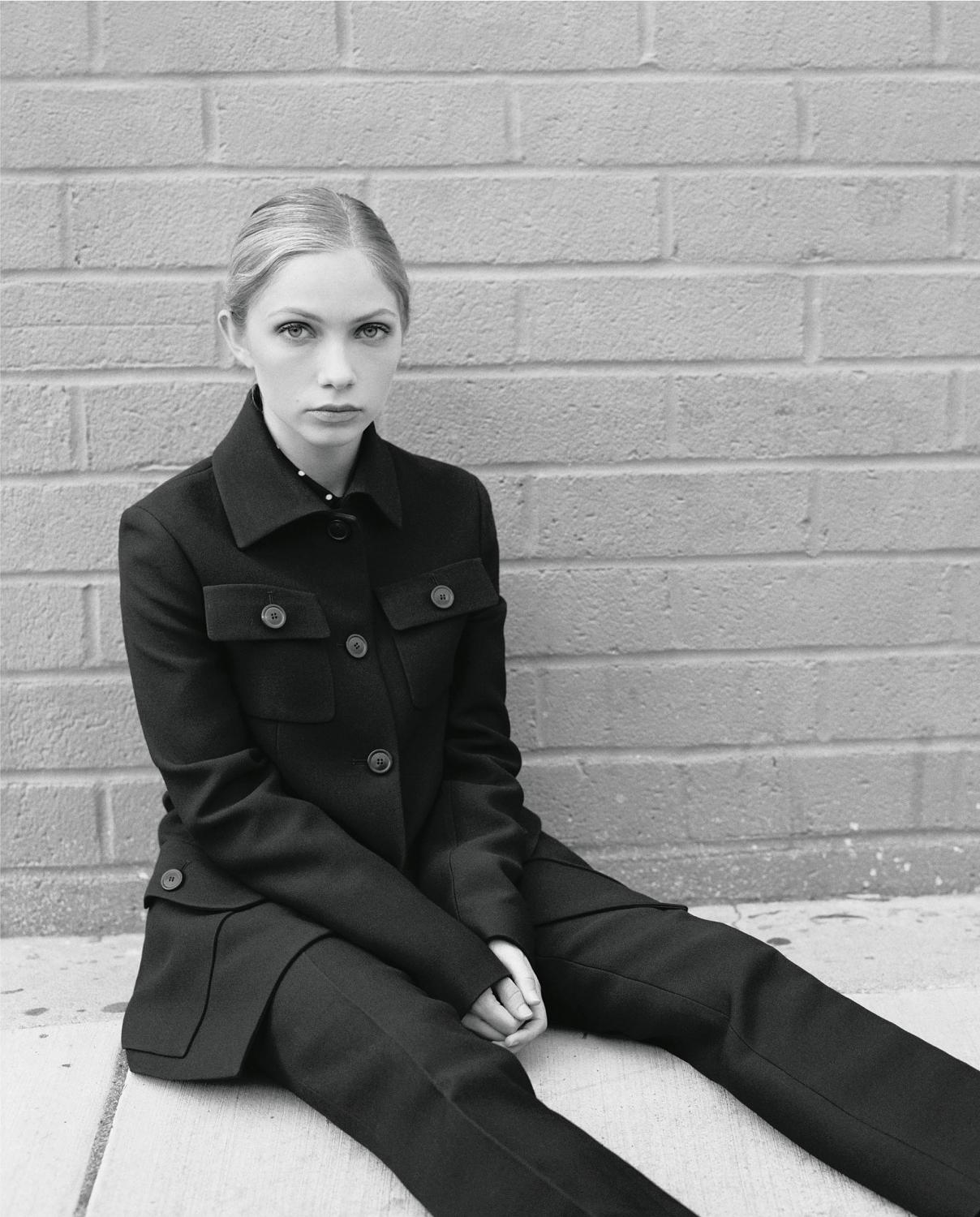 Tavi Gevinson is the original social media starlet. Arriving in 2008, aged just 11, she was greeted with bemusement by her Gen X and baby-boomer media peers as they grappled with the new digital frontier. Tavi powered ahead regardless, amassing an adoring, mostly female young audience through sheer ingenuity and intellect mixed with good old-fashioned fun.
A decade later, she's parlayed her innate understanding of the digital landscape into a sustainable business model, as the old guard continues to flounder. And at 21, she's only warming up. Diversifying her talents into acclaimed acting performances and with ambitious plans for her flourishing media empire, Tavi 2.0 has her eyes set on the long term. Watch out, Oprah.
On 21 April last year, Tavi Gevinson turned 21. The date happened to be the one-year anniversary of Prince's death, so to mark her birthday, Tavi rented a cinema at the Anthology Film Archives in New York's East Village and screened a 35-millimetre print of Purple Rain for her friends. If this sounds like an untypical celebration, rest assured: afterwards they ate cake and partied in bars. The evening's divide is classic Tavi. Since her career began nearly a decade ago, when she was 11 and launched her fashion blog, Style Rookie, Tavi has been half normal young person – going through high school, leaving home, moving to New York, eating cake on her birthday – and half entirely exceptional young person, famous from childhood, apparently old beyond her years. The kind of person who screens Purple Rain on her birthday.
Twenty-one. That's the age at which most people are just getting started. But Tavi's multipronged career to date shows no signs of slowing down. From bedroom blogger, Tavi became a kind of mascot of the fashion industry, invited to sit on front rows, endlessly photographed with her grey-dyed hair and grannyish glasses, wearing intricate self-styled costumes, standing next to internationally renowned designers double her size. At 15, Tavi founded Rookie, a hugely popular online magazine for teenage girls, which she still edits. Then, after she finished school, she unveiled a new sideline – acting in films (such as Enough Said, in 2013, with Julia Louis-Dreyfus and James Gandolfini) and on Broadway (appearing in This Is Our Youth in 2014 alongside Michael Cera and Kieran Culkin). She is also writing her own book, an autobiographical work of fiction, and a short film that she hopes to direct.
Tavi occupies a space that is almost difficult to quantify: she is a young feminist figurehead, a hero to teenage girls across America, a power base in the New York media industry, a regular on Forbes' 30 Under 30 list, and the apparent centre of a social scene of influential, creative young women that includes the musicians Lorde and Taylor Swift and the photographer Petra Collins. Tavi has somehow redefined what it is possible to do in one's teens. Her friend Kenneth Lonergan, who wrote This Is Our Youth and won an Oscar for best screenplay for Manchester by the Sea, says, "It's easy to be fooled by her accomplishments and her prodigy – you keep forgetting she's 21." Tavi's agent, Larry Salz, who also represents Lena Dunham, says, with slight understatement, "There is no straight-line trajectory."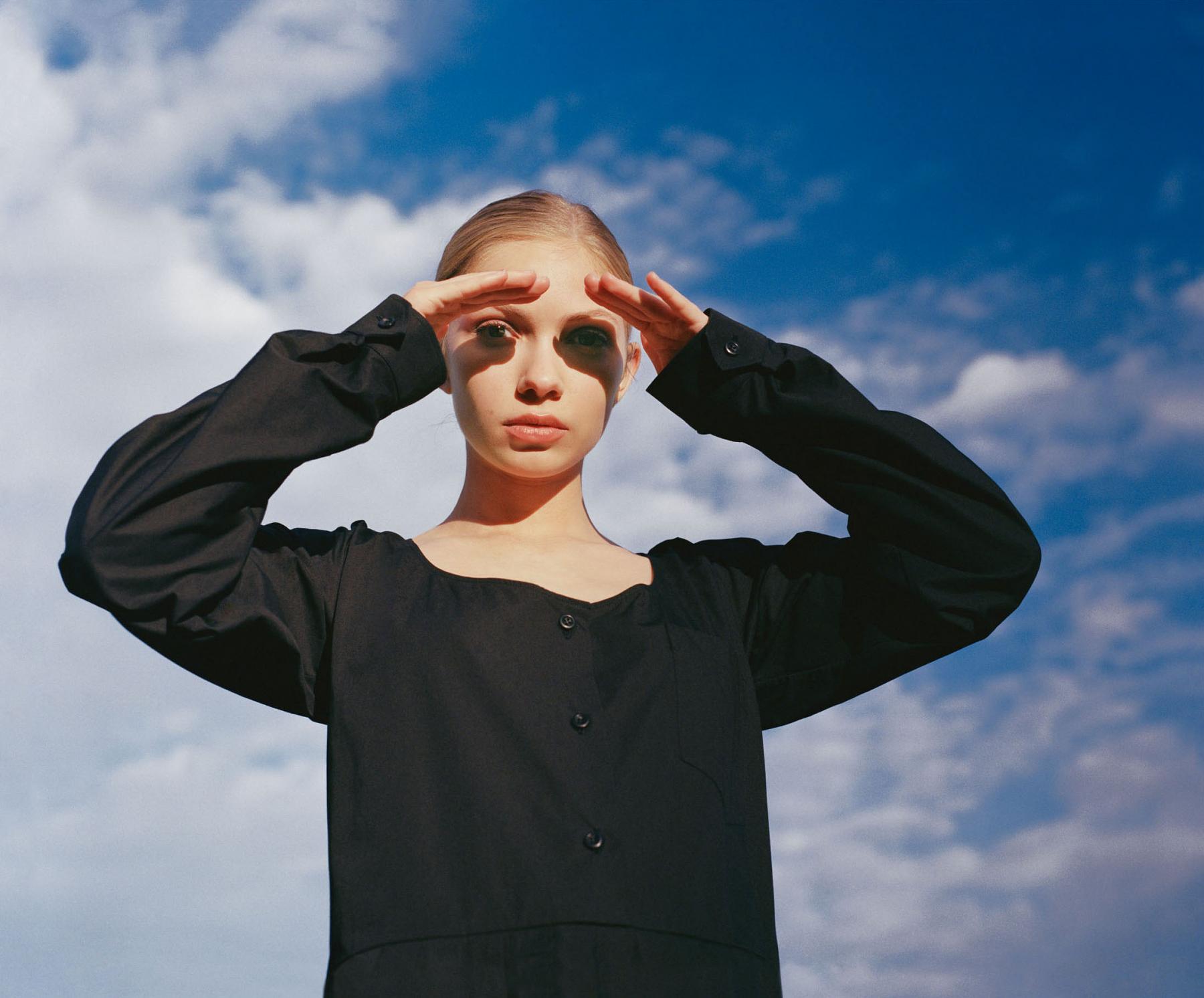 On a blowy, dark November afternoon, I meet Tavi at her home in Fort Greene, Brooklyn, historically an African-American neighbourhood and now a typical New York mix of public housing and gentrified streets with brownstones selling for $3 million. She is short (Lorde calls her a "tiny genius"), fair hair pulled back from her fine-boned, full-moon face. Her mother is Norwegian, and Tavi has the delicate, pale look of one whose ancestors haven't seen a lot of sun. For someone who partly gained fame for the sheer bravura and drama of her outfits, as documented on Style Rookie, she's notably low-key: a black Calvin Klein tracksuit, socks, tea. Over the years of her public existence, she has gone through various sartorial phases: the early and radical experimentation; a mid-teens flirt with copper hair and heavy eyeliner; and today a pared-down look, as if proof that her creative energies are now mostly directed beyond her wardrobe.

We sit on the couch and talk. The couch is important. "I can spend a lot of time around a lot of people, and in the moment it feels fine," Tavi says. "But then later I'll be like, Why do I feel so crazy? And it'll be because I haven't just been on my couch reading this week." She talks in a light, quiet voice that often disarmingly disguises how passionately she feels about something. Sometimes when she's doing an interview for the Rookie podcast and finds a connection with an interviewee – as in April 2017 when Winona Ryder talked about feeling like an outsider in high school – it will sound as if she's on the verge of tears. At school, Tavi got a fair amount of flak both for her outfits and her burgeoning celebrity. "I have to remember that I found my creative sweet spot when I was younger, and I'd come home from school and I'd just read and write and create and take pictures and play dress-up," she says.
The after-school craft-workshop vibe is detectable everywhere in Tavi's living room. There are fat pots of coloured pencils on the desk, hand-decorated matchboxes in a bowl on the coffee table – and, in the kitchen, a giant mood board leaning against the counter, covered in images cut out of magazines. Tavi talks me through it. "These are, like, storytelling lives," she says, pointing to stills from Charlie Kaufman's Adaptation and the Bob Dylan biopic I'm Not There ("One of the first movies I saw when I was younger that made me really excited"). She chooses pictures for their aesthetic appeal – just as she did when scrapbooking as a child – but they inform her work too, becoming the subjects of Rookie editorials or her own writing. As she said in her November editor's letter, themed "Reflection", the mood boards "have become more instructive, not purely visual... I would like to think I am not just trying to regurgitate a vague impression of coolness." They also reveal a quality of Tavi's – the ability to offer a near-constant flow of cultural references which span genres and decades. She moves along the board to an image from The Larry Sanders Show, a favourite. "There are many themes of the show – having to do with show business and validation – that really resonate with me."
On the wall, there's a photograph of Chloë Sevigny wearing enormous earrings. In "The Infinity Diaries", a six-part confessional series published on Rookie in September 2016, Tavi wrote about dressing up as Chloë Sevigny's character from The Last Days of Disco (the photo on the wall is a still from the film) for a Halloween party a couple of years previously – and then encountering Chloë Sevigny at the same party, in precisely the kind of art/life conflation that seems to occur in Tavi's world. Behind the couch hangs another picture, of two young women dancing. One is her friend Petra Collins; the other is Tavi herself, photographed by Amy Lombard for The New York Times in 2015 at a fashion week after-party. The photo shows Tavi as she is now: a self-possessed young woman, sophisticated, alert to her own image, part of a scene that appears both glamorous and seductive.
Tavi has always been as much a subject as an author. I know people who have tracked her career in the semi-obsessive way you might follow a sports team. She has shown Architectural Digest around her apartment; US Vogue reported on her recent wardrobe clear-out and charity tag sale. Tavi inspires fascination the way child actors do, because we've had the chance to watch her grow up. But it's also because there's no model for what she is and does. "That's what's so much fun about her," her friend Hilton Als, The New Yorker theatre critic, says. "I can't see any precedent."
"No matter what I do, there are people sitting in meetings using me or Rookie as a reference."
I first became aware of Tavi in 2009, when I came across a video of her dancing to the Abba song "SOS" in her bedroom in Oak Park, Illinois, which she'd posted on her blog. Her dance moves involve fake weeping, a kind of hip-hop arms-out brag, something that resembles a crouching bear cub waiting to pounce, and a histrionic ballet collapse at the end. She can dance. But she also displays a comic self-awareness that is both precocious and magnetic – and then utterly undermines it when the song finishes and she leans forward to turn off the camera and says, sweetly and awkwardly, "OK, thank you for reading and watching! Er, yeah, bye."
Tavi's father, Steven Gevinson, a retired English teacher, remembers that in the unimaginable days before 2.0, Tavi was already writing, making, performing. She is the youngest of three sisters; Rivkah is 28, Miriam 25. Their mother, Berit Engen, a weaver, created a sort of crafty wonderland at home. Recently, Steve discovered a catalogue Tavi made as a child, full of products she'd invented. "Most of them had to do with toilets and farting and things like that," he tells me on the phone. "We had it laminated because it was so funny." Style Rookie, to her father's eye, was just a natural extension of what Tavi was already doing.
Here's her tentative inaugural post, written on 31 March 2008, when she was 11.
Well I am new here... Lately I've been really interested in fashion, and I like to make binders and slideshows of "high-fashion" modeling and designs. I'd like to know of neat websites and magazines, so comments are welcome. I plan on posting pictures in the future, but for now, I'm just getting started. Yours truly, Tavi
The pictures followed about a week later (after a post in which she contemplates decorating two of her belts with multicoloured Lego in imitation of a new Marc Jacobs design). They show Tavi and two friends posing in various outfits. In one, the girls are wedged together on a window ledge; Tavi's legs stop about a foot above the others'.
After a fair amount of trial and error, Tavi discovered her photographic groove. She'd come home from school, set up a tripod in the backyard and take pictures of herself in whatever she'd worn that day, usually a combination of her mother's clothes, thrift and H&M assembled to make her look like an eccentric 85-year-old performance artist. She quickly established her voice – casual and obsessive, earnest in its fandom and consistently witty and self-mocking – sometimes recording the petty cruelties that some middle-schooler jock had thrown her way or the bemusement of an adult who happened to pass by and catch sight of this bespectacled child cavorting for the camera.
It didn't take long for Style Rookie to get noticed. In those days, there weren't many fashion bloggers. Susanna Lau, whose Style Bubble launched in 2006, was one of the first. "I think myself and the community quickly embraced Tavi's idiosyncratic point of view," Lau tells me. "Tavi had a brilliant rapport with her readers, and that was key to growing a blog in those days." Lau remembers doing a panel discussion with Tavi and Bryan Yambao, who blogs as Bryanboy, and being awed by Tavi's ability to articulate her opinion. And, Lau adds, "her writing and content came from a place of passion, and that was infectious."
Cathy Horyn, critic at large at The Cut, who was the fashion critic for The New York Times and ran the successful blog On the Runway when Style Rookie began, also sees Tavi's readers as key. "For me, Tavi has been an interesting combination, at least in the beginning, of innocence and doggedness," she tells me by email. "She stayed close to her audience, she identified with them, she fed them – but not at the expense of her own development. That has been crucial – her education and her acting."
Laia Garcia, 32, who was born and raised in Puerto Rico, wrote another early fashion blog, Geometric Sleep. Garcia is now a senior fashion editor at Refinery29 living in Brooklyn, and she remains a close friend of Tavi's. The pair first met in real life in London; Tavi was "a tiny kid who ran towards me with open arms," Garcia says.
Soon Tavi was being invited to fashion weeks all over the world. Her parents went too. "We would leave," Tavi recalls, "and be like, 'That was so weird!'" Steve remembers a trip to a Paris couture show when Tavi wore "this piece of moulded plastic on her head, some packaging that she was calling a hat." He sounds as mystified and ever so slightly fatigued now as he must have been then. "I said, 'You shouldn't wear that,' and she looked at me like it was ridiculous for me to tell her what to wear. She ended up meeting [the milliner] Stephen Jones, and he loved it, and he gave her this amazing hat." Steve pauses. "She always knew what she was doing."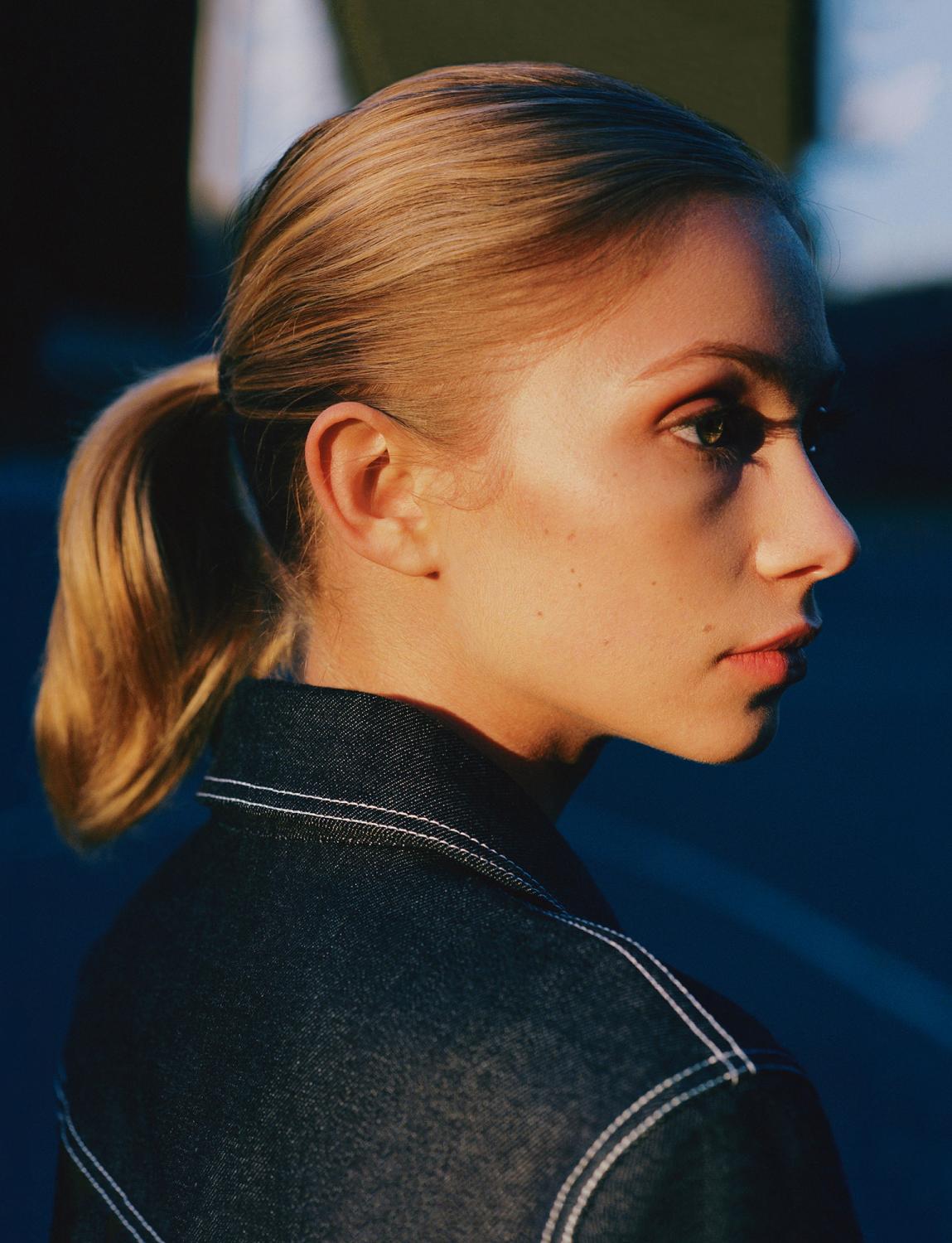 By 2011, Tavi had started to write more about feminism than fashion. Sites such as Jezebel, aimed at young working women, had launched at much the same time as Style Rookie. In a media meta moment that could only happen in her world, Tavi first articulated the idea for an online magazine for teenage girls in a blog post she wrote while being observed by a profile writer from The New Yorker. Her inspiration for Rookie, which she founded when she was 15, was Sassy, a 1990s girls' magazine, whose founding editor, Jane Pratt, was initially involved in Rookie's set-up. "It was my passion, not my job," Tavi tells me. "I did it after school; I stayed up until 3am. If there was anything that had to be done on Rookie, there was no having a personal life unless everything was taken care of." Tavi is the majority stakeholder in the parent company, Rookie LLC, founded in 2011.

The site took off fast (it had one million page views in its first week), and six years later, it employs four full-time staff, is financially self-sustaining through advertising and brand partnerships, has retained its independence and publishes rolling content by hundreds of freelance writers and photographers. "It's definitely been a bootstrap model," says Lauren Redding, the publisher, who has worked with Tavi since the launch in 2011. "Everyone has more than one job."
Tavi oversees the editorial cycle, sending out a monthly email with ideas relating to her chosen theme – Desire, Apocalypse, Omens. The team also prints annual yearbooks (number four was published in 2015; it sells for $29.95), which Tavi art-directs and edits, and in January, Razorbill, an imprint of Penguin Random House, published the first Rookie book of collected writings, on the theme of love, with contributors as diverse as the actor Gabourey Sidibe, the singer Florence Welch and the novelist Emma Straub. (Tavi's piece is a full heart-on-the-page tribute to her boyfriend, Sam, who works at an education non-profit and is, she tells me, "sane and funny and smart, and more supportive of every stupid thought I blurt out and everything I do than I could imagine any one person being.") Every year, Tavi goes on tour, meeting hundreds of readers and fans across America who show up to get their yearbooks signed and talk to the young woman who has become their de facto leader. "We never turn anyone away," she says. "So as long as there are still people in line, I'm still there talking to them."
Tavi and I meet again at the Wing, an all-women private members' club in SoHo. Tavi has dressed up a little, a sort of offbeat cowgirl look: checked shirt, jeans, white socks, black leather shoes, a red bandana knotted round her neck. It's a notch up from yesterday's tracksuit, but not even reaching the foothills of her childhood ensembles. Tavi works at the Wing often, typing on her sticker-plastered laptop, and is the club's literal poster girl, appearing in the first issue of its in-house magazine, No Man's Land, in November last year. Her life is full of link-ups like this.
For Tavi more than most, work and life have always been closely entwined, but the nature of that relationship shifts when you have to pay your own bills. Gradually, she's been letting go of a long-held view that any kind of commercialism is somehow corrupting. "Being that much of a purist is for people who can live off their parents," she says. When she moved to a new flat last March, she began a partnership with Two Trees, the company that owns and manages the property. In return for publicising her apartment high up in its shiny portered tower – Instagramming her half million followers a picture of herself standing in front of the building's impressive lobby art, for instance – she receives compensation. It's a new kind of deal, and one that has brought her some heat online from those uncomfortable with such a blurring of individual and brand.
At the moment, most of Tavi's time is spent in meetings with potential investors plotting Rookie's future in an industry whose economics is being continually reinvented. Just last year, Condé Nast stopped print production of Teen Vogue; the title is now published only online. The company also took over from Hearst the ad partnership with Lena Dunham's Lenny Letter, a newsletter that launched in September 2015 as "Rookie's Big Sister", according to its editor-in-chief, Jessica Grose.
Tavi is not unaware of her influence in this arena. "I realised that no matter what I do, there will be people sitting in meetings at giant publishers or in start-up offices, using me or using Rookie as a reference point," she says. "I should profit off of me before they profit off of me."
This is Business Tavi talking. Not many people know Business Tavi. "Plenty of this is new to her," Redding, the publisher, says of the commercial aspect of Rookie. "But her instincts are really, really strong." The way Tavi sees it, the evolution has been somewhat tortuous. Just as she's had to adapt the puritanical standards she set herself as a child, so she's had to shift her view of Rookie. "Basically, for the first five years, it was my passion project, and my brain could not bend itself to see it as a business." Now, she's thinking more strategically to ensure that Rookie will have a long life past her own teen years and, as she puts it, to "make it a greater presence in even more people's lives".
"Being a purist is for people who can live off their parents."

A large part of Rookie's power in the early days was that Tavi was America's teen ambassador, holding up a mirror to her own life as reassurance to her readers. She was one of them. And then, unavoidably, she grew up. In her April 2017 editor's letter (theme: "Lust for Life"), which Tavi suggests I read, she wrestles with this very point. "So as I slowly-but-rapidly age out of the demographic I've been trying to speak to for years," she writes, "I have been thinking about making sure that I, too, do not become a youth leech… How can I keep from looking at young people with dollar signs in my eyes because youth is the most valuable commodity because when you sell it to people they get to feel briefly immortal?" Tavi was once a teen writing to teens from the confines of her childhood bedroom, a fellow high-schooler suffering the onslaughts and indignities of puberty. Now she's an adult living in her own apartment, and she has to commission people to write about being a teenager.
Youth helped Tavi retain a kind of moral safety – a sense that she was above, or at least detached from, the murky commercialism of the media class. "It was always like, how can I do everything I want on the least amount of money possible?" This has had to change. "In the last year that has actually become: how can I do whatever I want? Well, it's by making as much money as possible without doing anything I don't believe in.
"Even though I would love to never have a conversation with anyone I need anything from, so much of this world – entertainment and media – is, like, how to win friends and influence people," she says, making it sound as if winning friends and influencing people is a faintly unpleasant way of passing the time. Yet she's clearly pretty good at it.
And although Tavi despairs at how the media commodifies feminism because it happens to be fashionable, she is also self-aware enough to know she is now unavoidably part of the machine, and that she can turn this moment to her advantage. At a recent business meeting for Rookie she was given feedback that she should "sell the female empowerment angle a little more". Tavi does a fine impression of a vacuous New York media executive. "She was like, 'There's never been a better time to be a woman, and there's never been a worse time to be a dude.' And I was like, 'That's actually not true.' And then I was like, 'Oh, you mean in the world of entertainment and, like, what's cool right now culturally?' If that means I can have more creative freedom and pay people lots of money to make great things because it's a really good moment for the female empowerment space, then I guess I'm not complaining."

For someone whose whole career and public identity were born online, who made her name through her mastery of sharing herself in a way that felt authentic and funny, Tavi's decreasing tolerance for certain aspects of the media in general and the internet in particular is surprising. She has no patience any more for the moral one-upmanship of Twitter or the role social networks play in destroying nuance and pitting people against each other, especially in the toxic political atmosphere of Trump's America (she documented these feelings extensively in her extra-long December 2016 editor's letter, her first after Trump was elected president). Perhaps this is another side to growing up, or just another example of Tavi's accelerated development and knack for coming out the other side of things before most people even know they're in them. Either way, she's come to a bald conclusion. "I basically don't want to look at social media any more."
For Tavi, escape from a mediated existence, from the compromises and confrontations involved in running a business, from being herself, comes through one of her other careers. Tavi was always a "theatre kid", involved in community theatre in Oak Park. When she's acting, she doesn't have time to think. "It gives her an opportunity to free herself from intellectualism, I think," The New Yorker's Hilton Als says. "And free herself from the responsibility of being in charge."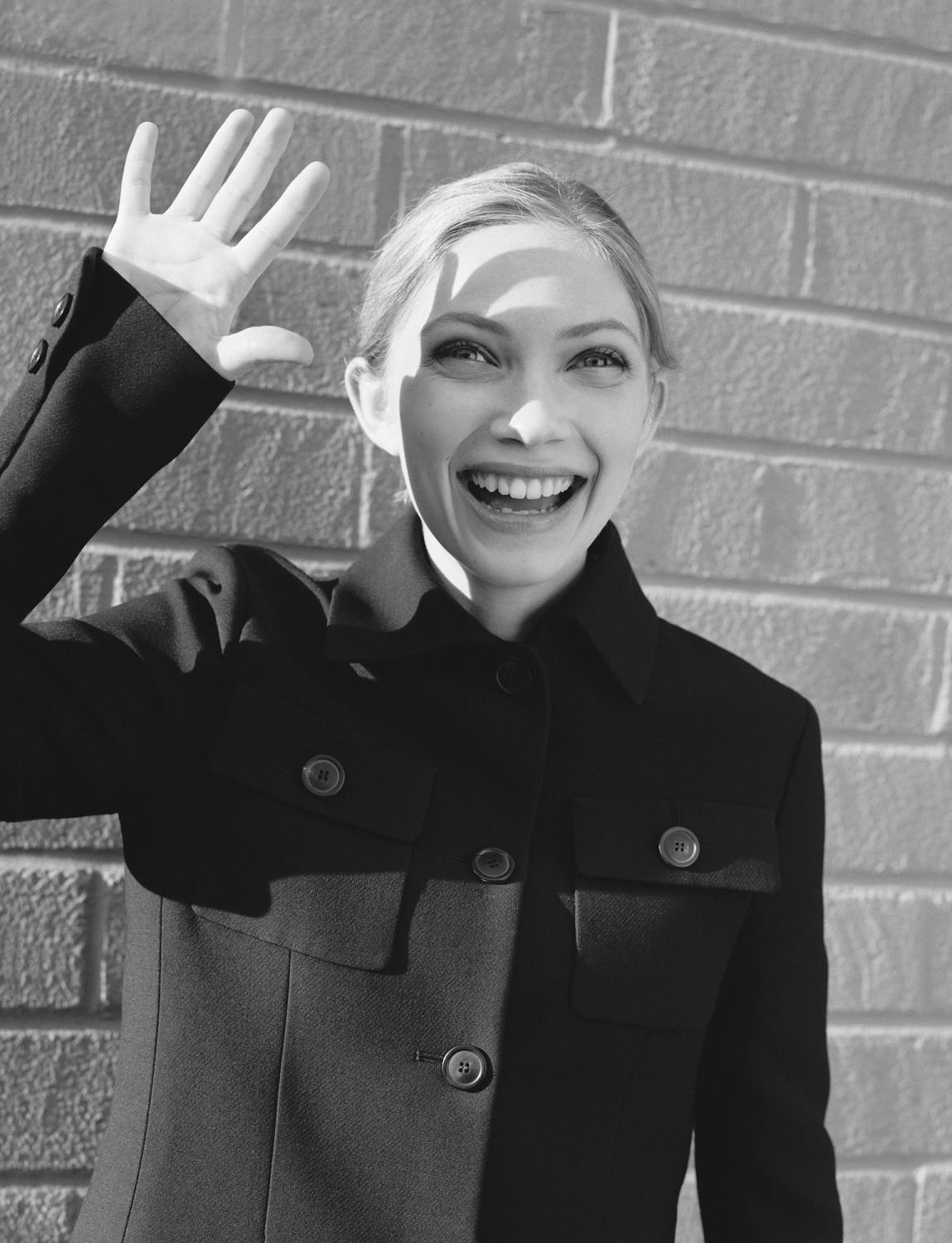 This Is Our Youth, which had a short run in Chicago before its premiere at the Cort Theatre on Broadway on 11 September 2014, was Tavi's first job out of high school. "I'd never heard of her," Kenneth Lonergan, the playwright, says of the moment she came in to audition. "Everyone said, 'Ooh, that's Tavi Gevinson,' and I said [sounding impressively nonplussed], 'Oh.'"

Hilton Als saw This Is Our Youth in Chicago. "She was so good that I went to the after-party, which I never do," he says, "but I was with a friend of mine, and I said, 'That child is remarkable, and we have to go tell her." Als detected a freshness to her acting – in his New Yorker review, he wrote, "Tavi brings a nice improvisatory vibe to the proceedings" – that he put down to her feeling free of her own tendency to analyse. But Tavi is hard-wired to self-interrogate. Often, in conversation, she will go down so many interconnecting tracks that she'll have to stop herself. "Wait, how did I even get here? What did you ask?"
At times, Tavi's brain can get in the way. She's candid about the depressive episode she had after This Is Our Youth finished in January 2015. She went back on the medication she'd been on as a teenager, and she saw a therapist. "She made me better at being like, Oh yeah, of course I'm a snivelling monster of a person, that's what people are," Tavi says. "I live in the world, and the world is corrupt; of course I want shiny things, and I want power and sugar and things that are bad for me." Her therapist, she tells me, was "good at showing how you just have to recognise that and be like, Isn't that so funny and weird that I had that desire?" In a way, Tavi had to forgive herself for growing up.
When writing about Tavi, you inevitably end up asking everyone who knows her what they think she'll be doing in five, 10, 20 years' time. It's one of the extraordinary things about her – she's got so much time left, and yet she's already had about six iterations of a life. Lonergan half-jokingly assumes that it won't be long before he's working for her. Als thinks she'll go on writing and acting – "I don't think she's going to sacrifice either thing." Laia Garcia sees her as being "like Kim Gordon in the 1990s, who did music and did art and had a fashion line and maintained respect and credibility in the industry, except Tavi will be a writer and an actress and an editor, and God knows what else she'll become interested in in a few years." Her father, Steve, wonders slightly nervously if she might go into politics.
And Tavi? She doesn't mind the questioning too much. "I think people are curious. What are you going to do?" She shrugs. "But I'm like, 'I kind of just want to keep doing what I'm doing – a little bit of this, a little bit of that.'"
When I ask her if she's able to imagine a parallel existence, the only thing she mentions is college. Her plan had been to enrol in NYU's Gallatin School of Individualized Study, where the student designs their own syllabus. She applied and was accepted, deferred for a year, and then came to a realisation. "For a lot of people, college is how they transition out of living with their parents, and I'd already done that. Or it's how they find a community of supportive readers, and I already have that." She also already has multiple jobs and a bunch of New York friends who resemble a sort of who's who of influential young Americans. Still, like any school-leaver opting out of higher education, Tavi had sceptical parents to convince. Steve says she wrote him a long letter giving him a rundown of all the things she was going to do with her time instead of sitting in a lecture hall. The letter, unsurprisingly, was pretty good, and it did the trick. "It read like an application to the University of Tavi," he says. "I wanted to go myself."