Kara Walker
The artist of epic works with curiously humorous titles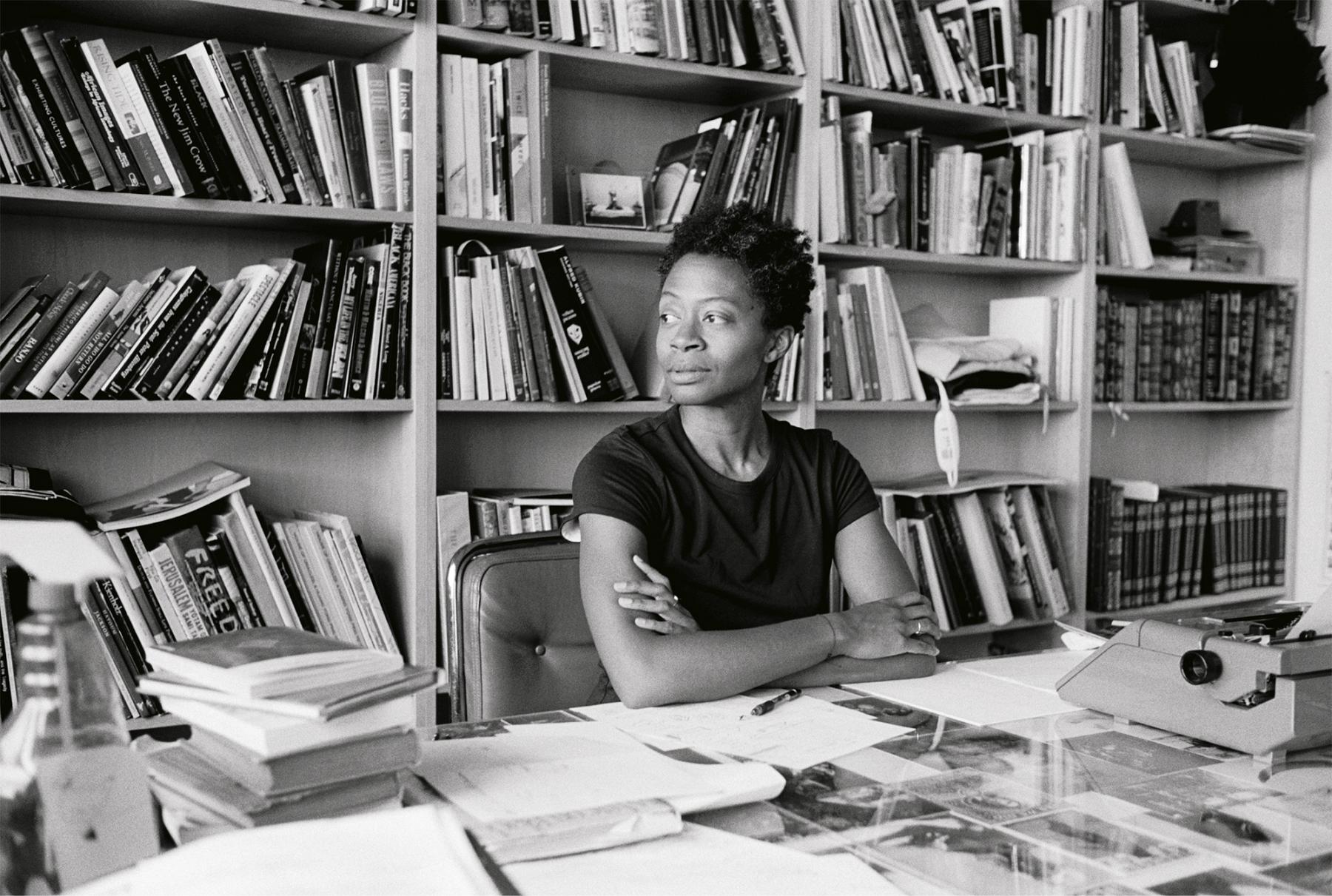 Kara Walker is familiar with the monumental. Her first work, in 1994, covered an entire wall – in cavorting black paper cutouts that suggested a children's story but on closer inspection were most definitely not. She adds epic, goofy titles to describe expressions of power and control, race and gender. Kara's first public sculpture, "A Subtlety, or the Marvelous Sugar Baby" (2014, full title 44 words), a sphinx-woman 75 feet long and 35 feet tall, displayed at the Domino refinery, addressed the conflicted history of the sugar industry. Next up for Kara, 49, is the gargantuan Turbine Hall at Tate Modern. What play will she make with that?
In her signature silhouette cutouts, shadow plays and films and her spectacular public artworks, most notably "A Subtlety" – a giant confectionery sculpture of a mammy-as-sphinx that was shown in the former Domino Sugar Refinery in Brooklyn, New York – the artist Kara Walker often uses the body to examine racialised and sexualised expressions of power and control. But on this sweltering New York afternoon in early summer, she appears less concerned with corporeal matters than with the state of her hair.


"I have an uneasy relationship with my imagination and am in a battle with my hair," Kara says, as we sit on the backyard terrace of the leafy Fort Greene brownstone she shares with the artist Ari Marcopoulos and Pearl, her 12-year-old calico cat of fluctuating weight and attitude. "It's touch-and-go with the whole braiding thing – right, Miss Pearl? – and quality natural haircare in general is tricky, let alone for black women."
Kara, who is decked out in an African-print shirt, black shorts, and black Birkenstocks, recently trimmed the sides of her hair herself – but with her daughter, Octavia, 21, graduating in a few days' time with a degree in fine arts and comparative literature from Ohio's Oberlin College, the crown needs tjuzing. Fortunately, there is a new salon in downtown Brooklyn that Kara has been meaning to try since her regular haunt, Khamit Kinks, closed down a few months ago.
After she attends to a couple of pressing emails, we prepare to walk the 20 or so minutes to the salon. But not before a brief tour of the house that she bought in 2010, at the "tail end of a rancorous divorce". There are wonders to be found amid the ordered disorder. A portrait of an ephebic black man by the British painter Lynette Yiadom-Boakye ("I'm a fan," Kara says) and a cluster of black-and-white photos taken by Marcopoulos, including one of Jean-Michel Basquiat in the bath, command respect. But nothing here screams for attention. There isn't room for decor as preening. Their combined vinyl collection dominates one side of the living area, and wall-to-ceiling bookshelves teem with art monographs and reference books.
"I clearly could use more space," Kara says, casually pointing to stacks of books on the floor, including Alison Bechdel's divinely dysfunctional graphic novel Fun Home, whose title aptly describes the inviting, unstudied cool of Kara's house. No contrived curation here. "It's about to get a lot more crowded once Octavia moves back in after graduation. But it's a great place to return to after life's adventures."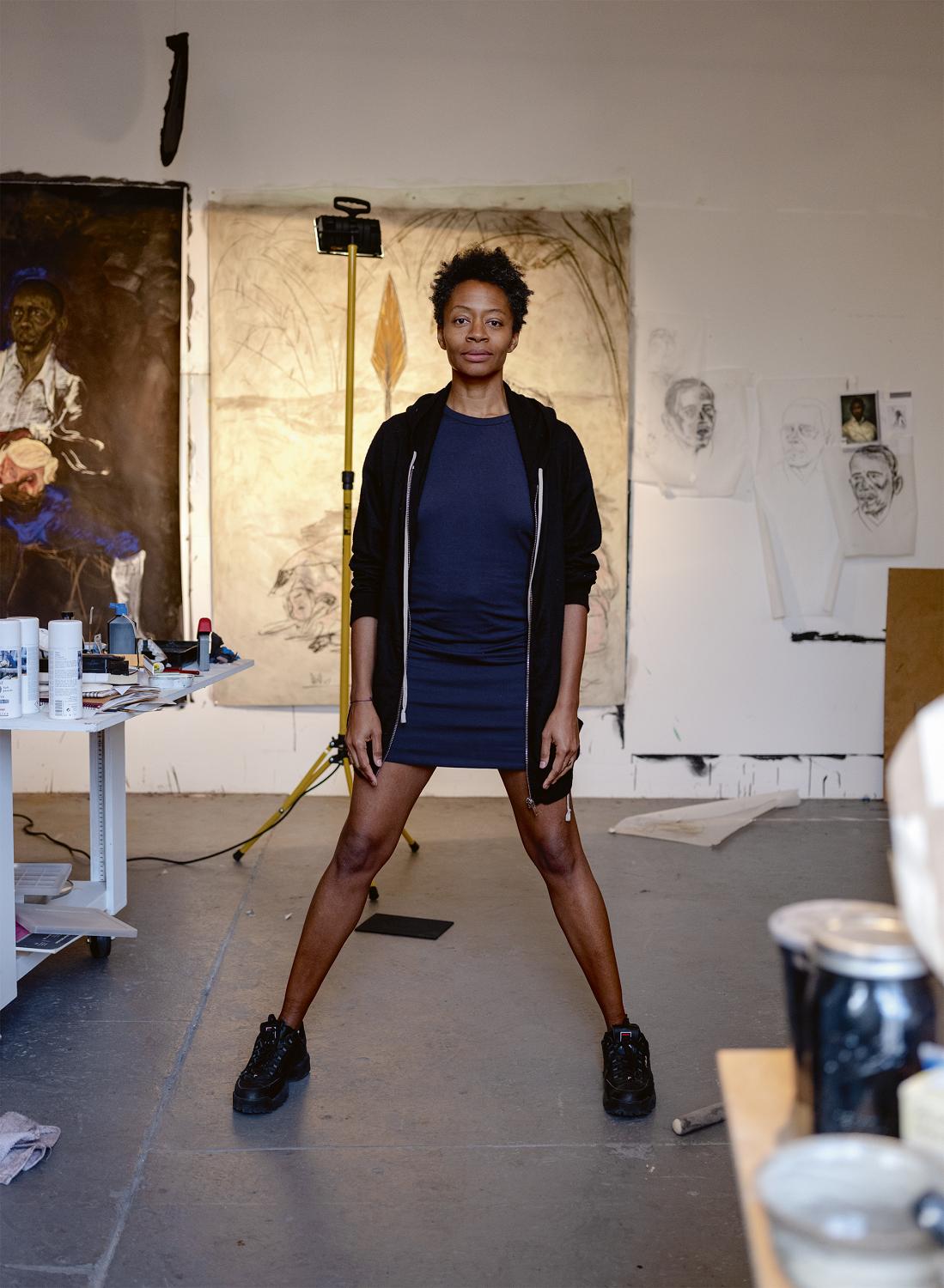 For Kara, who burst onto the art scene barely out of graduate school and, at 27, became the second-youngest recipient of the MacArthur Foundation's "genius grant", the latest adventure is this year's Hyundai Commission for the Turbine Hall at Tate Modern in London, which will run from 2 October 2019 to 5 April 2020. The commission is a coveted nod previously awarded to heavyweight artists from Louise Bourgeois to Carsten Höller, who famously turned the gigantic space in the Gilbert Scott-designed Bankside Power Station into a series of giant slides, and Tania Bruguera, whose offering last year included a heat-sensitive floor that used the audience's collective warmth to reveal a hidden portrait of a young man who had immigrated from Syria.
Curiously, the Tate was originally funded by a sugar merchant, and the selection of Kara, whose work "A Subtlety" mercilessly addressed the horrors wrought by the sugar industry (the oversize sculpture was partly titled "An Homage to the unpaid and overworked Artisans who have refined our Sweet tastes from the cane fields to the Kitchens of the New World"), is certainly a provocative one. And given the often horrific nature of Kara's uncompromising work, which mines the history of slavery in the United States and features brutal descriptions of sex and violence that, as one New Yorker critic put it, make "Quentin Tarantino look like Mister Rogers", a casual observer could be forgiven for thinking that this year's installation might not be the family day out of previous iterations.
That would be a mistake, says Achim Borchardt-Hume, the director of exhibitions and programmes at Tate Modern, who points to her peerless ability to balance dealing with painful historic memories with creating moments of spectacular beauty and joy. "Kara's aesthetics may often be black and white, as in her large-scale silhouettes or virtuoso charcoal drawings, but her thinking is anything but," he told me by email.

Details of the installation are closely guarded, but Borchardt-Hume reveals that the 3 million visitors who are expected to visit the Turbine Hall in this period – and the many more who will do so virtually – will be asked to consider as a single shared history that which is often separated as "British history", "American history" and "black history". "If this sounds heavy," he adds, "I can promise you that it will bring a lot of smiles."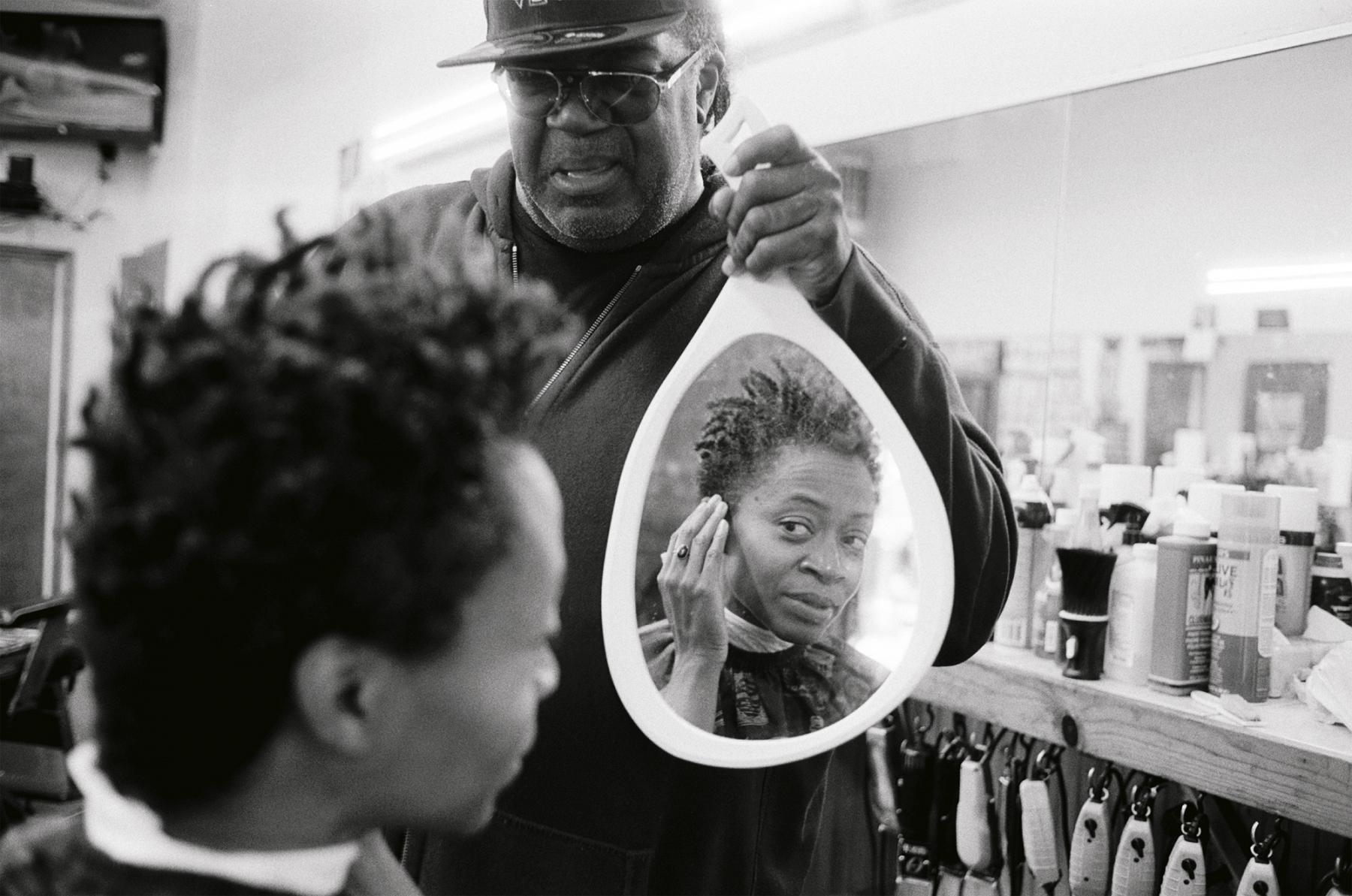 "I turned around and Stevie Wonder was just there, holding forth and getting his locks done."
Kara, who claims to have shrieked like a lottery winner when she got the call from the Tate last April, is not against sparking joy like an art-world Marie Kondo, but she admits that the precedents set by other artists on how to deal with the space presented a significant challenge. "Everyone makes fucking playgrounds," she says, in her softly spoken way that can erupt, seemingly out of nowhere, into an uproarious guffaw. We are now in the waiting area of Latifa Natural Hair Salon, a crowded first-floor pop-up above an optometrist's. The chatty staff, who call themselves "the Kinky Kollective", includes numerous ex-Khamit Kinks stalwarts. Kara's hairstylist, Jamillah, is stuck in traffic.

"Can you believe it? It's raining," Kara says. "Shoot. Where was I? Oh, playgrounds. It was driving me crazy at first. What if I wanted to use swings and slides and carpets to tumble down on?

"Seriously, though, it's a great opportunity, but it's a blessing and a curse. Half of what you're dealing with are the ramifications of not only making something that is big enough to work in this huge space, but also something that responds to the history of it and how it was used. At the end of the day, it does go back to the idea of a playground, of something that brings joy, because I keep asking myself, 'What good is it to have art in there? How is this a gift to England?'"
Though some ideas and approaches, such as the silhouettes for which she is perhaps best known, just "announce themselves", Kara typically has to think her way into a project before committing to sketching or writing (usually on one of her vintage typewriters). But reading about the colonial histories of England, Africa, the Caribbean and the Americas wasn't enough this time. "It doesn't work if I don't feel some sort of physical or personal relationship to it," she says, "and it becomes too much of an intellectual exercise."

She is reluctant to divulge particulars of her work in progress, but she does offer some clues as to what may have informed her thinking during the process. "Last summer I went to Nova Scotia," she says, "and found myself in a little village called Upper Big Tracadie, near Monastery, whose population descended from slaves, black loyalists who fought for the British during the Revolutionary War. It was kind of a fluke that I wound up there, meeting some of the elders and talking to people about their history."

The experience led her down a rabbit hole of research and got her thinking about the connections to Britain that black people in North America have. "It's a fraught relationship, not just with the colonial enterprise," she says above the clamour of the salon, her hands becoming increasingly more gestural, "but with the recolonisation idea, recolonising West Africa."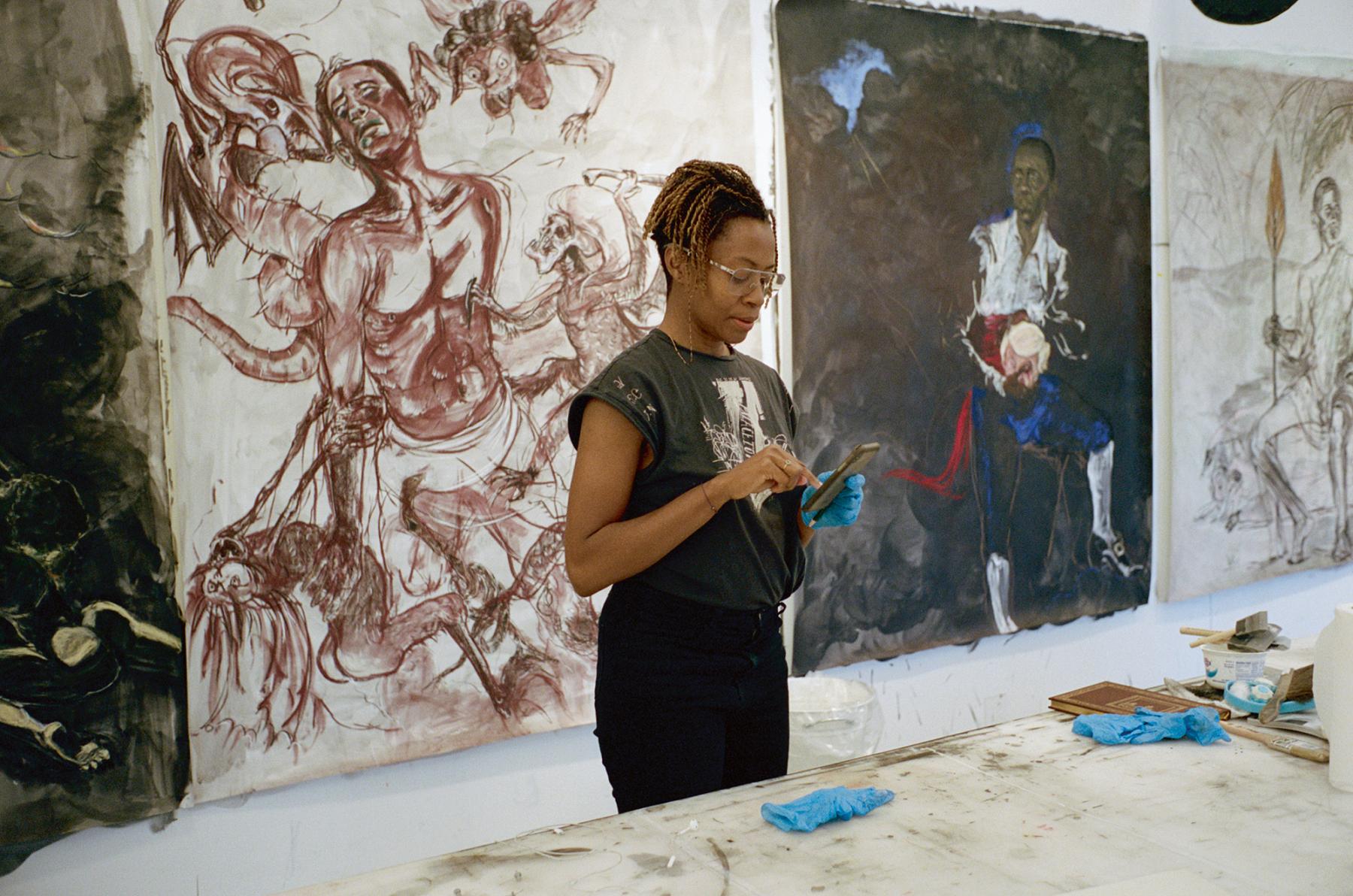 Jamillah, apologetic and sporting candy-coloured hair worthy of Nicki Minaj, finally arrives after an hour and a half. A serious discussion ensues about the length (just above the shoulder) and colour (a combination of high- and lowlights with white tips) of the two-strand twist with added hair that Jamillah says will last up to eight weeks. There's a brief digression about Kara having once seen Stevie Wonder at a salon ("It was crazy," she says. "I turned around and he was just there, holding forth and getting his locks done"), and then Kara moves to a nearby shampoo basin. She resumes a train of thought about her own lineage. The other women in the salon appear uninterested, most of them either on their phones or immersed in a conversation about an upcoming wedding.
An appearance in 2016 on Finding Your Roots, the television show about ancestry hosted by Henry Louis Gates Jr, the noted American literary critic, historian and director of Harvard University's Hutchins Center for African & African American Research, confirmed what Kara had always assumed growing up: one of her relations was the illegitimate son of a black woman in South Carolina and a white British man, the town's butcher, whose last name was Thorpe.

"My mother, whose side of the family is very light-skinned, would refer to the Thorpes in a way that was meant to signify some whiteness or classiness," she says, touching the tip of her nose to suggest snobbishness. "I want to find out everything about the Thorpes. We do a lot of searching for our African roots but not a lot of searching for our English roots."

Kara's hair is washed; I take this as my cue to leave her with her trusted confidante. The rapper Big Sean is blasting in the background and I ask her what kind of music she's into. "Am I into music?" she ponders, before warning that she is an unreliable narrator. (Those who know her agree. "She is very aware of the power of language," says her longtime friend Eungie Joo, the curator of contemporary art at the San Francisco Museum of Modern Art, before adding with a laugh, "I would never take her at her word.) "I want to say yes, and of course I listen to it, especially classical while I work, but there are people in my life who are definitely more into music than I. Music is something I kind of missed out on in my life. I wonder sometimes: what was I doing that I was missing out on all these things?"
"I really love the talkiness of 18th-/19th-century explanations of what you're looking at – OK spoiler!"
Growing up in the 1970s in Stockton, a culturally and ethnically diverse port city in California's agricultural heart, there was certainly a lot of multi-culti dressing up involved. "We had friends from different backgrounds, and I went to all the different festivals," Kara says. "I was not shy, and I was always, you know, doing a fan dance at the Japanese culture festival or dancing at the Greek festival. I was a precocious cutie-pie at every festival – a delight, you could say."

Her already diverse upbringing became even richer when she was eight and the state introduced a school busing programme after it found that the district was deliberately segregating schools by using a neighbourhood system. Kara ended up being bused to the predominantly black Martin Luther King Elementary School on the other side of town instead of the one she'd been attending down the street.

A much more difficult adjustment lay ahead when she was 13 and her father, Larry, an artist and teacher at the University of the Pacific ("He was a tall black man heading up the art department, and people really looked up to him, in multiple ways"), accepted a new job at a university in Atlanta, Georgia.

Gone were the safeguards offered by her ordinary childhood life, the innocence of Girl Scouts and playing with friends, and her father's old academic circles. "My little rarefied zones that protected me from the wilds of Stockton were no more," Kara recalls. "I wasn't known by anybody. I didn't have any of that 'Oh, your father is so-and-so,' or 'You're so-and-so's sister.' So that was partly the problem. And then I just kept failing to understand the rules about these new tribes. Nobody told me what they were, and I kept on finding out the hard way."

It was around this age that she became more aware of the racial animus that had largely escaped her in California. "I wasn't unfamiliar with the n-word in Stockton, but it was rare," she says. "But the casualness of now being singled out as being one or not being one by whoever was trying to slot you into whatever hierarchy really turned me into – I don't know if it turned me into – but I became increasingly isolated." Her one saving grace was always art. Kara and her older siblings (her sister, Dana, is 10 years older and works as the managing director of public programmes at ArtCenter College of Design in Pasadena, California, and her brother, Larry Jr, nine years her senior, is an accountant in Snellville, a suburb of Atlanta) were all exposed to art at a young age by their father (their mother, Gwendolyn, is a former secretary). But it was clear to everyone that Kara would be the one to go into the family business.

"There was no plan B," says James Hannaham, Kara's cousin and an author and artist who teaches at the Pratt Institute in New York. "I feel like she painted herself into a corner, so to speak. In terms of her schooling and her interests, it was all pretty directed towards art pretty early on. We knew. What no one predicted was that she would become a superstar. Although as soon as that first Drawing Center show happened it was, like, Oh, right, of course."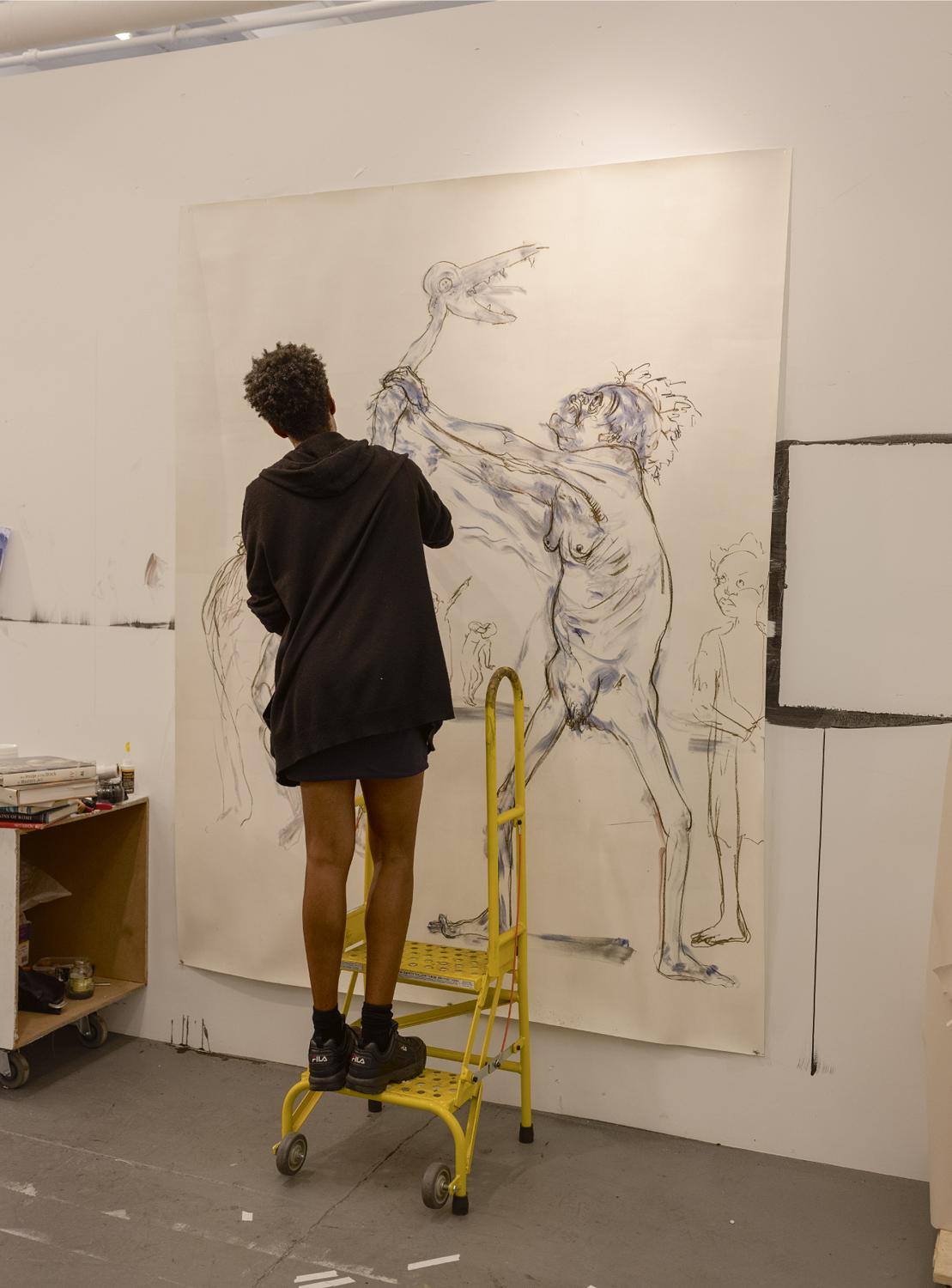 Kara's breakout moment was that show, a group one with three others, in New York in 1994. She took over an entire wall with a 13-by-50-foot silhouetted mural of antebellum horror called "Gone: An Historical Romance of a Civil War as It Occurred b'tween the Dusky Thighs of One Young Negress and Her Heart". "I really love the talkiness of 18th-/19th-century explanations of what you're looking at or are about to read," says Kara in explaining the absurdly long titles she gives her works. "They lay out all of the details, like 'In which so-and-so finds the key to the such-and-such' – OK, spoiler!" The unsparing work featured black archetypes with unmistakably exaggerated features and a white man being fellated by a slave girl.

It was Southern-fried subversion served up with liberal helpings of irony and wit. "There's a great deal of humour in her work," says Hilton Als, the redoubtable American critic, writer and academic, who has known Kara for more than a decade. "Otherwise how could you survive the horror, the atrocities?"
Within no time, Kara, who was then living with her husband in Providence, became a name to know and drop among gallerists and collectors in New York. With no shortage of offers, she signed with Brent Sikkema, then a struggling gallerist who ran his business from his flat; he remains her gallerist to this day. A slew of solo and group shows followed, as did the MacArthur Fellowship in 1997.
But with the attention came the inevitable controversy, most notably from the African-American artist Betye Saar, to whom Kara had been introduced by her father when she was a teenager. Saar took objection to what she viewed as Kara's negative, debasing images of black people and instigated a nationwide letter-writing campaign addressing artists, critics and politicians in an effort to revoke Kara's grant and prevent her work from being shown. "It's so old," Kara says, her voice dripping with world-weariness, when I bring up the controversy during our walk. "But I get it. We're forever linked, even if that is the last thing she probably had in mind."
Kara doesn't have a problem with Saar's work, and she recently posted a photo on Instagram of her daughter at the National Museum of African American History and Culture in Washington, DC, smiling in front of one of Kara's own artworks hung, cheekily, below one by Saar. The caption read: "In dialogue and not at war. Bettye [sic] Saar work sitting over my print 'No World' with my kiddo posed in front at the National Museum."
"I keep asking myself, What good is it to have art in there? How is this a gift to England?"
Not that Kara is pulling any punches. (Her cousin James says that "Kara's response to negative criticisms is to double down on exactly the thing that people are getting upset about. It's really remarkable. She doesn't back down.") For her part, Kara thinks that "the conversation around what is valid or valuable or forbidden in the work of women artists or black women artists or black artists is always a fraught territory. There are people who claim to be gatekeepers and people who want to push the barriers."
Kara is certainly pushing the barriers with her film work. Hilton Als is curating a new exhibition of Kara's films that opens next month at the Sprüth Magers gallery in London. According to him, just as slavery wasn't humanised until Toni Morrison published her novel Beloved in 1997 – most slave narratives previously had been addressed to abolitionists – Kara makes work that is about her doing the looking, as opposed to being looked at. "What happens in her films that is extraordinary is that the gaze shifts between what the white characters see and what the black characters see," Als tells me over the phone. "There's a kind of weird complicit nature in some of the scenarios. One of the amazing things about the film medium is that it requires us to question what we're looking at and why, and her films question what we are looking for when we look at another person."
Though she relishes the opportunity to exorcise her personal demons – "It's a kind of conversation between artist and object, master and servant," she says, "though it's hard to tell sometimes who's who" – don't expect Kara back in the editing room any time soon. "It's incredibly lonely," she says when we speak by phone a few weeks later. In addition to being holed up for days, there's also the problem of needing help with the shadow puppets that dominate her films. "It's a lot to ask volunteer assistants to come in and work on a scene that involves a lynching or a rape," she says. "I get it. What can I tell you? My critics are right: I'm a witch."

Kara has just returned from Europe, where she checked in on the Tate commission, made a lightning visit to Basel during the Swiss city's art fair, and had a two-week holiday in Greece. The hair, she assures me, has held up despite her trying schedule.

That schedule just adds to her anxiety levels, she says, and she has plenty to spare. Besides, there's enough on her plate right now. In addition to the two London shows, "Kataswóf Karavan", a public artwork she created for the American composer and jazz pianist Jason Moran, is being reprised later this year at the Whitney Museum of American Art in New York, and she has a show, A Black Hole Is Everything a Star Longs to Be, that opens in May next year at the Kunstmuseum Basel.
"It's different when you're younger and everything feels possible," she says, her voice betraying her jet lag. "I was thinking while I was away that I have been steadily working as an artist since I was 24, which is crazy. I don't have a hankering to do 13 big projects around the world at any given time. I don't want to be that kind of artist. I'd rather be a human than a corporation."