Janelle Monáe
The way Janelle Monáe makes us feel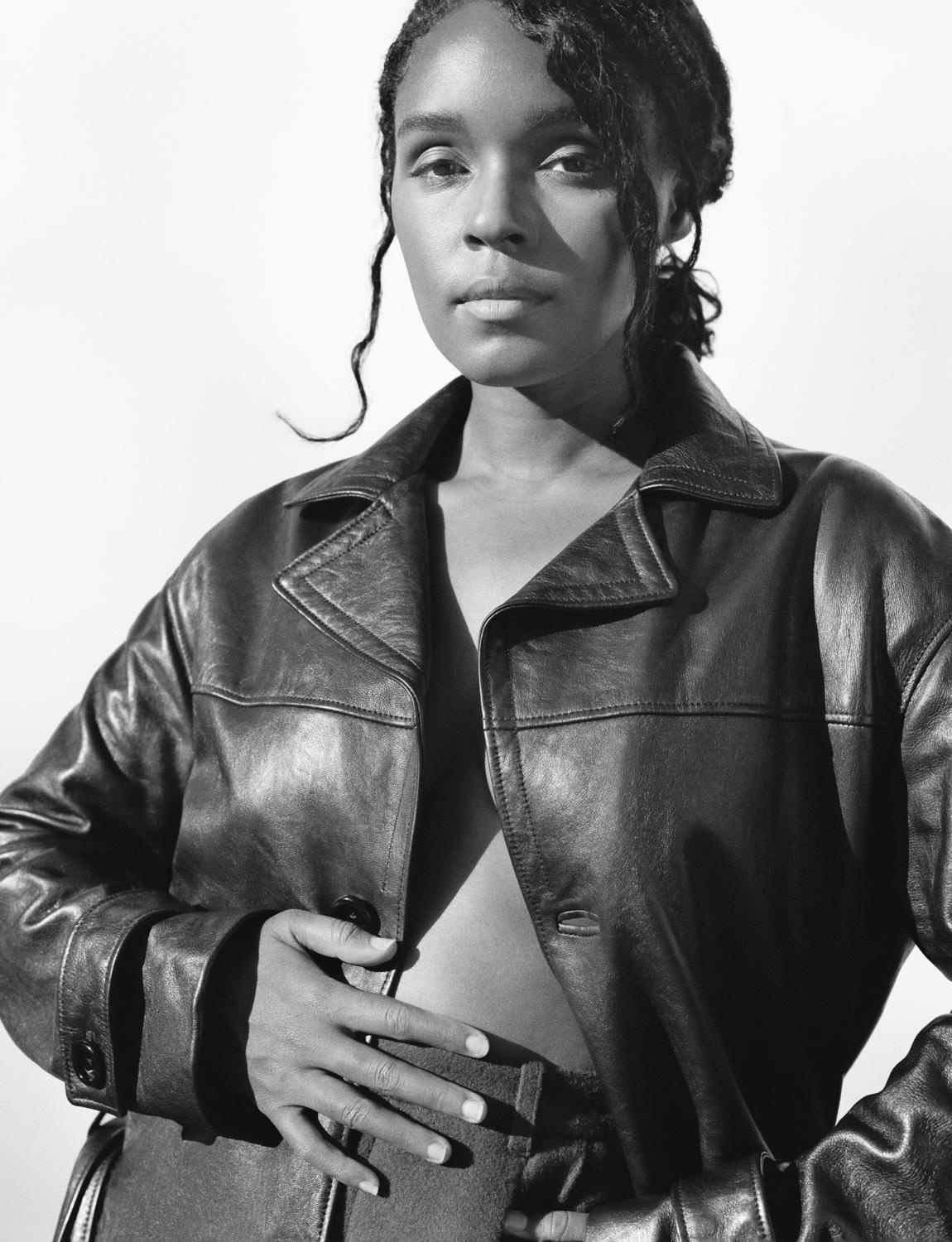 Janelle Monáe has carved out an extraordinary niche with her skills as a singer, entrepreneur, actor and activist – dubbed an "incandescent talent" by no less than Michelle Obama. At 34, having cast off the constraints of her early extraterrestrial persona, her universe has expanded, resulting in music that's more danceable and screen performances that feel intimate and real. Janelle grew up in Kansas City but found her people in Atlanta, from where her company, the Wondaland Arts Society, invites like-minded "free-ass motherfuckers" to join her in creating radical art.
Janelle Monáe is focused on her lunch when I catch up with her over Zoom on a late afternoon in July. "I'm so sorry," she says, in between bites of a salad loaded with chicken, kale, quinoa, cranberries and Japanese sweet potatoes, "but this is my first time eating all day." Her braided hair is tucked into a black felt hat, creating an Afro effect, and she is wearing a roomy white Oxford shirt and black-and-white pyjama pants, a far cry from her usual high-impact stage drag.

Working from home has been a blessing and a curse, she tells me, resting her plate on a table before reclining into a leather armchair. A bittersweet mix of calm and disquiet, it has afforded her some much-needed downtime after a gruelling year that included mercury poisoning; a world tour to promote her album Dirty Computer, released to great acclaim in 2018; and appearing as the lead in the highly anticipated second season of Homecoming, Amazon Prime Video's Memento-esque series, which starred Julia Roberts in its first season. Janelle plays a military veteran who has to piece her life back together, as you do, after waking up with amnesia in a canoe in the middle of a lake; the role earned her a nomination for a Black Reel Award for outstanding actress in a drama series. In between she found time to appear in two feature films: The Glorias, director Julie Taymor's biopic of Gloria Steinem, and the time-travel thriller Antebellum, in which she played her first lead role.

"I've enjoyed having time to relax and let my mind wander, but I've had different phases," she says, referring to the months of lockdown. "I've definitely had moments of depression and anxiety, but I am adapting. I'm doing a lot of unlearning. The time at home has allowed me the opportunity to go inward, to heal.
"As a Black creative," she continues, "it's been hard to say no to things, because you fear that these opportunities will only come around once in a lifetime. If the last few months has taught me anything, it's that it's OK to set boundaries and make some time for yourself."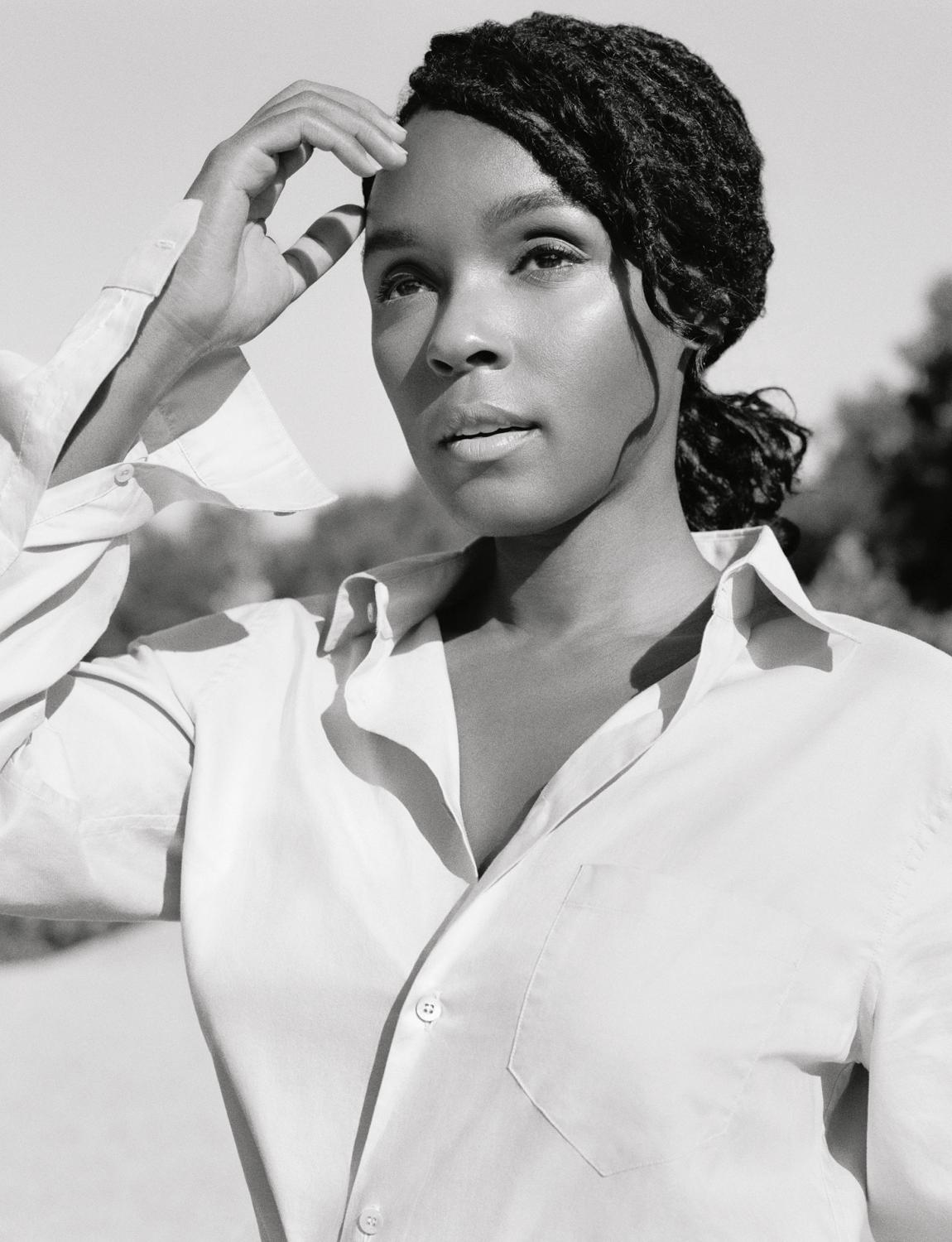 Janelle, 34, first fell to earth, Bowie-style, in the mid-2000s as an otherworldly new androgyne on the scene, a genre- and gender-bending musical prodigy who one critic referred to as "James Brown reborn in a more advanced female future". Her breakthrough album, 2010's The ArchAndroid, was a sci-fi-inflected, haute-conceptual blend of pop, funk and soul – a declaration of intent that seemed at once indebted to precursors such as George Clinton and Sun Ra and a harbinger of things to come. In interviews she often spoke of being sent from the future, and it was sometimes hard not to take her at her word.
The ArchAndroid attracted the attention of Prince, who became a mentor, as did Stevie Wonder (he and Janelle performed together, and a recorded phone conversation between the two of them appears as an interlude on Dirty Computer). Since the release of The ArchAndroid, Janelle – singer, songwriter, entrepreneur, actress, producer, social activist and fashion iconoclast – has kept enough plates spinning to rival a circus performer.
In short order, she performed at the 53rd Annual Grammy Awards in 2011 alongside the artists Bruno Mars and B.o.B, became a spokesperson for Cover Girl in 2012, and was featured the same year as the guest vocalist on Fun's "We Are Young", which became a number one hit across the world, exposing her to a larger mainstream audience. Her second studio album, The Electric Lady, was released in 2013 and appeared to benefit from her growing visibility, reaching number five in the Billboard 200. There were successful guest appearances with everyone from Pharrell Williams to Grimes and Kelly Clarkson and a 2014 performance at the White House with artists including Aretha Franklin. And Janelle's electrifying stage presence and epicene style, which brought to mind Little Richard as styled by Marlene Dietrich, positioned her as the tuxedo-wearing, pompadour-crowned saviour of pop music.
Janelle made her feature film debut in 2016 with supporting roles in two movies, the Oscar-winning Moonlight and Hidden Figures, which won the coveted nod for best ensemble at the 2017 Screen Actors Guild Awards; to both she brought a palpable intelligence, grit and what Julie Taymor refers to as the "feminine power of listening and being supportive". By then, it felt as if the impish performer and avowed time traveller had been part of our pop-culture consciousness for aeons.
Over the years Janelle has adopted a post-human persona (often in the form of her sometimes cloying alter ego, Cindi Mayweather, a messianic android from the year 2719 who falls in love with a human), but her roots are undeniably terrestrial. Janelle Monáe Robinson grew up in Kansas City, Kansas, in an extended family that included 50 first cousins. "There were a lot of us," she explains, touching her ear, a tic-like gesture that she repeats throughout our conversation, "and we all pitched in as needed. I watched over my little cousins; my older cousins watched over me. My aunts made sure I had clothes for school, and my mom did the same for her nieces and nephews. One of the things my family instilled in me is the importance of community."
Her father, Michael, was a truck driver who was largely absent and left her mother, Janice, when Janelle was less than a year old. Janice worked cleaning houses and as a janitor. Her mother remarried, and had a second daugther, Kimmy.
Growing up, Janelle sang in the local Baptist church and performed in talent competitions and musicals from a young age, but she insists that she was no wunderkind. "Honestly," she says, "there were so many talented kids around me, and at that age I was intimidated more than anything." A precocious storyteller and writer with an avid interest in science fiction (to which she was introduced by her paternal grandmother via The Twilight Zone), she joined a young playwrights' programme in school and began writing her own musicals, including one inspi-red by the trippy 1979 Stevie Wonder album Journey Through the Secret Life of Plants.
Though she was adept at singing, acting and writing, she was hardly spoiled for choice when she finished school. "Nobody was coming to Kansas City offering record deals," she says drily. "We were the last place that people would think to look. So I didn't know if I was just going to be in the music industry proper, but I thought that there could be a place for me on Broadway." She applied to the American Musical and Dramatic Academy in New York and was accepted on its bachelor of fine arts course in musical theatre. "I was just thinking about what I could do now. And I was like, Yeah, I can sing and act, so that's what I want to do full time."
In New York, Janelle shared a small apartment in Harlem with an older cousin who worked night shifts at the post office; they took turns sleeping in the single bed while the other was out. Janelle worked part time as a maid in Manhattan to make ends meet.
But while she was grateful for the opportunity to learn how to sight-read music and properly dissect a role, it wasn't lost on her that as the only Black woman in her year, she didn't look like everybody else and wasn't being represented on the page. "I didn't see the roles that I liked," she says. "I didn't see the new, fresh opportunities for Black voices on stage. And so I was just like, Fuck this, I need to actually spend some time living."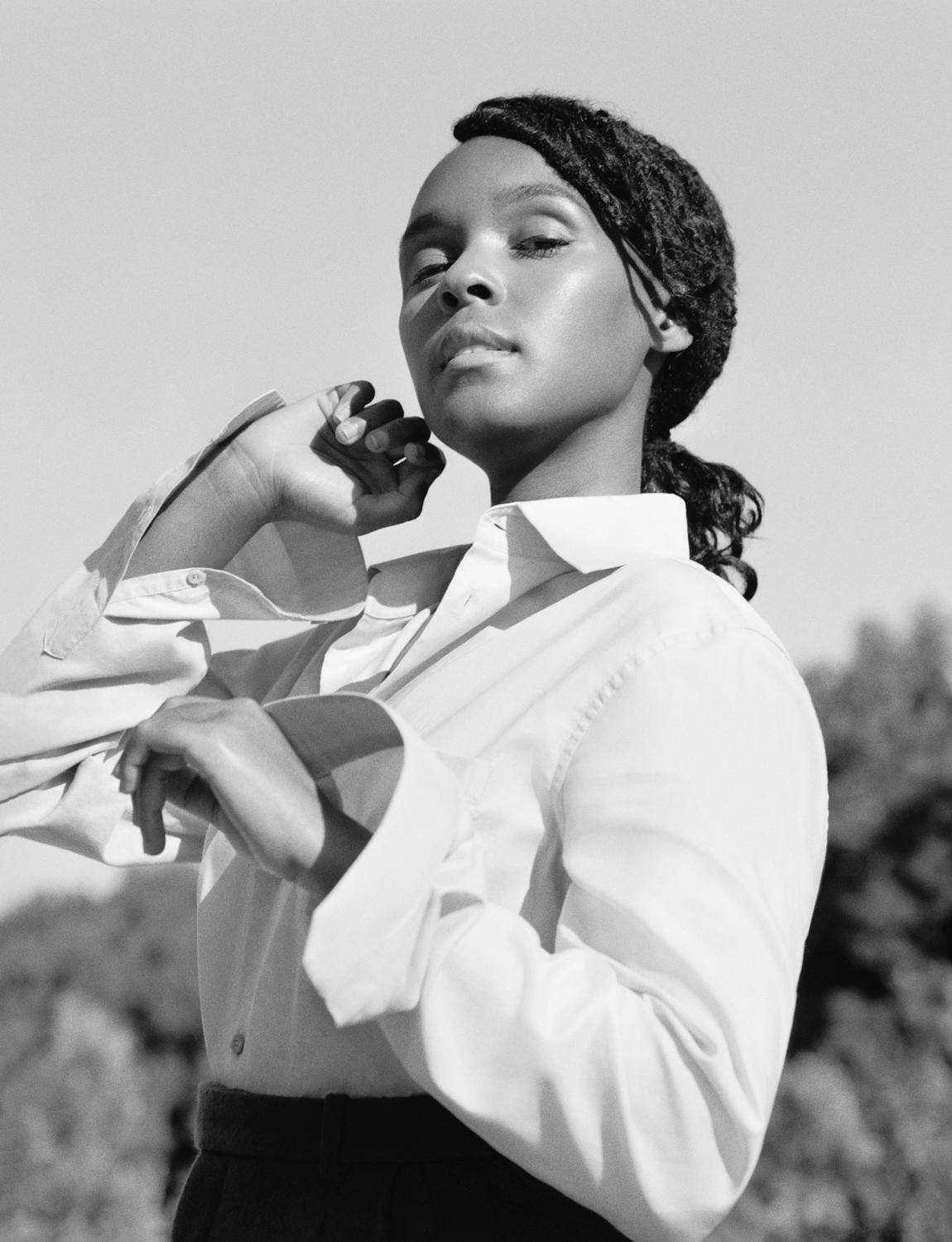 "It wasn't easy for me to say, 'Yes, I'm going to film on a plantation.'"
Janelle quit in her second year and, not wanting to go back to Kansas with her tail between her legs, moved to Atlanta, Georgia, where one of her friends had recently enrolled at Clark Atlanta University. "Looking back," Janelle says, "I just needed a place to be messy, to make mistakes and explore. And Atlanta felt like the perfect place to do that, because it had so many Black and brown creative folks who were in school, coming from different walks of life."
The city in the early 2000s, she recalls, was a broad church of positivity and creativity. "Hip-hop was exploding at the time, with bands like OutKast, but even that scene was so varied. There was also funk and punk, visual artists, actors, screenwriters, people in the literary world. So many talented, larger-than-life artists coming together like Marvel characters."
Janelle attended Perimeter College at Georgia State University, a public institution with a strong performing arts programme, but lived in a boarding house with six other women in the Atlanta University Center district, home to the historically Black institutions Morehouse College, Clark Atlanta University, Morehouse School of Medicine and Spelman College.
Determined to share the songs and stories she was prolifically writing for herself, Janelle began performing "on library steps or wherever anyone would have me." In 2003, emboldened by the interest she was getting on MySpace and for her guerrilla appearances on campuses around town, Janelle self-released a demo album titled The Audition. More sparsely produced and conventionally R&B than her subsequent official offerings, the recording is remarkable for Janelle's voice –already agile and assured – and the fully formed space conceits that would underpin her future writing. In the song "Metropolis", for example, she sings of a world "where a cyborg can love and a cyber girl is still a queen", prefiguring her song "Q.U.E.E.N." by 10 years. She sold the album out of the boot of her Mitsubishi Galant. "I was practically a nun in those days, so it made sense to drive a nun's car," she jokes.
It was around this time that a friend introduced her to the songwriters and producers Chuck Lightning and Nate Wonder, who were at the centre of Atlanta's Black creative underground. "She had an unmistakable energy about her," Lightning says. "And then you heard her sing and it just made you appreciate her even more."
Wonder adds, "She was opening for another act the night we met, but as soon as she opened her mouth there was nothing else to talk about for the rest of the evening. I asked my manager to try to set up a meeting with her. I was like, 'Please, if there's any way possible she can come to the studio tomorrow.'"
Wonder and Lightning were the driving force behind the Dark Tower project, a loose multidisciplinary group of creatives whose anything-goes gatherings were inspired by the salon-like parties that A'Lelia Walker, the daughter of the first self-made female millionaire in the US and a patron of the arts, threw in her townhouse on West 136th Street during the Harlem Renaissance in the 1920s.
"When I was introduced to Dark Tower," Janelle says, clearly excited to be sharing an important moment inher life, "I was, like, Oh my God, this is exactly where I need to be. I found my people. I found other free-ass mother-fuckers. That's what I was yearning for. In terms of community, that set the foundation. They were all about connecting the dots and showing that there could be a new way of coming together and creating art." (In 2005, the three formed the Wondaland Arts Society, a Paisley Park-like collective that serves as the umbrella organisation for Janelle's many projects and ventures, including in 2014 Wondaland Records –a joint venture with Atlantic Records – and a film development company.)
One of the songs on the demo, "Lettin' Go", inspired in part by being fired from a job at Office Depot for using a company computer to answer a fan's email, attracted the attention of OutKast's Big Boi, who invited her to perform on the band's 2006 album, Idlewild. He also introduced his friend Sean "Puffy" Combs to Janelle's MySpace page. Combs signed her to his label, Bad Boy. But it was a deal done on her terms.
"She entered the industry as a rebel," says Kelli Andrews, who has been friends with Janelle for 15 years and is now the operations manager of Wondaland. "She wore suits in a field where women are expected to dress promiscuously and reveal their bodies. She decided to do things her way, and Puffy obliged her and said, 'Sure, let's do it.'"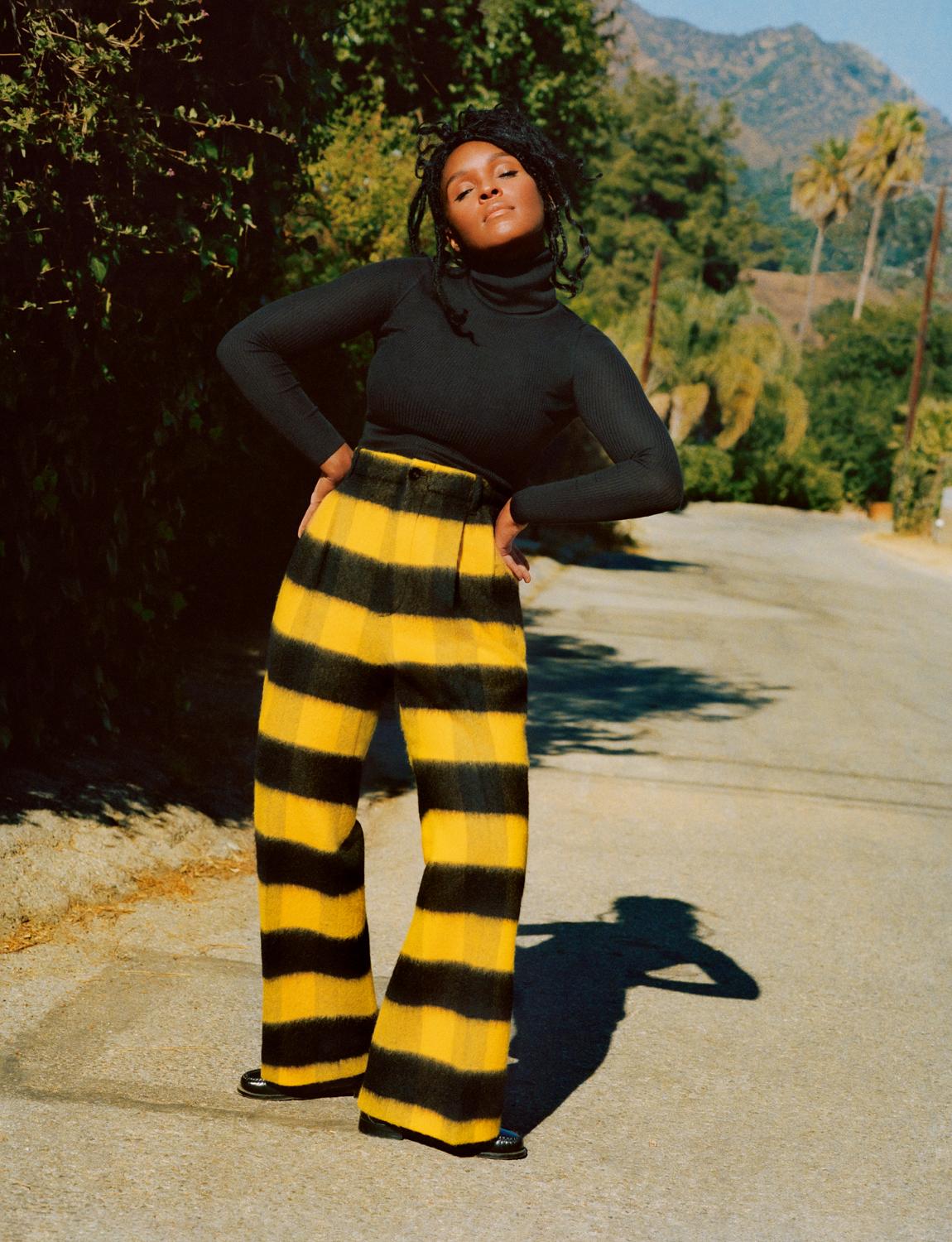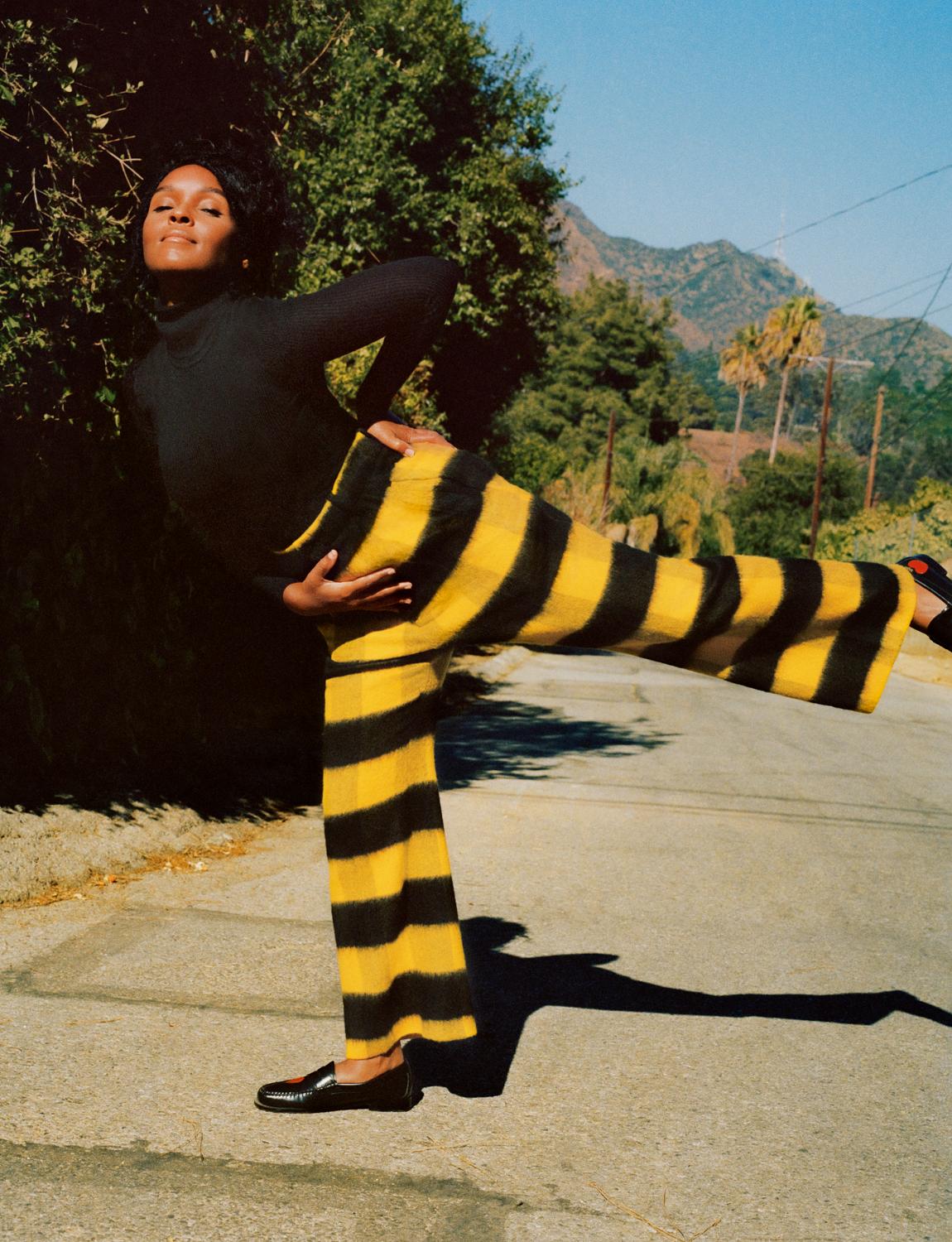 "From the moment we first met her," Wonder says, "she was adamant that she did not want to compromise or even have a large fan base, that it was not a critical measure of success for her. I distinctly remember her saying,'If I only have 500 members in my church, I'll be fine.' Obviously she's become much more known than 500 people, and that small-church mindset has been tested a lot, but it's still one that speaks to the core of who she is."
"It's true," Janelle confirms. "I remember saying that as long as I could pay my rent every month and do the music and tell the stories I want to tell, I'm so OK. I'd like to think that hasn't changed."
Which is not to say that everything about Janelle has remained constant. For one thing, her music has evolved from the sometimes wilfully impenetrable retro-futurist stylings of her early releases to the more commercially viable, eminently danceable pop-funk offerings on Dirty Computer, such as "Screwed", featuring Zoë Kravitz, and the catchy Prince-inspired single "Make Me Feel".
She may be, to quote Spin magazine, "a canonised artist without a classic album", but the absence of commercial superstardom has allowed her the creative freedom to mine the intersection of the personal and the political, and subjects of Black womanhood, identity expression and sexual fluidity, with funky abandon.
"She's always been somebody who I would consider pretty fearless," says Mikael Moore, her long-time manager and collaborator, "but if you look at her evolution as a songwriter, as a performer and vocalist, as an MC, I think it shows the risks she's prepared to take as an artist."
To wit, her lyrics have become less maddeningly veiled, more overtly personal. Where once she seemed to avoid the issue of sex with almost android-like detachment, Janelle, who came out as pansexual in a Rolling Stone interview the day before the release of Dirty Computer, now seems more comfortable letting the world know about her desires. In songs like "I Got the Juice" –"Got juice for all my lovers / Got juice for all my wives (hey!) / My juice is my religion / Got juice between my thighs (hey!)" – she leaves little to the imagination.
And while aliases such as Lewis Carroll's Alice and Django Jane (a Black Everywoman inspired by The Great Cosmic Mother, Monica Sjöö and Barbara Mor's 1987 book about the Goddess movement) make cameo appearances on Dirty Computer, Janelle has noticeably dialled back on giving interviews as Cindi Mayweather. "For sure, she was a defence mechanism, a way of dealing with a lot of the pressures and fears of being judged," Janelle says of her abiding alter ego. "But everyone needs an avatar, right? And besides, Cindi is an amalgamation of all the things that I still aspire to be."
She tells me, unprompted, that those objectives involve dealing with the trauma and abandonment issues she has experienced since childhood. "Growing up, I had an off-and-on relationship with my dad, who battled drug addiction for many years. Thankfully, my dad and I are so close now, but he was in and out of my life, and I didn't realise how much I had buried that."
"As a Black creative, you fear that opportunities will only come around once in a lifetime."
Coming to terms with the residual effects of the past is at the heart of Antebellum, in which Janelle plays a modern-day author who is transported back to the 19th century to live as a slave in the American South and come face to face with her ancestors.
Janelle was widely praised for her roles in Moonlight and Hidden Figures (The New Yorker called her turns in these films "quietly expert") and the histor-ical drama Harriet, in which she plays the fictional Marie Buchanon, a free Black woman and the owner of a boarding house who helps Harriet Tubman adjust to life after escaping slavery.
But it is her role as Veronica/Eden in Antebellum that has been the most challenging, Janelle says. "Emotionally, spiritually, physically, it's the toughest role for me to date." The production involved shooting on a former cotton plantation in Louisiana. "It wasn't easy for me at all to say, 'Yes, I'm going to film on a plantation.' I didn't want to be anywhere near that. I knew I had a job, though. It was important to highlight the burden that Black women carry to deconstruct systemic racismand white supremacy every single day.People have to understand what we are dealing with and how the past is directly connected to our present. And how the past is not even the past.
"How our ancestors, my ancestors, have been treated historically," she continues, "is connected to what we are experiencing now with the riots across America. The police are mistreating us; the microaggressions at work and in public – everything that we're dealing with now is a symptom of past structures that were created to oppress us."
What got her through filming, she says, was thinking about the special women in her life, such as her great-grandmother, to whom she is still extremely close, as well as public figures she admires, including the activists Brittany Packnett Cunningham and Angela Davis and the outspoken US congresswomen Maxine Waters and Alexandria Ocasio-Cortez, also known as AOC. "When I thought about all of these voices, these women of colour, these Black women, I found the strength. It was important for me to represent a Black woman who was not going to be silenced, in the same way that these Black women and women of colour are out there protecting the rights of marginalised communities in spite of getting death threats, or being publicly called a bitch at work in the case of AOC."
She brings that same oppositional strength to the role of 1970s feminist and academic Dorothy Pitman Hughes in The Glorias. Although Janelle's role is small, she has some of the most memorable moments in the film, including a scene in which she calmly breastfeeds a baby on a plane – to say nothing of the unforgettable Pradaesque '70s get-ups in which the Oscar-winning costume designer Sandy Powell dressed her.
"What struck me about Janelle was how precise and methodical she was about everything," says her co-star Julianne Moore, who plays Gloria Steinem in middle age. "There is a tremendous consciousness about everything she commits herself to." Janelle tells me she threw herself into researching the life of the pioneering activist Hughes, who is often credited with helping Steinem, who was initially terrified of public speaking, to find her voice.
To emulate Hughes's plucky oratory, Janelle only had to tapinto her own experience as a competitive monologist in high school. "Janelle was what?" asks an incredulous Alicia Vikander, who plays Steinem at the height of her youthful 1970s media notoriety. "She's full of surprises, that woman."
"Oh, I was no-joke about public speaking," Janelle deadpans, before adding with a smirk, "No sex before competitions – that level of commitment. Seriously, though," she says, "what I love most about this movie is the intersectionality. You have a coalition of women of all races and backgrounds working together, respecting each other's perspectives, trying to be better allies to one another and to create a fearless generation of women who are even more evolved. That's what it looks like when we come together. Gloria Steinem was able to do the amount of amazing things she did because of the community of women she surrounded herself with."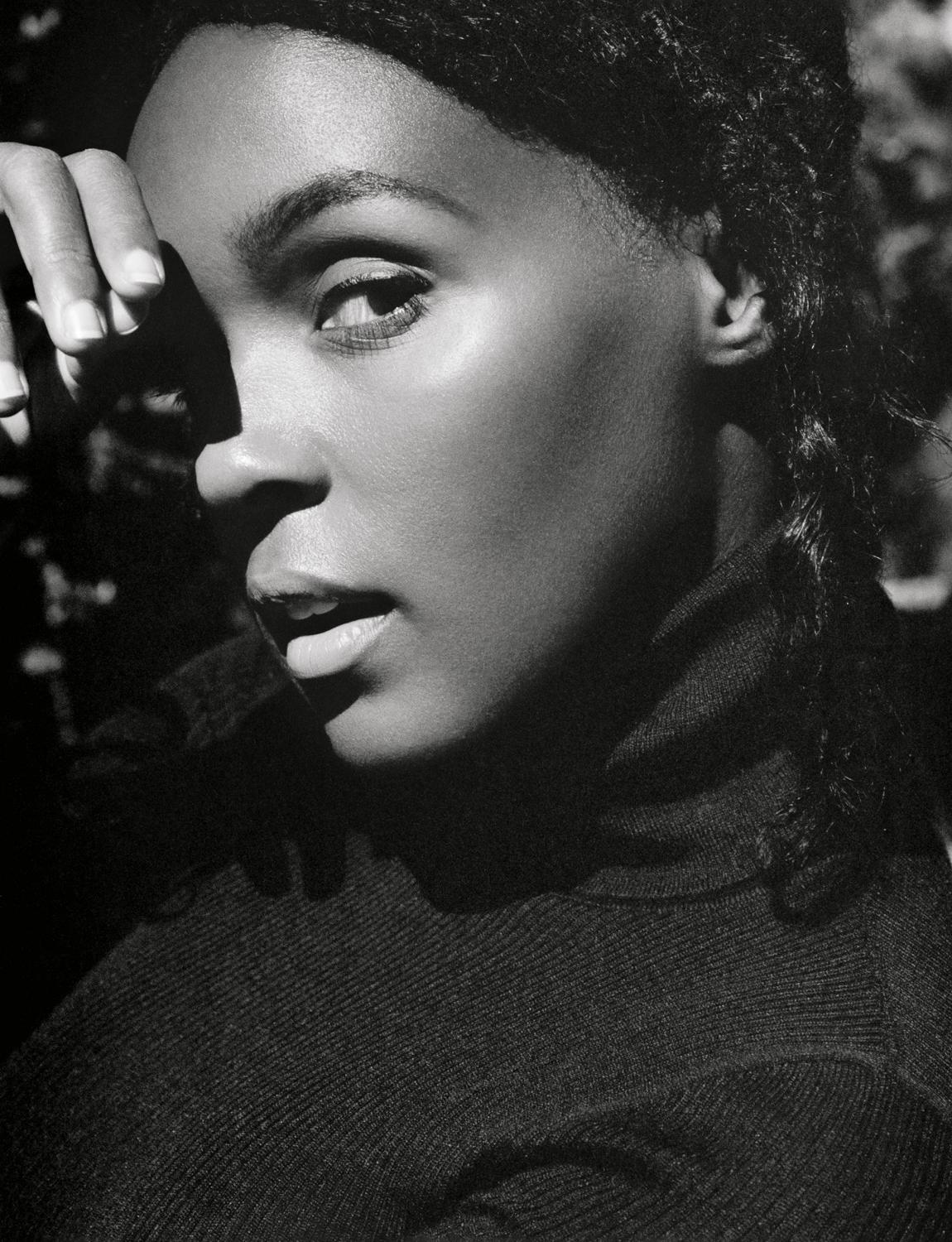 "I feel my masculine energy, I feel my feminine energy, I feel energy I can't even explain."
When we sit down for our second video interview, Janelle appears as comfortable in her own skin as her recent lyrics suggest – quite literally, as a pimple-healing patch is still affixed to her face. "I have one pimple that travels to different parts of my face and reminds me of my humanity," she jokes. "It keeps me extra humble and disciplined."
Though she won't give specifics about her love life in interviews, she is less circumspect in the image she presents to the world and appears to be having fun toying with the public's curiosity. In a move that fuelled rumours of a relationship with Avengers: Endgame's Tessa Thompson (they have both publicly denied it), she featured the actress in the "emotion picture", or narrative film, for Dirty Computer, especially in the section accompanying the song "Pynk". In it, Janelle and her dancers perform in "vagina" trousers by the Dutch designer Duran Lantink; in one shot, Thompson appears to emerge from between Janelle's legs.

"I live outside of the binary in my personal life," Janelle says. "I feel my masculine energy, I feel my feminine energy, I feel energy that I can't even explain. I don't have to and I don't need to. And I don't want to. And so my clothes are an extension of rebuking this notion that in order for me to be accepted I need to dress in a certain type of way. I made that decision to go against the grain a very long time ago."
Chuck Lightning compares Janelle's growth to that of Michael Jordan. "It's like when Jordan discovered his fade-away," he explains. "It was like, 'I don't have to go to the basket every time – I can do this.' It's the same thing. She knows what she's capable of, but now she's figuring out how to do it more efficiently."
At the end of the day, Janelle says, it's about returning the favour to the people who poured so much belief into her and making them proud. "I ask myself all the time, How can I do that?"
In addition to continuing to agitate on behalf of Black Lives Matter (her 2015 song "Hell You Talmbout", in which she names Black Americans killed by police or in racial attacks, has become the movement's unofficial rally cry) and supporting activists such as Kimberlé Crenshaw and Bernice King, Janelle is also the guiding force behind Fem the Future, an organisation she formed in 2015 to create opportunities for young women to get into the film, television and music industries. "It doesn't have to be in front of the camera," she explains. "We're trying to create more well-balanced humans – people who can compete at a high level in all areas and create art that is centred around stories around women, and Black women in particular. How do we all come together and create more noise? Everybody has been in their corners, but people are realising that we are stronger together and the drum needs to be louder.
"It's not about me getting all the shine or doing everything or being the face of anything. It's about a community of like-minded human beings coming together and telling radical and rebellious stories, because in these times what we need more than anything is radical art."