Vivienne
Westwood
When Vivienne talks, we should listen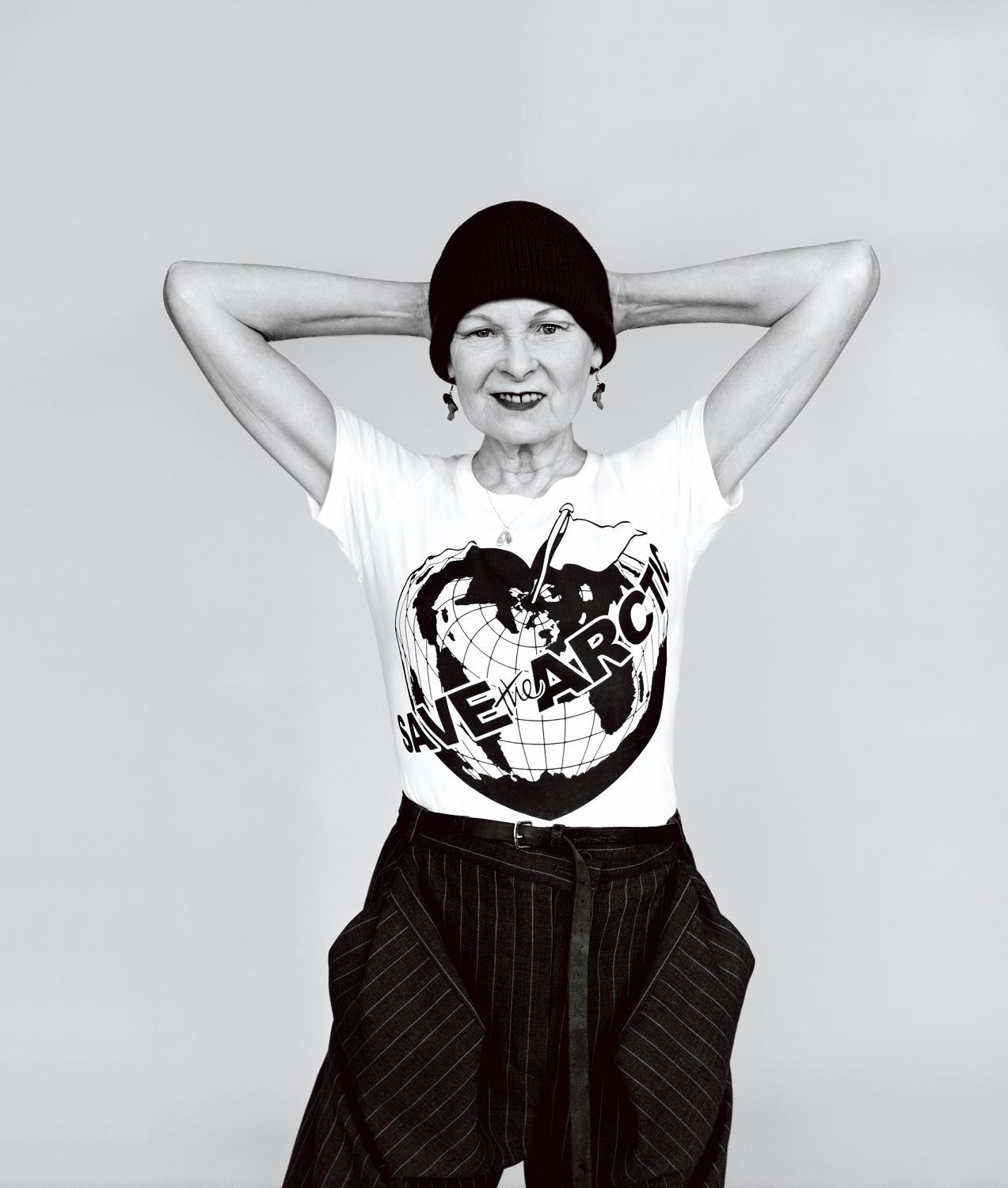 Vivienne Westwood is the fearless 72-year-old with dyed red hair who goes to the Met Ball wearing a Bradley Manning badge, but to file her under "English eccentric" is to rather miss the point. Brazenly contradictory, Dame Vivienne is surely the only couturier ever to have been invited to Downing Street to discuss climate change; yet as the owner of a multi-million-pound fashion business, she's kitting out Virgin Atlantic's staff with new uniforms.
Later this year, her first authorised biography will offer a new account of the genius of the woman with a head full of history whose first language is clothes.
A while back, when my youngest son was little, we had a routine that involved passing a certain house in Clapham, south London, a couple of times each week. It was remarkably pretty, maintained with enough flair to make it individual but not enough to overwhelm its Queen Anne classicism. What I really loved, though, was its small but exquisite front garden, which featured extravagant blooms – tree peonies, Angelica gigas and parrot tulips in spring, ripening lemons in autumn. After some years of really getting to know and love this garden, I found out that it belonged to Vivienne Westwood.
This was disappointing. I'd fondly imagined some elderly plantsman who'd nurtured the space lovingly all his life, or some woman in financial administration who'd poured her wild creativity into this small patch. But no. The garden, traditional yet stylish, English yet exotic, was the creation of one of the great tastemakers of our age.
Yet even then things weren't quite as they seemed. Vivienne does love gardening. But she does the back. The patch in front is the domain of her business partner and husband of 20 or so years, Andreas Kronthaler. In interviews, Vivienne is always keen to emphasise that Kronthaler, 48, is a formidable talent in his own right, perhaps aware that many people assume him to be a young man who simply got lucky. But Kronthaler's garden is the garden of someone with glorious, exceptional, original visual instincts. It tells me that all Vivienne says about her partner's creative abilities, and about their common sensibility, is true.
Kronthaler is hard at work in the orderly, understated Battersea headquarters of Vivienne Westwood when I arrive, unlike Vivienne, who's running late. He breaks off to chat and immediately reveals himself as one of life's irrepressible enthusiasts, fizzing with fun and energy. Like any keen gardener, he's delighted to hear his own plot praised, and he's not averse to offering a torrent of conversation about how the two of them came to live there, behind that exquisite rectangle of joyous cultivation. At the time when they met in 1989 – Vivienne was teaching him at the University of Applied Arts Vienna – she still had the Clapham flat where she'd brought up her sons, Ben Westwood and Joe Corré. It was Kronthaler who eventually insisted that 30 years was long enough and that he was going to find a house for them. "It was a nice flat," he says, "but small."
I congratulate him on managing to persuade Vivienne to spend some money, and he laughs. She is, he confirms, not at all interested in acquiring stuff for the sake of it, almost allergic to it. He tells an anecdote about Vivienne, out at dinner early in their relationship, saying she didn't have a spoon at home and was therefore going to take one from the restaurant. It was with some difficulty that he persuaded her to take two, so they wouldn't have to share. When Vivienne herself arrives, I'm quite sad that she's interrupted us. Not least because she might as well have "Why did I agree to this interview?" embroidered on her beanie hat.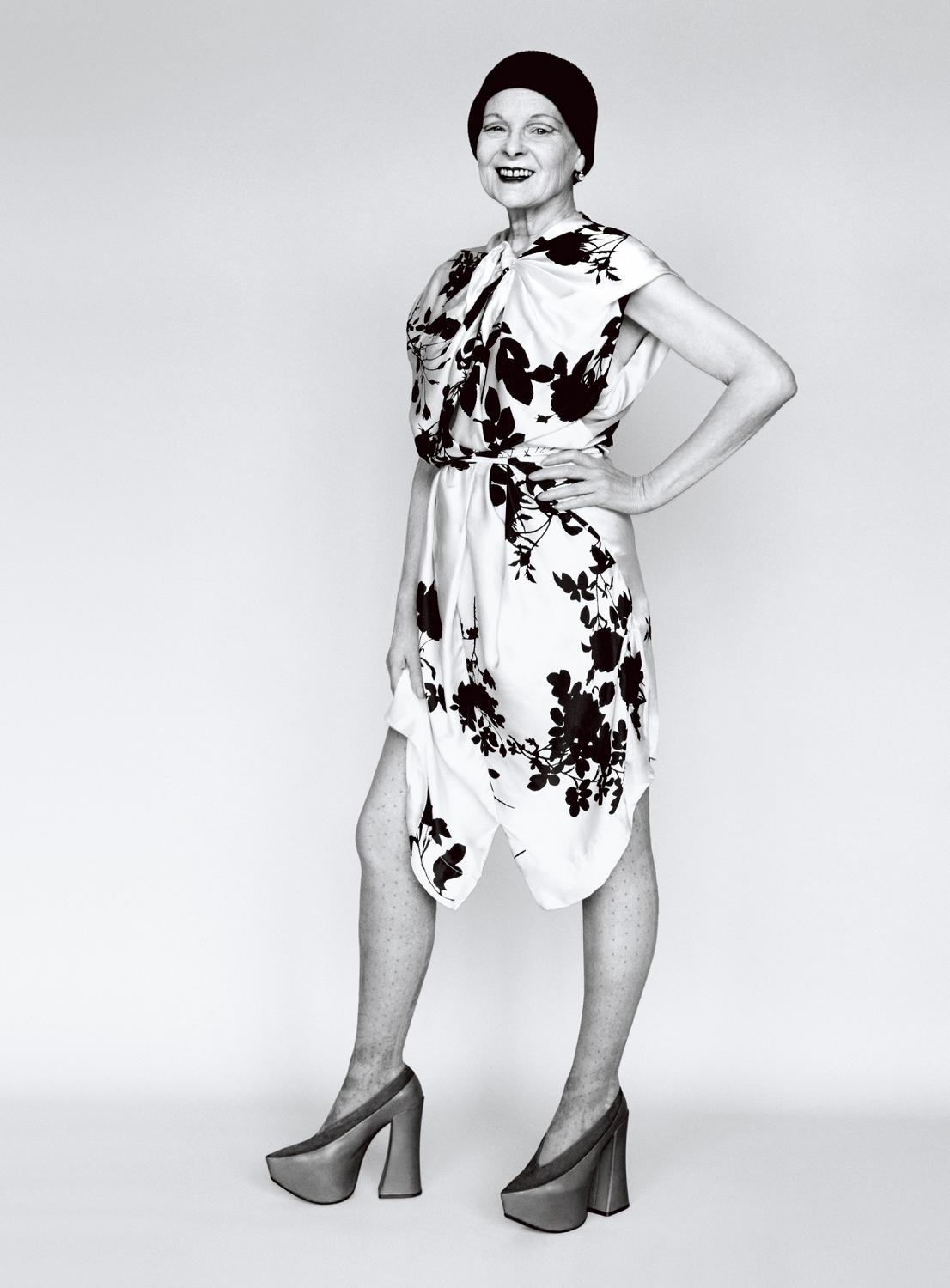 Her hair, usually resplendent in one of a range of shades from pink to screaming orange, is entirely hidden. It's momentarily discombobulating, because it makes her difficult to recognise, just for a second. Beneath the hat, she looks pixieish, almost ethereal. The swoops of pink she's applied above her eyes even put one in mind of pixie ears. She has a lovely figure – thanks to all the cycling she does, I guess. At 72, from the neck down, she could pass for a woman in her 20s. Her face looks nice, too: it's that of a healthy, engaged and highly individualistic woman who wears make-up as a declaration or a livery, not as a conventional feature-enhancer.

She's wearing extraordinary trousers. They're grey pinstripe, in a gorgeous wool that drapes like silk. Great flaps of fabric, which house roomy pockets, droop elegantly from the waist, the masculine cloth accentuating a flare of womanly hip. Her pea-green cardie is tucked into the waistband. It's cashmere but old and bobbly; it's seen a few washes. She wears it over a navy-and-white gingham shirt, which fastens at the side of the neck with a pair of big, mustardy-tan buttons like the ones on the cardigan, although they're not done up. On her feet are complicated brown brogues. Westwood always wears clothes she's designed herself, and she looks unlikely but fantastic.
I ask her the obvious question: "Why on earth do you agree to do this stuff?"
"To do an interview with you?"
"To be interviewed generally."
Vivienne looks slightly perplexed. But the question is valid. Her life and career are already well documented. She clearly doesn't like being interviewed and doesn't need the publicity. The resulting profiles, which she never gets around to reading, tend to trot out the same story: from Derbyshire; moved with family to Harrow at 17; got married; had baby; worked as primary school teacher; met Malcolm McLaren and had second baby; invented punk and the Sex Pistols with McLaren at shop in Chelsea's World's End; languished a bit success-wise after breaking up with McLaren; was named by Women's Wear Daily head John Fairchild as one of six best designers; appeared on cover of Tatler styled as Margaret Thatcher; accepted OBE while not wearing knickers; became "national treasure".
What's the point of hearing her reiterate all this stuff when the language she speaks is bodily adornment? Westwood expresses herself in clothes, not words, and her achievements speak for her. It's like that bit in Martin Amis's The Information when a radio presenter asks Richard Tull to explain in a couple of pithy sentences what his novel is "saying". "It's saying itself," he replies. "For a hundred and fifty thousand words. I couldn't put it any other way." Anyway, Vivienne is publishing her autobiography in October with co-author Ian Kelly, whose 2008 biography of Casanova was well received, so presumably it will contain whatever she wishes to put on the record.

"Well, thank you very much for asking me that question," says Vivienne, looking genuinely gratified. "I've never been asked it before. Except, of course, by me. When I was reminded that I'd agreed to it … I don't know why I agreed. At first I used to say, 'I'm not doing interviews about fashion; I'm only going to talk about problems with the environment.' And now I've decided to stop talking about problems with the environment as well, because it's such an urgent matter that dealing with it, not talking about it, is what's needed."
Inevitably, however, she does talk about it, with great intensity and a kind of measured, disgusted enthusiasm. All through the rest of the interview, she'll return to the subject, adding further points, anecdotes and facts, as she does with all the issues we touch on. "I mean, the Arctic's melting," she says. "If we stopped the emissions now, it might still not totally stop it. The World Bank has predicted that the temperature will get five degrees hotter. I got this map about which bits of the earth will become desert. I divided it into red and green. And if you draw a horizontal line right through Paris, everything below that is uninhabitable at five degrees higher. So you're talking about mass extinction and mass suffering. People ask what can we do about the people in Syria, but if that happens, you won't be able to help anybody. It's just amazing that the governments know that and are doing nothing. It's just criminal, it's absolutely criminal."
Vivienne gets some stick because of her environmental activism, which involves all sorts of activities, from running a rather good campaigning website, Climate Revolution, to being a spokeswoman for Greenpeace. People tend to find an anti-consumerism stance absurd in a fashion designer. But they are mistaken. Vivienne lives the personal life of an aesthete – give or take the occasional minor concession to the worldly world thrust upon her by Kronthaler – and you can't get much more environmentally sound than that.
"If you can't afford something, don't get something that is half the price but that you don't really like. Don't do that."
The flat, the bike, the clothes she always makes herself, the spoons... Vivienne's not interested in the material trappings of fame and success, although she graciously and gratefully accepts them. She still, she says, finds it marvellous that she can get cash from a cash machine, and recalls her amazement when fellow designer-activist Bella Freud showed her how to use one. It wasn't just the technology that astonished her. It was also the fact that she had no money to withdraw.

She didn't enjoy being hard up, she says, and she doesn't romanticise poverty. But her own needs are pretty simple – all she really couldn't do without is creative and intellectual purpose. Her personal wealth, great chunks of it, finds its way to her favoured environmental charities. Like many designers, she believes that if people bought more discriminatingly and chose things they expected to last, the world would be a better place.
"I'm going to just mention one thing that Andreas said to me. He was getting fed up at me spending too much time on the Climate Revolution side, and he said: 'It's so much more important to make a beautiful dress. If people would only buy beautiful clothes, you wouldn't need a Climate Revolution.''' And if you think about it, he's probably right. "I think if you really like something, then you should try to buy it. And if you can't afford it, don't get something that is half the price but that you don't really like. Don't do that." Vivienne looks pained at the thought.
"When I was 14, I lived 12 miles from Manchester, and I went there when the sales were on. I never went to a sale again after that, because I realised that I'd bought things just because I thought they were OK. When I got them home, I didn't think they were that great, and in the end I didn't wear them much."
Vivienne enjoyed manufactured clothing as a teenager in the 1950s. She recalls getting red jeans by mail order because they were more unusual than blue ones (and then regretting it). But she always made her own clothes, too. "There were one or two things when I was about 15 or 16, dresses – I think they were really nice." As she points out, everyone made their own clothes back then.
"I was born in the war years," Vivienne says, "when there was rationing, and I'm ever so glad I wasn't inundated with product all around me; things were precious, important. I loved school, and I wanted to know everything I could about the things I was reading about." She says she never felt like an outsider because she had a deep interest in trying to understand the world from a different viewpoint. "That's what you do when you explore the past to make sense of the present," she continues, "and this is why I got fed up with Malcolm. I wouldn't have said these things when he was alive, because you have to be loyal. But he just wanted to find something that he could make a buzz with. He was never interested in persevering to understand things. It's an interest in intellectual things that makes me who I am."
For a time after she and McLaren parted, I think people assumed Westwood was a sensationalist too. And a part of her is. She wants to be different. She wants to be special. She wants to be noticed. It's just that she wants to be considered different, special and noticeable in a more profound way. Westwood is not without arrogance, but that's OK, because her high opinion of herself is backed up by her achievements, the mark she's made on the world. But when she left McLaren, it did take a while for people to realise that she was the real deal, truly gifted.
Bella Freud believes it was John Fairchild's endorsement of Vivienne in his 1989 book, Chic Savages, that finally convinced her critics. "That gave people a bit of a shock," she recalls. "Vivienne was really pleased. I'd been working with her on and off since I was 16, originally as a shop girl and then as a design assistant. People had been quite patronising about Vivienne, but around the mid-'80s they really woke up to her brilliance. And then when she won Designer of the Year at the British Fashion Awards for the first time in 1990, it really changed from the top down."
Vivienne is well known to be fascinated by history, in an almost reverential way, but it was her loyalty to recent history, specifically the fashions of the 1950s – "I loved '50s fashion, rock 'n' roll" – that made her interesting to McLaren in the first place. "I was useful to him, because I had a lot more information about those fashions than he did, because I experienced it first-hand. He was four years younger than me." She was less excited about the styles of the 1960s, initially.
"I wouldn't shorten my skirts. I just wouldn't. I was the last one. Everybody was taking their pencil skirts and chopping them shorter, turning up the hems to be miniskirts. I was quite shocked when a friend of mine sat down and you could see her knickers." I ask if it was the fact that she had knickers on at all that shocked her, and she treats the facetious remark with the contempt it deserves.
Media myth portrays Vivienne as having a narrow, obsessive interest in 18th-century France. Certainly, its influence can be seen in the cut and style of her clothes: the gold overprinting on the velvet dresses of her A/W 1990 Portrait collection to evoke the furniture of 18th-century cabinetmaker André-Charles Boulle; the version of Madame de Pompadour's dress in oucher's 1758 portrait in Westwood's A/W 2003 Anglophilia show. But she is drawn to extravagant, elaborate costume wherever she finds it. That was clear from the early pop-cultural looks she produced with McLaren – the pirate themes, the sexual fetishism, the tartan. But the thing she doesn't like about pop culture – she neither reads magazines nor watches television – is its endless hunger for novelty and excitement. She sees it almost as modernity's curse.
"The 20th century was the age of iconoclasm, in which anything before should be smashed. Ai Weiwei smashing a Chinese vase – that is what the 20th century was all about." Vivienne looks disgusted anew at the thought of the celebrated Chinese artist's 1995 photographic triptych "Dropping a Han Dynasty Urn". She extrapolates her contempt for Ai Weiwei to encompass all living artists. "All these successful artists today, they don't have any culture, they don't have any ideas; they keep repeating the same old thing. They're not teaching themselves anything, they're not communicating their spirit to somebody else. It's so dead."
One can't help seeing this as incongruous with Vivienne's previous enthusiasm for Tracey Emin, who's appeared in the designer's advertising campaigns, shot by the artist and fashion photographer Juergen Teller, as has such determinedly pop-cultural figures as Pamela Anderson. Westwood isn't quite as terminally opposed to contemporary artists and popular culture as she'd have us believe. Anyway, what's more pop-cultural than advertising?
But she certainly admires the high-cultural achievements of the past with a passion she cannot summon with regard to the present day. "What I really love about the human race, what absolutely makes me collapse onto my knees and put my hands together as in prayer, as in ecstasy and love, is the geniuses that have trod this planet. Mozart. And the Chinese – you just think – their calligraphers took 30 years to be able to do that calligraphy; that's how long it's supposed to take to be able to communicate something so well from the spirit to the hand. I just think that's amazing."
It's fascinating, everything Vivienne is saying, even though she flits from point to point like a starving butterfly that's recently happened upon a wildflower meadow. The impression is that she has so much to say, so much is clamouring to burst forth from her slight frame, that she can't hold back all the other ideas firing off to focus on just one. But that's what Vivienne is all about, really: feeding a wealth of information into her brain, into her being, and letting it synthesise into creative expression. The most modern of ideas – that you don't need to conduct deep study of the past because you can Google anything you want to know about as it comes up – is anathema to Vivienne, who understands that it's the accretion of knowledge and the making of connections one may not have actively sought that inspire original insight. "That's what knowledge is," she says. "It's this linking of things. All these little lights and symbols that are in your head in electrical pulses, that you can call upon when necessary to help you understand something else."
Actually, Vivienne is the perfect subject for this sort of rationale herself. You can link various aspects of her life to form a pleasing hypothesis (though it explains her rather too neatly to be true). Daughter of Britain's industrial north and a factory worker for a short time after leaving school, Westwood underwent her formative years at an arguably crucial point in the country's industrial revolution. She grew up at a time when individual craft was still part of the fabric of everyday life. By the time she started making clothes, imported items were becoming so cheap that it wasn't worth making your own things. And things mass-produced in Britain were becoming expensive and shoddy. The country was full of industrial unrest, which you could interpret with some credibility as an inchoate cri de cœur against the emerging ruthlessness of race-to-the-bottom globalisation.
You could argue that an unacknowledged anger existed in Vivienne too, about the way things were headed for human creativity, and that this perhaps somehow drove the anger and nihilism of punk, as well as its DIY ethos. Maybe it spoke to a feeling Vivienne had that people themselves, in their complicity with mass production, were becoming mass-produced, manufactured, without history, context or the personal creativity that fosters deep purpose and satisfaction.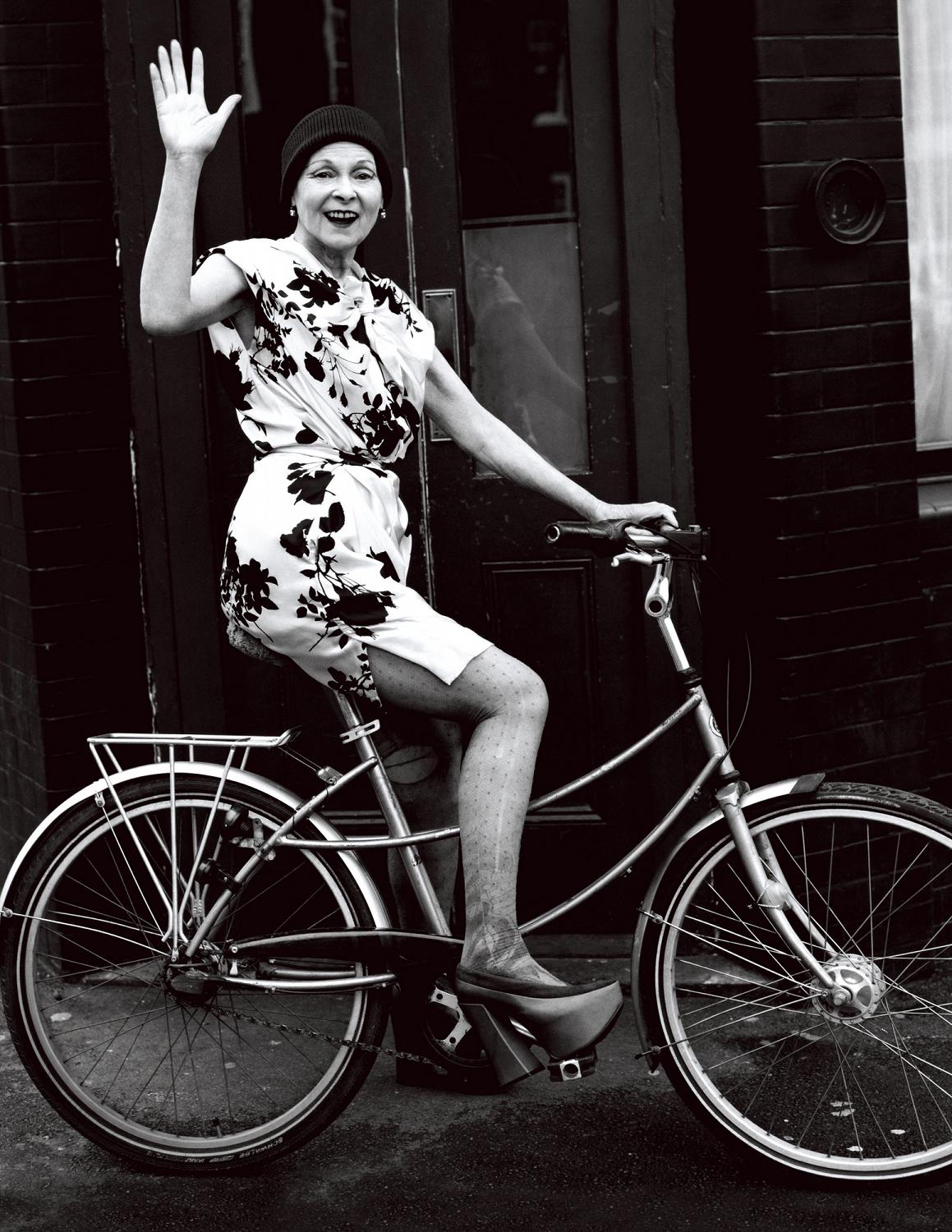 The making of special, individual clothes, of course, is an obvious stand against mass production. Vivienne says of the garments she produces, "To me, they are for somebody who doesn't necessarily want to stand out – I do – but who wants to walk tall, you know, to look good. Important, even. The key is that they're really heroic." Bella Freud, who's been wearing Vivienne's clothes for over 36 years, agrees they have that effect on devotees. "Everyone I worked with there spent their entire wages on them. I've still got a few pieces, and they really suit me; they make you feel so elevated."

In 2013 Vivienne Westwood's sales grew to a reported £30.1 million from £25.4 million in the previous year. Some of this can be put down to the same cost-cutting measures being implemented by most midsize independent fashion brands in a difficult sales climate. But Susanne Tide-Frater, a brand consultant to companies including Victoria Beckham, points out that Vivienne Westwood has a highly efficient business plan underpinning all its design innovation. "The brand image might be outlandish and the catwalk shows a bit radical, but when you look at the collection, it's quite sartorial. If you want to get dressed up or get married, you'll buy Vivienne Westwood," she says. "Then there's the knitwear, the bags, the shoes… Women's accessories are a very stable business."
The Westwood empire is not above selling navy V-necks with the trademark orb on them, or even earrings formed of that logo. Vivienne herself says she'd never wear a pair of earrings sporting a corporate logo, even her own. She agrees it sounds ghastly and says it's something she'd like to "stop". "This slogan we've got, 'Buy less, choose well, make it last'… What I'm trying to do with my company – I think it needs it – is just to sell my really, really best things more and cut down on the quantity. That's what I would like to do. And I feel that is more environmentally friendly as well, to have an operation that's really neat and not wasteful and not expanding out of control."
But there's a practical problem with that, as Vivienne is well aware. "Everything that we buy is completely subsidised today, our food, everything. I mean, you can buy a cooked chicken for a couple of quid. At one time you could only afford a chicken at Christmas. Mass production is based on debt, where the banks lend all this money that they make out of air, and then people are supposed to pay that back in real wealth, like real chickens, or tax money, and it all gets sucked up by the central banks. It's this pyramid scheme that will eventually crash.
"Up until now, I've been always so caring that my clothes were really good value for money – they're sold at more or less cost, plus the profit that you need to make the next lot of things. So even I'm subsidising! We sell our Gold Label [premium line] much cheaper than it ought to cost, really, because it provides the ideas that we put into other things we sell. But the amount of time and effort and everything that goes into it – it's not costed."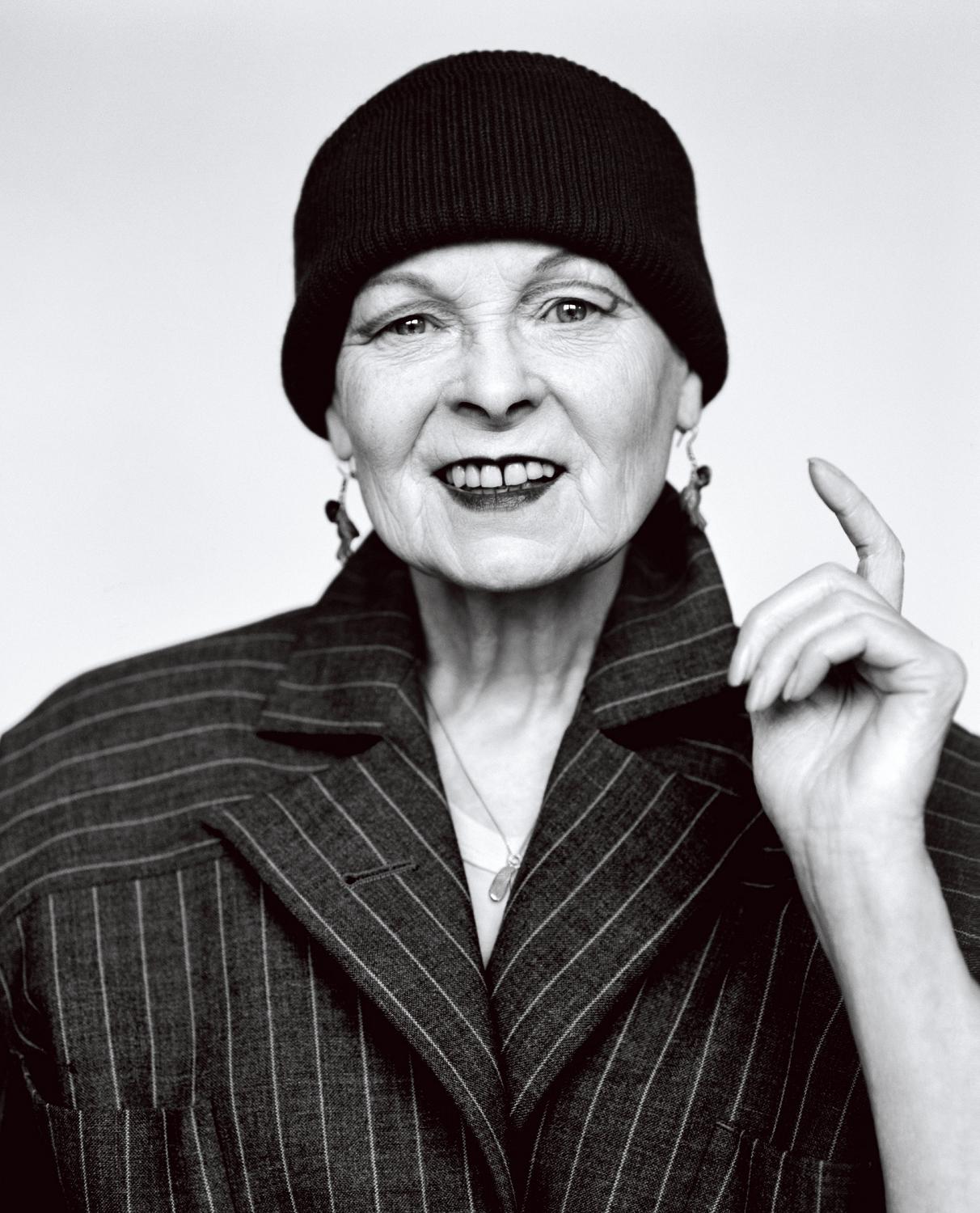 This, of course, is the model for any fashion house, where the storytelling of an (expensive) catwalk show creates both the desirability and the look that trickle down into the profitable subsidiary lines. "A company won't make a margin on what they put on the catwalk when you consider the real cost price, then the wholesale price, the retail price, and all that multiplied times 2.8," says Tide-Frater. "But if you take the corset – Westwood owns that little bit of the market. And the appeal of that iconic product serves to sell her less expensive Anglomania range."
Yet Vivienne's point is still a strong one: the wealthy tend to be subsidised more than anyone else. A Savile Row suit may cost a fortune, but the people who make the suits take home a yearly salary that those they're making them for couldn't manage on for a week. Vivienne believes the wealthy should take more responsibility for their purchases – they should buy not simply for their own pleasure but as an investment in human culture. "These great collectors who had money, they're responsible for all the art galleries." She names Isabella Stewart-Gardner, who built the museum named after her in Boston, and Henry Clay Frick, the industrialist whose collection is housed in New York. "Without them people wouldn't be able to see those amazing things."
But that's not all there is to it. Vivienne's hypothesis is that if the wealthy began expecting the real price of human time, creativity and skill to be factored into the cost of goods, it would give ordinary people – who'd then be paid more generously – the chance to buy better. She warms to the theme of radical economic change. "If people weren't only thinking in terms of profit, they would come up with ways of using money that weren't so destructive. I've got this slogan: 'What's good for the planet is good for the economy. What's bad for the planet is bad for the economy.' If you tried to put that into practice, you would end up with a better economic system. We've got to start somewhere.
It's a shame that Vivienne has been put in a box marked "national treasure". The category sounds affectionate, but it's actually patronising, reserved for people who aren't taken quite seriously, who are "eccentric". But Westwood is not eccentric. She's original, gifted, a genius. She doesn't care what others think of her, because she understands herself exactly: it's a liberation most people don't experience. The seeming disorder of her thoughts is typically gifted too. There's so much going on in the heads of the intellectually exceptional that they often find a means of expression beyond words – music, maths, sport, art or even clothing – because words, prose anyway, can only express one thing at a time.
At the end of the interview, I thank Vivienne and tell her to make sure this is her last interview. But I don't mean that, not at all. Vivienne needs to talk. And she needs to be heeded.