Tessa Thompson
The glittering Hollywood polymath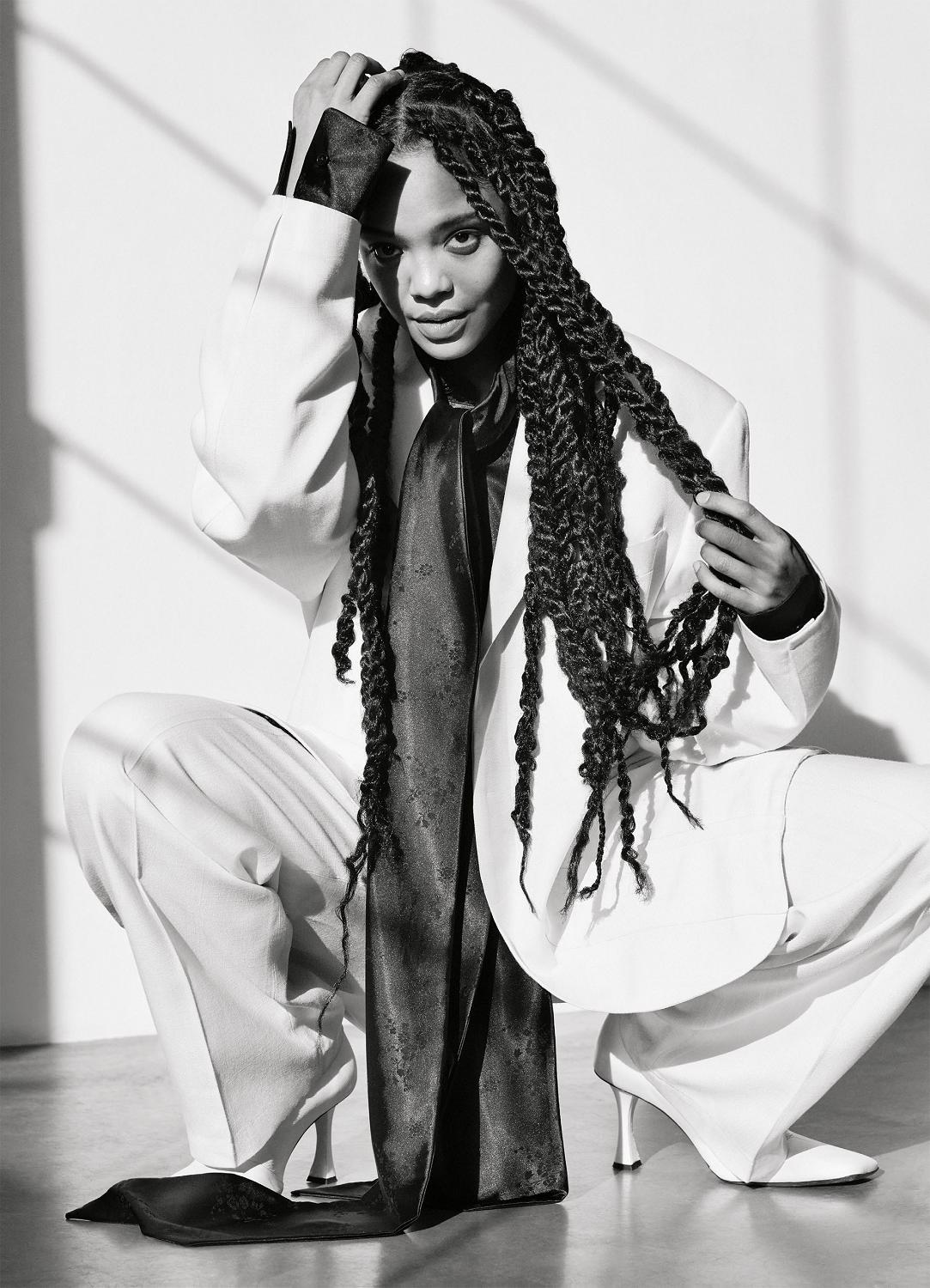 There has never been a better time to be a woman of colour in Hollywood, says Tessa Thompson – and she would know. The Californian actor and singer is not only a bona fide blockbuster movie star – her hot-dog performances in Avengers: Endgame and Thor: Ragnarok vanquish tired notions of what an action hero can be – she also showcases serious acting chops in the kinds of nuanced roles that garner critical acclaim and accolades.
While cinema's old guard flounders, Tessa is leading her crusading sisters in show business to redefine industry standards and audience expectations.
Tessa Thompson has chosen to meet at the Fat Cat, a crumbling West Village bar that is both a live jazz venue and a grimy, almost laddish ping-pong hall. She liked the idea of somewhere a little seedy, where nobody would bother us in our faux-leather booth held together by duct tape.

These days, there are few places Tessa can go where people don't bother her. She played Valkyrie, a sardonic mercenary, in Marvel Studios' 2017 Thor: Ragnarok and again in the superhero sequel Avengers: Endgame, and she was Agent M in last year's Men in Black: International.

When I arrive, Tessa – dressed in black jeans and an oversized, chunky black jumper, with a black headwrap round her long braids – is curled up on a bench, her head slumped down to the level of the table. She has a sore throat, so her resonant voice, usually as clear as a bell, has an undeniable rasp. She has, as she shows me as soon as we are settled, snuck two mini-bottles of bourbon inside her square black bag to make hot toddies, which the Fat Cat does not serve. She sends me to the bar to request tea (opting for sweet orange), then subtly adds the contraband liquor, swiped from her hotel minibar. She tosses her legs up onto the bench and melts further down into the booth, as if she were in her own living room.

Tessa has been in New York for a few weeks, finishing filming on Passing, the forthcoming period drama directed by Rebecca Hall and based on the 1929 novel by Nella Larsen. Larsen was a nurse and librarian who became a prominent member of the Harlem Renaissance (considered the rebirth of African American art in the 1920s; its other key figures included Zora Neale Hurston and Langston Hughes). She published two surprisingly modern novels about living in America as a mixed-heritage woman. Passing, the second, tells the story of two childhood friends who reunite after 12 years apart. Both women are light-skinned and of mixed heritage, but Clare (played in the film by Ruth Negga) has spent her adult life passing as a white woman. Irene (Tessa), on the other hand, has become immersed in Harlem's vibrant African American cultural and artistic scene. The book was critically well received, with the writer and scholar W.E.B Du Bois calling it "one of the finest novels of the year".

The themes of the book, Tessa tells me, really spoke to her, not just as a woman of colour but as someone deeply interested in the ways that we show our identities to the world. "The film is really about the ways in which race is performative," Tessa says, "and the ways in which all sorts of things, like marriage, are performative – gender, sexuality, happiness, how we perform all those things as people."

Hall, who is British and best known for her theatre work and her roles in films such as The Prestige and Christine, discovered the book more than 10 years ago. Her mother, Maria Ewing, an American opera singer who married the prominent theatre director Peter Hall, brought Rebecca up "in a house filled with Laura Ashley and chintz, an American's idea of England," Hall told me recently by phone from her home in upstate New York. "I was fascinated by the fact that my mother had come from somewhere very different, and I knew in a very vague way that my heritage was African American."
It was a long journey to get the film made. One of the elements that finally tipped the scales was Tessa's interest (a producer friend had heard that Hall was working on the script and organised a call between the two women). "She had such a deep connection to the character and understood all the various layers of subtext of the book," Hall said.
Tessa, who says that music is an essential part of her process when it comes to getting into character, will later email me a link to the Emahoy Tsegué-Maryam Guèbrou song "The Homeless Wanderer", which she listened to on repeat during the filming of Passing. "I continue to listen to it," she wrote. "I can almost hear it when I close my eyes."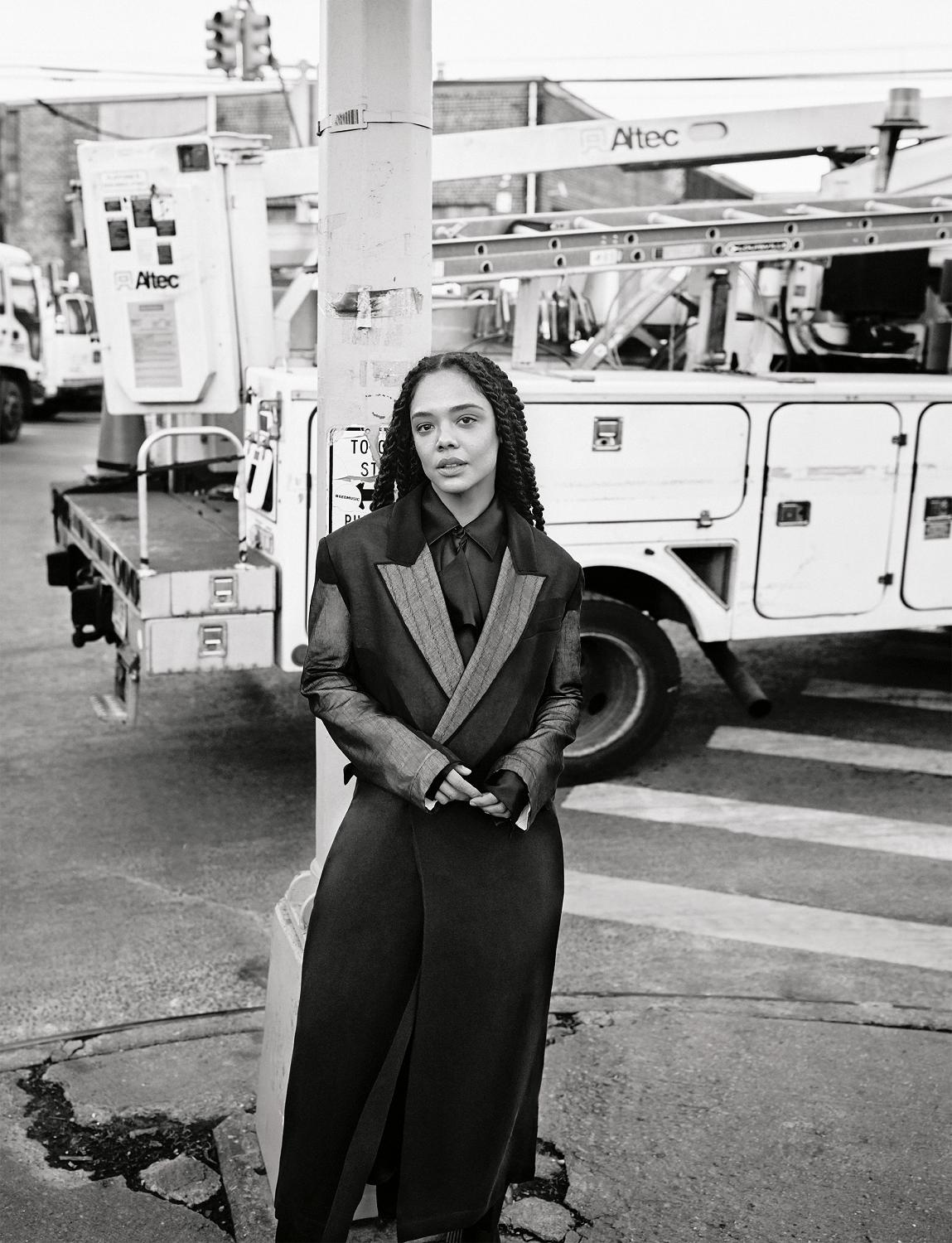 Tessa was born in Los Angeles, where she still lives; she has recently bought a house and plans to spend this year renovating it. After her parents separated when she was young, she lived with her mother, Macaillah, who is of Mexican heritage, and her older sister but spent summers in New York with her father, Marc Anthony Thompson, a musician of Afro-Panamanian descent who performs under the name Chocolate Genius.

Tessa says she feels at home in the Fat Cat because so much of her childhood was spent in similar dive bars in and around the Lower East Side. "My father had a studio on Ludlow," she says. "So as a kid I would spend time with him there and in Max Fish" – a grungy downtown bar that was a long-time haunt of punk rockers like Patti Smith and Iggy Pop. Even after her father moved to Fort Greene in Brooklyn when Tessa was a teenager, she would take the train by herself into Manhattan and go exploring.
"I love all parts of New York," she says. "I was in Times Square last night briefly, trying to get a taxi, and I love Times Square." (This is how you know she is truly devoted; even the most diehard New Yorkers struggle to love Times Square.) Whenever she is in the city, she feels the ache to move back here. The only part of her Los Angeles life she misses, she says, is driving around, listening to NPR. "One of my favourite things is to sit in the car when I'm parked and listen to the radio," she says. "Sometimes I stay outside my house and just listen to the radio in my car. It's literally the only thing I miss. Well, I can say that I miss my family and my friends. But it's the only thing about LA lifestyle that I miss."

Tessa was a teenager when she first realised she wanted to act – she appeared as Hermia in a school production of A Midsummer Night's Dream when she was 14. A ferocious reader, she spent her teenage years devouring classical Greek dramas. "The thing that really got me into acting was classical theatre," she says. "Greeks and Shakespeare, and even less classical, like Tennessee Williams and Chekhov." In 2001, she enrolled at Santa Monica College in Los Angeles to study cultural anthropology. She continued to act, joining the Los Angeles Women's Shakespeare Company. Initially, she thought she would be a stage actor. But in her early 20s, she began auditioning for film and television roles.

Her first small-screen appearance was in an episode of the CBS police procedural Cold Case in 2005. That led to a series of stints on other prime-time shows, such as Private Practice, Grey's Anatomy and Veronica Mars. "I think your choices are only as good as your options," Tessa says of these modest early roles. "Really, legitimately, when I first started working, there was so little… I was so terrified starting Passing, because I wasn't even sure I could do it. I knew I wanted to be inside of a story that I had to carry and that would require real emotional dexterity and a certain ferocity and simple endurance in terms of our shooting schedule. But also to get inside something where I get to do things that I hope I'm capable of doing. It's hard to tell if you haven't been given the chance."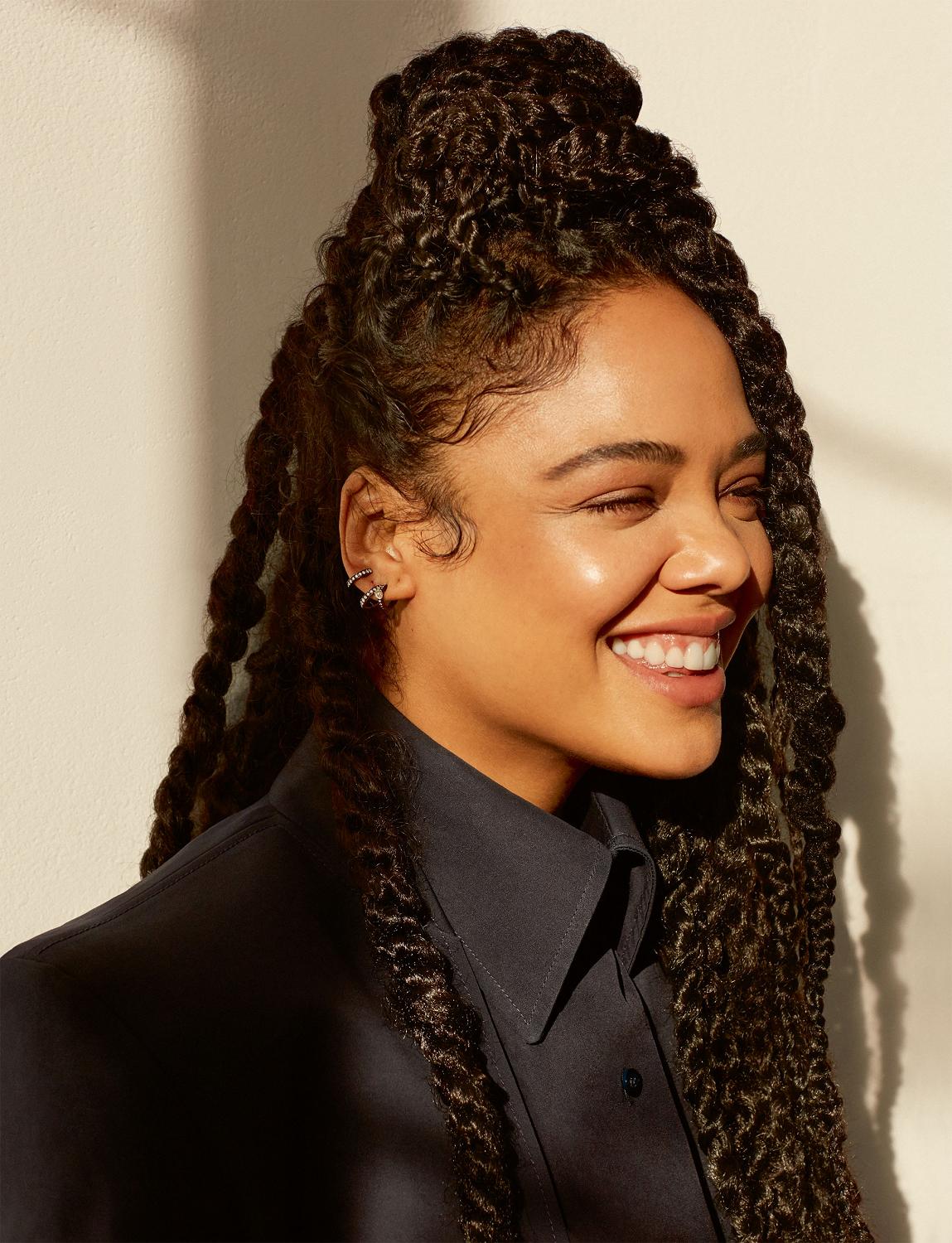 Tessa's first big opportunity came in 2014, when Justin Simien cast her in his indie comedy Dear White People, which focuses on escalating racial tensions at a fictional Ivy League college. Told from the perspectives of several black students, the film won a Special Jury Award at Sundance. Tessa played Samantha White, a college radio host and activist who causes a stir by calling out racism on campus. Though a newcomer, she bounded onto the screen with the confidence of an industry veteran. That same year, Ava DuVernay cast Tessa as the civil rights activist Diane Nash in her Oscar-nominated Selma. "I just remember her being absolutely delightful on set," DuVernay told me by phone from Los Angeles. "She's a real light in this industry, someone who, whenever I see her, exudes warmth and intelligence. She's inquisitive and interested in the world and the people around her."

From that point, the film roles began to snowball. Taika Waititi cast Tessa as Valkyrie in Thor: Ragnarok, part of the massive Marvel superhero franchise that has dominated the box office for the past two decades. In the comic books, Valkyrie is a blond ice queen, but Tessa redefined the character as a swaggering scamp with big sword energy. "I already knew that she could carry a movie," Waititi said when we spoke recently by phone from Los Angeles, where he lives when not in his native New Zealand. "She's got a very sharp sense of humour, which was exactly what we were looking for. I said, 'We've got to make her the Han Solo of the movie!' She played such a reprobate, a rascal." It was announced last July that Tessa would reprise the role in Thor: Love and Thunder, which starts filming this spring in Australia for release next year. This time, Valkyrie has become the king of Asgard – and there are rumours that she might take a queen, making her Marvel's first major openly LGBTQ character.

Tessa is hesitant to talk about her personal life – whether or not she ever dated her friend Janelle Monáe, in whose video for "Pynk" she starred, for instance, or if she is currently dating the musician Devonté Hynes, who performs as Blood Orange – because she believes that the moment she makes concrete statements, she will lose the precious ability to metamorphose. "I think it's also that we have this preoccupation culturally with this idea of realness that I think is so boring," she says. "All my favourite performers who ever lived have been masters of artifice, whether it's Eartha Kitt or David Bowie or Prince – they are all inventions. There's just beauty in invention, particularly if it sets you free to be your authentic self. Which is not to say that their inventions are not part and parcel of who they are, but they're inventions that they had to create to get outside the parameters of the time or place in which they were born. And that, to me – that is so cool."

"Your choices are as good as your options."
In 2018, Tessa was nominated for Bafta's EE Rising Star Award (considered one of the most accurate predictors of future success) alongside Florence Pugh, Josh O'Connor, Timothée Chalamet and the winner, Daniel Kaluuya. And with two of her films coming out in the first half of this year, 2020 is already shaping up to be her year. To achieve such success without stooping to roles that feel formulaic or stereotypical is rare. Tessa is constantly shifting, subverting expectations.
Her belief that all women in Hollywood should be able to blaze their own paths led her to become one of the founding members of Time's Up, "a group of women across industry lines that fight for a future where no one is harassed, assaulted or discriminated against at work," Tessa says. It launched in January 2018 with a bold statement printed in The New York Times. Time's Up began, Tessa says, as a "ragtag" collective of women meeting in living rooms and restaurants. "So much of that early work was figuring that out, even talking about what safety means, or what parity means. They don't mean the same thing to all women. The kind of support and voice that a woman of colour needs is different from that of a trans woman, is different than a trans woman of colour. Having really candid, sometimes confrontational conversations around those things – to me, that's the real work that needs to continue to create a movement that's lasting, that feels sustainable, that feels like everyone has a seat at the table."
In January 2019, Tessa delivered a Time's Up keynote speech announcing the 4 Percent Challenge, a pledge industry players can take to produce a woman-directed feature film within the following 18 months, addressing the fact that only 4 per cent of the top 100 studio films of the past decade have been directed by women. "We've really been siphoned off in our little spaces in this industry," she says, "so it felt like some of the most interesting, vital work was just unpacking some of those things." She adds that it is not enough to simply put women in charge. "There are plenty of women that have been in charge and don't hire other women or don't hire women of colour," she says.
Natalie Portman, one of Time's Up's founding members, who co-starred with Tessa in 2018's eerie sci-fi thriller Annihilation, told me via email that Tessa "has been an incredible part of the new entertainment sisterhood I've found. We text – and she's incredible at recommending valuable texts, books and articles that have completely changed my way of seeing the tangle of issues we are dealing with."

What Tessa wants for her career, she tells me, is her own kind of separation from the patriarchal Hollywood systems that pigeonhole actresses into types throughout their lives.

Still, she says, no matter how hard women – and particularly women of colour – try to transcend the time and place in which they were born, they are often anchored to it by societal oppression. But that's changing, Tessa says: actors of colour are finally able to find projects in which characters of the past are nuanced and three-dimensional, troubled and glamorous. Tessa's two upcoming films, Passing and Sylvie's Love – which is about a television producer and a jazz musician who fall in love in 1950s Manhattan and is directed by Eugene Ashe – are both period pieces. "None of those times were fantastic for black people," Tessa says. "As much as I loved our output" – she is referring to the art and music that black artists were making in both the 1920s and 1950s – "there's no time like the present. Which is not to say that we're not still in danger; it's not safe to be in a black body anywhere in the world now. But I think, relatively speaking, it's a good time to be of colour and alive and making work."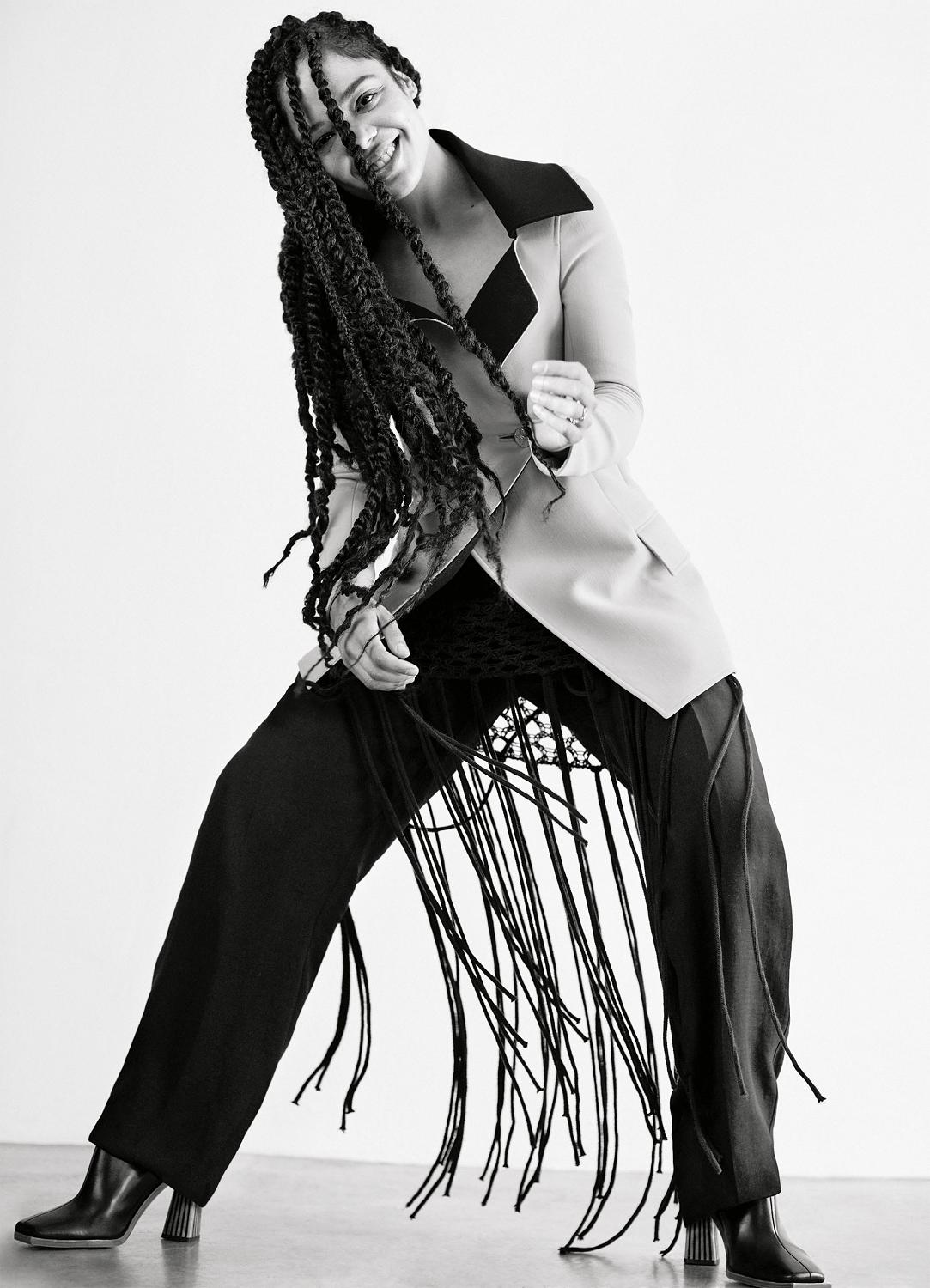 The hot toddy has kicked in, and Tessa is feeling well enough to do what she came to the Fat Cat for: play ping-pong. She's been practising; Rebecca Hall has a ping-pong table in her house. "When I'm not very good at something instantly," Tessa says with a grin, "if I don't show a natural aptitude, I don't like it, typically. I always cheated as a kid. Famously in my family, I was always cheating at Monopoly. And I was really good at sleight of hand, but they'd still let me be the banker. I was always stealing money."
What she likes about ping-pong is that she can simply play – she doesn't have to be perfect; she doesn't even have to be good. "There are all these particulars if you're a woman or if you're a woman of colour," she says. "You have to be better at things. You have to work really hard at things for a really long time." But with ping-pong, she has given herself permission not to excel.

Nonetheless, her competitive side kicks in almost immediately. She is focused on the ball, bent at the knees in a power stance. She serves with so much force that the ball lands in a pizza box at a crowded birthday party behind us. But after a while we find our rhythm. After we put the paddles down, Tessa beams. "We should start a league," she says. "We're amazing at this."