Susie Wolff
Very, very fast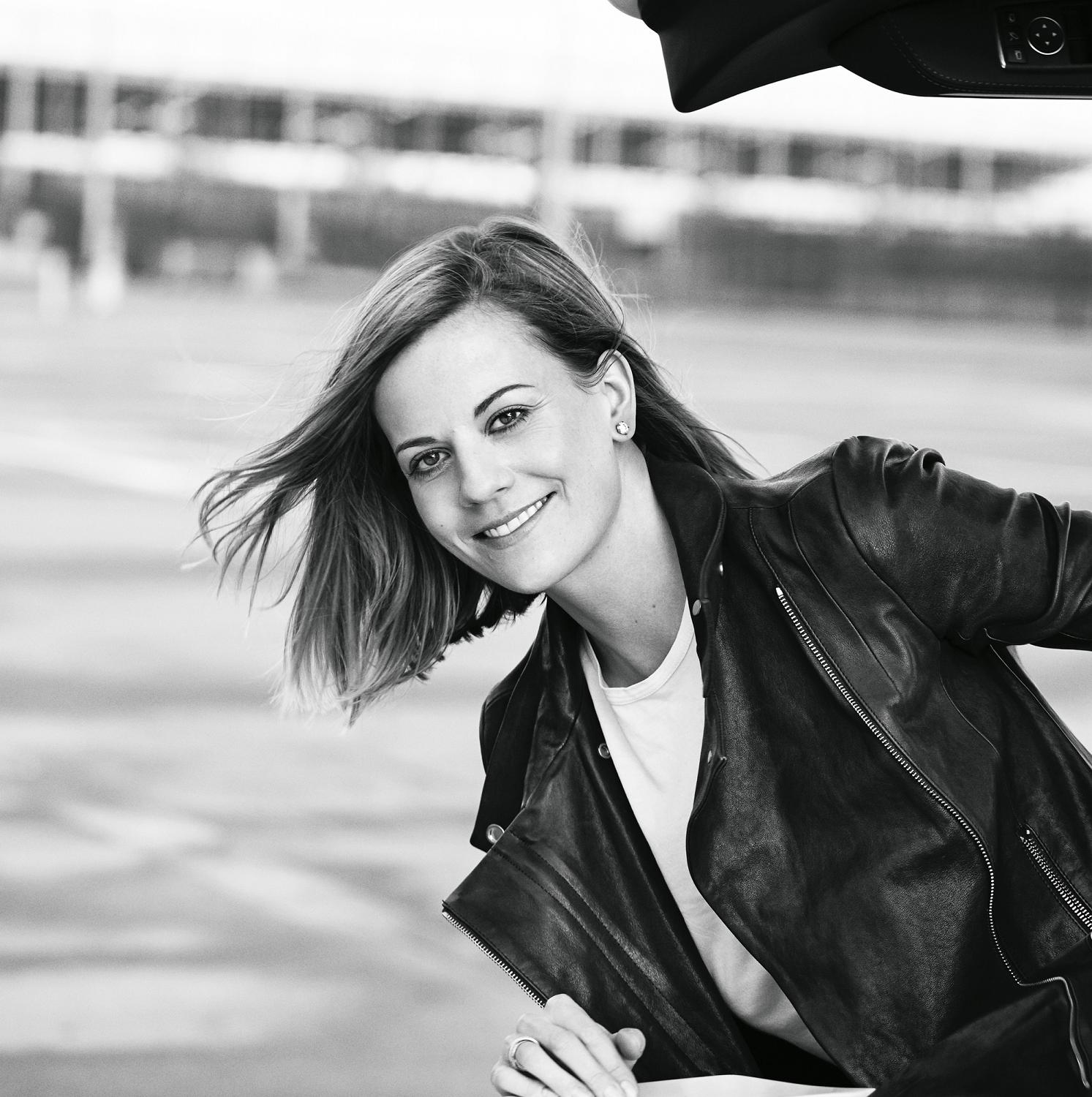 Susie Wolff is an ambition-fuelled athlete: the UK's only female Formula One driver, in 2014 she was the first woman in 22 years to take part in a Grand Prix weekend. Super Susie, 32, grew up karting, but she couldn't reach speeds upwards of 300 km/h that way, so she made the move to single-seater racing on her 17th birthday. Born in Scotland and now making her home in Switzerland, she spends 250 nights a year in hotels thanks to F1's jet-set nature; there, she offsets the glamour by doing the ironing. A resolute speed junkie, she's unfazed by being a woman in a man's world; it's where she's been since she was 8 years old.
Susie Wolff's day begins at 7.30am with a vitamin drink, coffee and oatcakes, and then she goes training. One day, it's 75-minute circuits, and the next, 90 minutes of Pilates, and once a week she focuses on her neck. "That's where I've been this morning," she says as she swings through the front door of the hotel, still in Lycra. "There's a special neck machine 25 minutes from here, which Michael Schumacher developed."
Susie Wolff is the UK's only female Formula One racing driver, and in July 2014 she was the first woman in 22 years to take part in a Grand Prix weekend (at the first free practice session, or FP1) – which means her neck needs a great deal of attention. "When you take a corner in a Formula One car, you'll get up to 4 gs – that's four times your body weight – pushing against your neck," she says. "You have to keep your head up and straight, so training is essential." Pilates helps straighten out the rounded racing-driver shoulders, another occupational hazard. "The seats are made to measure and very comfortable, but if your posture's wrong…" she shrugs. (The Pilates is working: the shoulders are quite aligned.)
I recognise her Scottish brogue, Hollywood smile and fiercely determined frown from the documentary her brother, David Stoddart, made about her in 2013, Driven: The Fastest Woman in the World. But her combination of warmth and steeliness is even more impressive in the flesh; there's a lightness to her that's underpinned by a palpable composure, an ego that's probably as solid as her muscled core.
"This is the nicest hotel in Oxford," she assures me as she finds me a place to wait so she can dash off to take a shower. "All the Formula One guys stay here. Eight of the world's 11 F1 teams are based within a 30-mile radius of Oxford." These include Red Bull, Lotus, Mercedes, Williams, Caterham, Marussia and McLaren, none of which is more than 80 minutes' drive from the racing circuit at Silverstone, current home of the British Grand Prix – and something of a home for Susie too.
This year, she's been promoted to the position of official test driver for the Williams Martini Formula One team, which means that when she's not travelling the world to drive at one of the 20 or so Grand Prix races that make up the season, she's at the team's Oxfordshire HQ, racking up virtual circuits in the simulator. The "formula" in the title refers to an exacting set of standards with which the cars must comply, and it's Susie's job to ensure the Williams cars conform. She spends nine hours a day, 60 days a year, wearing 3D glasses and strapped into a wheelless car in a large, egg-shaped room, providing the engineers and software programmers with the information they need to make tiny adjustments to the vehicles' astonishingly complex controls and aerodynamics. It's very physical work. "Hitting the brakes in the simulator is like doing a 100kg press, and you pour with sweat," she says.
Every F1 team has two race drivers. The test driver is the number three, driving at Grand Prix weekends on test days and at practice sessions and fulfilling a PR role by attending events for the sponsors. On race weekends, Wolff sets up the car on the circuit, and her feedback could win or lose the race for her teammates, the Brazilian Felipe Massa and the Finn Valtteri Bottas.
But as the reserve, she's also positioned to step in if one or the other were unable to race; doing so would make her the third woman ever to have started a Grand Prix. "She's got to be constantly ready," says Suzi Perry, another female in this male-dominated world, who joined the BBC as a Formula One commentator in 2013. "It's rare for a driver not to drive, but if that happens, then she gets to do the race."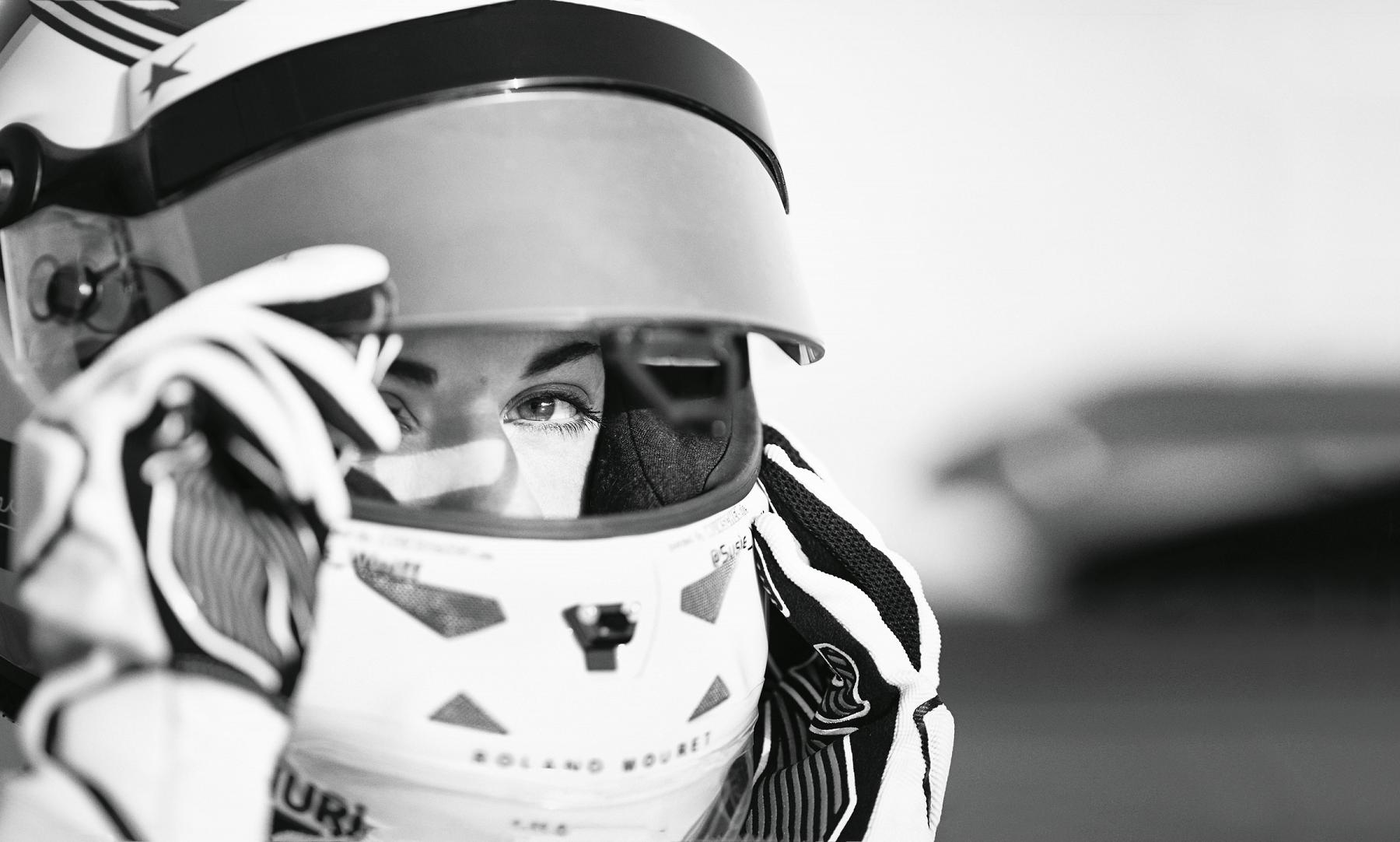 Wolff says that this is her goal, but it's not discussed openly because her chance to get on the grid depends on someone else's bad luck, and nobody wants to tempt fate in Formula One. It's a dangerous sport. Last year Marussia driver Jules Bianchi was left in a coma after crashing at the Japanese Grand Prix, and the year before, Wolff's friend María de Villota, test driver for Marussia, crashed at Britain's Duxford Airfield and lost her right eye; she died recently as a direct result of the accident. But Wolff says she is never afraid. "I realise things could happen," she says, "but the day I feel fear is the day I stop, because that's when you put yourself most at risk."

Even if the ultimate opportunity to start the race never arises, Wolff's achievements and status are exceptional. She proved herself by being selected for the Williams team in 2012 for her ability to handle its extraordinarily valuable car, which can reach speeds of 350 km/h. There are only 22 places on the grid, and queues of super-talented, testosterone-fuelled drivers vying to claim them. F1 is the pinnacle of motor sport, and very few reach it.
Fifteen minutes after leaving me, Susie returns from her room in jeans and a sweater, with perfect hair and make-up (how did she do that so fast?), carrying a beige Birkin bag she tells me was a present from her husband, Christian Wolff, known as Toto. He's a former rally driver and an Austrian entrepreneur who's now executive director of the Mercedes AMG Petronas Formula One team. Aged 43, 11 years older than Susie, in his younger days he founded investment companies Marchfifteen (1998) and Marchsixteen (2004) and made his fortune speculating in the Internet and technology fields. He's a serious player in F1, with significant minority shares in Williams Martini Racing and Mercedes-Benz Grand Prix Ltd, and as a manager, he has the careers of Lewis Hamilton and Nico Rosberg under his stewardship. He's very well liked, too. "He's really good fun; he has a wonderful sense of humour," says Suzi Perry, who knows both Susie and Toto well. "He's a breath of fresh air for the paddock. Last year, in a survey of the most popular team principal, he came out top."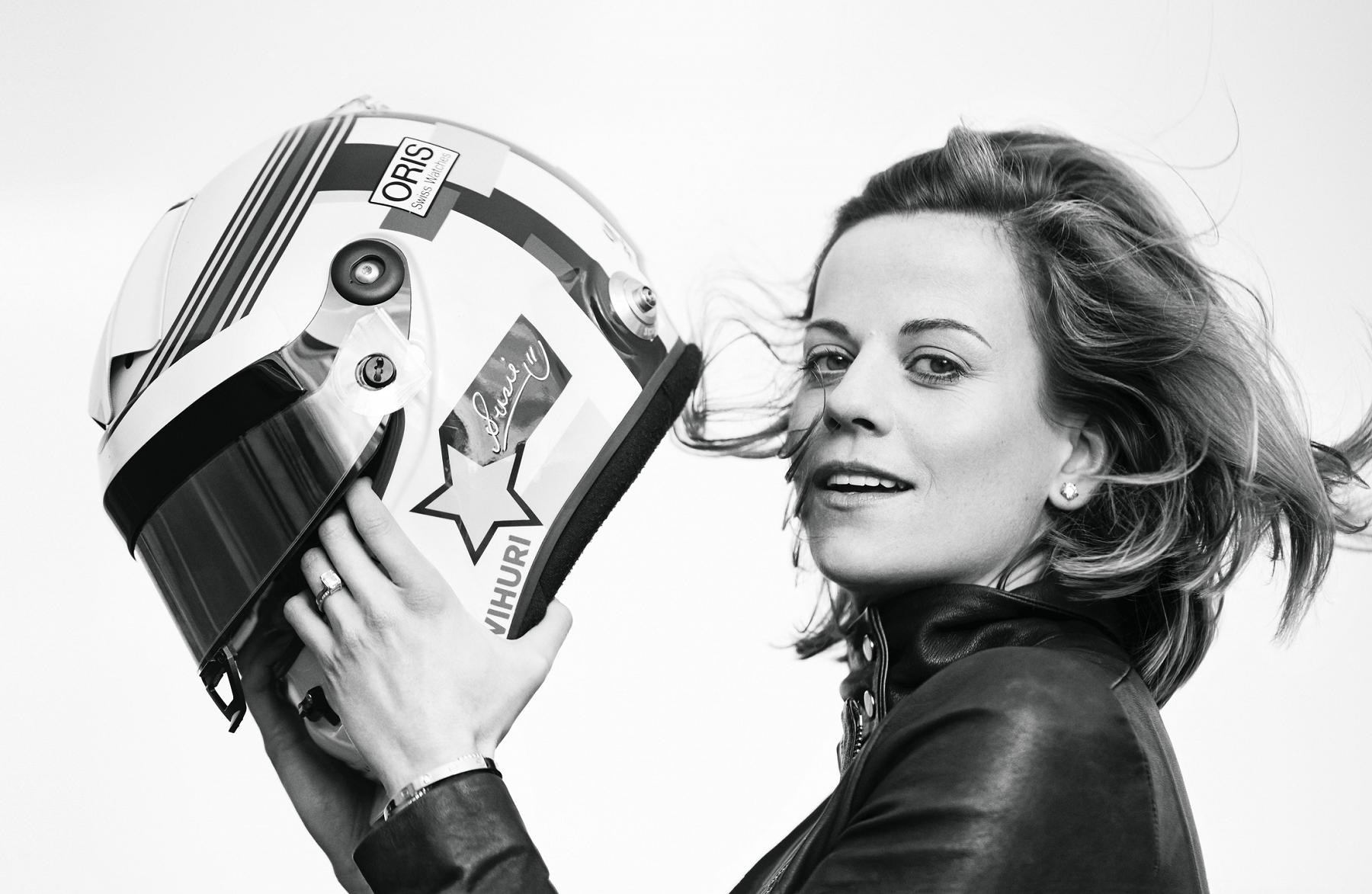 Money must run like water in the Wolff household – their home is in a converted furniture factory in Switzerland overlooking Lake Constance. But their comfort seems to be emotional as well as financial. "He is my person," says Susie. "He has a very good way of pushing me to be my best. Because he's at Mercedes, he sees the pressure those guys are under and understands that it's the same for me. Because he used to race, he knows what it's like to be in the car. As soon as we came together, it was like a huge weight lifted off my shoulders, because I wasn't fighting this alone."
As we talk, tables fill up and pukka voices boom. Susie raises her eyes to the ceiling. "Welcome to Oxford. Honestly! Once, Toto and I were having dinner here and we couldn't hear ourselves speak. We had to ask a couple to quiet down. It's a very small room." I notice now that Wolff's accent is a subtle mix of Scots and German – she became fluent in the language during her seven-year stint on the Mercedes DTM team. The accent lends itself well to her wry delivery. What was the couple's response? Her face mimics their pompous surprise. "There's this sense of entitlement…"
Wolff has none of that – just a quiet confidence in her own right to participate in this most exclusive and excluding of sports, which goes back to her Oban childhood. Her parents treated her and her brother, David, 18 months her senior, equally. Both children were put on skis and bikes as toddlers. "Having so much space was a big advantage," she says. "A lot of very good drivers come from Finland because of the huge, open spaces. Oban is similar." (Wolff's parents met when her mother bought her first motorbike from her father's shop. "Mum still has a motorbike, still drives a car really fast. Dad used to race bikes. It's in the blood.")
The kids played on go-karts and were competing by the time Susie was 8. "We went racing all over Europe, and I'm very grateful for that – it stopped us being big fish in a small pond. The main reason we did it was for the fun. It only clicked when I was 13 and was taken to watch my first Formula 3 race – that's junior F1, and Jenson Button was driving – that I could be a racing driver too."
She took up driving on her 17th birthday, and had a reality check one year later at the world championships in Portugal. "I'd finished 15th overall, so I was surprised to be called to the podium – I wasn't in the top three," she says. "When I got there, I was given an award for being the top female driver in the world. I thought, well, that's great, but I'm not here to be the best female. I'm here to be the best." Suzi Perry tells me, "We don't even discuss the women-in-sport thing. We're over it! And Susie's been surrounded by males since she was 8 years old."
"Once I'm in the car, it's me alone. I'm not here to be the best female. I'm here to be the best."
Susie's parents wanted her to have a plan B, so she went to study international business at Edinburgh University. "But I felt like a duck out of water," she says. "Everybody was going out to get completely drunk, like they'd just been let off the reins." She left after a year. "I'm not a believer in plan B any more," she says. "If you have no plan B, then plan A has to work." A week later, she was on her way to Silverstone, where she shared a house with six male drivers and drove for Formula Renault from 2002 to 2004.
Wolff was on the brink of stepping up to Formula Three in 2005 when she broke her ankle running. "It was awful, of course, but cash was a problem too, so I lost my place in F3 anyway – you have to provide your own sponsors. I had found the £100,000 a year it cost testing for Renault, but with F3 you're talking half a million, and I couldn't find the money."
But she'd also been nominated for Britain's Young Driver of the Year Award twice, and in 2006, Mercedes-Benz, having taken notice, offered her a year's contract that ended up as seven. It was during that time that she met Toto. DTM, the German touring car series, is a "parallel universe", she says, in which the manufacturer pays the drivers. "I'd been struggling to pay rent and suddenly I had a Mercedes in the driveway, money in the bank, and was being sent clothes and shoes."
Wolff used to photograph the clothes and file away the pictures, "because I was so amazed," but also because she happens to love fashion. She shops carefully – "three to four times a year, and I buy outfits, not bits and pieces" – and has become friendly with Roland Mouret after developing a devotion to his clothes. "She came to Carlos Place, and I thought she was fantastic," says Mouret, referring to the luxurious townhouse in London's Mayfair where his store, studio and offices are based. "The way sportswomen have to train and build the body, it can make it complicated, but she knows how to make it work for her. She has an incredible figure, so dresses fit her amazingly, and all-in-ones too. I know she worries about her neck, but a good haircut sorts that out." (She claims to be self-conscious of the muscularity of her neck, wearing scarves and high collars to hide it, but there are plenty of photographs of her looking good in a Galaxy dress and an up-do.)
Mouret prefers not to attend events for which he's dressed other guests, but he's going to a charity event with Susie the week after we speak. Last summer, she took him to Silverstone on a friends-and-family day. "I sat next to her in the car," he says, still excited by the memory. "Oh my God, it was fast. It's amazing: the decisions she has to make, the responsibility, the danger. You really feel the pressure on your chest. It's not like speeding in a normal car." Last year, she asked him to design her helmet when Martini took up the sponsorship of Williams; he covered it in silver stars.
Unsurprisingly, a great deal of emphasis is placed on Wolff's appearance ("Well, she does look pretty fantastic!" says Suzi Perry), and an endless flow of comments and opinions forms a conflicted narrative around her career. "It's a very tricky line to tread," she says. "I'm representing the team and the sponsors, so I am expected to look good, but then people start saying, 'Oh, she's just after the attention,' or 'She's only here as a marketing tool.' For me, fashion is a way of expressing myself and fighting a stereotype – people think I'll be masculine, a tomboy. This comes from men, not women," she adds.
At Mercedes, she was even made to drive a pink car. "It was such a cliché, the blond female in the pink car. I hated it, fought like hell to get it changed," she says. "It certainly made my life more difficult. My teammates dreaded being beaten by a girl, and they could see me coming in that car." In the documentary, she recalls an occasion when a male driver was so humiliated by her passing him that he shouted into his headpiece, "Get this girl out of my way, get her out of my way!" To which the engineer replied, "Jean, we can't get her out of your way, you have to overtake her."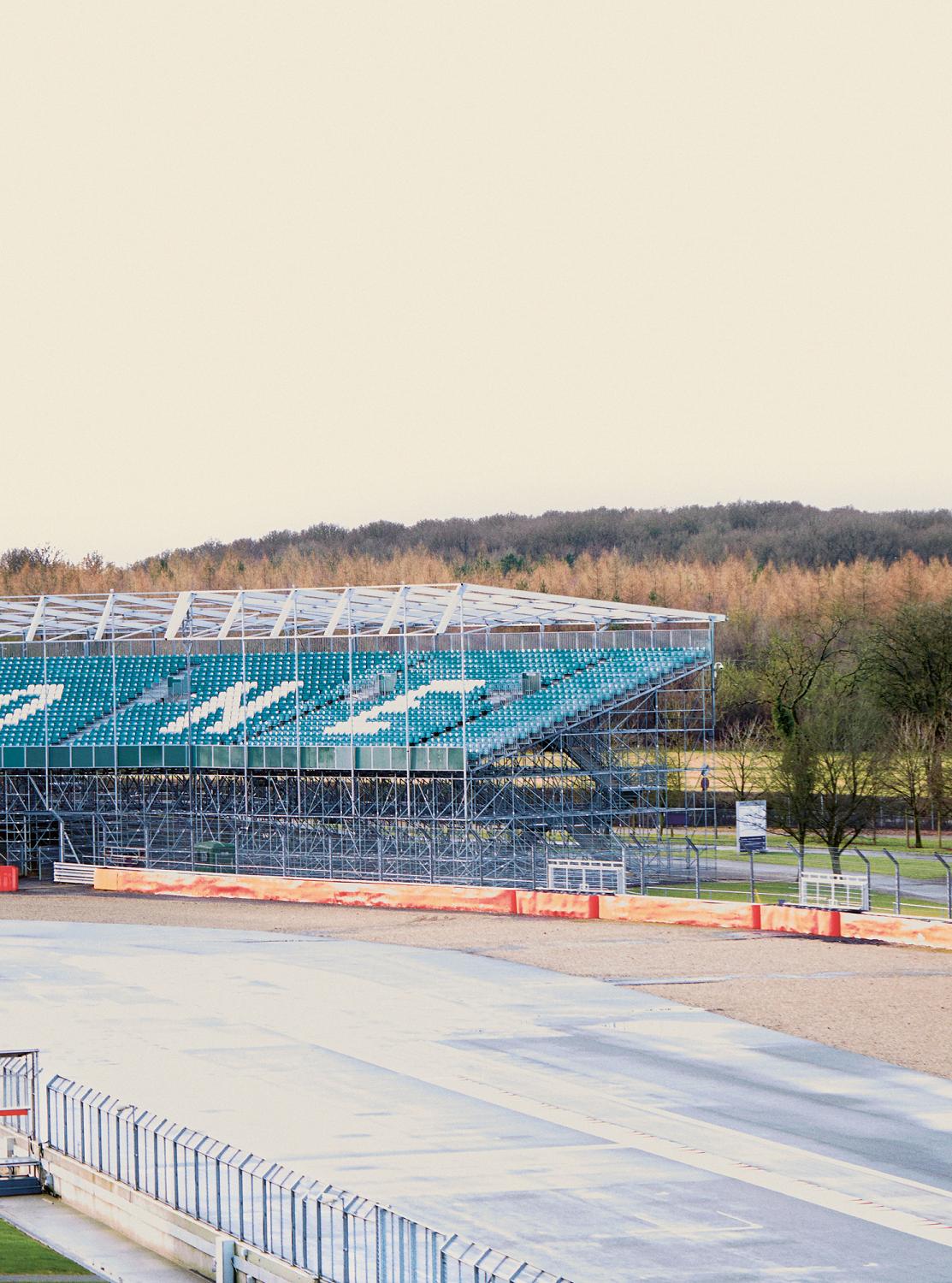 Indeed, Formula One is still an environment where its multibillionaire owner Bernie Ecclestone feels able to say that women should wear white "like domestic appliances" and remark, "If Susie's as quick in a car as she looks good out of a car, then she will be a massive asset." The famous racing driver Sir Stirling Moss, star of the circuit in the '50s and early '60s, said not so long ago that he didn't think women had the "aptitude to win a Formula One race", citing "mental stress" as their greatest barrier. Later, he called Susie to apologise. "He said: 'I meant what I said, I just didn't mean you. I should have mentioned you as the exception.' It was hilarious."
Her sex does give her one advantage, though. "I'm 20 kilos lighter than the guys, who are mostly tiny, but they still battle like jockeys to keep their weight down." (She is 168cm tall and weighs just 53 kilos.) "We need to be light so the engineers can add things to the car." To build up the required muscle strength, she has to work twice as hard as the men, according to her trainers, but "because I started young, my body got strong in all the right places." And, as you might expect, she avoids carbohydrates and sugar. "At least, I try. But some days are more successful than others."
Wolff has enormous support within the racing fraternity. Lewis Hamilton, who has competed against her since the karting days, once said after a close finish, "She was hunting me down." (She says Hamilton "can make a car dance.") During her time at Mercedes, her teammate Ralf Schumacher commented, "She drives equally, so she gets treated equally." And her childhood hero David Coulthard says, "The cliché of making fun of the lady driver gets blown out of the water, because Susie holds her own absolutely and drives the car exceptionally well." She has had a few accidents, but no broken bones, and says she feels fortunate to be driving now because F1 has got safer over the last 20 years thanks to new technology.
Claire Williams, team owner Frank Williams' daughter, is now deputy team principal at Williams Martini, and she and Susie are close. When Susie drove in the British Grand Prix last spring, Claire said she had a tear in her eye when the car pulled out of the garage and everyone stood up, clapping and holding Susie Wolff flags. "I never see any of that from the car," Susie says. "There could be one person or 10 million, for all I know."
That race, though, was a disaster. "There'd been a massive media build-up to it – the first woman driving in F1 in 22 years," says Suzi Perry. "Then the car failed after four laps and she had to boycott the whole thing. It can't have been fun for her." Susie admits: "It was a rough few days. All those headlines like 'The dream only lasted four laps.'" But later that year, an excellent performance at the German Grand Prix weekend led to her promotion.
Susie and Toto married in Capri in 2011. Back then, he was on the Williams board, but he moved to Mercedes when she joined Williams. "The media have said I'm only where I am thanks to my husband, but how can I be? Once I'm in the car, it's me out there alone," she says. Racing is, though, a business where money talks, and sponsorship is everything. And, says Suzi Perry, "With money comes politics."
It's Toto's understanding of her world, Susie says, that's the most vital ingredient in their marriage. "He called me the night before my first official F1 test drive and said, 'You can't fuck up tomorrow. If you fuck up, it's over.' I said, 'I know!' And he said, 'So go out there and show them what you're made of.'"
Their dual careers with rival teams mean they travel to the same places and meet in the evenings in their hotel room, where they can be "kind of domestic. Sometimes we just shut the door and order room service because we've had enough of it all. I even iron his shirts in the mornings." ("She irons his shirts?" exclaims Suzi Perry when I mention it. "She's got that the wrong way round!")
They notched up 250 hotel nights last year. "It's only when we go back home for a long time, like over Christmas and the New Year, that it's hard to pack and go to the airport," she says. "But the truth is, when you're living this lifestyle, you roll with it. All I'm ever thinking about is the next race."