Simone Biles
back-flipping, gold-winning, ever-smiling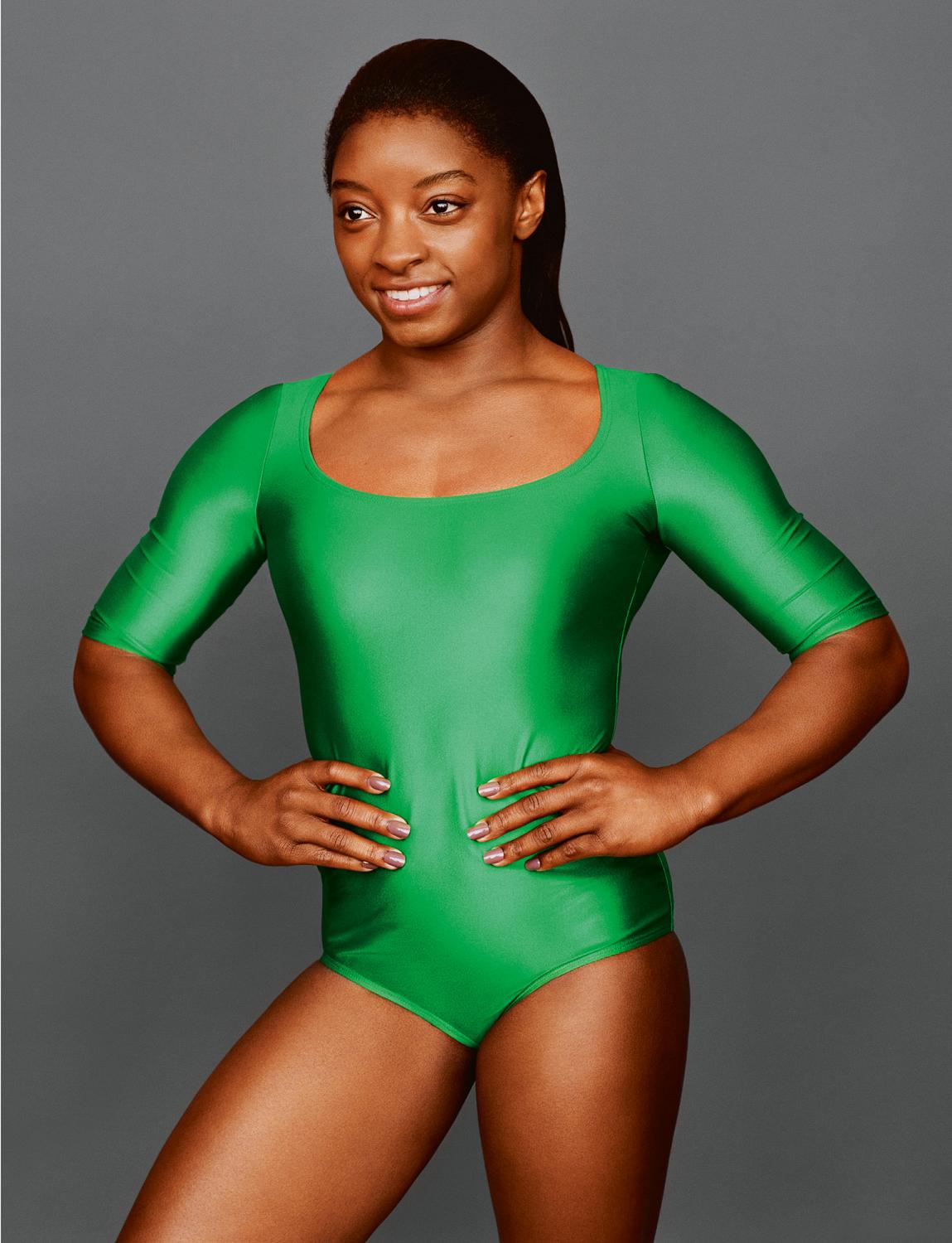 No one who watched the Rio Olympics will forget the astonishing acrobatics of the sunny four-foot-eight powerhouse gymnast from the USA. Simone Biles captured hearts and minds (not to mention a great many medals) at the 2016 Summer Games, somersaulting into the sporting stratosphere as the star-spangled poster girl for a new era of gymnastics. But for all her game-changing virtuosity, Simone is a down-to-earth 20-year-old from Texas with a natural gift of the gab.
With Tokyo 2020 on the horizon, she is setting her sights on Olympic glory once again, but at least for now, Simone's attentions are more focused on the serious matters of dancing, shopping and Zac Efron.
For as long as she can remember, Simone Biles has begun the year by writing down her goals. Like any gymnastics-obsessed girl growing up in suburban Houston, Texas, her ambitions were fairly circumscribed: to do better in school, master a new skill in the gym, grow a bit taller. Over time, as her precocious power and explosiveness began to set her apart as an elite junior, her list grew to include graduating to the senior ranks, placing in the world championships, making a magazine cover or two, and representing her country in the Rio 2016 Olympic Games.
This January, having surpassed all but one of her goals (despite her wishful thinking, she's remained 1.43 metres tall since she was 13), including winning the Olympic gold medal for individual all-around champion, Simone broke with tradition. "I didn't write down anything," she tells me when we meet for lunch in New York in June. "It's my year off. I didn't want to think about anything other than relaxing and being with friends and family."
Nice, in theory. Since vaulting her way into the public consciousness last summer in Rio by winning four gold medals (and a bronze) and becoming the most decorated American gymnast ever (14 World Championship and five Olympics medals and counting), Simone, 20, has had quite the year. She's met her idols Beyoncé and Kim Kardashian, visited the Obamas before they left the White House, appeared in a music video for teen-bait Jake Miller, hit the red carpet in a seemingly endless parade of custom-tailored frocks, and traversed America in an exhibition tour of 36 cities with her "Final Five" Olympic teammates.
"She's always at an airport," says her best friend, Rachel Moore, a former gymnast. "I don't know how she does it, but as soon as she's back, she's not the type to just crash. She'll be like, 'Hey girl, wanna hang out?'"
In between hitting Forever 21 ("Hello, the mall is not going to shop itself!") and getting her nails done with friends, Simone has signed with Octagon – one of the world's most respected sports agencies, which represents Michael Phelps, among others – and with a host of sponsors, including Nike. Her pre-Olympics net worth was estimated at $2 million, but her competition success and relatability with a key young demographic make her highly marketable to the mass audience that gymnastics attracts. "Simone's athletic accomplishments alone place her in a very rare class of athletes in terms of market value," her agent, Janey Miller, says.
Simone has also published a memoir, Courage to Soar, and was named one of Glamour magazine's Women of the Year alongside Patrisse Cullors, Alicia Garza and Opal Tometi of Black Lives Matter, Miuccia Prada and Christine Lagarde of the International Monetary Fund. In news that might not sit well with Simone's beloved Kardashians, she launched her own emoji app, called – naturally – Simoji. The poppy graphics, which she curated, include leotards and gold medals aplenty as well as insider nods like a sticker of Simone, an Olympian-level napper, catching some Zs. "I slept in the cab coming over here," she informs me.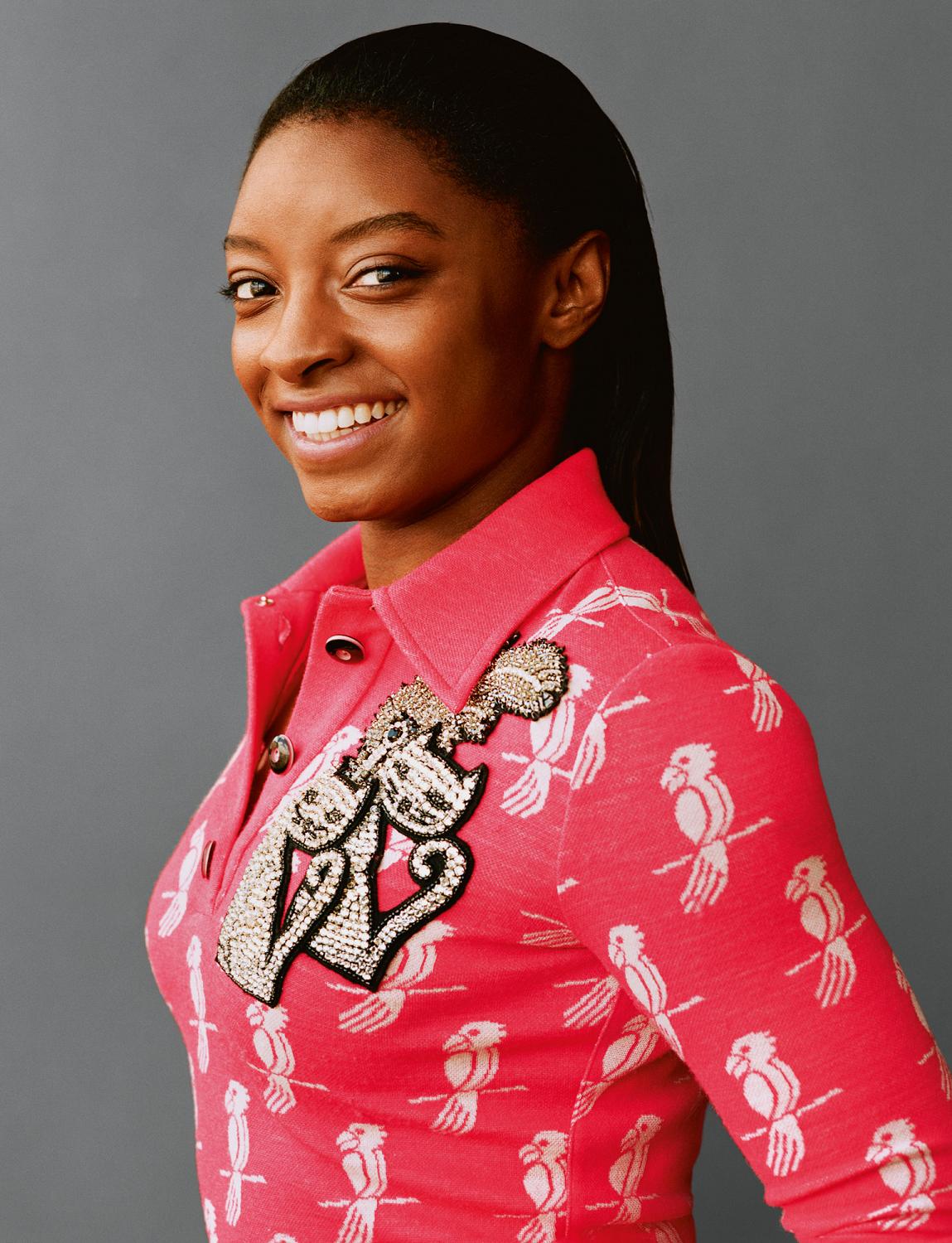 Simone is in New York for a couple of days, having flown in from Los Angeles, where she's been living for the past few weeks while competing in Dancing with the Stars, the American version of the British television show Strictly Come Dancing. DWTS, like Strictly, features a broad church of celebrities. (This season's eclectic lineup of competitors ranged from has-beens such as Mr T to young stars like Normani Kordei from the American pop group Fifth Harmony.) After a shock elimination in the semi-finals, Simone and her partner, the Australian dancer Sasha Farber, finished off the podium, coming in fourth. Filming wrapped the week before our meeting, but the wounds are still fresh. "Sasha and I were so sad," Simone says, with the newly minted dolefulness of someone unaccustomed to losing. "I really thought we could win."
It's blisteringly hot outside, but Simone is dressed in head-to-toe black Nike gear, including a cropped hoodie that covers her strikingly muscular arms (a small tattoo of the Olympic rings she had done on her right forearm after Rio is just visible). She has ombré extensions in her naturally straight hair, which she is wearing loose rather than in her customary ponytail; her fingernails, manicured into prim French tips when she's competing, are today shellacked in a sparkly taupe. When a waiter approaches our table, she orders the mini steak frites (charmingly mispronouncing "frites" as "frights"), then taps away nervously on the table with her nails. She notices me observing her fidgeting and confirms what her friends had told me: she's "very OCD".
Beyond extending her reach to a wider audience, the DWTS experience was meant to be a fun diversion for Simone, who was homeschooled from the age of 13 so she could focus on gymnastics and missed out on teenage rites of passage such as proms and school dances. She had never danced with a boy before going on the show ("I was terrified the first day of practice," she confesses) and could scarcely walk in heels, let alone dance in them.
Simone fared well from the outset, scoring high marks (but not perfect 10s) for her foxtrot, samba and rumba, yet the judges complained that she was too robotic, didn't focus enough on character and story, and, depending on the week, smiled too much or not enough. By quarter-finals night, she had clearly had enough of the feedback. When the co-host Tom Bergeron asked why she hadn't smiled at some of the judges' compliments, Simone answered with the now infamous burn "Smiling doesn't win you gold medals."
"Ugh," Simone exclaims, in her go-to expression of disgust, when I mention the uproar that followed on social media. "You get it in gymnastics too – 'Work on your facials, smile more.' We look mean a lot of the time because we're concentrating so hard. If you don't, you get hurt."
"We look mean a lot of the time because we're concentrating so hard. If you don't, you get hurt."
I point out that despite her efforts to try something new, with DWTS she still trained all week, stepped out in rhinestones and received scores after each performance. "Yeah, but at least in gymnastics the judges know how good I am," she bristles, widening her eyes and pursing her lips. I suggest that Carrie Ann Inaba (a pop singer turned dancer who, alongside Jennifer Lopez, was one of the Fly Girls troupe on the 1990s TV show In Living Color) was particularly hard on her. "Everyone in the show has a judge that's a little bit tougher on them," Simone says. "But Carrie Ann wasn't having it – any of it! She said I was too perfect when I dance. Can you believe that? I trained 14 years of my life to be perfect. Ugh."

In 1976 the Romanian gymnast Nadia Comăneci, the first person ever to score a perfect 10, on the uneven bars, dazzled audiences at the Montreal Olympics with an otherworldly single-flip dismount off the balance beam. Simone routinely performs two. Her signature move in the floor event, "the Biles", involves a double backwards flip executed while maintaining a difficult, unstable mid-air position called a layout in which the body is fully outstretched. To complicate matters, Simone somehow adds a half twist towards the end of the tumbling run, so she lands blind, with her feet facing forwards. She is the only woman capable of doing the move.
Simone, who is stockier than many of her competitors, is built for power and speed – a huge advantage in an evolving sport that values daring athleticism above the safe balletic grace of past champions like Comăneci and the Belarusian Olga Korbut. "I have been criticised for my body, but if I didn't have this build, I wouldn't be able to do what I do," Simone says. "Everyone wants this prototype of a skinny girl with the perfect butt and legs. I just don't get it. It's not Build-A-Girl.
"We are all built differently," she continues, "and we all know that there are elements of what we do that are influenced by our body type. We understand that and learn how to substitute for it. If you are more muscular, you have to work on elegance a bit more. If you are long and elegant, you have to work on your power a little more."
Because of the power Simone is able to generate off the ground in the vault and floor routines (her favourite and highest-scoring events), she is able to clear more than double her height (higher, even, than some of the men, who are considerably taller and stronger), giving herself time to perform more complex skills in the air. "I know exactly how difficult that move [a full-twisting double-back dismount off the beam] is because I worked so long and so hard on it," Shannon Miller, who won gold with it on the beam at the 1996 Olympics, told a reporter just before the Rio Olympics. "When Simone does it, you just get so jealous because she just floats."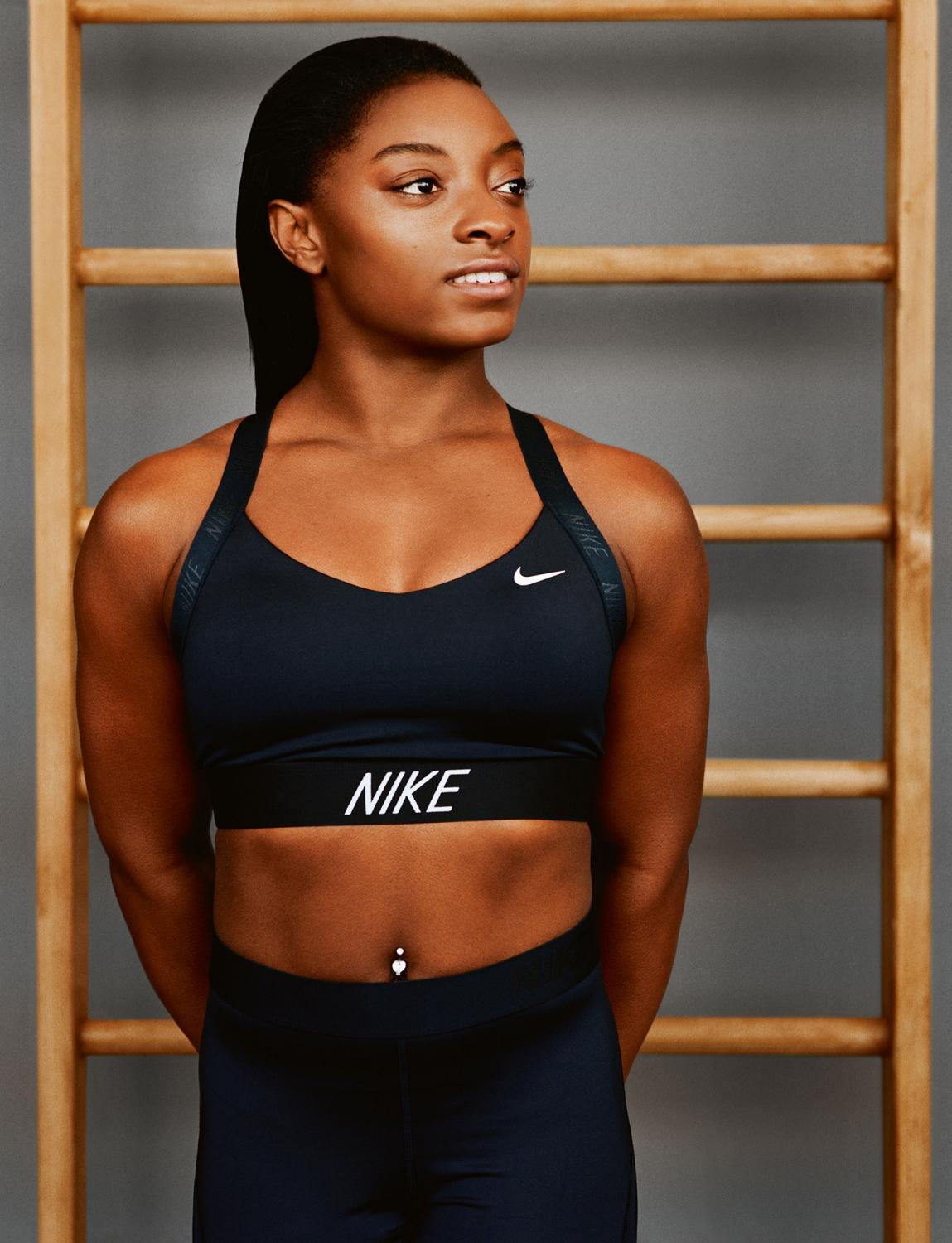 After decades of dominance by the Russians and Romanians, the sport had appeared to reach its physical limits with the emergence of powerful gymnasts like the Americans Mary Lou Retton in the 1980s and Simone's idol Alicia Sacramone in the early 2000s. But the old scoring system rewarded technical precision over risk. In 2006, a complicated new open system was introduced which did away with the fabled perfect 10. In its place, judges would now offer two scores: one for execution (worth up to 10 points) and the other for difficulty (technically limitless, though only the top eight skills are counted per routine), which are then combined. ("To be honest, we're all still a little confused by it," Simone's Final Five teammate Laurie Hernandez tells me by phone.) Impenetrable to the uninitiated, the new system places a premium on difficulty, amply rewarding the courageous. It's why Simone is able to make the rare error in competition – as she did at the 2015 World Championships in Glasgow, where she almost fell on the balance beam and stepped out of bounds on floor – and still win by wide margins.
But it would be a mistake to attribute Simone's ascent simply to the revision of the scoring code, says Rhonda Faehn, the head of the women's programme at the governing body USA Gymnastics. "I genuinely feel that Simone would have been able to adapt to any code in any era and have as much success, if not more," Faehn tells me. "Sure, her vault and her beam dismount are the hardest in the world and potentially worth a lot of points, but she executes them so beautifully, with a form that's really hard to fault."
While most viewers, whose interest in gymnastics is usually limited to the Olympics, might not be able fully to comprehend how Simone is pushing the limits of physics with moves that build on classic elements, they have connected with her personal narrative. If Simone is tired of covering old ground in every interview, she hides it well. "As I've got older, I realise that my story is my story and if anyone is going to tell it, it should be me," she says. "I was so young when everything happened, and you're not really processing much as a three-year-old, but I am who I am because of it."
Simone Biles was born in Columbus, Ohio, as the third of four children. Her mother, Shanon Biles, struggled with addiction to drugs and alcohol, and from the age of two Simone was in and out of foster homes, along with her siblings, Ashley, then nine, Tevin, five, and Adria, six months. (Her father abandoned the family early on.) When Simone was five, she and Adria were adopted by their Texas-based maternal grandfather, Ron, who had been in the US Air Force before becoming an air-traffic controller, and his second wife, Nellie Cayetano Biles, who owned a nursing home. (Simone's siblings Ashley and Tevin were adopted by Ron's sister, Harriett.) After an initial stint of calling her grandparents "Hammom" and "Hampa" (she couldn't pronounce the Gs at the beginning of each word), Simone has referred to them as her parents. Ron, 68, and Nellie, 63, now own World Champions Centre, the gym where Simone trains.
Simone's home situation seemed so normal to her that she assumed everyone's was the same. She recalls being at the gym when she was about 10 and inadvertently revealing to her friends that she and her sister were adopted. "It was a shocker," she says. "No one knew. We were sitting in a circle and somehow the subject came up. None of my friends knew what adoption was, so I told them what had happened to us. How crazy is that? First, that they had never heard of it, and second, that I thought everyone was adopted."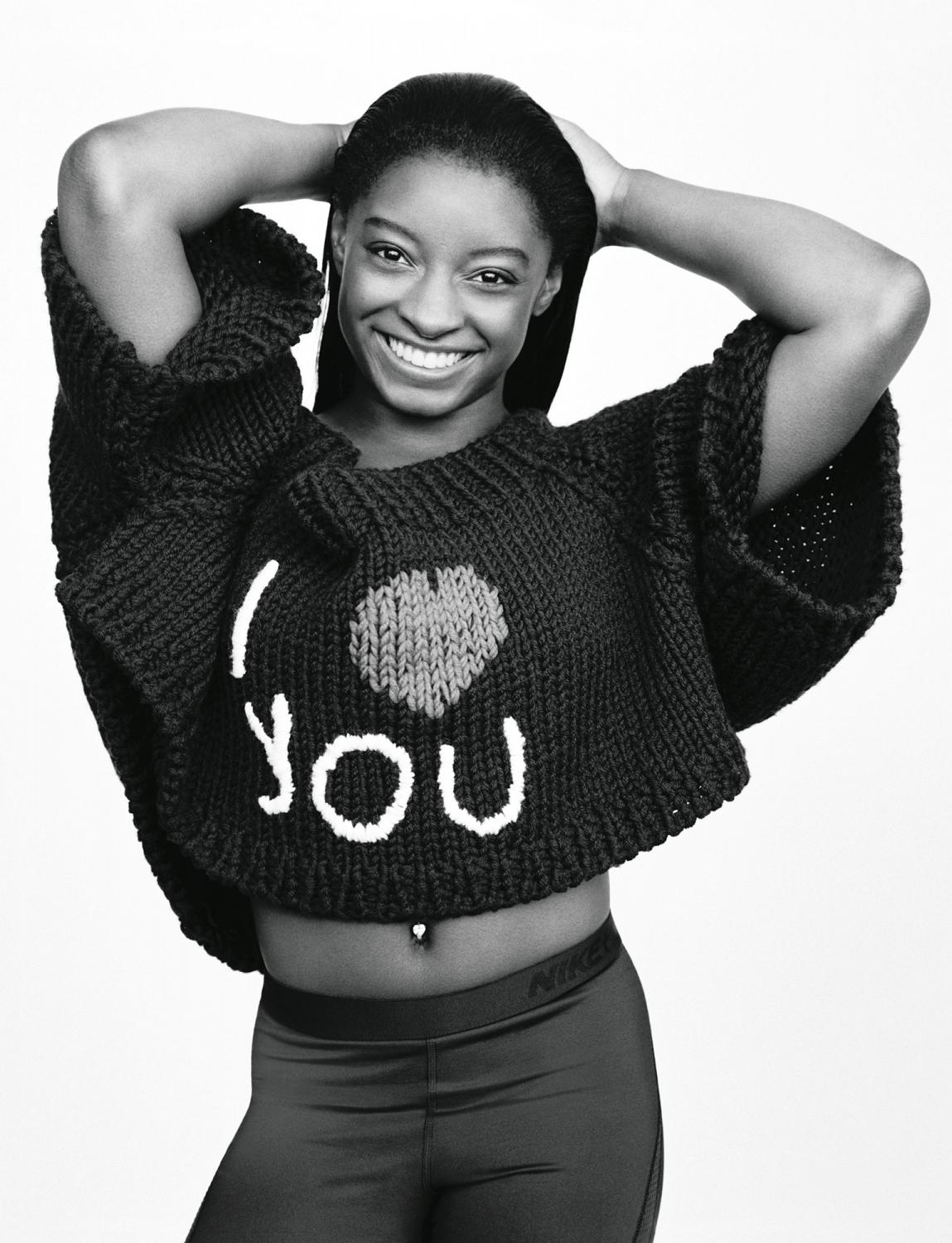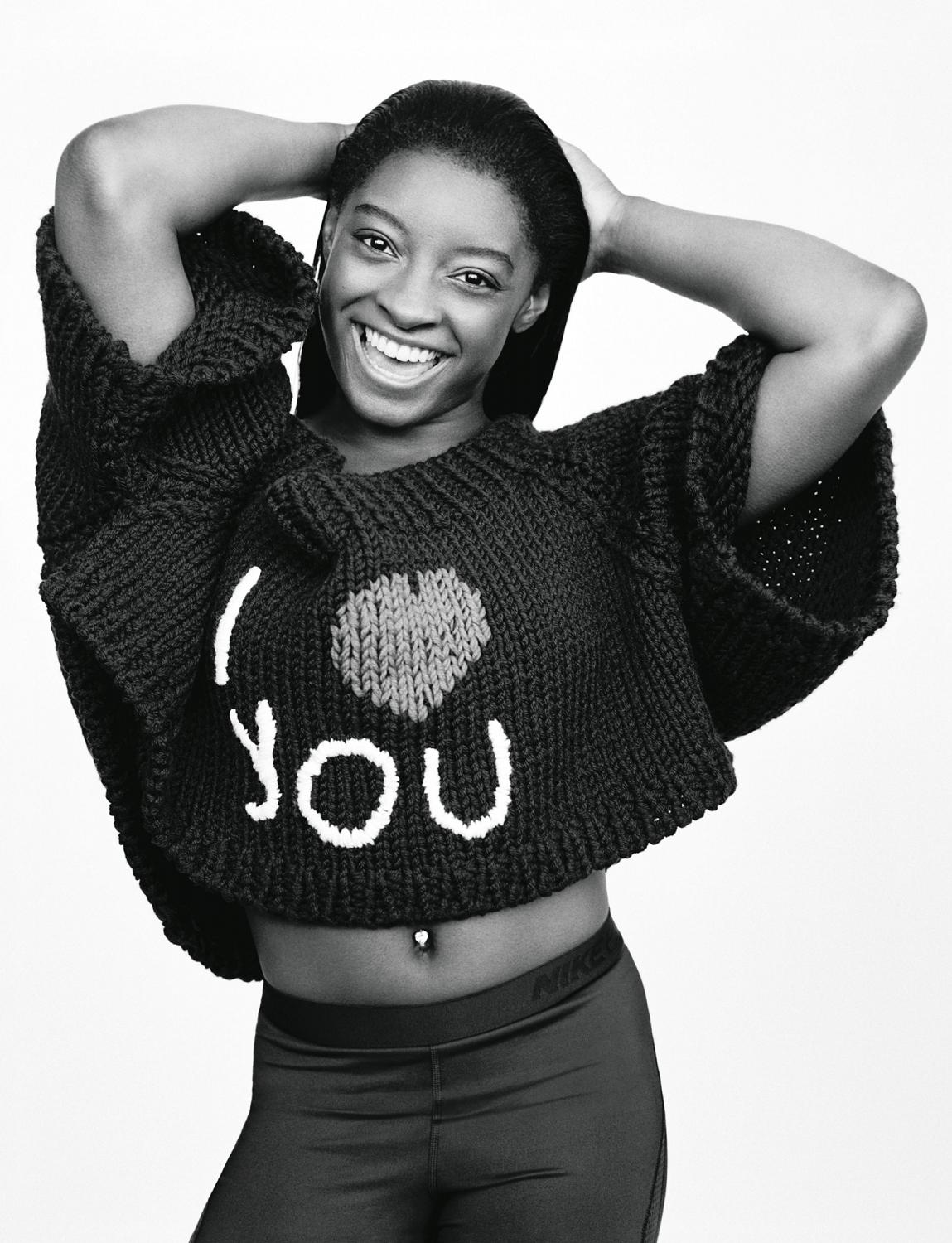 Simone was six when she was introduced to gymnastics, after a school field trip was cancelled because of a heatwave. Her teacher took the class instead to Bannon's Gymnastix, a private club that offers children's tumbling and gymnastics classes, where Simone mimicked what she saw some of the other children doing. Nellie immediately signed her up for a tumbling class. "She was already jumping and flipping all over the house and was very athletic," Nellie says. "The boys at school used to challenge her to a race or an arm-wrestle, and she would beat them."
Aimee Boorman has been Simone's coach since Simone was eight years old, and she was the head coach of the American women's team at the Rio Olympics. A former gymnast and now a co-owner and the head of women's gymnastics at the EVO Athletics facility in Florida, Boorman recalls seeing Simone for the first time after being tipped off about the new girl at the gym. "She was born for this," Boorman says. "The way she carried herself, she didn't look like your average six-year-old. And the fact that she couldn't sit still was so appealing. You could just tell that she wanted to do more and more." Though Boorman recognised Simone's precocious talent, she and Simone's parents decided not to push her. "It was going to be up to her how far she wanted to go. We were just waiting in the wings, waiting for her to say, 'Yeah, let's go.'"
The decision to commit to gymnastics full-time and be homeschooled was difficult on the gregarious teen. But Boorman kept the gruelling training sessions fun and encouraged Simone's clowning around at the gym. It's a lighthearted approach to her sport that Simone has maintained. "When we're in routine mode, she is incredibly focused and serious," Hernandez says. "But when we're in between rotations or in the gym working on skills, she's a total goofball. She makes everybody crack up all the time."
That makes Simone more nervous and unfocused, so she stays in her silly, supportive space for as long as possible until she has to step up to do her job – and then it's game on. She's a natural competitor."
Like many great athletes, Simone is not particularly interested in overthinking her talents or her serendipitous introduction to the sport. "I really do believe everything happens for a reason," she says. "You can only do what God has given you the opportunity to do, and He opened the doors for me to do this."
A practising Catholic, she attends church every Sunday with her family and lights a candle for her safety before every meet. Over the years, she has learned to be more of a proselytiser. "It's such a personal thing," she says, "and I get that people don't want to be hit over the head, but kids nowadays see me, or LeBron James or Cristiano Ronaldo or whoever, and they think that we are just born with this talent. But it takes an army for us to do what we do, and for some of us, faith is a big part of that. As you get older, you realise that if something is important to you and helps you get through things, then it's good to let others know."
After her medical records were released last September in the wake of the cyberespionage group Fancy Bear's hacking of the World Anti-Doping Agency's database, Simone took to Twitter to reveal that she has attention deficit hyperactivity disorder (ADHD) and has been granted an exemption by the International Gymnastics Federation to take Ritalin, posting, "Having ADHD, and taking medicine for it is nothing to be ashamed of, nothing that I'm afraid to let people know."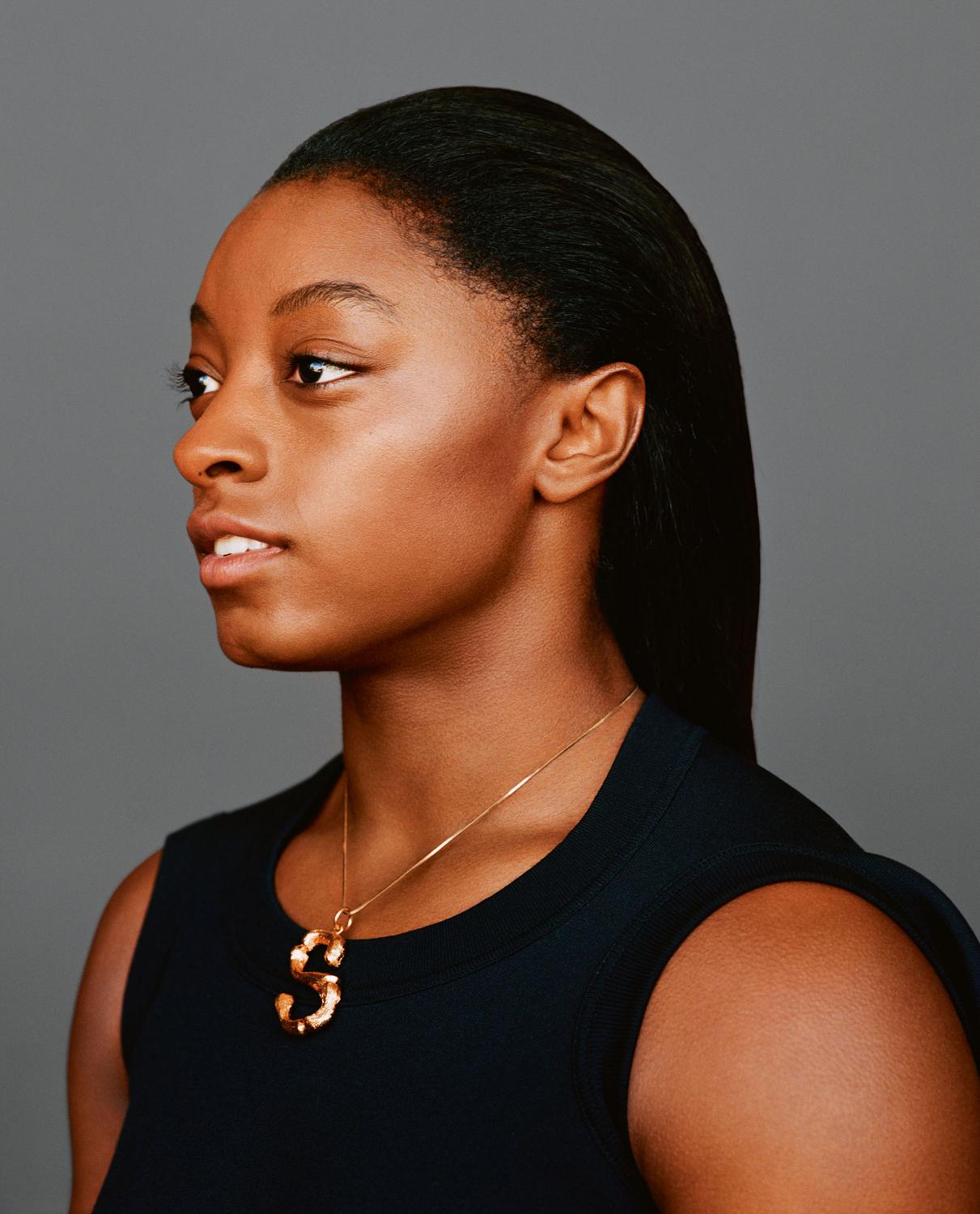 Today, she says, "If you know me or have seen me at all, it's pretty obvious that I have ADHD. So what's the big problem? I'm practically bouncing off the walls most of the time. It really didn't bother me, but I thought it was important to speak out and tell kids that it's OK to have ADHD, that you can go far in sports and in life. It doesn't have to hold you back from anything."
On social media she shares not only amusing intimacies, such as a recent video of herself under the influence of happy gas after the removal of her wisdom teeth, but also the sacrifices she has had to endure in her quest for gold. "We look all dandy out there," Simone says, "but as soon as we get out at 6pm, we are limping out the door." Though she is not big on the cryotherapy treatments or cold compression machines some of her peers opt for, she spends countless hours after training in her NormaTec recovery boots, which squeeze and release her legs to get the circulation going – so long, in fact, that the boots have their own emoji on her app. "It's a dirty little secret, but once you reach a certain level, you end up spending a fortune to keep your body in one piece."
She talks about how lonely she was being homeschooled ("Even an invisible friend to talk to would have been nice") and how she has her fair share of bad days. "Like every kid, I went through a bratty period. I've had failures, too. Even though you don't see them on TV, it doesn't mean I don't have them." And she wants young girls to know that it's fine to have a body as ripped as hers. "It's perfectly OK to have muscles and be stronger than some of the boys," she says. "When you're young you tend to want to follow the crowd, but you're your own person at the end of the day, and that includes looking a little different to everyone else.
"Social media can make you look so bad or so good," she adds. "And I think kids look at that and think, She is so perfect, nothing bad ever happens to her."
Simone suggests walking off our lunch. She says she is surprised not to have gained any weight since the Olympics. She'd like to keep it that way. "Even five pounds makes a difference. With what we do in the air, you can really tell," she says. "I haven't been to the gym in months, but the training for Dancing with the Stars was intense, so I can cheat a little bit and order something other than salmon. So much salmon."
"It's perfectly OK to have muscles and be stronger than some of the boys."
We head towards Central Park. Before we are even out of the door, Simone is approached by a young fan for a selfie. She graciously obliges and assures me that she is not worried about being accosted on the street. "At this point I'm used to it," she says. "It doesn't stop me from doing what I want to do. Plus, I get it. I had this dream and I went after it, and the whole world got to watch me doing it. So now they want a piece of me. As long as they're respectful, I don't mind."

As if to test her patience, within seconds, a middle-aged woman stops Simone at a pedestrian crossing and asks to take a photo. Simone poses for one picture, then another, and is remarkably calm in the face of the woman's gruff instructions to move to the side a little and not look at the camera. Oh, and would she mind smiling? It's so awkward and imposing that I feel like letting out an "Ugh" on her behalf. "It happens," Simone says good-naturedly. "Some people think they own you because they have seen you on TV."
We continue towards the park, stopping at every turn for her to indulge her admirers. When a couple of women approach, lean in conspiratorially and tell her, "You should have won," referring to DWTS, a huge smile flashes across Simone's face. "They know what's up," she says with a giggle.
We are on the lookout for a boutique that might stock petite sizes, because Simone is "always in the mood to shop". She admires the way young celebrities such as Zendaya, Selena Gomez and Vanessa Hudgens dress, but, she says, "I can't wear certain things because of how my body is shaped. I haven't found a specific brand that fits my entire body, but certain places fit me better than others, more than actual brands, so I'm always on the hunt." She has always been told to wear sparkly things, but lately she's been gravitating towards unadorned styles, so as not to draw too much attention to herself.
Fashion is just one of the many things she wants to learn more about on her year off, she tells me after we give up walking in the sun and stop for ice cream. She wants to see more of the world, and spend more than the night or two in each place she typically spends when touring. She loves Belize, where Nellie is from and where the family holidays, but destinations such as Bora Bora, Tokyo, Santorini and Australia are calling her name.

Then there's the tricky business of adulthood – "It's a work in progress," she says – and the changing nature of her relationship with her parents now that she is transitioning into a different life and beginning to go on dates. "I feel like, if anything, we are even closer now," she says.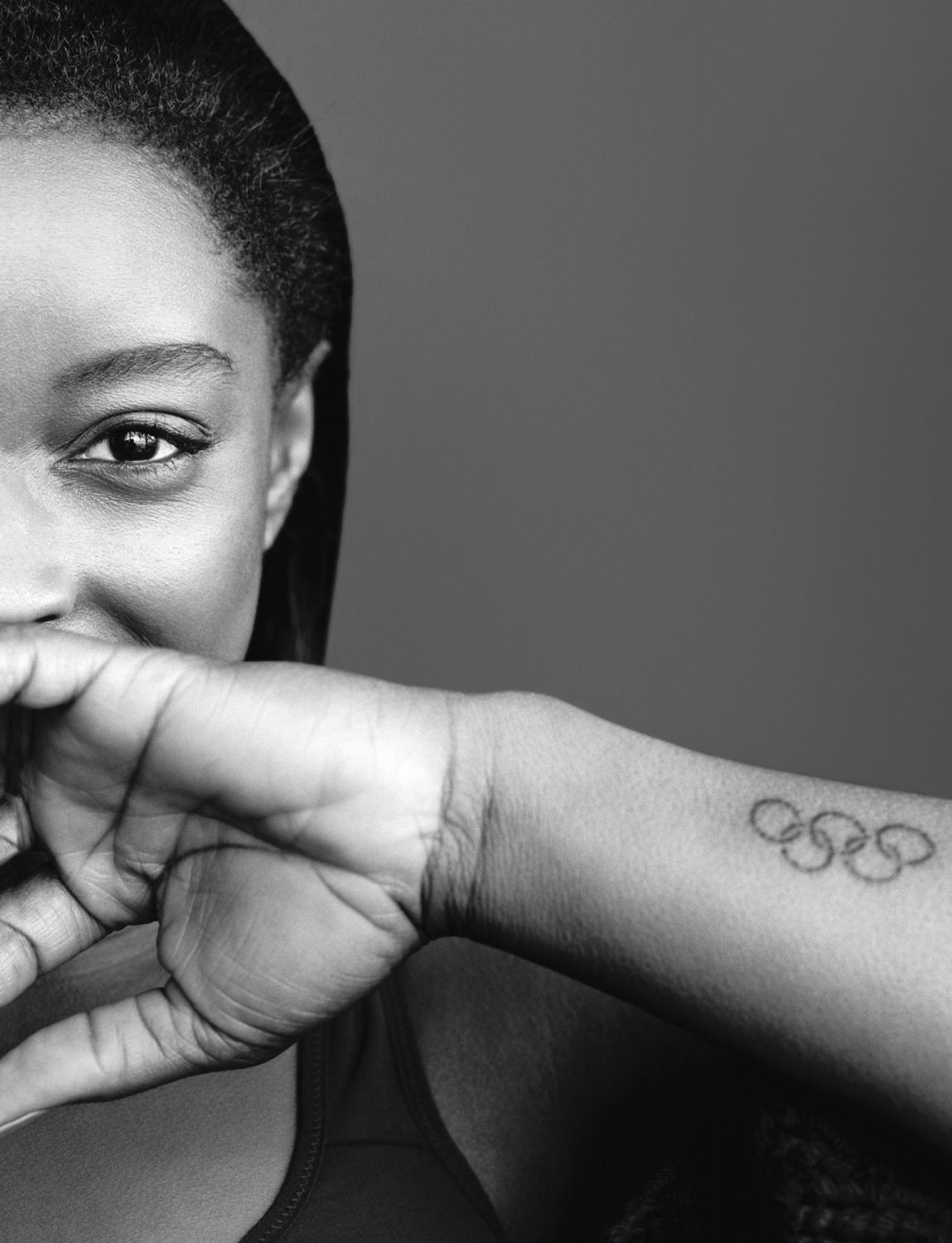 "It's definitely different and a little weird, but obviously I respect my parents' rules. It's their house; I understand that," she adds. "When it comes to dating, I get what my parents' expectations are. They know what I look for in a guy, too" – a fun personality, manners, and hopefully eyes like Zac Efron, in case you're wondering – "and that I would never bring anyone home to meet them that they wouldn't be proud of." For her parents' part, Nellie tells me later, their main concern is that Simone will have difficulty taking a back seat in life and in relationships. "She has to learn that life is a give and take," Nellie says, "and that you don't have to win every time."
As to what goals she may set herself for next year, Simone says the 2020 Olympics are definitely her main priority. "Athletes get high off competing in big events, and once you've had a taste you just want to keep going," she says. "As soon as the Rio Olympics were finished, I was like, I want to go to the next Olympics."
She is in no rush to return with the audacious new moves she was regularly landing in practice before taking a break. "No, sir," she says, sounding like a true Texan girl for the first time since we met. "The sport of gymnastics is a crazy place to be in. Making up a new skill is almost dangerous at this point, and doing something in training is very different than doing it in competition repeatedly under pressure. It's easy to get injured that way."
Once, in 2013, Simone performed the double double – a double-twisting double-tuck dismount from the beam that has never been performed in competition – and she has video to prove it (more than three million views on YouTube). Her coach had suggested to Simone that she had enough height to squeeze in the extra twist, and Simone shot back, "Bring out your camera, because I'm only doing it once, and if I die I want it recorded."
Laurie Hernandez suspects that her friend may well be tempted to create some new signature moves once she's back in the gym, but, she says, "Simone didn't leave much room for improvement after the last Olympics. Just to maintain that level is enough because she is so far ahead of everyone else. She is at the very top of the mountain."
Whatever Simone ends up committing to paper for next year, one gets the sense that no one will be forcing her hand. "Even at this age, people want to set goals for me before I've had a chance to set them for myself," she says with barely restrained incredulity. "It doesn't make sense to me. As I like to say, 'Are you doing the sport or am I?' Who is walking the dog here?"
Hair: Didier Malige at Art Partner. Make-up: Francelle Daly at Art + Commerce. Manicure: Gina Edward at Kate Ryan Inc. Set design: Gerard Santos at Streeters. Photographic assistance: Lex Kembery, Matthew Healy, Simon Mackinlay. Styling assistance: Fan Hong, Sanna Fried. Hair assistance: Ledora Francis. Make-up assistance: Takahiro Okada. Production: Pony Projects.
This profile was originally published in The Gentlewoman nº 16, Autumn & Winter 2017.