Sara
Pérez
The revolutionary force behind Spanish wine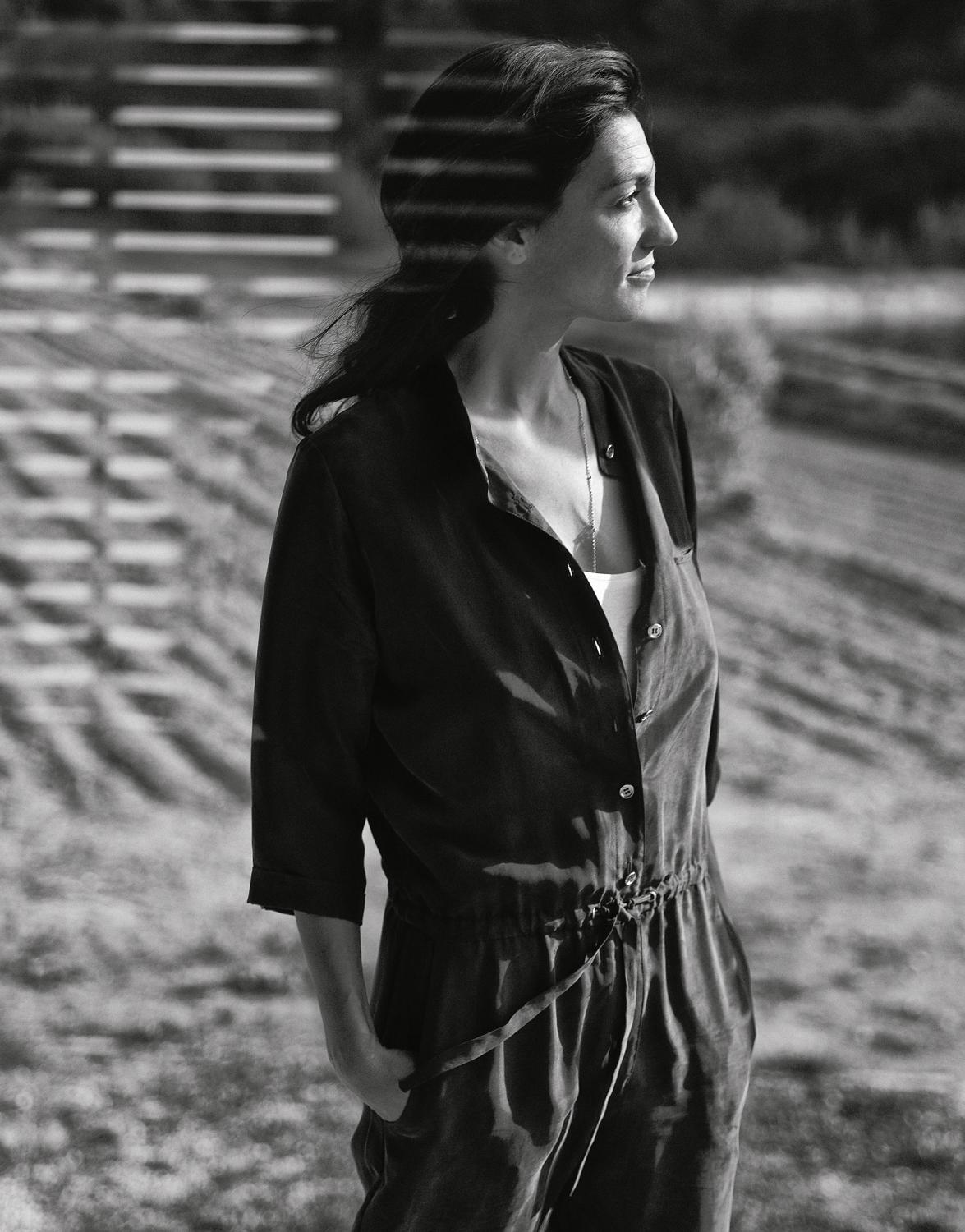 With brave new ideas about wine at a time of great gastronomic experimentation in her country, Sara Pérez is the chief winemaker at the ambitious Mas Martinet and Venus vineyards in northeast Spain. Thirty years ago, when her family mov-ed there, harsh and mountainous Priorat had all but fallen off the map as a wine-producing region. Now, Sara is breathing new life into their pioneering work, bringing very radical changes to the wines, to notions about how crops should be raised and to the entire national industry, where outmoded traditions still abound.
Fearless, and often with a breast-feeding baby in tow, Sara is a compelling ambassador for the wines she so loves to drink.
When Sara Pérez drinks wine, she doesn't just pick up a glass and sip. If she's in a restaurant, she'll turn the bottle around in her hands while the waiter pours the blackish liquid from a decanter. The glasses she drinks from are big shiny balloons, receptacles designed to capture the perfume of a wine and hold it in place for appreciative nostrils to sniff. When there is an inch of wine in her glass, Sara smells it, inhaling without making a sound but letting her eyelids flutter. She smiles, tips her nose further into the glass, flicks her hair slightly, puts the glass down, swooshes the wine around once again, watches the raspberryish stains slide around with an appraising eye, picks up the glass and, after some seconds of thought, finally opens her lips and drinks. The ritual is the same whether she's at her kitchen table at home, her eleven-month-old daughter squirming on her lap, or standing in one of the cellars she owns, checking the development of one of the still-sulphurous 2009 vintages fermenting in concrete tanks.
Nobody taught Sara how to taste wine, not even her biologist parents, who uprooted the family from Barcelona in 1981 and took them down the coast to Priorat, an area associated with vine cultivation since the Roman age. Sara, the eldest of four children, was nine. Their new home was a farm in a rocky, harsh but beautiful valley contoured by narrow terraces on which ancient plants yielded small harvests of Grenache and Carignan, both red grape varieties originally from Spain. But by the 1980s, depopulation and the infestation of insects that laid waste to many vines across Europe had shrivelled the vineyards and soured Priorat's once-noble reputation. The steep slopes and valleys stepped with narrow fields were simply too difficult to farm. In 1893, 17,000 hectares of vine grew in Priorat. By 1990 there were just 800. It was a ghost area. The Priorat way of cultivating grapes was old fashioned. There wasn't a penny to be made in the area 20 years ago.
Sara's father, Josep Lluis Pérez, and a band of eight fellow idealists, eccentrics and academics from Spain, Switzerland, Poland and Britain saw in the earth and gnarled plants a precious commodity that could be revived, and bought up the old vineyards. They formed a cooperative and set to work. A local school of oenology was founded. Sara describes the early days of that project as "a hippy community", but its aim was commercial: to re-label Priorat as Spain's most exclusive wine region.
The group's first harvest was in 1989; the year Sara learned to drink wine.
Sara tells me of her education in wine one silent winter evening in the village of Falset. It's the kind of place where the shops open twice a week. The sea is 20 miles to the south, grey, moody-looking mountains rise up to the north. The hotel smells of bitter grape skins and fermented juice. When Sara picks me up, I notice the same thick, grapey smell, mixed with the scent of earth, in her car.
Brushing a plastic Lego figure from the passenger seat, she revs up the engine, steers into the dark road and begins to talk on a subject that interests every farmer, whatever their crop: the weather. Priorat is fearsomely hot in summer. The slate, or llicorella, that juts out of the ground here – giving the wine its characteristic minerality – is said to shatter when July temperatures reach 40 degrees. A lack of rain for most of the year forces vines to reach down into the crevices in the slate, resulting in extremely low yields of powerfully concentrated wine. In the winter, sudden downpours damage the vine plants.
Priorat attracts a trickle of tourists in the summer, mostly wine lovers; but on an out-of-season evening, we are the only diners in the restaurant. We settle at a table near windows that look out into the darkness. Sara glances at the wine list and orders a bottle of Clos Martinet 1994, from the vineyard owned by her family, Mas Martinet. Tall glasses soon crowd the table between us. Tiny, beautiful and intense, she leans forward and talks in Catalan-accented English, her voice rising and falling in accord with the movement of her expressive hands.
"I remember the first time all the members of the cellar decided on the first blend. I was just 17. I'd just wanted to try it, because everybody was there, saying this and that, and I could see they were excited, and I wanted to know why. Alvaro, one of the group, said, 'Close your eyes and smell,' and I did. I remember thinking, 'It's just wine, what am I supposed to say?' Then Alvaro said, 'Don't you smell chocolate, or vanilla?' And I thought, 'All of that? I just smell wine – and I don't like it.' But, after that, I visited wine fairs, and I opened bottles, always smelling, smelling. Then one day I remember thinking, 'I don't believe it – it is more than just wine.' You need to open a lot of bottles of wine to understand it, that's true, but that's a nice thing. Sometimes you don't like a bottle, and sometimes you love it – but you always learn."
Sara is now the chief winemaker at Mas Martinet, the vineyard she took over from her father in 1996 (the pioneering cooperative splintered after the success of its first few vintages). An entire year's harvest may produce just 11,000 bottles, but the small scale of her vineyard is typical of Priorat, now home to Spain's most expensive reds.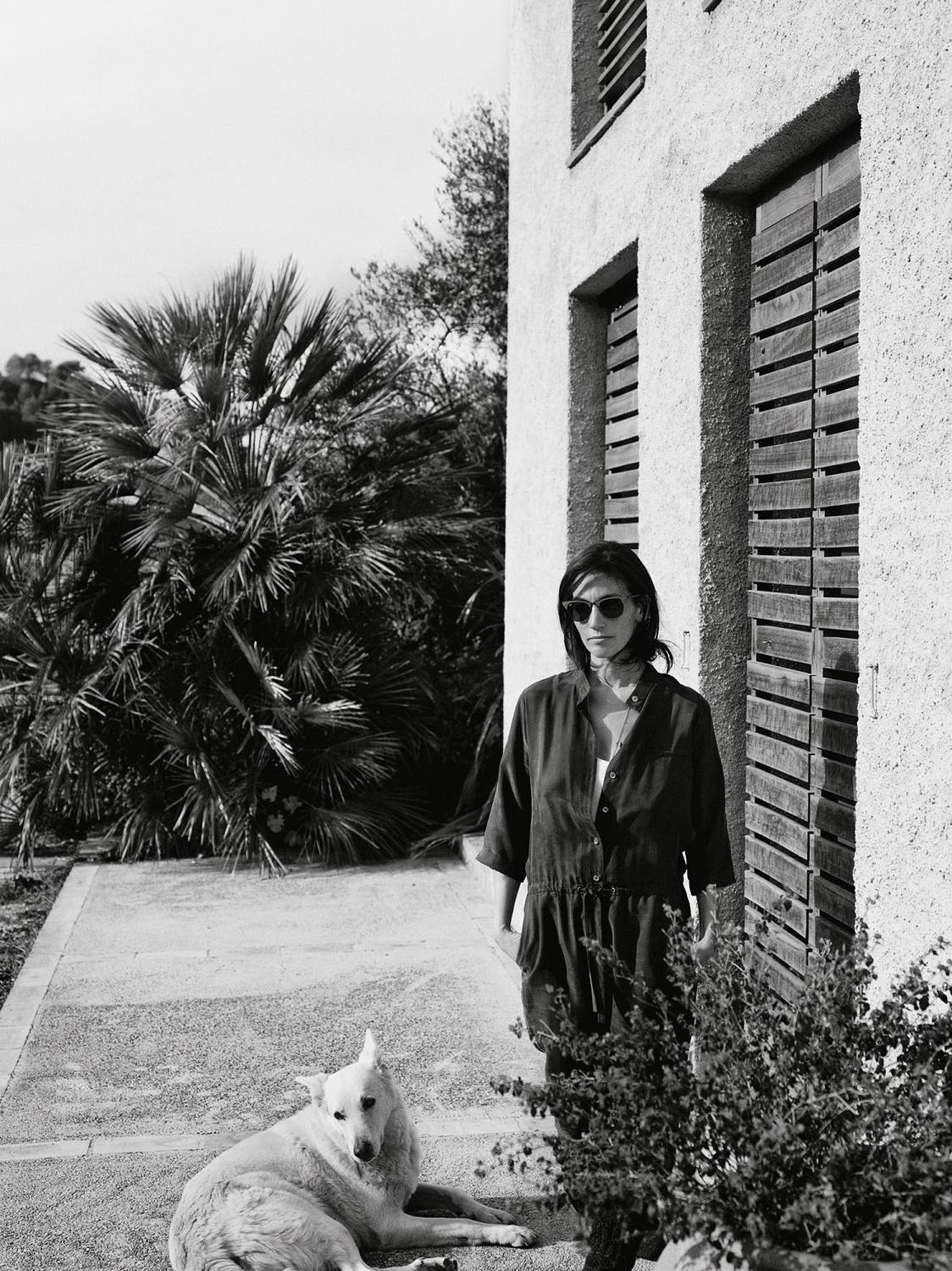 And what wines she makes! Dark garnet in colour and raging with hedgerow fruit and warmth and that slate-scented minerality, her best vintages score at the very top of wine critics' scales, regularly reaching the mid 90s for "outstanding". Sara's wine is not cheap; bought directly from a vintner, the better years cost about £40 per bottle. But it is an experience worth paying for.

Besides Mas Martinet, she runs her own independent vineyard called Venus, which is just around the mountain. She lives here with her husband, René Barbier Jr., also the scion of a winemaking family, and their three young children. Together, they are the improbably attractive faces of the new Priorat.
"Normally people are surprised when they meet me," she tells me, "Just one month ago I was in Madrid, at a tasting. A wine producer, from near here, was tasting our wines, and I was talking, explaining everything to him. After a while he said, (Sara puts on patronising tone) 'Very good. But, really – isn't your father the one who actually makes the wine?' And you know, you could experience that every day. But normally people are more respectful."
In her first years as a winemaker, she says, her wines were "too powerful". In the 1990s, in order to make wines that would age well – that could lie in a cellar for ten or more years – the Priorat winemakers increased the tannins they added to their tanks. (Tannins are the natural ingredient added to wines that give a "puckering", dry, astringent quality in the mouth, a bit like over-brewed tea; in older wines, tannins soften and help to maintain a structure to the flavour. In young wines, the effect on the tongue can be overwhelming and unpleasant, particularly if tasted without food.)
Very hot summers in Priorat, meanwhile, result in grapes that are extremely ripe and sweet. The lucky combination of tannins and ripe fruit made wine that was not only flavourful enough to last for more than a decade, but also well-balanced, so that it was delicious when drunk young, too. "The problem, though," says Sara, "was the alcohol. It was, I don't know, 16 percent…"
She says now that she didn't enjoy these very strong wines. But in the beginning, she just wanted to fit in; she was trying to ingratiate herself into a traditional, rustic and almost exclusively male world. One of her first challenges was to persuade the elderly viticulturists of Porera, a neighbouring village, to sell her their grapes. When they weren't working in the vineyards, the viticulturists could be found in the bar. Women were not welcome. The village's female postman was regularly reduced to tears by the catcalls that accompanied her entrance to the bar. "I knew I couldn't be like that," says Sara. "I had to survive. So I spoke loudly, like the men, and said bad things. I swore. Eventually, with lots of effort, they understood that I respected their job, that I was working seriously, and hard, and that I was the one who decided who to buy from. After four years, I made big, big friends in Porera. All men. A lot of them are dead now, because at the time they were 85, 86 years old. By the end, they showed me a lot of love. But they'd still say, 'My God, you'll never get married with that mouth…'"
Being accepted by them meant not just talking like an hombre, but drinking like one. "I always drank my coffee without milk," she recalls, "because girls drank coffee with milk. In everything I did, I was trying to say 'Hey! I'm here and I'm like the rest of you.' And I also was making wines that were very powerful. But in the end I realised that these weren't the wines that I really adored." In 1999, with a friend, she founded her own separate cellar, while continuing to work at Mas Martinet. She bought land not in the mineral-flavoured, slate-rich soil of Priorat but in the sandier terrain of neighbouring Montsant – another Spanish region being name-dropped by wine writers.
"I wanted to change with the new wine," she says, so she put it in Burgundy-style bottles, a silhouette with gently sloping shoulders, not Bordeaux-style with square shoulders, as favoured by Priorat winemakers. "I was trying to explain my vision of the world through a bottle of wine. But not a super-powerful wine. It was only red, always red, and I used the Carignan grape and a little bit of Syrah. They are like yes and no, animal and leather, violet bonbons and violet flowers – with these two grapes you can note the same, but different, expressions."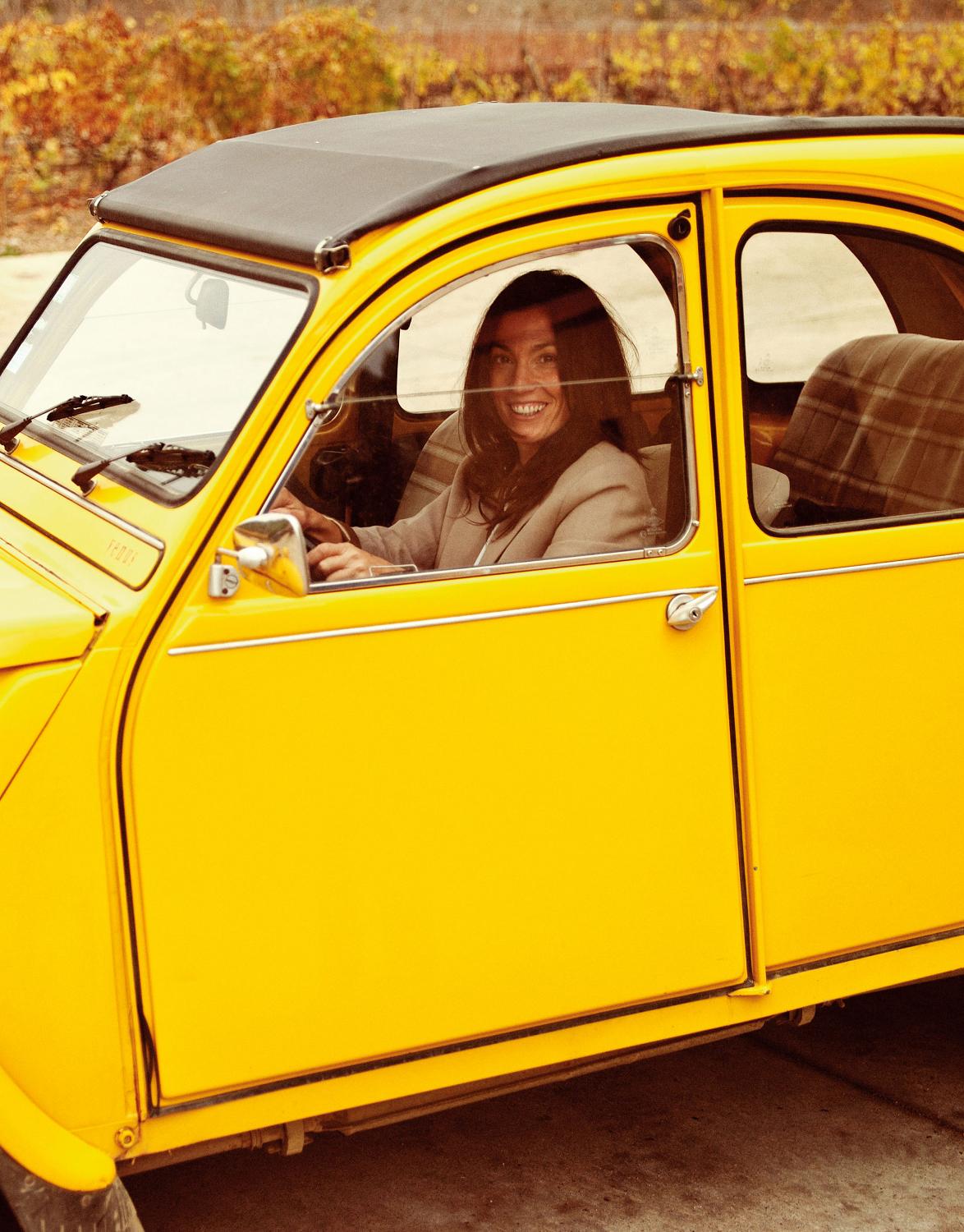 Sara named her new cellar Venus – after seeing Botticelli's The Birth of Venus at the Uffizi Gallery while on a tasting trip to Tuscany. "When I saw that painting, I said, 'My God! That is the name of my wine.' It was something about beauty, about being newborn, something linked to femininity, all the things that I had hidden during the 1990s, when I was trying to be so strong. All the ideas of femininity seemed to be linked to something weak and fragile, so I tried to appear stronger than I really was. More aggressive, more… (Sara hits the table) more obvious."

Sara is a determined proponent of organic winemaking. She uses natural yeasts, and also cultivates using the phases of the moon, a technique that dictates that on some days one must move the wine, and on others one must not. She believes farming this way will preserve the life and humidity in the soil – and so make better wine. This extends to the fermentation process, which takes place in a modern block next to the vineyards. "I love my concrete tanks!" she tells me passionately, on a tour of the cellar at Martinet; gradually, she is replacing the colossal steel containers with less conventional, "breathable" concrete or wood. (After fermentation and maceration for about one month in tanks, the wine is moved to smaller French oak barrels, for a further 18–24 months. The developing wines need to be tasted every day.)
Sara travels between Venus and Mas Martinet, a ten-minute drive along a narrow mountain road, in an old 2CV painted the same buttercup-yellow as Venus's labels. Late in the afternoon the following day, she drives us in the tinny, noisy, yellow car, precariously breast-feeding the baby as she steers round hairpin bends, to her home, a one-storey converted cellar building in the middle of a flat vineyard. The garden has an orchard and a big trampoline and uninterrupted views of misty mountains.
At just after five o'clock, René and Sara's two older children and a handful of others tumble around the garden. Sara's husband is tall and good-looking, with a mass of dark blond curls; wearing a red hooded sweatshirt, he looks more American than Spanish. He talks to two friends who arrive at the same time, a Belgian expat who works as a wine exporter and a neighbour who owns a vineyard. The group eventually gather around a table in a kitchen. Her husband has made bread. Bottles are opened, poured, sniffed, sipped. There is an earnest discussion in Catalan about leaky corks. Later, René takes us next door to the Venus cellar to taste the adolescent wines that sit in big tanks, still smelling of sulphur. The couple do this every day in the months after harvest: checking, tasting, monitoring, hoping. At other times of the year their close surveillance focuses on the fruit in the fields. In the summer, when the grapes are ripe, she walks in the vineyard at least once every day, "visualising" what type of vintage the year's harvest will be. "I have to be in constant contact with the grapes," she says.
Sara and René met when they were children. His father, too, was a wine prospector in Priorat in the 1980s. René moved to nearby Tarragona to learn the family trade. Sara, who was born in Switzerland but spent her early childhood in Barcelona, returned there to study biology and philosophy, with no intention of returning to the countryside and the wine world. "All I thought about until the age of 18 was how I was going to leave." She chose biology because she loved the wolves and eagles of Priorat, but found herself taking a doctorate in the chemical make-up of cucumber compounds (not as far from wine as it sounds – ascorbic acid and caffeic acid, known for their antioxidant properties, are found in both cucumber flesh and red wine). As the years passed, she returned to Priorat more regularly. She worked in the family vineyard and drank wine. One July she decided to go home for good. "I was in Barcelona with all my naturalist friends, but one morning I woke up and thought, my place is there. Because I adored drinking wine, and loved the landscape, I went back."
Her father was overjoyed at her return and Sara began to work in his vineyard. There was no question that either of her younger brothers should take priority over her claim; she describes her parents as "progressive".
In 1998, the winemakers in the area organised a trip for young viticulturists to visit Californian cellars; the following year, the same group visited Burgundy, Piedmont and Tuscany. Friendships were made. "There were nine of us. René was one of them. Drinking the same bottles of wine, we realised that we had the same language, the same tastes. We would talk for hours and hours. When you share a pleasurable bottle of wine with someone, you are so, so close to that person." Sara remembers the moment she fell in love. "To me, René was a crazy boy who just liked partying. I had no interest in him. One day, we were at a cellar in Burgundy. All the others had gone outside, and René and I were just drinking this bottle. It was from 1990, and it was really great. And then in Piedmont the same thing happened. So for us, we don't have that song or that movie – we have bottles of wine."
Even after a day of constant tasting, the couple still share a bottle together at home. "Tasting is another thing. When we're at home, we say, 'Today, we'll open…' because, oh yes, we have a lot of bottles and we adore to drink. We don't need an excuse, it's just René and me. We don't always pay a lot of money for a bottle of wine, but I can understand that people do. Some people say you can't pay €1000 for a bottle of wine. Of course you can. If it's €1000 worth of pleasure, well…"
I tell her about the colossal 250ml buckets of wine that English women guzzle after a hard day in the office, and her reaction is one of revulsion. When I ask her about how she copes with drunkenness, she looks puzzled. How you drink is cultural, she says. One should always eat food with wine. One should try to choose older vintages because "you feel it less". Her children are encouraged to take sips from her glass.
"Oh yes, we have a lot of bottles of wine and we adore to drink. We don't need an excuse to open a bottle."
Even pregnancy couldn't stop her from tasting the vineyard's crop. Confined to hospital in the final months before the birth of her second child, she insisted on tasting the new harvest. "My mum came in with glasses and bottles of the new wine, and my sister had to wait at the door to my hospital room, looking out for the doctor. I was on the phone with my assistant Albert, deciding if we could go ahead with the pressing or not. I think in the end, with both the kids and the harvest, having all those things together, you just have to do what you can."
Her youngest child may now be a familiar sight in her fields and cellar, but the presence of an infant still provokes strong reactions when Sara travels to wine industry events. If a woman in charge of a prestigious vineyard is unusual, a winemaker with a baby slung across her front is unthinkable.
"When I tell them, 'Yes, I'm coming – and I'm coming with a baby,' people are..." She takes a dramatic gasp of breath. "They imagine something terrible, a baby who's crying all the time. I have heard some incredible things. 'Oh, I have to ask, I have to check, children cannot enter the wine fair because there is tasting going on.' And I say, 'Well, she's with me, so if I have to go, she's coming.' I've often been either pregnant or with a baby at these fairs and have heard, 'Oh, are you working?' They had no confidence in me in the beginning. By the end, they are – oh! – so excited. 'Oh! The baby's nice and you're a woman and it's all nice!' But I still hope that in the next ten years there will be more women in management positions here in the wine world – in important positions, not just helping."
Nobody in the wine industry would deny that Priorat has proven itself capable of producing extremely fine wines, but among the wider public, particularly outside Spain, there is a lingering snobbery, which holds that the country's producers can't quite compete with the very best French and American bottles. Everybody knows Rioja, of course – it has been Spain's great success story. But its soaring reputation in the 1980s eventually led to an inconsistency that tarnished all Spanish wine imports. Spanish red is cheap and cheerful, not an investment or a luxury product. That's the prejudice, anyway.
But in the last decade, Spanish gastronomy has become the darling of international foodies, and wine-watchers are optimistic for Priorat's future. Robert Parker, the American wine pundit who can bring boomtime or drought to winemakers with a single keystroke, recently predicted that Priorat would soon surpass both Rioja and Ribera del Duero (the Spanish region that flowered in the 1990s) as the country's best. Having had an abysmal reputation just two decades ago, Priorat was already awarded the appellation Denominacion de Origen Calificada (DOC) – the highest national distinction – in 2001: which it shares only with Rioja. Alvaro Palacios, one of the original pioneers (and the man who first encouraged Sara to learn to appreciate wine when she was 17), now commands an astounding £200 a bottle for the 2000 vintage of his L'Erminta. As these robust wines prove how well they age, others will become equally costly.
"Seen from abroad, Spanish culture used to be about partying, paella, sangria, fiestas – just cheap things," says Sara. "Now we're exporting high culture. We can sell high-quality wines. Thanks to Ferran Adrià of elBulli and to the Michelin guide, people have changed their idea of Spain."
When Sara's parents arrived in Priorat, their plan was to work with Grenache grapes, the traditional varietal of the area – but they also planted tried-and-tested imported plants such as Cabernet Sauvignon and Syrah. Gradually, Sara is removing those non-indigenous plants and replacing them with Carignan and Grenache, effectively making her wine more Spanish. "One of the most important things we – the second generation – have done, is to make wine with our traditional vines, not so much with the foreign ones. After 20 years, we can say, we are here and this is our history." In nurturing the plants that made Priorat great, Sara, the region's greatest ambassador, is trying to reconnect with its past. And one thing that hasn't changed is the earth in which the old vines still thrive. "There's nothing fashionable about Priorat – it's about the soil and the llicorella. That's where great wines grow. When I'm abroad, in Canada say, or in Puerto Rico, and I taste lots of wines from around the world, and then somebody opens a bottle from Priorat, suddenly – I'm at home."