Pashon
Murray
Pashon Murray has a grand plan, and it starts in Detroit's dumpsters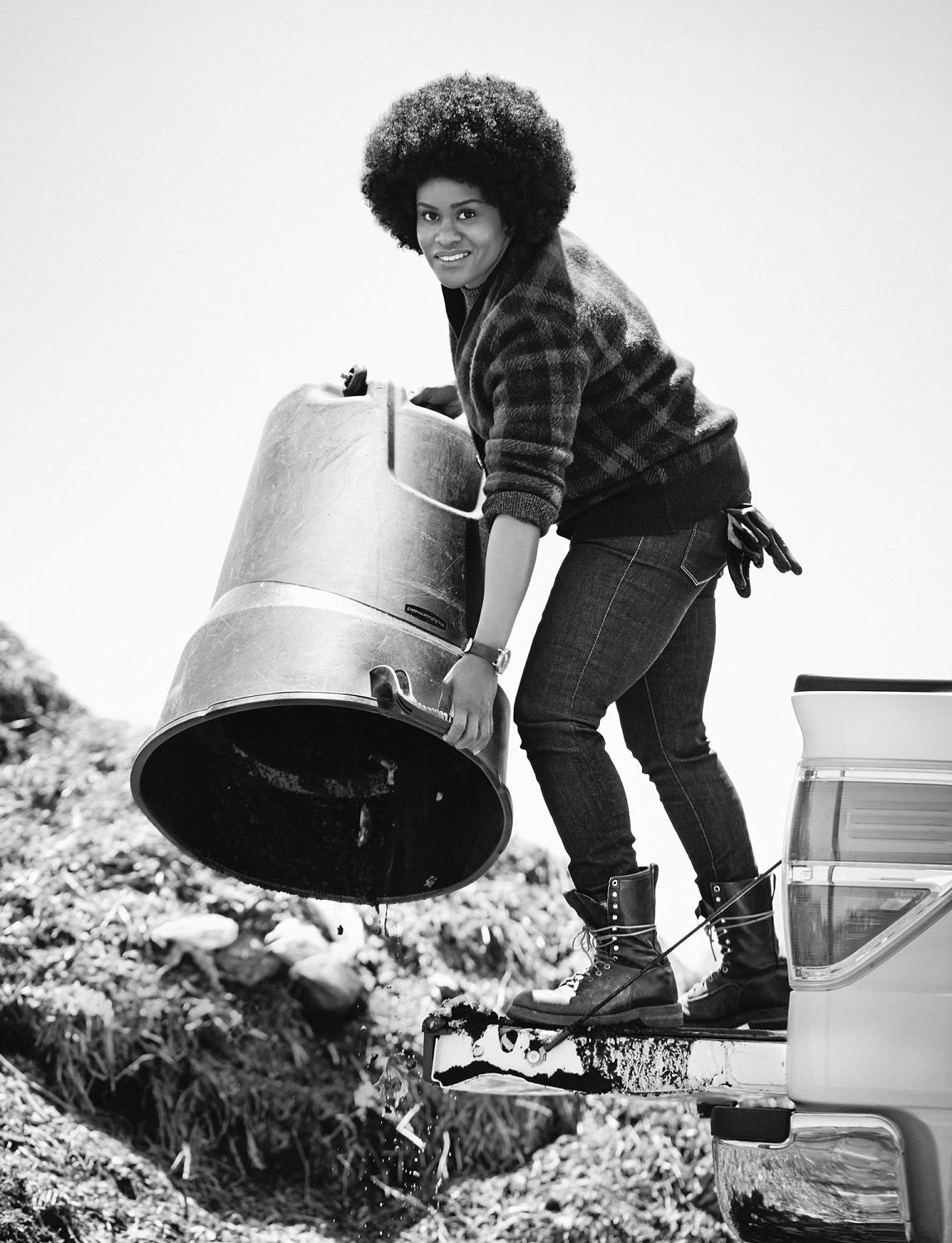 Most people go to the zoo to look at the animals. But Pashon Murray, 37, visits the one in Detroit to collect the manure. Then she adds it to waste gathered from the city's cafes, restaurants and big businesses to create high-quality compost that sells for $25 to $35 per yard. She established her company, Detroit Dirt, in 2011 and was a happy under-the-radar sustainability campaigner until Ford came knocking, asking her to star in an online ad. The conviction she brought to her performance came not from theatre training but from a genuine belief in making a better world and a commitment to rebuilding her adopted city.
A business major, a whizz on the basketball court and a fellow at the MIT Media Lab, she's garnered such a reputation that she was one of a select few entrepreneurs invited to participate in the White House's first ever Demo Day this summer.
"Why do I work so hard? For what? For this? For dirt?" asks the young African-American woman in an online ad for Ford's C-Max hybrid car. She's wearing jeans and a caramel-coloured Carhartt work jacket, her hair styled in a generous Afro. Her gaze is intense, but her delivery is friendly. The camera follows her as she walks between huge piles of dirt, through a greenhouse, and into a restaurant kitchen. "I collect food scraps from restaurants," she continues. "Manure from zoos. Manure. Do you know why? To keep this stuff out of landfills and use it to make good rich dirt. That's why." And, she adds, to try to make the world a better place.
It's a shot-by-shot parody of a Cadillac commercial that caused a scandal when it first aired in the US during the 2014 Winter Olympics. That one featured a balding white man in a suit walking through his suburban mansion and celebrating capitalist American virtues such as working hard and making money while denigrating those in "other countries" as lazy for taking holidays. Pashon Murray, the star of Ford's sharp response, made the perfect counterpoint. But in spite of her seamless performance, Pashon is no actress. The 37-year-old Michigan native is the founder of Detroit Dirt, a business that – as she explains in the ad – takes food waste from restaurants and big businesses, merges it with manure from the city zoo, and turns it into mineral-rich compost, some of which goes to the community gardens that have begun to spring up in Detroit's empty lots. Her commercial, which went live in March 2014, was an instant viral hit. It's been viewed 1.4 million times.
I'd watched it a few times myself, so when Pashon pulls up in her extended-cab white Ford pickup truck, I recognise her immediately, this impeccable poster girl for the city's much-touted renaissance. Detroit's first wave of prosperity came after the First World War, courtesy of the "big three" American automakers – General Motors, Chrysler and Ford – and the people who flocked there to work on their assembly lines. It's still known as the Motor City (or, indeed, Motown), although most of the jobs disappeared as the auto industry first moved its factories elsewhere and was later beleaguered by higher petrol prices and foreign competition. Since the early '60s, Detroit has become more and more of a cautionary tale of what can happen to America's post-industrial cities, and while many are rooting for its comeback, others are sceptical that it's possible to truly rebuild a city that has lost its reason to exist.
Today, as on most days, Pashon is with her operations manager, Shannon Steel, a 31-year-old Detroit native who's riding in the back part of the pickup's cab. We drive to a loading dock at the back of a 22-floor beige concrete skyscraper. The building's owner, Blue Cross Blue Shield of Michigan, is a health-insurance company that's contracted Detroit Dirt to pick up its food waste. Its office is adjacent to downtown, the area the city has most successfully repopulated through bringing back big businesses, though at street level there's little sign of life: almost no pedestrians, no city centre hustle-bustle. On this summer morning, things are quiet.
Pashon manoeuvres the pickup backward and throws it in park. She changes out of her ballet flats and into a pair of printed wellington boots. With the help of a guy working at the loading dock, they hoist three heavy barrels of food scraps into the bed of her truck. At 5 foot 6, Pashon isn't particularly tall, and she's not noticeably muscular, but she's strong and confident. "Careful pulling out there," the man shouts after her as she climbs back into the truck and expertly reverses it back up the ramp – she's done this hundreds of times. "Men are just funny. 'Cause I do this every day, and he's talking to me like, you know…" she trails off.
Five days a week, Pashon picks up six or seven barrels of food waste from businesses around Detroit and hauls them to her composting lot, a modest 2.5 acres of matted grass and packed dirt at the dead end of a road dotted with a few industrial buildings. In the shadow of a tall billboard advertising an upcoming ZZ Top performance at a local casino, Pashon has five piles of compost scattered around the property. We're near Corktown, a neighbourhood at the southwest edge of downtown Detroit that's become a fashionable hub of the city's renaissance, its Federal-style houses and colourful buildings accommodating the city's newest restaurants and bars. But in the distance, I can still see the heroic but abandoned Michigan train station and the graffiti-covered former Southwest Detroit Hospital, a favourite "ruin porn" subject of out-of-town photographers looking for icons of the decay of this once-booming metropolis.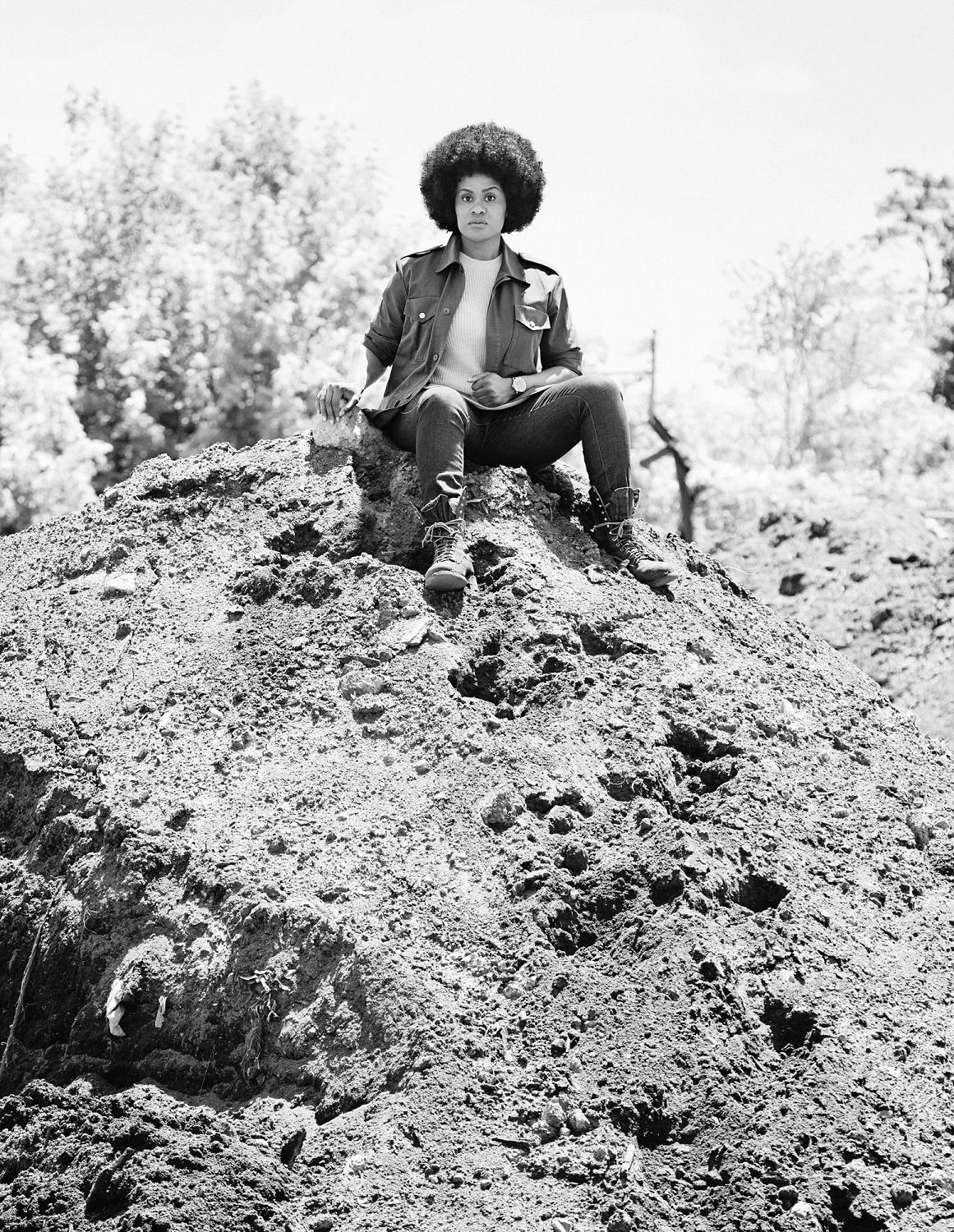 Today Pashon isn't just here to empty the containers of food waste. She's meeting a producer from the Travel Channel, a cable-TV network that will feature her on an upcoming show, IExplore, next year. Until recently, she had a few more large compost piles here, she tells the producer. But much of the good stuff has been hauled away for summer planting. He looks a little disappointed but undeterred. The plan is to film some scenes of the American-football-player-turned actor Terry Crews hauling compost with Pashon, who will tell the audience about her plan to save the planet – and Detroit in the process. "It's not as hard as people make it out to be," she says matter-of-factly in her clipped, slightly nasal northern-Midwest accent. "It's redirecting the destruction and turning it into something productive."
Composting, like most change, starts small. Microscopic, actually. Bacteria get to work breaking down the muffin crumbs from the office cafeteria, the half-eaten sandwiches, and the clumps of excrement from the zoo giraffes. Then, as the temperature starts to rise, bigger creatures like worms start to chow down and do their own excreting. When the process is complete, the compost is so nutrient-rich it's often called "black gold". It's in particular demand in post-industrial cities like Detroit, where lead and other chemicals have leached into the soil. While there are a few companies that take yard waste and food scraps from customers' homes, haul it away and bring back compost, Detroit Dirt is the only one targeting the city's biggest businesses and employers – and pushing them to change the ways they operate.
The remaining piles at Pashon's site are as tall as she is, but even when she kicks one of them with the toe of her rubber boot, it doesn't smell bad. (This, she informs me, is a sign of quality.) There's no office here; Pashon spends most of her time in her white pickup truck and does her admin from an all-amenity downtown apartment. (She used to live in the Grinnell building, a former piano showroom in Corktown, but by 2013 it had become "a little too hectic, too in-the-mix".) But Pashon has her eye on a new 20-acre plot of land where she'll be able to install a trailer or modified shipping container to use as a base. In fact, she's meeting with the owners later today.
Pashon founded Detroit Dirt in 2011 with Greg Willerer, an urban farmer who was already planting and cultivating community gardens around Detroit. She was working in environmental consulting at the time, so she was the one who brought the business connections. They formed Detroit Dirt as a model of a closed-loop system, in which food waste is composted and the compost is used to grow more food. In contrast to open-loop recycling, where eventually materials are retired to a landfill, the idea of a closed-loop system is to create a seamless circle where no resources are wasted and no trash is ever created. "Local compost used by local farmers growing local food eaten by local consumers building a local economy," as Pashon puts it. But she and Greg didn't see eye to eye on the future. "His focus was composting and urban farming, but my model was to expose the system and go to these corporations and hold them accountable for their waste," she says. In 2013 she bought him out.
At the end of that same year, Detroit filed for bankruptcy. The city had lost 60 per cent of its population since 1950 – a decline that hastened rapidly between 2000 and 2010 – which meant low tax revenue. Unemployment was high, and the local government was notoriously corrupt – former mayor Kwame Kilpatrick was sentenced to 28 years in prison for extortion and bribery. So Pashon didn't even approach city officials to ask them to support or subsidise Detroit Dirt. Instead, she went to the largest employers still standing – companies like General Motors and Blue Cross Blue Shield – and to the Detroit Zoological Society and asked them to pay her to haul away their waste. "They move slow," Pashon says of the businesses she now works with.
"It took me almost three years to get them to say yes to the first contract." Now powerful figures such as Dan Gilbert, a billionaire tech entrepreneur who owns more than 60 buildings in Detroit and employs more than 10,000 people, are thinking of signing up, and others already have.
Even though her first name rhymes with "passion" and Pashon considers herself an activist, Detroit Dirt isn't a charity. Shannon Steel explains, "It's between a business and a labour of love. It's a for-profit company, but Pashon's not really doing this for the money. That will come – and she knows it – but she's really trying to do what she believes God wants her to do. She had a vision about composting waste and saving the earth by diverting waste from the landfill." In the beginning, Pashon says it was personal – it was about what she as an individual could do to improve Detroit's contaminated soil. But as her work began to attract attention, her perspective changed. "I saw it was bigger than me," she says. "I had to make up my mind: was I just doing this as a community thing, or was I going to give my life to this?"
In the United States, biowaste recycling mainly falls to private entrepreneurs like Pashon. In the EU, member states are required by EC directives to reduce the amount of biowaste going to landfill, but the US Environmental Protection Agency has no equivalent federal legislation; only a small number of state laws enforce biowaste reduction and recycling. And so to get her business off the ground, Pashon has relied on her friends and a close network of like-minded locals – people like Audra Carson, the founder of De-tread, a company that recycles tires; David Landrum and Peter Bailey, who set up the Corktown distillery Two James Spirits (one of Pashon's after-work haunts); and others, like Phillip Cooley of Ponyride, who are renovating crumbling warehouses to provide inexpensive spaces for artists and small businesses. They aren't speculators who are buying up buildings in the hope that other people will do the work to raise property values but hardworking entrepreneurs who are proud to be part of Detroit's comeback. "Let's use the analogy of the vehicle," Murray says. "I'm only one component here – the doors in the car, or the alternator, or whatever."
Pashon was brought up to care about waste. She was raised two hours west of Detroit in Grand Rapids, Michigan, by her mother and father (though technically her stepfather, he's been in her life since she was 5, and she calls him Dad), along with two brothers and two stepsisters. Both of her parents have roots in Mississippi, and the family made regular summer trips to the farm there where her father had grown up. "My grandfather knew what was wrong with the cows when they got sick, he knew about the chickens, he could tell when rain was coming," Pashon says fondly. "He was in tune with nature."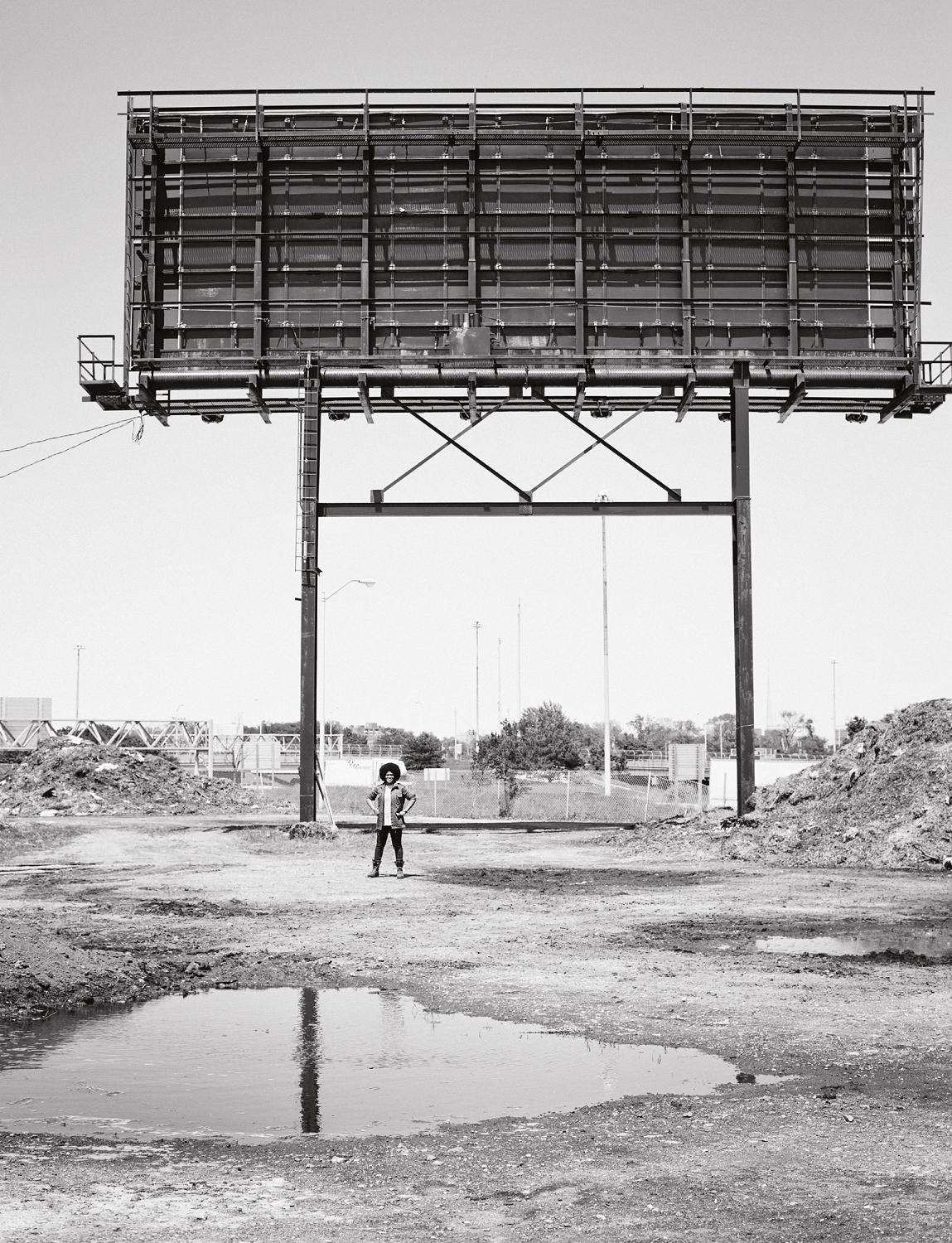 Back home, her father owned a maintenance company, ploughing snow in the winter and mowing lawns in the summer. Pashon would ride along with him on the weekends, shuttling back and forth between landscaping gigs and the landfill. These days, her dad comes to Detroit to help her on the weekends. The poetry of it all is not lost on her: "If I hadn't gone to my family's land in Mississippi or spent that quality time being around my dad, I don't think I'd be who I am today," she says. Murray studied business marketing at Texas Southern University, where she was a point guard on the university's basketball team. She was good enough to play in a semi-pro league after graduation and worked for the Houston Rockets NBA team briefly, but she rarely if ever plays these days. "Lately I haven't even had time to really relax or do much of anything," she confesses over a lunch of cold-pressed juice and burritos at a vegetarian cafe near Wayne State University in Detroit's historic Midtown.

When she was 29, Pashon moved back to Grand Rapids to help out with her dad's maintenance company and then found work as a consultant, locating minority contractors for green construction projects and lobbying for environmental groups. She'd launched her own construction-site clean-up company, Waste Trends, in 2005. Much of her work was in Detroit – a city she'd always loved – and after a year of commuting, she eventually moved there. In 2011, she formed Detroit Dirt.
It was Pashon's friends at the local ad agency Team Detroit who suggested she'd be the perfect spokesperson for a Ford ad touting "real" American values like community improvement. "Pashon was in it all the way, right away," says Toby Barlow, Team Detroit's global chief creative officer. "She loved the main message of working hard to make the world a better place. It's one she lives and breathes." Working with automakers whose businesses depend on fossil fuels presented something of a challenge. "I had to turn the stigma into something positive," she admits. But since the car industry was recovering from its own bankruptcy, it was also surprisingly open to Pashon's ideas. "That was a window of opportunity for me. They're rebuilding their industry, so they were looking at alternative approaches: electric cars, recycling, their waste stream."
"I believe it was like an out-of-body experience for her, seeing that ad go live," says De-tread's Audra Carson, who was with Pashon on the night it premiered. "It took quite a few times for it to sink in. Then we laughed till we cried and then stayed up 48 hours straight just reading all of the media. The numbers were jumping by 10,000 views."
"It's not as hard as people make it out to be. I'm simply redirecting the destruction and turning it into something productive."
The ad changed everything. Pashon received calls from the National Association for Stock Car Auto Racing, from the California governor's office, from Time, from National Public Radio. She joined the MIT Media Lab, the highly respected interdisciplinary research centre at the Massachusetts Institute of Technology, as a fellow – she was introduced to its director, Joi Ito, through Toby Barlow. "We invited her out to give a talk at the Media Lab, and everyone fell in love with her spirit as well as the work she's doing," says Ito. "She's become quite an inspiration for our students and our faculty. The tendency for kids in our lab is to make gadgets to try to fix things. What's great about Pashon, for us, is she's trying to do something. She's not interested in gadgets unless they move her mission forward." The lab is assisting her by developing technology that helps monitor temperature, bacteria activity and data for soil variations. "Not at MIT, but elsewhere, people still ask me if I'm building a landfill," Pashon has said. "But to me it's like a winery. I have different grades of dirt for different uses. I have variations for farmers, community gardens, private gardens; dirt that has been aged; straight manure."

Her MIT connection has also helped her secure the lucrative speaking engagements all over the country, which have become key to her financial security. A TEDYouth talk at the Brooklyn Museum last year found her explaining the virtues of quality dirt to an audience of spellbound students. She's on the road several times a month now. "You can't be a prophet in your own city," she says.

In 2014 she was a recipient of one of the Martha Stewart American Made awards, which spotlight artisans and entrepreneurs. "She has an infectious quality," says Stewart warmly. "She absolutely does good for her community. But really, I admire her passion." Stewart is even playing a part in Pashon's upcoming book. "Martha's one of the coolest people I've ever met," says Pashon. "She sent me a letter recently agreeing to do the foreword." Scheduled for 2016, the book will be partly a practical guide to composting and partly a case for making the most of waste.
Meanwhile, this year she's partnering with the Detroit retailer Shinola, which works closely with a number of small businesses in the area. Initially she approached the company for guidance on packaging and marketing, but now they're planning a line of co-branded dirt and gardening products. "We didn't want to do the cliché T-shirts and all that," says Pashon. "We wanted a product we could actually sell and people could actually use." For Shinola's creative director, Daniel Caudill, she's an inspiration – "one of the bright lights working towards bringing this city back on its feet," he says. "Pashon embodies Detroit's never-quit attitude."
It takes a certain kind of thinker to see the value in waste, which, after all, is not a business built on instant gratification. And it takes a certain amount of humility to want to get your hands dirty in the mess we make as we go about our lives. But Pashon's long plan is bigger than mere compost: it's to create energy. When waste breaks down, it generates by-products – heat, liquid, gas – and she wants to find a way to capture the energy locked inside and use it to power the city. If Detroit is a test case for post-industrial America's rebirth, then Pashon intends to use her research contacts, local network and entrepreneurial zeal to make renewable energy a part of its story. Her first step is getting more land for her compost piles – she's hoping that 20-acre plot will come through. Beyond that, she says, it's down to sheer force of will, "and how many clients I end up having. At this moment, I haven't even captured a fraction of the market."