Léa
Seydoux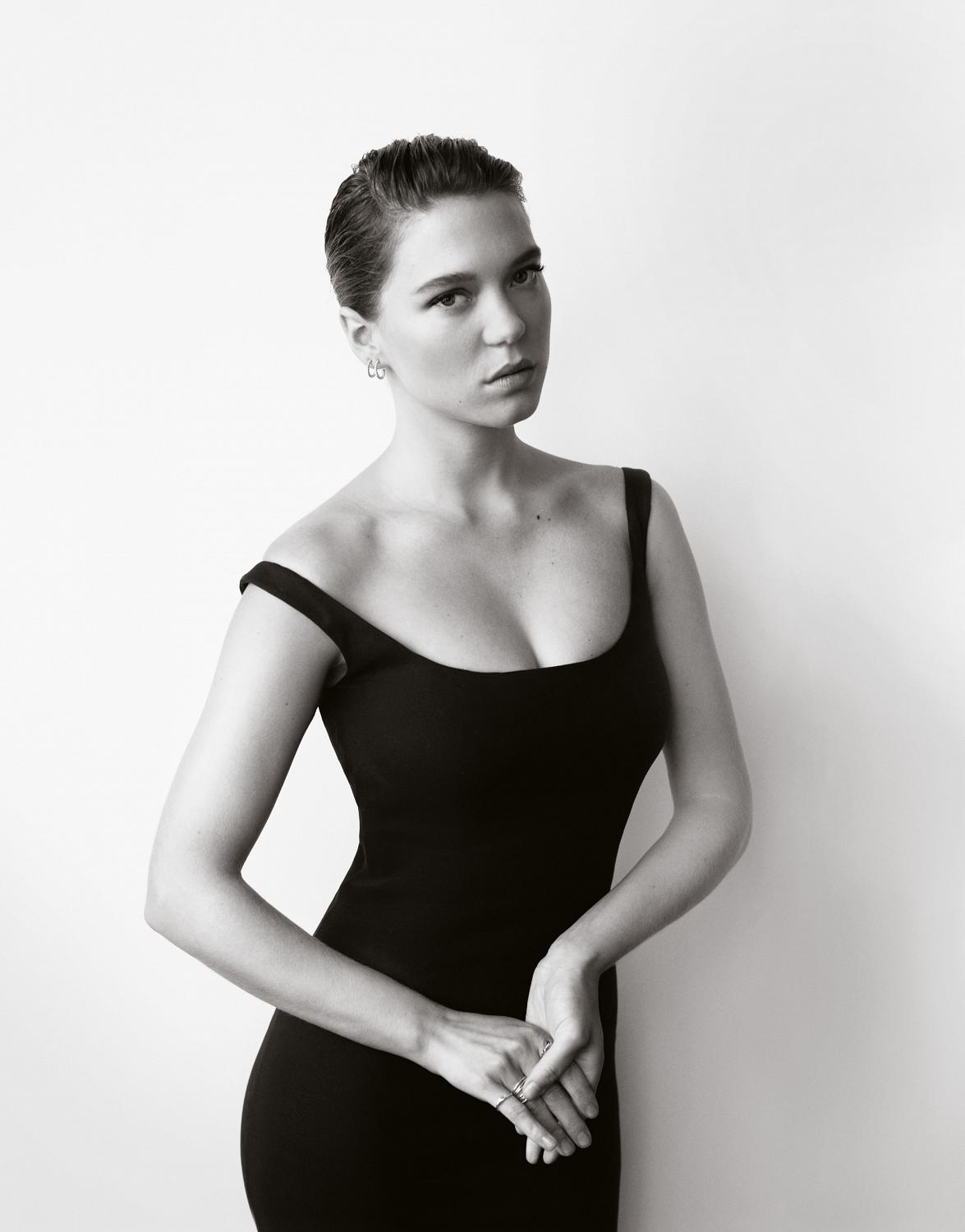 ---
Issue n° 8, Autumn & Winter 2013
Not many French actresses manage to cross the Euro-Hollywood divide. So how has Léa Seydoux, 28, succeeded so spectacularly where others have failed? Playing a blue-haired lesbian in the film that won this year's Palme d'Or at Cannes has only brought more offers from Los Angeles to her 10th-arrondissement apartment. Her allure lies in a combination of eloquence, intelligence and a killer pout. Her acting skills are instinctive – hereditary perhaps.
If Seydoux was British, we'd say she was posh (her family tree reads like a Who's Who of France's most prominent names). But she's French, so anything from super douée to très tendance will do.
Léa Seydoux's apartment, a sprawling two-bedroom in Paris's 10th arrondissement, overlooks a picturesque courtyard – complete with gossiping neighbours and parked Vespas – and is so charmingly appointed that it appears to have come straight out of a French movie. It's also a bit of a mess. Every inch of the combined living and dining room is covered with clothes. Magazines and books weigh down the cluttered coffee tables and the floors are teeming with enough Prada and Hermès shopping bags to rival a fashion-magazine cupboard. "I'm sorry about the junk everywhere," says Léa in her slightly accented English, "but I just got back from New York, and, as you can see, I haven't had time to unpack." We retire to an adjacent, clothes-free sitting room, which like the rest of the apartment suggests an owner who is confident in her taste. The carefully curated miscellany includes a mix of western and African art, and the furniture (vintage and new) echoes this duality, with needlepoint cushions featuring images of a variety of dogs sitting comfortably atop chairs upholstered in autochthonous African fabrics.
Léa, whose mother, Valerie Schlumberger, lives on the Senegalese island of Gorée (Léa's favourite vacation spot) and runs a store selling African objets d'art in the Marais, is herself a walking multiculti advertisement. She's barefoot and wearing too-short sweatpants, which draw attention to her tiny feet, and a touristy "Welcome to Senegal" T-shirt printed with the faces of the French president François Hollande and Macky Sall, the leader of Senegal. Her wrists and hands are adorned with African bracelets, a Rolex watch and a Buccellati ring. "You know, Hollande invited me for lunch," she says, looking down at her T-shirt, with a perkiness that belies her jet lag and fatigue from a long photo shoot the previous night. "I got a phone call the other day and this voice was like, 'This is the secretary of the president. He would like to invite you for lunch.'" Léa is speaking in a mock-officious tone, suggesting she's the last person in the world who ever expected to hear from the office of the president, let alone be invited to break bread with him.
In truth, the 28-year-old actress should expect all manner of offers to come her way. Touted as one of the brightest young actresses in France – she's worked with auteurs Quentin Tarantino (Inglourious Basterds) and Woody Allen (Midnight in Paris) and dipped her toes into the shallow end of the Hollywood pool (Mission Impossible: Ghost Protocol and Robin Hood) – Léa made international headlines in May when she, her co-star Adèle Exarchopoulos and Abdellatif Kechiche, the Franco-Tunisian director of Blue Is the Warmest Colour, all went up to receive the Palme d'Or, the highest honour at the Cannes film festival. While the award is usually given for a film and collected by the director, this year's head juror, Steven Spielberg, took the popular decision to credit the two lead actresses too. Léa, who plays a blue-haired lesbian in the romance, giggled and wept onstage with her young co-star.
The Cannes prize cemented Léa's reputation as a fearless and nuanced performer whose youthful sophistication and brainy beauty bring to mind a young Catherine Deneuve. "She was absolutely great in Blue Is the Warmest Colour," says Peter Bradshaw, a film critic for The Guardian. "She has that very astringent, super-cool way the best French actresses have. I don't think British or American actresses can turn in that kind of very composed performance."
Léa's certainly having a moment of cross-platform ubiquity. In addition to Blue Is the Warmest Colour, due for release in October, she can also be seen in Grand Central, the new film by Rebecca Zlotowski, with whom she worked in last year's well-received Sister, playing a feckless young woman who fails to look after the 12-year-old brother in her care. Next year, she'll appear in Christopher Gans's big-budget remake of Beauty and the Beast, alongside Vincent Cassell, and in Wes Anderson's The Grand Budapest Hotel. Then there are her broadcast commercials, directed by Anderson and Roman Coppola, for the new Prada fragrance Candy L'Eau. And she recently replaced Kate Moss in the autumn advertising campaign for New York-based urbanwear brand Rag & Bone. It's hard not to take her at her word when she says she needs a break: "I work a lot, but it's manageable. A proper holiday would be nice, though."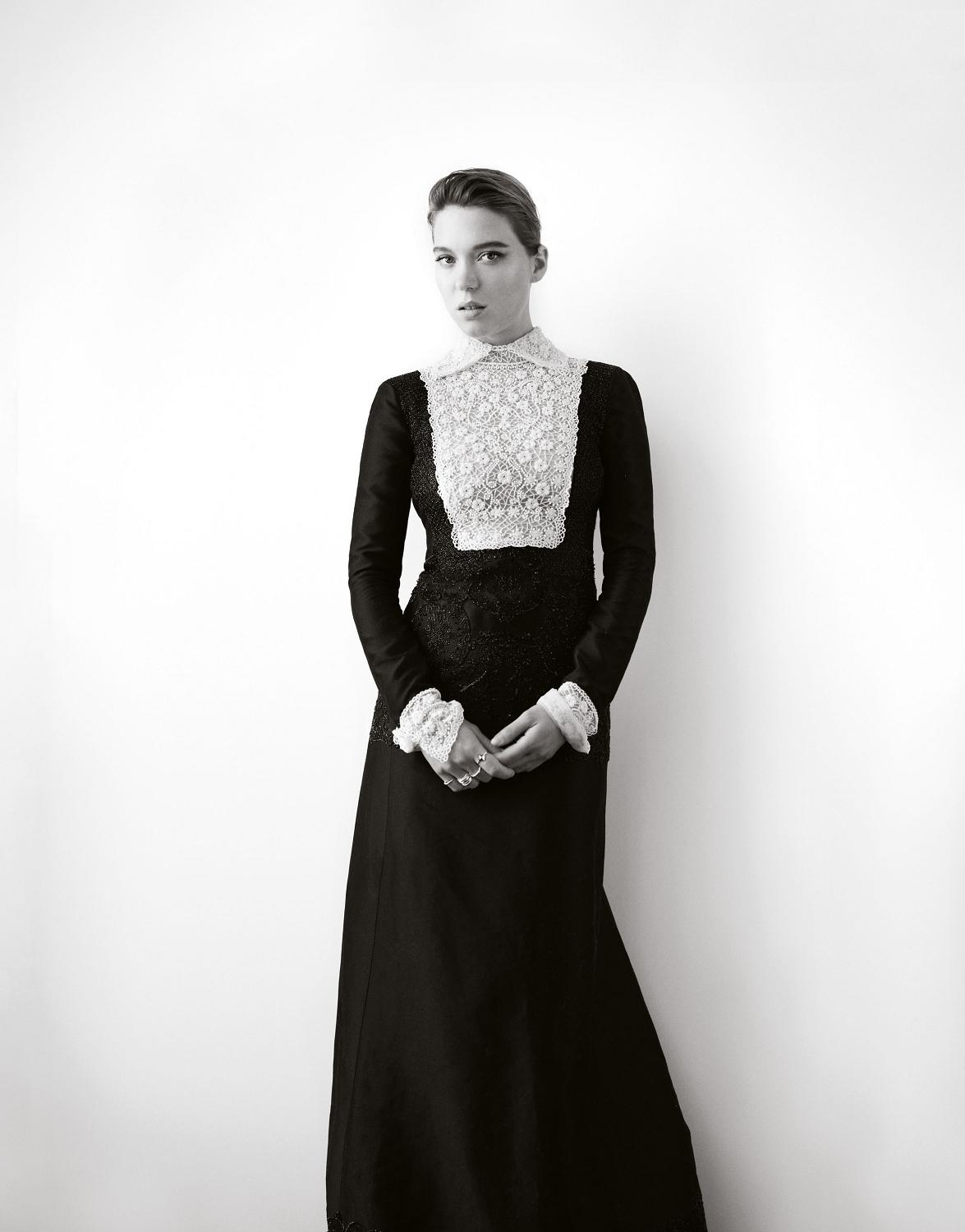 For someone who's said she got into acting in part to avoid the daily grind of an office job, she handles an immense workload. But by her own reckoning, she never had a choice. "In a way, I did this job to have a place in society," she explains, sounding disarmingly earnest. "I wanted to work to just be someone. Growing up I always felt completely out of the world. I was kind of lost. I didn't know what I was made for. And I was really terrible at school, so I was never going to be a doctor." Though Léa is French film aristocracy – the granddaughter of Jérôme Seydoux, the chairman of Pathé, and grandniece of Nicolas Seydoux, the chairman and CEO of Gaumont, the oldest continuously operating film company in the world – she claims that acting wasn't always on the agenda. Her first love was singing, and at one point she studied to be an opera singer. But from her first film role – as a teenager desperate to win a dancing contest in the comedy Mes copines (2006) – it was clear she was here to stay.
The shoe designer Christian Louboutin, a longtime family friend, remembers her as a very happy but unusual little kid who was always singing, usually in a made-up language. "It wasn't baby talk, just a language that was alien to everyone else," Louboutin explains. "Now, as an actress, she expresses a lot without talking a lot. She still has her own language in a way." Her sister Camille, a stylist who dresses her for the red carpet, agrees. "Léa was always in her own world," says Camille, who put her in a periwinkle blue Louis Vuitton dress for the premiere of Grand Central at Cannes. "But you have to remember that our upbringing was complicated. My mother had four children with another man before she married my father, with whom she had Léa and me. Léa was three and I was six when our parents divorced. So we played together and created our own strange, idealised world." Léa, settling into an armchair and tucking her knees under her T-shirt, tells me, "I was maybe a little introverted. So singing was a way for me to express myself. And I was a little weird."
She happily admits she grew up a child of privilege, born into two of France's most prominent Protestant families. Her father, Henri Seydoux, is director of the Parrot S.A. global telecommunications company, and her mother, Valerie Schlumberger, a former model, stylist and occasional actress, comes from one of the country's most powerful banking families. "My parents were wealthy," Léa says simply. "What can I say?" But she chooses her words carefully. As she tries to explain that hers was not a typical rich Parisian family, the mot juste to describe her unconventional upbringing escapes her for what seems like five minutes.
"I don't know it in French either!" she eventually says in frustration. "I told you I was bad at school. I know this word. Oh, fuck! It will come to me eventually." It doesn't, but in any case, she explains, not everything comes easily to her, not even acting. "My family was open-minded but at the same time Protestant, and in Protestantism you don't talk about yourself. So for me, as a Protestant, it was very difficult to express myself, and when you act you have to open up and give. And I am inherently a very shy person. Shy but confident – you have to be confident to act."
Her unanimously praised performance in Blue Is the Warmest Colour – particularly in the graphic sex scenes, though they have been criticised for being gratuitous – suggests that she has overcome any timidity. Léa herself has sounded ambivalent on the matter.
"I don't regret it," she points out. "But, for me, it's true I found it maybe a little too much. I don't mind the intensity. I don't mind going down on her. Actually I eat a lot in the film – pussy, pasta, everything. It's just that the sex lasts so long – and we did take after take after take. It's hard not to feel a little embarrassed about it and ask yourself, when did I become a porn star?" Though it has been reported in some media outlets that the sex scenes were for real, Léa confides that she and Exarchopoulos in fact wore prosthetic vaginas. "We had no make-up in the film because Abde doesn't like it – just powder to blot shininess – but we had fake pussies that took two hours to put on! We shot in Lille, so this guy had to travel two hours from Paris every day to apply them. At the beginning it felt so weird, but in the end it was almost normal." Not surprisingly, when Léa's father saw the film in Cannes he looked away during the lingering close-ups of girl-on-girl action. "He didn't look, but he heard the sexy noises."
Léa had just finished Benoît Jacquot's Les Adieux à la reine, about the last days of Marie Antoinette, and was up for a part in the new Michel Gondry film when she was cast in Blue Is the Warmest Colour. She was offered the role of Emma, the older of the two women, without having to audition. "Besides the beauty, the voice, the intelligence and the free spirit to play Emma," Kechiche said at Cannes, "I found that there was in Léa something we could call 'Arabness', something from the Arab soul. She told me later that she had two Arab half-brothers, which I didn't know." (Her stepmother, Farida Khelfa, is the former muse of Jean Paul Gaultier and best friend to Carla Bruni-Sarkozy.) "Léa has a way of going about her life fully conscious of what's happened. It's also a way of accepting life's variables. It's got to do with nomadism, wandering, something on the order of melancholy, which we call mektoub. She's really marked by that, that way of being in the world."
For her part, Léa is a little less effusive in her praise of the notoriously difficult Kechiche. "It was very tough – he's not like other directors," she says. "Even when you're shooting, you can be fired. You always have to prove to him that you love him, and that's tiring when you're already dealing with your own fears. I had to take painting lessons because I'm supposed to be a painter. Then he asked me to exercise a lot because he wanted me to be stronger. Once I didn't go to the gym and he was so mad at me. He said, 'OK, you're fired,' just because I didn't go training."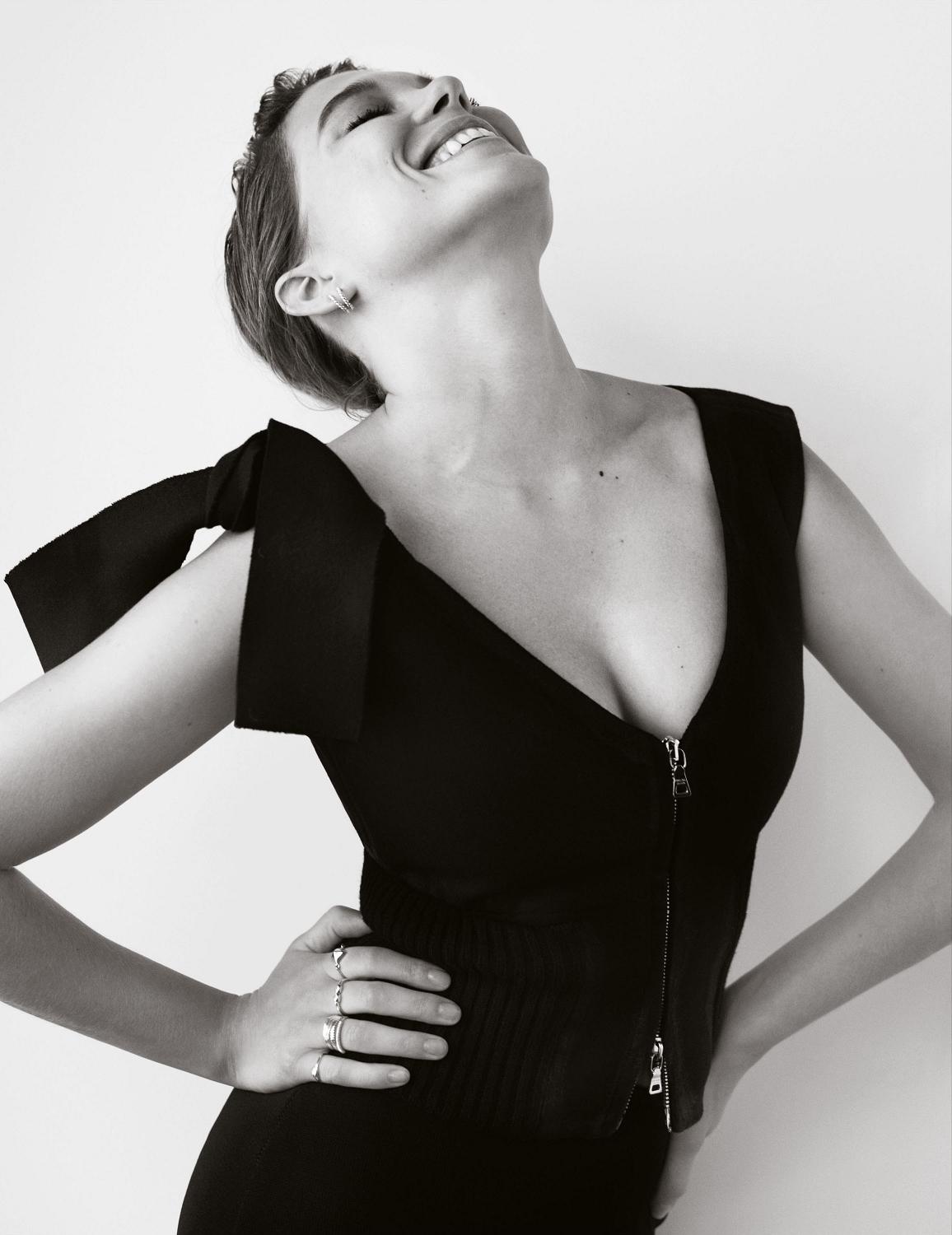 Léa kept the part, but Kechiche let go the first actress who'd been cast as her younger lover and brought in Exarchopoulos. The overwhelming reaction at Cannes was that Seydoux and Exarchopoulos blaze up the screen like a Sapphic Bogey and Bacall, but Léa initially thought her co-star was too strong to play the role of a confused teenager and told the director as much. "I thought she was wrong for the part, but he explained how he fell in love with Adèle immediately and that he had an artistic crush on her. He showed me her screen tests and said, 'Look at her mouth, the way she looks, the way she speaks – she's amazing.' And he was right. From that moment we got along very well, and we are very close now. I really love her."
Léa is straight but happily resigned to becoming a lesbian icon – "Sure, why not? I have no problem being that" – and recognises that she'll be drawn into discussions about gay rights, a contentious issue in France. (Same-sex marriage was made legal there during the Cannes film festival, and the announcement of the prize coincided with an anti-gay-marriage march in Paris.) "Whenever you have a movement, there's always an opposite reaction," she says. "That's life, whether you're French or not. Of course it's disgusting, and you will find ignorance everywhere." Besides, she adds, there's comfort in the inalienable French right to speak up. "At least people have the option to disagree, to protest against what they don't agree with. Things have to change, and they are changing, but remember, France is an old country."
Unlike many contemporary actresses, Léa doesn't seem afraid to have an opinion or a discussion. Between her openness and her not insignificant charm, it's easy to see why she's worked consistently since her breakout role in La belle personne, the 2008 teen psychodrama that earned her a César nomination. In it she played a petulant heartbreaker with bee-stung lips and mournful eyes – a rite of passage for every French actress. Today, a lack of sleep seems only to add to her sad-eyed allure. She even manages to look cool smoking an e-cigarette, and like a movie star while adjusting her bra strap or picking at chipped nail polish. "She's not pretty in the conventional sense," says Christian Louboutin. "It's funny – as a child she looked almost like a little animal, like a little bear. Now she looks like a child. She doesn't look tough or sexy or womanish, but there's something quite strong about her. Everything comes from her inner personality."
Patricia Lejeune, whose Silent Models agency represents Léa for commercial work and who brokered the Prada campaign, recalls meeting her at Cannes about seven years ago when Léa was promoting her small part in the Catherine Breillat movie The Last Mistress. Lejeune approached her about modelling and image work, but Léa said she had no interest in doing fashion pictures. "But I convinced her after a few months of trying, and I'm glad I did," says Lejeune. "She hates the word, but I think Léa is very modern. Everything about her is modern. She fits perfectly with current fashion because she has the face, the talent, an amazing personality, and she's different from the rest."
Léa sees herself as a girl's girl and relies on her very small group of close female friends. So much for the myth that French women are never really friends, since there's always the possibility that their boyfriends will become other women's lovers. "It's certainly not true of my friends. But don't you think all women are jealous sometimes?" In our present situation, some might envy the mountain of goodie bags in the apartment, the reward of celebrity on the rise. "Ah, they are not all free," Léa says sheepishly, as she works out what to wear to go straight from a fancy lunch, for which she is late, to a Johnny Hallyday concert (for which her date is Louboutin). "I love to shop; it's like a neurosis for me. But my sister always jokes that I shop more than anyone she knows and yet I am always wearing the same thing." For now, she can wander the streets, credit card in hand, and barely be recognised. "If you're a comic actor in France, it's terrible," she says. "Everyone wants a piece of you because they think they know you from their living room. Only people who are obsessed with cinema would know me. Otherwise it's 'Seydoux? How do you spell that?'"