Florence Shaw
The voice of Dry Cleaning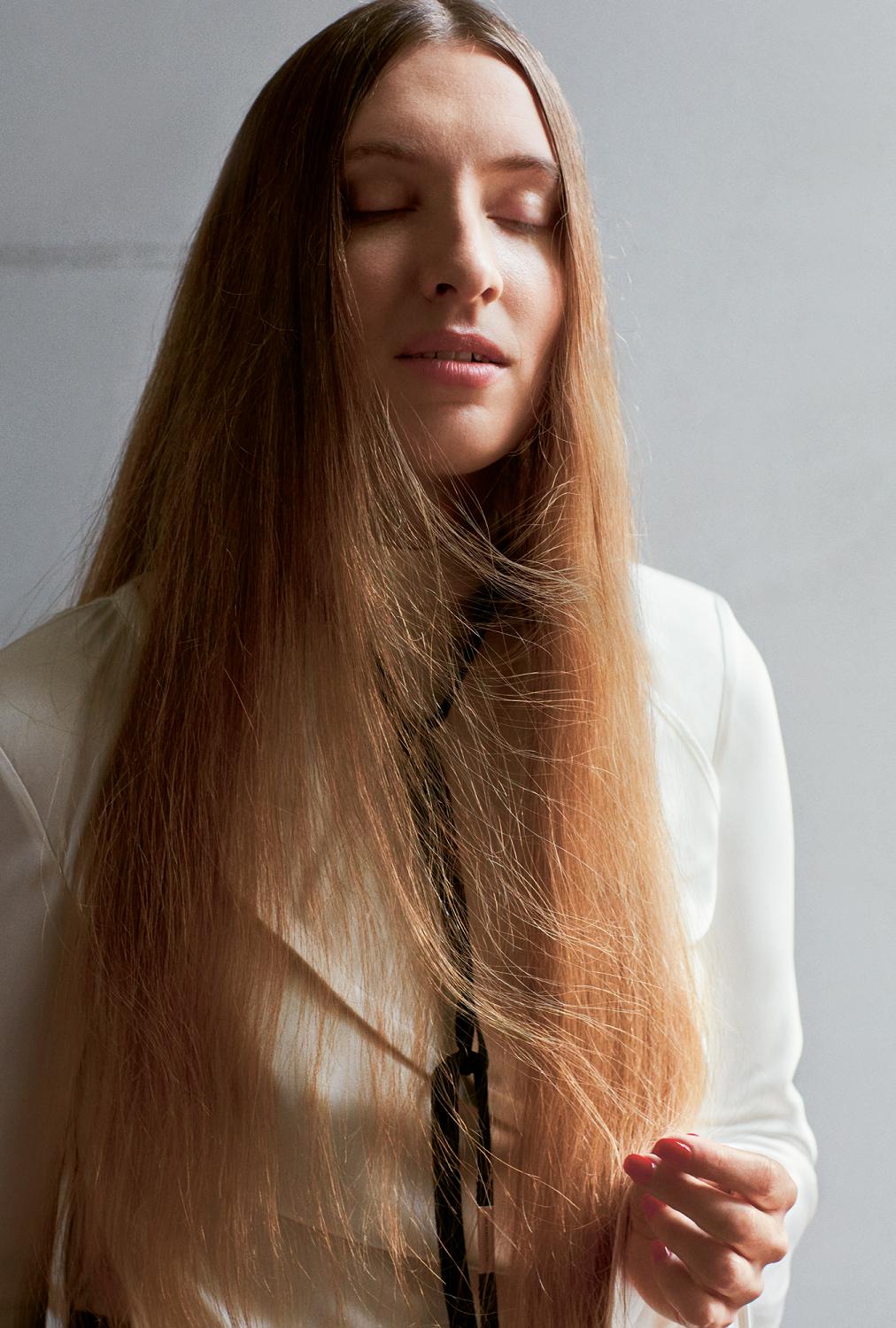 In 2022, the lead singer of Dry Cleaning will mostly be touring the globe, hot on the heels of the post-punk band's acclaimed debut album. Only five years ago, Florence Shaw was quietly teaching drawing and struggling to work out what the future held. Now, at 33, she's taking on the issues of the day, penning deadly lyrics and serving them up with a performance style that is entirely her own. All hail Florence: a frontwoman for our times.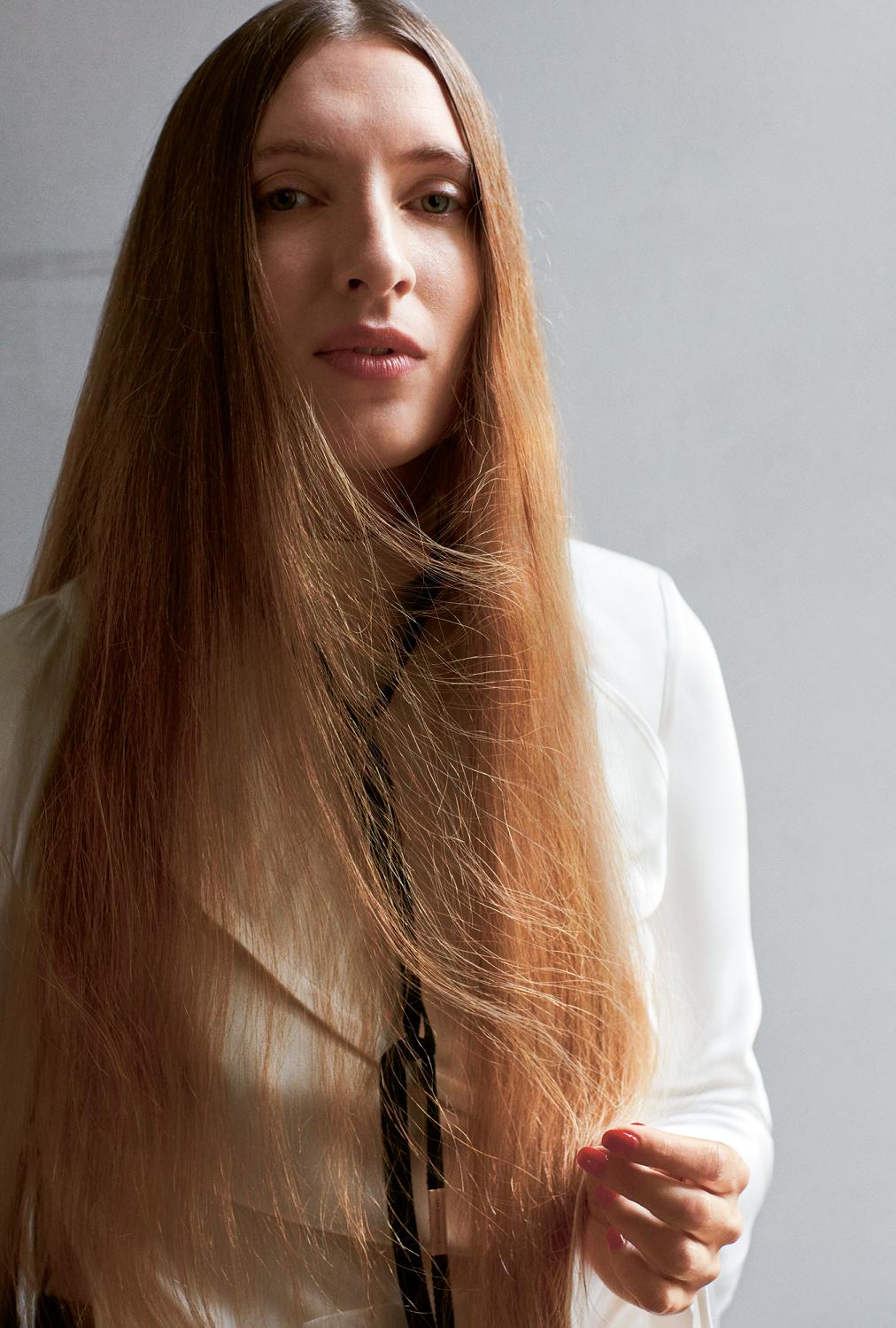 Four days after Florence Shaw makes me a cup of tea and puts a plate of biscuits down between us on her bedroom floor, Dry Cleaning, the English post-punk band of which she is the idiosyncratic frontwoman and lyricist, will fly out to Los Angeles to start their first American tour since the release in April 2021 of New Long Leg, their debut album. A week after that, Rough Trade will proclaim New Long Leg its Album of the Year. Four days later, the band will perform the single "Scratchcard Lanyard" on The Tonight Show Starring Jimmy Fallon. "It'll be OK," Florence will intone to the whole of America, her pale face and large kohled eyes looming out from her long curtains of shining dark hair. "I just need to be weird and hide for a bit / And eat an old sandwich from my bag." Two days after that, she and her bandmates — guitarist Tom Dowse, bassist Lewis Maynard and drummer Nick Buxton — will take to the stage at New York's glamorous Rainbow Room, where one of the world's most revered performance artists, Marina Abramović, will be spotted in the front row. After the show, Abramović will go side stage and ask Florence for a selfie. Dry Cleaning has arrived.
And at its fore is the unique and wonderful Florence. Part way through that first week of the US tour, Florence WhatsApps me a photograph of herself on stage somewhere on the West Coast, dressed in white, lit up by fluorescent pink filters, hands raised either side of her face. She looks like a sarcastic archangel, mid-annunciation. Sent to rescue us from the ruination of taking ourselves too seriously, perhaps. To the accompaniment of stonking great guitar riffs.
Florence, 33, lives in a Victorian terraced house in south-east London with four friends. Today she is dressed in an electric-blue mohair cardigan with an intarsia Goofy on the back, a gift from her bandmate Lewis. Underneath, a voluminous black pin-cord dress, "copied" from a friend ("I asked her first; you have to"). Unfortunately, it attracts fluff, she says. "Mate, you're just going around the house like a giant microfibre cloth."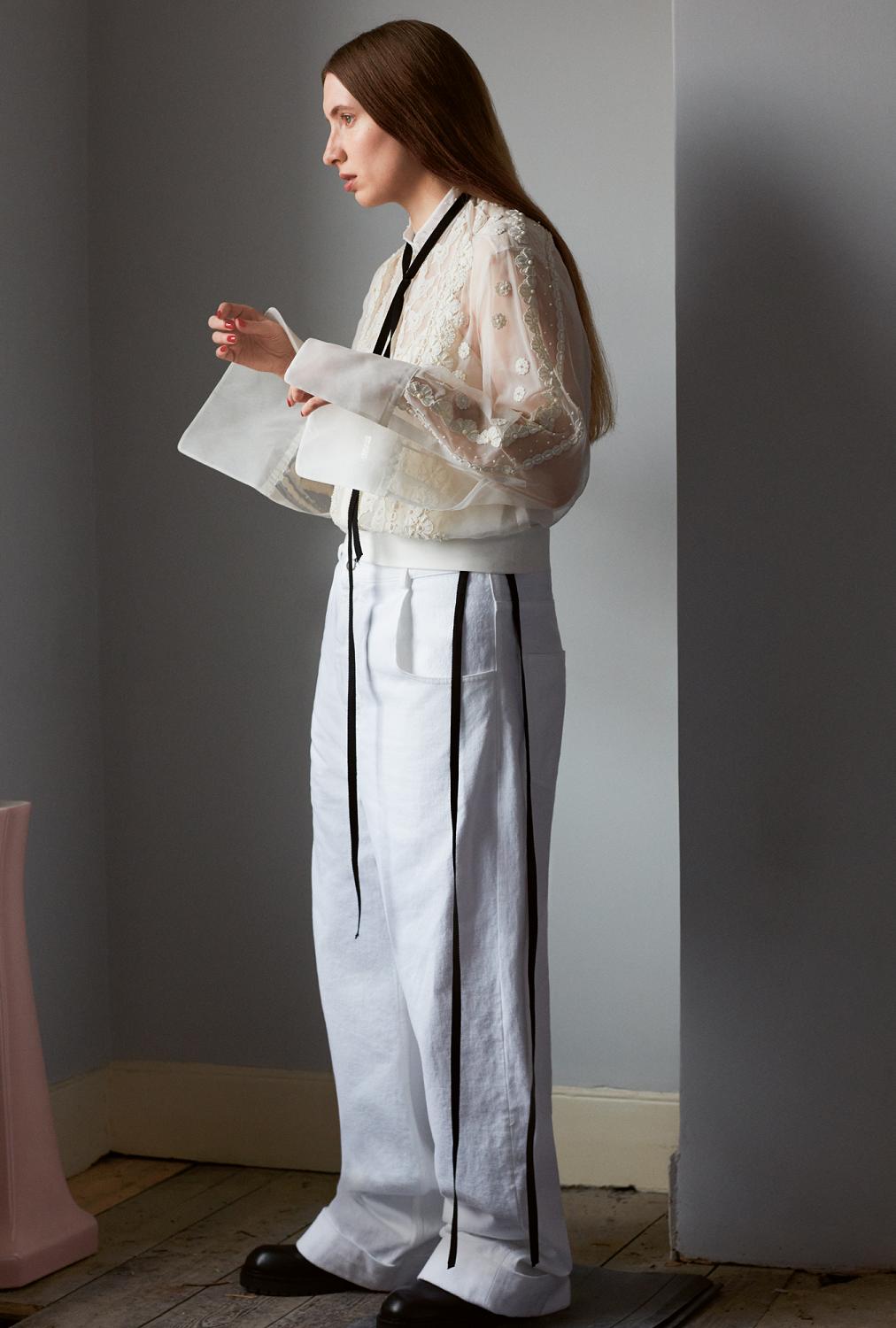 "I was funny to avoid being bullied, because I was definitely quite odd."
In person, she is not the intriguingly distanced figure she presents on stage or the doomy, scarlet-clad vamp of 2021's "Unsmart Lady" video. She's a chatty tea-maker who welcomes you into her homey, girly bedroom — a couple of soft toys, pictures on the wall that she's collected from artist friends, including one of a child flying down a slide. She's arch, but in a warm way, constructing eloquent sentences that usually end with a laugh. Humour is her old pal. She has used it, she says, as a deflection tactic since school. "I was funny to avoid being bullied, because I was definitely quite odd. All my uniform was hand-me-downs. For a time I had a plastic bag as my school bag, and they called an assembly about the importance of having a proper school bag, and it was basically because of me." She laughs. "But if you're a clown, people know how to understand you on one level. It served me so well."
School was quite close to where she lives now. Her parents are both artists. "It's a wonderful thing being the child of artists, because of the freedom — in every way," she says. "My mum was always the most glamorous-looking mum of all the mums. We didn't have a lot of money, though, which is where the hand-me-downs came in. And my childhood experience was quite odd, I realise when I hear about other people's. I never really learned to swim or ride a bike or roller-skate. I had a nice red bike with stabilisers as a small kid, but I never got to the point where they could come off. I didn't do any sports. I would just go around with my mum and do whatever she was doing, like private views, or going to children's book publishing meetings and sitting under the table."
She followed her mother (and father) into the art world too, studying illustration at Camberwell College of Arts and then visual communication at the Royal College of Art. "Yeah, I never had that thing where doing something creative was a 'fuck you' to my family," she says. "I really couldn't have done anything more boring."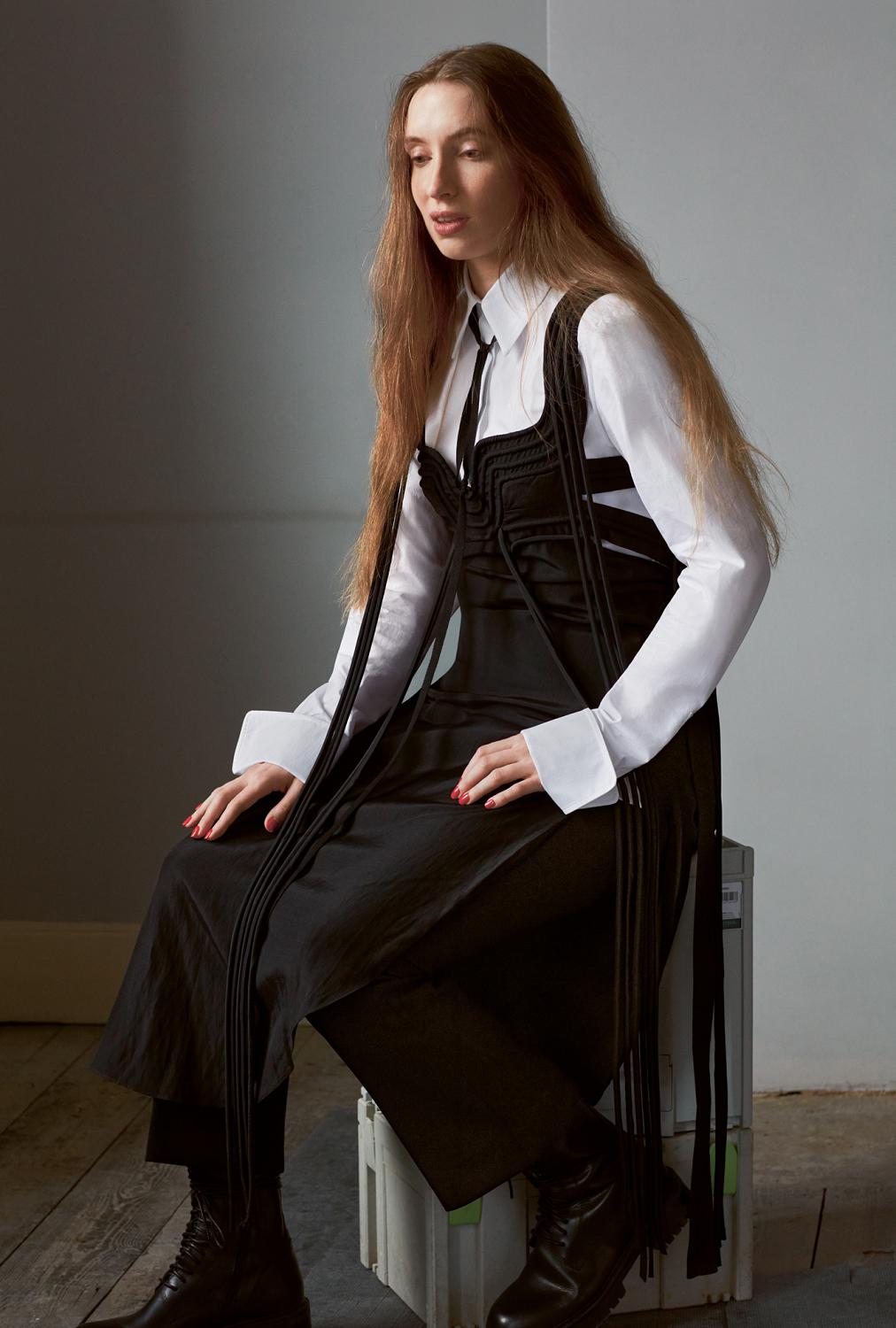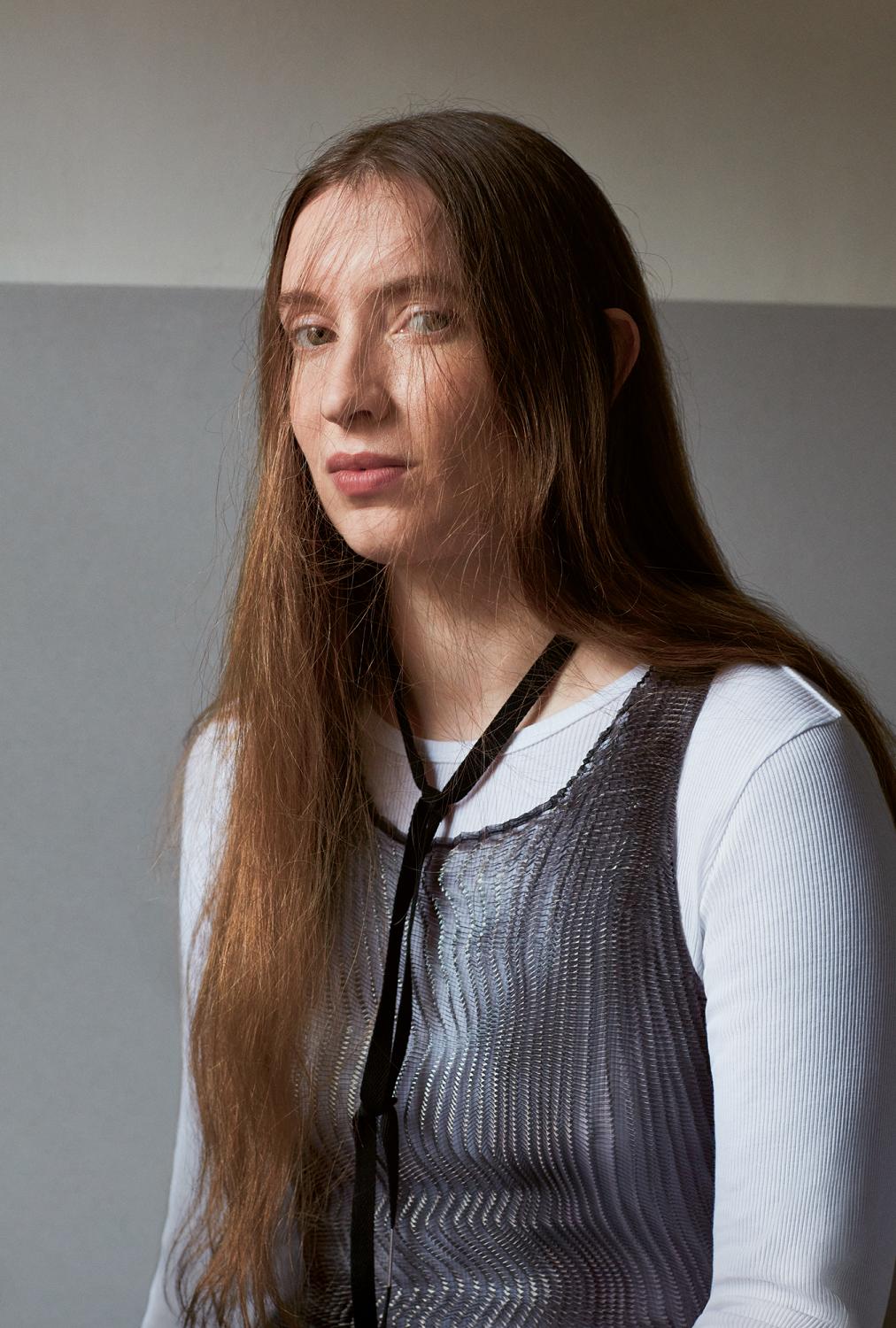 There was no plan to be the frontwoman of a cool band, or any band. She had never been the kid who tap-danced her way across the kitchen floor or dreamed of punching out a ballad in front of Simon Cowell. Indeed, she had to be coaxed — multiple times — into joining Dry Cleaning by Dowse, who she had met in 2010 while doing her master's at the RCA. By 2017 they were both working as lecturers. Florence was teaching drawing at various universities, including the University of Northampton and Norwich University of the Arts, and feeling flat. "Yeah, I was quite down at that point. Work, relationship, where I was living, what I was doing with my time. Then Tom said, 'Do you want to be in a band?' and I was like, 'Yeah!'" She pauses. "'Well, yeah!' and then, 'Actually, no,' and then tried to avoid it. And he rang me, and I was just like, 'Gah! OK.'"

The band had its first rehearsal in October that year, and Florence found herself not only the lead singer but sole lyricist. Her writing is so striking, one might assume she's been studying the poets for years, but that's far from the case. She isn't even a big reader (she thinks the last book she read was Sayaka Murata's Convenience Store Woman). "Before I joined the band I did just a really tiny amount of writing — a caption to add a bit of meaning to a drawing, maybe," she says. "Writing as much as I do now is really new; I'm still getting used to it. But sometimes I find words really opaque, and I'm yearning for a picture. Like, I'm doing a load of packing this week, and I find it easier to draw all the things, because then you can just see it."
Which makes it all the more astounding that audiences have responded so passionately to Florence's lyrics — her mash-up of astute observation, delicious non-sequitur confessions you will never hear someone else say out loud ("The last thing I looked at in this hand mirror / Was a human arsehole") and mundane asides ("It seems like a lot of garlic"). "I was really bowled over by that response because with my art I had become so used to making things and people being lukewarm," she says. "But even from the very first show we played, people I didn't know would come up to me and talk about what they understood the songs to mean and what they meant to them."

On stage, that alter ego comes across as both detached and self-absorbed, speaking rather than singing the songs, with droll comic timing. The word you will most often hear critics use to describe the effect is "deadpan", but that falls short. "Sometimes I'm a little bit hurt by it," Florence says, "because it suggests that I'm doing nothing. If you're trying to give someone a quick impression of what it sounds like, OK, yeah, sure: deadpan. But when we record I put an awful lot into it, and sometimes it's such deeply personal stuff, and you have to think about memories, and you're quite overcome."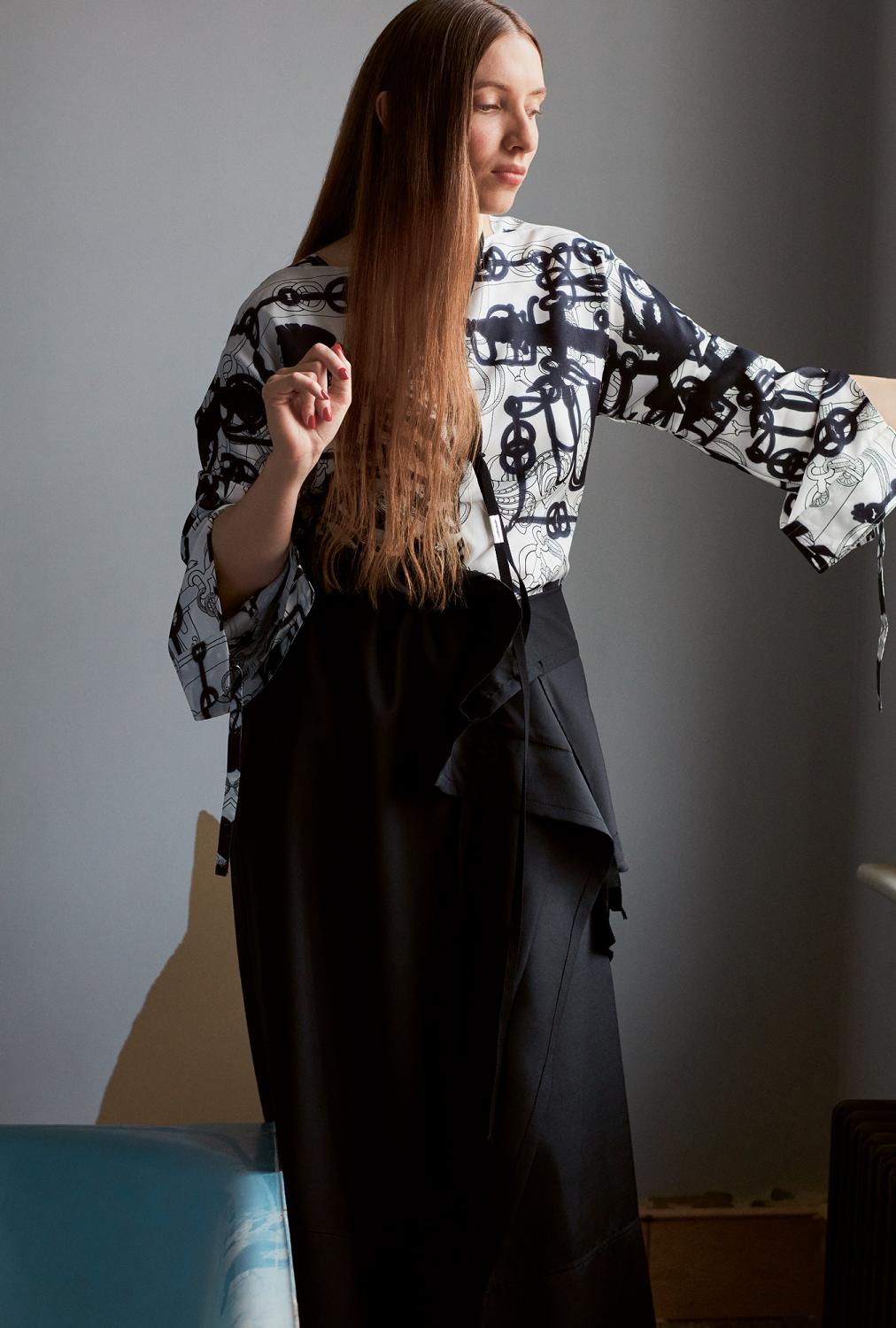 "The number of people on the planet whose job it is to be lead singer in a band is not big."
She has recently been wondering whether this distinctive performance style might be something she absorbed when she was a child. She watched a lot of Marx Brothers films on video and particularly liked The Big Store (1941), which includes a scene in which the actress Virginia O'Brien sings "Rockabye Baby" while swinging a cradle mechanically with a straight, unloving expression. "I thought that was so cool," she says.

It was the actress Billie Whitelaw in Not I who sprang to mind when I watched Dry Cleaning play at the Moth Club in London in November. There was something Beckettian about Florence up on stage — her face pure expression, eyes and lips alive with confusion, irony, boredom. Her hands pulled at her long brown hair and clutched the air. What the hell, she seemed to be asking, am I doing here?
In December 2019, Dry Cleaning signed to the record label 4AD (the esteemed home of the Cocteau Twins, the Pixies, St Vincent), and Florence and Dowse stopped being lecturers. In July 2021, Dry Cleaning's "Strong Feelings" was the soundtrack to the Chanel haute couture runway show: surely the only occasion the lines "I just wanted to tell you / I've got scabs on my head" have been said to anyone wearing Chanel. Perhaps not. And in late November they were on the road, supporting shouty post-punk duo the Sleaford Mods, whose vocalist, Jason Williamson, calls Florence "a classic English songwriter. The way she centres on the eventless experiences of the seven-day week suggests she's lived 50 lives already. She's brilliant. And what I love about her performance is her stillness in among the power of the music. She glares at the audience like Bela Lugosi, just the right amount of theatrical."
That her job title is now "lead singer in a band" continues to surprise Florence Shaw. "It's a weird thing, because the number of people on the planet whose job it is to do that is not big," she says. "Like, when you've got work issues, who the fuck do you talk to?" I wonder how often she meets other female lead singers. "Female? I hesitate to say this, but I don't think I've ever met the female front person of another band! I suppose I might have done if it hadn't been for Covid." She needs a female lead singer mentor. "Yes," she exclaims. "I want a mentor!"
Perhaps one will turn up this year as Dry Cleaning carries on touring. It's an aspect of the job for which Florence quickly developed a taste. "On a train from Portland to Seattle at the moment, beautiful scenery," she will report in one of her messages in the days after we meet. "Settling into tour life… You do have to lean into the lack of sleep, zero privacy and about 30 seconds to pack your bag every day, otherwise you're DOOMED. But once you've done that it's a very enjoyable and quite addictive life, I'm finding."