St. Vincent
The reluctantly glamorous star of indie music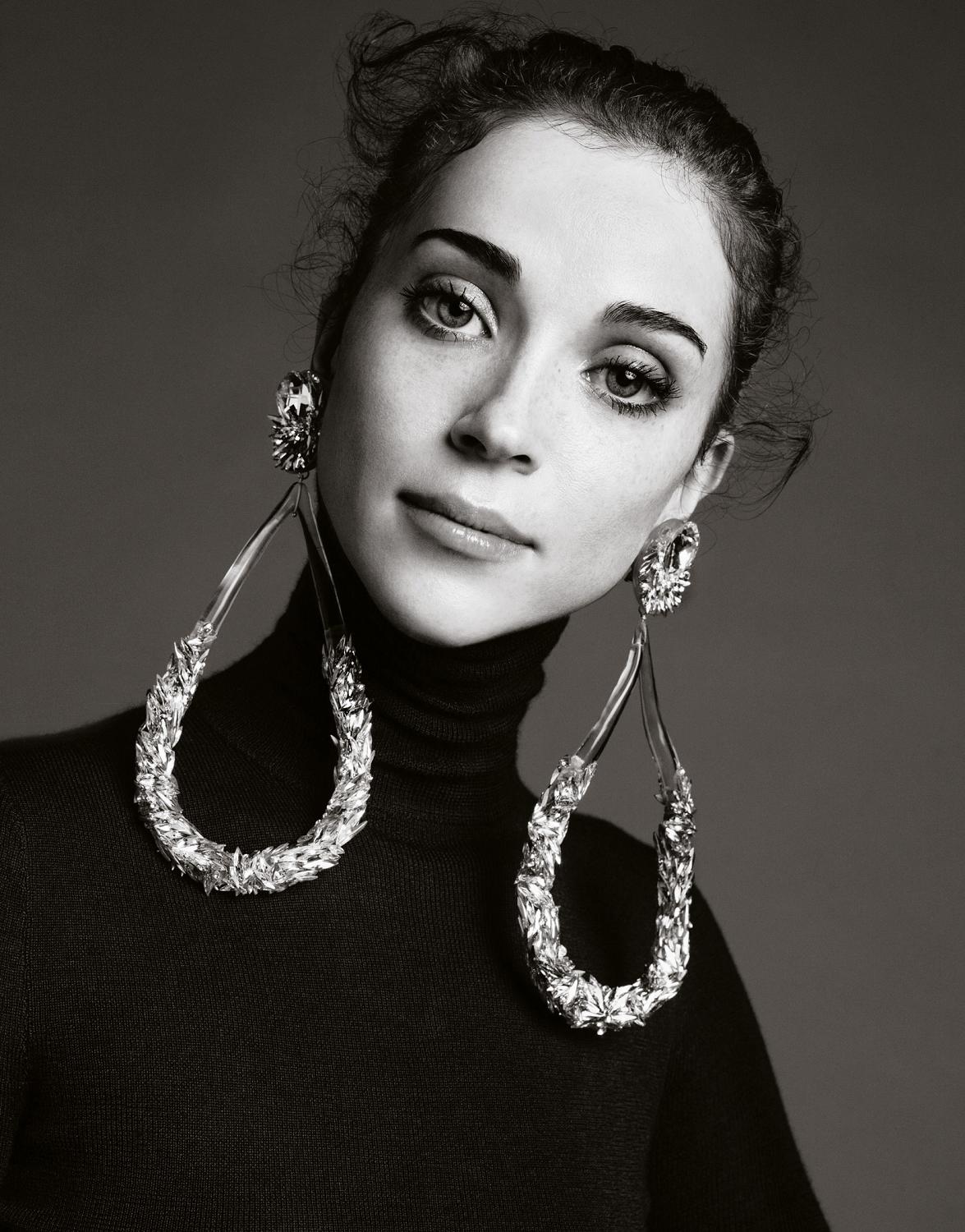 The musician Annie Clark, 29, who goes by the name St. Vincent, is a shining star of the indie music world, with a natural, scintillating glamour that's perhaps something of a surprise given a life spent in tour buses and airport lounges. Her theatrical songs veer sharply from the sweet to the satirically dark, and her vast army of fans is so devoted they've been known to try and steal her shoes as she plays.
After ten years of continual touring, three hypnotic and cinematic albums, and a brand new collaboration with David Byrne released in September, could this be the moment when St. Vincent crosses the line from cult idolisation to mainstream glory?
Annie Clark and I are taking a Sunday stroll around her neighbourhood in Manhattan's East Village. We're both from the suburbs – Dallas, Texas in her case; Birmingham, England in mine – and as we watch some clumsy teenage skateboarders in a playground on East 12th Street, we wonder what it would have been like to be them, growing up in a cultural capital like New York or London instead of spending our adolescence in our bedrooms, dreaming of those places. "I knew I had to get out," says Annie. "Not that Dallas was inhospitable. My family is still there, and I go back all the time. And once I got out of those difficult teens, I developed a tremendous fondness for it. But it was hard doing those years."

Her Dallas childhood was complicated by chronic panic attacks. "From the age of 8 or 9 to 16 or 17, it coloured everything I did," she says. Now it explains the remarkable quality of her music, which can unexpectedly lurch from a sweet, hallucinogenic vocal to a jittery, aggressive guitar riff. With their unsettling shifts of mood and tempo, her songs are unpredictable. "People sometimes feel I'm trying to be manipulative with my music by lulling them into a place and then slamming them over the head with something else," she says. "But actually that's just how I experience life." As a live performer she can have an almost manic energy; she dives into the crowd at gigs and last year performed a cover version of punk/metal band Big Black's 'Kerosene' on stage with such ferocity that it made her fingers bleed. And yet she has a birdlike fragility and the voice and the face of an angel. Annie says she doesn't remember ever wanting to do anything besides make music. She first picked up a guitar at such a young age, she barely remembers learning to play. In her teens, she spent so much time alone in her bedroom playing that her family nickname was MIA – Missing in Action. Her idols then were Hendrix, the Doors and various metal bands (she once played in an Iron Maiden cover outfit). It never crossed her mind that they were all male – that this was a club she couldn't join.
She's still happy to hide. She wrote her current album, Strange Mercy, in complete isolation in a Seattle studio. For a month, she spoke to no one except the barista in the coffee shop she'd visit after her morning run. In the studio, she made a mood board, as a fashion designer would, covering it in sources of inspiration plucked from books, films, even family conversations. The haunting chorus line from her song 'Surgeon' – "Best finest surgeon, cut me open!" – comes from Marilyn Monroe's journal. (It was the actress's plea to her acting coach Lee Strasberg, whose Method required actors to dig deep into their own psyches.) "It's bizarre," says Annie. "It almost sounds like English was her second language. Even just the sound of the words together is really…weird. I read it and just thought, 'Thanks! I'll take that!'"
The fact that Annie performs under the name St. Vincent isn't just a case of a shy person hiding behind a mask, however. She is private, she says, but not withdrawn. "I just felt, at the time, that the people who went by their own names were folk singers. I thought 'Annie Clark' would conjure up images of someone in floaty dresses with an acoustic guitar singing soft, sincere songs for coffee houses. And I was terrified of getting anywhere near that." (The name comes from a line in the Nick Cave track 'There She Goes, My Beautiful World': "Dylan Thomas died drunk at St. Vincent's Hospital.")
We met for brunch in Angelica Kitchen, a scruffy but comfortable vegan restaurant that has been a Lower East Side institution since the mid-'70s. The actress Jessica Chastain was sitting at a table behind us, and the place was packed and noisy – I often had to ask the soft-spoken Annie to repeat herself. Her dark curls were tied back and her face hidden by big Jackie O sunglasses, and she looked cool in the oppressive heat of the New York summer in a short black dress and ballet pumps. She said she tends to find an outfit that works and wear it day after day. "I don't like to shop at all. And if I do shop, I'm in and out in 15 minutes." Designers send her beautiful things to wear, and wear them she does, but she'd rather discuss guitars and her large collection of effects pedals. "It's funny to go from sleeping on a tour bus or an airport floor in between flights or buying water at a truck stop to someone going, 'Cool! Look at you – you're a glamorous person!'" she says.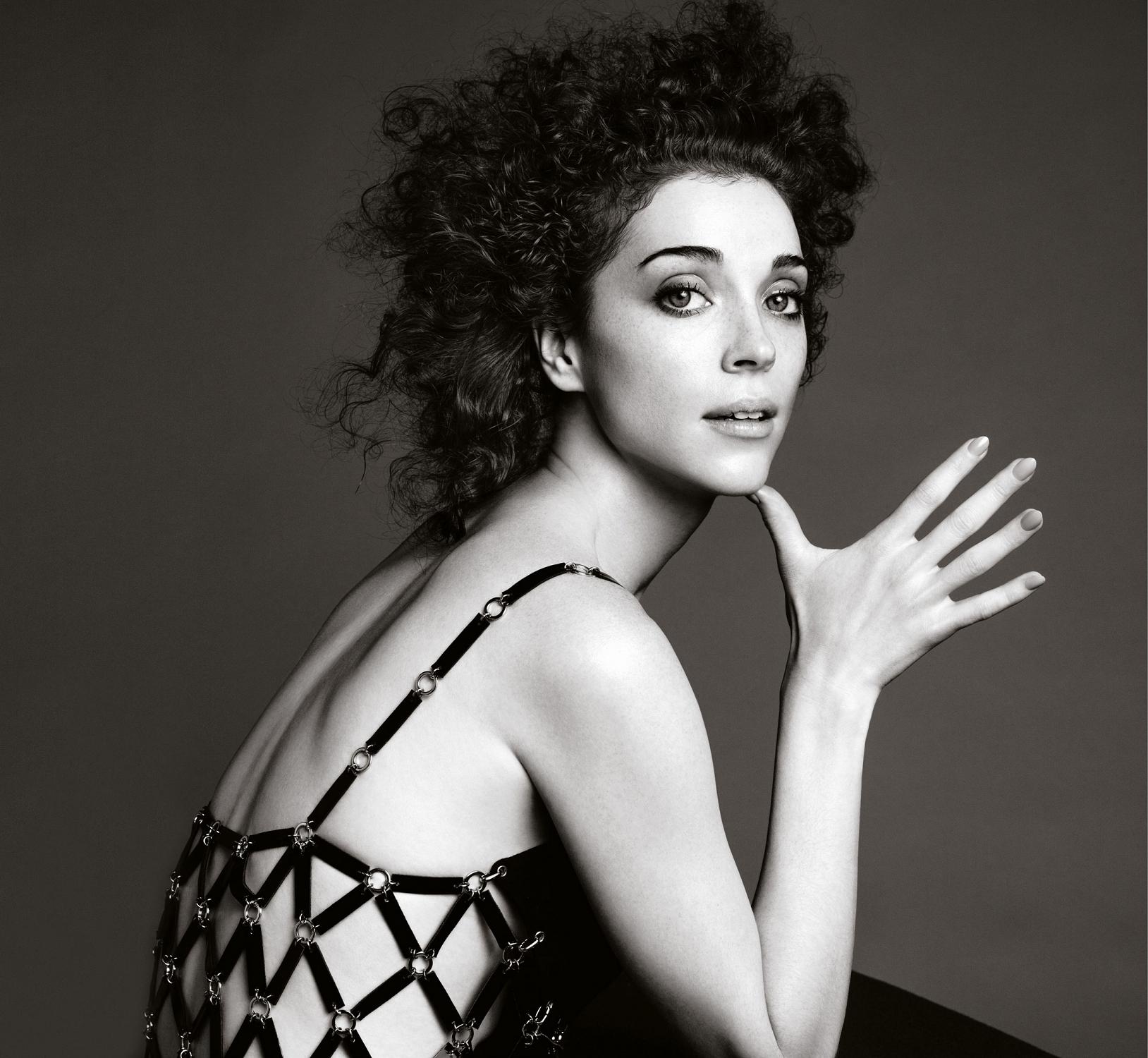 Annie listened to a lot of jazz in her teens. She loves country-and-western, too. "You haven't lived till you've seen two cowboys slow-dancing to a country ballad," she says wistfully, recalling the numerous gay country and western clubs scattered around Dallas and how they changed her perception of the music. Recently, she says, while driving in Los Angeles, she had to pull over to the side of the freeway to have a cry when a Taylor Swift song came on the radio.
Her own songs – there are now three albums of them – enchant and disturb in equal measure and have been likened to the work of Kate Bush, Jack White and David Bowie, though as individual as she is, such comparisons fail to help much. Strange Mercy marries lush electronica with scratchy, catchy garage rock guitar and contains songs about the odd ways people choose to dull emotional pain, from S&M sex ('Chloe in the Afternoon') and warped love affairs to pure malice (the pop-infused 'Cruel'). And she used string melodies inspired by Disney movies as the foundation for her second album, Actor – a hymn, she says, to "alienation, and alienation from yourself".
Actor brought her to the attention of David Byrne, and their collaboration, Love This Giant, comes out on 4AD in September. "He's someone who will let you see your idea through, and even if you're wrong, he gives you room to find out first without giving an opinion one way or the other," she says. The album is centred around a 16-piece brass band. "It started out a bit esoteric. I feel songs are like human bodies – you can dress them up any way you like, and you still know it's a person. They happen to be wearing brass band clothes, but they're good songs. And I'm glad it went that way; it could have been way out there." Annie, for all that she is hard to categorise, isn't interested in the far reaches of inaccessibility.
As she teeters on the tightrope between cult acceptance and mainstream success, her collaboration with Byrne has already brought some of the vagaries of fame her way. Last year, she accompanied him to the White House Correspondents' Association's annual dinner. "I saw Arianna Huffington and Rupert Murdoch throwing down. I saw Newt Gingrich looking like a vile toad. It was fascinating!" she laughs. "After the hall had been cleared out the next morning, I sneaked in and sat in the seat where Obama had sat." She shows me some of the photos she took in the empty room, including one of the TV news anchor Wolf Blitzer's name tag, the name all smeared with spilled drink. "It looks like there was a zombie attack or something!"
"People sometimes feel I'm being manipulative with my music, lulling them into a safe place and then slamming them over the head."
But this is not, let it be said, a lifestyle that she's ardently pursuing. She's 29 now and has been on the road for more than ten years, with short breaks for recording and writing. She jokes that she's won over her large, loyal fan base one person at a time by playing to them live. She's speaking to me on a rare weekend at home in New York: on Monday, she's heading to Los Angeles for a meeting, then rehearsing for her next tour with Byrne. "I don't ever get tired of it," she says. "Right now I think if I spent more than a week in one place, I would start to get really anxious."
Music runs in Annie's family. Her uncle Tuck Andress was a guitarist with the Gap Band and in the '80s started a successful jazz duo, Tuck & Patti, with his wife. They were distant, magical figures throughout Annie's childhood, always away on tour. "But through them, there was a sense that music was possible, that it could be your career," she says. When she was 15, her aunt and uncle invited her to spend the summer as their roadie/tour manager. "With musicians, there's like a vagabond thing, a traveller spirit, and we're almost like heat-seeking missiles for other musicians. So they found me." While school friends spent their summers at church camp, Annie would head to Japan with Tuck & Patti. "My world was blown open," she says. "From a very young age, it showed me that America is not the centre of the universe."
She took up a place at the prestigious Berklee College of Music in Boston but found it horribly out of date: "They didn't even acknowledge the Internet and what it could mean in terms of DIY music." Without telling her parents, she dropped out and moved to New York to make it as a musician on her own terms. She lasted five months before her money ran out and she had to go home, defeated.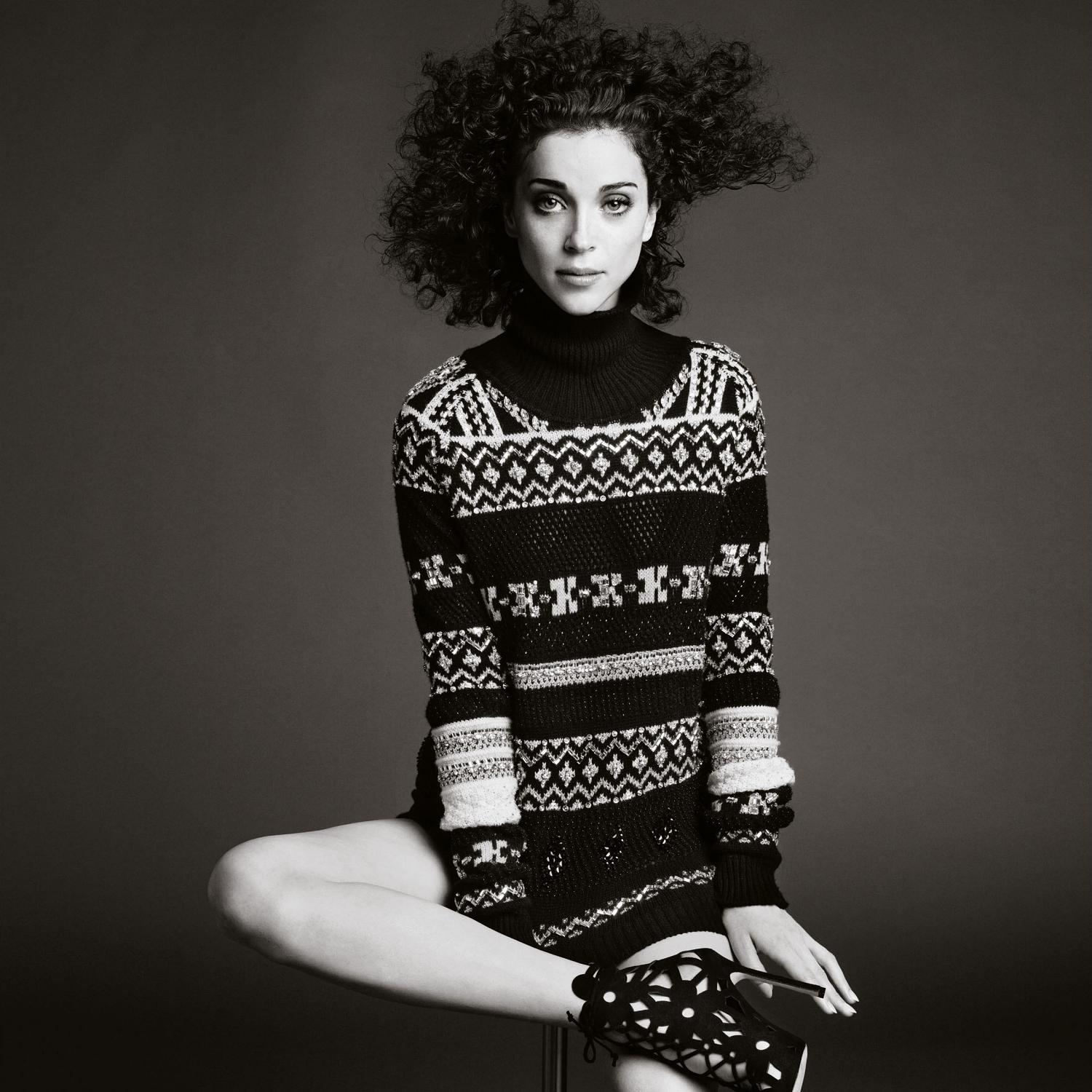 "It was the only time in my life where I actually lost my way," she says. "I'd self-mythologised up until this point; I'd done what every person who is successful needs to do, which is believe in themselves beyond reasonable measure. I'd tried, and I'd fucking failed. And I was like, 'What do I do? Who am I now, if I don't do this?'"
It turned out that what she'd been seeking was in Dallas after all. Local heroes the Polyphonic Spree were about to tour and needed a guitarist. She travelled with the group from 2005 to 2007, recording her occasionally frenetic debut album, Marry Me (on which she's credited with "voices, guitars, bass, piano, organ, Moog, synthesizers, clavieta, xylophone, vibraphone, dulcimer, drum programming, triangle and percussion"), in the downtime and putting it up on MySpace to get it heard. "I got in on that brief window when MySpace mattered, when Lily Allen was a MySpace phenomenon," she says. Reviewing it in Entertainment Weekly upon its release on Beggars Banquet in 2007, writer Whitney Pastorek described "a solo debut that swerves from sweet-as-molasses love songs – laced with lethal humor – to industrial tracks reminiscent of a less squawky Björk." Nu-folkist Sufjan Stevens heard it and asked her to open for him on his European tour. Then the British label 4AD offered her a record deal.
If she wanted to move into the mainstream, Annie would need a radio hit. "But I think my version of what I consider pop music and what most people consider pop music are really different," she laughs. Her following on the indie circuit, however, is huge, and she's become a regular musical guest on late-night US TV shows like David Letterman's. If fame does come, though, she's ready for it. "I think the only thing you can do is put your head down and focus on the work. A lot of people work for a living so they can take a vacation. I work so that I can work some more."
Annie still has panic attacks, though now she knows how to control them (exercise helps). "There are little things I have to be sure to do, like sit on the aisle in a movie theatre, or I get claustrophobic," she says. But the fear still comes sometimes, when she's in New York at night, listening to a city that's never quiet. "It's never calm out there," she says. "But I tried to write in the woods one time, and I stayed up all night with a bottle of bourbon and a baseball bat, thinking that someone was going to come along and kill me. So I can't do the rural thing, either."
Instead, she's channelled her energy into her performance. "When I'm playing live," she says, "there are moments where it's almost subconscious, when things teeter on the brink of being really chaotic. Recently, with this tour and this band, the show has gotten to a different level – it's like something else comes in to take over. You feel like a superhero. It's expansive. It's the best thing. And on the next album, I want to do that more and more. I'm convinced I can do it much better. Otherwise, why keep making records?"