Elizabeth
Peyton
The exceptional portrait painter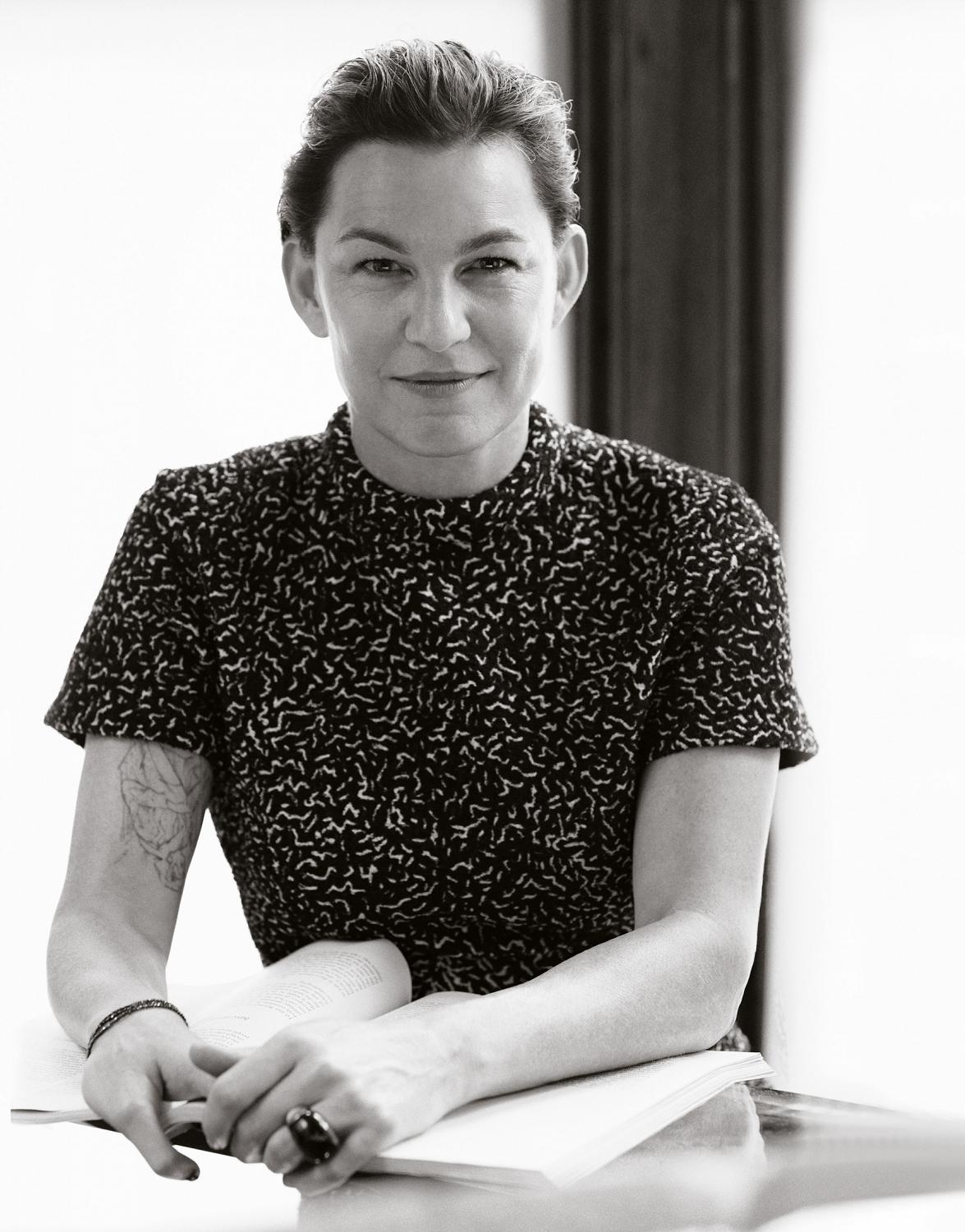 One day, when she was still a student, the American artist Elizabeth Peyton fainted. When she came to in the nurse's office, she panicked that she might have died without ever having made video art. She never did: she's spent the intervening 30 years perfecting the drawn, etched and painted portrait, in spite of emerging from a period when figurative painting was deeply unfashionable. In 2008, at her tremendous retrospective at London's Whitechapel Gallery, she hung 130 of her intense head shots side by side by side, like a salon hang deconstructed into an endless horizontal line. In 2013, she's possibly having her best year yet, with major shows in New York and record prices at auction.
A huge music fan, Elizabeth, 47, recently saw the National play the same song repeatedly for six hours at New York's MoMA PS1. That, she says, is what dreams are made of.
Elizabeth Peyton seduces her subjects in different ways. Earlier this year, for example, she calmed the nerves of Andrew Bolton, a curator at New York's Metropolitan Museum of Art, in the studio on the top floor of her West Village house with David Bowie's "Where Are We Now?" and then surprised him with Danish punk band Iceage. She warmed up London food royalty Margot and Fergus Henderson with pink champagne in Claridge's, which happens to be her favourite London hotel. ("I'm just familiar with it," she reasons of her preference. The resulting drawing hung in the Royal Academy of Arts' Summer Exhibition from June to August this year.) And during recent sessions with a classical musician, she played Wagner. "Early Wagner," she specifies. "Did you read the story in the London Review of Books, 'Is Wagner Bad for Us?' I think it's because it's so mesmerising that you lose yourself, and that maybe that's not the best thing." Elizabeth is a massive Wagner fan – we'll come to that later – and she's long been lost in music.
Elizabeth Peyton first became known in the early 1990s for making portraits of people she had never met – dead ones like Napoleon, Ludwig II of Bavaria, Kurt Cobain and Princess Diana and living ones like Jarvis Cocker, Liam Gallagher and David Bowie. Some were sketched in pencil or charcoal, others painted in thin watercolour or in high-energy crayon-box oil colours on board. She threw in friends and boyfriends too: Maurizio Cattelan, Rirkrit Tiravanija, Jonathan Horowitz and Piotr Uklański – all New York art world celebrities in the making. Endlessly reproduced in both art and style magazines, these sharp-cheekboned, floppy-haired boys and occasional girls defined an era that effortlessly fused fashion, music, celebrity and art. Often working from photographs, Elizabeth chooses subjects who are objects of her admiration or fascination – "people who are dealing with their feelings through art," she says. "Or people who defined their moment in history. I still get accused of being that painter of celebrities. People who are good at what they do often become well known, and I'm interested in making pictures of artists whose work inspires me. In the generalised – often negative – description of me as a 'painter of celebrities', this gets lost."
Nowadays, Elizabeth increasingly works from real life. "A big element of the picture is that it's a record of two people being in one room together at one time," she says. "It's time spent together that's not about socialising or eating or the normal activities people share. It can be very powerful." Elizabeth's pictures are evocations rather than likenesses, and they are romantic. She absorbs her sitter's qualities, mingles them with her own particular take (love, admiration, distant respect) and translates this into an image – in oil paint on board, in pen and ink, or in the beautiful monotypes that, more recently, she loves to make. "It always brings me to a new place," she says of printmaking. "It's a very free medium. Like painting was when I started, when no one was looking."
Elizabeth, who's now 47, has been making pictures for as long as she can remember. "That's all I did from when I was very little," she says when we meet in New York at Gavin Brown's generous gallery space in Greenwich Street. Like her pictures, she doesn't take up much space. She's extremely sweetly spoken and makes us tea. She looks her interlocutor straight in the eye, and her own crinkle prettily at the corners. She could be at least 10 years younger than she is. What appears to be composure might be caution, but we've only just met, so I'm in no position to know. Needless to say, she's the one used to wielding the brush, and she's definitely in control.
"I was in independent study courses at high school for art," she says. "But I never thought I was anything special." She grew up in the ordinariness of Connecticut, with parents who ran a candle shop, and she coped with a birth defect – a damaged right hand – by becoming left-handed. Art school was inevitable, she says. "I was really hungry for art and learning and people and music. But it was a surprise to me, actually, how determined I was. I didn't really notice it at first. But I was."
At the School of Visual Arts in New York, she went against the grain by being not just a painter but a figurative artist, at a time when even the neo-expressionist painters who'd dominated the art market of the 1970s and 1980s (Julian Schnabel, David Salle, Frank Auerbach and more) were on the slide. "It seemed like the worst thing to do at the time," she says. "My teachers were a little confused with me. But I oddly did well because, I guess, I was very determined." Now, she says, as an occasional visiting lecturer – when we meet, she's just spent a day at Hunter College in New York – "I get very hyper in schools because I feel like I have so much to say. Painters in art colleges are so anxious. They don't know it's OK just to paint. Because 'just painting' is not nothing. It's huge and hard just to paint, just to be free."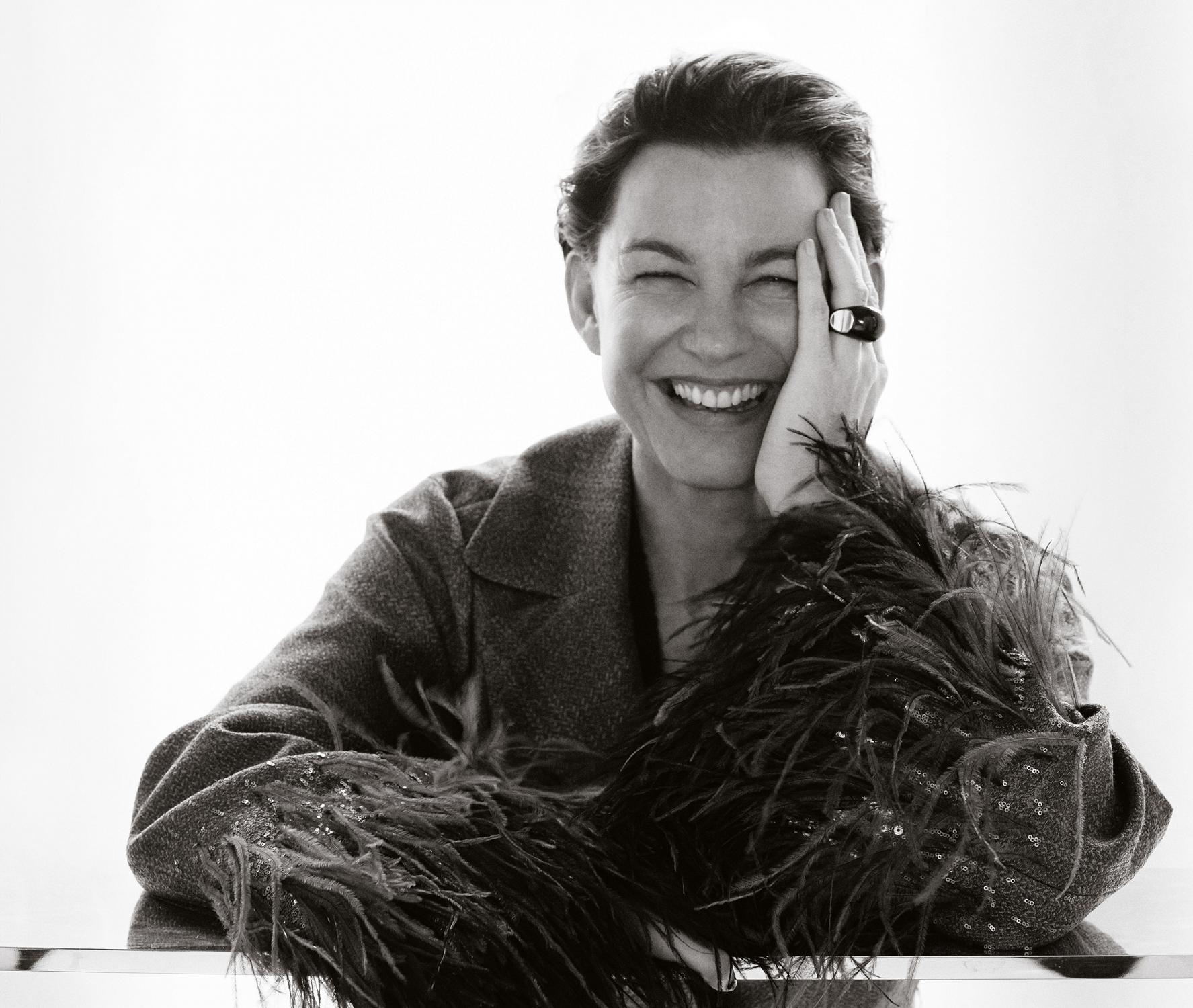 Elizabeth's individuality has never held her back. Not only was she painting at a time of conceptualism, she runs counter to other contemporary portrait makers who, you could say, create hipster communities through their art. Whereas photographer Ryan McGinley, for example, is assembling a cast of characters to people his Manhattan playground, Elizabeth seems to deftly isolate her subjects. Each Peyton portrait is like an individual book cover – it's for you to discover what it contains.
At first, Elizabeth's star rose fast. A young collector called Michael Rockefeller bought two pictures from her graduation show (rare in those days). "He was walking by the school on the day of the opening," she says. "I guess they just caught his eye." Then she got taken on by an influential and pioneering SoHo gallerist, Althea Viafora. "I thought, 'Whoa! I've hit the big time!' She was working with so many interesting people. Matthew Barney and Verne Dawson had their first shows there too." Barney, the artist known for his hyper dramatic, complex Cremaster films, has been a friend since, with Peyton often painting him, compacting his prickling intensity and handsome features onto tiny boards and sheets of paper that rarely go above A4 size.
In 1991, she met Gavin Brown, a good-looking English artist with considerable swagger who had moved to New York and started putting on shows. She was exhibiting in the washroom at Novecento, a café on West Broadway ("People showed anywhere in those days," she says). "I felt he was a bit of a brute, and that was a good combination with my paintings, because I didn't want them to be seen as sweet and girly. And he got that," she says, rotating a black diamond bracelet that circles her wrist. "We went to a bar and he was screaming in my ear: 'You're a populist! That's what you are!' And I was saying, 'Yes! Yes!' That was our first deep conversation." They had their first show together in 1993 in room 828 of the Chelsea Hotel in Manhattan. Among those who asked for the key to the room was New York Times critic Roberta Smith. The review was a game-changer: she liked the work.
"I bought a charcoal drawing of Napoleon in an antique frame from that Chelsea show," says Sadie Coles, the London gallerist who's represented Elizabeth in the UK since 1997. "Why? I think because I completely responded to the romantic figure in some way. Everything in contemporary art was very conceptual, especially in London, and Elizabeth Peyton really stood out. I loved the romance of the drawing and that the subject matter was so unexpected." The drawing now hangs in Coles' bedroom. Elizabeth had made the drawing in 1990 when, unemployed and disillusioned, she'd spent a summer in her 2nd Street apartment reading books, among them a definitive biography of Napoleon by Vincent Cronin. Her love of French art and literature had been developed at the School of Visual Arts, not least by tutor Douglas Blau's reading list – which included work by the prolific 19th-century novelist Honoré de Balzac. "With Balzac, so many things appealed to me," she says. "One, he is an artist above all things. And in his novels, artists were the ones who could move in and around society. The portraits that he made of people inspired me, in my brain: they told me how I wanted to make portraits."
"It was a surprise to me how determined I was. I didn't really notice it at first. But I was."
At college she made drawings of Lucien de Rubempré, the protagonist of Balzac's Lost Illusions, a country boy finding his way in Parisian society. "I did them so early, they're in one Japanese book and we don't even have photos of them," she says. Although Lost Illusions is about a writer, she says, "It was like a road map to getting on in the art world. I mean, not that I followed it. I just noticed that it was very similar, being a writer in 19th-century Paris and an artist in late 20th-century New York."
Her love of 19th-century France – or perhaps her interest in the status of painters and writers back then as drivers of progress, exponents of the contemporary – persists. Her favourite painter is Edouard Manet. "I just went to see the Manet show in London," she says, referring to the major retrospective of Manet's portraiture at the Royal Academy of Arts last spring, as Felix, her smooth fox terrier, plays noisily with another dog in the gallery next door. (Felix allegedly has his own Facebook page, which Elizabeth does not.) "I really went to see one painting, of Berthe Morisot. It's a white background, and it's just her head, and she's got an amazing black hat and the light's moving across her face. I thought about that a lot when I was making the painting of Peter Gelb, actually." The painting of the Metropolitan Opera's director was in her Gavin Brown show. "I wanted to make a painting that had that light. What happens in the painting with Peter – and maybe it's also because he's an older man – it's going from no information on one side to a lot of information on the other side." She saw the recent David Bowie show at London's Victoria and Albert Museum too. "I'm so in awe that they made it while he's still alive," she says. "I thought the tone of the show echoed how we feel about him – total love and gratitude for his existence."
Elizabeth's paintings have subtly shifted since 1993. The violent colours of her earlier work have softened; the lines of her brush and pen are more confident than ever. No longer feeling compelled to fill the board, she allows the white gesso of the background to become part of the work. This summer, those changes were in evidence in her two concurrent private gallery shows in New York, one downtown at Gavin Brown's Enterprise, where we meet, and the other uptown at the Michael Werner Gallery. This last occupies a historic first-floor space on East 77th Street where Leo Castelli, a famous driving force in post-war American art, opened his first gallery in 1955. Andy Warhol's silver pillows were shown here in 1966, and James Rosenquist's 86-foot-long painting F-111 was made for the space.
Elizabeth filled it with 13 pictures of the 34-year-old Swedish artist Klara Lidén, who until recently had been her partner – the assembled work appeared as an intimate but refined distillation of love and its attendant sadness. But with Klara's face becoming a repeated motif, what also shone out was the skill behind the painting, drawing and printmaking, each image encased in a perfect silver gilt frame of Peyton's precise design. "It was Elizabeth's idea to show the pictures together," says Gordon VeneKlasen, the gallery's director. "You get to see how, as an artist, she endlessly explores a subject."
"Sometimes I think, this is really tough, being alone so much. But I also know that I am the one making the pressure."
The largest picture – the 24-by-18-inch "Irises and Klara" – also showed what Elizabeth's new glasses have done for her. "I don't have depth perception," she explains. "I see in two dimensions. Walking into the Carlyle, for example, from the 76th Street side, where it's a giant black, open – is it marble? – space is so scary to me. Then my eye doctor – after how many years? – told me a year ago, 'Oh, I can get you a prescription so you can see the depth.' And so from last year I got these glasses, and it was like wearing 3-D glasses, like seeing the Justin Bieber movie. When I first looked at my paint box, it was like, 'Wooooo' – great but kind of overwhelming. And I think it changed the painting a little bit. I don't always wear them, but there's a couple of pictures where I notice." "Klara with Irises" has been bought by the London-based collector Emmanuel Roman and promised to the Tate Gallery. Of the other 12 works in the show, most had been coaxed out of private collections and only a few were actually for sale. Elizabeth's market value was underlined in May when a painting of Leonardo DiCaprio sold for just over $1 million at Christie's in New York. Her pictures now average something like $6,000 per square inch on the primary market, and plenty of collectors out there are happy to pay the price. "People who buy Elizabeth's work tend to keep going," says Sadie Coles. "One person is really into the punk thing, for example" – Elizabeth's renderings of Sid Vicious and Johnny Rotten. "The works are just so delightful to live with. They have a genuine feel. There's nothing cynical there. They have a sort of purity." Owners of Elizabeth's work include the billionaire businessman Peter Brant, the Hollywood über-agent Beth Swofford, the artist Isa Genzken and the major collectors Andy Stillpass and Neda Young. It's also in the permanent collections of major institutions, the Centre Pompidou in Paris and the Museum of Modern Art in New York among them. "Her drawings and paintings depict her subjects with such love, tenderness and genuine gentility," says another collector, the fashion designer Marc Jacobs. "Their strength comes from Elizabeth's heart through her eyes and hand."
At Gavin Brown, Elizabeth showed portraits of contemporaries including Matthew Barney – the cheekbones are softer now – and a decidedly professorial-looking Liam Gillick (another Brit in New York, of Young British Artists vintage.) There was a delightful take on John Giorno, the poet who once slept for Warhol's camera but whom Elizabeth sees as a scholarly man, surrounded by books but somehow vigorous too. (Giorno apparently used his well-honed meditation techniques to cruise through his sittings.) She also exhibited several portraits of the German tenor Jonas Kaufmann, as well as paintings of the singer in performance with soprano Katarina Dalayman.
Elizabeth had seen the pair as Parsifal and Kundry in a production at the Metropolitan Opera earlier in the year and described it as "the most beautiful coming together of human beings. That sounds so corny, but it was exactly what Wagner, from what I've read of his work, wanted. For a community to feel something, and a collaboration between the audience, the singers, the conductor, the house – it was just a moment in time that was perfect. Humans are so fragile, and it's a magical thing to get all that working together and everybody being unified. It was a way of really bringing people together. I heard that the conductor was crying, the prompter was crying – the singers can't cry. Everybody seemed very moved by it. In the moment it was chilling." Her eye was also caught by a different kind of performance: that of Elias Bender Rønnenfelt, the lead singer of Iceage, whose skinny frame breaks through a shower of brilliant blue light in one explosive picture done in colour pastel and pencil. A self-portrait has particular allure and a palette with a debt to Cézanne: Elizabeth is lying on a sofa, and Felix's pretty, pointy face is painted in a surprising deep blue.
Peyton doesn't abandon her themes easily; she develops them. The 21-year-old Rønnenfelt is the latest in a long line of musicians who've enraptured her – in his case, with his skittish energy and piercing blue eyes. Meanwhile, her fascination with performance stills has shifted from Michael Owen on the football field (1998) to Francois Truffaut's The Bride Wore Black (2005) and more recently the rendition of Parsifal. (She was introduced to Wagner's music a few years ago by Dodi Kanzanjian, the gallery curator at the Metropolitan Opera. "I said, I don't know, he seems like such an awful guy." But the art won.) Her personal favourite among her own pictures, made in 2007, shows a heartbreaking embrace between Michelle Pfeiffer and Daniel Day-Lewis from the Scorsese movie The Age of Innocence. It hangs in the bedroom of the house in the far reaches of the West Village that she's lived in since 2006. The property – beautiful and one of a unique pair – dates from the 1830s and has for much of its life been occupied by artists.
"I still get accused of being that painter of celebrities. I'm interested in making pictures of artists whose work inspires me."
"Wagner spent so much money on his clothes, and also he would have his house draped in pink silk or purple velvet," Elizabeth says. "He was always running away because of creditors, and the first thing he would do when he got to a new house was to call the interior decorator. He said something like 'What do you expect – I suffer so much making this stuff, I need some comfort!'" She laughs. "But I don't think I'm soothing some wound by having a nice home. It's more about really loving beautiful things, and that goes for everything. You want people around you who are really kind and trusting, beautiful, loving, and you want things around you like that too."
"We can talk a lot about jewellery, wine and food," says Gordon VeneKlasen of time they spend together. "Over one really beautiful bottle of wine." To celebrate the opening of her show at his gallery, a small party repaired to La Grenouille, an upscale restaurant known for its exuberant flowers and library-like bar, for dinner. There, says VeneKlasen, they dined on "sea bass in champagne sauce with caviar, and you know, that can be a disaster if it's not done properly, but the fish was perfect. The champagne sauce was incredibly light, and the caviar was delicious." Elizabeth tells me she likes Barbuto, Jonathan Waxman and Fabrizio Ferri's nicely utilitarian West Village restaurant. What does she eat there? "Chicken."
Elizabeth's friends include many from the art world – not least the artist TJ Wilcox, her closest for many years – as well as the New Yorker writer Calvin Tompkins and his wife, Dodi Kanzanijian; the singer-songwriter Beth Orton; the curator Andrew Bolton; and the chefs Fergus and Margot Henderson. In every sense, she is positioned at the point where art, fashion and music, and high and low culture meet.
Some detractors may only see the pop-cultural overlay and accuse her of a lack of depth. But that's missing the point. "What is so beautiful is the accessibility and immediacy of her work," says Bolton, the curator at the Metropolitan Museum's Costume Institute. "People like fashion for its immediacy, democracy and idealism. That's what gives it its power. And the same applies to Elizabeth's work. She is really brave and not afraid to collapse the boundaries between high art and popular culture. She challenges the old-fashioned hierarchy. The bravery of her brushstroke is like the fashion illustrator Grau – the intense line. There's a modernist quickness."
And she moves happily in fashion's circles. Marc Jacobs was, for a while in the 2000s, a close friend. "Marc is a real artist," she says. "I was very inspired by him and how he would distil the world around him. And Sofia too," she says of the director Coppola, their mutual friend. "I think she is an amazing filmmaker, and I am interested in how she has dealt with history in her own time." A Peyton portrait of Coppola hangs in Jacobs' office.
Dries Van Noten is another friend and subject. Elizabeth likes the designer's clothes, she says, because they feel full of references and honesty. "A strange experience," he says of sitting for a portrait. "I'm used to being photographed, and this was much more personal." Recently the pair sat down for a chat for the Financial Times. In it, Van Noten recounts how he bought a book of Elizabeth's work and then invited her to be his dinner guest when he went to collect his CFDA Fashion Award in 2008. He went on to base his menswear collection on her 2001 painting "Democrats Are More Beautiful", which depicted a handsome young Al Gore. "I'm always a little afraid that fashion will ruin the art world," says Van Noten later in the piece, "now it has gotten so involved in all the art fairs, all the parties." The painter's salty reply: "If art is any good, it has so much of a longer trajectory than one night."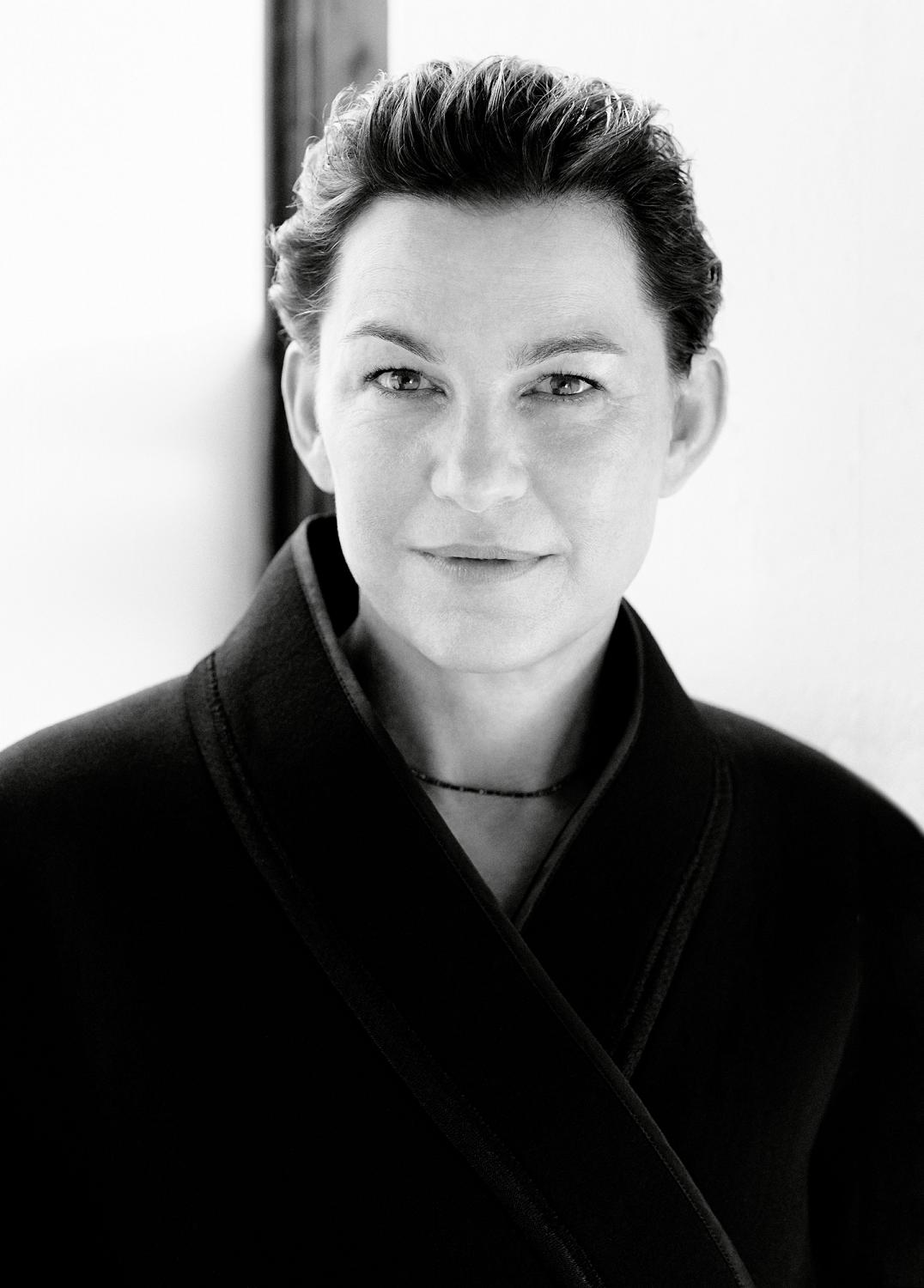 The day we met, Elizabeth was looking understatedly well considered in a distressed leather blouson and slouchy black pants, both by Alexander Wang. She also had on pale leather lace-up shoes. I saw her several times subsequently – at the opening of the Frieze Art Fair in New York, at a private view for Cicely Brown at Larry Gagosian's Madison Avenue gallery, in the British Pavilion at the Venice Biennale (where she spoke highly of the democratic stance of Jeremy Deller's work). Each time, she wore the same chicly androgynous outfit, though the shoes had been changed for low-heeled black boots decorated at the back with a rose gold band. Her favourite shoes, she says, are a pair of black suede lace-ups by Chanel with gold piping. "They're like the simplest, simplest thing."
While art and fashion are on the talking agenda, Elizabeth's personal life is not. Rirkrit, Tony, Pati, Klara – they all skip through her inventory of work but not her conversation. "The paintings are about the person, very much, and my feelings for them," she says. "But it is a ransformative process. To see the work as autobiographical is just a little bit too literal to me somehow." In 1991, aged 25, she married Rirkrit Tiravanija after a very brief acquaintance. Rikrit (as he is known) is a Thai-born, Canadian-raised artist known for staging intriguing happenings in art galleries – turning them into kitchens serving Thai food or facsimiles of his apartment. He was having visa issues, but the pair were also in love. "He just smiled at me in a certain way, and I just thought, 'I'll marry you,'" she says. "I totally meant it. We lived together on 7th Street for maybe seven years. We stayed married for almost 15."
The formalities were conducted at New York's City Hall and followed by a party at the Clock Tower, a legendary art space in Chinatown. While his attention-seeking extravaganzas and relational aesthetics (Nicolas Bourriaud came up with the term in 1998 to describe art that involves constructing social experiences) might seem a world away from her small-scale paintings with their unerringly historical interests, she says: "I think we were both so excited about the world and making something that was true."
The experience hasn't left her negative about marriage. "I liked the historical thing about names coming together, and it being legal is kind of exciting, because that becomes a record in history," she says. "But I think people make commitments in all kinds of ways. I think tattoos are one of the biggest commitments you can make." Elizabeth has three, she says. She takes off her leather jacket to show me the latest. "We don't know each other that well..." she says, eyebrows rising.
It's an exceptionally delicate outline on the inside of her upper arm, upside down, designed to be looked at first and foremost by her rather than others. It is taken from a Delacroix drawing and was done last year. Another is a Napoleonic crest. "It was on a piece of stationery in a hotel in Fontainebleau." And the first she had done around the age of 30. "I was feeling so great, I wanted to remember the time forever," she says. "I got the crown that Ludwig II of Bavaria would use as his cypher and kind of cobbled it from the Bourbon kings. I got it over two veins where the blood crosses." She didn't know a particular tattooist, so she went local. "To my neighbour. It's a little cartoony."
Near her house, Elizabeth likes to go running along the West Side Highway, or swimming with her underwater iPod. Always for exactly one hour. "A couple of lovely friends gave me the iPod as a present, and it changed my life," she says. An artist working alone presumably needs, at times, to escape from herself. "There are definitely moments when I think, this is really tough, being alone so much, and it's a lot of pressure. But I also know that I am the one making the pressure," she says. "No one is going to die if I never paint again." Except Elizabeth Peyton, perhaps. It seems to be her way of living.