Sonia Boyce
The artist bringing everyone to the table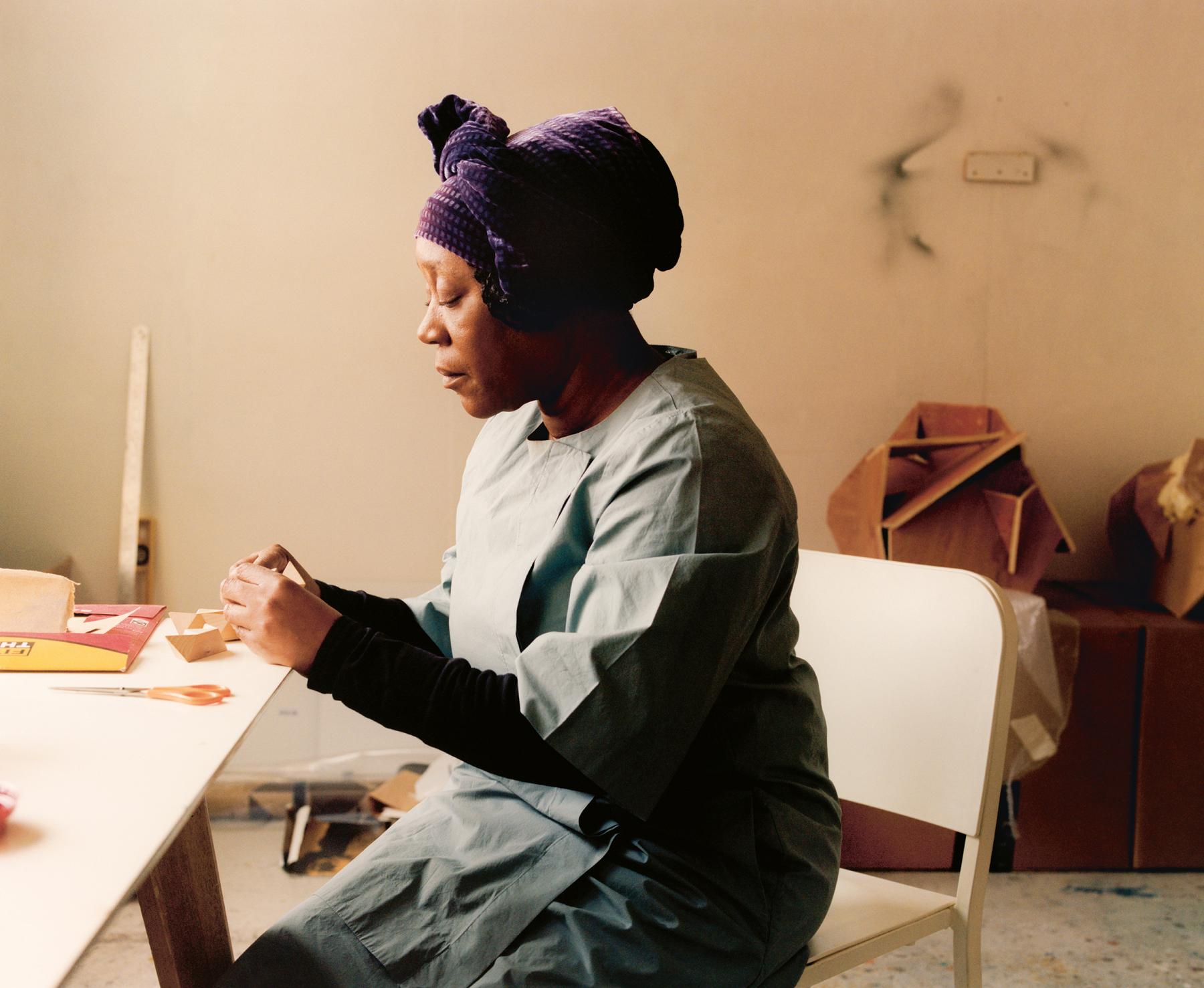 Sonia Boyce was just 25 when she abandoned the figurative art that had brought her acclaim and a place in Tate's collection. She chose instead more collaborative, improvised projects that harnessed her influence to spotlight others – fellow Black artists, marginal communities. Now 60, Sonia is taking her infectious inclusivity to the Venice Biennale, where she will represent the United Kingdom this year. She describes her work as elastic and playful, which sounds about right for someone who has spent 25 years on a project featuring Shirley Bassey.
The last time Sonia Boyce was invited to make a work for the Venice Biennale, she had to take out a bank loan to finance its production. That was in 2015, when she had no commercial gallery to help cover her costs or navigate the infrastructure of the most prestigious contemporary art show in the world. Seven years on, Sonia, who turns 60 this year, is returning to the Biennale in April as the UK's official representative, the first Black female artist to be selected for the role, with an entire exhibition funded by the British government and private sponsors. This time round, she has two galleries backing her: Simon Lee in London and A Palazzo in Brescia, northern Italy.
"I worked independently for most of my career," Sonia says when we meet at her south London studio just before Christmas. But whenever a door is opened, she asks herself, "If I am in this place, what is possible? What will enable something to change so that others can benefit from me being here too?"
Sonia being selected to represent Britain at Venice is a breakthrough moment for cultural diversity, part of the slow opening up of top institutions and exhibition spaces that Sonia and other Black artists of her generation have worked for for decades. With an unwavering sense of purpose, she has championed Black and Asian artists throughout her career, helping to expand the memory of the nation by recovering their forgotten stories, commemorating their achievements and displaying their art. In her artistic practice, too, she has made a career out of spotlighting others – other performers in her videos, and marginalised people with no platform of their own in her community projects.
And through nearly four decades of teaching fine art studio practice, Sonia has helped to shape the future of the art world. "I'm probably a bit addicted to the energy in an art school, where you are part of a creative process through discussions with students who are trying to figure something out," she says. "I love that. I love that energy of trying to articulate an idea through making something. And then stepping back and saying, 'OK, I thought it was this, but actually, it is something else.'"
Osei Bonsu, a curator of international art at Tate Modern, met Sonia when she was teaching at Central Saint Martins and he was a student. "For young Black curators and artists, Sonia is a model of what is possible within the arc of a single career," he tells me over email. "She continues to challenge herself with every body of work, bringing her audience along with her."
"I am always attracted to where the centre of power is, for good or for bad."
Sonia's studio is on the third floor of a 1930s block in Brixton, opposite Brixton Academy, not far from the home she shares with her partner of 30 years, the photographer, curator and writer David A Bailey, and their two daughters, Maya and Aarony. She welcomes me in with a broad smile, wearing a black hoodie, dark green combat trousers and black trainers. "I'm all about being comfortable and being warm," she tells me as we sit to talk. "Those are my criteria. I don't really ever do heels, and I won't be wearing them in Venice. If my feet are not comfortable, I am miserable." Sonia speaks in soft, measured tones, almost as if she's reading you a bedtime story. She is friendly, chatty and disarmingly down to earth.
Her studio is nearly empty; there are only a few boxes scattered around the space and vintage vinyl albums by Shirley Bassey (Born to Sing the Blues) and All Saints (Pure Shores) propped up against the wall. In 1999, Sonia embarked on a wide-ranging project to chart collective memory and Black British music culture. She asks members of the public to choose their favourite Black singers for her ongoing series Devotional Collection. (Text drawings from the series made last year and devoted to PP Arnold and Sheila Chandra are available from the Simon Lee Gallery.)
She has rented this space to prepare for Venice and for the upcoming Radio Ballads exhibition at the Serpentine Gallery in London, because her other, larger studio in Canning Town, east London, is so packed with boxes that it is now basically inoperable. "I can literally only get in the door, and then there's a path through the boxes that goes one way and another path that goes to the sink, but the rest of it is just piled high with boxes and books," she says. "I would definitely be on one of those hoarding programmes where they say, 'I think, actually, maybe you need some help.' There's a hugely messy part of me, and on the other side, I like to do things that have indexes and organise things in alphabetical order and put some kind of control over the craziness."
Despite her intense work schedule – as well as preparing for her upcoming shows, Sonia is still supervising PhD students as part of her work as the inaugural chair of Black Art & Design at the University of the Arts London – she seems almost preternaturally calm. If she's finding it hard to cope, she's not letting it show. She disagrees. "I don't understand how my veneer gives off a sense of calm. I don't feel calm; sometimes I have to tell myself to calm down when things get too dramatic," she says, adding, "Anyone who knows me well sees a completely different side to me – chaotic, hard-working, I'd like to think hilarious."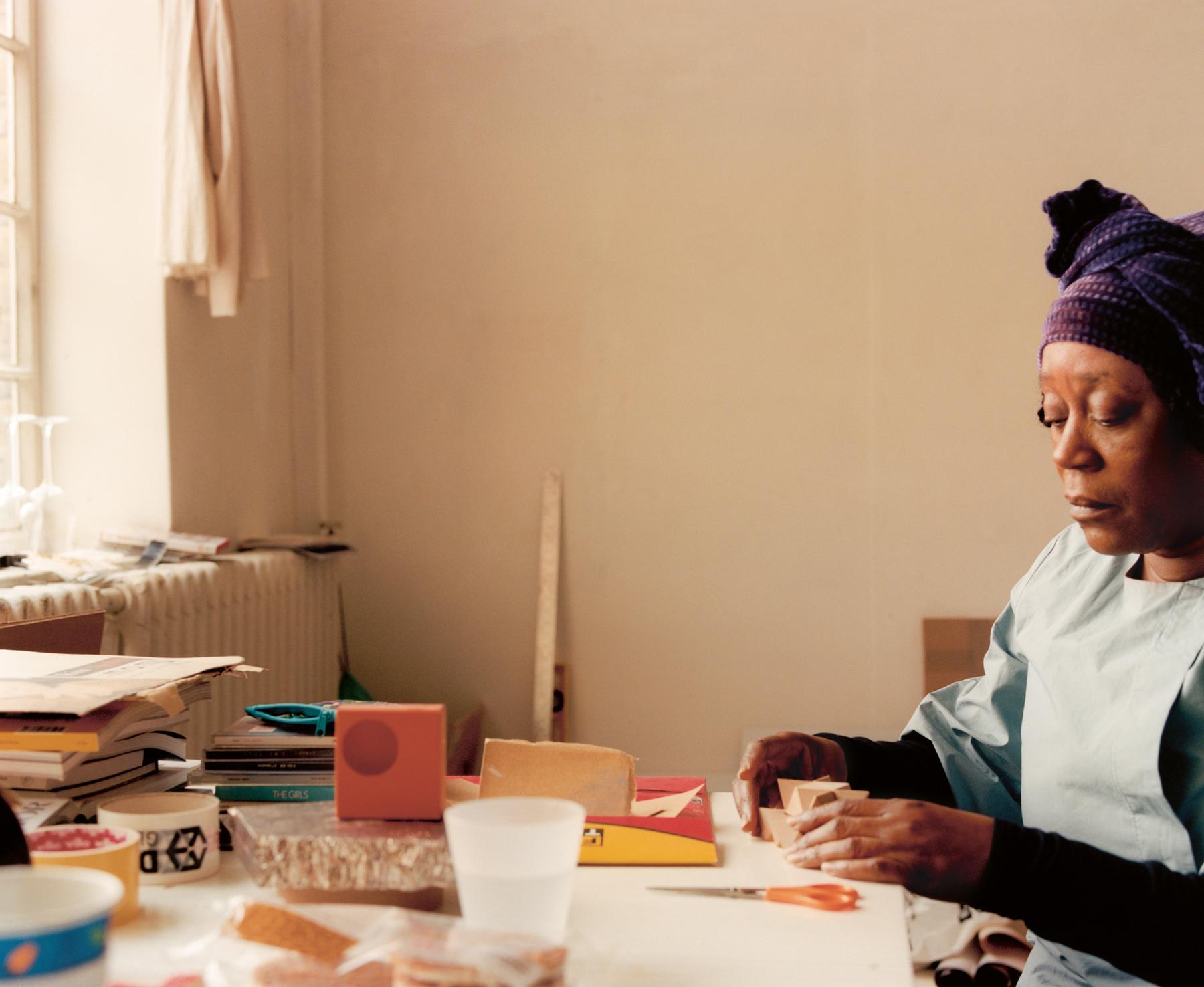 In her artistic practice, Sonia brings together disparate artists, singers, dancers, students, groups and members of the public to participate in unscripted performances with few ground rules. "I love being surprised; I love not knowing what is going to happen," she says.
Sometimes what happens is bad. In 2018, Sonia faced a storm of press criticism after John William Waterhouse's painting "Hylas and the Nymphs" was temporarily removed from the walls of Manchester Art Gallery as part of a performance she filmed for the video Six Acts. In the run-up to the event, Sonia had talked with museum staff about power in art institutions: who decides what gets shown and what gets hidden in storage? Whose opinions matter? What if the opinions of people who work at museums were listened to? Some employees asked for the Waterhouse painting to be taken down temporarily because its sexual dynamics made them uncomfortable, and Sonia's project empowered them to make that decision.
In the vitriolic aftermath, this context was ignored. Even the arts-friendly Guardian described the removal as censorship, declining to mention Sonia's name in its criticism. Staff at the gallery received death threats. Sonia was not ready for the backlash. "There was so much going on that was not anticipated," she says. "It terrified me. I totally believe in my projects as they emerge, but there is another side of things that can also emerge that is not within my gift to control."
Mostly, though, by some strange alchemy, people come together in Sonia's performances, finding common ground. The improvised events are filmed by Sonia's team, and she and her director of photography, Michelle Tofi, edit the footage to create the final video, which is both a record of the original performance and also something new, its beats and rhythms shaped through the editing process. What emerges in Sonia's edited works is optimistic, sometimes funny, often inexplicably moving – a powerful artistic statement about what is possible when we engage with one another.
In Exquisite Cacophony, the video Sonia made for the 2015 Venice Biennale, the US rapper Astronautalis appears on stage with the vocalist Elaine Mitchener in a performance filmed at the Victoria and Albert Museum in London. The duo had met only once before, had not rehearsed, and asked the audience to suggest topics for discussion. The final video is part bawdy stand-up comedy, part flirtatious first date, with personal history, Kim Kardashian's bum and an X-rated version of "Snow White" thrown in the mix. The audience is fully transported by the duo's chemistry and imaginative leaps.
For Paper Tiger Whisky Soap Theatre (Dada Nice), a nine-channel video also made in 2015, Sonia's team filmed an impromptu two-hour play session by students at the Villa Arson art school in Nice, which culminates in a game of gossip. Students of different nationalities stand in a circle, whispering words to one another in turn. As these are garbled and mistranslated, the students giggle, then laugh. At first, the game seems inconsequential. But, like all of Sonia's work, as it continues, it makes a profound political point. Imagine what might be possible if we – as individuals, communities and nations – responded to misunderstandings and mistranslations with amusement and laughter rather than aggression?
When it was announced that Sonia would represent Britain at the Venice Biennale, Hammad Nasar, a member of the British Council committee who chose her, said, "Sonia has consistently probed one of society's big questions: how do we live with difference?"
"I've been a political activist for a very long time. Sometimes you have to grit your teeth to move a millimetre."
Sonia was born in Islington, north London, in 1962 to a father from Guyana and a mother from Barbados, who met and married shortly after arriving in the city in the 1950s. They worked hard. Her father, Donald Hardy, got his first job in London as a film projectionist in Camden and then became a tailor. Her mother, Edna Boyce, worked as a nurse, a seamstress, and then a social worker while raising Sonia and her four siblings (Sonia is fourth in line). When Sonia was awarded an MBE in 2007, she took her mother to Buckingham Palace for the ceremony. "Her life here in the UK was so incredibly hard," she says. "She had worked really, really selflessly for so many decades. So for her to see me get an honour was a kind of acknowledgement of the work she had done, that she had done right, somehow. I did feel very good about that."
As a child, Sonia drew incessantly, and her art teacher, Mrs Franklin, at Eastlea Community School in Canning Town encouraged her to apply to art school. Sonia arrived at Stourbridge College of Technology and Art in the West Midlands for a three-year degree course in fine art in 1980. It was a rude awakening. All her teachers were white men, and the artists they talked about were mostly white, too. "I found it incredibly difficult and lonely being at art school in that there were very few examples of artists that I could recognise as being of African diasporic practice," Sonia says.
So when Sonia saw a photocopied poster in the college library for a national conference of Black artists a few miles down the road at Wolverhampton Polytechnic, organised by students including Eddie Chambers, Marlene Smith, Donald Rodney, Claudette Johnson and Keith Piper, it changed everything. It was October 1982. "When I entered that auditorium, I suddenly discovered there were hundreds of artists around the country, and that there was so much I was completely unaware of. How did I not know about all these people?"
The conference made history; its organisers coalesced into the British Black arts movement, an explosion of artists working in every medium to confront the realities of being Black in Thatcher's Britain. Their work was raw, political, powerful. What started in the West Midlands continued in London, where artists such as Lubaina Himid organised exhibitions and, for a time, ran a gallery, the Elbow Room. Himid included Sonia's work in several shows, including 1985's The Thin Black Line at London's Institute of Contemporary Arts, where it hung alongside works by 10 other Black female artists, including Smith, Johnson and Himid herself.
At the time, Sonia was making large chalk and pastel drawings and photographic collages exploring Black domestic life and identity; the art world loved them. She joined the established London gallery Gimpel Fils straight after finishing art school, and when she was just 25, Tate bought two of her works, making her the first Black British female artist to join the collection.
When I tell Sonia that the bold colour and composition of her early pastel drawings (two are on view in Life Between Islands at Tate Britain) remind me of Gauguin, she tells me a story. "Just after I'd left art school, my mum asked me to make a drawing for her, and she presented me with a postcard of one of Gauguin's paintings. Besides feeling slightly hurt that she didn't want one of my own original works, I was also really honoured that she wanted me to make her an artwork. Despite the challenges of Gauguin and the way he exoticised Polynesian people in the mid-19th century, what was interesting for me in copying one of his works was to understand the ways he used colour theory, not in a naturalistic way but as a set of relationships that heightened a sense of how colour plays with perception of what stands out and what recedes. When my mum went into a nursing home, she took that drawing of mine. I like to think it was one of her favourite personal belongings."
Despite Sonia's early success, or perhaps because of it, there has been racism and sexism along her way. "When I first started to have exhibitions, I would get comments from some other artists about being 'the flavour of the month' because of the growing interest in the waves that were being created by the emergence of Black British artists in the 1980s," she remembers. "This had the effect of undermining my own belief that the work itself had any merit beyond a momentary novelty. The second frustration came later, in the early 2000s, when an art dealer told me that I shouldn't expect to receive the same type of critical attention or equivalent sale prices for my work in comparison to male artists. This was really infuriating but speaks loudly about the continuing inequities within the field."
As the 1980s drew to a close, another group of artists rose to prominence. Their art was arch, funny, media-savvy, market-friendly and only obliquely political. These were the so-called YBAs (Young British Artists), who started off organising their own shows, as the British Black arts movement had done before them, while also courting collectors, curators and critics. The strategy worked. By the time the advertising magnate Charles Saatchi displayed his collection of YBA art in Sensation at the Royal Academy in 1997, the artists had become a global phenomenon. Damien Hirst, Tracey Emin and their peers became famous, their drunken antics filling newspaper columns as much as their art. Museums and the art market loved them.
More overtly political Black art began to be seen as an unfashionable throwback to the Thatcher era, and the achievements of artists such as Lubaina Himid began to fade from view. But to Himid, it didn't matter if the white art world's gaze was focused elsewhere. "Watching the rise of the YBAs had little effect at the time – we were speaking to other Black people, trying to share everyday histories of domestic life, and at the same time we made work which revealed the hidden facts about the trade in captured Africans, the continuation of white colonialism, the suppression of the civil rights movement and the immorality of South African apartheid," she tells me by email. "We were making dynamic and difficult art from a woman's perspective and trying to show it in order to share it with people we cared about."
But it had become harder for Black artists to show their work in galleries. "The art world was very, very different then," Yinka Shonibare, a British-Nigerian artist whose work was included in Sensation, tells me. "There were commercial galleries who used to say they couldn't sell the work of Black artists. If work was too critical or too political, the art world didn't really want to touch it, so many of those artists were, for the most part, ignored."
By then, Sonia had started to shift course as an artist, abandoning her early pastels and collages and moving towards a more open-ended and collaborative way of working. "I always thought her work was bold," Himid says. "When she stopped making large-scale drawings and started to develop project work with people who were given choices and freedoms to be creative within the boundaries she set them, I was fascinated. She has an incredible commitment to following her own path." Shonibare adds, "Sonia has been very courageous. Things were quite oppressive in the 1980s and the 1990s, and for her to stick to her principles and follow her own artistic direction – I admire that."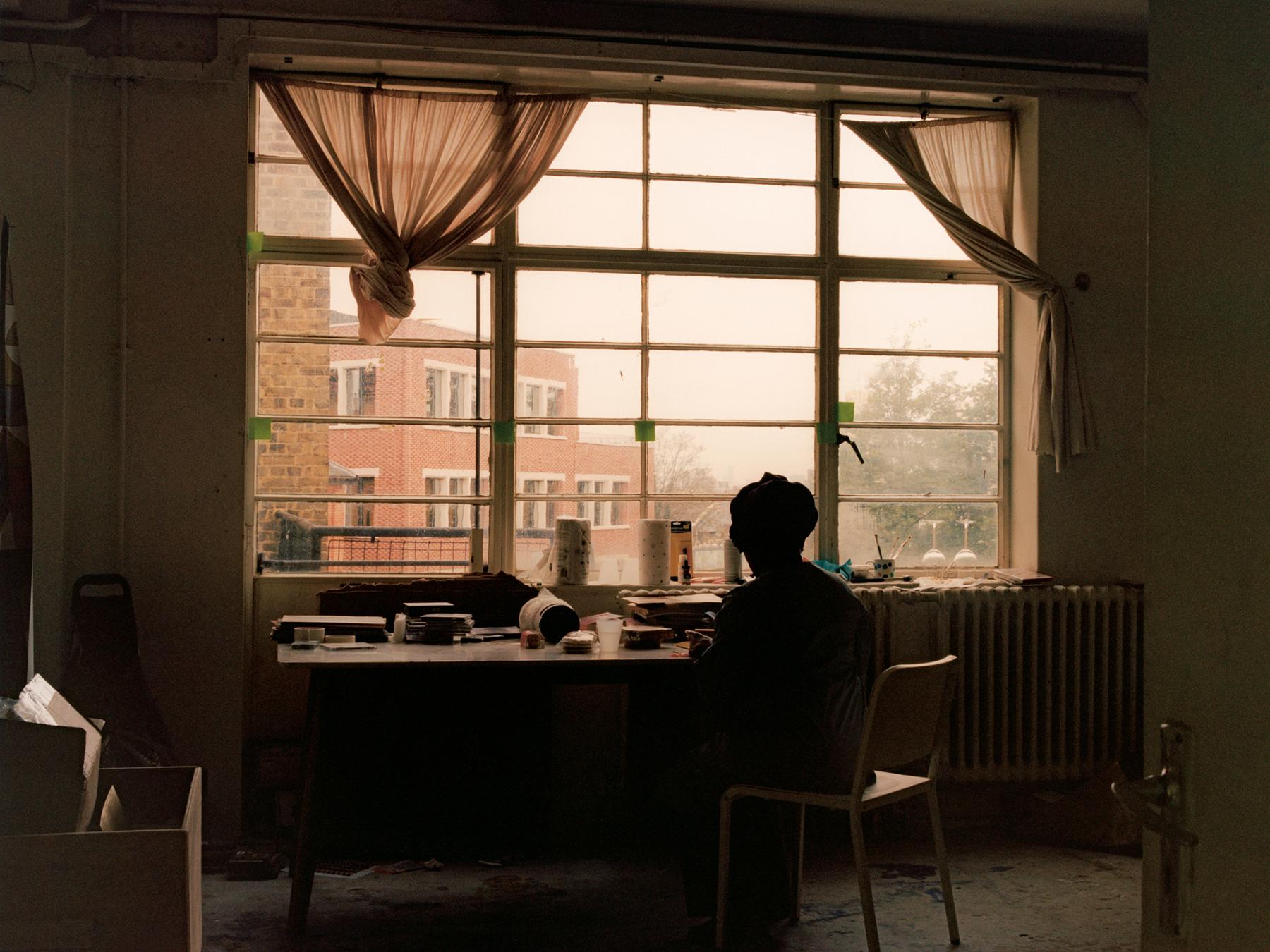 As the art market became increasingly dominant in the 1990s, Sonia continued her teaching and her research, embarking on what has turned out to be a lifelong project to promote under-recognised Black and Asian artists in Britain. She began in the place where histories are preserved for the future: archives. From 1996 to 2002 she and Bailey served as the co-directors of the African and Asian Visual Artists Archive, then housed at the University of East London – a collection of material which had started out in a bunch of boxes underneath the artist Eddie Chambers's bed.
In 2015, Sonia launched a three-year research project, Black Artists & Modernism (BAM), funded by the Arts and Humanities Research Council. Its aim was to uncover work by Black and Asian artists hidden away in the storage rooms of British museums. "I've been teaching in art schools for 39 years, and in many of the places that I have taught, it's been really clear that students are not getting a full picture of artists who have made quite significant contributions to modern and contemporary art, and don't really know how to access that information, and so I suppose that was really the starting point," she says. "The thing that I realised about myself is that I am always attracted to where the centre of power is, for good or for bad; it's just how I am. If I think that this is where things can happen and something hopefully positive can happen, I'm there."
The BAM project included exhibitions, publications and a BBC Four film entitled Whoever Heard of a Black Artist? Britain's Hidden Art History, which was screened in 2018 to great acclaim. The discoveries made by its researchers include seven paintings by the South African artist Gavin Jantjes stored in the collections of three museums in Coventry, Birmingham and Wolverhampton. "We brought Gavin along for conversations at Birmingham Museum & Art Gallery," says Susan Pui San Lok, who worked alongside Sonia on the BAM project and is now director of the Decolonising Art Institute at the University of the Arts London, which was set up to continue BAM research. "His paintings were brought out of storage, and we asked: How did these works get to be here? What happens when you forget these connections between institutions? How can you reforge them?"
For Sonia, this is how real change happens: through research, collaboration, persuasion and hard work. "I think quite a lot about Baroness Lola Young, who has sat in the House of Lords for decades, working very, very quietly in the heritage industries on lots of committees, on lots of trusts that were about archives, and doing the slow, hard slog work of getting the heritage industry to recognise the contributions of migrant communities that have made a huge impact on British life," she says. "I have been a trustee on arts organisations, and I've been a political activist for a very long time, and there are a lot of those committee meetings that you sometimes have to grit your teeth through in order to move forward a millimetre."
In her community art projects, Sonia focuses on the disenfranchised and marginalised. As well as her Venice show, which will include footage of a performance that has already taken place, she has made a new film for the Serpentine Gallery's upcoming Radio Ballads exhibition in collaboration with the London Borough of Barking and Dagenham. Following conversations with the deputy leader of the local council, Saima Ashraf, a single mother who escaped domestic violence and homelessness, Sonia embarked on an extensive community outreach project, talking to survivors of abuse, social workers, even a perpetrator. Four of her interviewees were brought together for workshops which form the basis of the film. For Sonia, art is a social activity: it involves reaching out and listening to people who are rarely asked to tell their stories. Her film, along with the other three commissioned for the exhibition, will be shown at the Serpentine first, and then, in April, in Barking Town Hall, at the heart of the community whose stories Sonia is amplifying.
And just a few miles from Barking, a permanent public art project by Sonia is now complete: a 1.8-kilometre roadside mural, commissioned by Crossrail, which flanks the new Elizabeth line through Custom House, Silvertown and North Woolwich. Running along the entire length of the mural are short texts which tell the history of the area through the voices of the local community. For this work, too, Sonia embarked on a massive outreach project, talking to about 100 people of all ages and backgrounds, giving them her platform so that they could speak for themselves. One testimonial about North Woolwich enshrined on Sonia's mural caused upset on social media last year because of the line. "The only negative thing is the crime and the murders, which has been increasing." Crossrail removed it. "It's part of the process of working with other people," Sonia says. "In some ways it's what's fascinating about social relations – you can't always predict how people will respond. I like to think that's what keeps the work buoyant."
Hers is a complex and expansive practice that is finally getting the prolonged exposure it deserves. Publicly, she is breaking new ground as the first Black woman to represent the United Kingdom at the Biennale. But the work she is involved in behind closed doors is proving just as transformative. "It takes time, but I've enjoyed it," Sonia tells me. "Of course, there have been occasions when I have been really frustrated, but I feel like I've been in a slipstream that has been really, really rich."