Scarlett Johansson
Summons her superpowers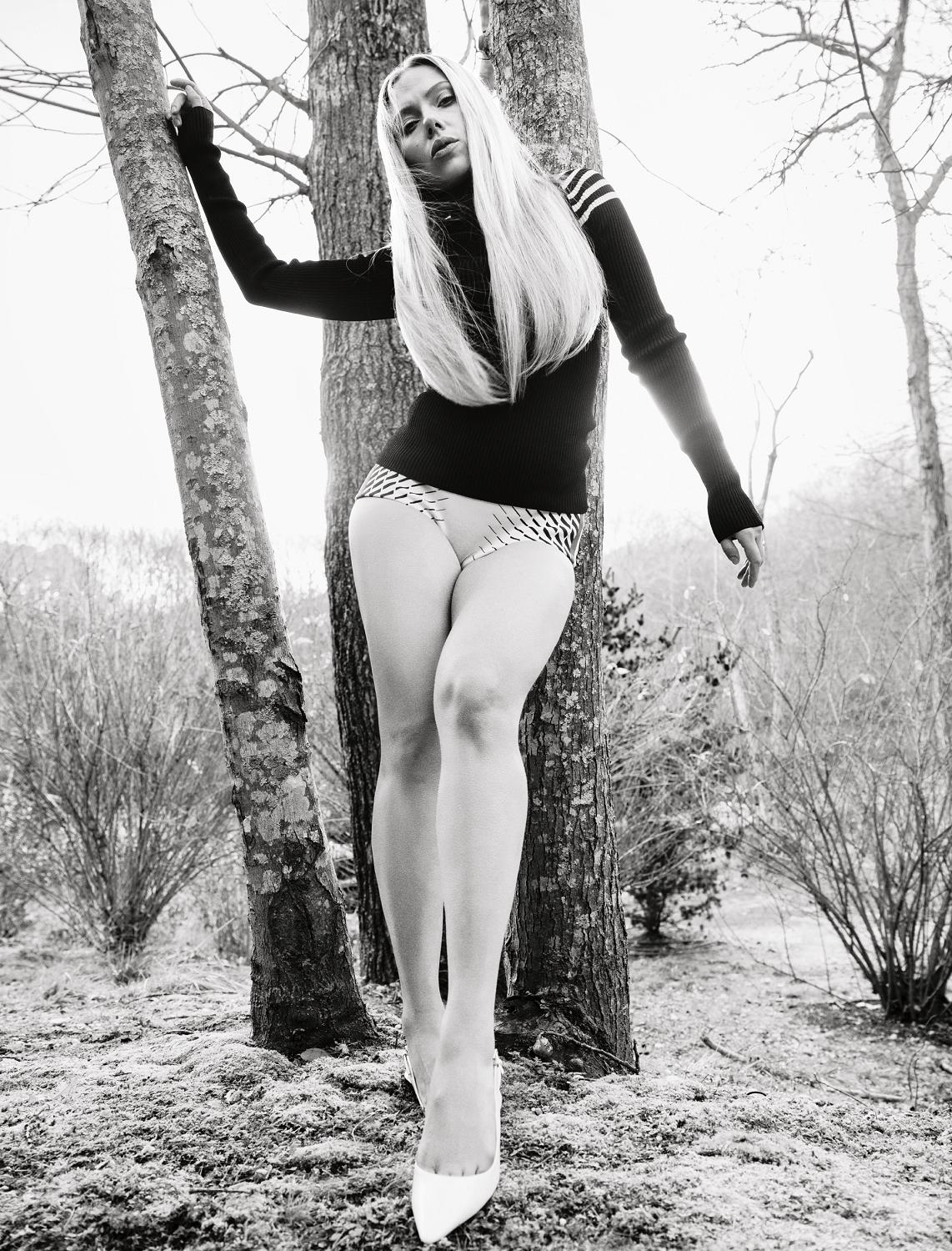 Back in the leather catsuit for the eighth time this summer, Black Widow, Scarlett Johansson's sassy Marvel character, has her own film at last. Over 30 years in show business, the 36-year-old actor has soared steadily from indie darling to box office draw, and she now has the powers to cast a woman in the director's chair. It's Scarlett's fanatical commitment to outlandish parts that keeps fans coming back for more. And with her own production company, she's free to make work as rich and as challenging as she is herself.
Hanging behind Scarlett Johansson, who's at home in New York, is a painting by the artist Lois Dodd, once described as the most famous painter of windows in America. It's a huge canvas, dominated by a deep purple dusk and a large clapboard house, one celebrated window lit up yellow, looming above Scarlett's head like an idea. "I was thinking maybe I could frame it so it looks like I'm in the painting," she says. It's one of those mid-Zoom thoughts you have as you see yourself, yet again, pinned in the corner of a screen.

Over the past year and its many Zooms, with the surplus of events on one hand and the lack of happening on the other, Scarlett has learned a few things about herself. "Well, I've never spent this much time off. Ever. In my entire life." She widens her eyes behind thick black-framed glasses. "I've been working for almost 30 years!"

She's 36.
"It's crazy," she says. "It's insane. I have a really long white beard that I shaved off just before this."
You could retire, I suggest.
"It's not even early retirement," she says, a little rueful.
From child acting – off-Broadway as a kid, Manny & Lo at 12, The Horse Whisperer at 14 – her career has grown exponentially and irrepressibly, indie to Marvel. She's not the kind of actor who, having hit the superhero jackpot, slides lazily into a plateau, making one film a year playing an approximation of herself. Instead, she's somehow retained the status of a character actor with blockbuster effect. Or, as Sofia Coppola, who directed her in Lost in Translation, the film that catapulted her career into the big leagues back in 2003, put it over email, "She's proven that she can be a bombshell and also a respected actress with depth and strength."
Over her years enmeshed in the Marvel universe, Scarlett has revealed a mastery of hand-to-hand stunt combat, but she's also given her character, Natasha Romanoff, the Black Widow, mystery and humour. "What's really great about her as an actor is she can't do fake," says Cate Shortland, the director of Black Widow, Scarlett's first stand-alone Marvel film, due to be released in July. "There's no BS; she has to believe it." Rachel Weisz, her co-star, agrees. "She is extremely talented and hard-working and passionate about her role. She's a straight shooter, very focused and clear about the story she is telling."
In return, the Marvel machine has given Scarlett incomprehensible wealth and genuine power. She was the highest-grossing female actor in Hollywood in 2018 and 2019 and now has the heft of a mogul: she can get movies made and hand-pick her directors. (Of the 49 women directors considered for Black Widow, the under-the-radar Cate Shortland made the last three and was then chosen after conversations with Marvel producers and Scarlett, who had liked her previous film, Lore. "It was about that connection," Shortland says now.)
Though Marvel tends to dominate the landscape, it's Scarlett's other roles that reveal her particular elasticity as an actor. She can stretch from a strangely loveable disembodied voice (Her) to a haunting alien killer (Under the Skin), from a synchronised-swimming 1950s movie star (Hail, Caesar!) to a devastated divorcing actor (Marriage Story). She seeks characters that derail preconceptions – particularly those related to her beauty, the kind that has bamboozled male journalists for decades – and brings to them an alchemy of fanatical commitment, off-kilter wit and a sardonic intelligence that often reveals itself in perfect, ironic opposition to the wide-eyed, credulous expression on her face. Over email, the director Noah Baumbach, who wrote the part of Nicole in Marriage Story specifically for Scarlett, recalled moments in the film "where nothing is spoken and her face says everything. It's that thing when the internal becomes external. And a close-up can be the greatest shot imaginable."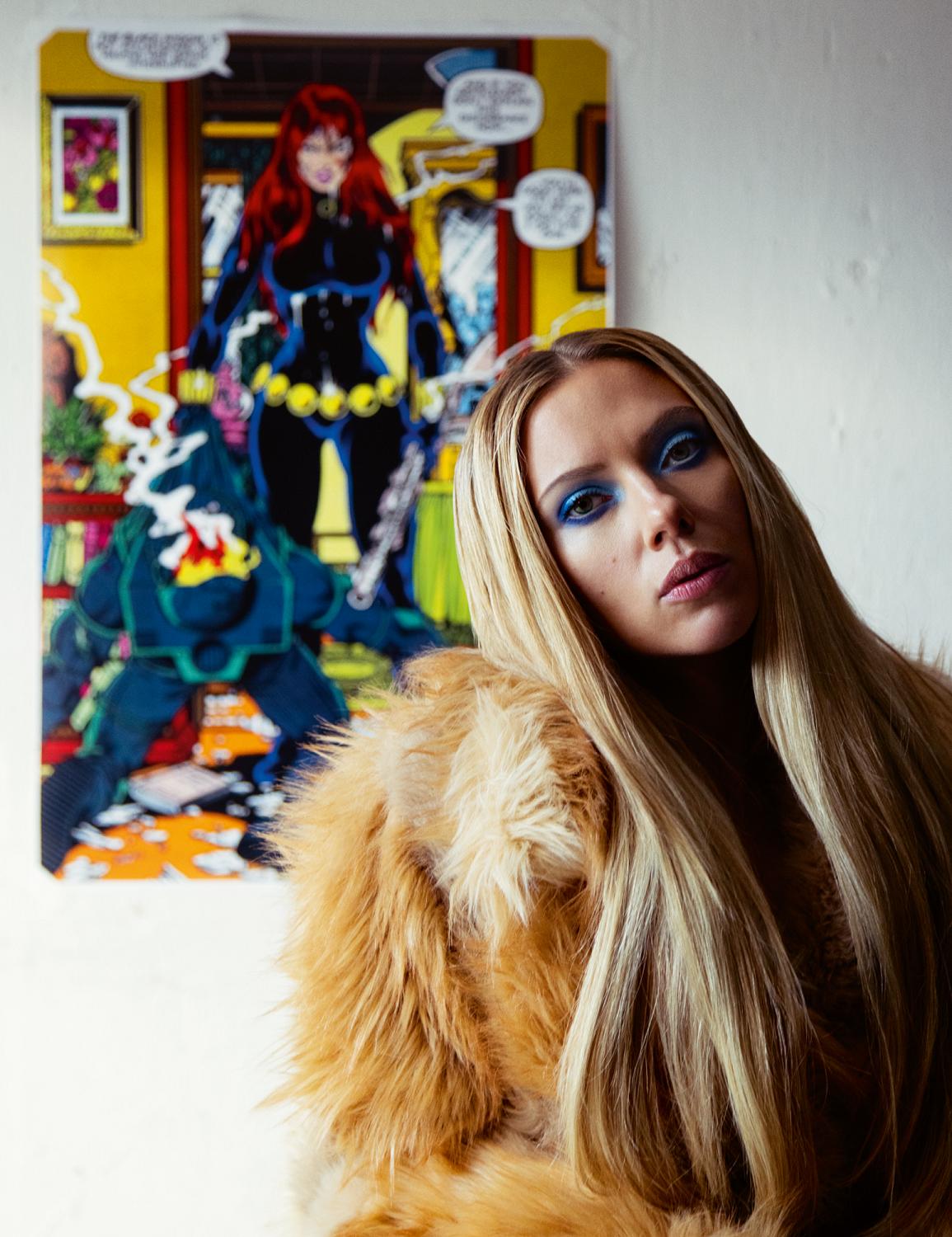 Not that there's been much acting of late. When the world came to a halt, Scarlett found herself "kind of flummoxed," she says. "I don't know, I was having an out-of-body experience." Without a film to make, she found herself adrift, flirting with a minor existential crisis. "At the beginning, I was doing all this crap that everyone was doing – like, I'll start learning how to play guitar," she says, in one of a number of soliloquies during our conversation that veer between earnest self-interrogation and stand-up. "Whatever. In between panicking. And then that stuff sort of faded away, and I realised actually that I exist pretty well in this space. I realise I don't have to be constantly in motion to survive, I think." She pauses. "I've always had this fear of, what if everything goes away, what will become of me? It's this great fear of the unknown, and now I've been that way for some time, I realise, Oh, actually, you're still alive." She smiles and adds cheerfully, "It probably comes from some fear of death, anyway."
Scarlett grew up in New York, is New York to her bones. She now splits her time between the city and a house on Long Island with her third husband, Colin Jost, a co-head writer on Saturday Night Live, and her daughter, Rose, who is seven. Scarlett wears Rose's name on a silver chain round her neck that she fiddles with as she talks. (Rose's father is the French journalist Romain Dauriac, Scarlett's second husband, who she divorced in 2017. Her first husband was the actor Ryan Reynolds.) Rose helped her to contain the pandemic-induced crisis. "Eventually you have to accept that this is going to take the time it's going to take," Scarlett says, "and I had to be there for my daughter, obviously, immediately, like all parents. That's very grounding."
Scarlett herself grew up the joint youngest of four children. Her parents, Karsten Johansson and Melanie Sloan, had Adrian, Vanessa, and then the twins Scarlett and Hunter. She is three minutes older than Hunter. "Those are very important minutes," she says. "Probably the most important, actually." Scarlett can twist most conversations into comedy: one-liners flow. ("She is very funny," Weisz says, "bawdy even. Unpretentious. Always making jokes on set.") At one point, when I use the expression "pissed off" and apologise for its peculiar Britishness, she turns a fierce glare to the camera and drops her voice an octave: "I'm familiar with your kind."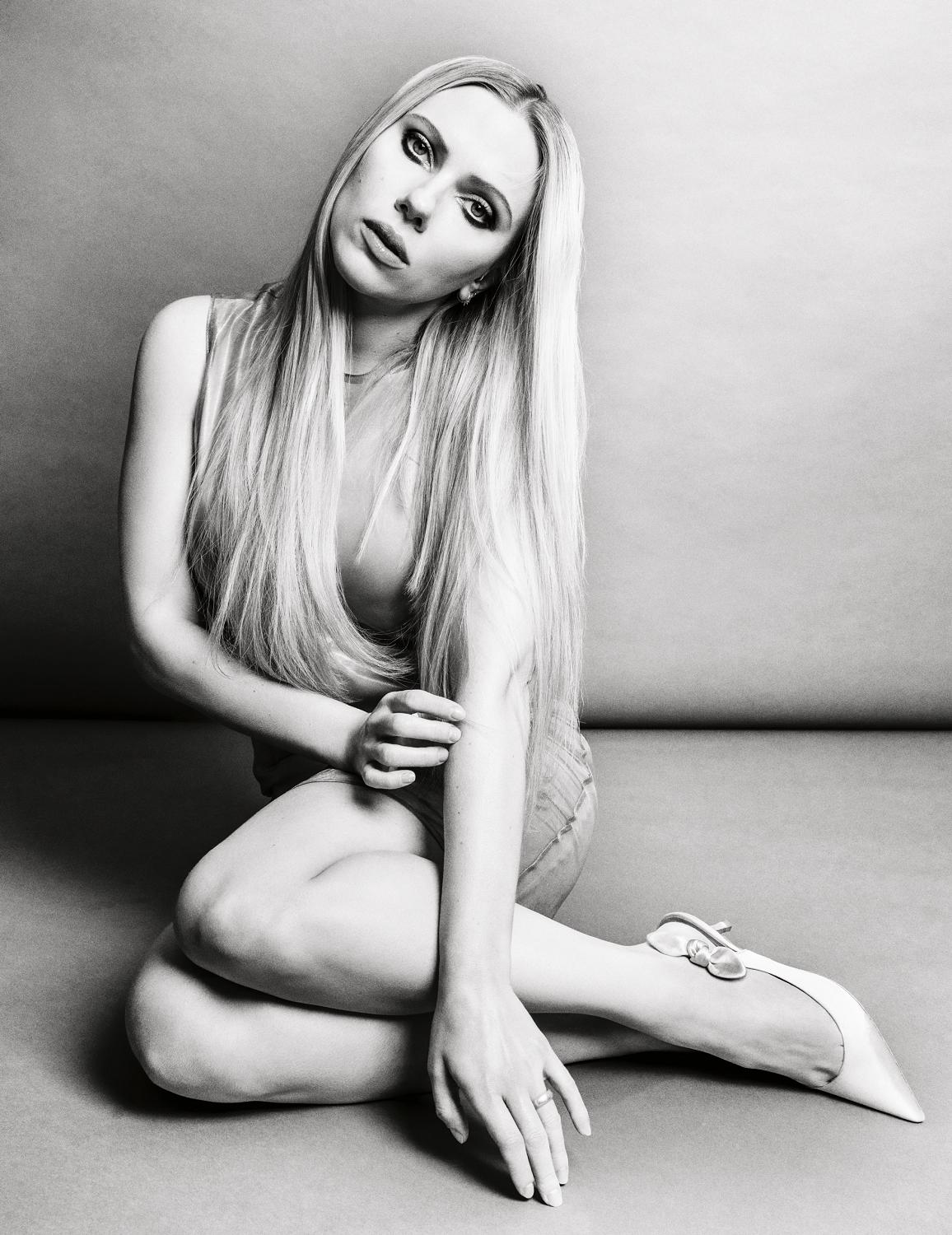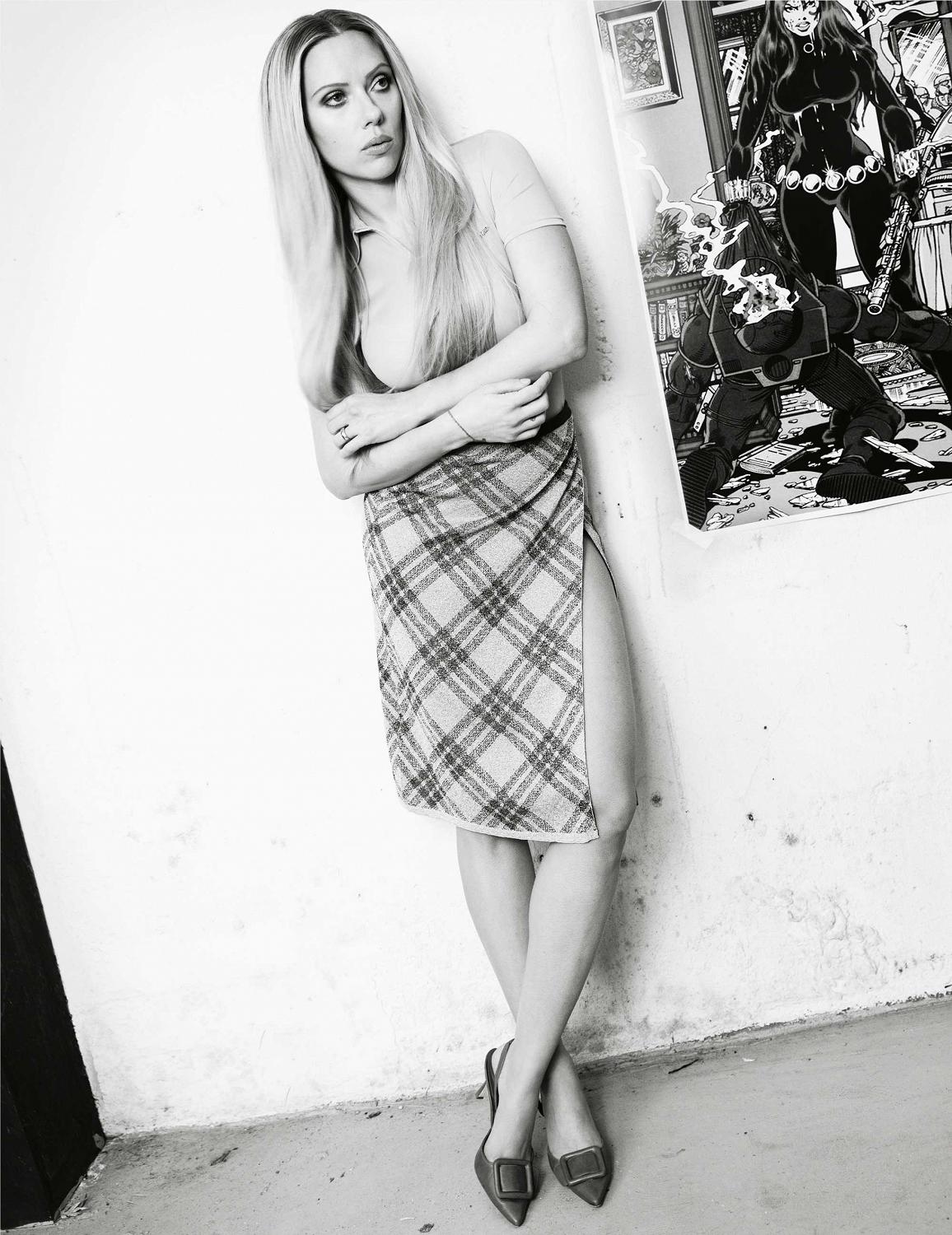 The wit she credits to her Danish father, whose humour also incubated the family vibe: siblings constantly ribbing each other, she and her older brother egging everyone on. "And of course," she says, "I was very showy. I organised family contests and shows and parties and fake restaurants. I loved to get everybody to participate in that. I'd harangue Hunter into starting a restaurant, making a menu, charging people to get them stuff from the kitchen. Do a science contest. Everyone in the family had to come up with a science project. And I guess that was before Google, so people really had to figure it out."
She wouldn't have let them off the hook: she'd have wanted reactions and explosions, white coats, fireworks. If Scarlett is going to do something, she's going to do it. You can see it in her work, in the way she plays a scene, like a passing moment in the opening montage of Marriage Story in which Nicole is playing Monopoly with her husband, Charlie (played by Adam Driver), and their son. In a shot that lasts a couple of seconds, Scarlett looks so engrossed in the game that you imagine they were playing for real, for days. The film is Scarlett at her best, her performance ranging from abject misery as her divorce unfolds to a literal song-and-dance number. Even now, she says, she finds herself texting Baumbach with ideas about how they could have done a scene differently. She's a self-declared "messy actor", always wanting to play a moment a hundred different ways, getting it wrong, making it better. And she finds it hard to let go. "I'll think about stuff I should have tried," she says. "I'll get ideas for work I've done a long time ago."
Professionally, Scarlett met her match in Baumbach. When they first met to discuss the part of Nicole, she was going through her second divorce, and you can see the rawness in her performance, the jagged edges of grief, tenderness and fury entwined. "We shared many stories about our past relationships, and some of what she said is in the movie," Baumbach told me. "She was always very open. Someone else might have run from this story for the very reason that she embraced it. I'm indebted to her for that."
Near the beginning of the film, Scarlett has a long monologue in which the character gives an account of her marriage to her lawyer (played by Laura Dern, who won an Oscar for her performance). During the course of the one-take, five-minute shot, she swerves from happy memory to raging frustration, her whole life spilling out. Baumbach described how he'd give Scarlett a note between takes "and she would listen in this way she has where she reveals nothing. On camera her face is so expressive, but in real life she can be quite intimidating, because you can't read her. As I got to know her better, I now see this as deep concentration and feeling. She's trying it on inside. And then she'd go right back into a scene in a way that reminds me of a great athlete going back into a game. She'd start from the beginning, again finding the true emotion the scene required, then execute exactly, precisely what we had discussed."
"Noah could talk things out forever," Scarlett recalls. "Forever. He could spend hours just talking through one scene, and it becomes part of our life. He loves to pull all that stuff apart. I miss that, I miss that part of my job. The problem-solving, figuring out why stuff is not working – that's the fun stuff." Though even she has limits. One day on set, Baumbach told her how he couldn't stand lunch, the interruption. He wanted to keep going, keep working. "I was like, 'Dude, everyone needs lunch, OK? I want lunch. I like lunch.'"
"The problem-solving, figuring out why stuff is not working — that's the fun stuff."
Scarlett talks about her directors constantly, as co-creators who wrestle out characters with her. She talks about how Taika Waititi, the director of Jojo Rabbit, is "another species of human", able to invent dialogue on the spot. And how Joss Whedon, the director of the first Avengers movie in 2012, had an infectious love for Black Widow. Scarlett might never have been Black Widow at all; Emily Blunt was originally cast in the role but pulled out, committed to another film. After 2010's Iron Man 2, Black Widow's first outing, Whedon pitched her The Avengers. Scarlett was deeply sceptical. "Even the thought of all of us together in our superhero costumes sounded like it was going to be a disaster," she says. "Not a disaster, but, like, What is this? What is this?"
Now that the Marvel universe is a cultural behemoth, a franchise that has not only dominated cinema for years but become its own commercial force (2019's Avengers: Endgame took $2.8 billion at the box office, more than any other film ever), it's hard to imagine such uncertainty. Scarlett sensed they were on to something before the cinemas packed out. In The Avengers, there's a scene where the heroes stand in a circle – Hulk, Iron Man, Hawkeye, Black Widow, Captain America, Thor – and the camera whirls around them as New York burns. "I remember doing that 360 shot, and we're standing in the rubble of Grand Central or whatever, of this alien onslaught, and all of us are ready, like: Here we go, this is it," Scarlett says, almost excited, as if she's back in her catsuit, poised. "And then they showed us the playback, and I think that was the moment that all of us, finally, after six months of shooting, were, 'Oh, this is going to work. I think this is going to work.'"
Seven films and nearly a decade later, Black Widow finally has her own show. Making the film was gruelling, with four months of multiple locations and a relentless schedule. "It was like being in the army," Cate Shortland says. By the end, Scarlett and her co-star Florence Pugh were both shooting while ill with pneumonia. But on set Scarlett was always buoyant – and irreverent. "She's completely unpretentious," Shortland says, "and that makes her really fun to be around. She'll be joking with the best boy or the runner; there's no hierarchy. She appreciates people, and she makes people feel appreciated."
The final film, its director and actor hope, will bring a new depth to the Marvel universe. "She really pushed to make something that wasn't flimsy or superficial," Shortland says. "She wanted to make something that meant a lot to young people and to women. And she knew it was possibly her last film as Black Widow – she didn't want to leave Marvel making a feel-good movie." After all these years, they both felt Black Widow deserved a more thorough portrait. "She's always been a part of something bigger than herself, and now that's all gone," Scarlett says. Was it nerve-wracking to carry her own piece of the franchise? "Yeah, it was exposing," she says. "But it was time, you know?"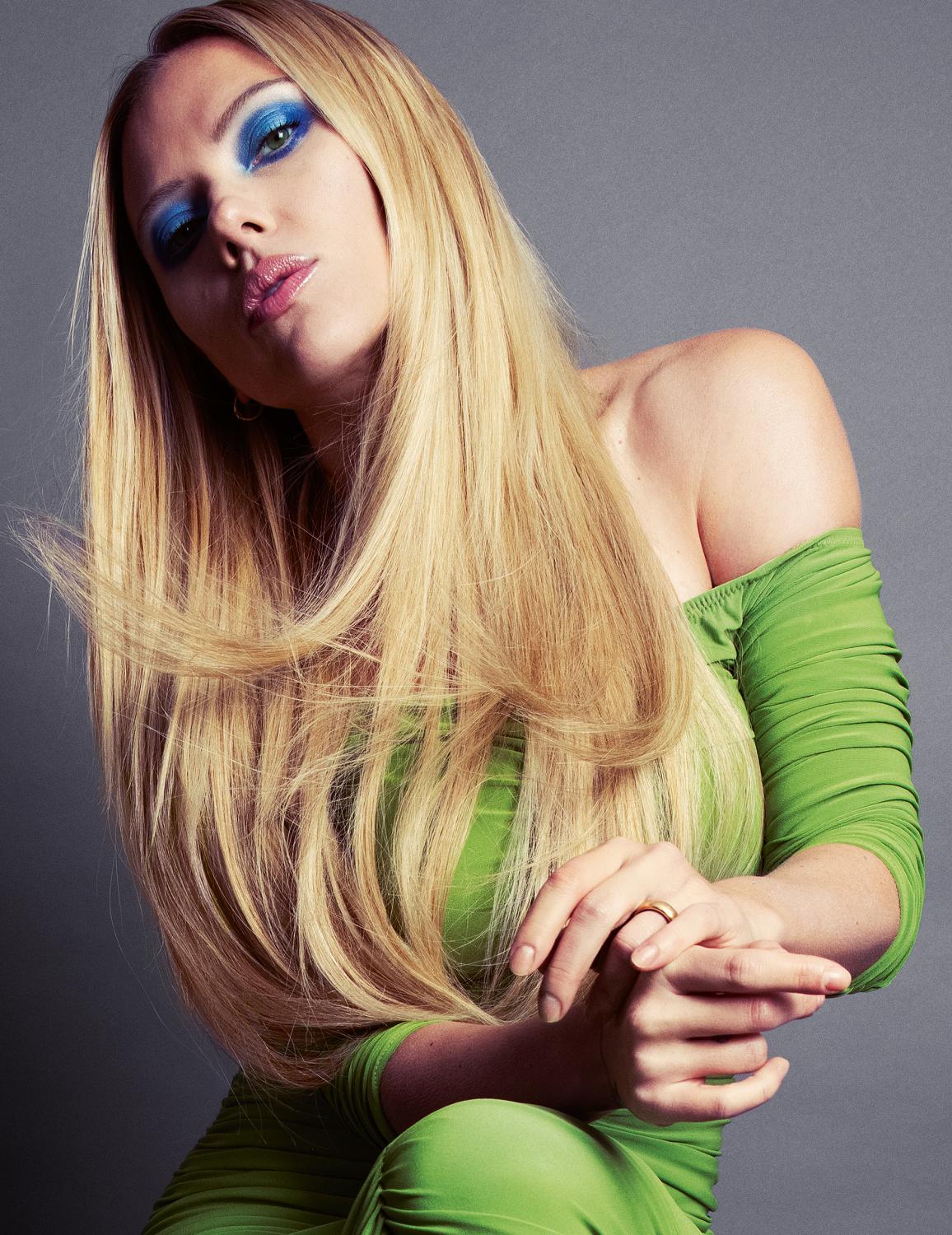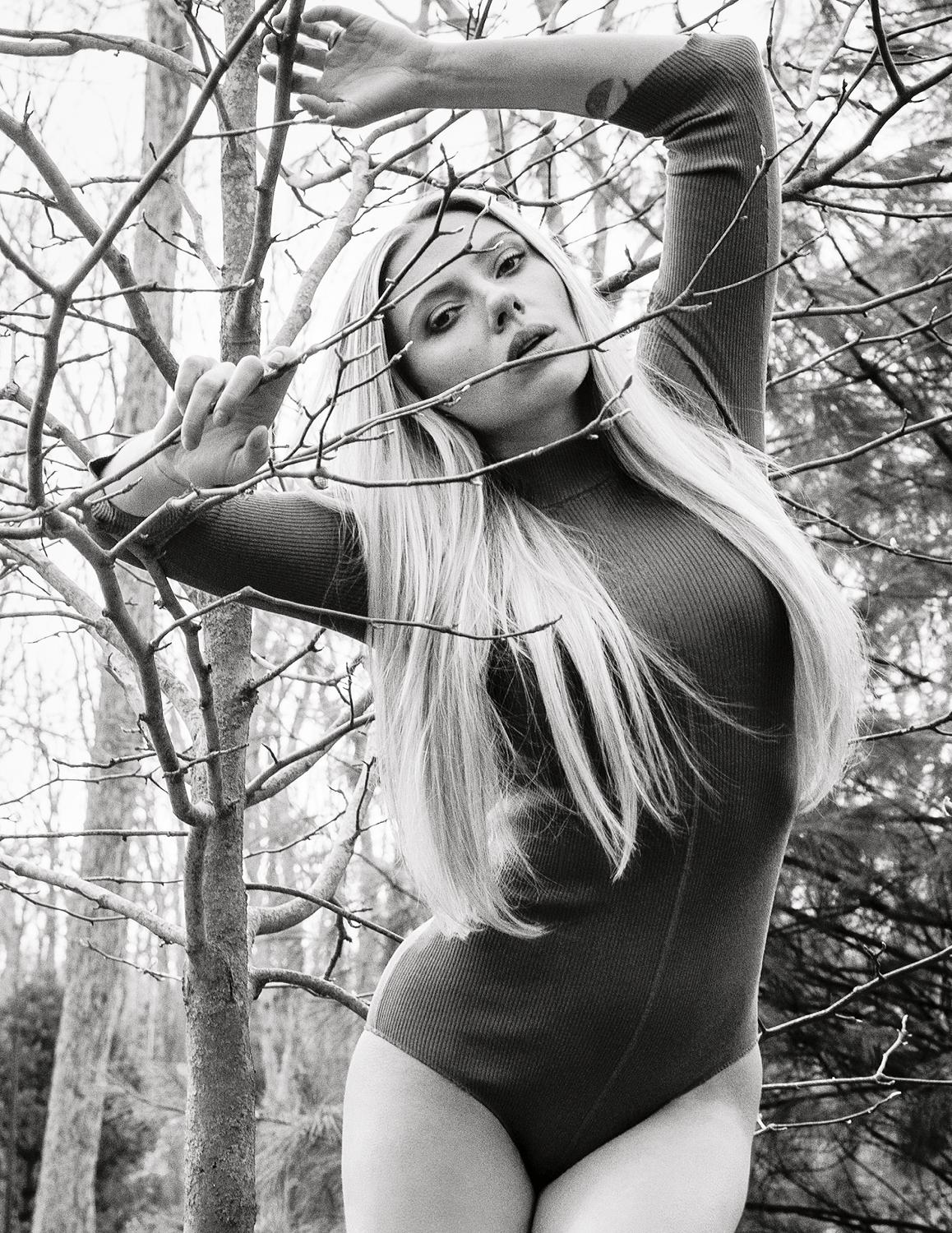 Marvel has propelled its stars into some new layer of the atmosphere. You make that much money from a film – Scarlett earned $56 million in 2019 – and it ceases to make sense. Unless you're on the US TV comedy show Saturday Night Live, where it becomes the butt of a joke. She's hosted SNL a rare six times now – only 11 others, including Tom Hanks, Tina Fey and Alec Baldwin, have done so more than five times. Colin Jost puts Scarlett's success on the show down to her background in theatre. "Besides being a great actor, Scarlett has a lightness to her performance that really helps when you're doing a variety show and have to constantly switch between characters," he tells me by email. "She's funny, which it turns out makes a big difference."

Being host gives her the famous opening monologue and the chance to goof around in sketches dressed up as an alien or an air hostess, or even Black Widow, and embrace Jost to whoops from the crowd. "The sixth time is even more exciting than the fifth, because you're not worried any more. If the show's bad, what are they going to do, fire my fiancé?" she quipped in her opening monologue on the show in December 2019. "Oh no!" she said, to delighted laughter. "What will we do without his pay cheque?"
It looks like a relief, the comedy – a way to strip some of the reverence away from her celebrity and to mock the inexplicable scale of her earnings. Wealth confers power, and power is weird when you're an actor. It's hard to know what it means, or what you can do with it without appearing painfully self-important. Scarlett has used hers pointedly – giving a speech at the Women's March on Washington in 2017, for example. Politics has long been in her blood: her grandmother Dorothy Sloan used to take her to political meetings as a child. Her twin, Hunter, has been an activist for years, and Scarlett has often joined him to campaign nationally and locally. In a speech at an event during Scott Stringer's campaign to become New York City comptroller in 2011, she revealed an understanding of technical, but vital issues – housing, fracking – that felt a little different. "She stands up for what she believes in," Sofia Coppola says, "and does so in her own individual way. It never feels like she's going along with the pack."
But Scarlett has also found herself at the centre of storms provoked by some of her more uncompromising positions. "Yeah," she says drily about her apparent attraction to controversy, "I've made a career out of it." First there was the manga adaptation Ghost in the Shell, for which she was accused of whitewashing: taking a part that should have gone to an Asian actor. Then came her decision to play a transgender character in the film Rub and Tug, which she at first defended. "Tell [media outlets] that they can be directed to Jeffrey Tambor, Jared Leto and Felicity Huffman's reps for comment," ran her initial statement, referring to other actors who have played trans parts. (An outcry followed, and she later withdrew from the role, releasing a follow-up statement to Out magazine: "I've learned a lot from the community since making my first statement about my casting and realise it was insensitive.") She has also provoked intense criticism by professing continued loyalty to Woody Allen, who has been accused by his adopted daughter Dylan Farrow of sexual abuse.
Looking back on the impact of the various rows, she seems a little weary, but she has also clearly put herself through a process of self-interrogation. On one hand, she says, "I'm going to have opinions about things, because that's just who I am." But equally, she knows that sometimes she has simply made the wrong call. "I mean, everyone has a hard time admitting when they're wrong about stuff, and for all of that to come out publicly, it can be embarrassing. To have the experience of, Wow, I was really off mark there, or I wasn't looking at the big picture, or I was inconsiderate." She sighs, shrugs. "I'm also a person."
Something she's been trying to learn is when to say things and when not to – "recognising when it's not your turn to speak," as she puts it. "I can be reactive. I can be impatient. That doesn't mix that great with self-awareness." But she also hits back a little at the idea that she has a particular political or social responsibility as an actor, that her status automatically requires her to set some kind of spotless example.
"I don't think actors have obligations to have a public role in society," she says, launching into another soliloquy. "Some people want to, but the idea that you're obligated to because you're in the public eye is unfair. You didn't choose to be a politician, you're an actor. Your job is to reflect our experience to ourselves; your job is to be a mirror for an audience, to be able to have an empathetic experience through art. That is what your job is. Whatever my political views are, all that stuff, I feel most successful when people can sit in a theatre or at home and disappear into a story or a performance and see pieces of themselves, or are able to connect with themselves through this experience of watching this performance or story or interaction between actors or whatever it is. And they're affected by it and they're thinking about it, and they feel something. You know? They have an emotional reaction to it – good, bad, uncomfortable, validating, whatever. That's my job. The other stuff is not my job."
Scarlett patrols her boundaries carefully, and one way she limits her public persona is by having zero presence on social media. She remains doubtful about the possibilities of digital life. "I'm already anxious, I already have tons of friend guilt, I can't ever stay in touch with people! How can I be more connected?" She's seen friends disappear down social media sinkholes, becoming obsessed with how people respond to them, entranced by the reflected image of themselves they get from their followers, good or bad. "It creates this unrealistic sort of sense of ego," she says.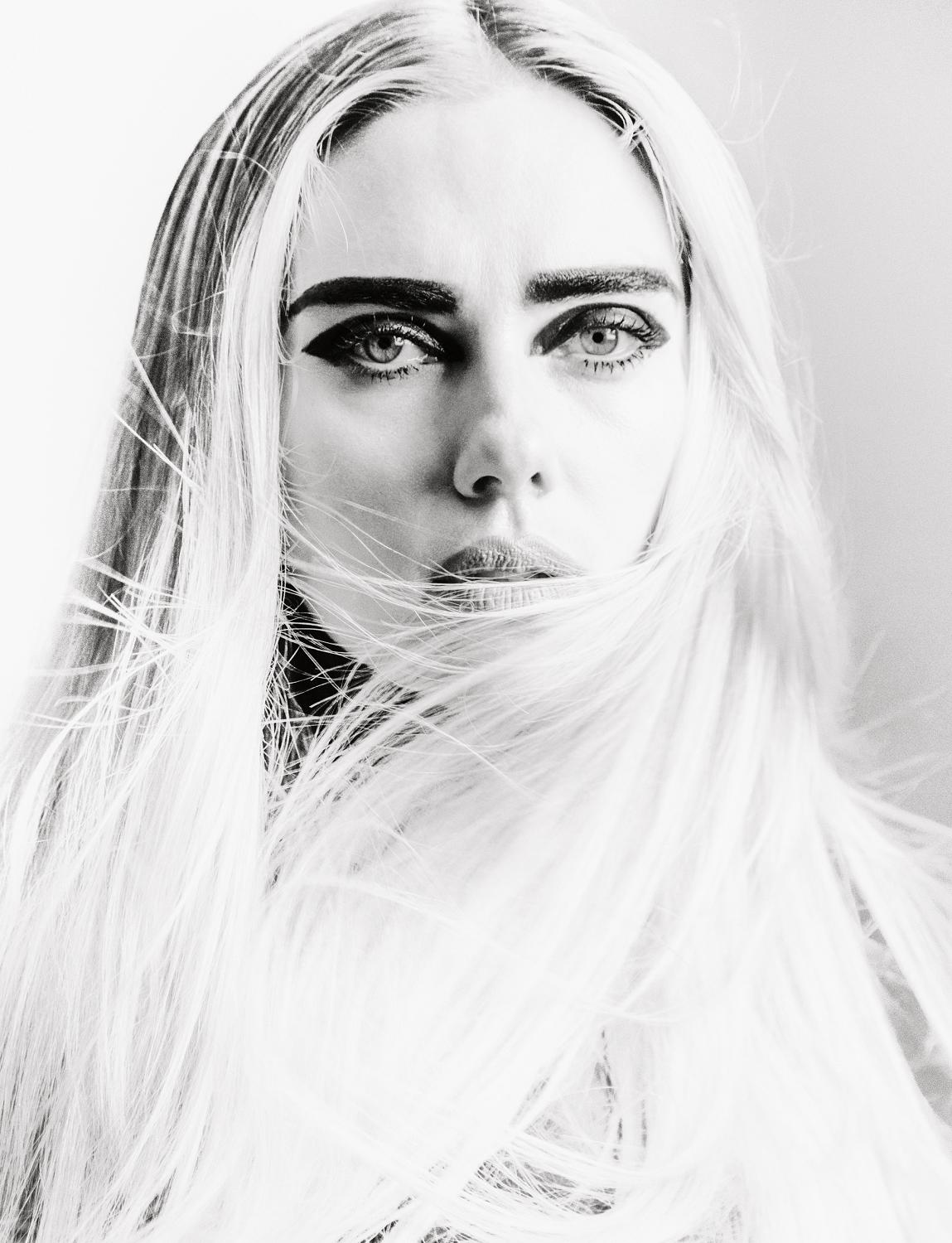 "Of course, whatever you say, whether it's politically correct or not, any statement you make, or how you live your life, people are obviously going to take issue with it. We judge each other all the time. We judge ourselves constantly. I think people equate that connectivity to being self-aware. To me, it's different from being self-aware. And reacting to everything that's coming at them through this fucking thing" – she holds up her pink-covered iPhone like it's a weapon, an expression of undiluted antipathy on her face – "your sense of reality is completely skewed. It's not normal to be that exposed. You can be exposed whenever you're in the public eye, but to then be on the receiving end, like a raw nerve, of all this stuff back? It's too much!"
Hard as it is to access at the moment, Scarlett puts her faith in the physical reality of people. "It's incredible how if you talk to people – not type to them – that's how you grow," she says. "Listening to people, learning their experience, sharing that, seeing it with your eyeballs." It's the messy acting philosophy: embrace imperfection, get things wrong, learn.
On election night, 3 November 2020, when Donald Trump briefly seemed to be pulling ahead, Scarlett went to bed at her house in Long Island and couldn't sleep, she was so upset. At 6am, Hunter texted, and she told him to drive out to see her. They set up camp on the sofa for the next few days, intermittently drinking wine and cooking, watching the numbers slowly change. When Joe Biden's victory was announced, Scarlett was back in New York. "You could hear people losing their minds outside, and I just cried. It was a pretty crazy reaction. Oh my God, it's over. It felt like the end of a war, you know?"
So what comes after the war? At the very least, the presence of a reassuring grown-up in the White House. "I said to Colin, it feels like when your life is falling apart and an older person, your parent's friend or your uncle, is like, 'It's going to be OK.' And you're like, 'Aaargh!'" Scarlett melts into a comedically grateful collapse at her imagined avuncular version of Joe Biden.
As for her own life, she can't imagine acting again yet, given all the continuing Covid restrictions. "I just can't work. I don't think the conditions that are required to work right now are conditions that I could work comfortably under. I'd rather wait until I could work in an environment where we can be connected to one another." She checks herself. "I know people are just happy to have a job. Fortunately, I don't have that urgency."
In any case, she hasn't actually stopped. She can't help it. Scarlett goes to the office of her production company, These Pictures, most days. Recently, she's spent a lot of time on the phone talking to the director Sebastián Lelio about their next project, Bride, a film about an entrepreneur who manufactures the ideal wife. (It doesn't go well.) Their conversations were her lifeline during lockdown, she says. "They gave me something to dream about." Anyway, there's always something to be done. After we hang up, she has to go and write some script notes. "I have tons of crap going on," she says, with a wide grin. "I'm going to go into the office and work."

Order your copy of Issue nº23 here, now.