Sandra Oh
The outstanding Ottawan actor is killing it on TV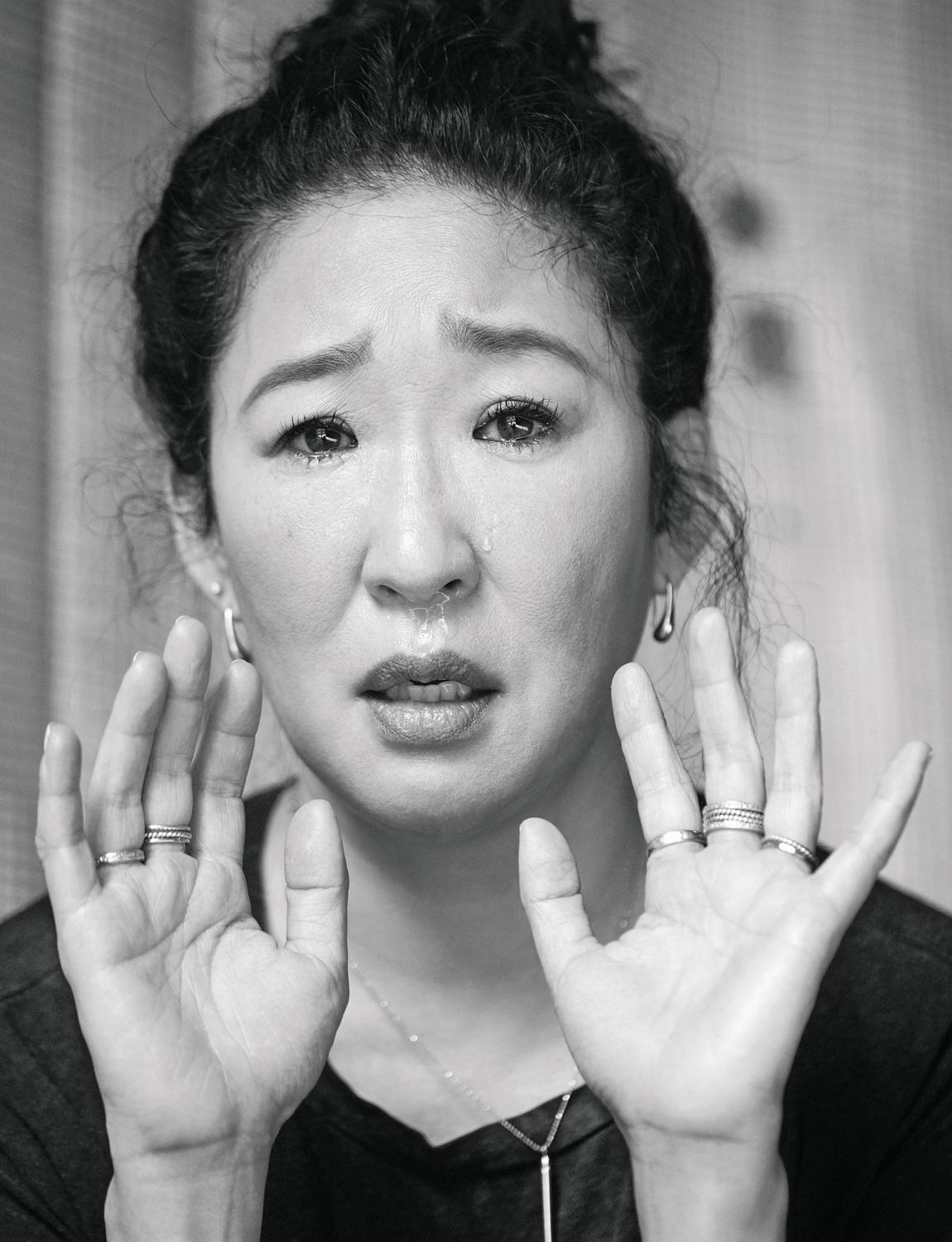 2018 is turning into a historic year for Sandra Oh. The Korean-Canadian actor has been a fixture since 2005, when she strode onto TV screens as Dr Cristina Yang, the foil to Dr Meredith Grey in Grey's Anatomy. But it's only now, as Eve Polastri in the wildly successful spy thriller Killing Eve, that Sandra is garnering acclaim in a prime-time leading role — and has received the first-ever best actress Emmy nomination for a female actor of Asian descent.
She knows it's just one small step, but the hilarious Sandra, 47, plans to play her part.
Sandra Oh has prepared a picnic for me. When I first meet her in Los Angeles on a chilly, grey late spring day – the kind where the air spits a fine mist that never becomes full-fledged rain – I find myself momentarily disoriented. She's Dr Cristina Yang, the ambitious, pragmatic, sardonic surgeon she portrayed on Grey's Anatomy for a decade. And she's Eve Polastri, the ordinary bureaucrat turned female-assassin-obsessed British agent she now plays on Killing Eve, the zany spy thriller for which she has just been nominated for an Emmy. As Sandra pulls the blankets she has brought from her linen bag and I hear her voice – that sonorous, familiar, no-nonsense voice – I have the weird déjà-vu feeling you get when you run into a famous person in public and ask, "Do I know you from somewhere?" Except I know exactly where I know her from.
We have met at "the meadow", a large, open-to-the-public swath of green lawn at the Silver Lake Reservoir. It's located on the Eastside, in the more urban part of the city where the artists tend to live, not far from Sandra's home. Following the two blankets, one purple and one white, a set of colourful cloth napkins emerges from the bag, then a trio of sandwiches on baguettes (ham, veggie, salami), salted dates soaked in rosewater, quinoa, tabbouleh and Moroccan mint tea. It's all rather exquisite, and slightly magical, like I'm dining with Mary Poppins. Sandra's clothes are also impeccable, expensive-looking and very pale (a yellow-and-grey double-breasted herringbone jacket, canary yellow trousers, pristine white canvas trainers). But the ground is spongy and wet, so we spread the blankets out on a bench that faces a path. "I love this shit," Sandra says, motioning to all the accoutrements, and then pulls out two cans of Babe rosé, an offbeat note in all this perfection. "I brought us some sparkling wine," she adds, in a mischievous stage whisper. "Because it's fun."
Sandra is as meticulous, thoughtful and deliberate as all the effort she has gone to would suggest. But she's also not fussy or precious. There's an earthiness to her that comes from her startling honesty: a relentless quest to get to the marrow of truth in every situation, however awkward, uncomfortable or potentially embarrassing.
This characteristic is arguably the hallmark of her acting, and it's especially true on Killing Eve. Sandra plays Eve, an MI5 functionary who, as a distraction from her staid life, fangirls over female assassins, and whose excellent instincts get her invited to head an MI6 team tracking a female contract killer who goes by the name of Villanelle. On the most basic level, the show is a spy thriller, a cat-and-mouse chase, with the traditionally male leads played by women. We've seen female detectives (Clarice Starling, say, in The Silence of the Lambs) and, less often, female assassins (Nikita), but we have not seen a show like this, about two women in
a psychological – and psychosexual – tangle with each other.
Killing Eve, which is based on the Villanelle novellas by Luke Jennings, was also developed by a woman, Phoebe Waller-Bridge, of the bleakly hilarious BBC sitcom Fleabag – Killing Eve's executive producer Sally Woodward-Gentle was the mastermind behind this pairing – and Waller-Bridge has fleshed out two female leads that are so uniquely, indelibly specific that the series transcends all the clichés of the genre. Villanelle is not your usual femme fatale but a beautiful young psychopath whose looks and powers of seduction are secondary to her competence and skill as a killer. She is an aesthete who fancies costly perfume and chic clothes (the hot-pink Molly Goddard dress and Balenciaga boots she wears to be psychologically assessed by her bosses will go down in television fashion history), which she buys with her earnings. And she's an amoral child forever in search of a mother figure. Eve, by contrast, is a quirky, embarrassingly awkward fortysomething paper-pusher who is too smart for her job, a woman of appetites and intensity who is straining unawares under the tedium and banality of her life. "Eve has a very normal, slightly boring but lovely life," Sandra says, "but I think what she carries is that she wants more. She doesn't even know how much she wants more until this thing starts pulling her, and then she just follows it."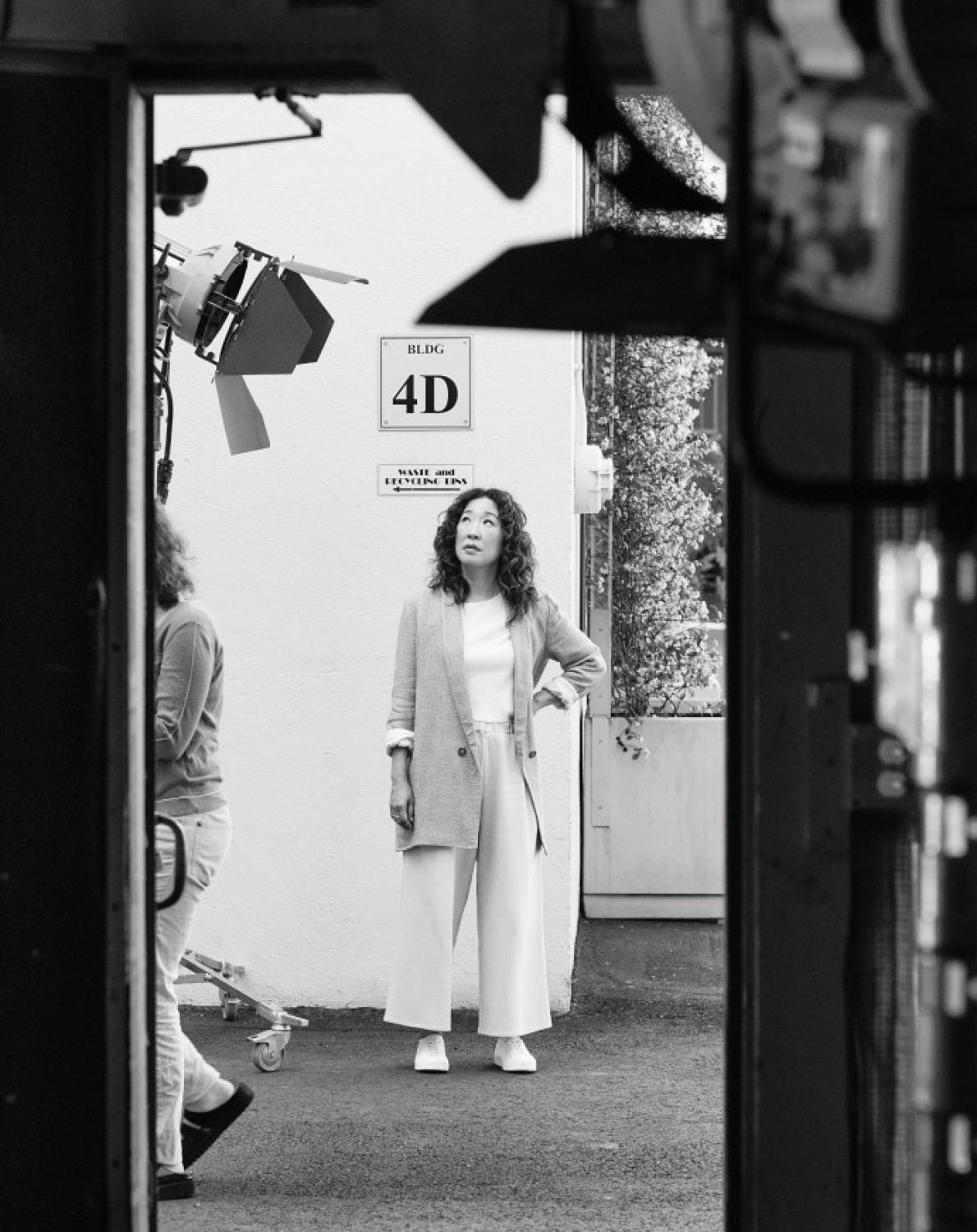 Sandra, who is 47, was born in Canada, in Nepean, a small town outside Ottawa. She is the middle child of three in a hard-working, success-oriented family. Her parents were part of the first wave of Korean immigrants to come to North America as students after the Korean War. Her father, Joon Soo, is an economist who worked for the government. Her mother, Young Nam, is a biochemist. Sandra's older sister, Grace, who lives in Vancouver, is a prosecutor for the crown; she has two teenage daughters. Sandra's brother, Ray, is a medical geneticist; he lives in Boston and has two toddler sons. Sandra loves being an aunt and travels often to see her nieces and nephews. "I take that seriously, man," she tells me.
Sandra describes her childhood as "a very, very typical Korean upbringing – lots of church, lots of golf." Her parents, devout Christians, placed an emphasis on schooling, piano lessons and achievement. Sandra was pigeon-toed, so her mother enrolled her in ballet lessons, which she loved. But when she was 11 or 12 and it was time to audition for schools, she realised ballet wasn't her calling ("I didn't have it; I wasn't talented enough," she says), and she began to channel her performative energy into acting, at the suggestion of her sister. Her first role was as the Wizard of Woe in an operetta called The Canada Goose. "Zap!" she says, in her unaffected way. "I put a spell on something." In high school, she acted in plays and performed in the Canadian Improv Games, a countrywide improvisational competition. By the age of 15, she had an agent and was appearing in corporate videos, including one about salmonella food poisoning. "I had a great time in high school," she says. "I was performing all the time."
Her decision to attend the National Theatre School of Canada was "a tough thing" for her parents to accept. In past interviews, she has said she's the only one in her family without a master's degree. "My sister and brother are both highly educated, my parents are highly educated," she tells me. "They didn't really understand what acting was." But it didn't take them long to come around. It helped that she was being cast in films, and her parents, as she puts it, "could actually see what I was doing."
"I was tapping into a certain kind of rage, of a woman betrayed."
While still at college, Sandra was cast in three films, each of which called for a young Asian female lead. The first, The Diary of Evelyn Lau, was a 1994 Canadian television production in which Sandra portrayed a real-life teenage runaway and drug-addicted prostitute who became a celebrated poet and novelist. It was on the set of Evelyn Lau that Sandra met Mina Shum, who had a small role as a translator. The two women would go on to make three independent films together about the Chinese-Canadian immigrant experience. "As soon as I saw Sandra, and did a scene with her," Shum says when we talk, "I realised she was the real deal." On a lunch break, Shum leaned over and asked Sandra how old she was, given that she was playing a 14-year-old. When she learned Sandra was 21, she said, "I'm a filmmaker. When you come to Toronto, let's get together."

They did indeed get together: in September 1993, Shum and Sandra went to a screening of The Joy Luck Club, Wayne Wang's adaptation of Amy Tan's novel about four Chinese immigrant mothers and their American-born daughters. It was a seminal experience for them. Sandra has said that they were "shuddering, weeping" upon seeing the film, which featured Chinese actors. "Weeping more than really the film deserved." Shum tells me that "it was the only film either of us had seen that reflected where we came from. Seeing our stories reflected, seeing strong women that looked like us – we bawled our eyes out." Right then, both women had a glimpse of the importance of their collaboration. "We projected into the future of our work together," Shum says, "and we knew what the resonance would be."
Two and a half months later, Shum would get the green light for Double Happiness. Sandra captivates as Jade Li, a young Chinese-Canadian woman with acting dreams who struggles to find independence from her immigrant family. "Did you feel that way?" Sandra recalls her mother asking. "When those films came out, they started to see there was substance to my choices," Sandra adds.
Double Happiness was celebrated on the festival circuit, winning a special jury prize at the Toronto International Film Festival, and it earned Sandra a Genie Award from the Academy of Canadian Cinema & Television. Janet Maslin, writing in The New York Times in 1995, called it "wry and winning" and said, "Oh's performance makes Jade a smart, spiky heroine you won't soon forget."
"I absolutely thought, 'This is the way life is,'" Sandra says in a singsong voice, mocking her own naiveté about her early success. While she didn't exactly have the wilderness years many actors do, she spent the next decade in smaller supporting roles. For seven seasons, from 1996 to 2002, she was the brightest light on the HBO comedy Arli$$, portraying the kooky, sassy and genuinely funny Rita Wu, the moral girl Friday to a ruthless sports superagent. Here, her gift for physical comedy was amply on display, recalling actresses like Lucille Ball and Rosalind Russell.
Then she was cast in the 2005 film Sideways as Stephanie, a biker who pours wine for tourists and has arguably the most iconic scene in a film full of memorable scenes. She beats up Jack (Thomas Haden Church), the man she's been sleeping with – breaking his nose with her motorcycle helmet while simultaneously crying and screaming at him – after learning he plans to marry someone else. It's a bittersweet moment, funny but also profoundly sad, and Sandra's performance is exhilarating. She recounts that the film's director-screenwriter Alexander Payne, whom she had married on 1 January 2003 (they divorced in 2006), told her to "tap into all that Korean female rage". People often talk to her about that scene, she says. "I think it's because it was true – I was tapping into a certain kind of rage, of a woman betrayed. And the fantasy that people have of being able to beat up the person who betrayed them."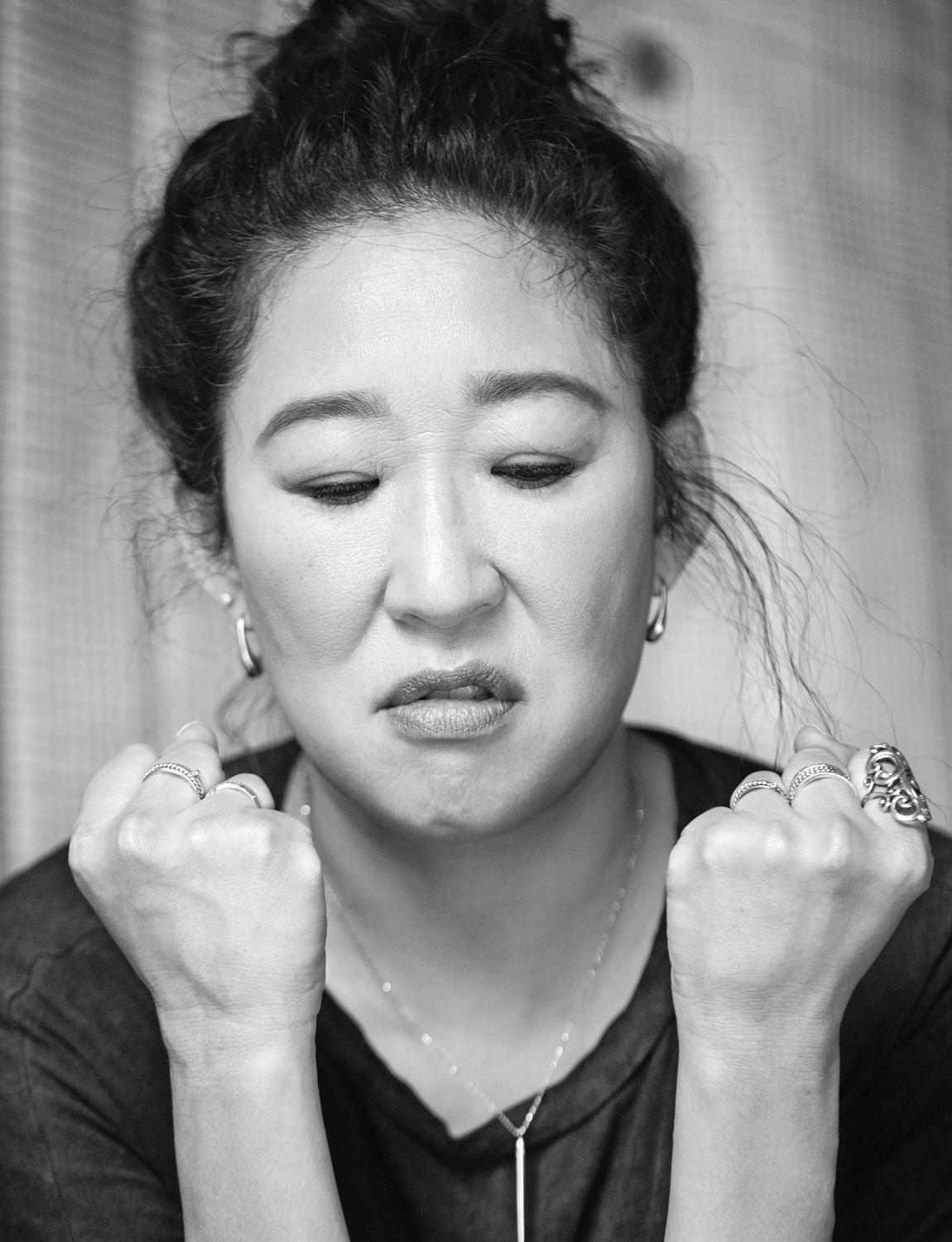 The following year, she began her tenure as Dr Yang, bestie to the equally dark, twisty and hardcore surgeon Meredith Grey, in Grey's Anatomy. "Sandra Oh walked in my door to audition and forever changed the course of Grey's Anatomy with her brilliant, nuanced portrayal of Cristina Yang," Shonda Rhimes, the series creator, has said. Sandra played the prickly, driven, passionate Dr Yang for a decade, garnering five Emmy nominations and a Golden Globe award, all for best supporting actress. She was Dr Yang for so long (220 episodes over 10 seasons), and the show wove itself so deeply into popular culture (coining "McDreamy", "McSteamy" and "vajayjay", with Yang herself popularising the term "my person") that for many people Sandra became synonymous with her character.

The cast infamously put in 15-, 16-, 17-hour days, 10 months a year. And among them, Sandra, who was reportedly paid $350,000 an episode – that's roughly $7.7 million a year – had a reputation as the hardest-working. Her fellow actors admired her diligence and joked about the Post-it notes to herself she stuck all over her script.
Sandra left Grey's Anatomy at the end of season 10; her final episode aired on 15 May 2014. "I really felt like I'd done all I could do in a deeply creative way with that character, and it was just time," she says.
In the four years since, she has, she tells me, "kept on working, just not in a way that has a larger reach". She has done two films (Onur Tukel's 2016 Catfight and Mina Shum's 2017 Meditation Park); three plays, including Death and the Maiden ("You know, a little light play") two weeks after she finished on Grey's; and a four-episode arc on the TV series American Crime. But until Killing Eve, she has not appeared in anything that remotely approaches the visibility of weekly network television – though old episodes of Grey's are aired constantly, and binge-watchers love to stream it. "The show is playing," Sandra says. "It's just on in the universe."
Sandra was drawn to Killing Eve by the "psychological dance" between Eve and Villanelle, played by Jodie Comer. Anyone who watches it will tell you that Eve, a character who offers so much weird human reality to mine, is as gloriously perfect for the multifaceted Sandra as Dr Yang was. As the show progresses, Eve begins to lose control – in one scene, she shatters the glass of a bus shelter just to see it break; in another, she stops her car and confronts Villanelle unarmed – and her unravelling is riveting to behold. "Sandra attaches herself to the very guts of her characters," Phoebe Waller-Bridge tells me by email. "She is incredibly ambitious about finding the truth at their heart and is forensic about her character's journey. She was not afraid of playing Eve scared or weak."
One of the most delicious aspects of Killing Eve is that it moves beyond a simplistic flipping of gender roles to sidestep the male gaze, upturning all the conventions of the spy thriller along the way. Women are defined by what they do, by their careers and what drives them – killing, hunting a killer – rather than who they are in relation to men. In fact, the female characters aren't all that interested in the men. Instead, they seduce each other, in the creepily precise way that women would. This is what the show gets so right. Villanelle sends Eve expensive perfume and beautiful clothing in her exact size. "I think about what you're wearing and what you're doing and who you're doing it with," Eve tells Villanelle when they encounter each other in the surprising finale. "I think about what friends you have; I think about what you eat before you work and what shampoo you use and what happened in your family… I think about what you have for breakfast. I just want to know everything." Eve and Villanelle want to be each other, perhaps even more than they want to fuck or kill each other.
Among the many reasons Sandra is so right for the part of Eve is that the particular quality of her acting suits the dark but droll tone of the show, which ricochets from violence to camp to near-slapstick to drama to bone-dry witticisms. Fiona Shaw, who plays the eccentric Carolyn, MI6 honcho and Eve's boss, characterises the tone as one of "unapologetic humour". Killing Eve's wackiness exists right up alongside its brutality, and Sandra has the sort of expressive, protean face that easily moves among registers. "Sandra is able to play so many things in one moment: scatty yet focused, insecure about her position yet confident in her instincts," Waller-Bridge says. "She flips between comedy and drama with such incredible dexterity." But there is also a grounded quality to her – I'd argue it comes from her voice – that stops the show from descending into farce. "She's got a voice that makes people feel OK," Shum says. "It's sturdy."
"I had a very, very typical Korean upbringing — lots of church, lots of golf."
Sandra has a knack for playing intense female characters that don't feel hysterical, brittle, robotic or unhappy. I ask her if she is intense, and therefore drawn to such fierce characters. She thinks for a long time, perhaps answering my question without saying a word, and then says rather philosophically, "Why are we attracted to certain forms of art and not others? It's because that's who I am right now. Why do I like that? It's because I see myself." She explains that early in an acting career, you take the jobs you get – she didn't know that Grey's would be a 10-year commitment or that she'd become so closely aligned with her character – but that it's also true that acting allows her "to embody the more intense parts of myself".
She tells me how much thinking she did, for example, about the meaning of the dress that Villanelle gives Eve and that Eve then puts on. "It's that kind of work of endowing things, or finding what the meaning is, and doing all that digging," she says, "putting it into your back pocket so that when you show up on set, you're completely free." During filming, she adds, she was so focused she lived "like a nun" – she didn't drink or go out and routinely ate fish, rice and broccoli for dinner. "It's hard for me to multitask," she says. "When I get focused on a thing, it's just that." Fiona Shaw tells me by phone that Sandra "keeps herself very balanced, like an athlete" and that "she's fantastically focused on the craft of the thing." A moment later, she adds, "Sandra has got an element of Eve in her."
Initially, Sandra didn't realise she was being asked to play Eve. I mention that I'd read an interview in which she'd talked about scrolling through the script and not knowing which part could possibly be for her. She sighs heavily. "I really wish I hadn't done that," she says. "The reason I'm feeling vulnerable about it is because it was a real awakening moment for me. I couldn't figure it out. 'OK, who am I supposed to be here?'" It was her agent, Nancy Gates, who told her. "'Eve! Honey. Honey. You're playing Eve!'" Sandra does a raspy voice. "And I just felt so exposed." Her voice fills with emotion, and she sounds as if she might cry. "In that moment," she says, "I realised I had been in that belief for so long" – the belief that the main character wouldn't be for her, which she'd internalised to such an extent that she "didn't even bother looking for it".
She turns to face me, perching on the edge of the bench. "And I'm fully aware that I have been working consistently for the past however many years," she says emphatically. "So if I am thinking this, what are my brothers and sisters thinking? Racism exists. It just does. Yes. I don't know how anyone can say otherwise."
According to a recent study by USC's Annenberg School for Communication and Journalism in Los Angeles, not much has changed in the 25 years since Sandra and Shum saw The Joy Luck Club. Two-thirds of the top 100 films of 2016 had no Asian actresses in them. "There aren't enough – not anywhere near – Asian-American faces up there to represent our population," Sandra says. She wants to help to change this. That Eve's race is utterly incidental to the plot of the show and in fact goes entirely unmentioned is certainly one step towards the normalisation she talks about. And a month after we meet, Sandra receives a historic Emmy nomination: she is the first woman of Asian descent to be nominated for best lead actress in a drama series.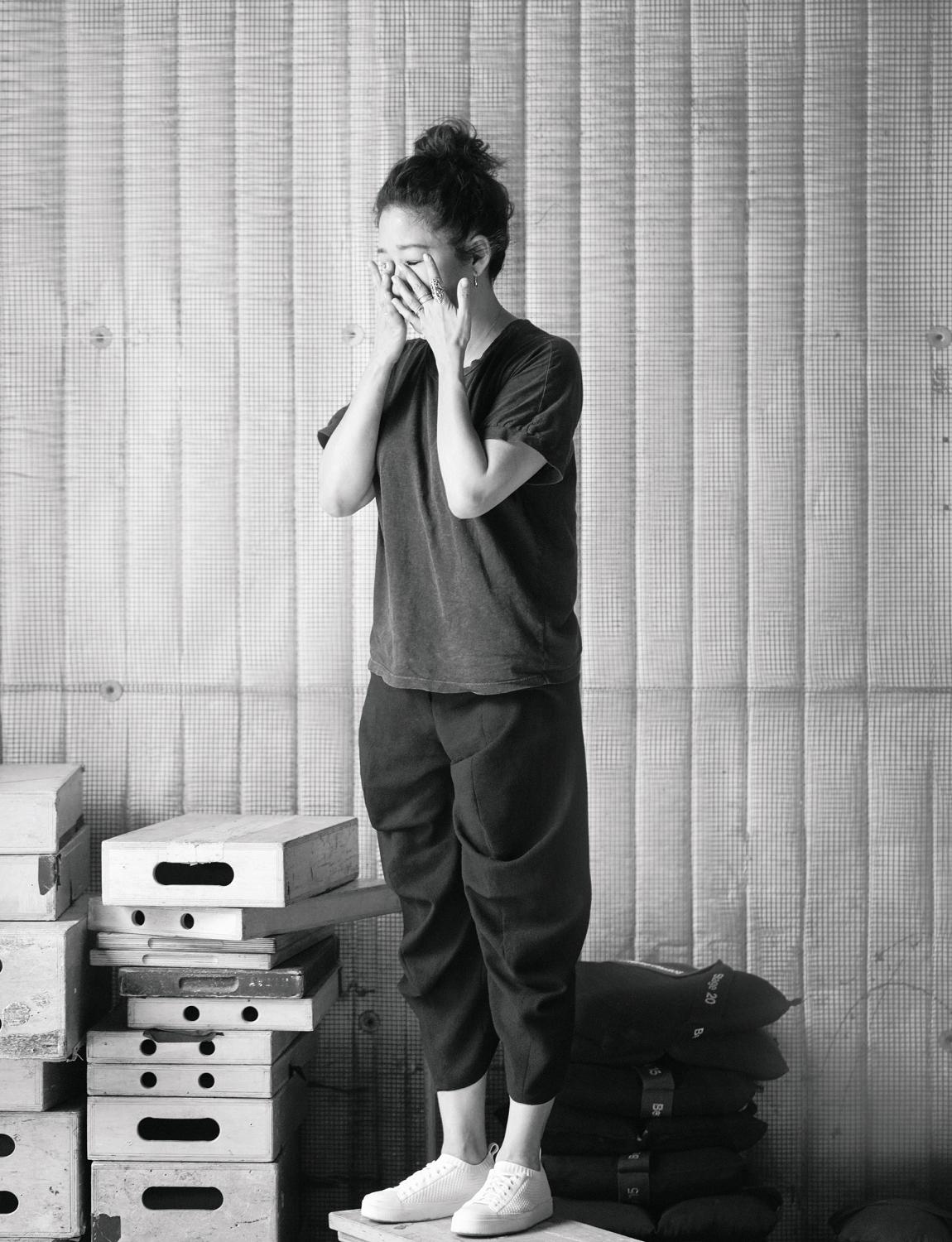 We are deep in conversation when a woman runner comes hurtling towards us, screaming in a British accent.

"Oh my God! I just binge-watched!" she hollers. "I watched the fin-ah-le last night! Oh. My. God!"
"Thank you!" Sandra says, laughing.
"But you left me hanging!" the woman screams.
She is referring to the cliffhanger that had aired three nights earlier, to 1.25 million viewers – 85 per cent more than the first episode. (Killing Eve's audience gains from week to week have been better than any scripted show's in a decade.) The series ends with a scene so electric and unexpected you can't stop thinking about it.
"What's happened?" the woman yells.
"Well, I'm going to go and figure it out in a month," Sandra says. Killing Eve shoots on location in Europe, and in a week's time she will leave for London ahead of shooting the second season, with six and a half months of filming to begin in Paris a few weeks later. (A premiere date for season two has not yet been set, but season one will be shown on the BBC this month.)
I remark that she's just been recognised as Eve, not Cristina Yang, and Sandra says this is happening with increasing frequency. "It's slowly turning from Grey's to Killing Eve." Recently, en route to get a travel visa, she stopped in a beauty parlour in the Crenshaw neighbourhood of South Los Angeles, and the owner recognised her. "The Korean owner comes up to me, and she says, 'Aren't you that lady on' – usually it's Grey's Anatomy – 'Aren't you that lady on Killing Eve?' And I'm like, 'Yes! Yes, I am!' Can I tell you, it could not have made me feel better. And then she tells her client, an African-American woman, 'Oh, you should see Killing Eve.' You can feel the shift."
The finale brings up one of the most interesting and least-discussed elements of the show: the age gap between Villanelle and Eve. That Eve is older by 15 or 20 years makes the tension between them far sexier. Our talk turns to ageing, which Sandra calls "fucking great", because you start to hold the reins of life with "a loose but confident grip". She grows animated. "Let's just talk all about this," she says, cracking open a can of rosé. She means babies and menopause. "I feel like there's some sort of fog for women that they're going to be able to have kids forever." Sandra doesn't have children, by choice. "It was like, Do you want to be a single mom while you're working on the show? Because I was still working on Grey's. Do you want to have that life?
"It's actually a gift that there is a timeline, that there is an actual physical timeline," she says. "Because your body is going to change, you have to deal with reality. And to deal with the reality, you have to know what you want and who you are. We come to it faster, women. Society has taught us this is negative. But it's like, that is such bullshit!" She laughs. "All I know, all I dream of, is that on the other side of menopause is… Frances McDormand."