Rowetta
Magical then, sampled still, the mega voice of Rowetta.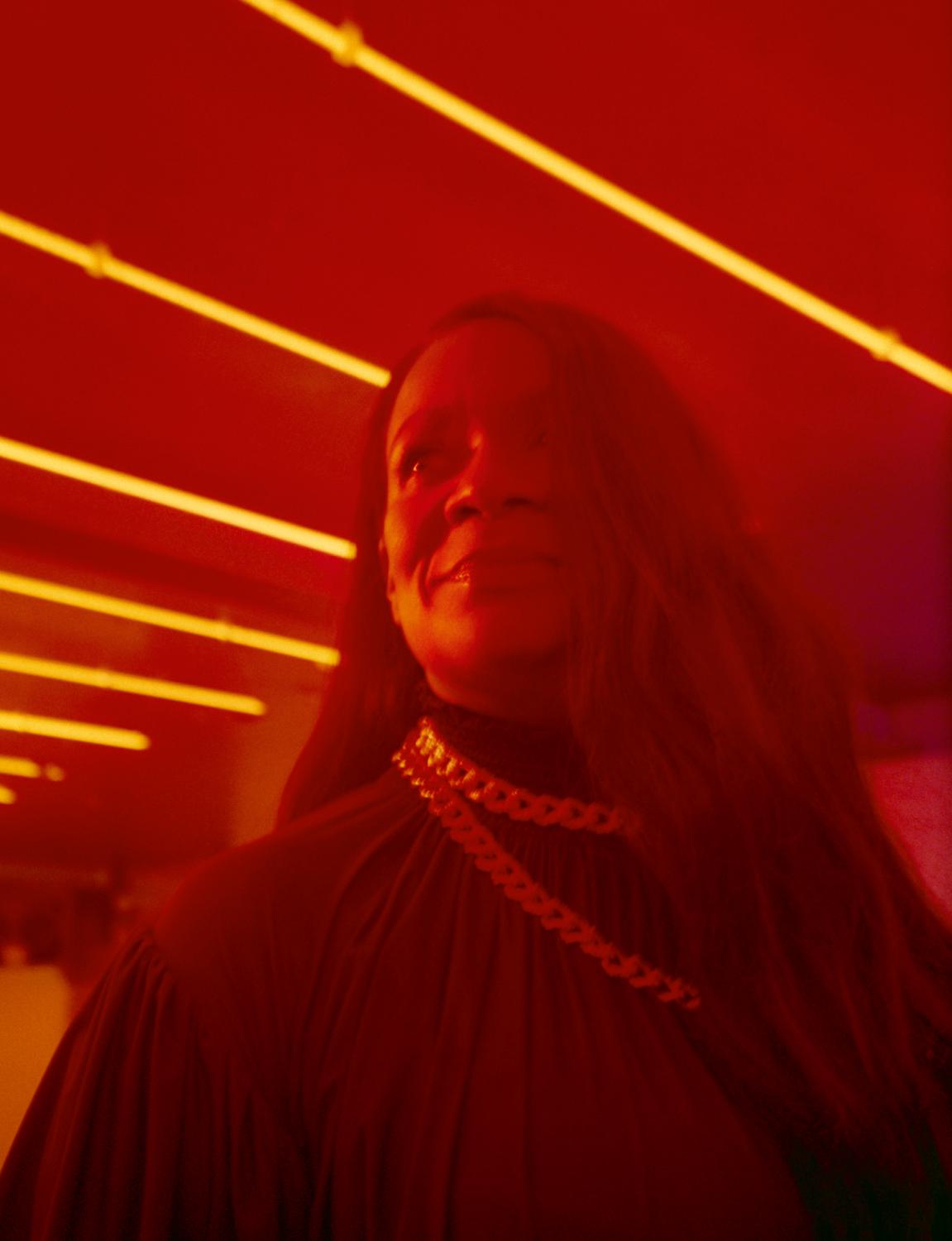 As the leather-and-latex-wearing singer of the Happy Mondays, Rowetta was the sizzle to the rest of the band's swagger. No mere sideshow, she stomped in the spotlight, commanding a generation to yippee-yippee-yi-yi-yay-yay-yay. Oh, that voice! Rowetta's story is as full-throttle as her act, and includes an assassinated politician father, teenage parenthood and The X Factor. At 55, Rowetta is still the go-to gal for a powerhouse vocal, and she's become an extraordinary ambassador for Manchester's profound cultural legacy.
You know the voice: gut-deep, ventricle-heavy with feeling, free from the ornamental melisma many singers use as a substitute for emotion. It's the voice that became the blueprint for the British house vocal on early club singles such as Sweet Mercy's "Reach Out" and Vanilla Sound Corps' "Back Where We Belong", tracks that were sampled incessantly on late-20th-century club mixes and are still being sampled in our EDM age. It became the beating heart of the Happy Mondays after Rowetta's campaign to become "the Gloria Jones to their T. Rex". Her vocals on "Step On" ("He's gonna step on you again / He's gonna step on you"), the first she recorded after joining the band in February 1990, give the song its timeless power. Outside pandemic times, Rowetta's still blasting them out of the park live today.
Where on earth does that voice come from? "No idea. Nobody in my family sings," Rowetta tells me from her home studio in Cheshire when we speak in early January. She is wearing a black T-shirt emblazoned with the legend "Working Class Hero" ("for John Lennon, of course") and sensible specs. Her long hair rolls over her left shoulder like a waterfall. "My mum used to say, 'Can you be quiet, love?' And I was thrown out of the school choir for standing out. The same thing happened with Shirley Bassey, apparently."
Like many Mancunians of her generation, Rowetta likes to say that her life really took off at the Haçienda, Britain's most creatively ambitious club, founded in 1982 in an old yacht builder's shop in a semi-derelict area by New Order and Tony Wilson. Wilson was the mastermind behind Factory Records, a label with an aesthetic that changed how pop sounded and how it was sold. Manchester had been energised by punk in the late 1970s, with an arts, music and squat scene blooming around the brutalist estates of Hulme that gave birth to the Russell Club. There, the Factory hosted a night featuring post-punk bands. By 1987, early house was giving Factory a new purpose, and New Order were chart stars. It was the year Rowetta first went to the Haçienda. "I remember being on the balcony, looking down on this girl coming in, her braids swinging." Her confidence was infectious, and Rowetta "realised then, in that moment: I want to be like her."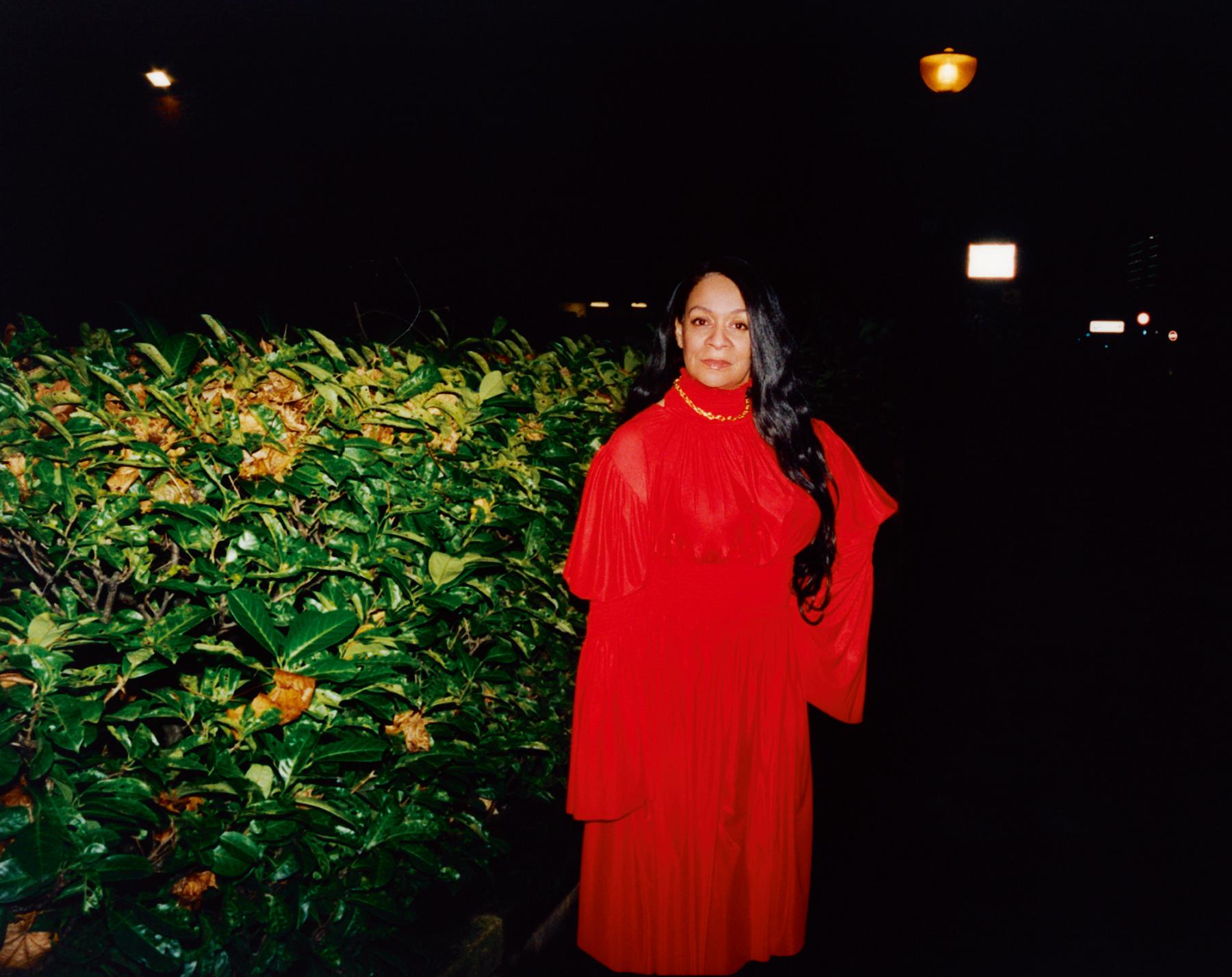 At the time, Rowetta was living in a refuge with her young children, in hiding from her violent husband. She was also doing a brief stint as a barmaid ("I was terrible at it – one drink for them, one drink for me"), singing as she pulled pints. Dave Rofe, a house DJ and regular at the Haçienda, heard her. They made a track together. Then she did another with the short-lived Dynasty of Two: the pioneering house DJ Graeme Park, also a Haçienda regular, and the producer Mike Pickering, who signed the Happy Mondays to Factory Records, launched the legendary Nude night at the Haçienda that foresaw rave culture, and went on to form M People. (In recent years, Rowetta has performed with Park and Pickering again live as part of their Haçienda Classical gigs.)
"Rowetta was much more quiet and timid than she is now," Park recalls of their first meeting, in 1988 in his studio in Derby. "I remember her going upstairs to record, and my God – I could not believe what I was hearing. You know who it is instantly when you hear her on a record," he adds. "It's like hearing Dolly Parton or Aretha Franklin." Those early songs of Rowetta's have, he says, continued to be sampled – even in the last decade, by the likes of David Guetta and Swedish House Mafia – because her voice is so distinctive. "From America, Loleatta Holloway and Rochelle Fleming from First Choice were those voices that were lifted. But in Britain, it was Rowetta."
In the early days of house, the female vocal was treated like a shimmering mirage, a heavenly sound rising from an electronic soundbed. Its source was conveniently forgotten, the singers sidelined as it got sampled and shared. "There was a structural bias in pop music," the journalist and broadcaster Miranda Sawyer says. "I mean, I never got asked to interview Rowetta when I spoke to the Mondays. I knew who she was. She was brilliant. Why wasn't I?"
Rowetta has her own theory about why she was often dismissed as a backing singer by those outside the Happy Mondays: "It's something that only happens to black girls," she says. She mentions Fergie from the Black Eyed Peas, Tulisa from N-Dubz and Ana Matronic from Scissor Sisters, solo singers who also sing in their groups. "I do the same as them. It's why I made sure I was credited as a singer from day one." Recognition is important, first and foremost, she says; the question of a fee and royalties is separate. "It's not about being in the spotlight, though. But I always did everything I could to make sure my name and my status was there."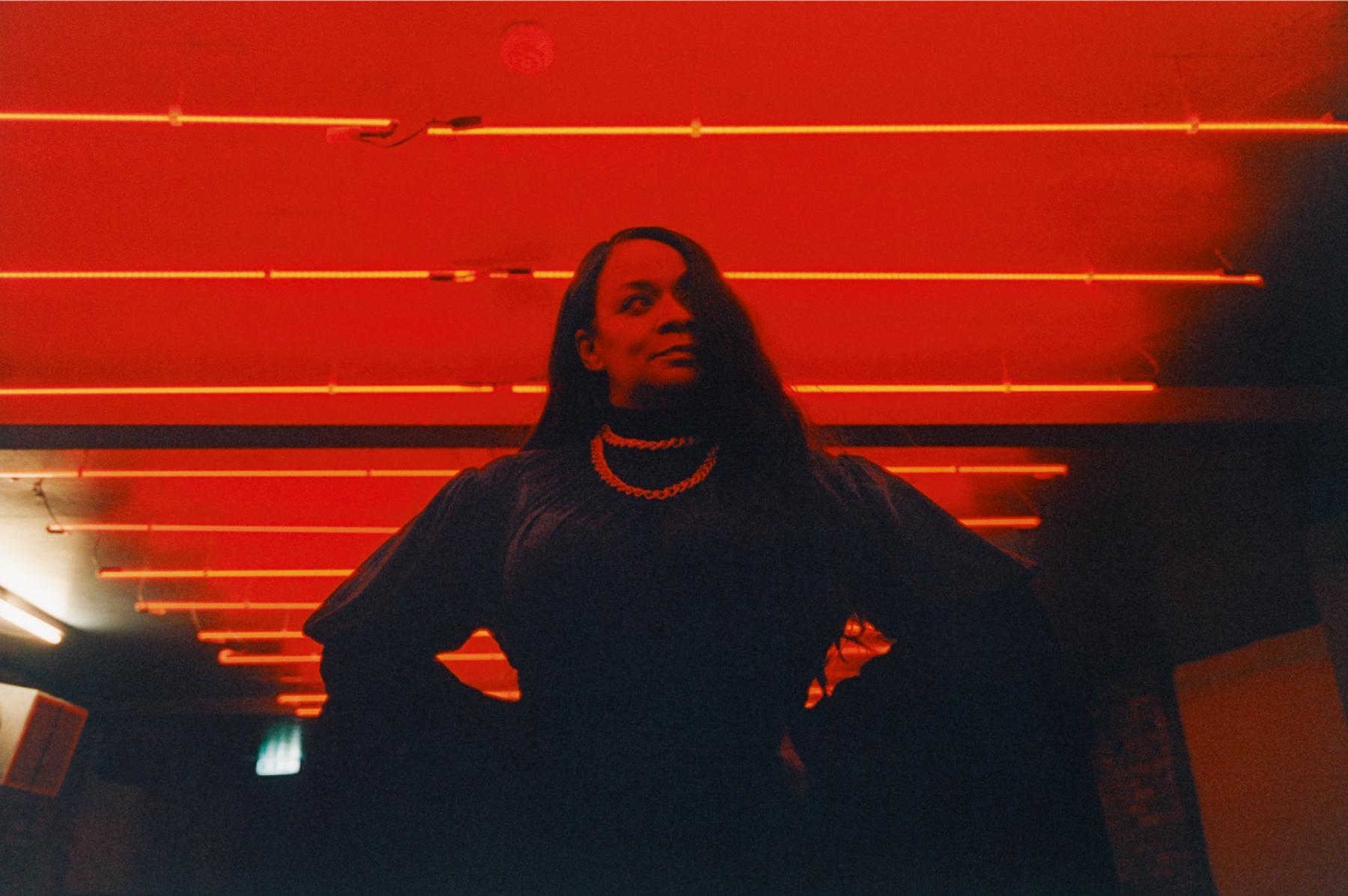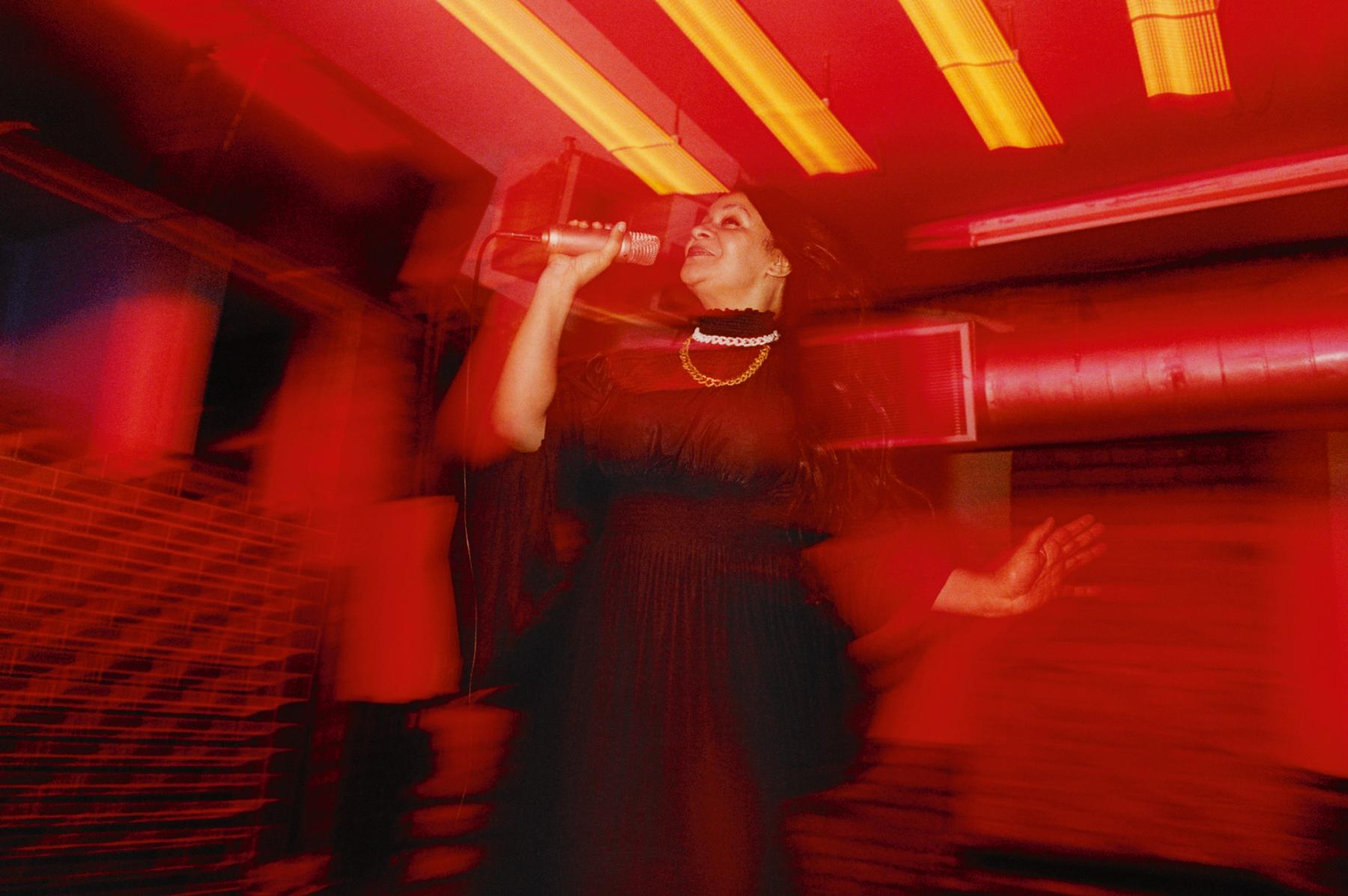 Rowetta first saw the Happy Mondays in a "little venue in Widnes" in November 1989, having heard Tony Wilson describe them as the greatest band in the world on his late-night television show The Other Side of Midnight. "I decided I had to see this band," she has said. "When I did, I just went, Oh my God, I can see myself on stage with these!" She adored their punkiness. They happened to share her agent, so for three months she hung out at their management office, "doing their heads in", she says, badgering them that they needed a girl. She eventually got the call. With its mix of indie, rave, 1970s nostalgia and Rowetta's injection of soul, "Step On", Tony Wilson said at the time, was always going to be massive. It got to number five in April 1990. "I didn't realise we'd be doing Top of the Pops and playing at [Manchester's 10,000-capacity] G-Mex within a couple of weeks!" Rowetta says. "I mean, I was still hiding from my husband. The band I thought I was joining were a lot smaller, a lot cooler, perfect for me and for my life."
Mark Berry, "Bez", the Happy Mondays' whirligig, wild-eyed dancer, says the group was transformed when she arrived. "Overnight, we couldn't imagine ourselves without her," he tells me by phone from what Rowetta jokingly calls "the commune" where he lives on the Welsh border. "She's such a physical person on stage, and she made our live shows so good." The band's singer, Shaun Ryder, wasn't a confident performer back then, he adds, but Rowetta helped him become a frontman. "That was all down to her – and that's before you get to that incredible voice."
Rowetta was also a party girl, so she fitted brilliantly into the chaos of the Madchester years and the birth of rave. "She's the maddest, most wonderful woman I've ever had the pleasure to be up for four days with on tour," Bez says. They became best friends and still are; she often visits him in Herefordshire. They're masters of bone-dry, sarcastic Mancunian banter over the campfire, Rowetta says, and they never stop laughing. "I say, 'Oh, well, they call us legends now, Bez, don't they? But it just means we're old!'"
Rowetta was born in 1966 in Crumpsall, north Manchester, to a white Jewish mother, Marcia, a bookkeeper, and a black Nigerian father, George Idah, who later became a well-respected and popular politician. Idah had come to the UK to study civil engineering at Manchester University. He met Marcia at a wedding. The couple never married, and Rowetta was their only child. Idah returned to Nigeria when Rowetta was three; she and her mother were supposed to join him – she remembers the inoculations. That didn't transpire. He visited her, and when she was 12 she went to Lagos – where he lived in "grandeur". Then things went quiet. "I think he met someone else, although I wasn't really upset," she says. "I loved my dad, but I only saw him once a year, and he'd give me a hug, a bit of money, took me shopping, that was it. You know what I mean?" Her mother also met someone else: in 1972 she married Rowetta's stepfather, Oliver, a psychiatric nurse. The family moved to Prestwich.
At the age of 11, Rowetta took up a place at what was then Bury Grammar School for Girls, an independent, fee-paying school that counts Victoria Wood among its alumni. Rowetta left at the end of fourth year, when she was 15, partly, she says, because her mother struggled to pay the fees after her divorce. She transferred to a local school but left at 16, with two O-levels, in English language and maths, that she'd taken before she left Bury Grammar. "I didn't go in for most of my exams in the fifth year," she says – only for drama: the teacher was "instrumental" in her life. Mrs Roach built school musicals around her. They got rave reviews.
Idah had left behind a Bush box record player, which Rowetta carried everywhere, replaying his old singles. Millie's "My Boy Lollipop" and Lord Kitchener's lewd calypso "Dr Kitch", full of references to anal sex, were favourites. "It's proper rude; I didn't realise. I used to play that all the time!"
In August 1976, Tony Wilson hosted the Sex Pistols on his teatime culture show, So It Goes; it was their first ever television appearance. He called them the best band in the world (as he later would the Happy Mondays). Rowetta became a punk, developing a lifelong love of the clothes. "Black bondagey stuff and tartan – God, I love seeing old pictures of me in my little leather shorts. They're not even going up my leg now!"
Rowetta made her first stage appearance at the age of 11. Her mother, who was supplementing her income by working as a carer, was visiting a woman who owned a pub. Rowetta had accompanied her and was singing along to the radio when the woman said she should go downstairs and perform. By the time she was 16, she had found an agent and was singing at working men's clubs – bastions of white men. The early 1980s were a time of racial tension in the north-west, with mass unemployment leading to the Moss Side riots of 1981. "I remember one venue covered with horrible National Front slogans – the Blackley Royal British Legion." Her mother acted as her driver, and "I was like, 'Look at them, Mum, I can't go on.' And she's like, 'You've got to; you can't go to a call box and ring the agent and say you can't do it.' So I decided I'd make the half hour 20 minutes – and it was a brilliant gig and the audience loved me. I thought we were going to get beaten up if we walked in there because I'm black. I wasn't treated like that. Things like that make you. I'm so confident on stage. I really think that comes from those days."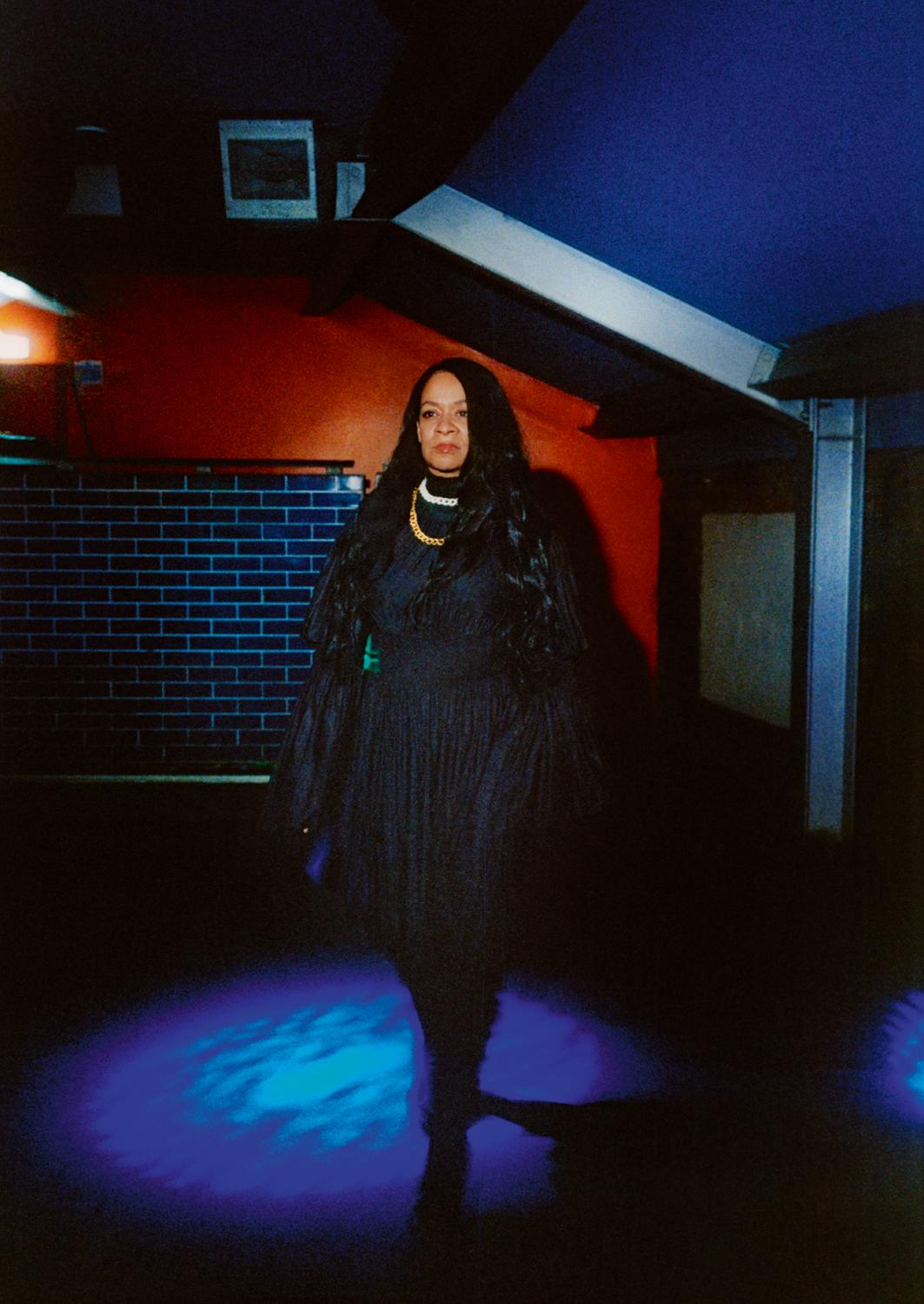 "My mum used to say, 'Can you be quiet, love?'"
The Mondays split up in 1993, in a downward spiral of notorious drug addictions and partying. Rowetta emerged relatively unscathed, but she was, she says, lost. Her years with the Mondays had been a roller coaster of international tours ("I was never away for too long from my kids, and I knew they were being looked after by my mum, but God, I missed them"), an on-off relationship with Shaun Ryder, and then, after the tour for their third album, Yes Please! – a commercial failure that bankrupted both the band and Factory Records – news of her father's murder.
George Idah had moved back to Benin City, his family home, in 1969. He was the head of the Oredo local government area, when in 1992 he was shot at point-blank range by assailants who entered the government building. His assassins were never found. "When I found out it was horrible," Rowetta says. "I'd been away and hadn't called the police back when they left a message, as I thought it was my ex-husband trying to see the kids." She's at peace with things now, though not close to her many half-siblings in Nigeria. "They were rich when I wasn't rich, and they all just asked me for money."
She spent the next decade looking after her children, making sure they got a good education, and caring for an elderly relation. She had a publishing deal and worked with the producer and DJ Paul Oakenfold, writing and recording, but she wishes she'd done more high-profile jobs. She also wishes social media had been around then. "If it had, I would have done really well, I believe," she says. A demon at Twitter and Instagram, she's up early to post birthday wishes, promote tracks and podcasts she's worked on, and support projects by people she loves. "She's always been a brilliant networker," Graeme Park says.
The first series of the British television talent show The X Factor aired in 2004. Rowetta auditioned for her much-loved maternal grandmother, who was 88 and had never thought Rowetta would make it – "I honestly did it for her," she says – and she went on to win the over-25s category. Her success led to bookings for big events like Party in the Park concerts and Pride celebrations as well as private parties and a record deal with Gut Records, one of the UK's most successful independent labels at the time. She turned down "many" features in celebrity magazines, which were offering five-figure sums, and stints on big-money TV shows such as I'm a Celebrity, Get Me Out of Here! "They'd offer me more money when I said no. It was £80,000 one time, for an 'at home with…' story that didn't even have to be in my house! I hate that bullshit."
Then, in 2009, the Black Eyed Peas used her vocal from "Reach Out" on "Boom Boom Pow", which went to number one in the States and stayed there for 12 weeks. Will.i.am, the band's frontman, contacted Rowetta to ask if she owned the vocal, and she was eventually offered a six-figure sum and royalties thereafter. ("Boom Boom Pow" has to date sold 6 million copies in the US alone.) Will.i.am mentioned that he'd first heard the vocal on a club mix of Robin S.'s 1990s house classic "Show Me Love". "He said it just went right through him like no other voice. That's really nice." (She is not credited on that record. "I met Robin S. and I mentioned that version to her," Rowetta says. "And she looked like she was going to kill me. But when it's mentioned on social media now and somebody goes, 'This is Robin S.,' I make sure I say it's me too.")
How does she train that incredible voice? Rowetta laughs heartily. "Oh God, I don't!" It was "a few fags plus a whisky and a Diet Coke" in the old days. These days it's just the whisky, in moderation; she stopped smoking eight years ago (a neuro-acupuncturist who'd "done all of Coldplay and [the actor] Mollie Sugden" helped her). She admits she did some vocal exercises when she was the lead in the show The Songs of Sister Act with the London Community Gospel Choir in 2009. "But then I'd just sing along with them, pretending." These days, she leaves it at a "yippee-yippee-yi- yi-yay-yay-yay" from Happy Mondays' "Kinky Afro" before she goes on stage. "Then I'm off!"
Rowetta manages her own career now and records in her own studio. "On my recent Todd Terry tune the dog is snoring all the way through." She laughs. In the past 12 months, she has collaborated not only with the producer and DJ Terry but also his younger counterparts Oliver Heldens, Yousef and Solardo; she has been emailing with megastar producer and DJ Calvin Harris; and she had two new releases this February, "Flashback" with Pirate Copy and "Reason to Fly" with Dillon Nathaniel. She is looking forward later this year to releasing a "huge, epic track": "Mantra (Crossing Over)" with Paul Weller, recorded with the Amorphous Androgynous and Noel Gallagher. She says it's the best thing she's ever done. She adds that she is getting more Radio One airplay than she has had in her life. "And I'm 55!"
But the performance she is proudest of is the one she did on The Andrew Marr Show a few days after the Manchester Arena bombing in May 2017, singing the Source and Candi Staton's classic "You Got the Love". "The whole city was broken-hearted. To think what the parents had gone through, and the children. I just felt like I was really representing Manchester and singing for all the families." It made her remember all the gigs she'd played in her home town, and its big, noisy heart. "That city is who I am. It gave everything to me."