Robyn
The all-singing, all-dancing Swedish pop genius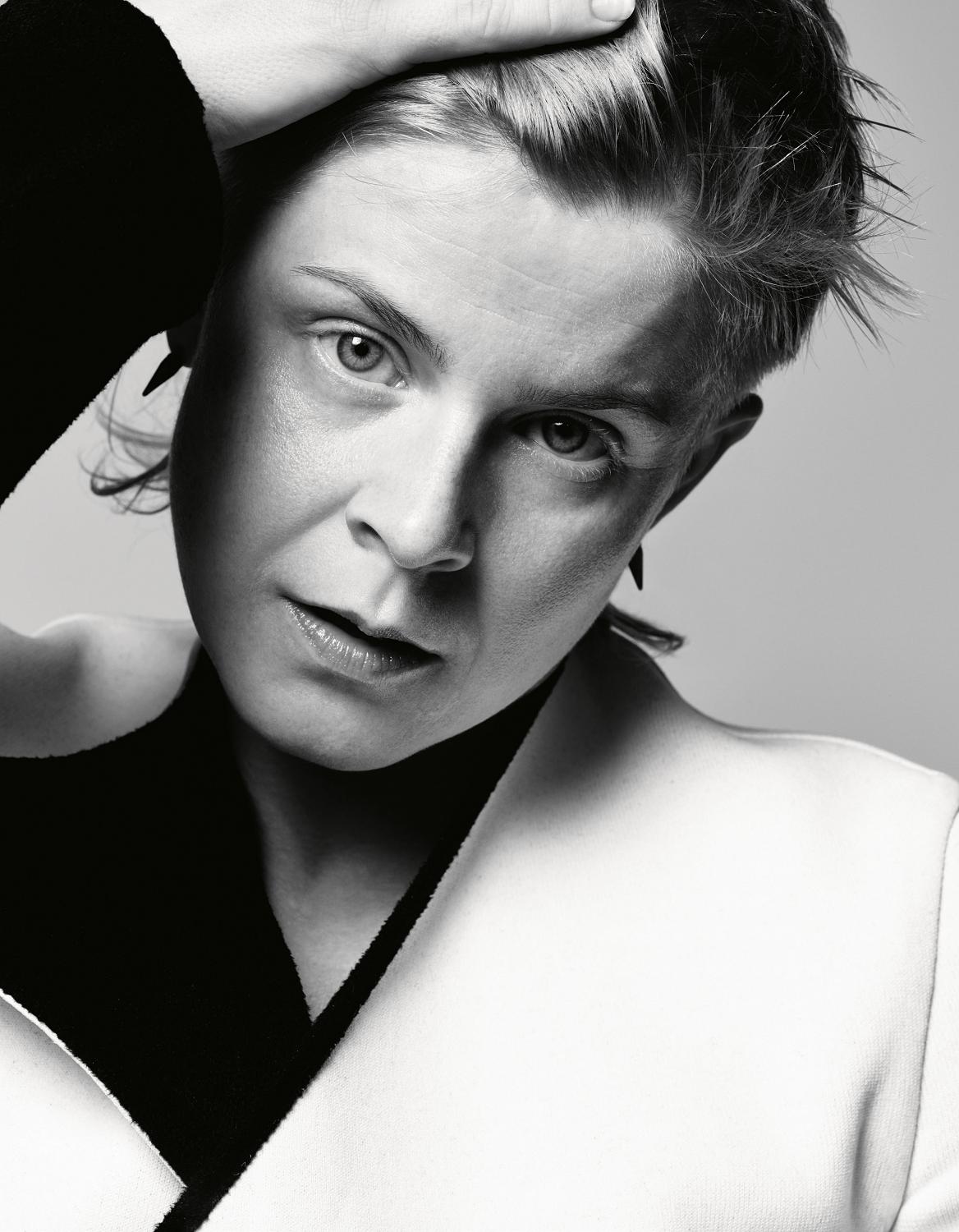 If pop music's about sanitised emotions and sexuality for sale, then Robyn's no pop star. Her lyrics bubble up from genuine feeling, and she prefers 6 cm platform basketball shoes to tottering in heels. Those who lived through the '90s will remember Robyn the teen pop sensation and her massive R&B hit "Show Me Love". But things have changed a lot since then for the Swedish star.
In 2005 she founded her own label – a means of distributing her music in imaginative new forms – and worked out a hundred different ways to say No. The good news, though, is that she's said Yes to three new releases this year.
Robyn looks like she's warming up for a fight. We're backstage at the Latitude Festival, a weekend-long music and arts event that draws 35,000 people to a rural spot near the eastern English coast, and the Swedish singer is a few hours away from a headlining performance with her friends and collaborators, the Norwegian dance duo Röyksopp. It's a hot, sticky day, and she's holding a water bottle, looking sporty in white muay Thai boxing shorts and a white crop top, with her latest signature: custom-made, '80s basketball sneakers with 6 cm platforms.
I ask if she's just been exercising. "This is just for interviews. I'm dressing up for you," she says, with an easy, high-pitched laugh. Of course, the 35-year-old Robyn is clearly not dressing up for me, or anyone for that matter. Neither is she dancing for us, or making music for us. Which isn't to say we don't enjoy it as we shoulder-roll, high-kick and booty-shake along with her. But unlike most other pop stars (she hates that term), Robyn is, as usual, very much doing what she wants, and very much for herself.
Ever since she bought herself out of her major-label contract with BMG subsidiary Jive Records in 2004, Robyn has made music for girls and boys who dance alone in their bedrooms, who wear and say and do the things that make them happy. She opened her last solo project, 2010's epic three-part album Body Talk, with a song called "Don't Fucking Tell Me What to Do" – then asked her fans to tweet about their own frustrations. An ingenious interactive featuring their grievances alongside Robyn's sardonic lyrics went viral. This is pretty typical: she's more interested in her listeners being themselves than in them refashioning themselves in her image. While her pop star peers exhibit a standard of highly controlled perfection, she's become an icon of free-spirited self-expression.
Nearly 25 years ago, 11-year-old Robin Carlsson was already doing voice acting for animated films when an established Swedish pop star, Meja, spotted her performing in a school musical workshop and put her in touch with a manager. Robyn signed with Jive Records in 1994. Industry-tested Scandinavian producers – such as Max Martin, who went on to work with the likes of Britney Spears and the Backstreet Boys – crafted a commercially friendly sound for her: a hybrid of pop and R&B with a '90s girl-power twist. Her debut album, which appeared in 1995 in her home country, was peppered with chart-topping songs. Her breakthrough 1997 single, "Show Me Love", made her a teen sensation in Europe and North America.
Those days are a distant memory as the lights go up in the Latitude Festival tent and the capacity crowd gets its first glimpse of Robyn onstage. She's wearing a different pair of boxing shorts, an asymmetrical motocross jersey, and what appear to be black shin guards extending up to her thigh. Her look is just one of the many things she's now free to experiment with. For the past three years, she's worked closely with the Swedish underground artist and stylist Maria "Decida" Wahlberg to develop a look that's retro and futuristic, sexy and powerful, if a tiny bit Euro. Decida calls her summer festival look "Robyn the Action Doll", though as Robyn moves through her danceable hits – the longing anthem "Be Mine", the brash challenge of "Handle Me", the spurned-lover wail of "Call Your Girlfriend" – she's more like the world's friendliest spin-class instructor. "C'mon, let it all out!" she calls out in between songs. "I'm sweating. Are you sweating?"
We are letting it all out. Yes, we are sweating. The audience, mashed up against each other, screams out the chorus to the Body Talk hit "Dancing on My Own" – "I'm in the corner, watching you kiss her, ohh-ohhhh-ohhh" – while Robyn silently caresses herself onstage with her back to us. The lyrics are about being vulnerable but strong, lovelorn but independent, and they're set to a beat so infectious that dancing is involuntary. No one seems to notice the massive rainstorm raging outside.
Latitude marks the midpoint of Robyn's summer tour with Röyksopp – Svein Berge and Torbjørn Bruntland – whom she first met in their studio in Bergen in 2008. The outcome of that first collaboration was "The Girl and the Robot", a single on Röyksopp's third album, Junior. She loves touring with them, she says, because they have kids, which means they like to take long breaks, and because they have a sense of humour. Berge and Bruntland are all over Robyn's Instagram feed, clowning around with her like brothers. At festivals across Europe and in a few major American venues this year, they've been performing a marathon set that's more than two hours long – 45 minutes of Röyksopp's throbbing beats followed by 45 minutes of Robyn's solo hits, building to a crescendo performance of the songs from their new joint EP, Do It Again. For this final segment, Röyksopp and the band are sheathed in sequined masks, and Robyn has transformed herself into a spacey Ziggy Stardust, ethereal in all white and bathed in red light.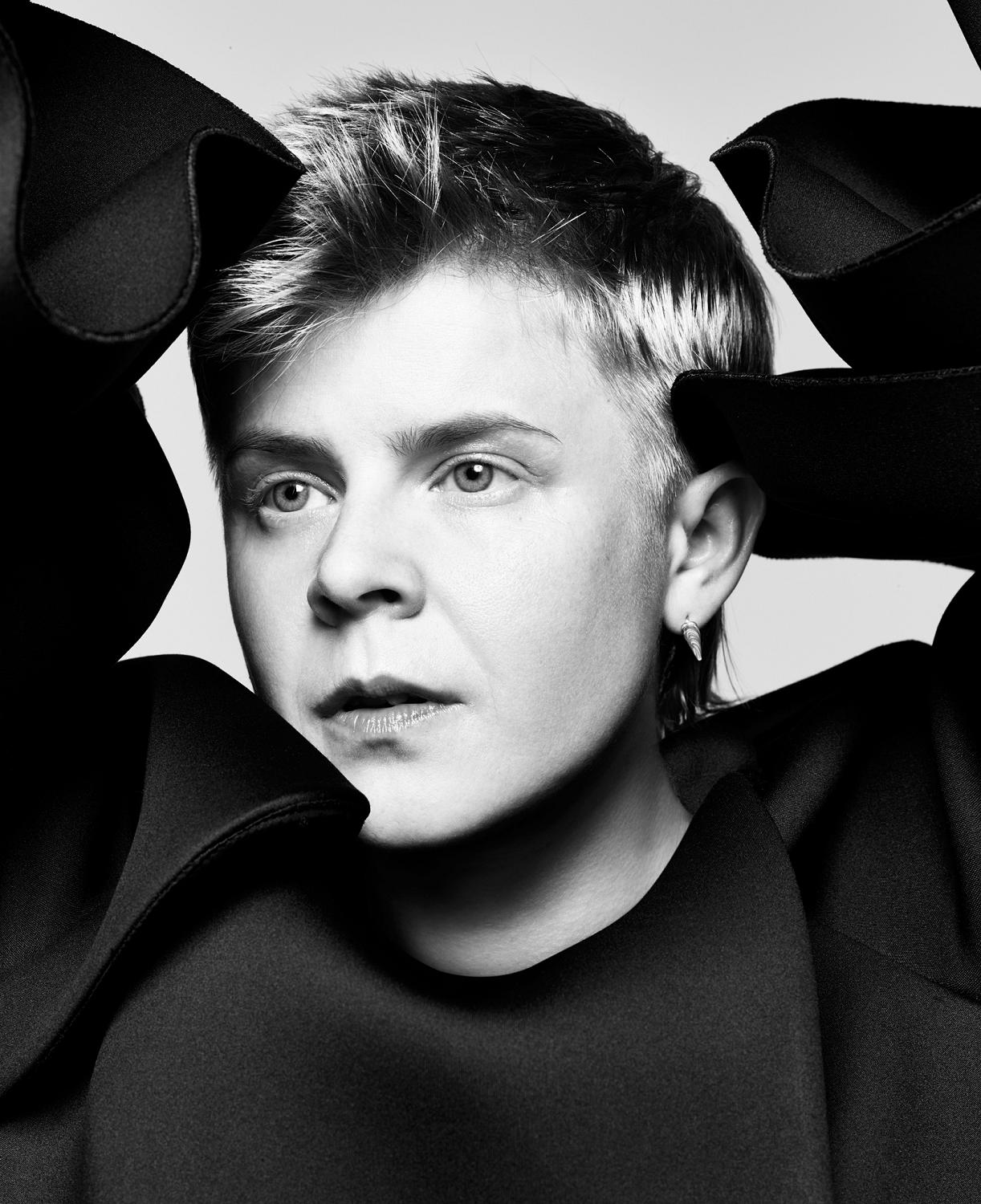 After the performance, Robyn and I sit on an Ikea sofa in her trailer, one of several room-sized plywood boxes clustered in a barricaded area near the venue tent, listening to the tinny sound of raindrops on its roof and sipping tall cans of Tuborg lager. Under the cheap fluorescent lights, her features look delicate, but though she's only 160cm, she's so exuberant she somehow fills the room. She's still wearing cobalt blue eyeliner from the performance and has changed into printed leggings and an oversized light denim shirt. She's tucked the back part of her soft blond mullet into a flat-brimmed black baseball cap that reads "RYKP" in big white letters. She apologises for being a little sweaty – she hasn't had a shower.
Robyn tells me she's in the process of fixing up a house in the Los Feliz hills, a swish part of Los Angeles that many celebrities call home. "I used to hate LA when I was younger," she says. "I was always working when I was there. Then I got to know people, and the whole city changed for me." Staying over the last few years with her friend Mary Fagot, the creative director who's worked on the album cover for Body Talk and most of Robyn's online projects, she learned to see a different side of the city. "For her to have an alternate space, very different from Stockholm, with the big open sky and space to think and work and create – I think that's partly why she chose to have a second home here," Fagot says later, when we talk over Skype. For now, though, when Robyn's not on tour she heads to Stockholm. Her fiancé, Max Vitali, a director of music videos and commercials, lives there (though they keep separate apartments), as do many of the core group of creative collaborators who pop up again and again in Robyn's various projects. She also owns a house in the Swedish countryside, though it's no lavish holiday home: it has an incinerating toilet.
For someone who's just completed such a taxing performance, she's energetic and delightfully chatty. She laughs easily and nods often, punctuating her speech with "Yes!" and "Exactly!" (which sounds more like "Essactly!" in her Swedish-softened English). The crowd was good tonight, she says cheerfully as she opens a cardboard takeaway box of salmon and steamed vegetables. She tries to eat healthily on the road, she says, "although sometimes you just have to resort to cheese and beer."
Her EP with Röyksopp is just one of three projects she's working on this year with other artists who aren't supporting acts but creative partners: everyone involved will get equal credit. There's another EP with Christian Falk, a Swedish producer she first worked with on her earliest pop albums as a teenager. Falk, she says, was one of the first people in the music industry to treat her as if her opinions mattered, and the two bonded over a shared love for blending genres. On stage at Latitude, she dedicated one of their new songs, "Set Me Free", to Falk. At the time, he was very sick with pancreatic cancer, and he has since passed away. Robyn describes him as one of the bravest and most sensitive musicians she's ever known. She says she'll finish the work with Markus Jägerstedt, a red-bearded fellow Swede who plays keyboards in her band.
Then there's a third EP in the works, with Adam Bainbridge, a London-based musician who performs under the name Kindness. It was Max Vitali who first played her Bainbridge's 2012 one-man disco-funk album, World, You Need a Change of Mind. ("Max's dad is British, and he's introduced me to a lot of British things," she says.) And being Robyn, she called him up and suggested they work together. A night in New York – which began at a concert by the underground disco-punk band ESG and ended in a series of cabs from bar to club to party – sealed the deal. "I smell terrible, and I have the worst hangover. But that was fun, wasn't it?" said Bainbridge when they met the next day.
"I love to go out clubbing," says Robyn. "I don't do it as much as I used to, but it's really important for me, as a musician or someone who likes music, to experience what's going on." She and Bainbridge have since been working with the legendary R&B producers Jimmy Jam and Terry Lewis – the team behind 61 Billboard number ones, including Janet Jackson's "That's the Way Love Goes". Robyn calls them heroes. "There's so much to learn from them," she says.
Robyn sees her desire to work with other people, and share the pain and the glory, as very much connected to feminism. "I want to show the people who I'm working with. I get more out of it, being part of a group, and get to figure out who I am when it's less focused on me." When she's working under her name alone, she feels more pressure to make things that people will like or that will be commercially successful. Not that outsiders always hear the equality message. Robyn hates it when people ask, for example, "which parts" of the new EP were done by Röyksopp and which are hers. She finds it exasperating that people expect her to have written the lyrics and the guys to have made the music. Röyksopp's Torbjørn Brundtland explained to me, "On the technical side of things, it's a nerdy boy's world." But in making the EP, he says, Robyn was as involved in the technical work as they were.
Röyksopp and Robyn's dance hit "Do It Again" has received the most radio play, and it's made it to number one in Norway and Sweden and number three on the Billboard dance charts in the United States. But it's a slower song on the EP, "Monument", that really showcases the trio's skills. "It started from this software where you can record pieces of sound and stretch them out in time," Robyn says. The accompanying music video, directed by Vitali, features them with choreographer Jefta Van Dinther, ethereally lit and performing a series of slow, deliberate movements that complement the stretched-out sound. When they play the song live, Robyn re-enacts this slo-mo dance. "Make a space for my body," she sings, opening a fan and raising it above her head. "This will be my monument. This will be a beacon when I'm gone."
Robyn's drive to do things differently isn't just apparent in her desire to collaborate and her otherworldly stage moves. You won't see her striking coquettish poses on the red carpet with a male celebrity on her arm like Madonna, or launching her own fragrance like Beyoncé. Her Instagram feed isn't carefully posed and curated like Rihanna's. Sure, she wears some outré clothes, but she hasn't crafted a persona the way Lady Gaga has. She could have been the bright shining sun at the centre of her own universe. But Robyn had a taste of that life all those years ago when she was a teenage pop star, and she felt like she was just making music to satisfy popular demand rather than engaging with her own creativity.
Besides, she was horribly lonely. "You're on top of the food chain, and everyone feels intimidated by you in some way," she says the next time we meet, this time at Dean Street Town House in London's Soho. "I feel like there has to be a different way of doing it, you know, that's more inclusive." She's bright-eyed despite having just played back-to-back festival sets in Europe and spent the previous day at a photo shoot. She's wearing a white cropped tank top and white trousers that are tight to the knees and then flare into little bells. And, of course, those platform sneakers. Her light denim shirt is tied around her waist.
We make our way to the hotel's dining rooms and slide into a big semicircular booth at the back. It's a traditional, white-tablecloth sort of place, and it's practically empty. We both order avocado on toast and Americanos with a splash of milk. This is such a stereotypical celebrity-interview setting, and yet Robyn has so little interest in that kind of life. "I feel like supporting those stereotypes – whether it's the pop star image or the pleasing, adaptable woman – is just extremely boring."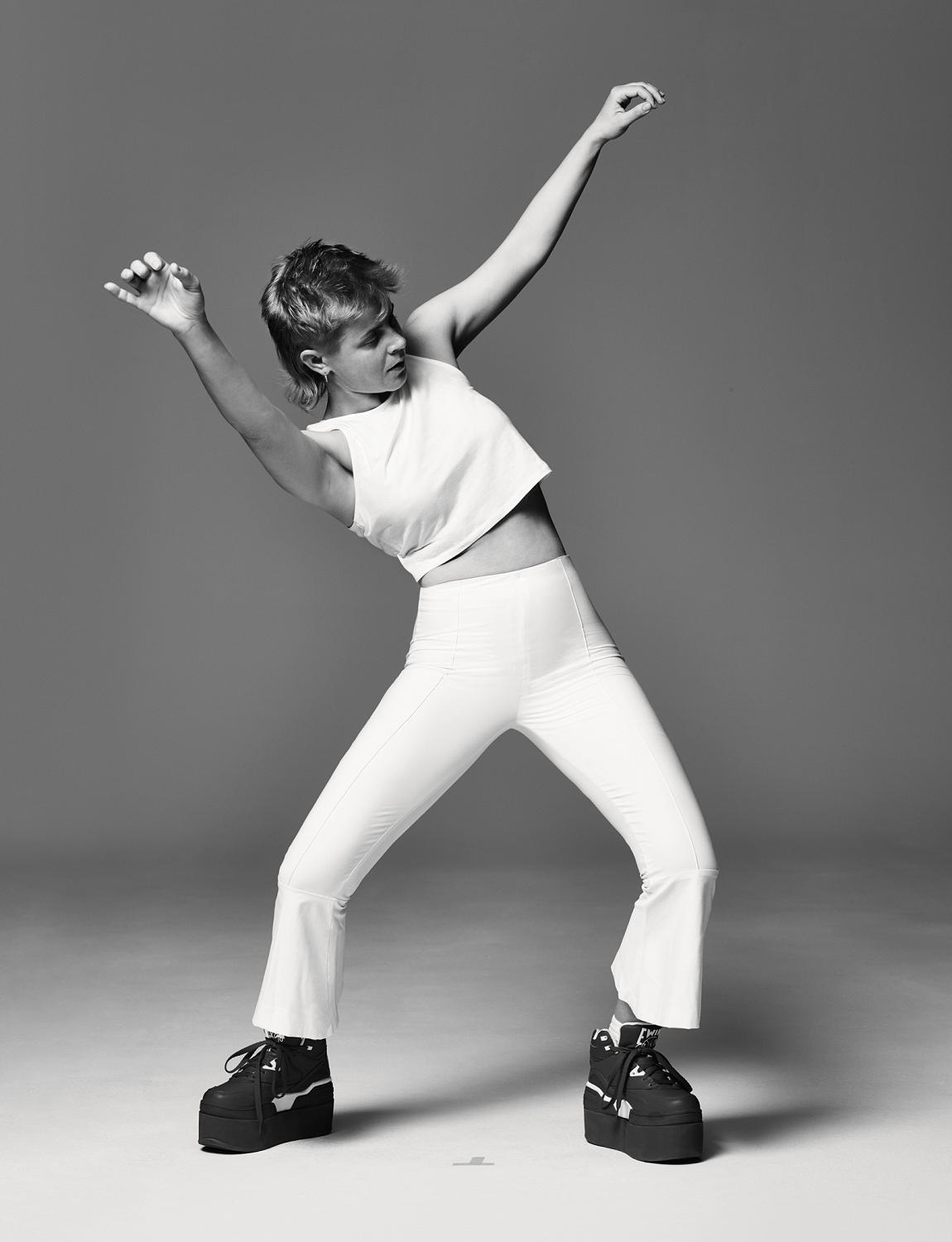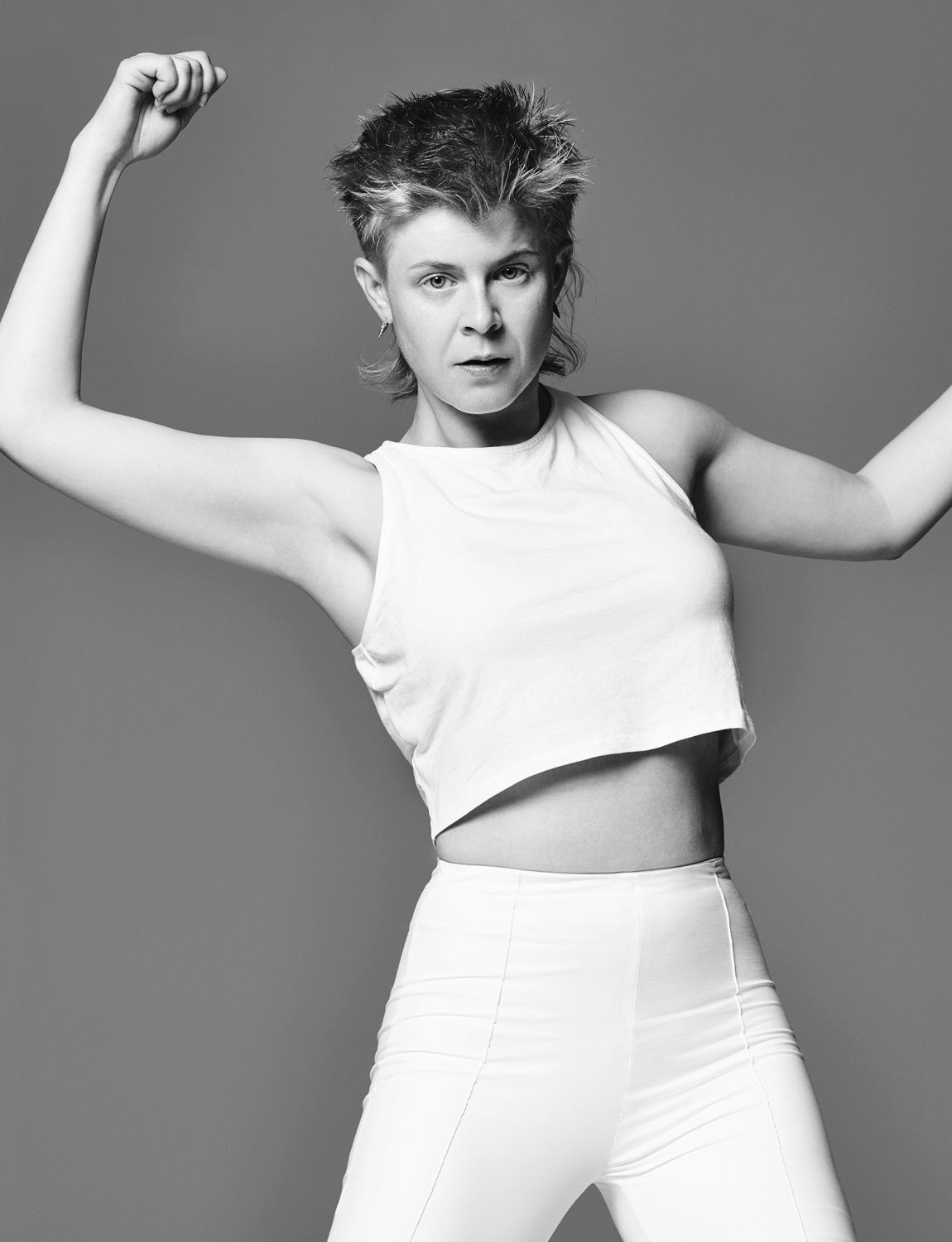 And she should know. For the first ten years of her career, managers and record executives tried to mould her into a slightly sexed-down Scandi Christina Aguilera. "I had to do things 'the right way'. To live up to people's expectations of me," she says. "And I didn't know what the fuck I was doing at all. I would have loved it if somebody had just encouraged me to do something wrong!"
When she first signed with a major label, she imagined that working as a pop star would be something like the career her parents had. They were part of a travelling theatre group, and Robyn and her brother were raised on the road, driving around Sweden in a Volkswagen minibus outfitted with airplane seats. But life as a major-label pop star was nothing like being in a family theatre troupe. "I mean, how naïve could I be?" she asks now. "I spent ten years trying to make sense of it all, to find my way through it and maybe find a way to control my situation."
In 2004, she was making music for a fourth album with Jive Records. She wanted to use the song "Who's That Girl", a collaboration with Swedish electro duo the Knife, as its first single, but her A&R representative, Martin Dodd, hated it. He helped Robyn buy herself out of her deal, though, and get back the rights to her music. She used her savings from her blockbuster debut album, Robyn Is Here – almost all the money she had – to start her own label. "I felt like I had nothing to lose," she says.
She founded Konichiwa Records in 2005 (the name comes from a sketch on Dave Chappelle's show, which Robyn and her co-writer and producer Klas Åhlund were obsessed with at the time.) While her first independent album, simply titled Robyn, had a few big hits, it was 2010's Body Talk, released as three separate EPs in the span of one year, that showed what Robyn had been doing with her freedom. Synth-pop flourishes punctuated with reggae and dancehall influences weave their way around futuristically feminist lyrics. "I've got some news for you, fembots have feelings, too," she sings on the track "Fembot".
Robyn wanted to release Body Talk in three parts because she thought it would allow her to break up the touring schedule with time for creating new music. Instead, she ended up producing more songs and doing more touring in a year than she'd ever done before. The achievement didn't go unnoticed. Critics raved about the album's innovation, and its interactive online tie-ins have since been replicated across the industry. "Hard, spare and with really clever lyrics, Body Talk was the most incredible collection of musical ideas," Andy McCluskey, an English producer and member of Orchestral Manoeuvres in the Dark said in an email. He's a huge Robyn fan. "Even those of Robyn's subsequent tracks that lack that sheer, soaring musical perfection are still worthy of attention, because there's always some heart and ideas in there." While cash-cow artists release albums padded with lesser-quality tracks so the label can get the singles out the door, Robyn is free, says McCluskey, "to make art more than trying to make money."
This year, Robyn made her first signing, adding Zhala, a young Swedish musician who sings floaty vocals over chaotic electronic dance music, to Konichiwa's stable. "She's done everything on her own, so I don't have to take the responsibility of making choices for her," Robyn says. "I just provide her with a structure where she can do it on her own terms." Zhala, who's opened for Robyn a few times, says she's learned a lot from being close to her. She recalls how a few years ago, she and Robyn were walking through a hotel after a Swedish music awards show when a group of journalists ran up to Robyn seeking more quotes. "She just said no in the most polite, professional way ever," Zhala tells me over Skype, in a husky Swedish accent. "She did it without being rude. When I saw that, I was like, Oh, that's the way to do it."
Konichiwa is still run by a tiny team working with a small group of creative collaborators – choreographers, designers, directors, producers and managers. Robyn has just one full-time employee – her assistant, Jeff Ihatsu – though she works regularly with outside accountants and managers, and with freelancers like Lina Thomsgård, who's often in the room as a PR and strategic advisor. "It's usually just the three of us sitting there going, 'Should we be making posters? OK, why not!'" says Thomsgård, a feminist who's created a highly successful Facebook page for Equalisters, an organisation that seeks to combat the white male domination of media, politics and culture. She imagines that trying new things is much harder at bigger record labels. "I'm sure they would have all these different documents saying why that would not be good, and statistics saying how much money you'd lose," she says. "All we have to worry about is creativity."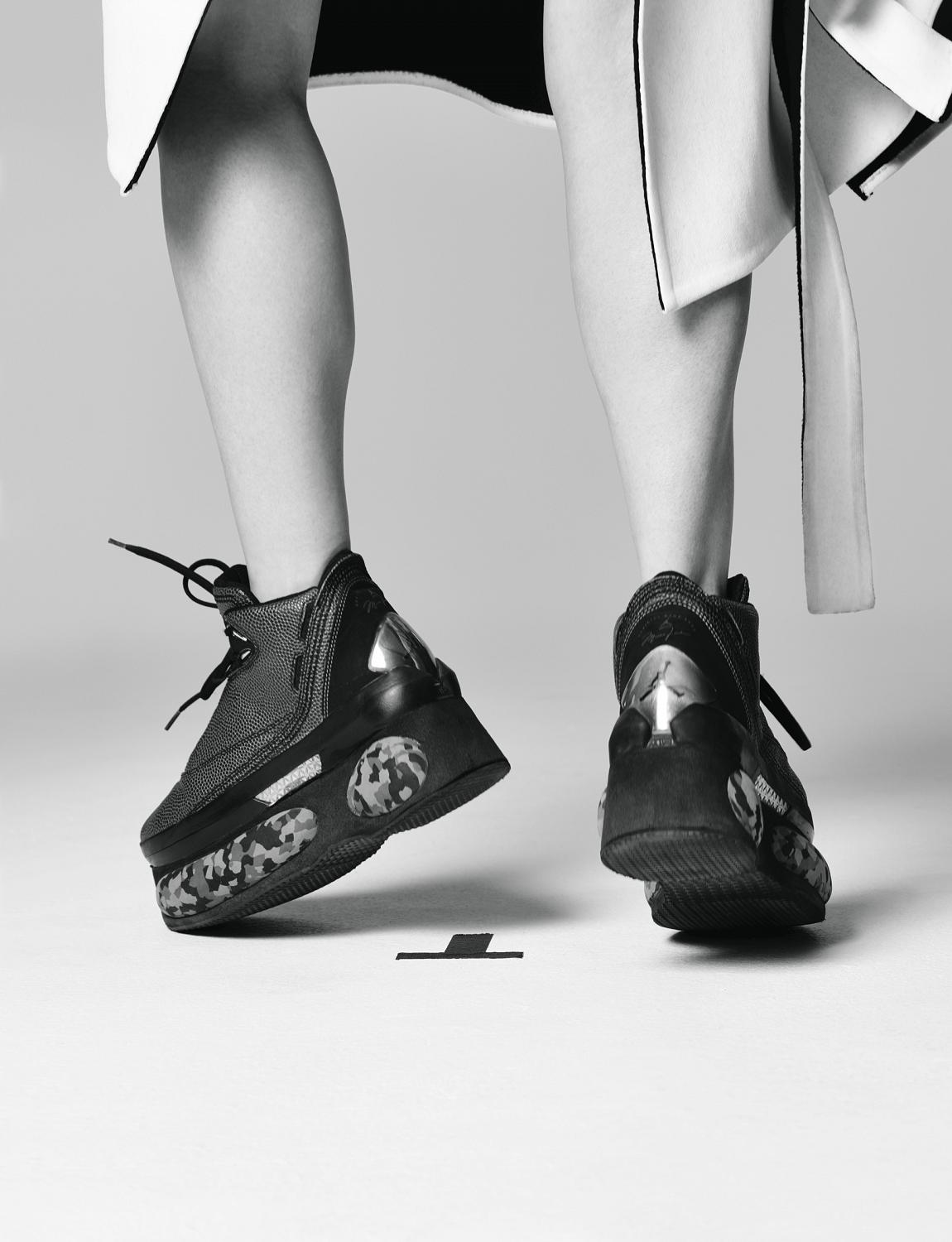 Robyn has seen the alternative up close. She toured Europe with Madonna in 2008 and North America with Katy Perry in 2011 and had plenty of opportunity to observe the scale of their support teams and the complexity of their business operations. "Being on tour with Madonna and seeing the machine she's responsible for and the pressure it must create made me think that it can't be fun to be Madonna," Robyn says. "But on Instagram, I get a sense that she's doing what she wants, and because of that I think she's happy." She's choosing her words carefully, of course. In 2008, gossip blogger Perez Hilton implied that there was tension between Robyn and Madonna on tour. Robyn wrote to his site, saying, "She's an icon and a pioneer, but only Madonna can be Madonna. It would be sad to try to copy her model." Then in 2011, gossip sites reported that Robyn didn't have a great deal of respect for Katy Perry. Robyn released another statement: "I think that girls are always expected to have opinions about each other… You very rarely get asked about another guy as a male artist."
We finish our avocado on toast and decide to walk to a Spanish wine bar around the corner from the restaurant. As we settle at a table out front, each with a glass of white wine, Robyn lights a cigarette. If the passing pedestrians recognise her – she's not wearing sunglasses or a hat – they don't let on. Only a homeless man approaches our table, and that's to ask Robyn for a cigarette. She gives him her last one. She's telling me about her plans to support a Swedish programme that encourages girls to learn instruments and spend time in music studios – the funds will come from an award she recently received from Sweden's Royal Institute of Technology for her own use of technology in music. "There's always been a chip on my shoulder that I never went to music school," she says – though a skilled producer, she doesn't play an instrument. She still finds it hard to convince people she's not just a singer. "So many times I've seen Robyn on stage, and there will be lights, sound, smoke, all this tech stuff that needs attention," Thomsgård says. "And all these guys will be talking to each other almost over her head. Every time she has to say: 'I know how to do this. I want it this way.'"
"I love things that look good," Robyn says. But her love of technology, the high-concept costumes and the choreography, the crystalline album tracks – it all comes at a cost. "Most of my earnings come from touring now, which I love," she says. "That really simple relationship between me and my audience, with no one in between." Recently a rather different collaboration with Volvo found Robyn venturing into the commercial world. The resulting ad shows her driving a Volvo around Los Angeles, interspersed with footage of Swedish forests, as "Monument" plays in the background. "It was really difficult for me to make that decision," she says. So before she did, she interviewed Greenpeace experts and Volvo engineers, and she insisted on making the ad about cleaner engines and environmental issues.
We order another glass of wine, even though she has to leave soon. "Are you OK with getting drunk?" she asks. It seems we both are, and she carries on talking. We've moved into more personal territory, about her wanting children someday, even though she's not sure why she does, or how she'll fit parenthood into her professional and creative plans. "I've started to develop a fear of taking on too much work," says Robyn. She worries that she's trying to be great at everything without listening to her instincts about what she wants to be doing. "It seems to me that this happens a lot with women. We have so much responsibility of being role models and 'good girls' – fit and cool and sexy and all of that stuff. We forget what we're meant to be doing." She sees a man standing nearby with a cigarette and walks over to explain to him that she's given her last one away. Can she have one of his?
"Give and take," she says after he proffers one, returning to our table. "Give and take."