Rachel
Whiteread
The master  caster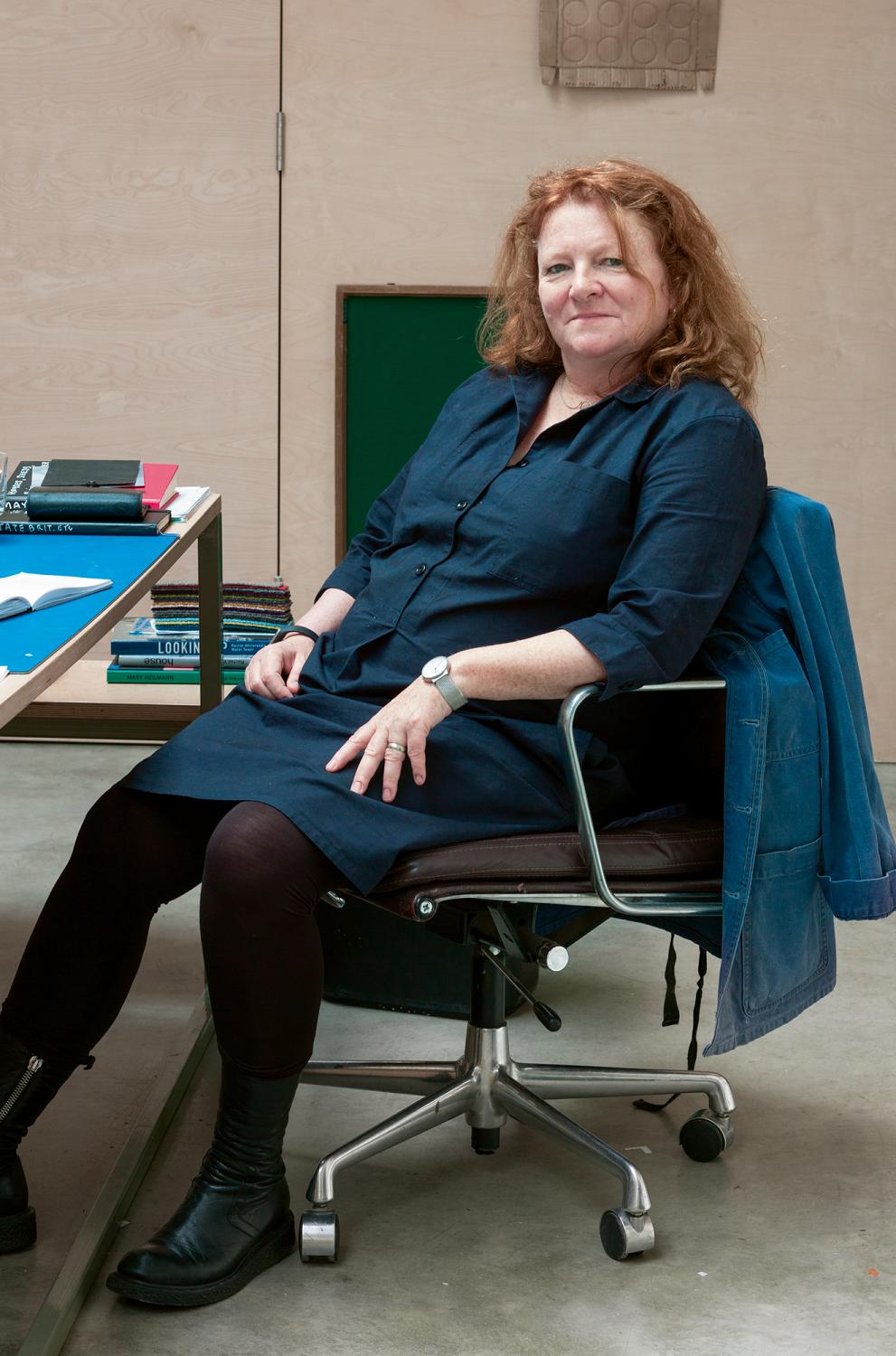 Everything Rachel Whiteread, CBE, Turner Prize-winning artist, makes is about us: our histories, our lives, our deaths, our absences — cast in concrete. It started with a spoon. Eventually it encompassed a whole house.
At 54, Rachel is working at both scales. Her extraordinary sculptures combine a comforting homeliness with a nightmarish quality. But she is also making quieter "shy sculptures" in remote places. One day she'll make a map of them. For now, a survey show at Tate Britain plots her work from London's Archway Road to California's Joshua Tree National Park. It's a chance to celebrate the mournful poetry of her monumental take on the world.
When it comes to her art, Rachel Whiteread doesn't compromise. Rather than see her best-known work, "House" (1993), a life-size cast of a family home in east London, moved from the place it was made for, she allowed it to be destroyed after only 11 weeks, even though she regarded it then – and still does now – as "one of the best things I've ever made". She later endured five years of aggressive questioning to get her design for a memorial to Jewish Holocaust victims in Vienna approved without having to alter it. "I'm just like a bull. If I want to do something, I'll keep going until it's done," she tells me when we meet in her studio in early May. Her "pure bloody-mindedness", as she describes it, has made her push her body to its limit for the sake of her art. In 1990, when she made "Ghost", a cast of the living room of an abandoned home at 486 Archway Road in north London, she hauled all the 25-kilogram bags of plaster up the hill to Highgate herself, one by one, on the back of her bicycle. "It was nuts," she says, recalling the effort required.
Rachel achieved critical success early, aged only 25, with her first solo exhibition at the Carlisle Gallery in London in 1988. Since then she has enjoyed sustained acclaim in Europe, the United States and further afield, a feat few artists manage. Her contemporaries Damien Hirst and Tracey Emin – fellow Young British Artists championed by Charles Saatchi in the 1990s – might be better known today, but their artistic output and reputations have ebbed and flowed over the years. Rachel's have never wavered; in her 30-year career, there have been no false steps, no embarrassing misjudgements. She was the first woman to win the prestigious Turner Prize, in 1993, and the first female artist – and the youngest person ever – to represent Britain with a solo show at the Venice Biennale in 1997, when she was 34 (taking the prize for "an outstanding achievement by a young artist").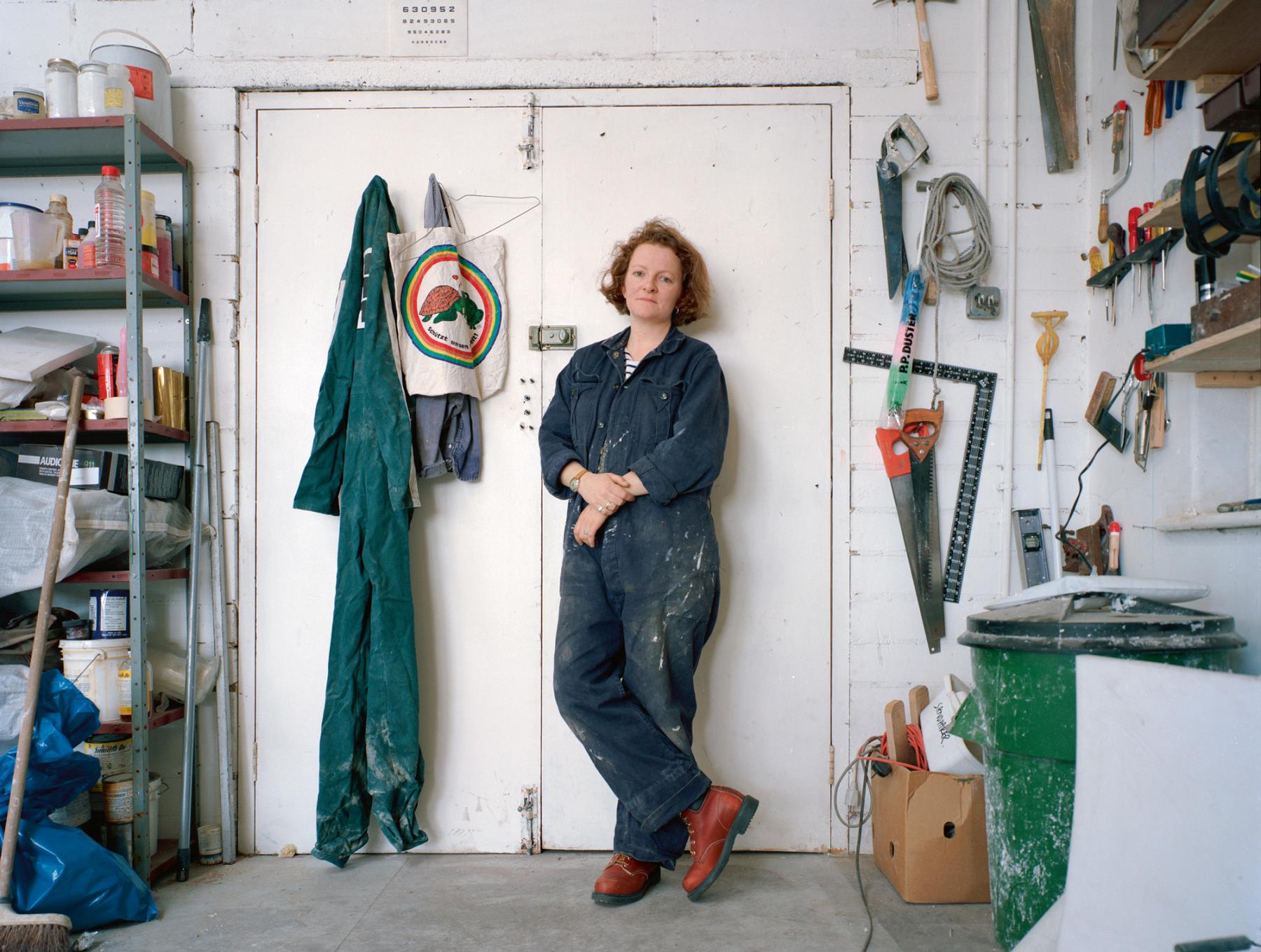 "Rachel hasn't had periods when her work has not been well received, and that's quite rare," says Ann Gallagher, the director of collections at Tate and the co-curator of an exhibition now at Tate Britain which surveys Rachel's career to date, from the sculptures she made for her debut show to a concrete chicken shed cast earlier this year. This is her first solo museum exhibition in the UK since 2001, when the Serpentine Gallery in London displayed several of her large sculptures. "It seemed the right time," Gallagher tells me. "I wanted to give audiences, especially younger generations, the chance to see what she's produced."

Rachel's studio is in Camden Town, north London, across the road from a guitar shop. Around the corner, there are tattoo parlours and small, independently run cafes. I visit one lunchtime in May. An unprepossessing doorway leads into a garage and then down a staircase into the vast, soaring space where Rachel spends her working days. Light rushes in from windows that line one side of the studio and a skylight that runs the length of the roof.
Rachel moved here two years ago from the East End, where she had lived and worked since the late 1980s, when she was a student at the Slade School of Fine Art. Last year she and her husband, the artist Marcus Taylor, also transferred their home (they have two boys, Connor, 16, and Tommy, 12) from a former synagogue in Bethnal Green to a house close to Hampstead Heath. "We decided we needed to get out of Shoreditch. It has had its day," she says. "I loved it when it was the real arsehole of London. I loved the frisson of it." Gentrification has transformed the streets where Rachel found so much inspiration for her work, and for her "the magic is gone."
As we sit on benches at a long wooden table and sip the cappuccinos she has made, she answers my questions in a thoughtful, circumspect manner. Her responses are brief, and when she feels she's said enough, she simply stops talking, sometimes mid-sentence. She does not enjoy being interviewed – "I just want to get on with my work. I get sick to death reading about myself," she says – and prefers to live her life out of the spotlight. "She is a really famous artist who is hugely respected, but nobody knows who the fuck she is," her friend the artist Gary Hume says. "If you can manage that, as she has, then you're free."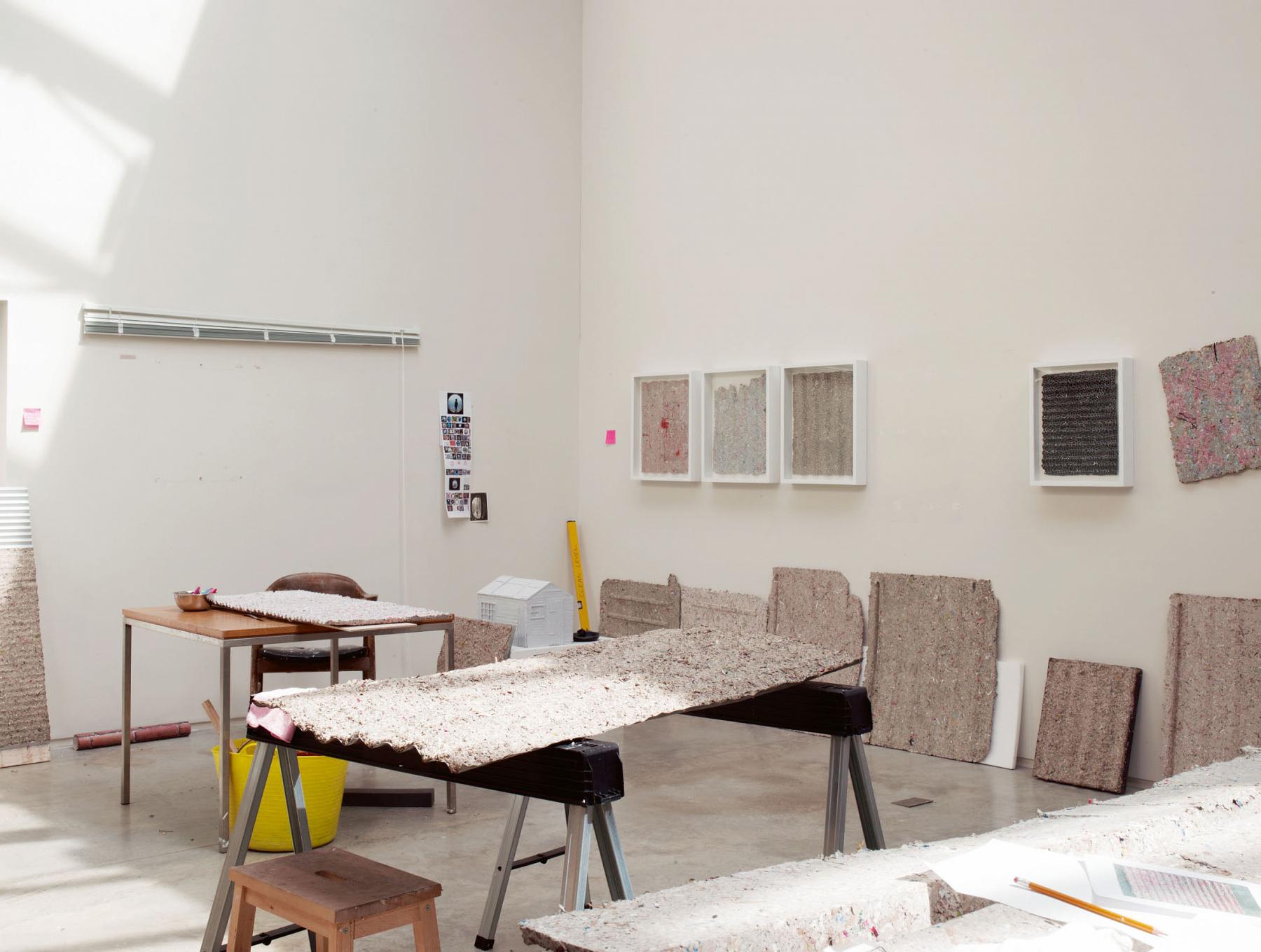 Rachel, 54, is wearing a navy blue tabard by Margaret Howell over a long-sleeved striped cotton top. Howell is one of her favourite designers, she says, and on the three occasions when we meet for this article she is wearing the British brand's utilitarian pieces. "I like clothes that look modest but might not be modestly priced," she says, and laughs. The style suits her: she is down-to-earth, unassuming, with none of the self-importance of some very successful artists. She is short, her stature belying the sheer scale of many of the sculptures she has made with her own bare hands and the materials (dental plaster, wax, concrete, resin, papier mâché) she has manipulated to fulfil a purpose they were never intended for. Her tousled shoulder-length red hair, freckled complexion and tiny silver nose stud ("I've had it since I was 18; it's just me") give her a girlish, youthful appearance.

Rachel was born in Ilford, Essex, in 1963. Her mother, Pat, was a feminist artist, and her father, Thomas, a geography lecturer, then a university administrator. She has older twin sisters, Karen and Lynne. Karen runs the charity Pram Depot, which provides recycled baby clothes and equipment to mothers in need, and is herself an artist. Lynne is an art teacher at a primary school in north London. At times, growing up with twin sisters, Rachel felt like "a bit of an outsider", she says, and would spend hours in her mother's studio creating "collages, papier-mâché things, paintings". But she was "always interested in making bigger stuff" too. Her father built two separate studios for his wife and let Rachel help "from about the age of five," she says.
Pat Whiteread was an abstract painter who went on to make mixed media works that explored the degradation of the natural world. (Rachel has a few of her mother's canvases stacked in her studio; "I'm going to put some up at home," she tells me.) In the catalogue for an exhibition she helped organise at the Institute of Contemporary Art (ICA) in London in 1980, she wrote, "All my work reflects my concern with ecological damage which I see as being a consequence of a technological society dominated by males." The show, entitled Women's Images of Men, was planned by a group of female artists who met regularly in the basement of the Whiteread home in Muswell Hill, north London, where the family had moved when Rachel was seven. Sandy Nairne, then the director of exhibitions at the ICA (and later the director of the National Portrait Gallery in London), was the only man in the room. "These were strongly opinionated artists," he tells me by phone. "There was vigorous debate about what should be shown and how we would show it until we came to a consensus." Rachel, then a teenager, was at those meetings too. "I would make cups of tea for everyone, then sit at the back of this really smoky room and watch all these slides going up and everyone arguing about everything," she says. "It was completely fascinating."
Despite the artistic household, or perhaps because of it, Rachel chose not to study art until she was in the sixth form. "I went back into it and thought, What a silly ass I've been. Why didn't I do this right from the beginning?" She did an art foundation course at Middlesex Polytechnic before going to Brighton Polytechnic in 1983 and the Slade in 1985, where she completed a postgraduate degree in sculpture. She remembers those days as an "amazing" time. "There was a great sense of freedom – we had grants, we had money, we had facilities, we had space." At Brighton she fully embraced the student lifestyle. "I got very, very drunk a few times – I must have nearly killed myself with the amount I consumed. I took drugs, all that kind of stuff. Those were probably my most reckless years, before I met Marcus." (She met him at the Slade. "I was in the second year, he was signing up for the first year, and I always say that I chose him out of the queue. He says he chose me.")
"I'm just like a bull. If I want to do something, I'll keep going until it's done. Pure bloody-mindedness."
Rachel studied painting at Brighton, though she tells me she ended up "hanging out a lot" in the sculpture department, where she had her first artistic breakthrough. The sculptor Richard Wilson had driven down from London with "a homemade foundry, a furnace on the back of a trailer," to run a casting workshop. "You'd never be able to do it now," Rachel says. "We were all burning polystyrene, making these terrible toxic fumes, dropping hot metal on our feet. It was all very exciting." Rachel pressed a spoon into sand and then poured liquid metal into the cavity it had made. The resulting cast resembled a spade. "It had lost its spoonness. I remember thinking, 'Wow, that is so simple, but it has changed something so much.' It made me look at the world slightly differently. If you cast the space underneath a bed, it's like a bed, but it isn't a bed any more. It's just a way of making the world slightly strange."
The realisation set Rachel on a path which she pursued with "extraordinary intensity of purpose," the artist Phyllida Barlow, who taught her at the Slade, says. Rachel continued to transform domestic objects like spoons and hot-water bottles, and then, as her technical ability grew, so did her ambition, and she extended her investigations from the objects we use every day to the very spaces we live in.
For "Ghost" in 1990, she spent some 50 days plastering the walls of a Victorian living room (with those 25-kilogram bags she had pedalled from east London all the way up Archway Road), then waiting for the plaster to set, cutting it out in panels and removing them one by one. She remembers the project as "hugely challenging". For one thing, she trapped herself inside her own artwork when she plastered over the room's door and was entombed until the plaster had dried. "It wasn't for long – a couple of hours. For that short period, I felt like a nun," she says. But it wasn't until she had reassembled the sculpture that she fully realised what she had made. Early one morning she went into the studio, and "there was this beautiful pink light hitting 'Ghost', and I suddenly realised that I was the wall. And that was quite a thing." What she means is that in the plaster cast of the room, all its features had been inverted: the fireplace had gone from being a recess to protruding outwards; the light fittings and the door handle had been reversed. So when you look at "Ghost", it is as if you are trapped inside the wall, a silent witness to the space left behind when all the people have gone.
The finished sculpture was displayed at the Chisenhale Gallery in London and then bought by Charles Saatchi (today it belongs to the National Gallery of Art in Washington, DC). Rachel now compares "Ghost" to the Netflix show Stranger Things, in which people get stuck in a terrifying parallel reality that overlaps with our own.
When we see Rachel's work, there is a disquieting sense that something is not quite right; she imbues it with emotions such as longing, loss and sometimes even terror. She wants her sculptures to provoke a "sense of unease" in the viewer, she says, by combining "a lovely homeliness" with a "sinister, even nightmarish" quality. There are never any people in her art, but nearly everything she makes is about us: our histories, our lives, our deaths and, finally, our absence.
Take her sculpture "Shallow Breath", made in 1988 for the Carlisle Gallery show. Rachel cast the underside of a single bed; the work's surface was imprinted with the slats which supported the mattress. Her father had died a few months earlier at the age of 59, and the sculpture, which suggests the weight of a human body pressing down on the space beneath, was "a bit of memorial to him," she says.
Abandoned sites have long appealed to Rachel. "As a really young kid in Essex, I would hang out in old Portakabins built on bomb sites after the war." After the family moved to London, she and her friends would break into Highgate Cemetery, sometimes at night, and "terrify ourselves because it was fun". In those days, the cemetery was a neglected, overgrown landscape. "It had been abandoned for quite a long time; lots of the graves had been destroyed or vandalised." (She later returned as a volunteer, "clearing undergrowth, rejigging tombstones and reworking paths".) When she had a studio near the site of the future Olympic Park in Carpenters Road, she would explore disused factories nearby. (Grayson Perry worked in an adjacent space. "She was making moulds underneath chairs," he says by email, "and the thing I most remember was the overpowering smell of resin coming from her room.") "One of them was probably incredibly dangerous," she recalls. "They used to make furs there, and they use mercury for that. I'd go in and crawl around the vats and look at stuff."
After "Ghost", Rachel went on to cast several more rooms and even entire flats. When she and Marcus moved into the former synagogue, Rachel made casts of the rabbi's and caretaker's apartments, three staircases, and the floor of the area where the congregation used to pray. (Tate now owns one apartment and a staircase; the Guggenheim owns the other apartment and a staircase. The remaining staircase and the floor are in private collections.) But she is most famous in Britain for "House", a public sculpture that unexpectedly generated a national debate about contemporary art, electrified the media and was even discussed in the House of Commons.
Unveiled on 25 October 1993, "House" was a life-size cast of a Victorian terraced home at 193 Grove Road in Bow, Tower Hamlets, commissioned by Artangel, a non-profit organisation which places temporary art installations in public spaces. The rest of the terrace had already been demolished to make way for a green space as part of a government regeneration plan. "House" stood as a silent, solitary testament to the loss of working-class communities in east London.
The critics loved "House". The public flocked to see it. But not everyone was enthusiastic. Eric Flounders, the leader of Tower Hamlets borough council, described it as "utter rubbish" and "entertainment for the gallery-going" elite. He spearheaded a campaign to have it destroyed. James Lingwood, the co-director of Artangel, recalls how the work became a "lightning conductor" for wider debates on elitism, regeneration and the place of culture in society. "We could not have foreseen the level of controversy [it generated] and the sound and fury that swirled around it." The irony is that "House" celebrated the very people Flounders represented.
"It gave monumental importance to the lives of people who had come through all sorts of experiences, the war and so much more," Phyllida Barlow says. "It was a glorious monument to London itself."
The work had always been intended as a temporary installation, but its supporters had hoped it might remain in situ permanently. Some collectors offered to save it by moving it to another location. But Rachel said no: "House" had been made for the East End, and it needed to stay there. And so, 78 days after it had been unveiled, it also died there. On 11 January 1994, Rachel watched as a bulldozer smashed it to pieces. Her extraordinary sculpture which immortalised the memory of a house had itself become a memory.
After "House" was gone, Rachel had "a moment of mourning", she tells me, but for her, the sculpture endures, perhaps as a reminder that the path to great art is to cleave to one's vision, no matter how ambitious. "When I'm thinking 'Where am I going?' with a particular sculpture, I always think about 'House'," she says. "It has informed so much of my work."
Just two years after its demolition, Rachel found herself under attack again for another public sculpture. In January 1996, her design for the Holocaust memorial in Vienna was chosen unani-mously by an international jury. Her proposal was for a concrete room lined with books, their spines turned inwards so you cannot read the titles. The memorial is a testimonial to the intellectual life of the Jewish people who died under the Third Reich and all the books they would have written that we will never read. It was meant to be completed within 18 months, but for five years Rachel was questioned in endless committee meetings through repeated changes of government. "Everybody was really aggressive, asking me, 'What is your memorial? Why does it look like a bunker?' And I would say, 'It's not a bunker, it's a library.'" But she always knew that it did indeed look like a bunker, perhaps hinting at Austria's failure to fully acknowledge its role in the atrocities and to deal with persistent anti-Semitism. "I wanted to make something tough. I worked really hard to get the design past them, and I did." At one point she threatened to pull out when it was suggested that the sculpture be moved to a different site, Heldenplatz – Heroes' Square. "I refused to let it be anywhere other than Judenplatz," she says. When the monument was unveiled in October 2000, there were snipers on nearby rooftops in case of protest by supporters of the far-right Freedom Party, which was then in the ascendant. "The whole experience was terrifying," Rachel says.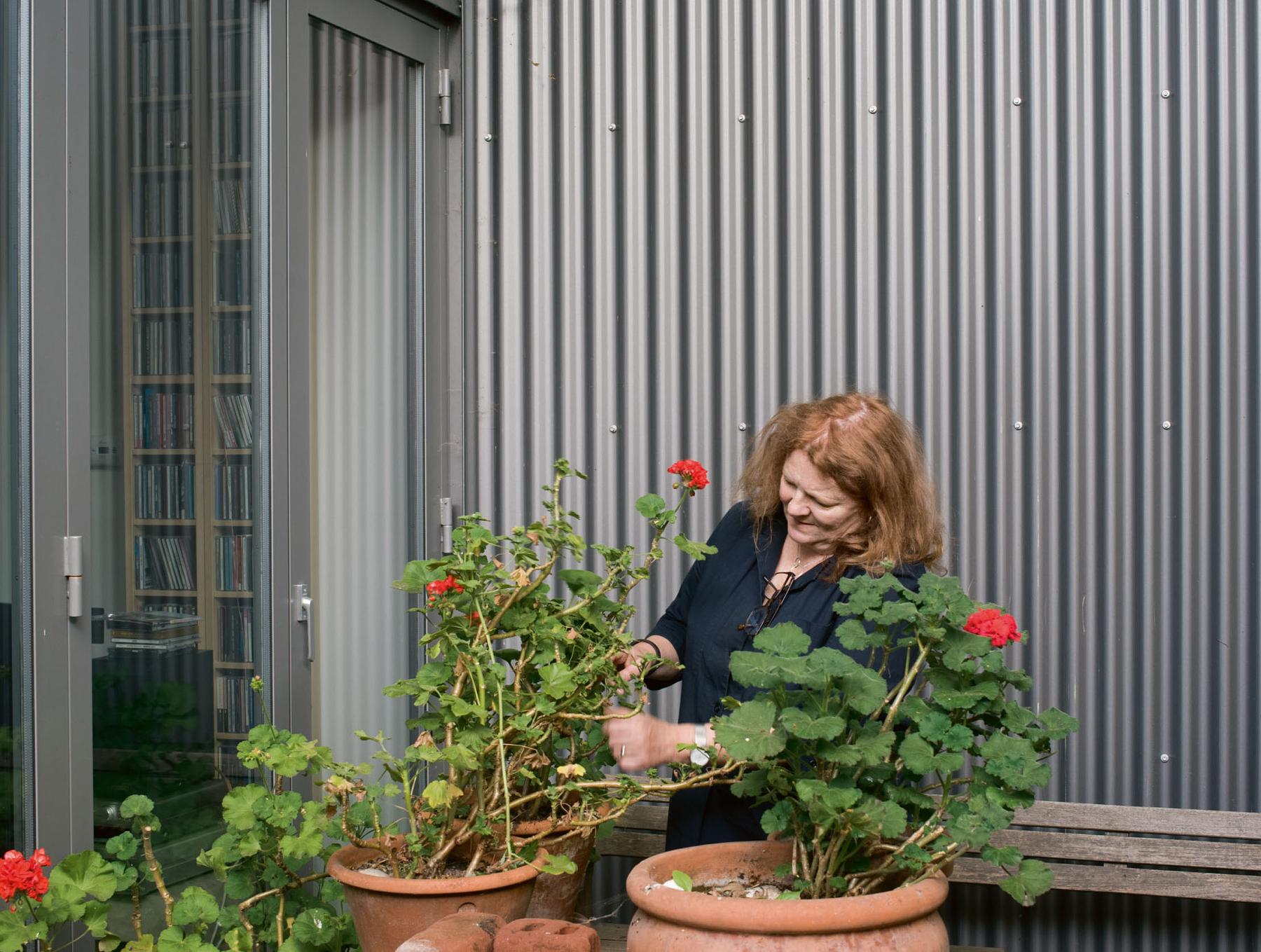 The controversies surrounding "House" and her Jewish memorial in Vienna were "extremely difficult", Rachel tells me. She had "a bit of a breakdown" afterwards and was "very, very anxious for a while". Although she continued to produce major sculptures – in 2005, for example, she filled the cavernous Turbine Hall at Tate Modern with "Embankment", a landscape of white plaster casts of boxes inspired by the experience of sifting through her mother's belongings after her death – she remained sensitive to charges of misusing public money. Indeed, when she accepted the commission for the Fourth Plinth in Trafalgar Square, she did so knowing that she would have to self-fund the work. "Monument" (2001), a transparent resin copy of the plinth placed upside down on top of the original, was paid for through sales of a limited-edition of 15 maquettes of the sculpture.

Rachel has an ambivalent relationship with the art market. In 1988, her first exhibition at the Carlisle Gallery included casts of the inside of a wardrobe (covered in black felt) and the underside of a dressing table and the space inside a hot-water bottle, and "Shallow Breath". An art dealer she declines to name offered to buy all four pieces. But he also wanted exclusive rights to purchase everything Rachel made for the next five years. "The offer was incredibly exploitative, and even though I was extremely skint, I said no." With extraordinary prescience, she kept all four sculptures herself. For the first time since 1988, they are on display together at Tate Britain.
"I'm just not interested in how much things are worth," Rachel says. She is nevertheless represented by powerful galleries – Gagosian in London, Luhring Augustine in New York, Lorcan O'Neill in Rome – which sell her small works on paper for between $12,000 and $14,000 and her larger sculptures, such as specially commissioned concrete sheds, for about $500,000. Although she knows that the market still discriminates against women and that if she were a man she could sell her work for more, it doesn't seem to bother her. "How much money do people need? Personally, I've been very lucky to be able to make some really tough work and big work and work that men would find challenging to make."
One of the artists she most admires is the American Richard Serra, a notoriously intimidating artist whose massive abstract sculptures in sheet metal are hugely challenging to make, move and install. She tells me a funny story about first meeting him at a private view in New York after "House" had been unveiled in London. "He pointed across the room and said, 'Get that Rachel to come and talk to me.' And I was like, 'You come and talk to me.'" And he did. (She met another of her heroes, the late abstract painter Agnes Martin, in Venice in 1997. "She came and saw my show at the Biennale, which was a joy. It was like meeting the Queen but more interesting.")
Rachel's move to her new studio in 2015 prompted a massive clear-out. (When she happens upon a reality television show about extreme hoarders trapped in their homes by decades of junk, she thinks, "Oh no, that could have been me.") The studio is now filled with displays of her small metal sculptures. There are many casts of spoons, the utensils that played such an important part in her artistic development. She lets me hold one as we talk; it is a weighty, seductive thing which recalls the object it was made from but also its absence. Even this small, simple sculpture has a spectral quality to it. Phyllida Barlow says it is as though "a ghost of something is being trapped and caught in its moment of disappearing. The object's loss becomes the sculpture. It is beyond beauty; it is sublime."
"I've been lucky to be able to make some tough work and big work — work that men would find challenging to make."
Other pieces have been cast from items Rachel has found, such as discarded soft-drink cans and plastic bottles flattened by traffic. As part of her reckoning with her own rubbish, she took the vast quantity of paper that had accumulated in her old studio – sketches, magazines, letters, accounts, invitations to private views – shredded it, and turned it into papier mâché. Her drawings decorate the walls.
Rachel has only one assistant, who works in an office upstairs. It wasn't always so. At one time she ran two studios – one for sculpture, the other for drawings – staffed by a team of employees. "I was becoming the producer of my own work rather than actually making it myself any more. I wanted to go back to basics." And so in 2005, after completing "Embankment" for the Turbine Hall, she got rid of most of her staff and now answers to no one but herself, spending her days drawing and making papier-mâché sculptures while listening to BBC Radio 4 or podcasts. One of her recent favourites is S-Town, a murder mystery of sorts that tells the story of an eccentric horologist in rural Alabama. "It was absolutely brilliant. I drew and binge-listened for two days."
She is still making monumental sculptures. When we meet, she is getting ready to install a work commissioned for the new US embassy in Nine Elms, south London, which is scheduled to open later this year. Her piece, a concrete cast of a pre-assembled flat-pack house, will straddle the embassy's public entrance – half the sculpture will be on the wall inside, the other half outside. "In the 1950s, all of the houses in America were prefabricated," says Rachel, whose sculpture serves as a neat metaphor for the American dream of economic success and homeownership that is the ideological foundation of the country.
Away from the spotlight, Rachel has enjoyed making what she calls "shy sculptures" in remote places. There are casts of an old boathouse on a fjord in Norway ("The Gran Boathouse", 2010), a hut in Norfolk ("Houghton Hut", 2012), two sheds – "Shack I" (2014) and "Shack II" (2016) – in Joshua Tree National Park in southern California and a concrete cabin on Governor's Island in New York ("Cabin", 2015). These works, she says, are as much "about the journey of seeking them out" as they are about experiencing the sculptures in person. Rachel hopes to make more of these "shy sculptures" and one day publish a book and a map for hardcore fans.
For these larger works she collaborates with a former assistant she has known since the Slade who runs his own foundry. Many of Rachel's closest collaborators have a long history with her. Before organising the Tate show, Ann Gallagher curated three other exhibitions of Rachel's work, including her Venice Biennale display 20 years ago. Rachel's friendships are long-standing, too. "I really made a decision when I first became famous that I wanted to keep my core group of friends. Those sorts of friendships are very special. They live deep in your heart."
The week after our interview, on a sultry evening in Rome, I meet several of these friends at an exhibition of Rachel's new work at Galleria Lorcan O'Neill. At the centre of the show, a pair of heavy, ice-blue transparent doors made of resin ("Due Porte", 2016) leans against the walls. They were cast from doors recovered from the building in which we stand. "Rather than getting rid of them, I sent them to Rachel," Lorcan O'Neill says. The surface of the doors is pristine, with no imperfections; they recall the pared-down purity of minimalist art. It's an effect Rachel has achieved through years of trial and error. "It's very, very difficult to cast resin in that size with no bubbles," O'Neill says. The effect is extraordinary. It is as if Rachel is able to view the world with X-ray vision, seeing the simplest architectural structures as transcendental, timeless things of beauty.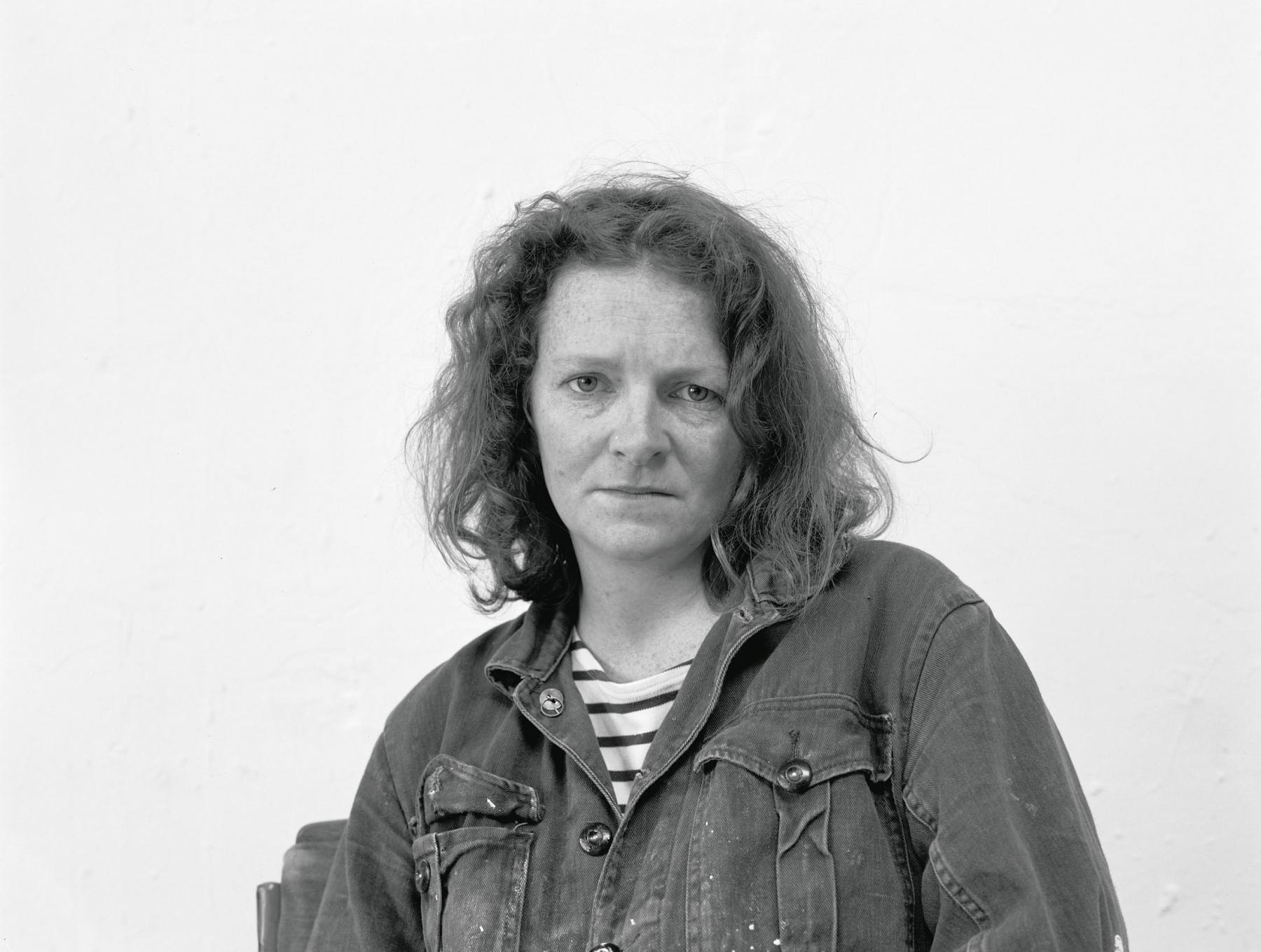 Nearby, sections of a papier-mâché chicken shed create an entirely different effect. Where the resin doors are hard, the shed is soft, its textured surfaces speckled with multicoloured remnants of Rachel's rubbish. Papier mâché is the material of children's school projects, the material she made small objects out of in her mother's studio. Her return to it suggests she is mining her own memories, recreating the world by channelling the limitless imagination of a child. Rachel is showing the shed to Ann Gallagher.
Later, on the gallery roof, lined with lemon trees, dinner is served for a small group. An early boyfriend of Rachel's, Steve Trent, is here. They went to school together in Muswell Hill and have known each other since they were 11 (today he runs the Environmental Justice Foundation in London). Rachel Wyndham Wincott, an accountant, also met Whiteread some four decades ago. "Rachel's friends now are her friends from then, and that is a key to who she is," says another friend, the artist David Batchelor, who is married to Ann Gallagher. This group reunites for birthdays, anniversaries and every exhibition opening of Rachel's. "I sent her a text on my way saying I felt quite weepy that we were all going to be together again," Wyndham Wincott says. "There is proper love here; it's family," she adds. Seeing Rachel tonight, drinking wine under the stars and exchanging memories with her dearest friends, I feel as if I am seeing her for the first time as she really is.
Today Rachel is celebrated the world over for the mournful poetry of her sculptures and for her capacity to distil the essence of the most difficult subjects. "There is an innate dignity and gravitas to her work," Grayson Perry says. The accolades, which began early in her career, are still coming. In January, Rachel accepted the International Medal of Arts from the US Department of State, awarded to artists who "have helped define America's cultural legacy through their artistic excellence". The prize is for her sculpture in Nine Elms. When I ask about the honour, she is quick to point out that she accepted it from President Obama. "I got the medal in the last days of his administration. If it had been Trump, I would not have taken it. Please put that in capitals."
The work is still coming, too. Earlier this year, her design for a Holocaust memorial in London, at Victoria Tower Gardens, a public park next to the Palace of Westminster, created in collaboration with her husband, Marcus, and the architects Caruso St John, made it on to the project's shortlist (the result will be announced this autumn). The proposal consists of a translucent life-size cast of a nearby Victorian memorial commemorating the abolitionist Thomas Fowell Buxton, surrounded by smaller casts of the same monument. Light flows through the sculptures, illuminating an underground chamber where visitors will hear accounts by Holocaust survivors.
Like so many of her works, Rachel's London Holocaust memorial would capture the ghosts of lives past. She doesn't believe in actual ghosts, although she believes that people do see them. "They exist in your mind. That's what they are: hallucinations." But she does think that buildings have a life of their own, that somehow they may be imprinted by the lives lived within them. "I do have a sort of funny sense with buildings," she says. "A couple of years ago we stayed in a stately home in Cornwall, and I found it incredibly creepy. Being in the kitchen on my own, it didn't feel right – like there was something there, a feeling of unhappiness. And one night I felt like I saw something out of the corner of my eye. Then I thought, For God's sake, get a grip."