Peaches
Full-frontal feminism with the fabulously filthy Peaches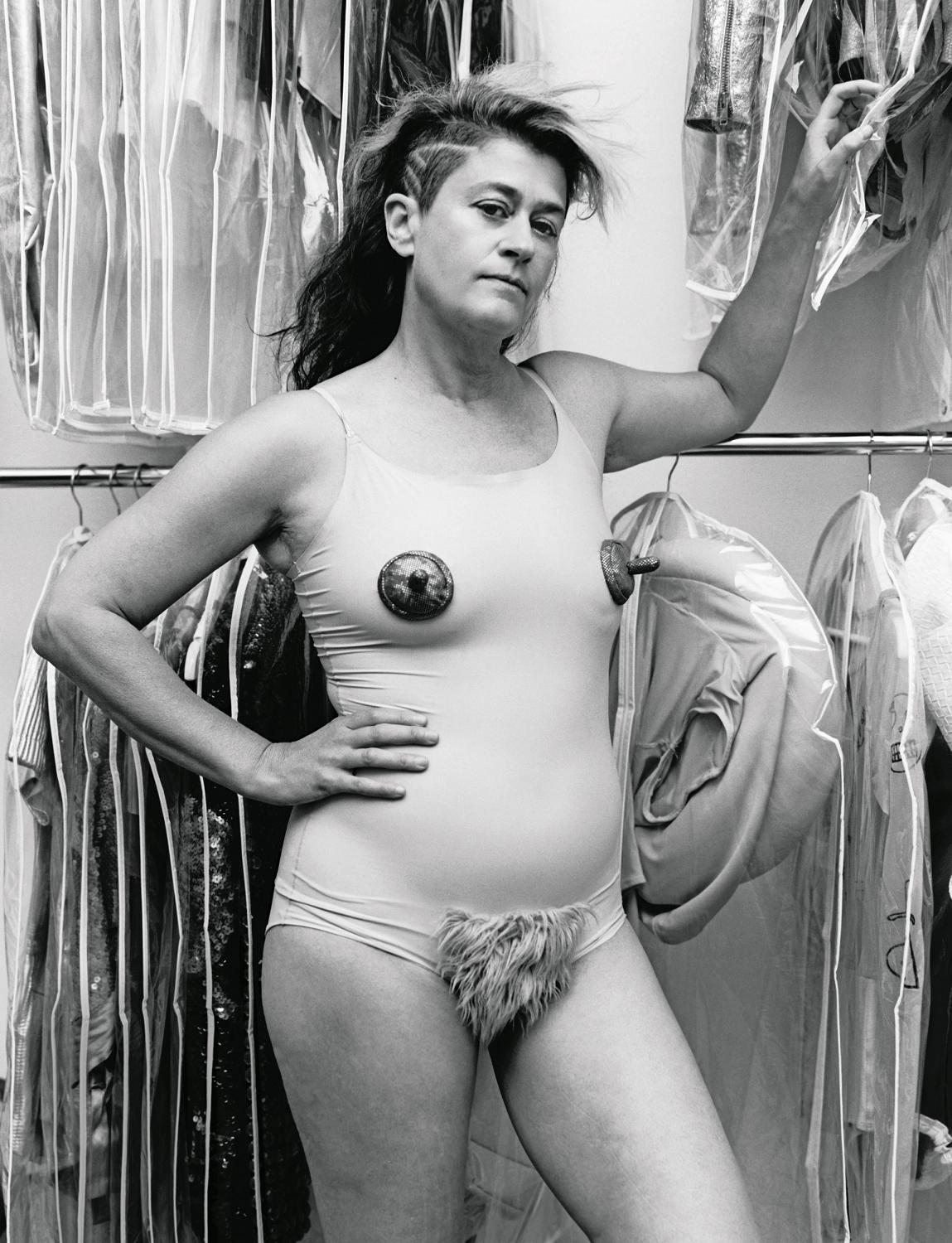 It's been nearly 20 years since the former Canadian schoolteacher born Merrill Nisker arrived in a blaze of sweary glory as the provocateur extraordinaire Peaches. Taunting and thrilling with incendiary performances and belligerent electro beats, she preached daring sex-positive gender politics and a thoroughly good time.
Pop culture may have finally caught up with the teaches of Peaches, but for this eloquent artist this is no passing fad – she lives it. In Berlin. Where she's a one-woman electro-rock-opera superstar. Hold tight for Peaches' second coming.
If Peaches hadn't had $5 that night 20 years ago, she's convinced we wouldn't be here.
Where we are is Berlin in the summertime, 32-degree heat fizzing off the pavements as we head to Weissensee, to the place where Peaches has archived her endlessly filthy, freethinking, fabulous career. Peaches and I are talking about the song that set it all off. It has featured in Lost in Translation, The Simpsons, 30 Rock and The Handmaid's Tale; it turned Britney and Christina on to self-empowered sexual pop; Thom Yorke listened to it endlessly before making In Rainbows, Radiohead's 2007 album; it was, according to Madonna's live crew, her favourite workout song. It's a slice of lo-fi electronic sleaze which begins with the lyric "Suckin' on my titties" and ends with the title as a finale: "Fuck the Pain Away".
"I played it for the first time in this tiny club in Toronto, the Rivoli, behind a restaurant," remembers Peaches, an avant-garde sage in an orange kaftan. Her pale blue eyes are big and bright as we go back to 2000. "It wasn't even finished. That's why the intro's so long!" The sound woman offered her a tape of the set for $5. Originally, she had planned to change the track, develop it, but everyone loved its raw, spontaneous power. "So that's the recording I put on the album. The one everyone knows. The people who've told me they've conceived to that song, given birth to it, had gender reassignment operations, realised they were gay…"
Then there is her taboo-busting imagery: the pubic hair curling out of her pants (bright pink on the cover of The Teaches of Peaches, that first album), the beards, the "pussy light" shining from her crotch as she performs. Watch Gaga "vomiting" on stage or Janelle Monáe's vagina-filled video to "Pynk" and the homages are obvious. "I always said I didn't want to go to the mainstream, I wanted the mainstream to come closer to me. And that happened." Peaches smiles. "Which is insane."
Spending 24 hours in Berlin with Merrill Nisker – the woman who two decades ago became Peaches – is a joy in every way. It starts with killer tequila, ginger and grapefruit cocktails in her kitchen in Prenzlauer Berg, the gentrified East Berlin neighbourhood that was a haven of squat and art culture after the fall of the Wall. Provocative art surrounds us; my favourite is a framed scarf decorated with a plain speech bubble hollering "Cunt Me In". The flat has huge rooms with high ceilings – this area was cheap when she moved to the city in 2000 – and a home studio sits next to the bedroom she shares with her boyfriend, Ellison Renee Glenn, a multidimensional artist. It's a cocoon of dark greys and silvers. "It's our cave," she says, raising an eyebrow.
A youthful 51, Peaches is sweet and attentive, asking me where I'd like to go, what I'd like to do. Before the day is through we'll have fondled dildos, left lip prints on conceptual art installations, and mounted drag queens in circus-themed bars.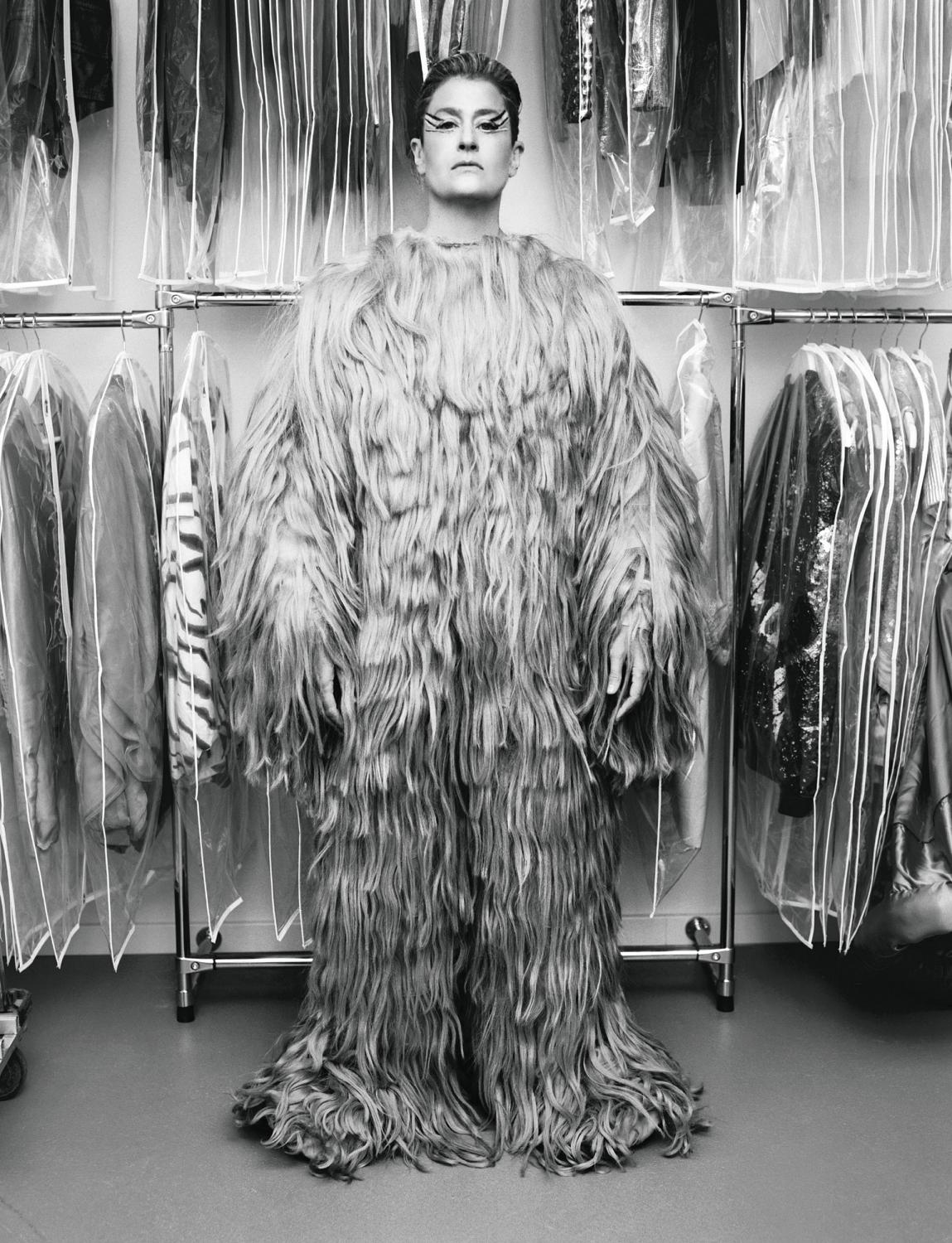 Peaches' archive is classic East Berlin. She rents the space from a wood restorer who has had it since the GDR days. A stonecutter and a youth photography group are her neighbours. "He says he'll never sell it for condos," she tells me as our taxi pulls up. "There was a rainbow over the building the first time I visited."
Two decades of Peaches blaze from the mannequins, rails, shelves and frames. There's a jacket covered in gold dildos by the Project Runway contestant Ari Fish, elaborate hairpieces by the French designer Charlie Le Mindu, boxes stickered with "Bloody Boob" and "Basic Bitch". Then there's the breastplate, made of about 30 stuffed boobs with dirty Barbie heads stitched on as nipples, from 2011. "This air company in Australia had lost my bags – I literally had nothing to wear – and my dancer there, Jess Daly, went, 'Well, I made this.' I was like, 'Are you kidding me? You've just made my whole tour!'"
As a child in Toronto, Peaches was already a whirlwind of action, doing gymnastics and dance. She is the youngest of three. Craig, 56, is a film editor. Suri, 55, uses a wheelchair as a result of MS, and, Peaches says, "her spirit is fucking undimmed. She was told not to have kids, and she was, 'Fuck that! I want kids!'" Peaches' father, Bernie, is a chartered accountant who left behind dreams of being a pro baseball player. Her mother, Noreen, taught psychology at the University of Toronto; she loves organising book clubs, going to lectures and power walking. They took a nine-year-old Merrill to see The Rocky Horror Picture Show and Brian De Palma's Phantom of the Paradise. As a teenager she secretly stayed up late watching what she calls "restricted films".
Peaches loved theatre classes in high school and went on to study theatre directing at Toronto's York University before switching to art. She fought her teachers often. "I wanted to make cool musicals, but nobody got me. I kept getting told I couldn't act, couldn't paint, couldn't sing." (In 2012, her anti-jukebox musical, Peaches Does Herself, premiered at the Toronto International Film Festival. Sweet justice.)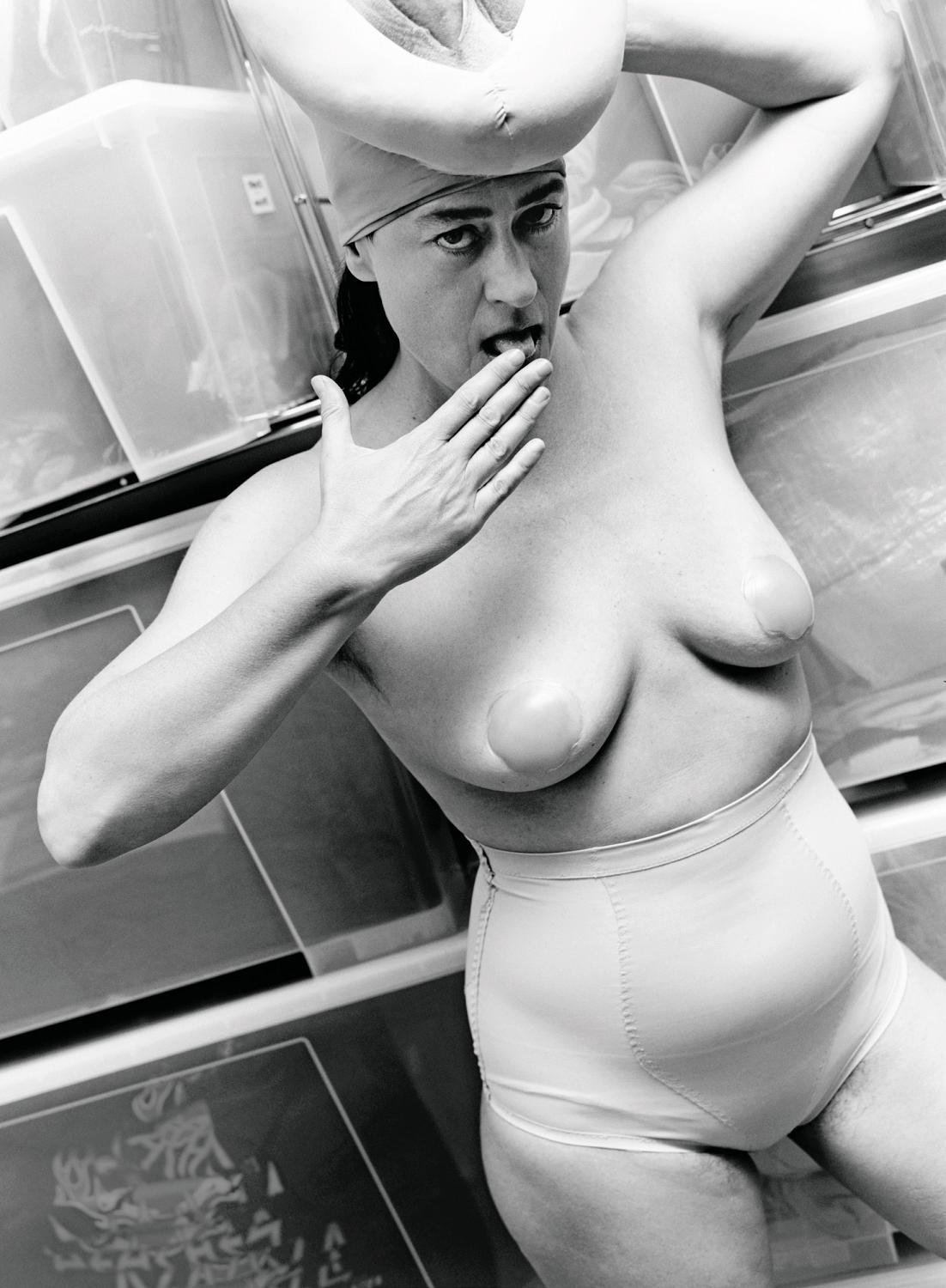 When she was in her 20s, Peaches ran music workshops for children in Toronto and was part of a folk trio, Mermaid Café, with which she recorded her first subversive release, "Gabey & Mike". The song, about two boys who were lovers, became a cult hit with teenage girls at Jewish summer camps – so much so that a film was made about it in 2016. Gabey and Mike: A Jewish Summer Camp Love Story still shows at festivals round Canada.
In 1995, as Merrill Nisker, Peaches released an album, Fancypants Hoodlum – "which nobody liked" – then joined a group that called themselves the Shit, in which everyone took on alter egos. Hers is from the Nina Simone song "Four Women". "But my name wasn't anything to do with the struggle of that character in that song," she says. "It was about the rawness with which Nina sang 'Peaches!' at the end of it." She illustrates this with a roar. "'PEACHES!' I wanted Nina to sing it to me."
There is another story lurking within Peaches' transformation, however. In 1997, a friend noticed a lump on Peaches' throat and convinced her to see a doctor. She had thyroid cancer, for which she needed radiotherapy and an operation. "And physically, I recovered quickly. But psychologically, I was all, My God! What do I want out of life? What do I want out of my life?" She realised she wanted to make her own music. "And I had to start that right now."
At the time Peaches was married to an artist (she wants to keep him anonymous). But the marriage quickly fell apart, and The Teaches of Peaches is essentially the album of that break-up. "I didn't want it to be vulnerable or about victimhood. I wanted it to take the music I loved and turn it around." Peaches had been questioning rock's clichés and the way they treated women. "I wanted people to say 'diddle my skittle', not 'squeeze my lemon'. I wanted people to say 'sucking on my titties', not 'my dick'. I wanted guys to sing along too." She smiles broadly. "Basically, I wanted to make new clichés."
She wrote The Teaches of Peaches while sharing a flat in Toronto with fellow Torontonian Feist, later a Grammy-nominated singer-songwriter, who also saw that first Rivoli show. Just Peaches, her Roland MC-505 and the beats she'd made herself. "She was wearing a turtleneck sweater and jeans!" Feist tells me by phone from Toronto. The two are still close, and Feist sang on the single "I Mean Something", off Peaches' most recent album, Rub, from 2015. "I was blown away by her lyrics and her sound," Feist says. "She was inventing a new genre from scratch. And a year later she was wearing her tiny pants at an art event, popping a bag of fake blood in them to horrify all the people in gowns. I couldn't believe it!"
Peaches moved to Berlin in 2000 and got signed to the city's prestigious Kitty-Yo records. Feist was sad to see her friend go, but she was behind the move all the way. "For her to come out with that stuff after what she went through in the 1990s… She was a phoenix from the ashes."
"I wanted to make new clichés."
Thursday morning, 11.30, the Gropius-Bau in Kreuzberg, in what was West Berlin. We're here for an exhibition by the French-Algerian installation artist Philippe Parreno, which Peaches is desperate to catch – she loves how visual artists are still streaming into the city. Ellison is with us, a sweet, polite guy in baggy pants, dreads tied on top of his head. Peaches kisses him, and he goes off into the gallery alone. Later, she spots him the other side of a bubbling pool with his notepad. "Look at him," she says tenderly. "He's a good one." We take in films of buzzing insects, player pianos, a room of inflatable fish swimming by themselves; Peaches joyfully pokes one into the air.
In another room, she stares so closely at a machine siphoning water and playing sounds that her lips kiss the glass. "I hope nobody saw that," she says, laughing. She loves conceptual art. "I like it to be tactile, immersive and interactive. It needs to hit me quite immediately, but it also needs to have a meaning. And I like it to change my mind."
Peaches made her own art book in 2015, What Else Is in the Teaches of Peaches, with the photographer Holger Talinski. He was a student when they first worked together in 2008, and she has helped to shape his career. "Her appearance, on stage or in private life, just catches you," he tells me by email from Berlin. "Having no shame about your body, your sexuality or fantasy. Like David Bowie, she is creating a person that is strange and mystical. Almost not human," he adds. "But she's still having a respectful and fun time on tour and in general life – that's how it should go."
I tell Peaches about the joy I felt encountering her concept pop at the 2002 Reading Festival, just after the UK's all-powerful XL Recordings had signed her and rereleased The Teaches of Peaches. I loved how rock-'n'-roll this 35-year-old was, in pretty pink fishnets with a fuck-you curly mullet, screaming "Lovertits" in our faces. There was a spirit in British clubs then that came from the electroclash movement, but Peaches didn't feel part of that scene. "Looking back, there was something really good in the zeitgeist that had women in the forefront," she says. "Something about electronics and performance – for us, it just clicked."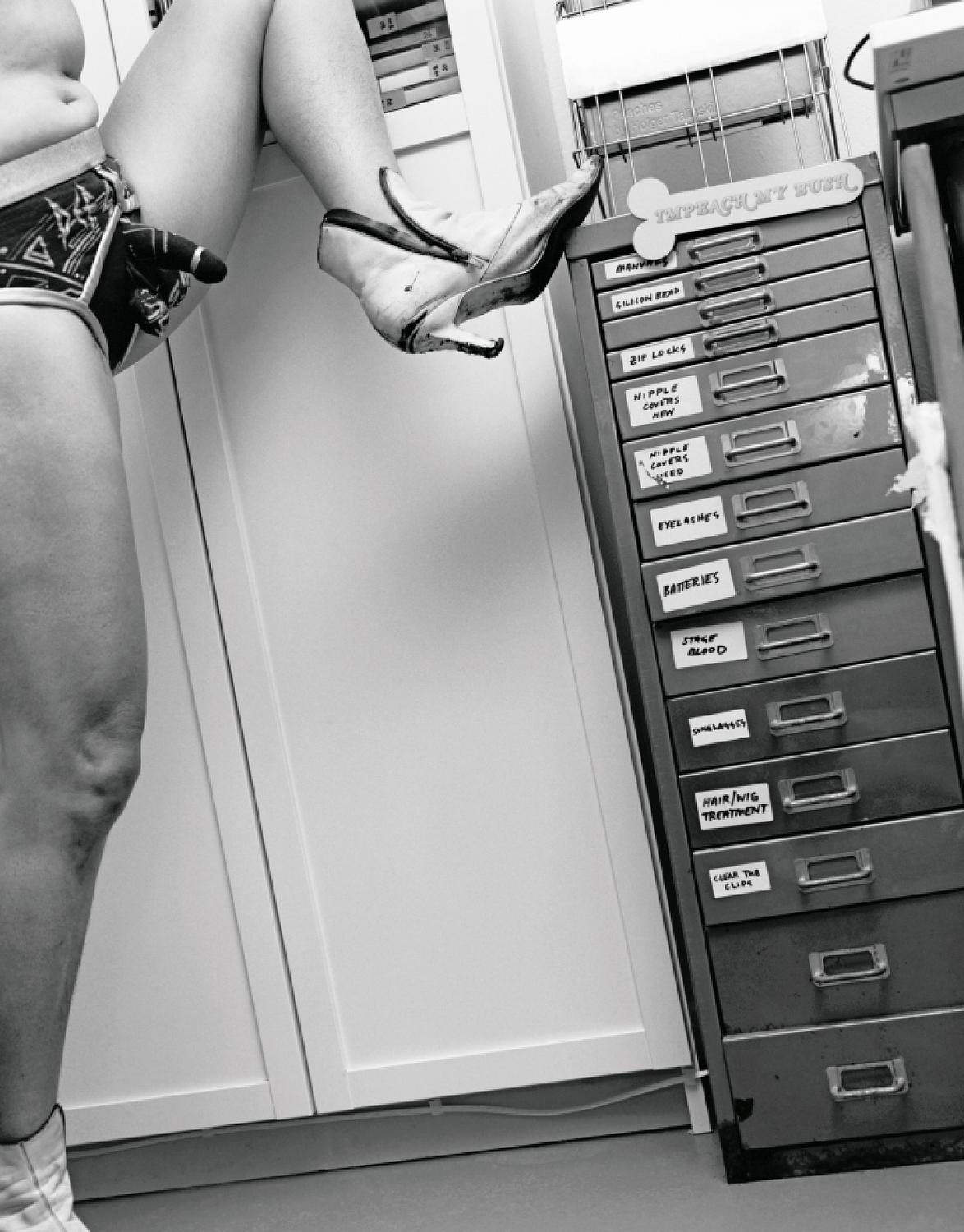 Peaches grew in confidence quickly. 2003's Fatherfucker embraced her love of rock music and got great reviews; it featured a duet with Iggy Pop, "Kick It", in which she was entirely his equal. 2006's Impeach My Bush saw her lyrical range broaden to tackle politics during the Iraq War ("I'd rather fuck who I want/Than kill who I am told to", went "Fuck or Kill", its opening track) and got Peaches working with the budding producer Greg Kurstin ("He then went on to do Lily Allen's first album, then become the best producer in the world!").
By the time of 2009's I Feel Cream and 2015's Rub, Peaches was singing more (her early records, she says, were delivered deadpan, inspired by Chrissie Hynde and Lil' Kim, so as not to detract from her songs' messages). She was also getting even more NSFW with her videos and live productions: the video for Rub's title track features nudity, watersports and queer orgies.
Peaches loves the way mainstream female musicians have become bolder in the 21st century. She's a huge fan of Beyoncé. "She's superhuman! I saw her live in Berlin last week, and there was only one time when there's a word on a screen, and that word was 'FEMINIST'. People go, 'Blah, blah, blah,' and pick that apart. But there's 70,000 people staring at that word. Fucking right!"
That aside, Peaches doesn't like how feminism seems to be being portrayed as a trend at the moment. "For me feminism is equal rights for everybody, for men and women. I'm not mad at the concept itself. I just hope people who are trans or do sex work can be part of that world. We have to remember those communities who are still not accepted."
An embracer of gender fluidity and her own broad sexuality, Peaches has been on her own journey of acceptance within her family. Her father has always been supportive. "He's always, 'There's my daughter! You're doing whatever you want!' when he sees me live, even if I'm singing 'Fuck the Pain Away'." Her mother needed more time, she says. "There was a lot of resistance – her friends going, 'Have you seen what she's doing?'" But now she's her daughter's "biggest fan," Peaches tells me. We watch a video on Peaches' phone of the two of them on stage at World Pride 2014 in Toronto, Noreen waving flags and wearing the boob breastplate as Peaches sings "Mommy Complex". A year later, Noreen introduced a hometown gig for Peaches the night after Justin Trudeau had been elected president. "She wore red and white for Canada, and when everybody started yelling, she was shushing them, like a supply teacher. Then she made a speech about how Peaches has always been about inclusivity, and how that linked to our country. How amazing is that?" Peaches beams. "We've been on a journey, me and Mom."
"I mean, be comfortable in your body and your art whatever your age — that's one of my main messages."
By 7pm, we're at Toast Hawaii, a basement bar run by an old circus family in Prenzlauer Berg. The crowd is a mix of fetish kids and old punks sharing tacos and cheesecake. We're here for an album playback by Eat Lipstick, a band of thirty- and fortysomething queens that Peaches has produced. From under a bleached wig, Anita Drink is miming her band's songs through a megaphone at her five-year-old, ear-defender-wearing son. Anita has known Peaches for years – "since I stepped off the ship from San Francisco," she says. "I was nervous asking her to produce us, but she's been so kind, firm and helpful. She told us from the start: 'Be sure you know what you want.' She worked us like a piece of leather."
Peaches has always railed against ageism, which she's faced throughout her career (her first NME review, when she was 33, was headlined "Grandma, you're scaring the kids"). "I mean, be comfortable in your body and your art whatever your age – that's one of my main messages," Peaches says, as we settle into a booth with our free playback prosecco. "And age is nothing. Look at Yoko Ono!" Ono got Peaches to recreate her own 1964 performance "Cut Piece" at the 2013 Meltdown Festival on London's South Bank, which Ono curated. It was the first time Peaches had been naked on stage; she calls it "one of the best moments of my life". Ono, returning the compliment, has said, "'Cut Piece' will never be performed again with such eloquence."
This afternoon Peaches has had a dance lesson at her archive – she loves contemporary experimental practitioners such as Meg Stuart and Florentina Holzinger – but her last few years have been devoted mainly to learning operatic singing. She played Orfeo in HAU 1's 2012 production of Monteverdi's 17th-century opera, and, of course, there is her own one-woman version of Jesus Christ Superstar.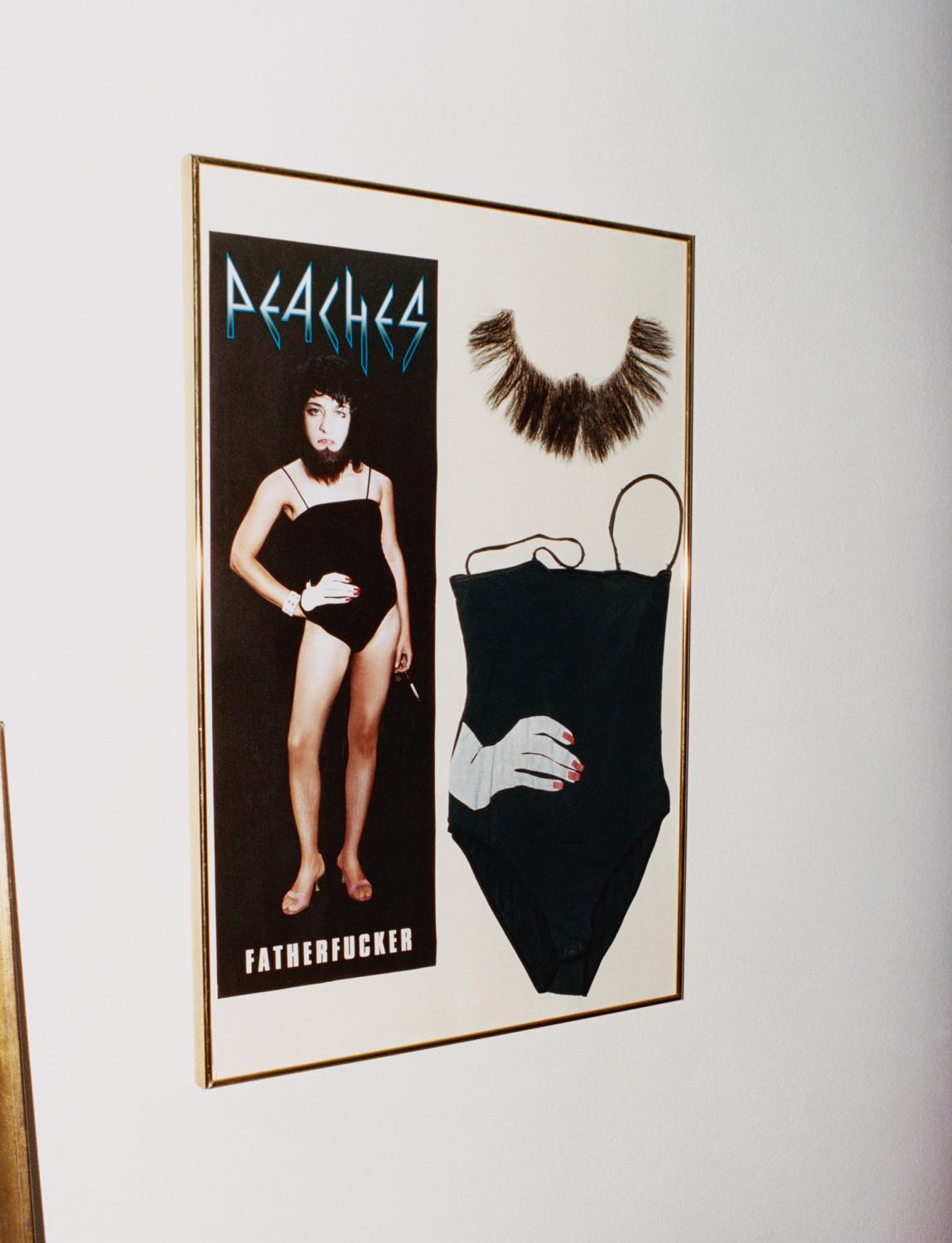 "I always said I didn't want to go to the mainstream, I wanted the mainstream to come closer to me."
In Peaches Christ Superstar, she plays all nine lead characters from Tim Rice and Andrew Lloyd Webber's 1970 rock opera, including Mary Magdalene, Pontius Pilate and Jesus himself. She used to sing it in her bedroom as a teenager, she tells me, and when, in 2010, a theatre in Berlin asked her to create a new show, she suggested Peaches Christ Superstar.
It almost didn't happen: Andrew Lloyd Webber's Really Useful Group initially denied her permission to perform it. It was only after the show's lyricist, Tim Rice, intervened, arguing that Peaches' version should at least be given a try-out, that it opened. Rice saw the performance at Yoko Ono's Meltdown and adored it. "[It was] wildly original," he says by email. "It seemed to suit her extraordinary range and was, of course, a very unusual approach to the piece, yet very faithful in both words and music." She "was delightful" when they met after the show, and he says he's pleased to have helped make it happen. Rice signs off expectantly: "Are there any more performances in the pipeline?"
Well, yes, Tim, there are: two nights at the Dublin Fringe Festival, 21 and 22 September. After that follows Peaches' busiest year to date. She's just found out she'll play Anna I, the principal vocal role, in a production of Kurt Weill and Bertolt Brecht's The Seven Deadly Sins in Stuttgart next February. Then comes her biggest production yet: an interactive, immersive celebration of her 20-year career, to involve both an exhibition and performance, which will open at the Manchester International Festival next July and move to the Kunstverein in Hamburg in August before touring art venues in cities including Paris, New York, Los Angeles and Sydney. She is also busy planning the launch this autumn of a massage oil, called Rub.
Changing minds has been Peaches' life for 20 years. And though in the past year she says she's tried to place more emphasis on "being human" than on being Peaches, it's hard to make that distinction when every aspect of her life is bound up with the "incredibly privileged situation" she enjoys in the Berlin cultural scene. When Peaches shows up at one of the underground art exhibitions she so enjoys, she is instantly embraced as a fellow collaborator in a gang everyone wants to join. She mentions walking into a party and a guy greeting her with "'I have a big dick for you!' And I was all, 'What the fuck?'" But, of course, it turned out that he was offering a prop for Peaches to use in her show. She's a woman who constantly gives it out, but she takes it, too. "I'm still seen as part of the community," she adds. "That's the most important thing to me."
Peaches never wanted "to be the most famous," she says. Other people are doing that for her. "I just wanted to be the best. The most hardcore."