Maria
Sharapova
The Competitor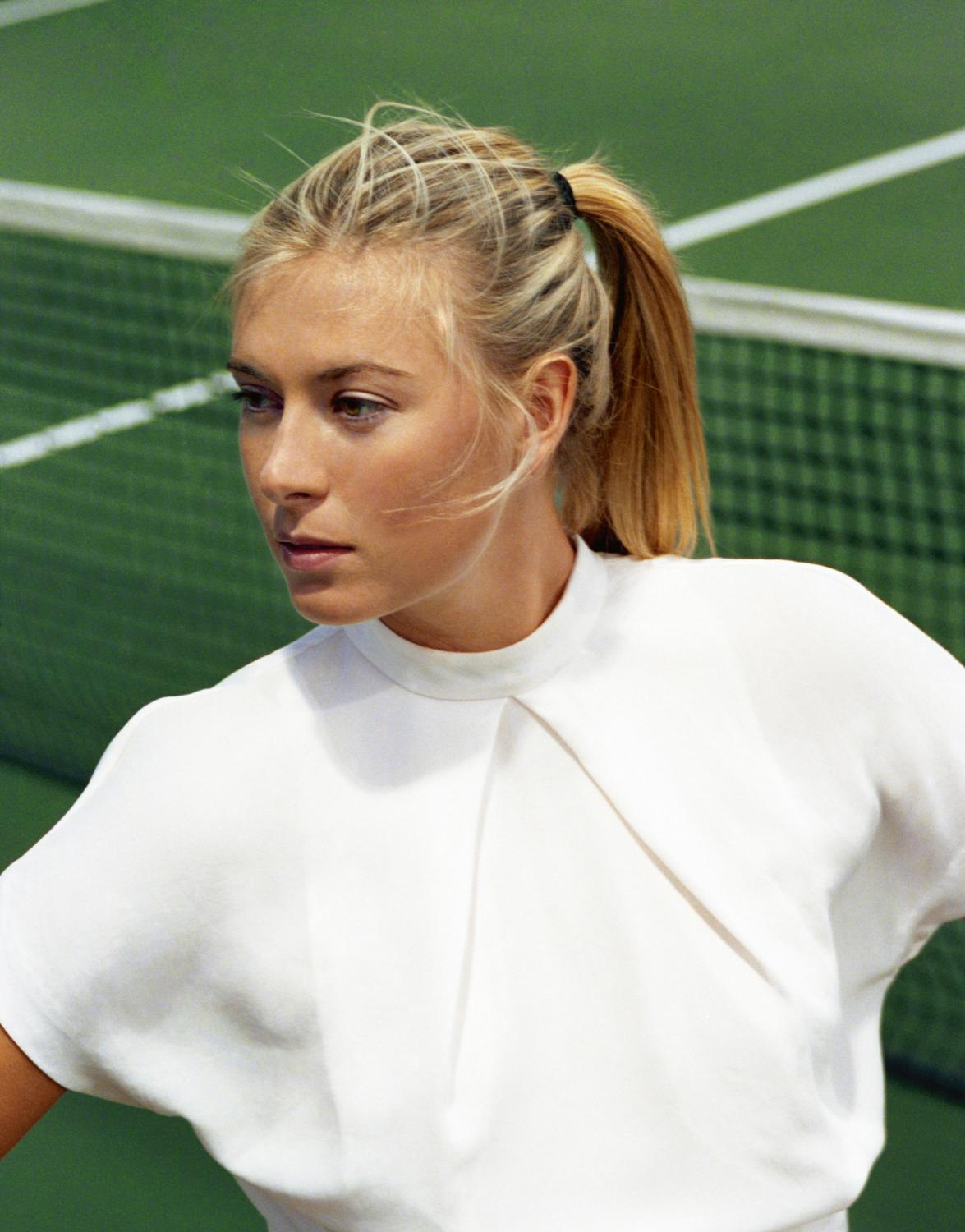 ---
Issue n° 5, Spring & Summer 2012
Russian tennis star Maria Sharapova is the glamorous sportswoman who wins her tournaments on mental strength as much as an astonishing long-armed reach, then gets the hell out of the locker room to fight another day. She'd rather go home and play Scrabble with her 6-foot-7 basketball-player boyfriend than make friends with her on-court foe. Now, the world's highest-earning female athlete is setting her sights on the Wimbledon title, which she aims to win for the second time.
How to define a phenomenon like Maria? At 24, she is by a country mile the best-known woman in tennis, feared for her supersonic ground strokes and never-say-die determination that have produced 24 Women's Tennis Association titles, including three Grand Slam victories, the first of which she achieved at Wimbledon in 2004, at the age of 17. Over 6 foot tall, her blond hair, green eyes, ultralong legs, and ferocious grunt make her a UK tabloid obsession. A recent news story in the Daily Star proclaimed that the "moans of the sexy Russian" could hit 101 decibels. The Sun's celebrity gossip column, "Bizarre," told readers how she "sizzled" at the Excellence in Sports Performance Yearly awards during her last visit to London, noting that she "drew attention to her long legs in a bright red long-sleeved frock with cut-out shoulders." Her fame has led 6 million people to "like" her on Facebook – that's as many as Madonna.

But let's start with a different number: 25 million. This is the sum, in US dollars, that Maria makes each year, according to Forbes magazine. It is a staggering amount that makes her the highest-earning female athlete in any sport anywhere on the face of the earth. It is also a yardstick indicating her wider talents. Only a fraction of this extraordinary sum is made from actually hitting yellow balls; most comes from her remarkably astute off-court career.
We meet at a country club in Manhattan Beach, southern California, a short distance from one of Maria's two US homes (the other is in Florida). Despite being just a half hour from Hollywood and its entrenched star system, and despite her status as one of the world's most famous young women, she drives to the location alone. There's no entourage, no assistant, and no pushy army of Evian-toting publicists following in her wake. Maria takes care of her own business. Today, she's being photographed on a court where she often trains. As you might expect, she's entirely at ease in front of the camera, oblivious to the shouts emanating from a nearby court. Being photographed is fun, she says. "On a shoot, I feel able to go into a character that I don't normally get to play on a daily basis."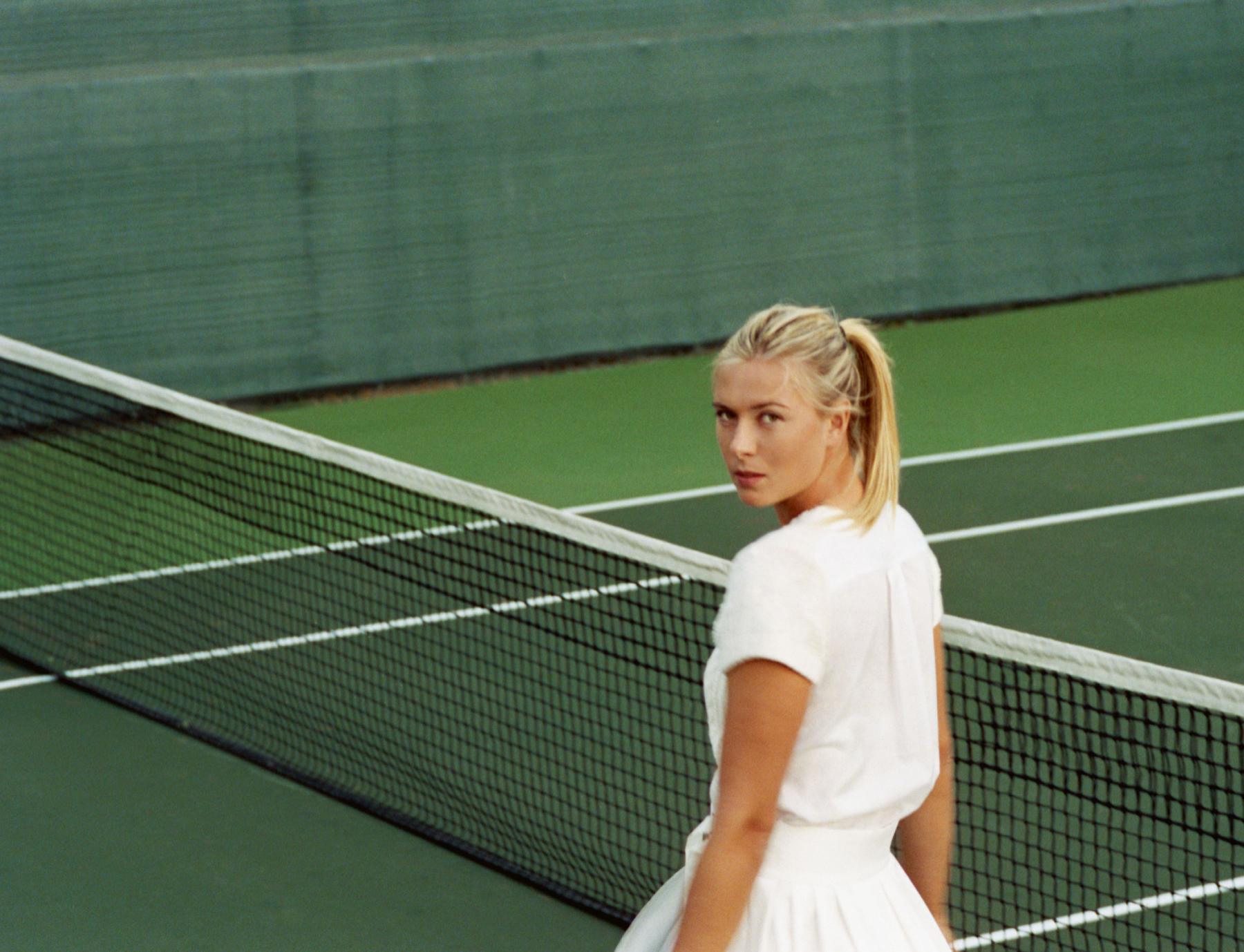 In her competitive day-to-day existence, Maria appears more like a force of nature. For seven years, she's held firm at the very top of her profession, finishing the 2011 season ranked fourth in the world, putting a seal on her comeback from a 2008–9 shoulder injury that for a time seemed as if it might finish her career. Rangy and powerful, with aggressive ground strokes and extraordinary reach, at times Maria seems to blow away opponents with a ferocity at odds with the more sophisticated demeanour she exhibits off court. It is, however, the matches she struggles to win that have nurtured her fan base. She's one of the grittiest competitors on the circuit: a born winner who, like any great champion, always seems to find a little more when the chips are down. Occasionally, when pushed wide to the backhand, she'll transfer the racket to her left hand. She grunts (famously), screams (noisily), hustles, bustles, and sometimes punches the air. When Maria's in a tight spot, you're guaranteed a show.
"There are plenty of players who have as much raw talent as Sharapova," says Paul Newman, Britain's Independent newspaper's tennis correspondent. "You wouldn't say she has great athletic ability, at least compared to some. She doesn't move particularly easily. But where she does stand out, and where very few people, perhaps no one in the game today, can match her, is mental strength. It can make her incredibly dangerous in a tough situation. She turns around a lot of tight matches because she plays the big points better."
"I hit a lot of balls. I'll have 600 balls in the basket and go on hitting and hitting, until my arm feels like it's going to fall off."
Maria's drive and attention to detail extend to her commercial affairs. Her shoes for the photo shoot today, for example, come from the Maria Sharapova Collection, which she helps design for US accessories label Cole Haan. It's the first time she's tried pairs from the new Spring collection, and she takes the business of road-testing them seriously, adjourning for extended discussions on the phone over details that might be altered before they're allowed to hit the shelves. For instance, she points out that the ankle strap on a pair of sandals needs to be tightened. "I'm the first one to say that I'm by no means a designer," she says. "But I still have a contribution to make. The shoes can be beautiful, but they also have to be practical, and that's where I have relevant experience. It's about understanding what women want." Every week, once she's finished swatting tennis balls, she studies spreadsheets detailing Cole Haan's global sales figures. "I get reports from all the different markets, from the US and online. I learn from it all the time." After she found out women in Japan didn't like particularly high heels, she says, her new line was tweaked accordingly: fewer fashion pieces, more ballet pumps.

Maria only does endorsement deals with substantial brands: TAG Heuer, Nike, Tiffany, Sony. Unusually in the mercenary arena that is 21st century professional sports, she tends to spend more than her contractually obliged number of days working with the firms. "If I have free time on my hands, I might say, 'Let's brainstorm here. Let's figure out things we can do together which can help you.' Why not?" Late last year, she announced the launch of a tennis-themed confectionery range with the unlikely name Sugarpova. "I hate not working," she says. "I can't just sit on my couch. I find it really tough to go on vacation. Although I did recently manage a few days in Phuket."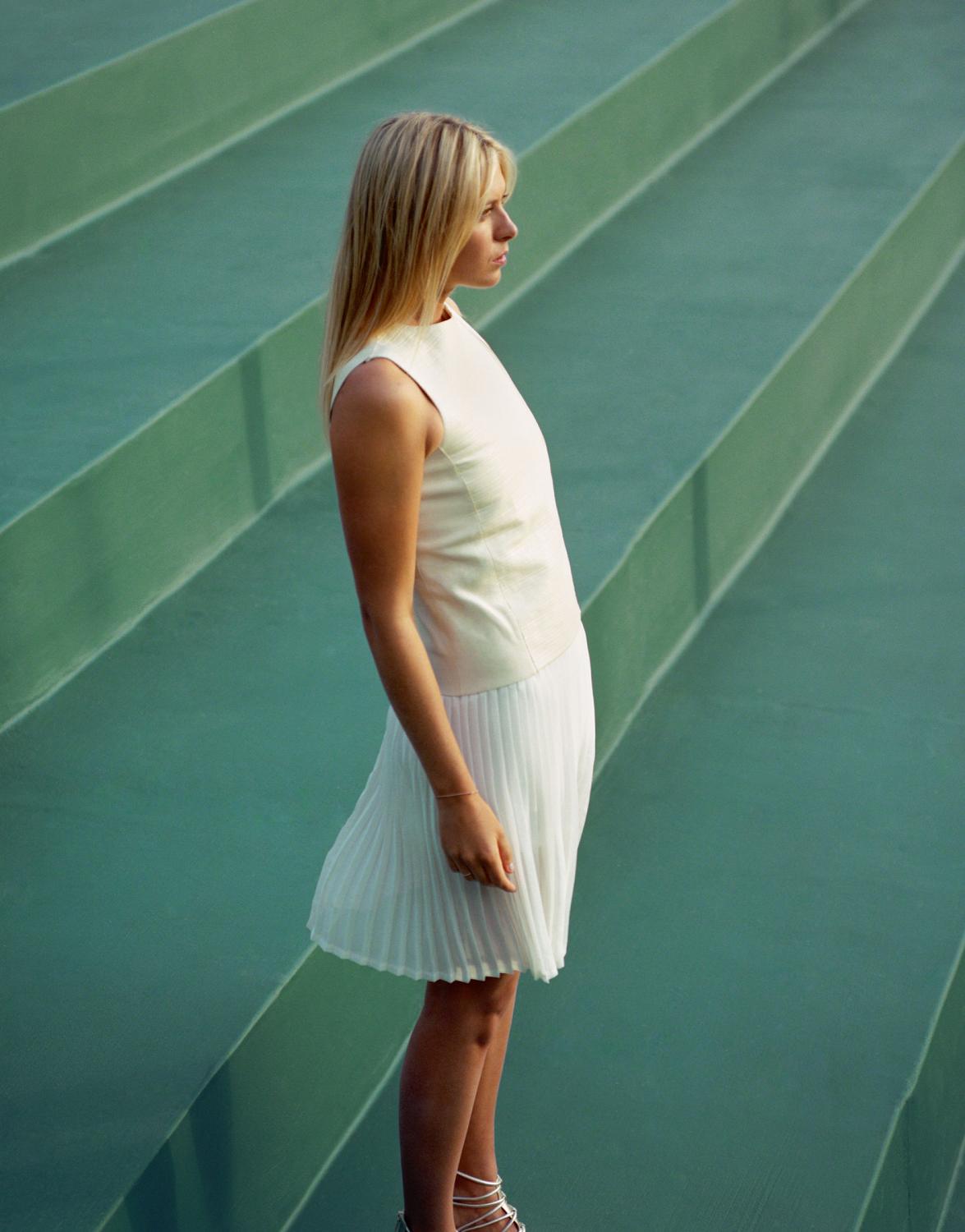 On tour, her schedule is simple but intense: a couple of hours hitting balls in the morning followed by lunch, a nap, and then a couple more hours' practice. She eats healthily but not obsessively, enjoys an occasional glass of wine, and rarely, if ever, works out in a gym. "I'm never one who's going to go out and lift 40-pound weights," she says. "I don't think I can even hold a 40-pound weight." Instead, her power comes from a different sort of repetition. "I hit a lot of balls. I'll have 600 balls in the basket and go on hitting and hitting, until my arm feels like it's going to fall off." Maria cites competing as the thing she likes most about professional tennis – and travel as the thing she likes least, particularly when it separates her from fiancé Sasha Vujačić, a 6-foot-7-inch professional basketball player who's originally from Slovenia. She giggles when his name is mentioned and wears an enormous diamond he presented to her on bended knee in October 2010, roughly a year after they met.
Until recently, Sasha played for the Los Angeles Lakers, meaning he and Maria could live together in Manhattan Beach. This season, he's playing in Turkey, leading to daily long-distance phone calls. "The time change doesn't really help things," she says. "Right now he's sleeping, so I usually talk to him in the morning. It's hard, but you can't do anything about these schedules. It's our life." Clearly she misses everything about his company – except the evenings they occasionally spend at home playing Scrabble, which tend to end in tears, due to the combative personalities pro athletes tend to share. "We're both just extremely competitive."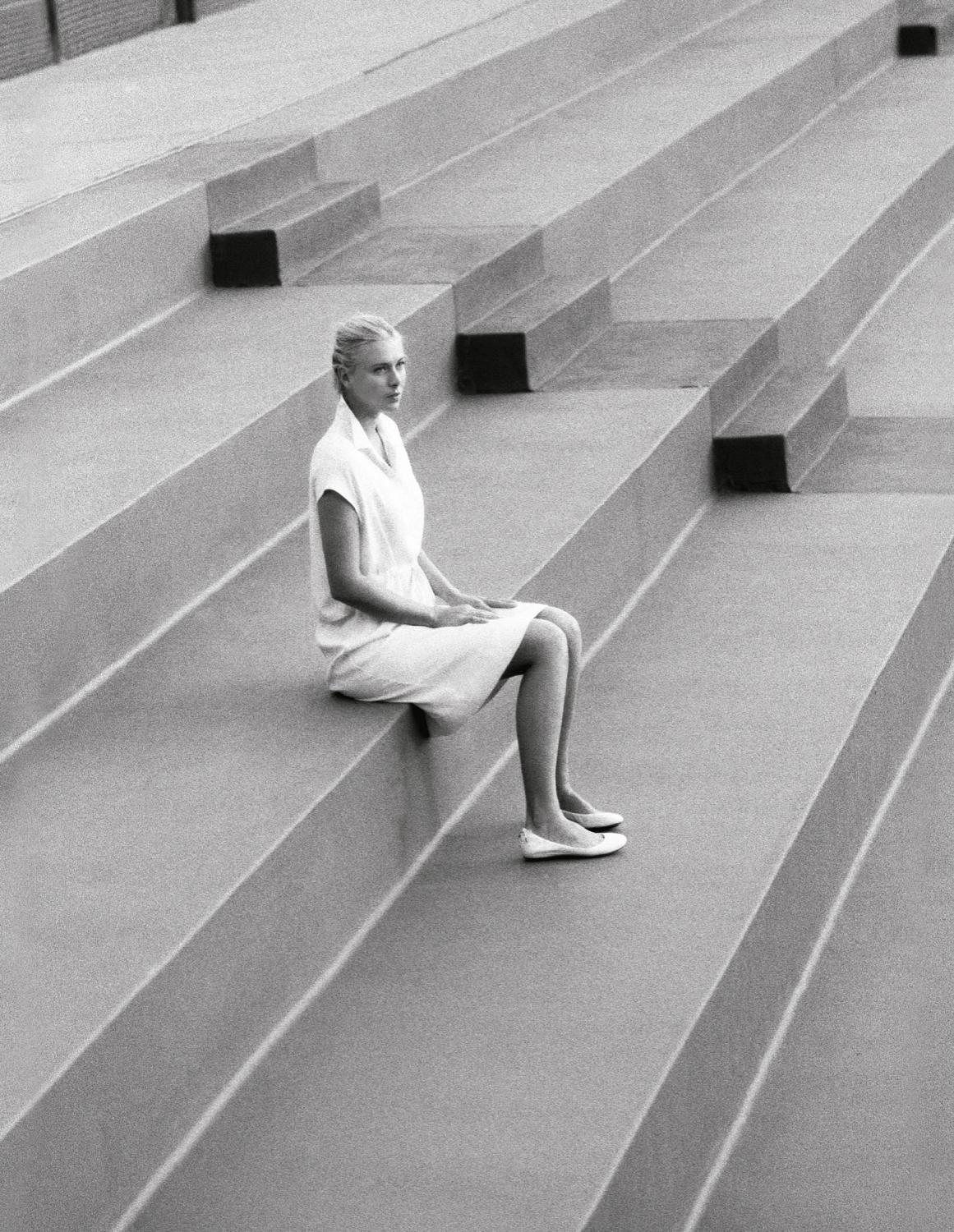 Sasha and Maria often spend time apart during the 17-odd tournaments she plays each year. Wimbledon is still her favourite competition, and the title she's keenest to win in 2012. As a rule, she avoids the locker-room scene and has a reputation for aloofness among peers. "She doesn't speak to many players," said Elena Baltacha, the British number one, in an interview with the Guardian last summer. "She does her own thing. Everyone's shocked when she comes into the locker room, because you hardly ever see her. She won't even give you a ball to hit in the warm-up."

Maria sees things differently. "Look," she says, "tennis is a very individual sport, a very competitive, intense sport. How can you be real friends with someone when in a few minutes, you're going to be out on the court, fighting and wanting to beat them more than anything? That just seems to me like the most bizarre thing ever. When I finish a game, I go to the locker room, get changed, take a shower, then get the hell out of there. I'm sure it's seen as very cold, but that's the way I am."
"How can you be real friends with someone when in a few minutes, you're going to be out on the court, wanting to beat them more than anything?"
She's always been a fighter. Though proudly Russian, Maria is in many ways a scrappy product of the American dream. The only child of Yuri Sharapova, a construction worker, and his wife, Yelena, she spent her early years in Sochi, a tourist resort on the Black Sea, where she began taking weekend tennis lessons as an infant. One day, Maria's coach suggested that she travel to Moscow to attend a coaching clinic being hosted by Martina Navratilova. There, she was duly spotted by the legendary Czech-American champion, who asked Yuri for a quick word. "You know," she told him, "your daughter has a lot of potential."

The endorsement changed Maria's life. After lengthy deliberations, Yuri took a gamble: he got a US visa, bought economy-class air tickets to Miami, and turned up with his daughter at Nick Bollettieri's coaching academy, the world's most famous tennis school, whose list of successful alumni reads like a Who's Who of modern tennis, including Andre Agassi, Boris Becker, Jim Courier, Pete Sampras, Greg Rusedski, and Venus and Serena Williams. "They put me in a small group to see what my level was," Maria says. "I hit a few balls with him, and five minutes later, the coach went to Nick Bollettieri and said, 'You gotta see this girl.' And that's how I started." She was just seven years old.
Maria tells this story matter-of-factly. But its fairytale nature is by no means lost on her. "I sometimes say it's so sad, because it makes it sound like just anyone can go and do what I did. But it's really a hopeless fantasy, to be honest. At the end of the day, it's one in a million, and I was just incredibly lucky." She was also incredibly robust, spending hour after hour on the practice courts, 365 days a year, while Yuri laboured to support her.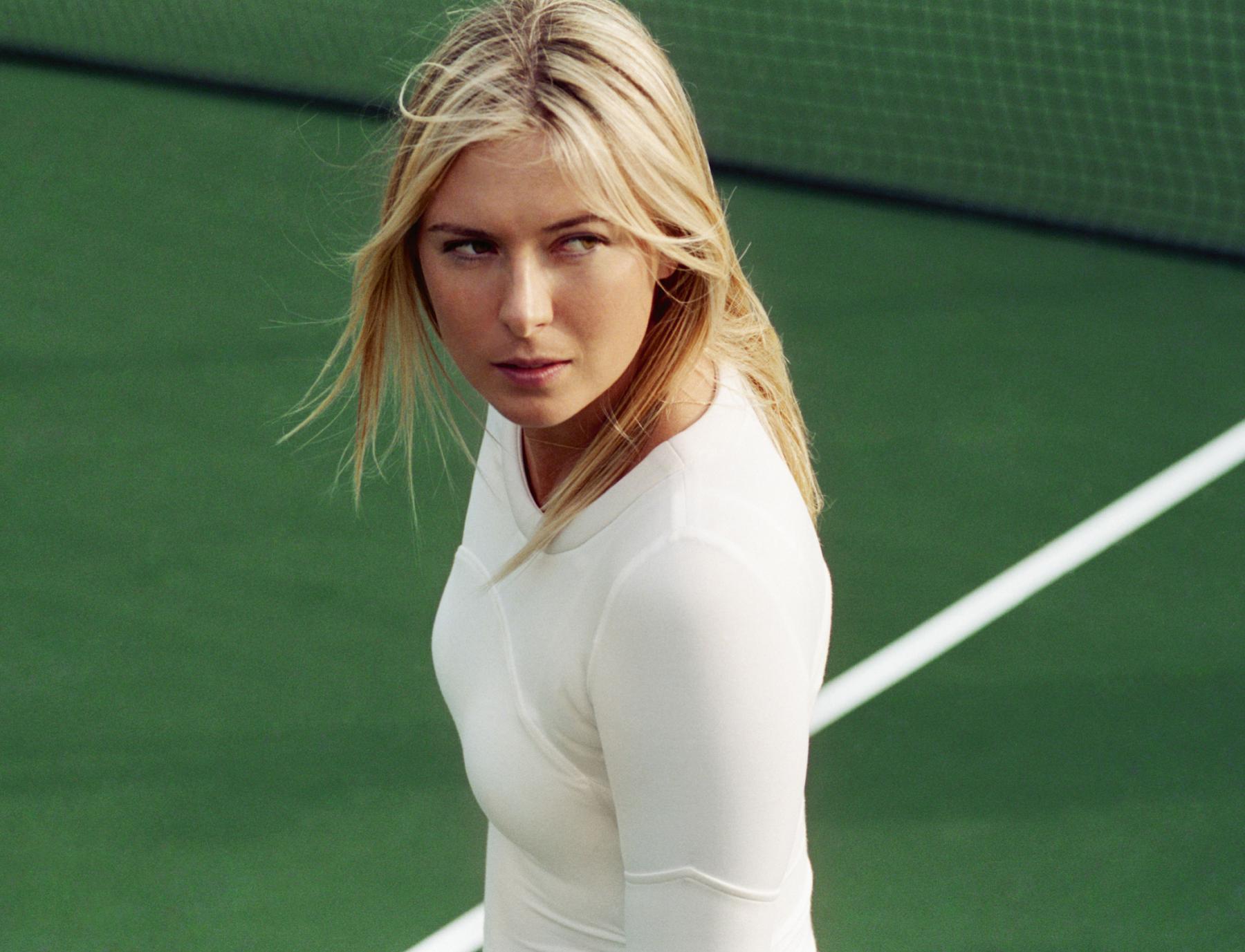 At the age of 11, she was signed by IMG, the sports management agency. They paid her training fees and sorted out some visa issues. The agent who first picked her up, Max Eisenbud, is still working for her today. One might say that he made a lucky investment in her talent. But he doesn't see things that way. "It wasn't a gamble, because she's not normal," he says. "I remember the first time I saw her. I've never seen anyone, not just an 11-year-old, practice for an hour and a half and have that focus and determination on every ball. I can remember sitting by the court, just being blown away. Today, it's the same way: focus, and fight, determination and will. All these things that make her who she is, she had at 11."

After hoovering up junior titles, Maria turned pro in 2001, aged 14. At the time, she was widely compared to another blonde Russian tennis star, Anna Kournikova. According to Eisenbud, that "drove her nuts," since for all her bombshell looks, Ms Kournikova famously failed to ever win a professional title. Those comparisons stopped abruptly in 2004, when Maria won Wimbledon in her second attempt. Overnight, she became the best-known teenager in tennis. At the end of the season, she was voted the Women's Tennis Association's Player of the Year. By August 2005, she'd become world number one.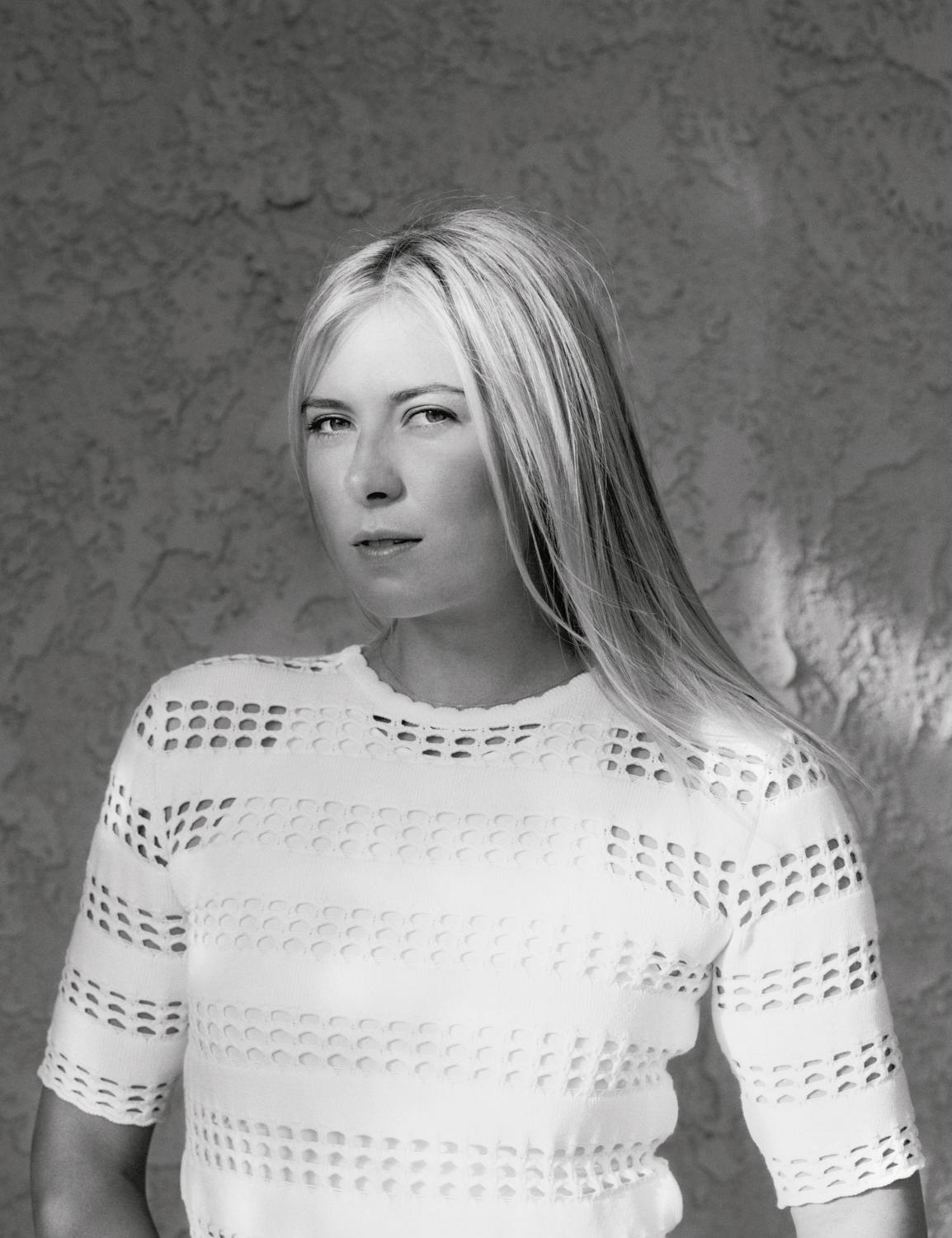 Today, Maria's been around long enough to count as a grizzled veteran. But should she remain injury-free, she has plenty of good seasons ahead (in 2010, Francesca Schiavone won a Grand Slam at 30, and last year, Li Na did the same at 29). Her priorities, however, are starting to shift. Sometime soon, she'll marry Sasha, "though the date has not been decided," she insists. Will she try to spend more time on the same continent as her spouse? The question actually makes her laugh out loud. "That," she says, "is the first time I have heard him called my husband. But yes, we will, though we don't even yet know where we will live."
Despite her stratospheric fame, Maria cherishes her relatively normal existence. "Being 40 minutes from Beverly Hills, I could easily go to a red-carpet event every night. But I think last year I went to maybe two. It isn't who I am." When Sasha played for the Lakers, she attended his matches incognito, like an everyday fan. "I would go with his friends or family. I never sat courtside with people taking pictures of you. It's a show." For Maria, the only show you're going to get is on the court. Off it, she's far too canny to play the big star.