Lucy
Bronze
Some players are just better. Meet the footballing force who's kicking the women's game out of the park.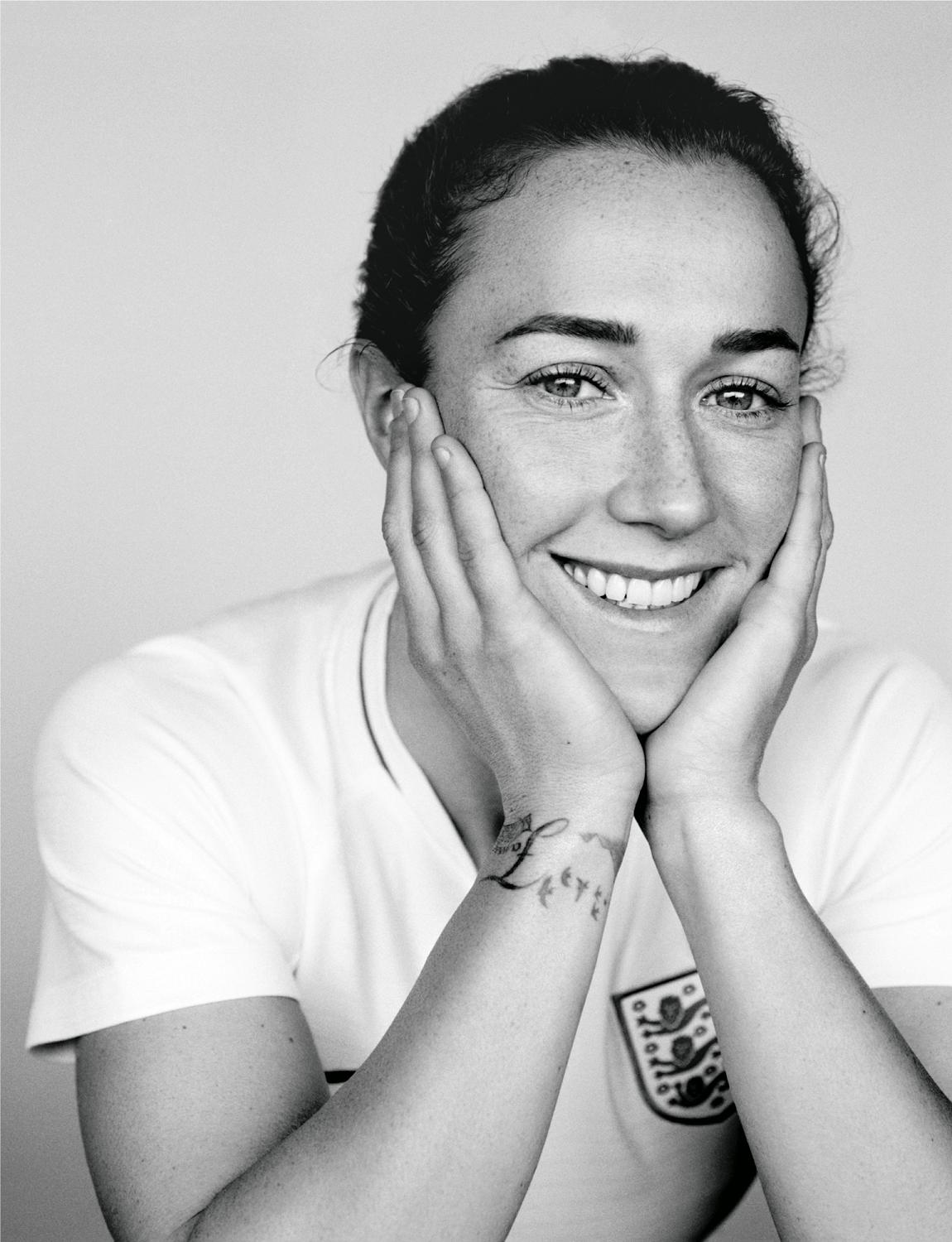 Lucy Bronze's player stats read as if it's been success and silverware for the England and Olympique Lyonnais full-back all along: Uefa Champions League title, PFA Women's Player of the Year (twice), BBC Women's Footballer of the Year. But the road from Blyth AFC's under-13s to Stade de Lyon has been beset with naysayers, career-threatening injuries and an overall underinvestment in women's football. Until now, that is.

Lucy, 27, is at the forefront of a new generation of women footballers – the first to be paid professionally – who are pushing, kicking and heading the beautiful game into the 21st century, with this summer's World Cup set to be their crowning moment. This time, the England team actually has a chance of winning.
When Lucy Bronze was in her last year of primary school, she played football as the only girl in a team of boys. She had kicked a ball around with her older brother, Jorge, and his friends since she was small. She preferred the company of boys and had always been outstandingly agile, riding a bike without stabilisers at the age of two. But after she turned 11, the coach stepped in. Lucy would soon have to leave the team, he told her mother, because she was female, and the Football Association had ruled that girls might get hurt if they played in mixed teams beyond the age of 12. "And that was when my mother said, 'Right. No one is telling my little girl that she can't do something.'"
The 27-year-old England star relates this story while relaxing on a huge couch in her house in Manchester, a semi-detached property that she bought off-plan two years ago. It's a mile away from Manchester City's Etihad Stadium – Lucy was on the women's team, which plays in the Academy Stadium next door, until 2017 – and a short drive from the airport, which is also convenient, because she now plays as a right back for France's Olympique Lyonnais Féminin, one of the world's best women's clubs and the winners of the Uefa Women's Champions League.

"I feel at home when I'm there," Lucy says of Lyons, her Northumberland accent still just discernible. But, she adds, "I also feel that I'm at home when I'm in Manchester." A key defender in the England team – Phil Neville, the new manager, has called her "phenomenal" – and one of its vice-captains, Lucy has been shuttling between the two cities in the build-up to the 2019 Fifa Women's World Cup, the biggest competition in international women's football, which will take place in France this June.

Lucy has only been back in Manchester for two days, and the house has the definite feel of a staging post: the kitchen is empty apart from a few tins of Christmas biscuits, and there's nothing hanging on the pale grey walls. A framed England shirt with Lucy's name and her number, 2 – her very first England shirt from playing for the U17s – sits in the corner. Lucy's white West Highland terrier, Narla, who in the winter travels to France with her on a pet passport, leaps back and forth between the sitting-room windowsill and her lap.

Lucy will be wearing the number 2 shirt when the whistle starts play at England's first Women's World Cup Group D match, against Scotland, on 9 June at the Allianz Riviera stadium in Nice. The tournament promises to be a turning point for public perception of the game. A strong performance by the Lionesses – as the England side are known – could push the women's sport into the mainstream, and with it bring a chance of greater sponsorship and support for the Women's Super League (WSL), which has only recently become fully professional, as well as bringing in new supporters to a game that is still seen as a minority pursuit.

The last Women's World Cup, held in Canada in 2015, was won by the USA, which has consistently championed women's soccer. England came third – their highest position yet. Lucy was in that 2015 national squad, but she played only a minor role. This time, England are seeded fourth, behind Germany, the USA and the hosts, France. Could England – whose nation arguably holds the most entrenched prejudices against the women's game today – possibly win it?

"We do want to win the World Cup; that's the goal," Lucy says. "We want to play really good football; we want to make the style of football that people enjoy watching. We always say we want to inspire the next generation, and we want to create a winning legacy and inspire girls and boys."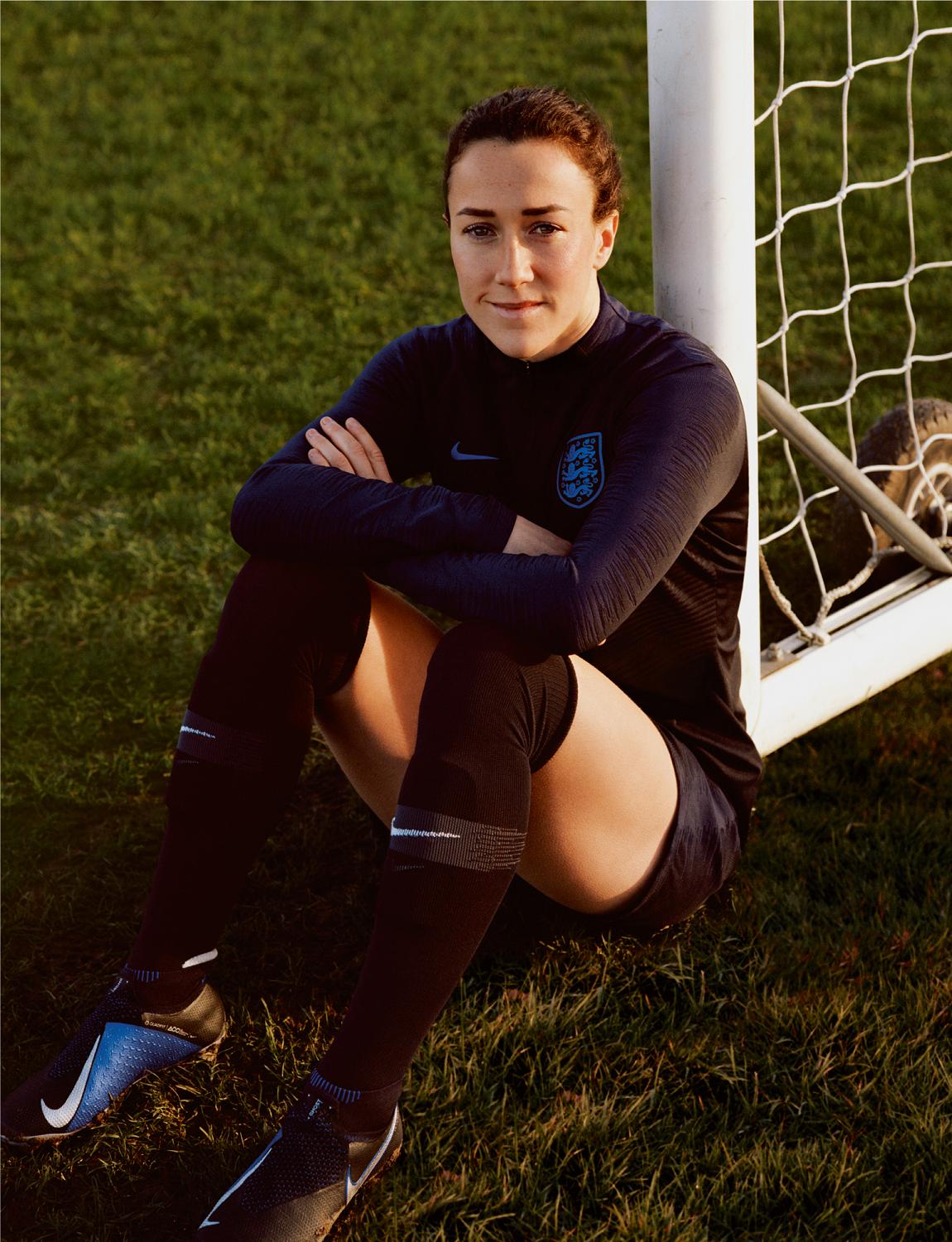 Lucy is not exceptionally tall for a woman (she's 1.71 metres), but she has a wiry strength and a steady endurance that make her one of the most effective defenders of her generation. These assets were already clear by the age of 11 – and ironically, some months before that pivotal childhood setback, Lucy had made a boy cry during a match against an all-male team. She had been playing in the same energetic style she does now, and the boy was felled by her tackle. "I just play rough, and I like to tackle hard," she says, dangling her size-six feet off the edge of the sofa.

Looking back, she says she wasn't aware of the sexism of the situation. "I was a kid. Those kinds of stereotypes never came into my head. It's only when you grow up that society starts to tell you what is right and what is wrong. When I was a kid, girl or boy, I didn't see any difference."
The ban on Lucy's participation in 2002 might have been the end of her football career except for the intervention of her mother, Diane Bronze, a secondary-school maths teacher, and her aunt, Julie, a former police officer "who had spent 30 years chasing robbers in a skirt. She's a real feminist, and so is Mum, and so is my nan." (Neatly, Lucy's middle name is Tough, her mother's maiden name.) Diane had encouraged all of her three children to take part in sports in a bid to keep them occupied. As a point of principle, she wanted her daughters to be as physically active as her son; she had bought Lucy her first pair of football boots from Argos when Lucy was 10.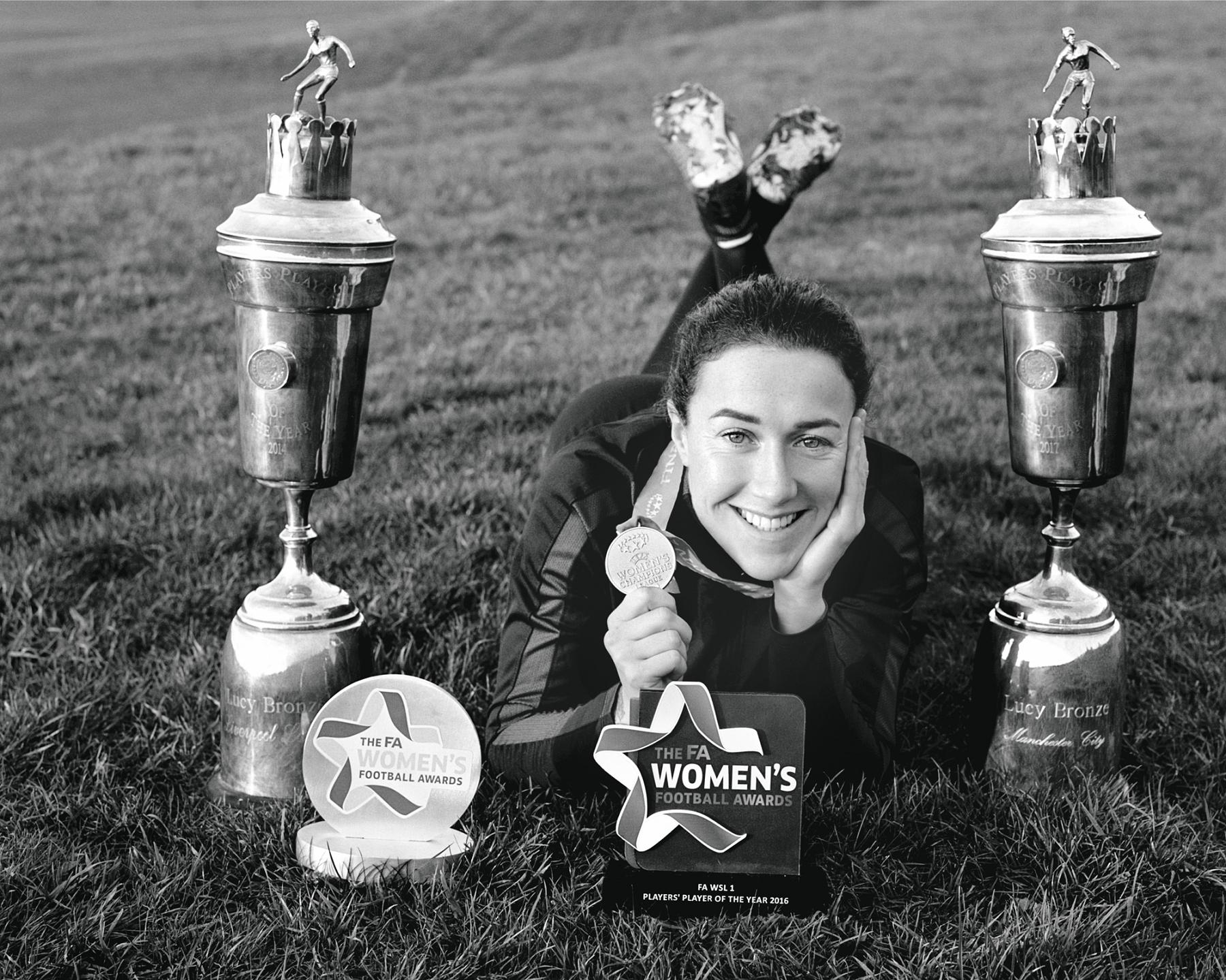 The Bronzes weren't a football family, and unusually for a top player, Lucy doesn't have any relations who have played professionally. They didn't even watch football on television. Lucy's Portuguese father, Joaquim, barely understood the rules (she says he still doesn't) and preferred Desperate Housewives to Match of the Day.

Still, the FA's rule was an affront to her family. Her aunt consulted a lawyer. Lucy's mother googled opportunities for her daughter, and – in the same year that saw the release of Bend It Like Beckham, a film that ends with the young players jetting off to take up football scholarships in the US – Diane discovered an exclusive camp for female talent in North Carolina. "She turned our family summer holiday into taking me to see what it was all about," Lucy says. "So we went, there were 500 girls, and the head coach said, 'Bring her back when she's 17 and I'll give her a scholarship.'" Diane remembers the trip as "an eye-opener. There were hundreds of girls who were all really good at football and a bunch of women coaching them who were also really good. And for Lucy, it was 'I'm not different!'"

Back home in the UK, Lucy began playing for Sunderland, a club that did support young female talent; she represented the club at under-15 level and finally joined its seniors. Sunderland's training ground was 45 miles from her home in Alnwick, a rural town in the north-east. Did she have to sacrifice fun in her teenage years? "I was a bit socially awkward anyway," she says. "I preferred the friends I played football with. And, yeah, I missed out on parties and stuff, which is what everyone's doing when you're 16 or 17. But not being allowed to play football with the boys meant that I had to travel an hour and a half to get to training. I used to finish school, get picked up by my dad – he would have made me a little packed tea that I'd eat in the car – and I'd get to training, then afterwards get back and go straight to bed. Three nights a week were like that."

"We do want to win the World Cup; that's the goal."
Fifteen years ago, women professional footballers were unknown. The best female players went to the US, where the sport was commercial and well supported. So, at 17, Lucy returned to North Carolina. "When I got to university in America, I got all kitted out by Nike, which was the sponsor of the team – all my football boots, my trainers, all my kit. In England there was no such thing – only 10 years later are the English teams like that."

For years women's football has been an add-on for sponsors of the men's game. But recently it has begun to attract its own commercial partners, leading to an expectation that the top tier of women's football in England could become self-sufficient, attracting its own sponsors independently of any deals done with their brother clubs. Nike is the most prominent, but Nissan, Avon and SSE, an energy company, have also increased their investment. It is hard to overstate how quickly commercial change has come about. In 2013 the Women's FA Cup had no sponsor. The final was played at Keepmoat Stadium in Doncaster with just 4,988 watching; the ground has a capacity of 15,000. At the last cup final Lucy played in, in 2017 – scoring a goal that helped her then team, Manchester City, to win 4–1 against Birmingham City – a record 35,000 fans were at Wembley to watch the event, which was loudly sponsored by SSE.

More valuable sponsorships and funding might have made all the difference to Lucy had they been available to her and her clubs earlier in her career. As it was, at 18, after returning from North Carolina to attend England training camps, Lucy suffered a knee injury which then became infected. She found herself hobbling around on crutches for a year, her leg in a brace. Overall she would endure four surgeries on her knees; it was a setback that almost finished everything for her.

In 2010, Lucy enrolled at Leeds Metropolitan University to study sports science and stopped introducing herself as a footballer. "I would say 'I play football' but that I was a student. And if I was asked what I wanted to do when I was older, I would say I wanted to be a sports scientist. That was it."

Officially, Lucy was both a player for Everton (first team) and England (in its U23 squad), but the deals were "pay as you play". To earn money, she worked in the bar of Goals Leeds, a five-a-side football centre, and then at Domino's Pizza. "I went to uni, had my uni mates. I had a normal uni life," she says. "Football wasn't professional in the way that it is now." At 19, she felt that time was running out. "What bothered me was that all my friends who I'd grown up with – Jordan Nobbs, Toni Duggan, Gemma Bonner, Jade Moore – were starting to get picked for the England senior team."

Using her university studies to analyse exactly how she could fast-track her rehabilitation, and with almost no outside help, Lucy threw herself into a fitness regime of her own devising. In Rocky style, she began by running up and down stairs and chasing her dog around the football field, alone. Lucy puts her motivation down to competitiveness. "That's what's always driven me. Being injured wasn't any different. I used to compete with myself, saying 'I need to do 10 of these next week,' and then I'd start doing something else." She was given access to a physio, but a diver's physio, not one who specialised in helping footballers. "Even when I got back to fitness, I was thinking, 'Right, I'm two years behind, I need to catch up.' It took me a long time to realise that I had caught up, and by then I was so much further along than I'd expected." Does she look back now and think that if she'd been a promising young male player – in a full-time academy education with a Premier League team, with all the attendant support and promise of riches – she would have been given more help, more...? "Everything," Lucy interrupts. Everything would have been different.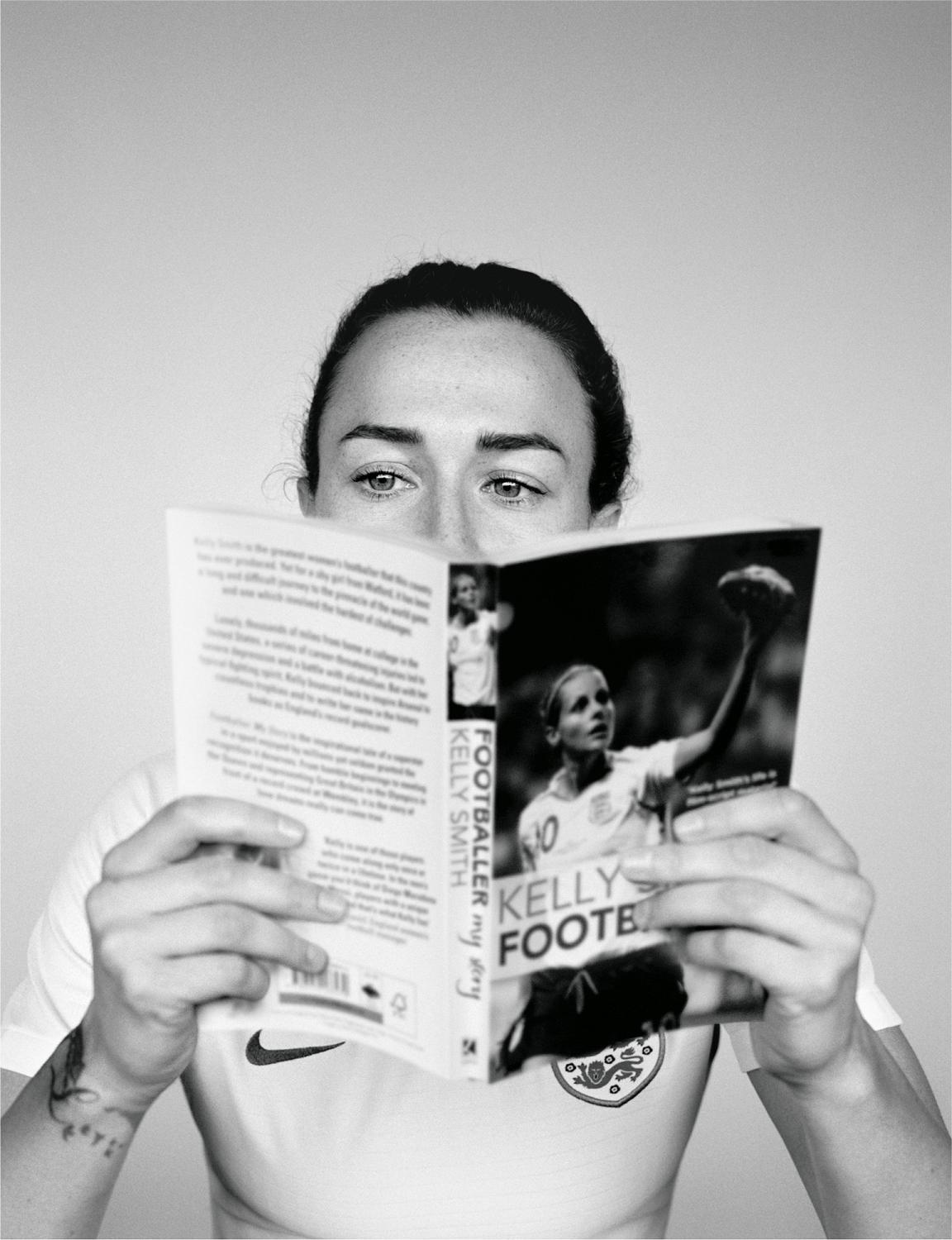 After completing her degree and having recovered from her knee operations, Lucy returned to top-flight football. She played for Everton, then Liverpool and Manchester City. She finally made it onto the England national side in 2013, at the age of 21, brought on in the last 30 minutes to play right back in a friendly against Japan.
Alex Scott, then right back and one of England's stars, who retired in 2017 and is now a BBC sports presenter, remembers the ambitious young player who half-jokingly promised to replace her. "When Lucy came in, I saw the same drive and determination that I had and – it's hard to say it, but – that football arrogance," Scott tells me by phone from her home in north London. "But it's a good football arrogance. To want to be the best. And that's what I loved and saw in Lucy." Lucy would eventually take over Scott's spot, and Scott thinks that the years Lucy spent overcoming injury were instrumental to her career. "To take my place, she had to become stronger, she had to become fitter, as well as all the other attributes – and that's what she did. She went away and built herself into a machine, basically."

The machine analogy might describe how Lucy applied her knowledge of sport science – how she ate, the running she did and the training hours she completed – but it doesn't do justice to the pleasure she takes in the game. Defenders are not the glitter-strewn lead singers of a football team; they're the dependable rhythm section. As a girl Lucy had been stronger and fitter than most of her peers, so she had often been put on as an attacking forward. But the problem for her was scoring goals – not that she couldn't do it, but she couldn't bear the spotlight.

Lucy remembers puzzled responses from coaches over the years. "They said, 'Maybe you're not really a goal scorer – you keep passing the ball to other people when you're in front of the goal.' Which is funny, 'cause I still do that now." She's being modest: last year, alongside Cristiano Ronaldo and nine other top international players, she was nominated for Uefa's Goal of the Season, for a goal described by technical observers as a "superbly struck volley".

Lucy prefers to savour the private glory of knowing that she's tackled, blocked and bamboozled a peacock forward. "I enjoy stopping goals more than any of the goals I've scored. I get real pleasure out of somebody saying 'Oh, so-and-so striker had a quiet game today,' and I'll feel good because it means I played well. I'd rather they said 'This amazing striker, one of the best in the world, somehow didn't play well' than 'Oh, Lucy was amazing.' I'll have a little smile on my face. That'll do me. That's my reward."

At school, physical education was Lucy's favourite lesson, but she has also always loved maths. "My mum thinks that I'm on the autistic spectrum somewhere, because my brain just works in a logical way, and I just like numbers. She says that when I was still a baby I taught myself square numbers, counting the tiles next to the bath. That was what was fun for me; that's how I saw things, and I still do. I think logically."

There might even be a connection between a mathematical ability and Lucy's refined sense of spatial awareness, she thinks. "With sport, you work things out quickly in your head. I think that's related to how you work out maths problems." Maths was also her fallback option, Diane Bronze tells me. "Lucy's plan was to be an accountant and then work part time, so she could pay to carry on playing football," she says. "She never thought she would earn any money playing." But earn money she does. According to The Irish Times, Olympique Lyonnais pays its female players an average of £144,000 per year – though the men reportedly earn more than 10 times that, an average of £1.6 million a year. And Lucy's salary pales into insignificance when compared to that of a Premier League player. Kyle Walker, who plays right back for Manchester City and for England, earns an annual salary of £6.8 million.

Lucy thinks the differences between the men's and women's teams are less apparent at Lyons than between Premier League and WSL clubs. Bloated by years of commercial income from TV rights and sponsorships, the Premier League grants its players a life of pampered protection in exchange for playing a sport they love. The women's game, by contrast, was banned in England by the FA between 1921 and 1971.

Lyons seems to offer its women players greater equality, in some areas at least, and that's no accident. The club's president, Jean-Michel Aulas, is also the chairman of the European Club Association's Women's Football Committee, which is attempting to raise standards across Europe.
"At Olympique Lyonnais, we consider women's football to be a pillar of our club, alongside our men's first team and our academy," Aulas wrote in an ECA report on the state of the game. "As you might know, we have developed our women's section since its creation in 2004... However, even if women's football shares similarities with the men's game, it needs particular attention in its development and needs to create its own dynamic."
At Lyons, Lucy tells me, the big women's matches are played in the Groupama Stadium, the 55,000-capacity ground where the men play. The women's team also travels to games in the same manner as the men, "on a private plane – which isn't even the men's plane, it's the club plane – or on the bus. It's not 'This is the men's bus' but 'This is Lyons' bus.' We have our names stitched onto the headrests, and they just change the seats, so that one day it might say Memphis Depay and then the next day it'll say Lucy Bronze. It's where we sit. The same bus and the same aeroplane."

But it's the routine, daily treatment that Lucy singles out. "We sit with the men to eat our lunch," she says. "We have the same chef and exactly the same food. I don't think any other men's teams do that. They're all still separate."

The first step towards real equality, Lucy argues, will be access to the same type of technical and training support – the medics, nutritionists and physios. "The standard of play is going to get better when the players improve by training more. But if you want people to train every day, you're putting their bodies under more and more stress. If you've only got one physio to look after 20 players – and sometimes not even one who's full time – well that's something you don't hear about, but it's really important."

The gap in both pay and technical support might begin to reduce if women's football starts attracting even bigger crowds and TV audiences – which is exactly what many people hope will happen after this summer's Women's World Cup.

Lucy is one of the best-known names in women's football, but even if you're a supporter of the men's game, it's dismayingly likely that you will never have seen her in action. The popular view of the sport in the UK is that women's football is entertainment only. The tickets are cheaper, with entrance to an Arsenal men's game costing £27 to £97 but an equivalent ticket for Arsenal Women just £6 to £10. And WSL games are played at smaller-capacity grounds, where a "family day out" atmosphere can prevail. Critics – and there are disconcertingly many, particularly among traditional football supporters – gripe that the play is slower than the men's and thus less entertaining.
But to anyone who's actually watched 90 minutes of a WSL game, it's obvious that that last point of difference isn't all bad. Yes, the game isn't as hard or fast, but it is just as skilful, physical and competitive. There is less abuse of the referees, less twisting of the rules and more sportsmanship.
"I like the idea of changing the game. I know everything about it, and things could be done to change it – things aren't that hard."
"We want to go further than we did before," Lucy says of the Fifa Women's World Cup. "So that would be the final. And ultimately, if you make the final, it's only one more game." The players who make the England team will be called up two months before the Scotland game. "We're just in the process of working out how players will find out." The whole squad are on various WhatsApp groups, she adds, but the final word will be sent out by email.

Making those decisions is Phil Neville, a former Manchester United player who represented England but never made it to a World Cup. "He's a good guy, and I get on with him," Lucy says. "He's been on a successful team and had so many different experiences he shares with the girls. For me personally, he pushes me a lot – and tries to wind me up. He wants everyone to get better, and he has banter with it."

Naturally the England side are expected to maintain their fitness at the highest level possible, meaning plenty of full-body ice baths ("It's super, super strict," Lucy exclaims. "Right up to our necks. We only use our legs!") and beetroot-juice shots. Four days after our interview Lucy is due to go on holiday to Dubai, with instructions from Neville not to injure herself. "Phil's stressing. I think he panics now any time someone gets injured because we're getting closer and closer."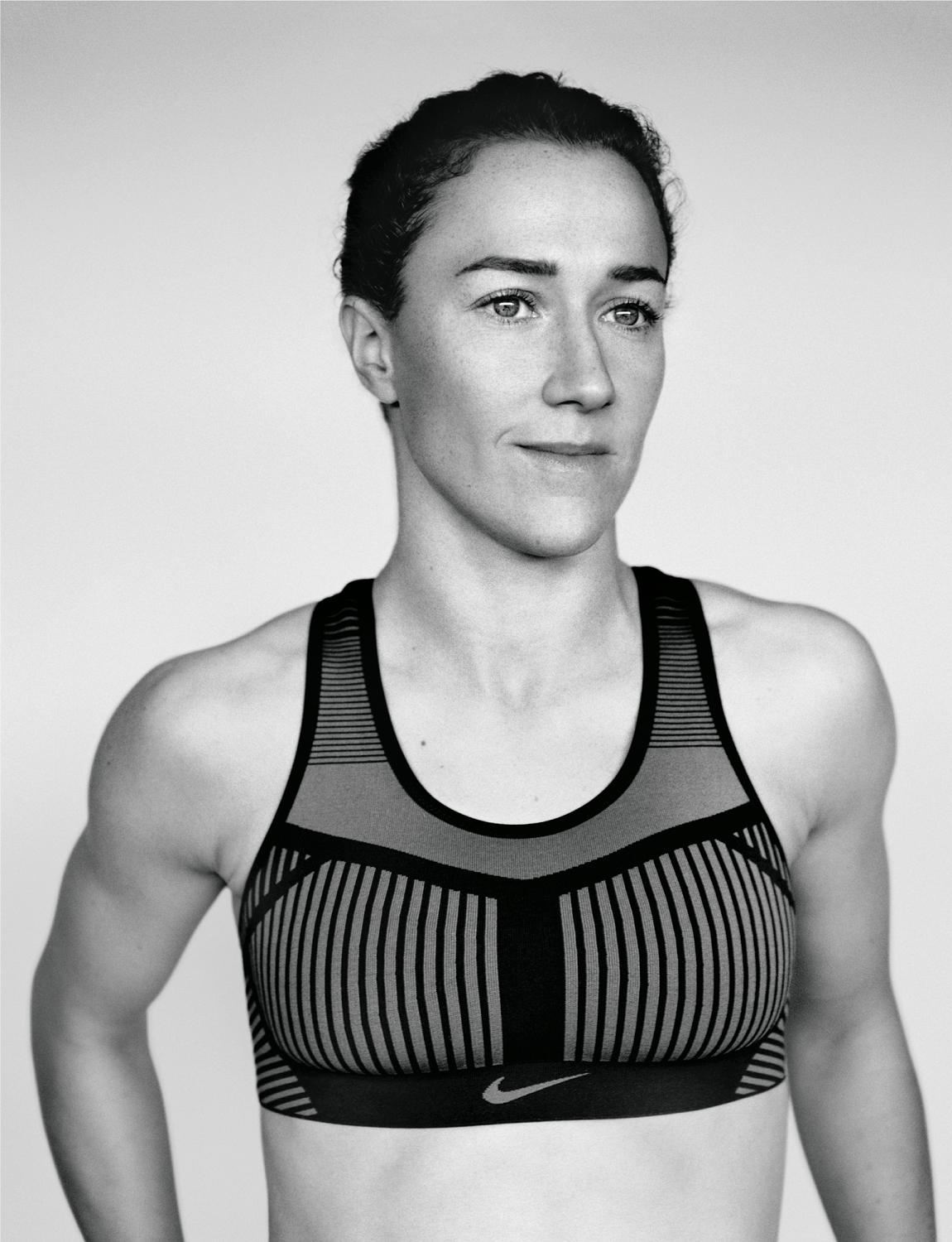 "I enjoy stopping goals more than any of the goals I've scored."
Since joining Olympique Lyonnais in 2017, Lucy has held her own among the most effective, threatening attackers in the sport. Of the 15 nominees for the inaugural Women's Ballon d'Or, seven played for the club, including Lucy and the winner, the striker Ada Hegerberg. "I do think we have the best players," Lucy says. She's still awed by the squad. When she first arrived in Lyons, "On the first day of training, I was – not intimidated, but whoa," she says. "This is my dream as a little kid, to play with the best."

But after two years in Lyons, learning the language and eating the food, Lucy admits she has also learned from the French approach. "The French are still very French. They love the game and they love street football, but they haven't really caught up with sports science yet."
She can't believe how the squad exists on baguettes, late dinners and even the occasional verre de vin. "Before, I didn't really eat a lot of carbs, only for games days. And then I got to France and the girls eat it as if it's going to disappear. Every breakfast we have about 20 of those metre-long baguettes. Where do they put it? One of them had a baguette and put pasta in it. I thought, Are you running a marathon?"
They may enjoy their breakfasts, but the Lyons team are no slouches, completing on-pitch drills in which they practise set pieces around static metal mannequins and doing gym work with free weights and circuits, followed by the obligatory ice baths. "I train every single day. We don't really have days off; it's a rare occasion if we do," Lucy says, not sounding as if she minds at all.
With help from both good bread and beetroot, Lucy hopes to play into her 30s. But as with any pro athlete, retirement comes early. The house we're in – in a street so new that only half the quiet road outside has been asphalted – is more investment than home. "Football's a short career, isn't it?" she says. "You're not guaranteed anything after it, so whatever I make now, I need to make sure that by the time I finish my career I've got a house that's paid for and potentially a car."
Although she says that over the years she's become "more like my mum – she can talk and talk", she doesn't think she'll move into TV punditry like her friend Alex Scott. Instead, after she finishes playing, Lucy plans to apply her unstoppable drive to promoting the sport she's loved her whole life.
"What I'd like to do is what they do in the FA and Uefa," she announces, rubbing her hands together. "I really like the idea of changing the game, like Baroness Sue Campbell, the head of women's football. I want to help. I've played it, I know everything about it, and so many things could be done to change it – things that aren't that hard." She stretches out. "Or I might just retire, then buy a bar in Spain and run that," she says. And who would dare to doubt Lucy Bronze either way?