Lucy Bright
Cinema sounds better with Lucy Bright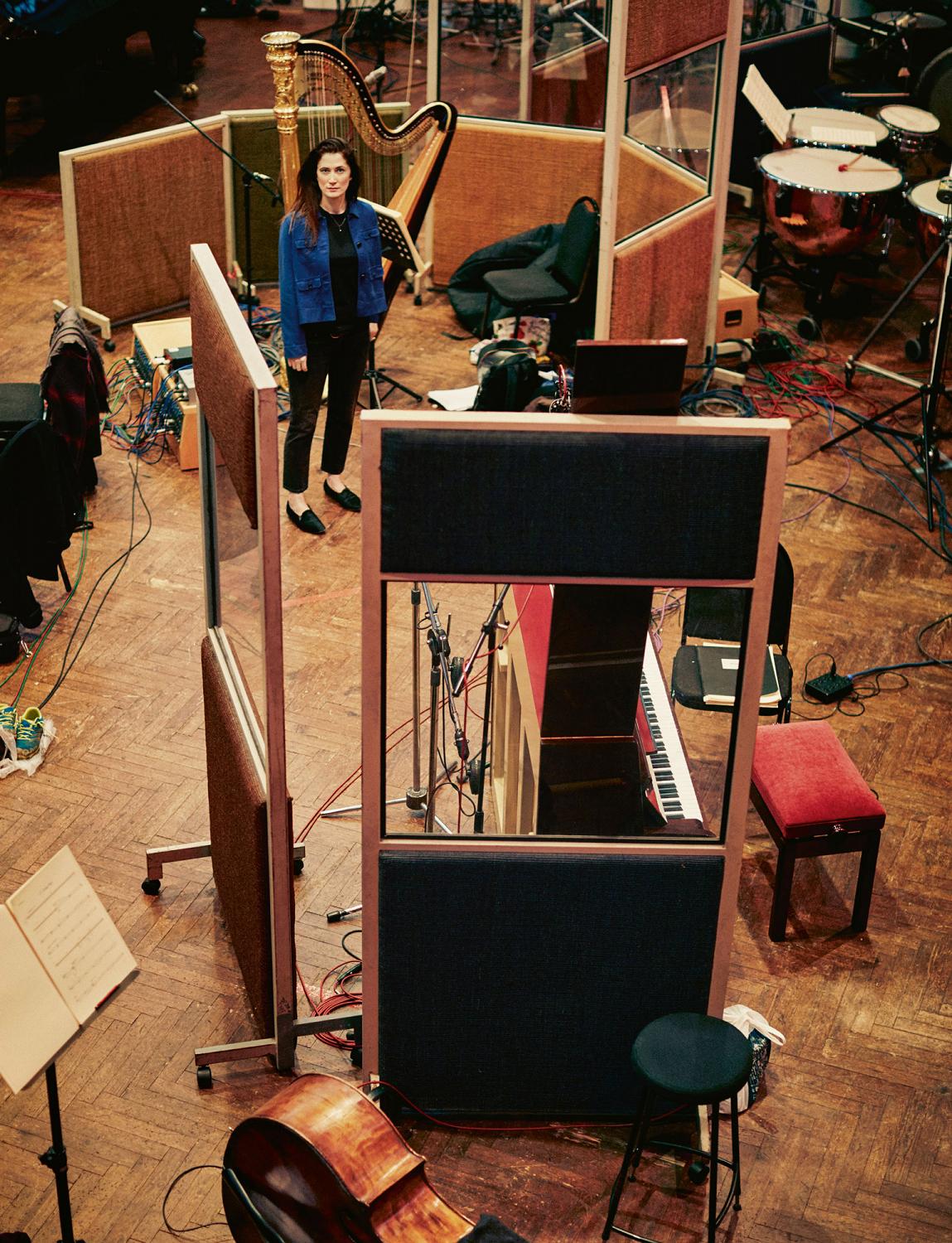 The brilliant music supervisor Lucy Bright, 39, just got rid of 3,000 CDs. No matter: in her head she still holds the sonic library needed to match the right track to any movie scene. Lucy found her vocation in the Austrian hills with the composer who soundtracked 2001, and then she turned it into a career through lending her taste and budgeting smarts to the best, from Michael Nyman and Steve Reich to Shane Meadows. Now, with projects like Alien: Covenant around the corner, we're about to hear a lot more from Lucy.
I am sitting on a big blue sofa, and Lucy Bright is by the window on an original fibreglass DAX chair designed by Charles and Ray Eames for Herman Miller. We're in the main room of the Peter Tabori-designed flat in Highgate, north London, that Lucy shares with her partner, the artist Alastair Mackinven. Piles of vinyl records surround us.

A plumbing disaster has disrupted Lucy's alphabetical music filing system, so there are albums everywhere – Jimi Hendrix, Van Halen, loads of original Parliament-Funkadelic LPs – merely a hint of the diversity of Lucy's musical wanderings. These are the tools of her job as one of the most brilliantly original music supervisors working in film and television today. "My role is to get the director and the producer the soundtrack they want within the budget they have," she says. And finding that soundtrack might start here, on the floor, listening to stacks and stacks of records, chasing a specific sound, a tone, an atmosphere.
That's precisely what happened with Assassin's Creed, the recent blockbuster adaptation of the video game franchise starring Marion Cotillard and Michael Fassbender. "I had the picture without any music, and I just carried on, over and over again, playing vinyl to the moving images – 'No, that doesn't quite work,' on to the next one, on to the next one, but always with the picture." Lucy was looking at the same two minutes of film, which shifts the action from the Spanish Inquisition to the 1980s, for about four hours, the albums piling up; she must have tried 200 tracks before coming up with a shortlist of 20. But her instincts were unerring. The director, Justin Kurzel, instantly picked out her preferred track, which, with its heavy, distorted guitar riff, sets the tone for the present-day action from the opening credits (the film's two time frames are both scored by Jed Kurzel, Justin's brother). It was "Entrance Song" by the US underground psychedelic rockers the Black Angels, well off the beaten path for most listeners, including the film's director.
"Lucy has inspired me to really engage with new things," Justin Kurzel says over the phone later. "She never comes back with the obvious; she always comes back with something that I would never in a million years find or discover, and that's what you want from a good music supervisor. You want ideas that really challenge the film and make you look at it in a different way."
Clio Barnard, the Bafta-nominated director of The Arbor (2010), about the life and death of the troubled young Bradford playwright Andrea Dunbar, agrees that the conversation between the music supervisor and the director is a crucial part of the filmmaking process. "Lucy's very open and generous and sensitive to what you're trying to do," Barnard says. The Arbor, whose soundtrack Lucy masterminded, has a minimal score by Harry Escott and Molly Nyman – Barnard wanted something that wasn't overly emotional or intrusive, and Lucy had liked the duo's work on Michael Winterbottom's A Mighty Heart (2007) – and uses existing recordings, such as Soft Cell's "Tainted Love" and songs by the Au Pairs. "There was a lot of back and forth about how realistic an atmosphere we wanted it to be," Barnard says. "Lucy was sending me stuff from the early 1980s that opened up new possibilities. I really like that. She's a very good collaborator."
Lucy's secret, explains the composer Nico Muhly, who regularly works with her when creating soundtracks, "is to be there but not there", making things happen "in a below-the-surface way". For the upcoming film How to Talk to Girls at Parties, for instance, he messaged her saying he needed to record "one human voice, but multi-tracked 14,000 times", and Lucy found him the studio to do it in. On films on which she has worked, her influence is more profound. "I've always thought that music is such an integral part of films," Lucy says. "It enhances emotions, drives momentum, heightens tension. It can't make a bad film good, but it can hide a multitude of sins, and when it really works, it's like alchemy."
We've arranged to meet at Lucy's home to take a stroll across Hampstead Heath, but it's tipping down as I find my way through the broad, tree-lined streets to the modernist housing development. Mackinven answers the door, and Lucy appears, dressed head to toe in black – black jeans, black sweater, black socks and gold slides (given to her by Mackinven) with the letters GHT on the right foot and BRI on the left. She's wearing a large citrine ring that belonged to Mackinven's grandmother. Instead of getting drenched on the heath, we sit in the flat – you can see Karl Marx's tomb in Highgate Cemetery from the kitchen window – drinking tea. There are a number of artworks on the wall, including some by Mackinven – a large brick-motif painting of a palm tree, a weird cut-up face of Billy Joel. The couple have been together for 15 years, since meeting at a Jon Spencer Blues Explosion gig at the 100 Club. Lucy, 39, is a natural storyteller, warm and inclusive. "Do you know so-and-so?" she'll say from time to time, about people such as Bill Drummond of the KLF and the painter Peter Doig, as she invites you into her world.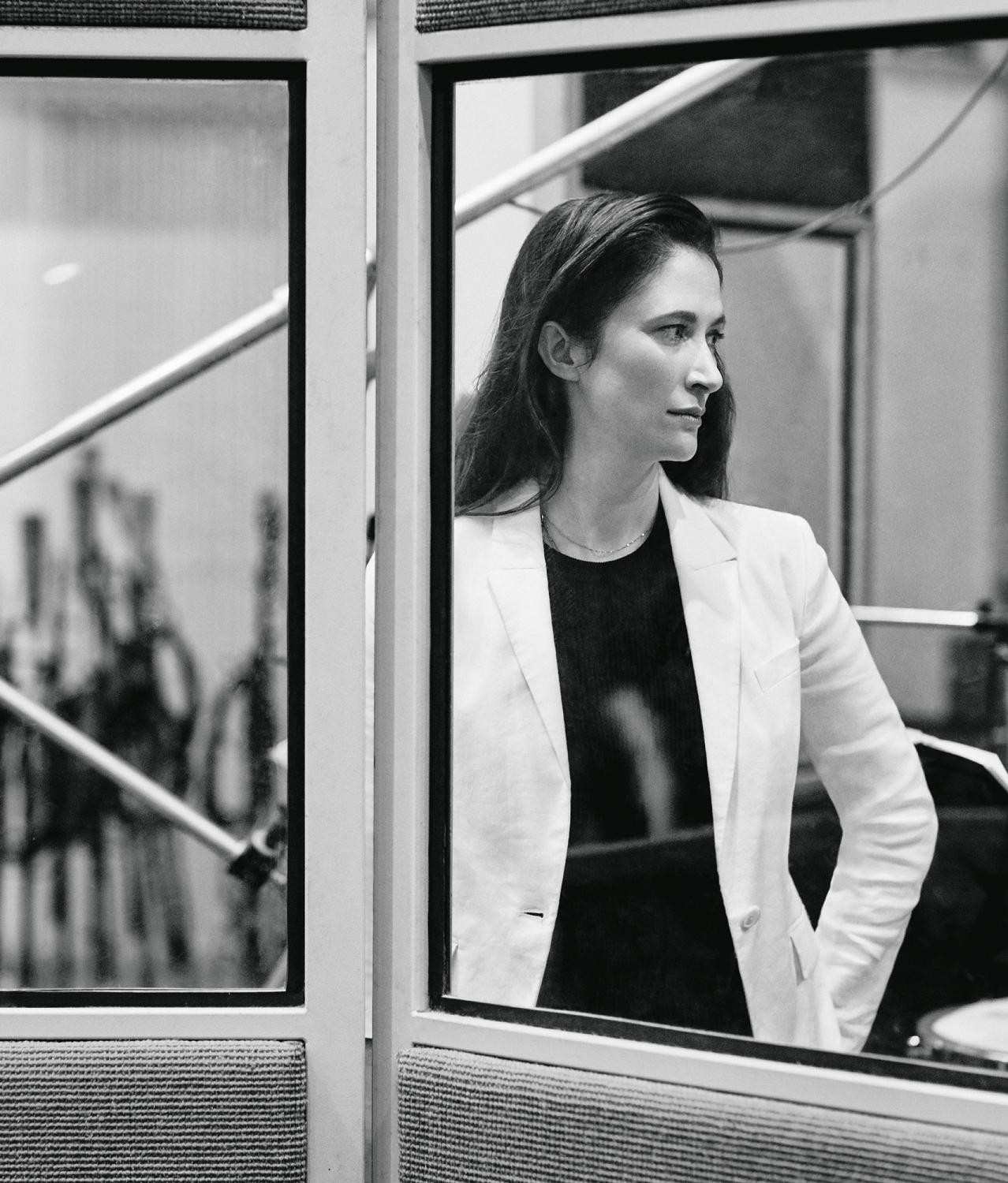 She has just finished work on Assassin's Creed and is about to go to New York to meet the composers Volker Bertelmann (aka Hauschka) and Dustin O'Halloran for the premiere of the Oscar-nominated film Lion, which they scored. Most people have no idea there is even such a role as music supervisor, let alone how to become one. It took Lucy herself until she was in her late 20s to discover it, though her whole life up to that point would seem to have been directed towards the role.

Lucy grew up in Blackheath in south London. Her father, the artist Ken Bright, was the head of ceramics at Goldsmiths College (the department closed after he left in the early 1990s; he died in 2005). Her mother, Mary, ran the college's halls of residence. "I was a Goldsmiths baby," Lucy says. "We had a flat within one of the halls of residence. It was four big Victorian houses in a row, 50 students. There were lots of parties." She lived there up to the age of 16, when her parents bought a house on the opposite side of the road.
She remembers them playing the Rolling Stones, folk, and Simon & Garfunkel, but the influence of her sisters, she says, was key. Rachel and Sacha are 10 and 11 years older respectively. "Sacha was into reggae and a Roxy Music fan," Lucy says. "Rachel was into punk and post-punk and goth. I remember her playing New Order's 'Blue Monday' to me when I was 10, when my friends were listening to Bros. She was also into [early goth band] Bauhaus – I thought it was a bit scary and didn't quite understand it."
Lucy went to the independent James Allen's Girls' School in Dulwich, a few miles away. "It was academically amazing, had its own theatre, pushed the arts," she says. "The one thing I didn't have a great relationship with was the music department. I think it was because it was all about classical music. I remember having to go to concerts, and it actually made me a bit itchy." Lucy had piano lessons, "so I can read music, but I also really understand that I'm not a musician. It doesn't flow from me. I love working with musicians because when you see music coming from them, it's an incredible thing. I don't have that. I have this ear, I guess, and a bit of a trainspotter attachment to finding new music."
In her teens, Lucy became obsessed with straight-edge, the hardcore punk subculture that rejects drugs and alcohol. "People wouldn't have known what I was into," she says. "I didn't have a cross on my arm. But it's funny. I don't drink – I've never had a drink ever. The people I thought were so cool didn't drink, which sort of allowed me not to. I just didn't start. It's quite unusual in music."
A week after finishing her A-levels (art history, biology and chemistry), in July 1996, she answered an advert in Time Out and landed a job as the receptionist at Mute Records. The then independent record label was one of a handful – Rough Trade, Factory, 4AD – that have had an incalculable influence on music; without them, the world might never have heard of Joy Division, the Pixies or the Smiths. Mute was the most out-there of them all.
"I took the job very seriously, like I was really part of it," Lucy says, even though she was only at Mute for 15 months. "Lovely Doris in accounts had given me a step machine, because she thought it would be better for me than sitting for hours. And I remember David Bowie coming in and saying, 'What are you doing? It looks like you're powering the telephone system.'" Lucy laughs. "On reception, of course, you meet everyone, so I met Nick Cave and Genesis P-Orridge and Depeche Mode. But it was also my introduction to the really interesting and odd music that Mute put out. The warehouse was on-site, so I could just go in and take any record I wanted to listen to. And it was a real education for me to meet those people in person."
Lucy left to study history of art at University College London in 1997 but continued working part-time for Mute during her holidays. And in 1998, with Paul Smith, the founder of Blast First, a Mute subsidiary that first released Sonic Youth's records in the UK, and Sallie Fellowes, who'd worked for Rough Trade, Lucy started the spoken-word label King Mob to put out recordings of authors reading their own work. "We wanted to focus on an area of the counterculture which hadn't really been represented," she says. Their releases included original Black Panthers tapes and recordings of One Flew Over the Cuckoo's Nest author Ken Kesey from the 1960s. (In 2000 Lucy hosted a party in her parents' garden for Kesey and his fellow proto-hippies, the Merry Pranksters, who famously toured the US in the 1960s in a brightly painted school bus they called Furthur. "They created this crazy psychedelic painting and signed it, and then Ken said, 'Oh, hang on, the bus hasn't signed it,' and he painted the tyres and drove it over the painting. It's still in my mum's kitchen.") King Mob was well regarded but didn't sell lots of records. Nick Cave's The Secret Life of the Love Song in 2000 was its final release.
That year, after graduating, Lucy took a temp job as a PR for Warner Classics, intending to get a position at a pop label when she could, but she found the work so inspiring that when she was offered a permanent role, she was delighted. The job changed her mind about classical music. She looked after Philip Glass and Steve Reich, both of whom came out of the New York avant-garde scene of the 1960s. Reich, in particular, came as a surprise. "It was the first time I'd met a classical composer, and he was more rock 'n' roll than a lot of rock 'n' roll musicians that I've met."
But it was an encounter with another classical great represented by Warners that was a turning point for Lucy in her understanding of film music. She took a group of journalists to interview the elderly György Ligeti, composer of the unearthly choral works used by Stanley Kubrick in 2001: A Space Odyssey, at his beautiful house in the hills above Vienna. "That was when I made the connection between contemporary classical and film," she says, "because of the way Kubrick had used his music in 2001 and The Shining." Richard Steinitz, an expert on Ligeti's music, had briefed Lucy before she'd flown out: Kubrick had commissioned a soundtrack for 2001 from Alex North, who'd scored Spartacus, but had edited it using recordings by Strauss, Khachaturian and Ligeti, then decided to keep the classical pieces in the final film. Thirty-two minutes of them were by Ligeti, who angrily timed them with a stopwatch in the cinema, then began legal proceedings, claiming that, although there had been a small "symbolic remuneration", no one had told him his work would be edited and used so extensively for what he described as "Hollywood shit".
Ligeti told Lucy that over the years he had come to appreciate his music's role in a significant piece of cultural history. By using existing recordings, Kubrick had revolutionised the way film scores could be created. "I loved those films, and I loved the soundtracks," Lucy says. "But I'd never thought about how it happened. It gave me a whole new insight into classical music's importance and influence on films."
The process became real for her when she left Warners in 2006 to manage Michael Nyman, the composer of groundbreaking film scores for The Draughtsman's Contract (1982), A Zed and Two Noughts (1985), and The Piano (1993). They'd met when Warners released two of his records, and he'd asked her to work with him. During Lucy's time with Nyman, The Theory of Everything director James Marsh asked the composer to score a film he was working on, the Oscar-winning Man on Wire (2008). "Michael didn't have the time," Lucy says, "but what he said was, 'I will open up my back catalogue to you, and you can create a new score out of all the existing ones.' This was the first time that I saw how a director and an editor were using music to create the score technically."
"Music can't make a bad film good, but it can hide a multitude of sins, and when it really works, it's like alchemy."
The music supervisor on the film was John Boughtwood, a director at the music publishing firm Music Sales. From observing what he did up close, "working out the cost and the practicalities, as well as helping directors creatively," Lucy knew that it was what she wanted to do herself. A new career path opened up when Boughtwood asked her to come and join the company in 2008 in a creative management role, working with its film and TV composers and catalogue. The breadth of her knowledge and interest in music had impressed Boughtwood. "She was interested in so much, right across the board – that was the starting point," he says. "And she was obviously a great people person."

Lucy found herself among a set of exceptional female music supervisors in the UK that includes Karen Elliott (the Hobbit trilogy, Florence Foster Jenkins, Fantastic Beasts and Where to Find Them), Kle Savidge (An Education, Brooklyn) and Sarah Bridge (The Theory of Everything). She's still at Music Sales. As a deputy director, she looks after the publishing rights of many artists, including Nico Muhly and Philip Glass, handling both their existing catalogues and new commissions. All her music supervision work for films is done through the company, although the artists are not necessarily represented by Music Sales.
Up to now, Lucy has mainly worked on British independent productions, where commissions often come via word of mouth. Her first solo music-supervisor role was on Samantha Morton's directorial debut, The Unloved (2009), for Channel 4. It came via the production manager Emma Murphy, whom she'd met when Michael Nyman had scored Asif Kapadia's Far North in 2007. "I knew Samantha was really into music from knowing her a bit," Lucy says. "There's an Aphex Twin track in there, and that can be difficult and expensive to clear. He has strong ideas of how he wants his music to be used, and I remember asking about this one. It was very little money. He said yes, because it was Samantha."
Was it a baptism of fire? "There were some nervous moments, wondering whether tracks were going to clear in time, but as time goes on I realise that never changes. You're just more ready for it."
Another early project was working with the director and musician John Maclean on his 2011 Bafta-winning short film, Pitch Black Heist. "I made the daft decision to have the actors lip-sync to a rare 1960 B-side, Teresa Brewer's 'If There Are Stars in My Eyes'," Maclean tells me over email.
"I asked my producers to find the writer, and nobody could until we asked Lucy, who cleared the track. That was pure detective work!" They subsequently collaborated on his cult western, Slow West (2015). "I tend to stick with certain people," Maclean says. "I like working with Lucy and trust her. And I've recommended her to other directors." He adds that there is "no set formula for how music is gathered, and that's the beauty of a great music supervisor, and especially Lucy."
The job of music supervisor is rapidly becoming more established, with Americans such as Randall Poster, who's worked on all Wes Anderson's films, and Manish Raval, who soundtracks Girls for HBO, becoming stars in their own right. It increasingly brings together responsibility for delivering the score – most often a new commission from a composer – and for sourcing and licensing existing songs and original recordings for use in a film.
Television projects are often more squeezed in terms of time but offer a wider palette, as British TV is covered by a blanket royalty agreement, which, with a few exceptions – such as the Beatles and Rolling Stones – makes all choices possible, with no approval needed. "You can use an extraordinary range of music," Lucy says. "I remember Michael Nyman being horrified because his music was used all over a Margaret Thatcher documentary."
For directors such as Shane Meadows, television is an opportunity to delve deeply into popular music. Lucy supervised the acid house-infused This Is England '90 (2015), the final chapter of Meadows' beloved series. "It was such a special production to work on," she says. "I think everyone raises their game when it comes to This Is England." It was particularly poignant because the singer-songwriter Gavin Clark, one of the series' regular composers and Meadows' best friend, died during the making of it. Lucy had represented him. "There are some scenes that I can hardly watch when his voice comes in," she tells me.
One of the main challenges in Lucy's job is budget management. On an independent film, which might have a budget of £1 million, £30,000 to £40,000 might be set aside for the score, to be paid to the composer as a package deal that includes hiring musicians and paying recording costs. That won't stretch to a Gladiator-style full orchestral score, which can reach £200,000 in recording costs alone. By contrast, the music budget on Assassin's Creed was six figures.
A single song, meanwhile, can cost tens of thousands of pounds to use in a film. This is one reason Lucy likes to be involved during pre-production, rather than after a film has been completed and a director has fallen in love with a particular song. "A song is somebody else's piece of art, and it's their right to choose whether they want it to be in a film and how much they want to charge for it," she says. "I always prefer to come on at script stage. At that point you can say, 'You do know that you're not going to be able to afford a Beatles song – which might cost £100,000 – for that bar scene, so why don't we start thinking about other things now rather than when you're filming it?'" Even with an independent film, "You're talking about clearing songs for a few thousand pounds," Lucy says, "which can seem quite a lot to the production, because if you've got 10 songs at £4,000 each, that's a lot of money. And if you're having to go to a publisher trying to negotiate that down, saying, 'We've got £1,500 per track,' it's hard work, and you're using a lot of favours and contacts to try to do it."
A given project might take 18 months to come to fruition, particularly in Hollywood, and will require a broad range of skills. Twenty years in the industry have given Lucy expertise in negotiating deals, handling musicians and navigating the mantraps that lie in wait for the unwary when it comes to licensing music. It's also provided her with a web of musical connections that stretches across the globe.
I catch up with Lucy again when she returns to London from New York. We meet at her office near Oxford Street to talk about her trip. Her schedule leaves my head whirling: rubbing shoulders with Bill Clinton at the Lion premiere at the Museum of Modern Art; having dinner with Hampton Fancher, the screenwriter for Blade Runner and its upcoming sequel; visiting the pianist Cassie Yukawa and her husband, the actor and theatre director Simon McBurney (Lucy is godmother to one of their three children).
We talk about her desire to work on a film that is set somewhere that will allow her to immerse herself in the music of the place – she mentions her love of the singing traditions of the Aka pygmies in the Democratic Republic of Congo. She hopes to collaborate on a new project with the American producer Pam Abdy, whose successes include the Oscar winners Birdman (2014) and The Revenant (2015) as well as Assassin's Creed. In the long term, Lucy says she sees herself running her own company, "bringing together talent and expertise and introducing more brilliant music into people's lives through film", adding, "I just love how everyone on a film knows exactly what their job is, and all together, this magic happens."