Lori
and Laura
of Towpath.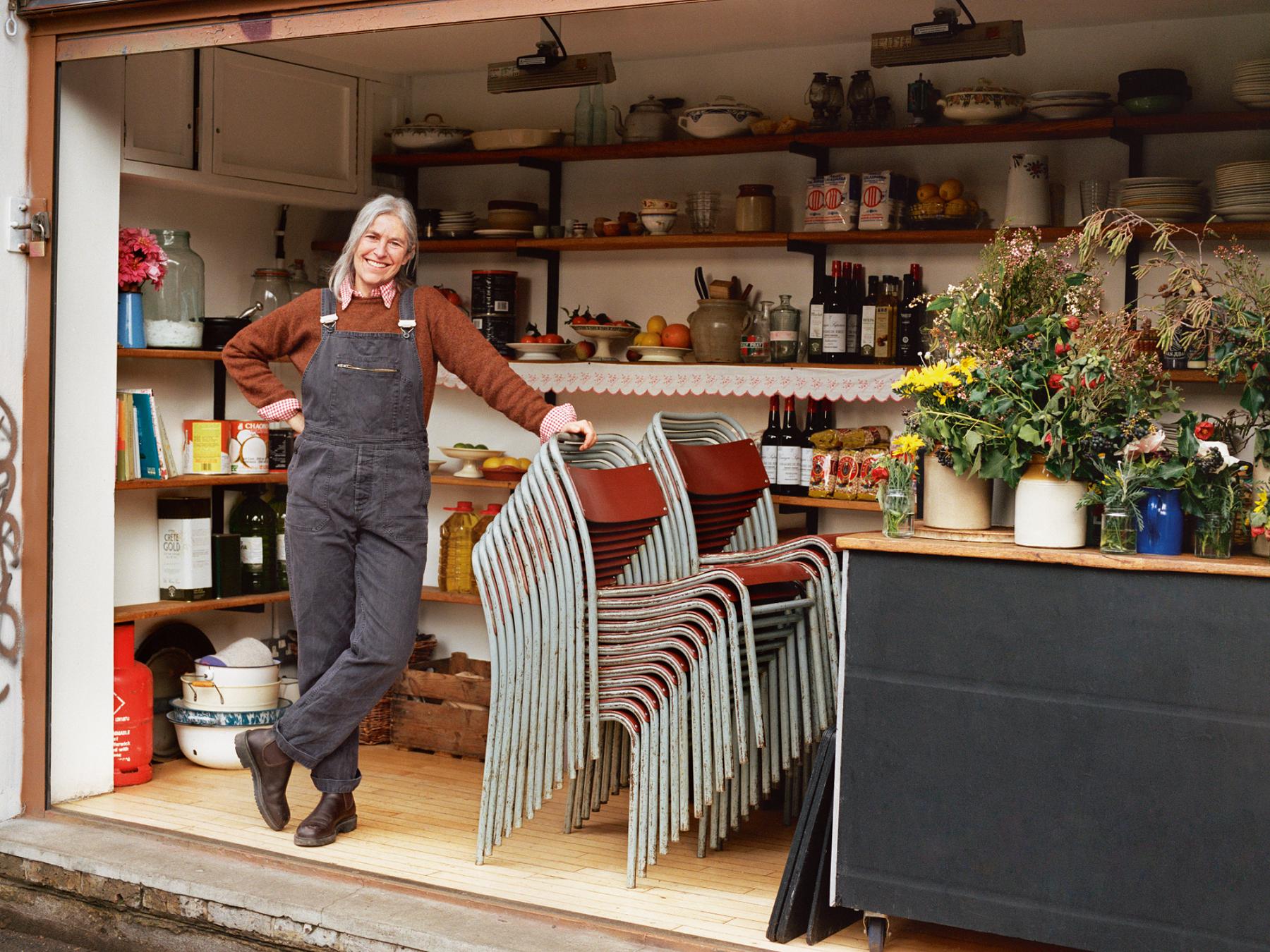 The restaurant founded by Lori De Mori and Laura Jackson is called Towpath. It is situated along the fashionable stretch of Regent's Canal in east London and counts as regulars the area's art world and cinema superstars, who queue for tables and caffè sospeso come rain or shine. Having experienced the best hospitality in their culinary travels over the years, Lori, 60, and Laura, 39, have spent the past decade honing deceptively simple, delicious food and a feeling of total fabulousness. It's a combination which greatly informs their new cookery book, Towpath.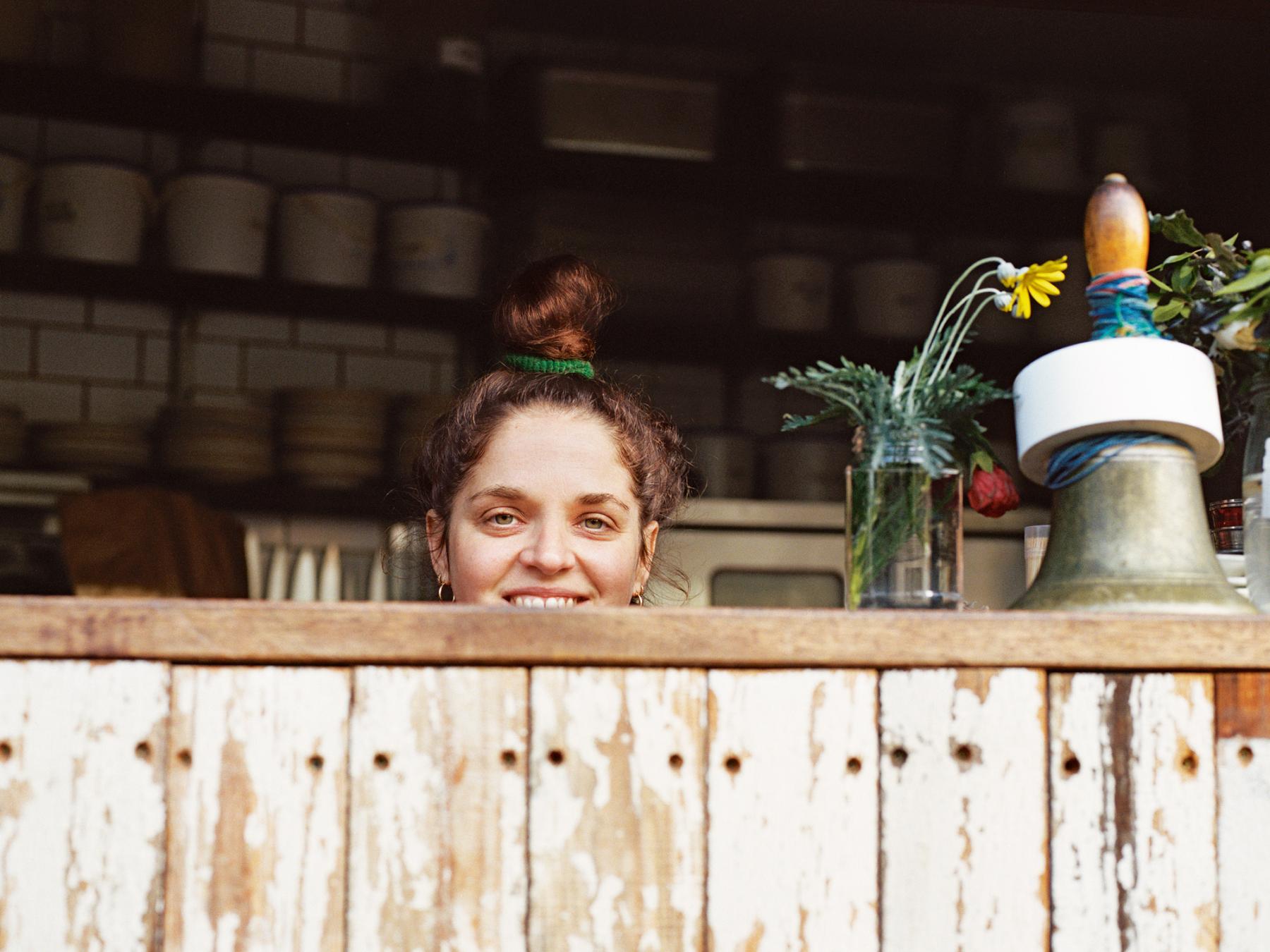 On a wet and wintry afternoon next to Regent's Canal in east London, rain pounding into the water. The sky is threatening and dark. It's no day for an al fresco caffè latte, or fried eggs with chilli and sage butter. Towpath's dark green patio tables are packed away, its awnings shut. Yet a steady trickle of passers-by pause at the bar, asking hopefully, "Are you open?"
Towpath's owners, Lori De Mori and Laura Jackson, are sitting at a long wooden table in one of four shallow kiosks set into the wall of an industrial building. Laura, 39, the restaurant's cook, is cocooned in a pink mohair sweater, her hair piled up in a signature topknot. Lori, 60, the Californian front of house, has taken off her knitted hat, her usual head covering when she's taking orders at Towpath, and has brought me a coffee in a Duralex glass from the closed-up bar. Opening hours have been limited lately: in the fading weeks of December 2020, service was restricted to a few lunchtimes a week plus weekend dinners. Like all restaurateurs, they have had one eye on news of tightening lockdowns.
"Sorry, we're not open today!" Lori says firmly to another enquiry from a passer-by. She offers a warm smile by way of apology.
As it turns out, days after we meet, pandemic restrictions will cancel the remainder of their season, plunging Towpath, along with every other restaurant, into a hibernation without a known end. On one of the kiosk's four shutters is a new painting in blue featuring a little black coot: it's the cover design of their first recipe book, Towpath, which the pair wrote, edited and published during the 2020 crisis and now sell directly on their website. While they remain closed, Lori and Laura suggest, at least their admirers can recreate the menu at home.
But will that be enough for regulars, some of whom have been known to include "proximity to Towpath" on their list of top requirements when moving house? What about for the customer they've dubbed "Porridge Paul", who orders porridge with rhubarb jam every day of the week? Not to mention the throngs of newcomers who turn up in greater numbers every spring, despite Towpath having no social media and no online booking system.
"People will say, 'You're open — spring is coming!'"
In the past decade, Towpath has evolved from a low-key cafe serving effortlessly delicious dishes into a restaurant that, while still guided by simplicity, enjoys a passionate following. As it is situated in De Beauvoir, you'd expect its customers to include artists – Peter Doig, for instance, and Enrico David, whose studio was for years over the water – but London's chefs, from Margot and Fergus Henderson to Jeremy Lee and Olia Hercules, can also be seen occupying tables here. Keira Knightley comes; so do Tracey Ullman and her daughter. "I kept hearing about it," Ullman, who lives a 10-minute walk away, says. "And I was expecting a big restaurant. And then when I found it, it was amazing, the level of quality. Although it's not for everyone. Some people need white linen. They just won't sit in a place like Towpath."
In high summer, the narrow strip of pavement between the kiosks and the water's edge – a setting that's bucolic yet also metres away from the roar of Kingsland Road, the A10, leading north out of the City – is packed not just with Towpath diners but joggers, dog walkers and cyclists. "Nothing stops the towpath traffic," Lori says. Paddleboarders and kayakers float among the coots and herons; narrowboats chug by. Light dances off the water, reflecting into the south-facing kiosks. Next to a bridge, an area surfaced with woodchips and shaded by silver birches, known as "the beach", hosts spillover diners. The queue for tables grows longer. On quieter days, regulars like Enrico David claim their favourite spots. "Mine is by the counter," he says. "At some points I've even ended up making a coffee or two myself. But I don't go at weekends. I like a Wednesday lunchtime when it's pissing down, a handful of desperados there."
However quiet or chaotic the restaurant is, the central attraction remains Laura's seasonal, perfectly executed, straightforward food: chalked up on a board. On any given day there might be a grilled cheese sandwich with quince jelly, homemade yoghurt, roast chicken with aioli, taramasalata served with shocking-pink radishes, a golden olive oil cake. Unlike at many restaurants, the kitchen is not hidden away in a basement, and the chef can often hear reactions to the dishes she sends out. "Laura loves to cook and feed people and have them go 'Yum!'" says Lori, who revels in describing Laura's dishes to enquiring diners. "Her favourite thing is a table full of people saying 'Yum, yum,' and eating."
But equally alluring is the ever-welcoming presence of Lori front and centre at the bar, tall and poised, with a blue apron at her waist. Her enthusiastic way of bringing people together, and sometimes persuading them to behave differently, is, by her own admission, "a social experiment". Where the norm is to demand a bespoke coffee and then sprawl across a table lost in one's screen, Lori, who confesses to sometimes being "ferocious" towards difficult customers, pushes back. "I like to play with people," she says. "I'll think, You say you want a decaf soy latte. But I'm going to see if I can get you to sit down and have a piece of olive oil cake and a mint tea – if you really can't have caffeine – and put away your laptop."
A long-time quirk of the Towpath chalkboard has been the caffè sospeso, which originated in Naples. It's not a specific drink but a "suspended coffee", which one pays for to be given to a deserving patron at a later time. "A week will go by and nobody buys one," Lori says, "and then you'll get someone asking, 'What's a caffè sospeso?' You tell them, and the next five people all buy one."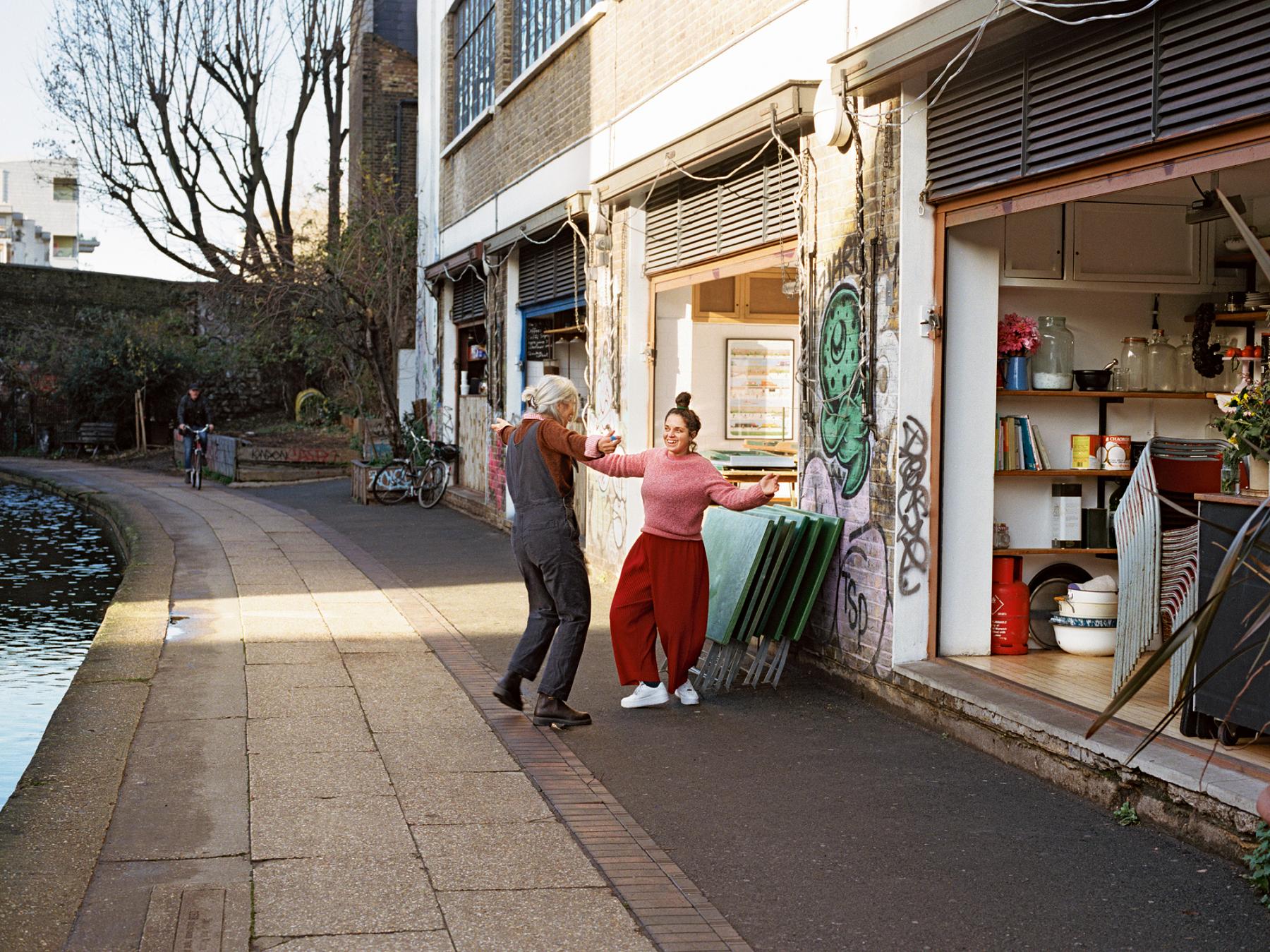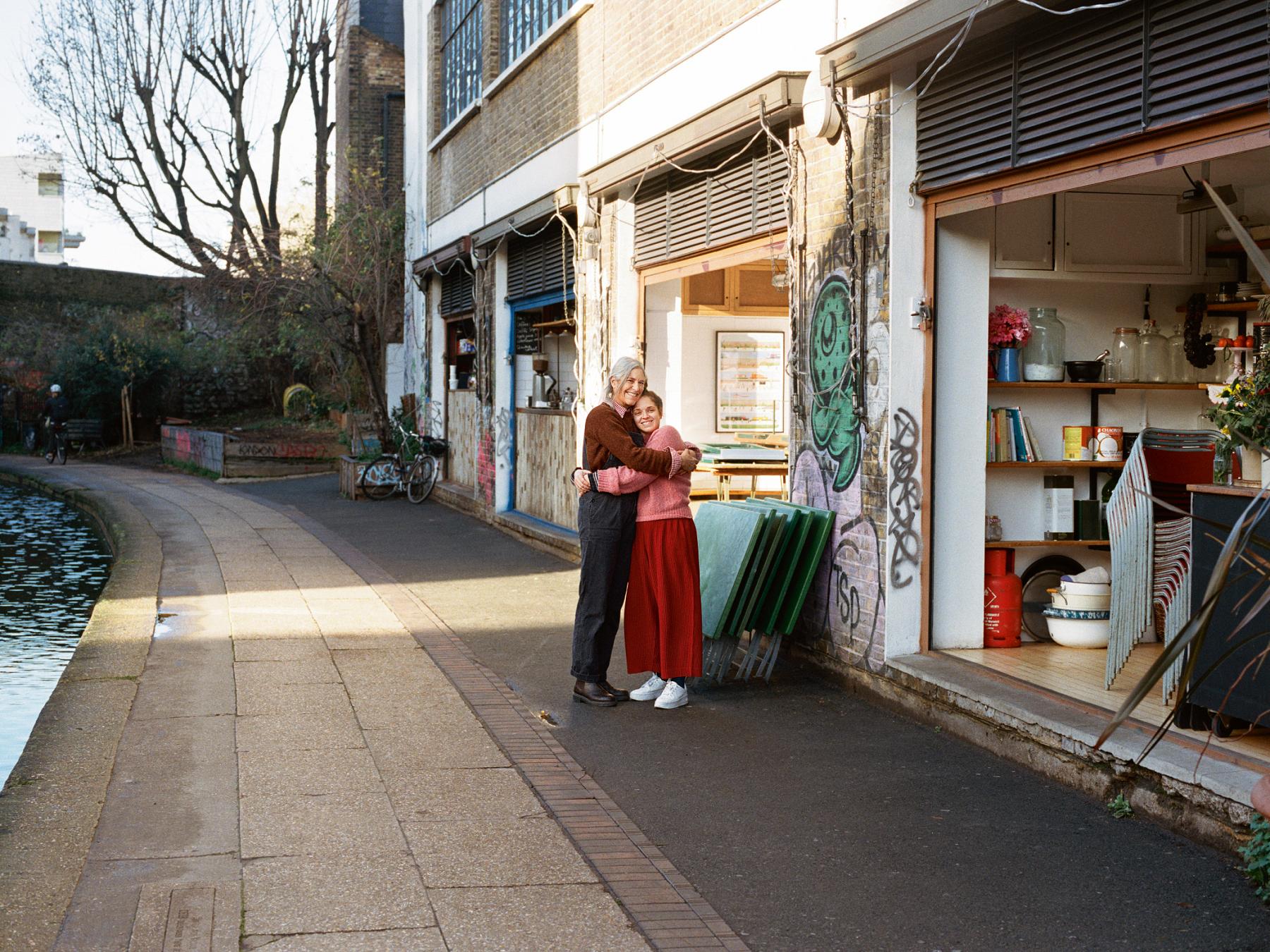 Encouraging people to pause and savour the cookery is a vocation for Lori, as much as Laura's is to create deceptively simple food. "I don't have the creative outlet that Laura has, making new things. You know how the Buddhists say 'Chop wood, carry water, that's what life is'? That's my life, making coffee and doing these mundane, manual things. I'm using that as a conduit for social interaction. Trying to, in a nice way, manipulate people into thinking that we can live in the city in a different way. We get so much back from this," Lori says, gesturing around Towpath. "Besides, what else am I going to do in London? Sit in my flat?"
It was from Lori's former flat that the idea of Towpath was conceived. In 2009, she was living with her then husband, the food photographer Jason Lowe, just across the water from the former factory that now houses the restaurant. The couple had noticed that a row of metal-shuttered kiosks in the 1929 Bankstock Buildings over the canal was for sale. Each kiosk was "smaller than your average bus shelter, and just as exposed to the elements," Lori writes in the new book. "It was not exactly inspiring, but somehow full of possibility." They put in an offer with a vague idea of opening a simple shop or cafe. But like all seemingly haphazard pathways to success, this next step was actually a logical progression for a woman for whom good food – and travelling to enjoy it – had become a calling.
Lori grew up in Los Angeles, the daughter of Jerry Zimring, an orthodontist, and Millie Meyerson, a golf pro and former US Junior Champion. At the age of 19, she spent a summer in Florence learning Italian and returned to America with an Italian boyfriend, Jean-Louis De Mori, in pursuit. By 1985, he was her husband, and her introduction to hospitality: the couple had met in a cafe owned by his family near the Ponte Vecchio. After years of travelling back and forth between the US and Italy, Jean-Louis – in what Lori describes as "his own version of [the 1996 movie] Big Night" – opened a restaurant, Locanda Veneta, in West Hollywood, while Lori pursued a law degree. She became a litigator, a job she thought she wanted, until one day in 1988 when, she writes in the Towpath book, "I laid my head on the desk in tears, defeated by the realisation that I did not want to do the job that had taken me seven years of university to get." In an about-turn, Lori, whose prose flows as naturally as her conversation, suggested to her husband that she write a book linked to Locanda Veneta.
It took a while, by her own admission: Italy Anywhere was published in 2000, with recipes from Jean-Louis' restaurant mixed with her thoughts about the Italian approach to cooking. In the meantime, the couple returned to Italy with two children and set up in a small "tumbledown" farmhouse in Tuscany, which became their full-time home by 1995. Lori and Jean-Louis eventually parted ways, but from her adoptive home she became a successful freelance food writer, publishing books and articles, immersing herself in the nation's unassailable culinary culture.
One place she knows from that era provided inspiration for Towpath: a hole-in-the-wall bar in Florence called I Fratellini. It sells just sandwiches and wine, the definition of simplicity. "It's smaller than Towpath," Lori says. "Next to the bar are a few little wooden shelves where you can put your wine glass. The sandwiches are made at that moment. The feeling is so fabulous."
Another formative experience was the Camino de Santiago, the ancient pilgrimage route that concludes in Santiago de Compostela in north-west Spain: Lori walked the French Way, from Roncesvalles, 750 kilometres, for a Gourmet magazine article, and the pit stops en route were a revelation. "Spain is full of little offerings," she says. "You'll have been walking, and then to have just an orange juice, a caffè latte and a pan con tomate, it makes you die with joy. You'd feel like you could walk another 100 miles. So when I moved to London [in 2008, with her daughter], I felt like, This is what I want to do!"
Laura, meanwhile, on a winding path of her own, had finished a physiology degree at Bristol University, but her youthful dreams of becoming a doctor had become uncertain. After spending six months doing a diploma at Leiths cookery school in London before taking up her place on a postgrad medical course, she realised she'd rather be prepping for lunch service in a kitchen. She grew up in north London, the daughter of a teacher and a lawyer, Dawn and Leslie, who ate well at home, often Jewish classics. So, aged 22, she decided to stay in London, working her way through the kitchens of Melrose and Morgan, an upmarket Primrose Hill deli, and Margot Henderson's Rochelle Canteen. "She was sparky and keen, a good natural cook," Henderson recalls. "She seemed to really go for it. James Ferguson [now at the Kinneuchar Inn in Fife] was here as head chef, and he was a very good teacher; he'd had a classical training with Angela Hartnett. And then there was my hippie style of cooking, so it was a good mix for her."
But it was while working at the Auberge de Chassignolles, a small hotel and restaurant in rural Auvergne, then co-owned by the London chef Harry Lester, that Laura met Lori for the first time. Laura was the cook, having moved on from Rochelle Canteen. "She told me she had little experience but was up for working hard," Lester tells me by phone from Clermont-Ferrand, where he now owns Le Saint Eutrope. "It can be very intimate, doing a season at the Auberge, and hard work emotionally." One of the guests at the hotel that year was Lori, who happened to be looking for a cook for her new, rather vaguely outlined, canal-side project.As unlikely as it sounds, Lori asked Laura if she would consider joining the soon-to-launch Towpath, which at that point didn't even have a kitchen, only a tiny bar, and one kiosk for seating. It was a typically ad hoc beginning, and for the whole of the first year Laura had to prepare all the food on the opposite side of the canal in Lori and Jason's flat, working from a domestic kitchen that was also being used by other chefs as a studio for the various cookbooks Jason was photographing.
The makeshift Towpath kitchen turned out yoghurt, jams, pickles and ice cream along with the olive oil cake that remains on the menu today. Laura recalls making hundreds of trips back and forth over the bridge each day. There was porridge in the morning and soup or stew at lunchtime, both of which could be served from the tiny bar. "We had an urn you could warm something up in, and a cheese sandwich machine, or a salad that could be made up. It was very limiting in the first year."
If that sounds awkward – and inefficient – it was all part of the plan: they were discovering what could work, even in such adverse conditions, and cutting no corners. "As much as possible, it was about making everything ourselves," Laura says. "We wanted everything to be us." She admits she might not have made it into year two if the Towpath kitchen hadn't been built. "It was really exciting, because I was involved in this new venture, but it was also sad – I was across the canal, separate from the whole thing." But that winter the waterside kitchen was installed. It would become known for the guest spots offered to other chefs, including Rosie Sykes and Rachel O'Sullivan. In 2017 Laura became co-owner, and the menu has become more ambitious every season.
It might be closed now, but in normal years Towpath is asleep for at least three of the winter months anyway. For a decade, Lori and Laura have followed a pattern connected to the seasons, opening in March, usually on the first Tuesday of the month, and closing in November. "We open every spring, and people will say, 'My God, you're open – spring is coming!' And that enthusiasm feels so good," Lori says. During the restaurant's annual closure, Laura, who lives in King's Cross, cooks in other professional kitchens ("I can just turn up, cook and leave. I love that, because I have so much to learn") before visiting her parents, who are now in Australia. Lori, who lives in Newington Green, spends her off seasons in her Tuscan farmhouse.
"Nothing stops the towpath traffic."
But as each March approaches, despite Towpath's unarguable success, Laura admits she begins to feel anxious. "I worry that during the time we've been closed somewhere else has opened, and everyone's going to the newer, cooler restaurant." This is where her collection of notebooks from Il Torchio – "an amazing bookbinder's in Florence that I always go to" – filled with past menus and recipes comes in. "I've had a chance to reset, do lots of reading and try out new recipes, because when it gets really busy here, it's really hard to try new things out."
Still, she has sleepless nights. Both she and Lori admit to having recurring dreams about Towpath. In hers, Laura is searching for the notes on a wildly popular recipe but can't find them. Lori dreams she is hacking through a Thai rainforest, searching for a new outpost of the restaurant. "I think it's about what else we could do with Towpath," she suggests.
To each of them, though, reopening always feels like an overwhelming effort. "And when you've slowed down that much, you ask yourself, Are we going to be able to do it?" Lori says.
By "it", she means cope with the frantic pace of Towpath at full capacity. Queues snaking alongside the canal; hundreds of customers served each summer lunchtime; ardent admirers arriving at breakfast for granola and blood orange and staying through till grilled sardines at sunset. "It's like a freight train, a fast-moving freight train – those days that are endlessly long, the number of people," she says. In hindsight, with every one of London's restaurants closed during a national lockdown, that image seems painfully nostalgic, perhaps even obsolete. When will the freight train pass through again?
For Laura, in particular, the spaced-apart tables and scant custom during the winter opening made things "too quiet". For all the grind and adrenaline of 17-hour shifts, she prefers Towpath as it was. I receive an email a few weeks after our interview to say that they are still hoping to reopen in March "in some way. Who knows what's going to happen?" Laura says. "Fingers crossed."