Lizzo
The fabulous freestyle rapper from Houston hits the highway to pop superstardom.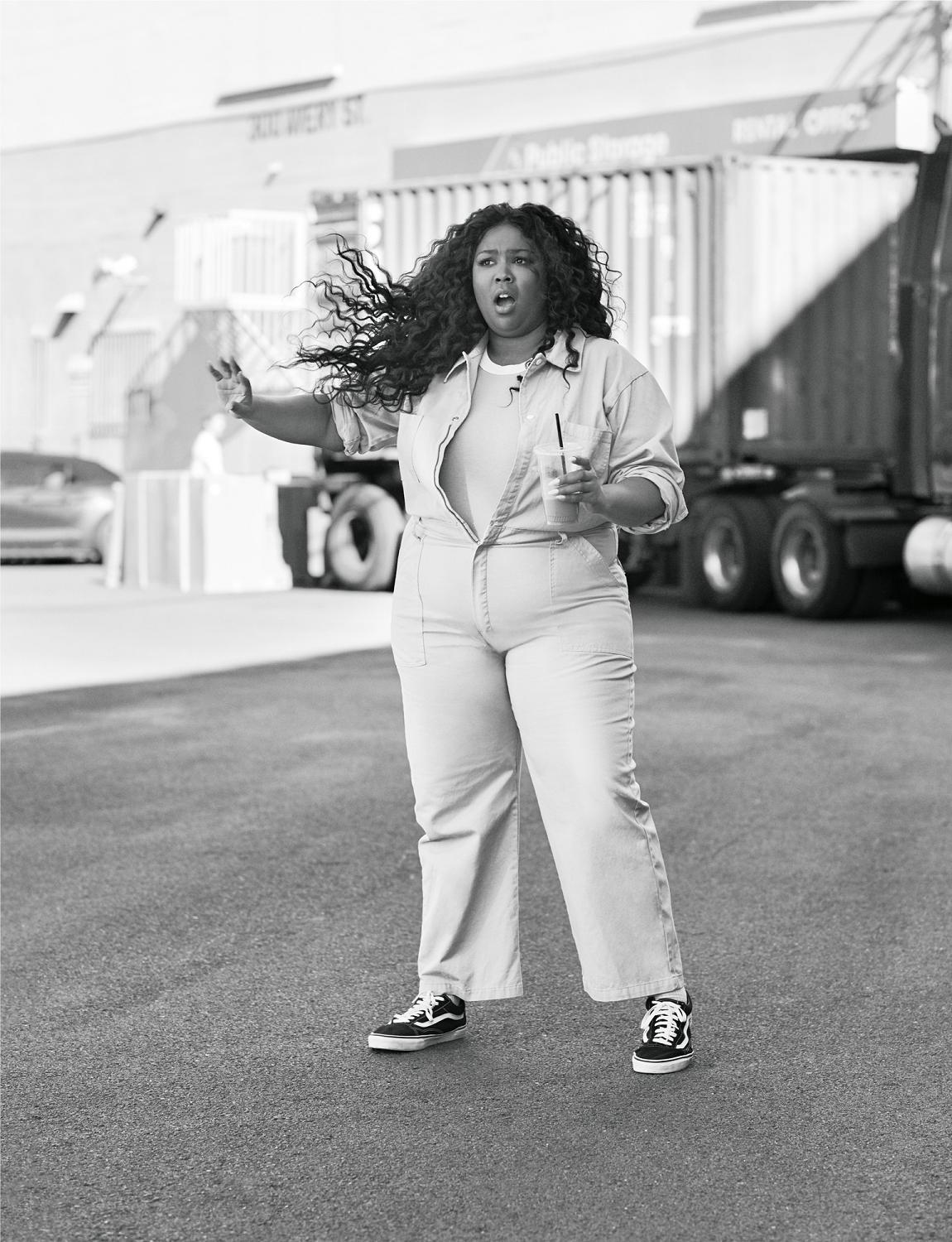 The flute Lizzo plays on her smart, sassy songs is called Sasha. The open-hole C instrument is just one of the gals with whom the exuberant rapper, 30, tours the world, espousing messages of positivity and self-care via wildly entertaining stage extravaganzas. It wasn't always the way.
In 2008, the classically trained virtuoso crashed out of college and adopted a three-month vow of silence. It took a spell in the protective arms of the Minneapolis music scene – and a brush with Prince – to get Lizzo back on her rightful road to pop stardom. With a long-awaited album launching this spring and a collab with her idol Missy, nothing can stand in Lizzo's way.
The first thing you notice when you meet Lizzo is that she is extremely tall – five foot 10 – and she's not even wearing the heeled combat boots she often wears on stage. We meet on a mild afternoon at Guisados, a taco restaurant near the apartment in Echo Park where she has lived for the past two years since moving to Los Angeles from Minneapolis. As she shakes my hand,
I notice her nails: long, Barbie pink, gleaming. She has had a busy day, she says, and she's more exhausted than hungry, but still she orders – a tamale and an Arnold Palmer – and we take our food to a table on the patio near a tiny decorative waterfall. Before she sits down, Lizzo grins. "I'm just going to do this," she says, undoing the top few buttons of her high-waisted jeans. She sets down a small clear plastic clutch containing a few essentials: phone, wallet, Fenty lip gloss. A few tables away, three members of her entourage (a hairstylist, an assistant and a representative from her label, Atlantic Records) sit eating their own tacos. "That's my glam team," Lizzo says, laughing.
She's sporting voluminous curly hair, as seen in the video for "Juice", the recent single off her forthcoming album, Cuz I Love You. The style, a kind of mid-1970s Chaka Khan, is, she says, a reflection of the Leo rising she recently discovered in her birth chart. Lizzo is big on horoscopes, and when she ordered a copy of her birth certificate so her chart could be drawn up, she discovered she had been wrong about the hour she was born. "I was like, Why is my hair so big?" she says. "Why do I sweat so much? I've got to have fire in my chart somewhere." Chani Nicholas, the celebrity astrologer, confirmed that the exhibitionist fire sign had been there all along. "I was like, Oh shit, Leo rising, that makes so much sense – the sweat, big hair, loud roar on stage."
To say that Lizzo roars on stage is an understatement. She often begins her shows with a call and repeat, exhorting the crowd to yell positive affirmations at the top of their lungs before she rollicks into a high-energy number. At the NYC Pride parade last June, she bounded on wearing a rainbow-striped wool bodysuit with a matching floor-length robe and leg warmers by Grace Insogna, her neon-green braids in a high ponytail. As she belted out her just-released single "Boys", a flirtatious bop about wanting men more than she needs them ("I like big boys, itty bitty boys/Mississippi boys, inner city boys/I like the pretty boys with the bow tie/Get your nails did, let it blow dry"), Lizzo gyrated in rhythm with her backup dancers.
This is the all-female crew of plus-sized dancers Lizzo calls the Big Grrrls. They are on stage not just to shake but as an extension of her messaging. "When I talk about 'I can do anything you can do, I can do anything better than you,' they're that," she says. "They're doing the splits, they're showing athleticism and strength and vulnerability, and they believe the words as much as I do. It's almost like they wrote them too." The Big Grrrls are part of a roving collective of women with whom Lizzo works. The core team are the whimsical rapper and stylist Brooke Candy, who provides Lizzo with her fanciful costumes – feathers and chains, perhaps; a spandex onesie; a banana-yellow tutu – and Quinn Wilson, Lizzo's creative director. Then there's Sophia Eris, her touring DJ, and Lizzo's best friend from her days living in Minneapolis in her 20s – she used to crash on Eris's couch for weeks at a time.

"We bonded immediately," Eris says by phone from Minneapolis. "We hung out, showing each other what we were working on, and then ended up singing Beyoncé songs in a karaoke bar together." Lizzo is "the protector of the group. She has really good instincts," Eris adds. For Lizzo, it is equally important that Eris has been there since the beginning. "When people come to our shows, they're getting a window into our friendship and into our relationships and into a sisterhood."
Lizzo was born Melissa Viviane Jefferson in 1988, in Detroit, Michigan, the youngest of three children. Her family was deeply involved in the Pentecostal church, and there was no television and no non-religious music. Lizzo's sister, Vanessa, who is five years older, was the performer, the one her family would ask to sing at parties. "She was in theatre, and so she could sing and act and she had the obvious performative talent," Lizzo says. The young Lizzo was an introvert, a reader. Her role model was Matilda, the heroine of Roald Dahl's fable about a precocious schoolgirl who can control objects with her mind. "But it wasn't the telekinesis – she was my hero because she went to the library every day and read books on her own and was independent. I thought that was so cool."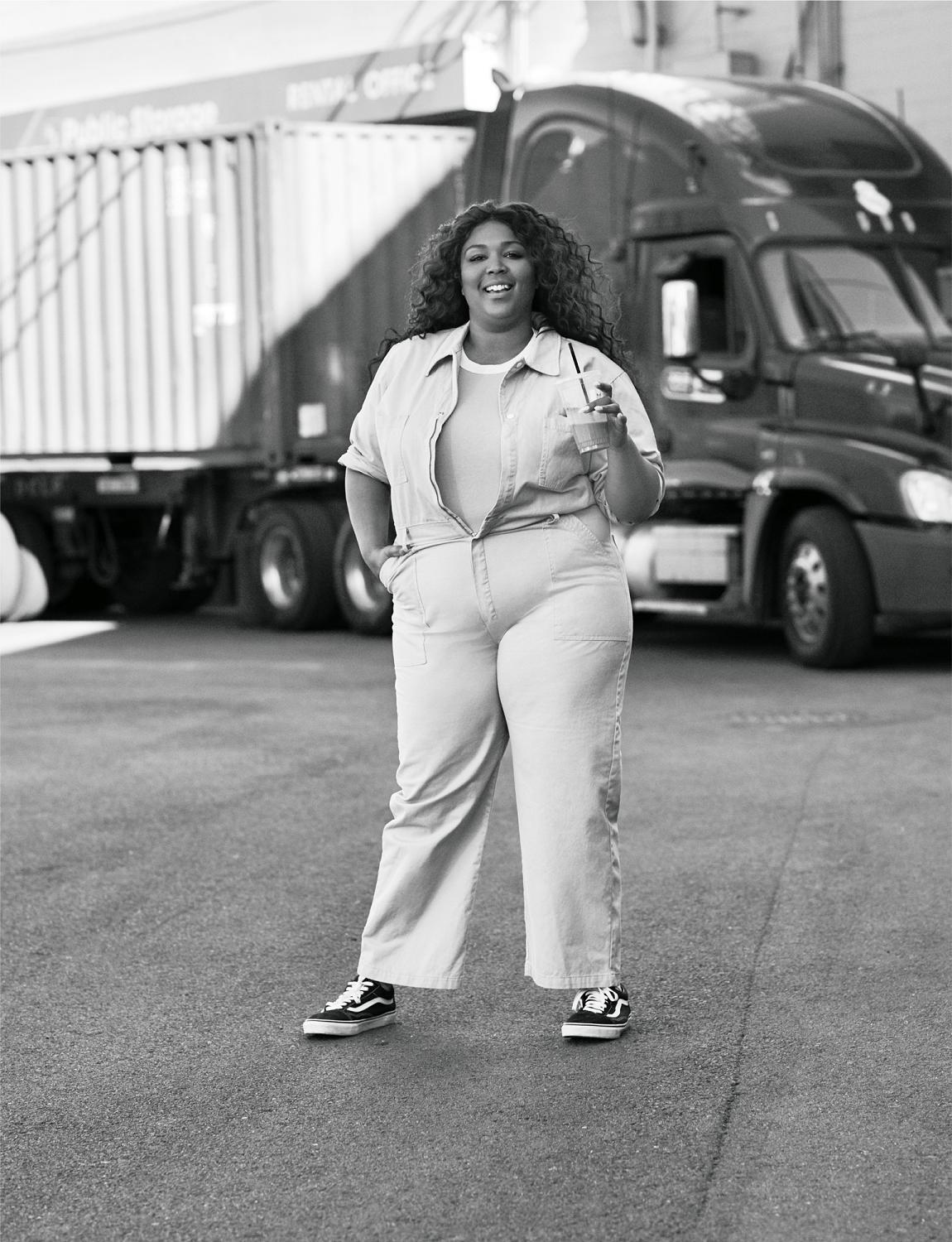 "I always was a freestyle rapper. I would freestyle in Houston cafeterias and on the bus."
The family moved to Houston, Texas, when Lizzo was 10. They stopped going to church, and Lizzo was, she says, suddenly exposed to a different culture. At the suggestion of her music teacher, she began playing the flute and the piccolo. "I was always first chair," she says, adding that she was determined to become one of the best players in the state. "I worked so hard. A lot of the girls I played with dropped out. Only me and a few of them stayed all the way to senior year of high school."
When she was 14, she got a place at Houston's High School for the Performing and Visual Arts, the most prestigious performing arts school in Texas – Beyoncé is an alumna – but she decided not to go. "My band director wanted me to stay so bad. I was the best thing he had, so I stayed," Lizzo says.

Lizzo was still the reader, disappearing into the fantasy novels she loved and the Japanese manga she had recently discovered. Her favourite books were Sara Douglass' Wayfarer Redemption series, about a fictional land called Tencendor, ruled by demons that control time. One of Lizzo's most treasured objects was a unicorn figurine given to her by her mother. "It was holding a little crystal ball that looked like an elf person." Lizzo would stay up late writing fantasy fan fiction. "I was writing legitimate fantasy novels," she says. "I had a map – all classic fantasy novels have the map of the country – with, like, a forest, an ocean, a castle. But I would write about women and I would always write about the elements. Earth, fire, water, wind. I'm pretty nerdy, and that was like death," she says. "I'm black, all my friends were black, and I went to a predominantly brown and black school, so nobody was talking about anime and fan fiction back then. "After getting teased so much in middle school, I was determined to be cool," she adds. "I started dressing different and wearing weaves. I would raise my hand and say funny shit in school. I would be the cute girl in the class."
While she was in high school she founded an all-girl crew called the Cornrow Clique. She gave herself a sassy nickname by dropping the first syllable of "Melissa" and replacing the a with an o (the z's came later, for emphasis). "I always was a freestyle rapper," she says, adding that she still comes up with her best material off the cuff. "I would freestyle in Houston cafeterias and on the bus." And she began calling in to local radio stations and rapping on air. She also joined a prog-rock band called Ellypseas. At 18, she went to the University of Houston to study classical flute on a music scholarship; there, she played piccolo in the Cougar Marching Band. She told Nylon magazine that she felt as if she was living a double life. "I was Lizzo, the rapper, and I was Melissa, the girl who was going to Paris to be in a wind chamber."
And then, at 20, Lizzo quit her degree course, stopped playing the flute and moved to Denver, Colorado, where her mother and brother had relocated. And she went silent. As in, she didn't speak for three months. She later told Rookie that she was mourning the life she could have had, the one she had fantasised about since the age of 12. What she really wanted to do, she tells me, was to sing, but she had yet to find the confidence to do so. "I'm in therapy now," she says, and it's helped her to work through what happened. "My unintentional vow of silence hurt a lot of people, and I don't ever want to do it again. But I was coming from a place of hurt." At night she would wander the streets, wondering what she was going to do with her life, singing her way through Beyoncé's album B-Day. "I was singing Beyoncé at night but not talking by day," she says. "The only time I spoke was when I sang. I don't recommend it. Don't try that at home, kids!"
Eventually she decided to follow a friend to Dallas and audition for American Idol. Lizzo didn't get a callback ("That was a moment of delusion," she says). From Dallas, she returned to Houston. "I was absolutely dead broke and wearing some hand-me-down clothes and bumming it, staying in the studio that my band played at or rehearsed in," she told Rookie. She spent several months living in a car her sister had given her. "This car was a piece of work! It was T-boned completely, caved in on one side."
It was moving to Minneapolis in 2010, at the urging of her friend Johnny Lewis, an electronic artist she knew in Denver, that Lizzo thinks saved her. At first, she baulked at the idea of living somewhere with frigid winters, but after staying with Lewis's parents and performing a few live shows in the area, she decided to make the leap – though she waited until the summer. She and Lewis formed an electropop duo, Lizzo & the Larva Ink, who performed their eccentric hybrid of witty rap and bouncy pop all over the city.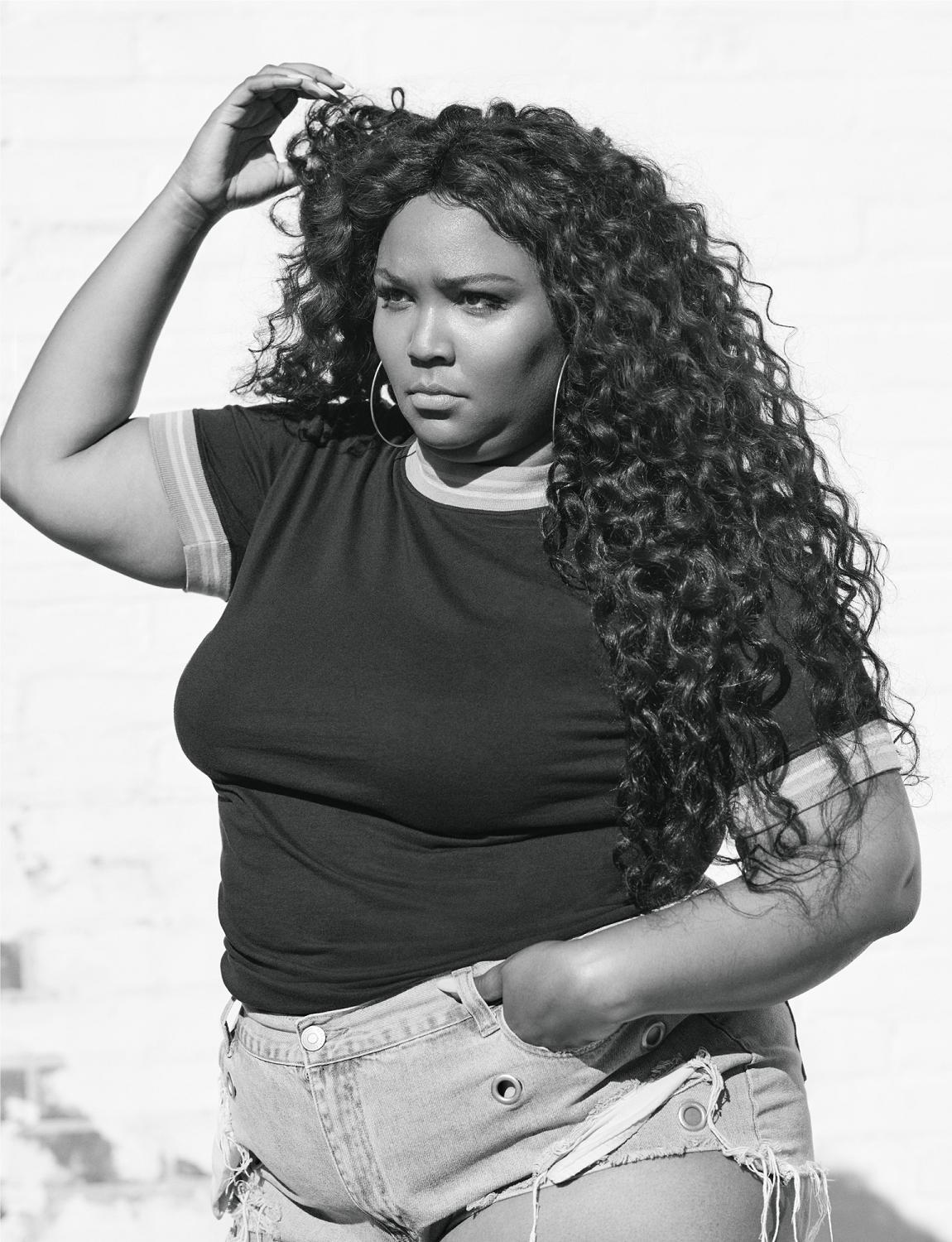 Lizzo describes Minneapolis as a "protective creative enclave" where artists are encouraged to try out their wildest ideas and collaborate, where the musical community is small and strange and generative crossovers and combinations emerge. This fits with her mix of hip-hop, pop, soul and gospel and her desire never to confine herself to one musical genre. She had grown up listening to Elton John and Radiohead alongside Houston rappers like Fat Pat and Lil' Flip, and, of course, classical music. It was in Minneapolis that she found a way to bring the flute back into her music, and she has incorporated it into every one of her releases since her first solo single, "Batches and Cookies".

After appearing in a documentary about Minneapolis's music scene that featured Prince, Lizzo found herself invited to Paisley Park. Although they never met – Prince communicated by speak-erphone – she sang background vocals on the track "BoyTrouble" on his 2014 album Plectrumelectrum. She told Billboard magazine in 2015 that his sole direction was "Pretend like this is your song."

"I love Minneapolis; I feel like it protects people," she says. "Prince was so loved and protected there for so long. It's always going to be somewhere I can go to feel that sense of security and realness."
There, she met Aaron Mader, also known as Lazerbeak, who would produce her first independent LP, 2013's Lizzobangers, her "angry" album of rumbling swingbeat. "We met over Twitter in 2012," Mader tells me by phone. "She basically tweeted, 'Man, I wish I had enough money to afford a Lazerbeak beat.' And I was like, 'Buy me a six-pack of Mike's Hard Lemonade and we will do it.' I made an instrumental album called Lava Bangers, and she had written to those beats, so we took it from there."

Mader says he knew right away that Lizzo's trajectory might take her far. "She has that thing everyone is always searching for that you can't put a word on," he says. "And it was really clear she had the triple threat thing going. She had all these goals – like, she showed me the power of saying things out loud. In the Midwest, I think we are taught if we say we want something, we will be jinxing it. But she would say stuff like 'I want to play Barclays Center in New York this year,' and sure enough, she was opening for the Yeah Yeah Yeahs there. She just went for it."
"I'm not an overnight celebrity. I'm a touring artist, not just here to make a quick million off a song."
By 2015, Lizzo's second record, Big Grrrl Small World – recorded in the Wisconsin basement studio of the influential indie-folk musician Justin Vernon, of the band Bon Iver – was getting major critical attention for its twisted funk. Lizzo was rapping with audacious openness about her financial status and family history. In the song "Ain't I", her lyrics are unapologetic: "My grandparents worked at Ford factory/So Henry is nothing without my family tree/And his slave-owning family needed Black blood still/So I think we need a spot up on Henry's will." The cult all-woman rock band Sleater-Kinney invited her to open for them on tour.
But her real breakthrough came when the pop producer Ricky Reed, who has worked with the likes of Maroon 5, Christina Aguilera, Meghan Trainor and Jason Derulo, heard about Lizzo through the agency CAA, which represented them both. Reed was hunting for artists to sign to Nice Life, the label he was setting up under the umbrella of Atlantic Records. "I was interested in artists who were subverting pop music, who had some political element or something to say, some level of going against the grain," Reed tells me over the phone from Echo Park. "Lizzo was the first person we came across who blew my mind."
Reed says the pair wrote the ebullient track "Worship" in a matter of hours during their first session. "I asked, 'Can you sing?' She was like, 'Oh yeah, I sang a little in church,' but she wasn't making a big deal out of it. So I got this beat going, she goes in the booth, and it was like, Oh my God. I knew I had a once-in-a-generation talent in my studio." Reed signed her immediately.
Lizzo has been unstoppable since. "Good as Hell", from the EP Coconut Oil, was named as one of NPR's American Anthems last year and has already appeared on three film soundtracks. The saucy 2017 standalone single "Truth Hurts" has been streamed more than 15 million times on Spotify. "I'm not an overnight celebrity," Lizzo says, acknowledging that hers is a gradual ascent towards total pop domination. "I'm a touring artist, not just here to make a quick million off a song. I think my fans want me to be, like, Beyoncé-status already, which is sweet. But all I know is I am in my own lane and I am going to be doing this forever."

In 2016, Reed encouraged Lizzo to relocate to Los Angeles, where Nice Life is based. "Juice" is from Cuz I Love You, her first album on a major label. It was released on 4 January, but it's not really a cold-weather jam. As Lizzo tells me, "I don't make winter music." With this sexy summer bop, she knew exactly what she was doing, priming her 100,000 Twitter followers for an LP bubbling with soulful self-acceptance. She's "the pudding in the proof", she sings to a jazzy 1980s synth beat. Cuz I Love You is "about how I learned how to have self-care in action," she says. "It's about, how do I continue to love myself when I'm looking in the mirror and I'm bloated and don't like everything that I see? I don't like telling someone to love themselves without showing them how." Sophia Eris, Lizzo's DJ, told me, "The album is going to change the world. It made me cry, like, four times."

Lizzo finally decided to rent an apartment in LA's tastefully bohemian Echo Park after months of living in Airbnbs. She has never before lived alone, though her mother and sister have moved to Los Angeles to be closer to her. "It's the first time I could put up a piece of art and be like, 'Oh, this ain't going nowhere for a while,' you know?" she says. She has hung pictures of herself from a photo shoot for V magazine on the wall, as well as "some art that this girl made in Chicago of all these naked brown women".
Lizzo tells me that when she is not with her family or her collaborators, she spends a lot of time alone. She is here to focus on her work. The move was hard at first, she says, "but it taught me that I need space. It taught me to appreciate being alone, which is something I didn't do before. What else helps me stay sane is work. I love work."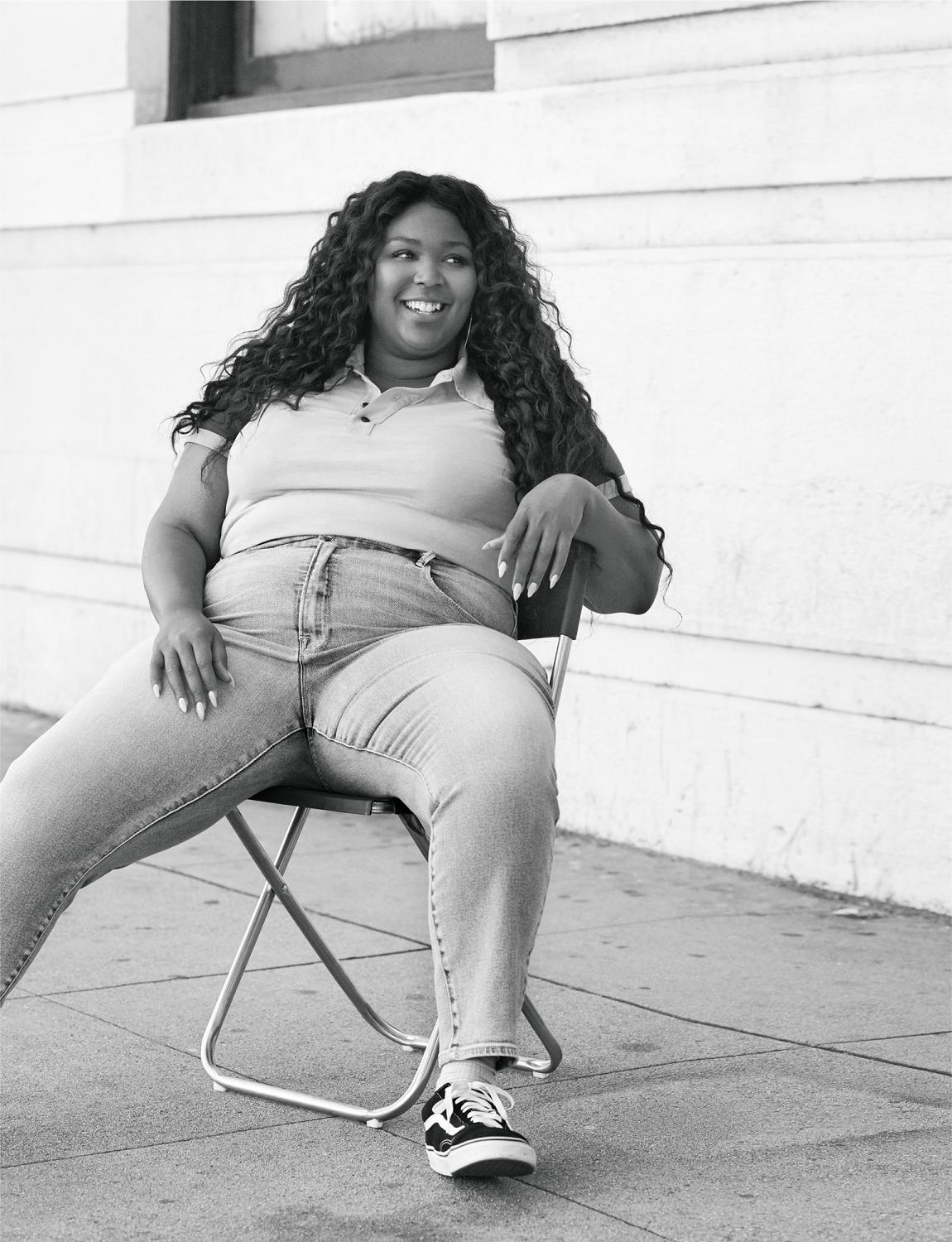 This April, Lizzo will appear at Coachella, the one major American festival she has yet to conquer and the biggest venue she will have played so far. "I'm a festival artist," she says. "I was playing festivals even before I was signed.
I'm a rock band in a human being." She has been working on what she will do – and wear – to surprise the crowd. "The live show is something I plan on planes," she says. "I never really force it. I'll take a four-hour flight and daydream, and by the time we've landed, I'll have the vision." She tells me that she wishes Coachella was tomorrow. "I'm ready," she says, adding, "2019 is already done. 2019 is wild. I just feel like we're going to have more experiences, more life.
"I'm so fortunate that my music has helped people get out of toxic situations and get through bad situations. I feel like this music is just going to help more and more and more people." She pauses. "I'm the most open I've ever been, the most vulnerable I've ever been. Black women aren't really given that much public space to be vulnerable without being called, you know, angry black women or shamed in some way. I'm carving out my own space to be publicly vulnerable, and it's a safe space I want people to be able to come into and relate to."