Little Simz
A rapper for the ages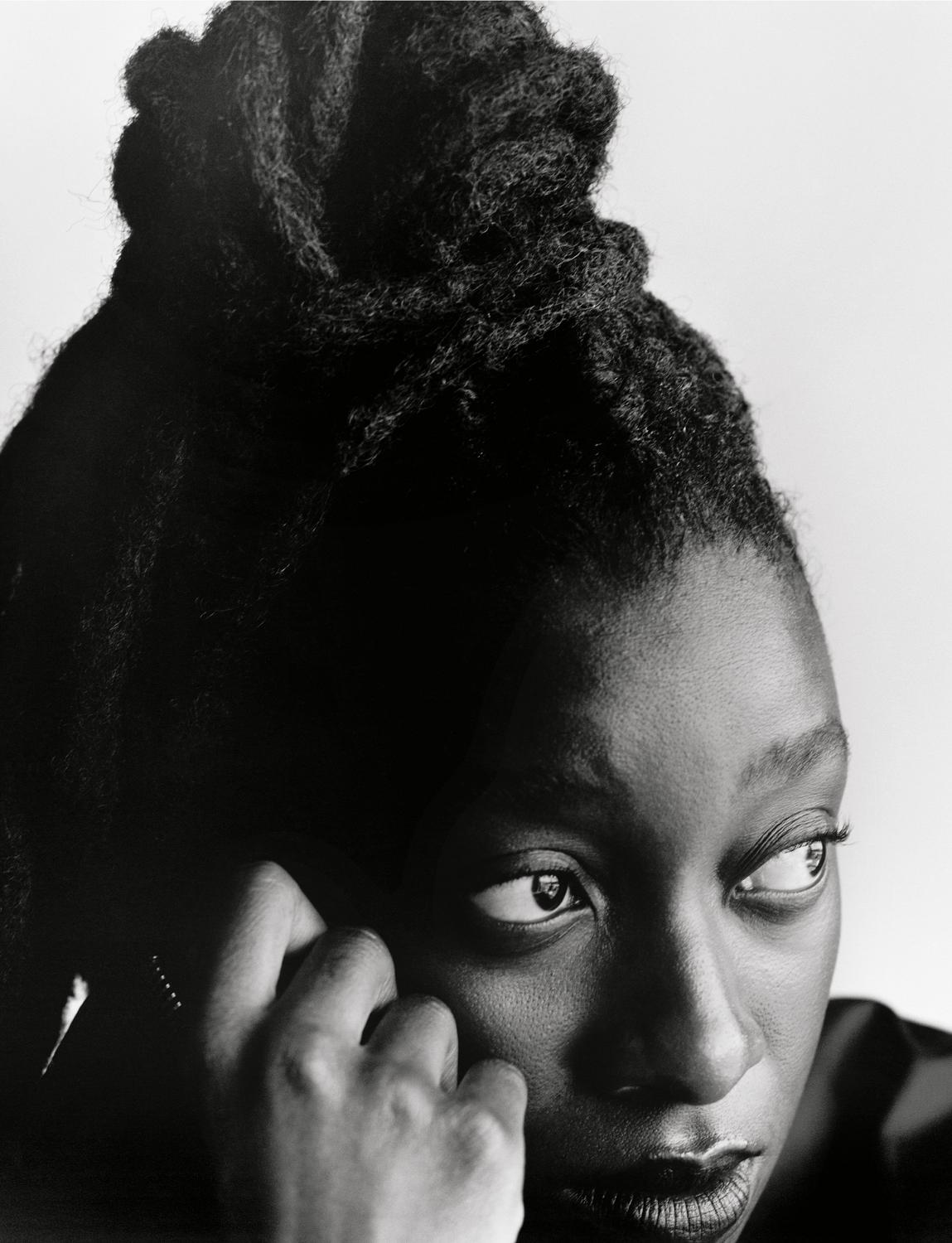 Britain's beloved rap superstar Little Simz has captured our imaginations with her timeless storytelling, which since 2010 has extended to albums of sophisticated hip-hop (four), EPs (six), mixtapes (four), and TV roles (two). It's won her a Mercury nomination and an Ivor Novello award, and this year she's on fashion billboards from Piccadilly to Shibuya. Little Simz is everywhere – remarkably for one whose new album is titled Sometimes I Might Be Introvert. Like her musical heroes Lauryn, Nina and Biggie, she is an intriguing combination of reserve and incandescent talent. This autumn, from her north London manor, the 27-year-old prepares to launch herself into greatness.
When Simbiatu Ajikawo was 10 years old she stood up on stage and laid out her plan. Dressed in Nike Air Force 1s and a red Ecko tracksuit, she walked out at a talent show in north London and performed a song called "Achieve Achieve Achieve". The lyrics combined bombastic self-belief with endearing awareness of the importance of hard work. "In 10 years I wanna be a performer that can entertain," she sang to the audience in the dark cube of the O2 Academy Islington. "I can be what I want to be by trying harder to better myself."
At 27, Simbiatu, now better known as Little Simz, has a job that's 100 per cent describable as "performer that can entertain". Or rather, that phrase sells her absurdly short: any cruise ship pianist or high-street juggler might also be described that way. The true picture needs details, such as how she's become one of the most fêted figures in British hip-hop; how by her own 10-years-later milestone she had roughly 50,000 SoundCloud followers on the basis of four mixtapes and was shortly to be described by Kendrick Lamar as "the illest doing it right now"; how, even as anticipation builds for her fourth album, a song from the last one, the anti-misogyny anthem "Venom", is trending as a tattoo design (the proper way is to make it read "women" when reversed and to share it on TikTok while still fresh, Simz track embedded); how she has also built a promising acting career, cast at 14 in the series Spirit Warriors and more recently in the third series of Top Boy, the Netflix crime drama set in east London; how she's an exhibited photographer; how she can can be spotted on massive Bottega Veneta posters all around the world.
Achieve. Achieve. Achieve. The scale and sound of Little Simz's music belong, on the face of it, to an artist with boundless confidence. Her lines are delivered against a palette of astonishing richness: classic soul, grime, trip-hop, stadium rock, musical cinema – anything and everything is borrowed, repurposed, bent to her musical will. She has performed alongside Tinie Tempah and Ms. Dynamite, toured with Gorillaz, been buttonholed at an after-party by an admiring Rihanna. But the new album is called Sometimes I Might Be Introvert and is often concerned with the desire to hole up, to be alone, to not be on show. "I am an introvert for sure," she tells me when we meet over Zoom in early summer. "I have extroverted moments, when I'm on stage or when I'm in front of the camera, but at the core I'm introverted."

Across two lengthy conversations, it's clear there's a paradox at play. Simz's demeanour combines self-assurance and shyness in a way that makes it feel the two are, in fact, the same thing. Her ambition is forever reckoning with an overactive inner critic and somehow alchemises that relationship into art. "Just really, I want this to be spoken about in 50 years," she says. "Everything I do I want to be timeless, basically. Sometimes that takes being really harsh and honest with yourself."

The first time we speak, she is at home between rehearsals for a winter tour scheduled to follow the release of Sometimes I Might Be Introvert. She's eating a banana and reluctantly "trying to keep myself on it" by drinking a Starbucks frappé. She has, she says, daily rituals, things she does no matter what. "I definitely try to have a moment of stillness once a day and just sit in my thoughts. Pray. By the time I've done that, then the emails and the calls start overflowing."
Pandemic willing, the tour, which starts in November, will comprise 28 shows across Britain and Europe in large-scale city venues, starting at the O2 Institute Birmingham and taking in such venues as the Albert Hall in London and the Bataclan in Paris. It will ride a crest of anticipation generated by four advance singles, "Introvert", "Woman", "Rollin Stone" and "I Love You, I Hate You", each already described as career-defining. Simz takes delight in the heterogeneity of her fan base. "I look out into the crowd and there are kids that look no older than 18, moshing, going crazy, and all the way to my right there's a couple that are definitely in their 60s, 70s, having it up. It's very, very crazy."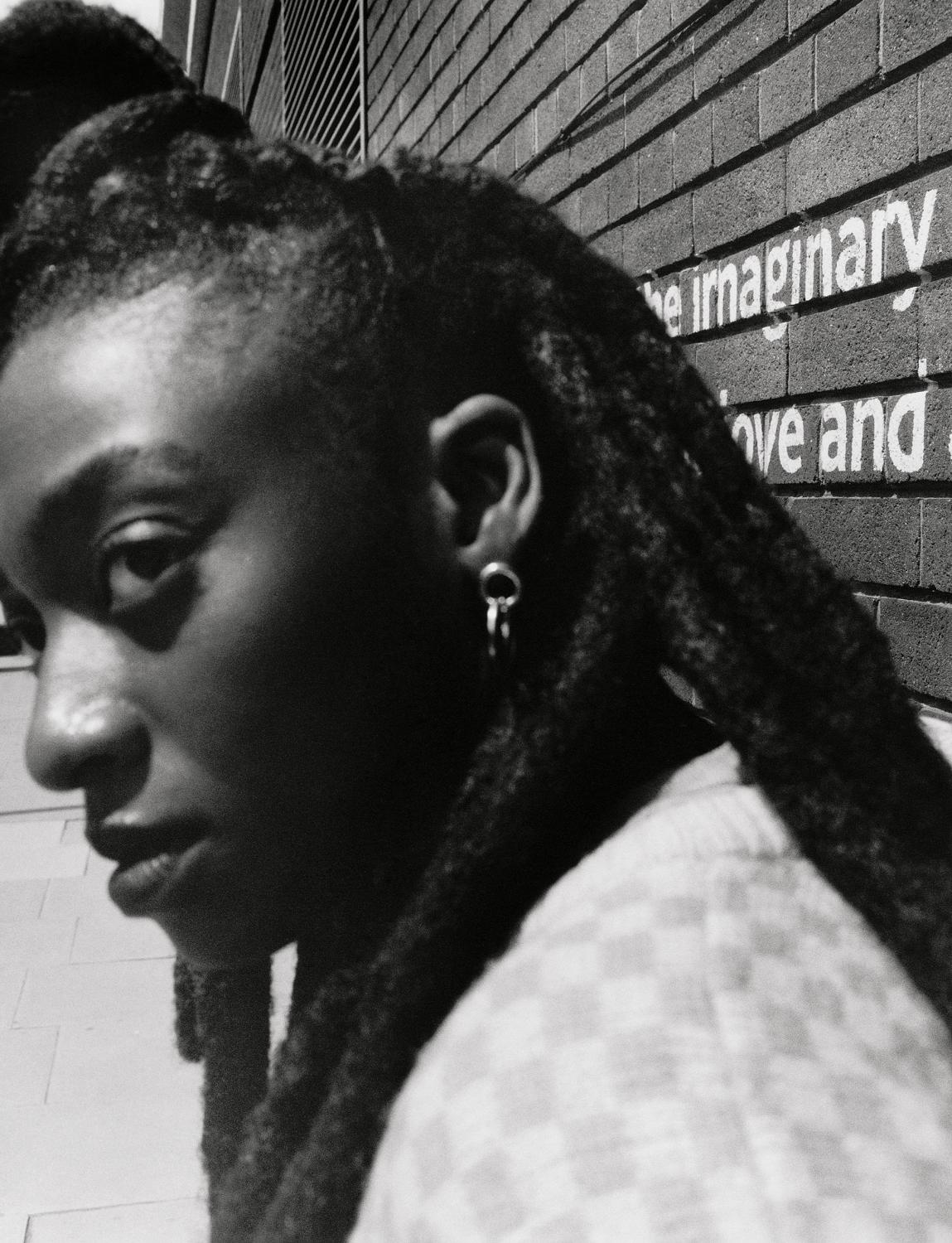 Born in 1994 to Nigerian parents who split up when she was young, Simz, or Simbi as she was then known, grew up on Essex Road in Islington. She lived with her mother and three older siblings – two sisters, one brother – and, from the age of 12 or 13, when her mother became a foster carer, a constantly changing cast of other children. "So many different kids from different walks of life," she says.
Simz's school, St Mary's, a Church of England primary, had an out-of-hours youth club at the church on Upper Street. It was there that she began to perform. "You'd walk up to the door, you'd buzz and then you'd go in. You'd pay 50p or £1 for the day, sign your name, all of that stuff, and then it would just be, like, movement. Lots going on. Some of the older boys might go to the gym. There would be dance class. There would be acting workshops, culinary lessons, cooking and stuff, and there was an IT room where you could go and learn coding or do some arty stuff on the computer. Kids would just move around and do whatever, really. Once you found your thing, you would go to St Mary's for that."
For a time, Simz's thing was dance – "I would go to so many different dance classes. Then eventually I started teaching my own modern dance classes" – and she was, she says, spellbound by an older attendee, Kloé Dean, now the leader of the female-only dance company Myself. Dean is a choreographer of quite some renown. Indeed, Simz invited her to work on the videos for "Introvert" (filmed with a group of dancers at the Natural History Museum but also featuring archival news footage and images of fine art, gesturing at nothing less than the state of humanity – especially with respect to Black lives – in 2021) and "Woman" (directed by Simz herself and opening with something between a boardroom and a banquet with only women of colour in attendance, as befits an unabashed celebration of global, and particularly African, female strength). "Linking up years later to create movement pieces for my music now is a trip," Simz says, "because I remember watching her when I was 12." Dean recalls her young admirer clearly. "She was always driven, inspiringly motivated," she says in a phone interview from the London dance venue the Place. "The biggest thing that I love about her, which was true even when she was young, was her resilience. Just not stopping until she can do what she wants to do, what she's passionate about. So headstrong."
Jessica Henwick, one of Simz's co-stars in Spirit Warriors, who has since gone on to play roles in Game of Thrones and Star Wars: The Force Awakens, says she was struck by how business-minded Simz was. "I think she must have been 14 when we were filming," Henwick says via email from the set of the movie Knives Out 2. "But she was already producing her own EPs and performing in the evenings after we wrapped. One day in the green room I asked her if she was going to give up acting to do music or vice versa, and she asked why she needed to choose between the two. Why not have it all?"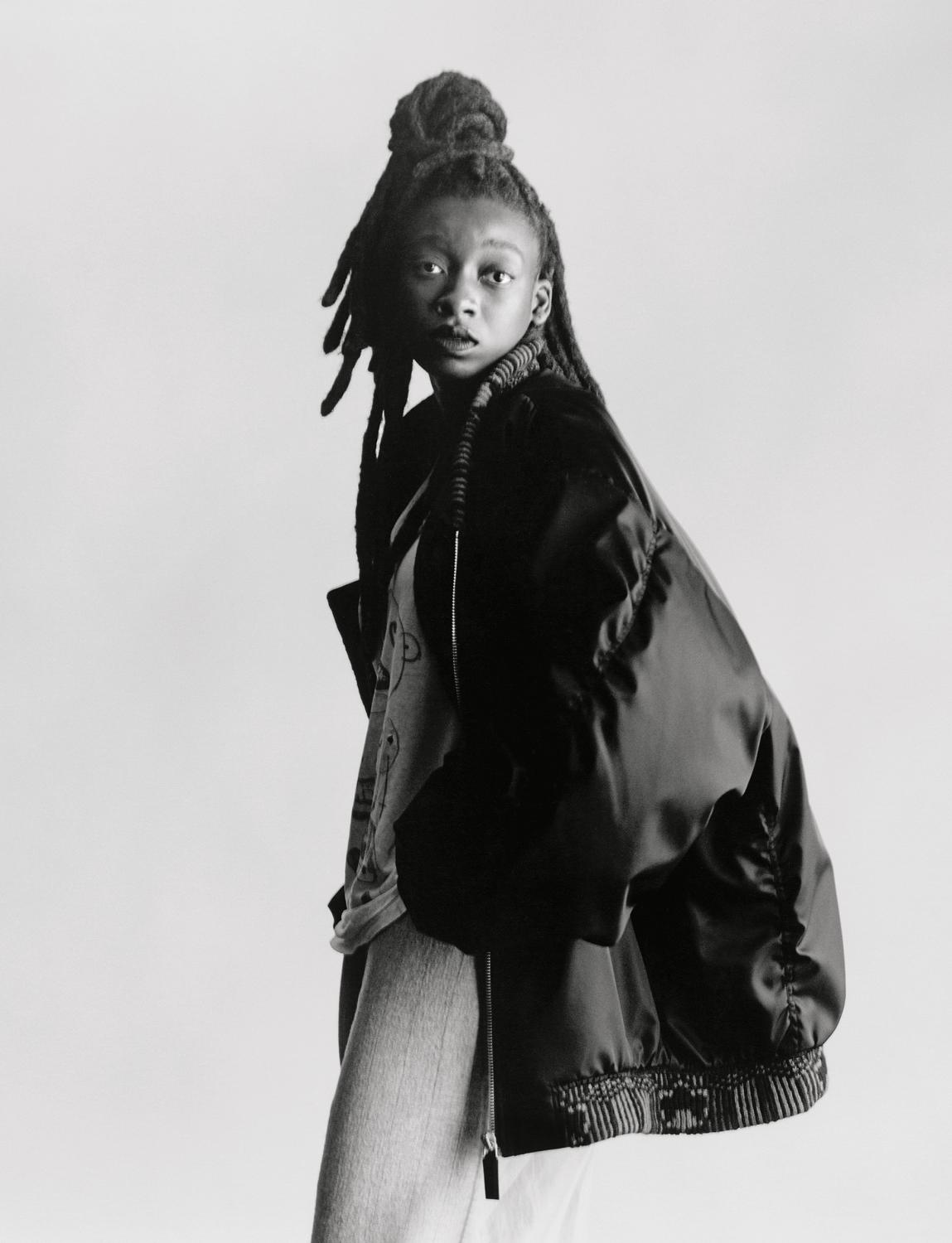 "I like starting new projects away from home. You can really look at your life."
Simz bought her first microphone with money earned from a Saturday job in a gallery. She taught herself to play guitar by watching YouTube videos. When she was 16 – in a childhood bedroom lined with posters of Lil Wayne, Bow Wow and Ciara – she recorded her first mixtape, Stratosphere. It was picked up by national radio. "I definitely thought it was mixtape of the year," Simz says. "I definitely thought I was going to win hella awards off of it. I just believed in it so much."
After finishing school, Simz flirted, academically speaking, with waveforms, acoustics, the physics of noise. She studied music production at a further education college, then started a degree in music technology at Westminster Kingsway College. But her career was developing at such a pace that dropping out, when the decision came after a year, was simply a way of freeing up time. "I was already doing what I wanted to be doing in the future," she says. "I was already doing shows and recording my own music and putting it out."
Simz released three further mixtapes and six EPs, all of which, in their sheer joyous experimentation with sound, their capaciously intricate wordplay and general atmosphere of destiny-defining confidence, hold up very well today. Most of these are still available on Simz's Bandcamp and SoundCloud pages, though not in fact Stratosphere and its follow-up, Stratosphere 2, the only remaining traces of which are links to zip files, long since broken. Simz's completist fans consistently write plaintive posts here and there, wondering where they might be found. "All these little phases, all these little projects, were just my training to lead me here, so I know how to put together a body of work," Simz says. "How to keep a listener engaged. Listening to other people's music as well. How to structure albums and at what point to bring it up, at what point to bring it down, that kind of thing. I think those are all just real big components of my training, for sure."
Simz released her first album, A Curious Tale of Trials + Persons, in 2015 through Age 101, the label she set up that year. "Technically, she's phenomenal," Jia Tolentino wrote in her review for Pitchfork. "It's just curtains pulling back on a spotlight and Simz wrestling with her ambitions like Jacob with the angel, reaching no conclusions but activating something deep." That record's ardent ominousness contrasted with the following year's far more anthemic Stillness in Wonderland, inspired by Lewis Carroll's Alice in Wonderland stories and, in true total-artist style, accompanied by its own art exhibition, music festival and comic book.
The third album, 2019's Grey Area, contained, for the first time, bona fide hits: for example, the sweetly subversive "Selfish" – its soulful hook delivered by Cleo Sol, who would later provide vocals for "Woman" – and the pointedly acerbic "Venom", which directly critiques hip-hop's blatant sexism as a source of the curious under-recognition she had faced until that point. "They would never wanna admit I'm the best here / From the mere fact that I've got ovaries."

In the spring of 2020, Simz was in a rented apartment in West Hollywood, California, about to begin work on Sometimes I Might Be Introvert. "I like starting new projects away from home," she tells me. "I think being away from home you can really look at your life." Also in town was Inflo, the mysterious producer who worked on Grey Area.

We know that Inflo also went to St Mary's youth club at exactly the same time as Simz and that they were childhood friends and musical collaborators from an early age. "We just started getting paired together from early and built a chemistry which furthered into what we have now," Simz says. But when she initially began to work with him in 2017, she felt frustrated as much as anything else, because for days he didn't want to work on the music at all but to talk. "What is this talking therapy shit? I just want to make music," she remembers thinking.
But eventually, slowly, those conversations were transmuted into music, and Grey Area, hailed by many as the best hip-hop album in years, won the Ivor Novello Award for Best Album and was nominated for the Mercury Prize. As Inflo and Simz launched into Sometimes I Might Be Introvert, the talking began again, but "this time I was actually here for the chats," she says. A different obstacle was on the horizon, of course, and after six days in LA, talk about the pandemic and what it would mean had become a deafening roar. Simz's team called her back to London, and the album – like everything else – had to be put on hold.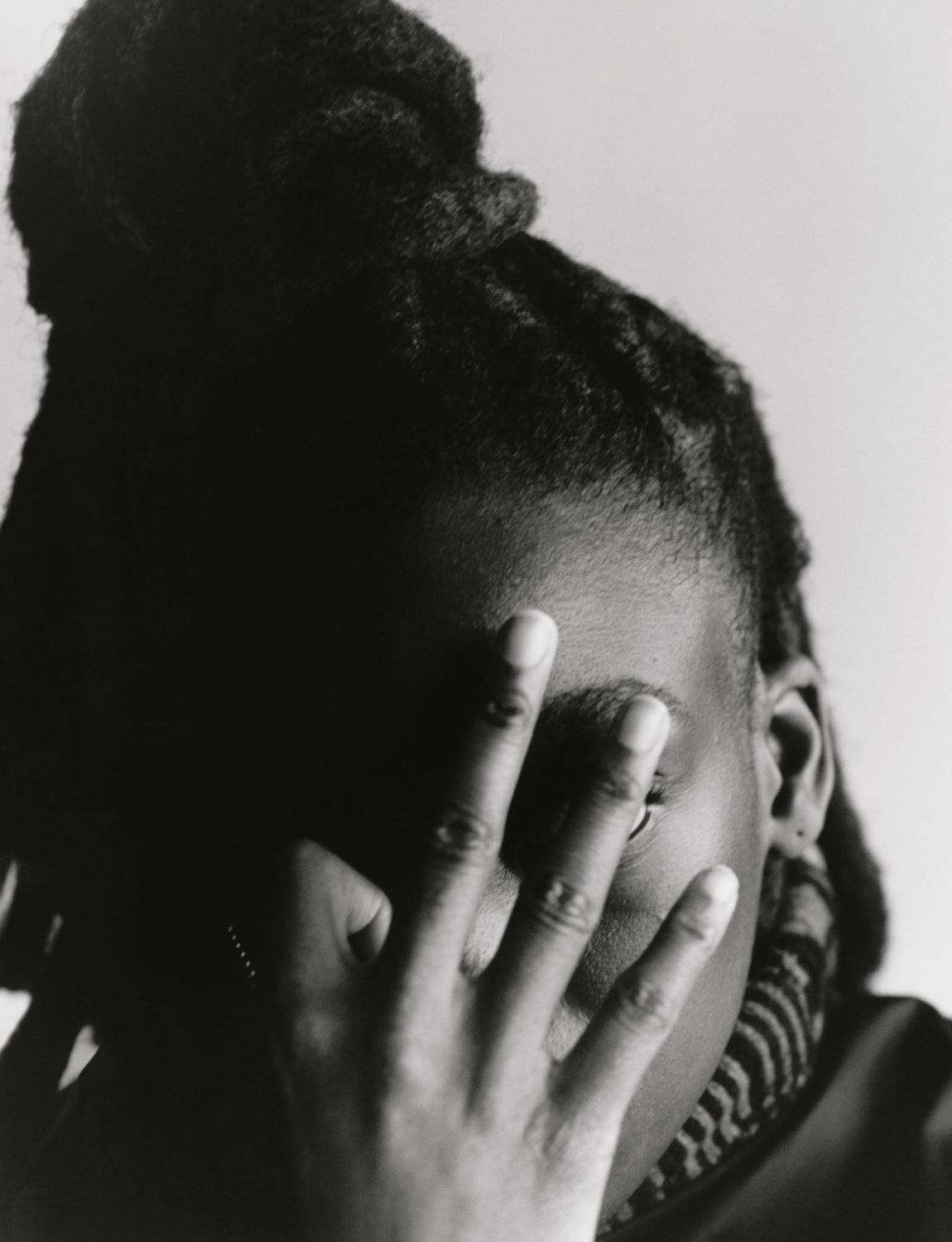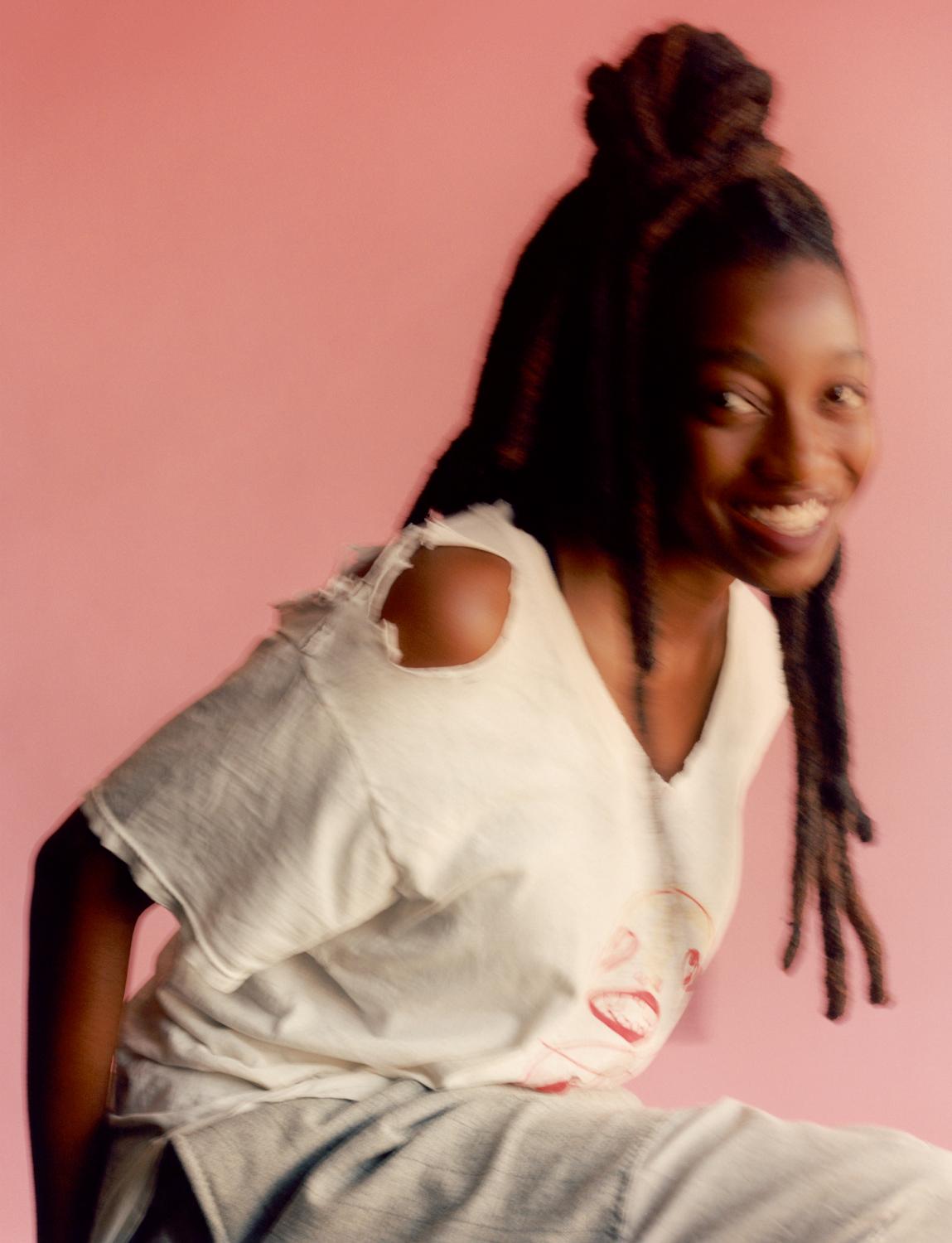 The second time we speak, it is late in the morning. Simz is again at home. Her flat is in the same inner-north corner of the city where she grew up. "I'm still in north London. I can go to my local Tesco and guarantee I'll bump into someone's mum that's known me since I was seven." She decorated the flat herself. "There are lots of colours, lots of different palettes," she says.
"I just like matching colours." In the hallway is a small gallery of photos from Grey Area. "I shot a lot of the artwork to accompany the singles and whatnot, so I've hung them all up, and I've got loads of pictures of my family, and art."
This morning she's been walking around the flat with headphones on ("Bang & Olufsen wireless numbers"), listening to Kings of Leon's 2008 album, Only by the Night. She has the occasional indie rock phase, she says. Really, she's interested in longevity, no matter the genre. "I want my album to do that," she says, "so years from now, you put it on and it still hits the same way, or even better, because it's aged with time and it's matured."
Which other albums have that quality, in her eyes? "Biggie Smalls, Ready to Die. Jay-Z, American Gangster. Nas, Illmatic. Kanye, The College Dropout. I think The Miseducation of Lauryn Hill was really my education. Lauryn Hill was one of the first artists that really made me feel the power of music. Just knowing that, Oh shit, this can actually give me goosebumps – I only got that with a couple of artists."
She pauses. "I must have been eight or something," she says. "I was listening to Bob Marley's album on my sister's Walkman. Mummy put the CD in and I listened to 'One Love' all day on repeat. I knew what he was saying in the song, but I wasn't emotionally intelligent enough to understand why it was so powerful. I just couldn't stop listening to it. That same evening, there was a party at my house. I remember still being upstairs listening to 'One Love' and all the kids were downstairs. When I went down, they were playing 'Barbie Girl'. 'I'm a Barbie girl in the Barbie world.' I went over and put in my Bob Marley CD and started playing 'One Love', and I'll never forget all the kids looking at me like, 'What is this?'"

Simz spent the lockdown at home, but she never stopped working. She recorded a new EP, Drop 6, the latest in the numbered series she has been putting out since 2014 – "an opportunity for me to be super-impulsive and, I don't know, make music freely and get all the wacky ideas out." And, indeed, if Drop 6 offers a more stripped-back sound than the albums it's bookended by, lyrically it spends time exploring subjects that Simz tackles in a more widescreen fashion in Sometimes I Might Be Introvert. She also shot a photography book chronicling the lockdown as experienced by her friends and family and she recorded a four-part radio show called "101FM" and released it on YouTube. In a timeline where the pandemic didn't happen, 2020 would have involved shooting the fourth season of Top Boy (it finished shooting this May). Simz will instead next be seen on screen in the 10-part adaptation of Naomi Alderman's novel The Power, in which she plays a character named Adunola. "I love the art of it," she says of the acting wing of her career. "I just love being able to tell stories, whether that be my own or someone else's. Real life or fiction, whatever it is. I'm super infatuated with that."
Like many of us, during lockdown she was also haunted by vivid and bizarre dreams, which in her case had a repeated motif in the form of a high-end supermarket chain. "Every night there was a different scenario, but the centre of it was Waitrose," she says. "The scene was always in Waitrose. One time I remember being in the woods, but I was in a Waitrose in the woods. One time it was a building that was almost a cathedral, and it was also Waitrose."
"I'm super infatuated with telling stories."
By September, Sometimes I Might Be Introvert was back in play. Initially this was at St Mary Magdalene Church on Holloway Road, where Simz spent time getting to know the string players who contribute so much to the album's technicolour atmosphere. Then, for the production proper, they moved to Abbey Road Studios. But Simz realised that her car was the only place where she could compose a certain strand of the album's melodic interludes. "It felt like every time I'd go and sit in the car the words would just come to me," she says. "I'd write them on my phone and then I'd run back in and record, like, a little demo, and then I'd go back into my car and write more and come back."
Her choice of studio might seem fitting for a project that promises to take her from critically acclaimed, award-winning artist to internationally recognised household name. Official press materials list influences drawn from the golden age of 20th-century jazz and soul, including Billie Holiday, Nina Simone, John Coltrane and Smokey Robinson, who is sampled in the track "Two Worlds Apart". The album's epic, almost Bond theme-esque opening track, "Introvert", begins with military drums, a rousing brass and wind fanfare and soaring strings that recall George Martin's lush, iconoclastic arrangements at the height of his success in the late 1960s and early 1970s. Like concept albums of that period – Marvin Gaye's What's Going On, Abbey Road itself – Sometimes I Might Be Introvert features an experimental structure, with refrains and episodes ("Little Q" parts 1 and 2) and five tracks marked as interludes. Echoing the Small Faces' psychedelic 1968 masterpiece, Ogdens' Nut Gone Flake, whose songs were interspersed with a sort of glossolalia spoken by the comic actor Stanley Unwin, Sometimes I Might Be Introvert is peppered throughout with a female voice speaking in a plummy English accent, seemingly at once that of a fairy godmother and an enigmatic party host. "Alone but not lonely," says the voice at the end of "Introvert", "Your truth unveils with time / As you embark on a journey / Of what it takes to be a woman." The delightfully Hitchcockian "Gems (Interlude)" begins, "Take your time. Inhale. Do you want 15 years or 15 minutes?" All very charming, but by the time we are at track 11, "The Rapper That Came to Tea (Interlude)", the voice has taken a passive-aggressive turn. "I'm sure it'll be fine," it declares in a hyper-English tone of poshness that can easily suggest both the words spoken and their exact opposite at the same time. "However, the extroverts like to be entertained / And I was told you don't talk much." The "you" the voice is addressing might be Simz, the listener, or someone else entirely (Simz doesn't want to be prescriptive about the meaning, she says).
If the voice sounds familiar, that's because Simz spent a fair amount of last autumn's downtime watching the fourth series of The Crown on Netflix. It's Emma Corrin, who played Princess Diana, booked on a mad whim. "I just thought, 'This woman is so amazing at what she does, and her voice is sick,'" Simz says. She'd had the idea for a spoken word section featuring a voice with exactly that kind of old-fashioned, hyper-English cadence. "I thought, I'm just going to reach out and see what happens."
It turns out Corrin is a fan. "Simz is one of the best British rappers we have, not to mention a relative rarity as a woman working at the top of the scene," she says, emailing from the set of the film My Policeman. "I've always loved her ability to spit in a way that manages to be thoughtful, precise, fluid, over beats and samples that speak to a time, place and mood. We have had vastly different life experiences, and yet whenever I put on one of her albums, I feel seen and heard."

So how does Simz feel the new album fits in with everything else she's done? What does it represent to her? "I think this album is just my most ambitious," she says. "It's very artsy, even though it's rooted in hip-hop. I've drawn on and included so many different styles and textures. I've always been that way inclined. I like exploring. I like trying new things. This is part of my evolution. Even with 19 songs, you look and think, That is a lot on the eye, but as you listen to it, it will make sense. I don't feel like I've got any fillers on there. I feel like everything that I needed to say I was able to get out on this record. That's what it is. At the moment, I know I've pretty much covered everything I want to talk about. That's it."
What she wants to talk about, it turns out, includes her relationship with her father ("Is you a sperm donor or a dad to me?" she wonders on "I Love You, I Hate You"), politics ("Introvert" vividly catalogues early 2020s political malaise) and her romantic life (when she pledges "I'm hoping that I never wake up" in "I See You", it's clear she means from the dream of a real-world love story). These are all subjects she tends to shy away from in interviews. Asked if she's in touch with her father, she says only, "We don't talk, but I have his contact," while on the relationship she coyly hints that, yes, she's seeing someone, but won't go any further than that. "I value mystery."
She is slightly less guarded on the expectation that she act as a spokesperson for her generation. "I take time with that, because everyone is very sensitive, first off, these days," she says, "and I don't have all the answers. Everything I speak of in my music is from a place of somewhat knowing, but it's feeling. I can only speak about what I feel, and people often mistake that for gospel truth."
Many artists argue that "it's all in the work", but for Simz, this feels not only figuratively true but literally so. In a sense, each album is also an interview, an electrifyingly honest examination by the only person who knows her well enough, harnessing the often contradictory impulses that coexist inside herself – not least introversion versus its opposite – in an attempt to make something powerful enough that "Barbie Girl" or its equivalent is abruptly turned off at the party.
I wonder if she ever revisits her old records. "Sometimes I listen to myself on SoundCloud," she says, "because, I mean, it's almost like reading a diary. You're like, Oh yeah, I remember that phase. I really remember that. It's like a real diary, for sure. And some things I listen to and I'm like, Damn, I still feel like that now."