Kirsten
Dunst
The ever-expanding toolkit of Kirsten Dunst — Tinseltown's craftiest star.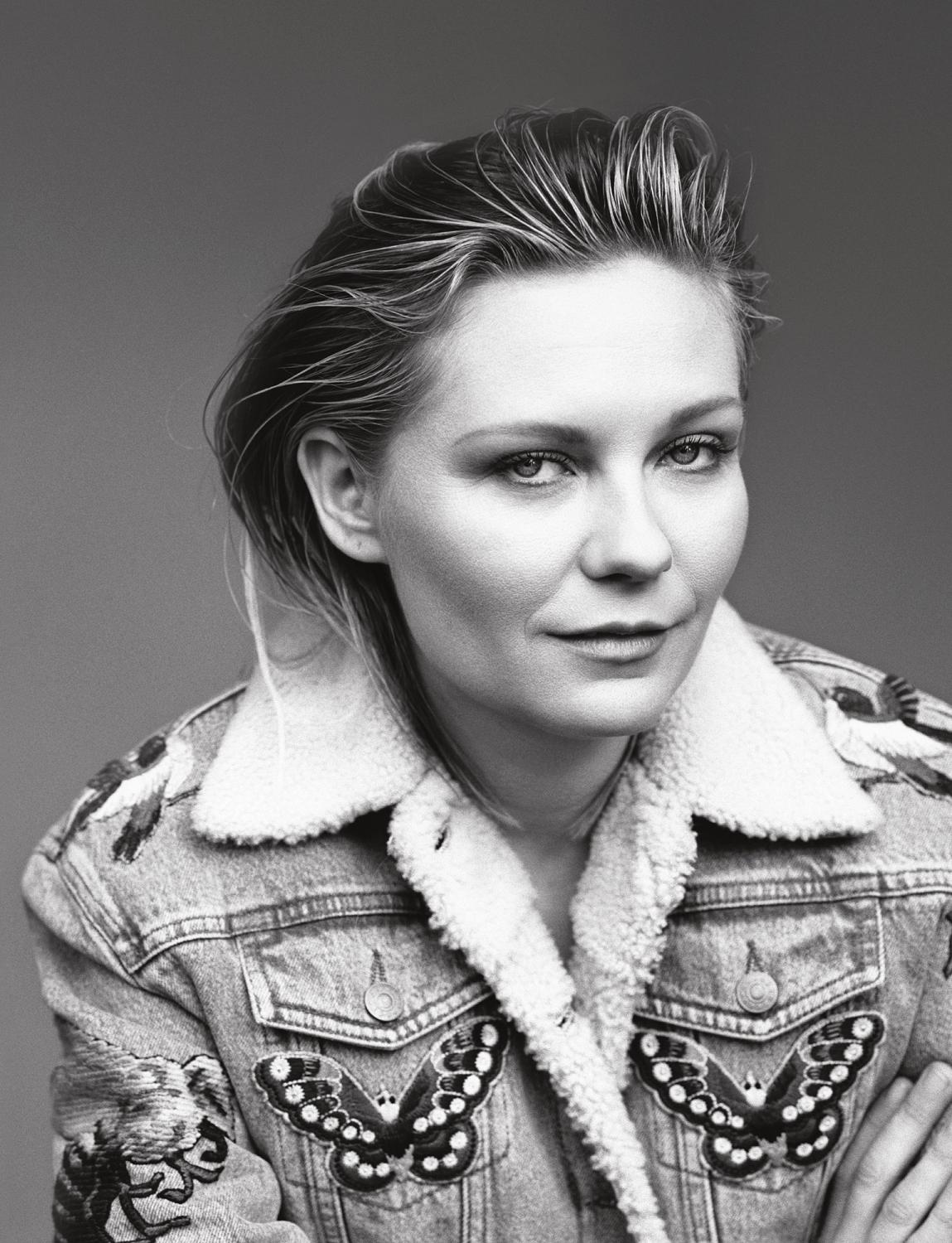 2016 is looking very promising for the beloved actor Kirsten Dunst. Now 33 and with many movie-star moments to her name, she's taken to the small screen in Fargo. And it's paying off.
Her portrayal of Peggy Blumquist has brought accolades as well as catching the eye of cinema's leading auteurs. Her role in Jeff Nichols' forthcoming science-fiction drama Midnight Special is a long way from her days playing Peter Parker's girlfriend in Spider-Man, and a new project with her old mucker Sofia Coppola promises to shake up Hollywood's boys' club once again. With a new set of acting tools and confidence in her abilities, Kirsten is fighting for the roles she deserves.
Towards the end of last summer, Kirsten Dunst started to have bad dreams. In one of them she ordered a hot dog, but instead, the cook picked up a live piglet, dangled it over a vat of boiling water, then dipped it in; all the while, it squealed and squealed. She still shudders at the memory. This was near the conclusion of her five-month stint making Fargo, and Jesse Plemons, her husband in the 10-part TV series, was also having restless dreams. They play a hairdresser and a butcher from the small town of Luverne, Minnesota, who decide to cover up a brutal car accident; a choice that pushes their once-predictable life into chaos. Kirsten's dream came around the time they were filming the part of the story when the couple are pursued by killers and end up trapped in a meat locker with nowhere left to run. "We were living with the anxiety of our characters having done something awful and lying about it for months."

It was worth it, though. "More people have come up to me because of Fargo than anything!" Kirsten says when we meet in mid-January. "People actually watch TV" – much more than the independent films she has favoured in recent years. "It pays you, as well," she says. "So you can play an interesting role and support your family. You can't do that in independent film." She's keen to do more television now that it has lost its stigma and actors can move easily between quality TV drama and the big screen. The only difference, she says with a laugh, is at awards ceremonies, where there's still a hierarchy. "They put you behind the movie people. But that's great, because you get to leave early if you want to, because no one cares that you're not sitting in your seat."
We are in a cafe not far from her home in north-west Los Angeles. It is just a few days after the Golden Globes, where she was nominated for her outstanding performance in Fargo, and a couple of days before the Critics' Choice Awards, where she will pick up a best-actress award for the same show. She wore couture for both events – by Valentino and Chanel – but today she looks like any other Valley girl starting her working day, dressed in skinny jeans, a black turtleneck and a soft leather flying jacket, her hair still wet from the shower. Certainly no one in the cafe gives her a second glance. Which is exactly how she likes it. It's the work she loves, not the fame or the circus surrounding it.
Kirsten is only 33, and so fresh-faced she could easily claim to be younger. Yet it feels as if she has been around forever. She made her film debut at the age of 6 in Woody Allen's segment of the 1989 portmanteau film New York Stories, and she was just 11 when she became internationally famous for Interview with the Vampire. Since then she has been in some 50 films, from small independents such as The Virgin Suicides and Melancholia to blockbusters like the Sam Raimi-directed Spider-Man movies. Sometimes it is easy to take her for granted as part of the cultural furniture. Fargo offered a timely nudge, reminding the world just how good she can be.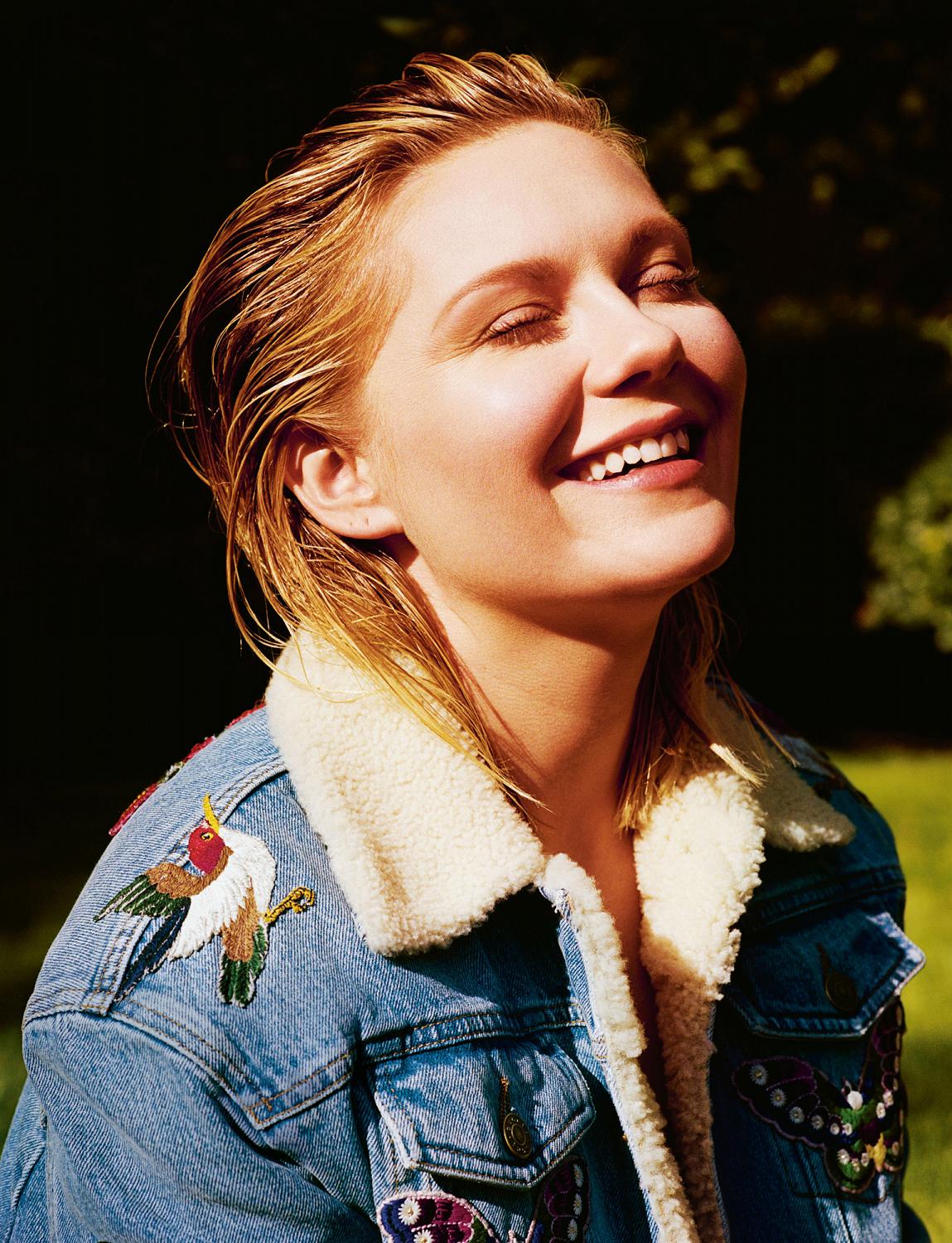 Kirsten appears in the second season of the series, and it is 10 hours of near-perfect television: a self-contained story that is beautifully shot, with razor-sharp writing and quality performances from the whole cast. But Kirsten steals the show as the deluded Peggy Blumquist, managing to be both comic and tragic and somehow keeping our sympathy despite becoming increasingly monstrous as the series progresses. "Kirsten is a character actor hiding inside a leading woman's body," Noah Hawley, the show's creator and writer, tells me later. "To me, a star is defined by what they do in stillness. It's how much you see in the eyes and the micro expressions of the face. Plus, Kirsten has a great sense of humour and a firm mastery over tone. On Fargo we live in a slightly heightened world, and that requires a specific approach to the performance, which Kirsten understood instinctually. The more desperate and tense the show became, the more Peggy seemed to come to life."

"It was really hard, the hardest thing I've ever done," Kirsten says. "But I also know it's one of the best things I've ever done. It's been so weird this past year, because after that, I did this movie Woodshock with my friends Laura and Kate [Mulleavy, the sisters behind the label Rodarte], and that then became the hardest thing I'd ever done. Afterwards, I was like a shell of a person for months! I had no personality. I'd just put it all into this other stuff."
Fargo took a lot of energy but not a lot of takes, she adds. "They moved very quickly, with different directors every two episodes. That was the weirdest thing, because I usually pick my projects because of the director. With Fargo, it was Noah. And he wrote me one of the best female characters I've ever got to play. So I don't know what I'm going to do next. I can't play someone's girlfriend! I just can't do it."
Before Fargo she hadn't worked for nearly a year – there was just nothing that she liked, she says. "I get a lot of scripts, and most of them are crap." So she took an extended break and spent time with her boyfriend of four years, the boyishly handsome actor Garrett Hedlund. "I was a nice girlfriend. I lived in London for a while and was with him while he was working [on Pan]. We lived in Primrose Hill, which was so nice. I love it there."
Kirsten Dunst was born on 30 April 1982 in Point Pleasant, New Jersey. Her father, Klaus, is German; her mother, Inez, is American with Swedish roots. Kirsten has a younger brother, Christian, now 28. Her parents separated when she was 11, not long after the family moved to Los Angeles. Kirsten was a child model and started acting in advertisements at the age of 3; her first one was for Kix cereal. But her breakthrough role was as Claudia, the child vampire in Interview with the Vampire, in which she more than held her own alongside Brad Pitt and Tom Cruise. Her character is an abomination even to other vampires: an immortal soul forever trapped in the body of a child, her eyes somehow conveying a world-weary intelligence far older than her 11 years. The film received mixed reviews, but Kirsten's performance was universally admired, with The New York Times lauding her as "a little vamp with a big future". Getting that part was life-changing, she says now. "It was, like, 10 auditions and so many screen tests. But everyone wanted that role. They auditioned hundreds and hundreds and hundreds of girls."
It led to parts in films including Little Women (as the scenttealing Amy) and Jumanji and a recurring role in the TV hospital drama ER as a child prostitute whom George Clooney's doctor was determined to help. Then, in 1999, she starred in Sofia Coppola's dreamy, sensual directorial debut, The Virgin Suicides, playing the troubled adolescent Lux, the only one of five sisters able to express her blooming sexuality. "I liked how she looked like a blond cheerleader type but had a deep quality," Coppola tells me. "She always seemed wise beyond her years, but not in an annoying way. Working with her, I don't have to explain much. We're on the same page: she gets what I like, and we have a similar sense of humour, so I trust her completely."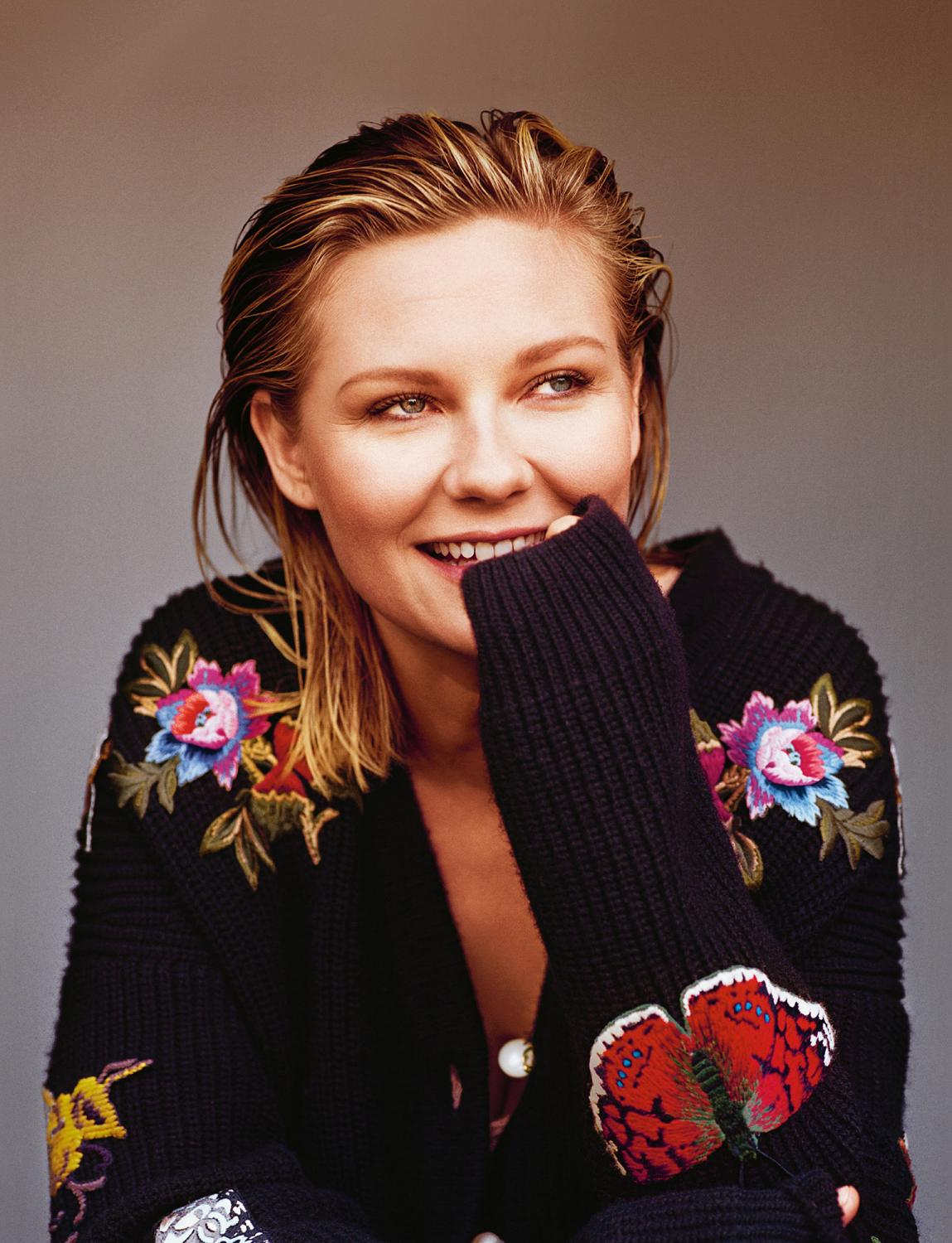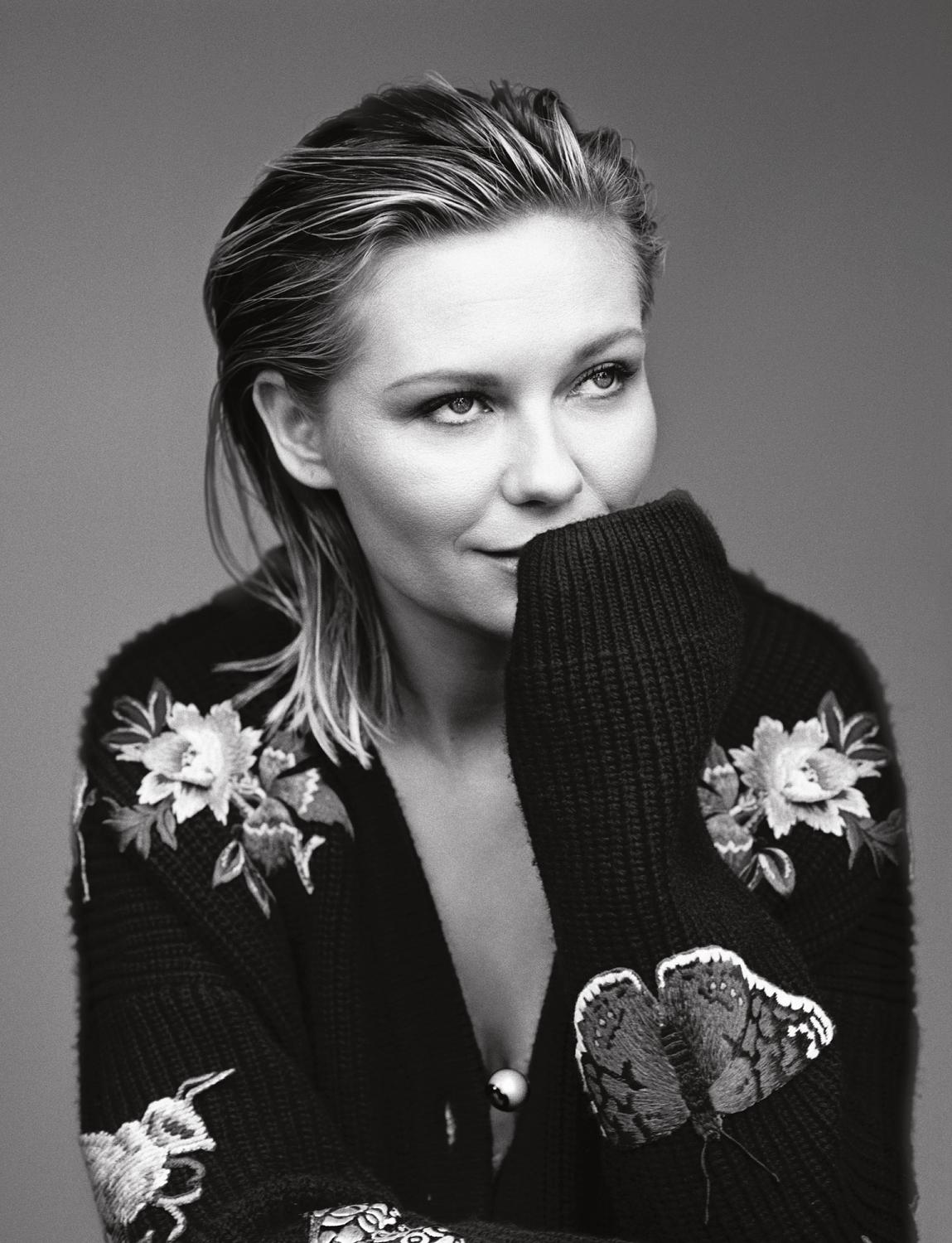 Kirsten was 16 when the film was made and says she couldn't have had a better mentor as she made the transition to more adult roles. "What Sofia liked about me then were things that I didn't even know would give me confidence in later life. She loved my crooked teeth. So when I was on Spider-Man and a producer said, 'We should fix your teeth,' I was like, 'I would never do that!' She was a great influence in how to be a woman who loves herself. I know that can sound corny, but I was 16 and working with someone who I thought was one of the coolest women alive. Also, I was starting to feel my sexuality, but I wasn't expressing those feelings because I was a kid. I was a very young 16, and my girlfriend Molly was too. We would put on plays in the backyard. We lived in our own little universe. We had crushes on boys, of course. We'd fantasise about it but we wouldn't actually do anything about it."
Doing The Virgin Suicides allowed Kirsten to be seen as sexy, she says. "And thank God it was with Sofia! I felt so safe, and I could laugh and be nervous about kissing boys or whatever. She would say, 'If you're not comfortable, we won't do that, or we'll try one and then we'll figure it out. Maybe you can hide your face a little bit so you don't actually have to put your mouth on his mouth.' So I had a really good female role model in this industry at a very important age."
She wasn't always so fortunate. As Tobey Maguire's red-haired girlfriend in the Spider-Man trilogy beginning in 2002, she was often referred to as "Girly-girl", as if she had no name of her own. It could be lonely being the only woman, she says. When Bryce Dallas Howard briefly came into the action for Spider-Man 3 in 2007, they would hang out in the trailer together and mess with Howard's tarot cards. I tell Kirsten that Howard told Natalie Portman – in a conversation I was mediating – that her role in Spider-Man was simply to scream a lot and be rescued. Kirsten laughs and says that pretty much sums it up for both of them. "But to be fair, I was so happy to get that role. Sam is such a great director, and Tobey was this interesting indie-film guy, and it was cool. I'm proud of those movies. And yes, I screamed a lot; I was a damsel in distress. But that enabled me to afford to do a lot of interesting films, and afterwards I didn't have to become just the romantic-comedy girl – because even though I love those movies, it's not who I am. I just can't smile all day every day!"
Those interesting films included 2004's weird and very wonderful Eternal Sunshine of the Spotless Mind, in which she played a nurse helping to wipe Jim Carrey's memories, and a second film with Coppola, the much-maligned and actually rather brilliant Marie Antoinette, released in 2006. This time, Coppola says, it was Kirsten's German roots that attracted her, since Marie Antoinette was Mitteleuropean. "Also, I knew she'd bring playfulness. She has a great fun side; she knows how to enjoy herself. And then I knew she could bring the emotional depth of this trapped, misunderstood girl." At Cannes that year, the film was booed by a small section of the audience but received a standing ovation from others. The American film critic Roger Ebert described it as "centering on the loneliness of being female and surrounded by a world that knows how to use you but not how to value and understand you."
In 2007 Kirsten came to a crossroads in her career. She was treated for depression and went through the kind of reassessment many of us experience when we've done the same job for a while: she was successful as an actress, she was good at it, but she was no longer enjoying it. She considered changing career completely. But instead, starting with the dark murder mystery All Good Things in 2010, she altered the way she approached the work, making it more satisfying. "I had to change it for myself, because the way I did it wasn't working any more, and it wasn't fulfilling me at all. I didn't feel I had the tools to go deeper into a role. And that kind of acting where you just go with your instincts isn't enough. So I took one script to every major acting teacher in New York and LA, and I worked with each one on the same material. And then I found my person through that, and I've worked with her ever since." Her person turned out to be Greta Seacat, whose mother, Sandra, is also a famous acting teacher. "She's such a wise woman," Kirsten says warmly of Greta, "and also so intuitive and emotional."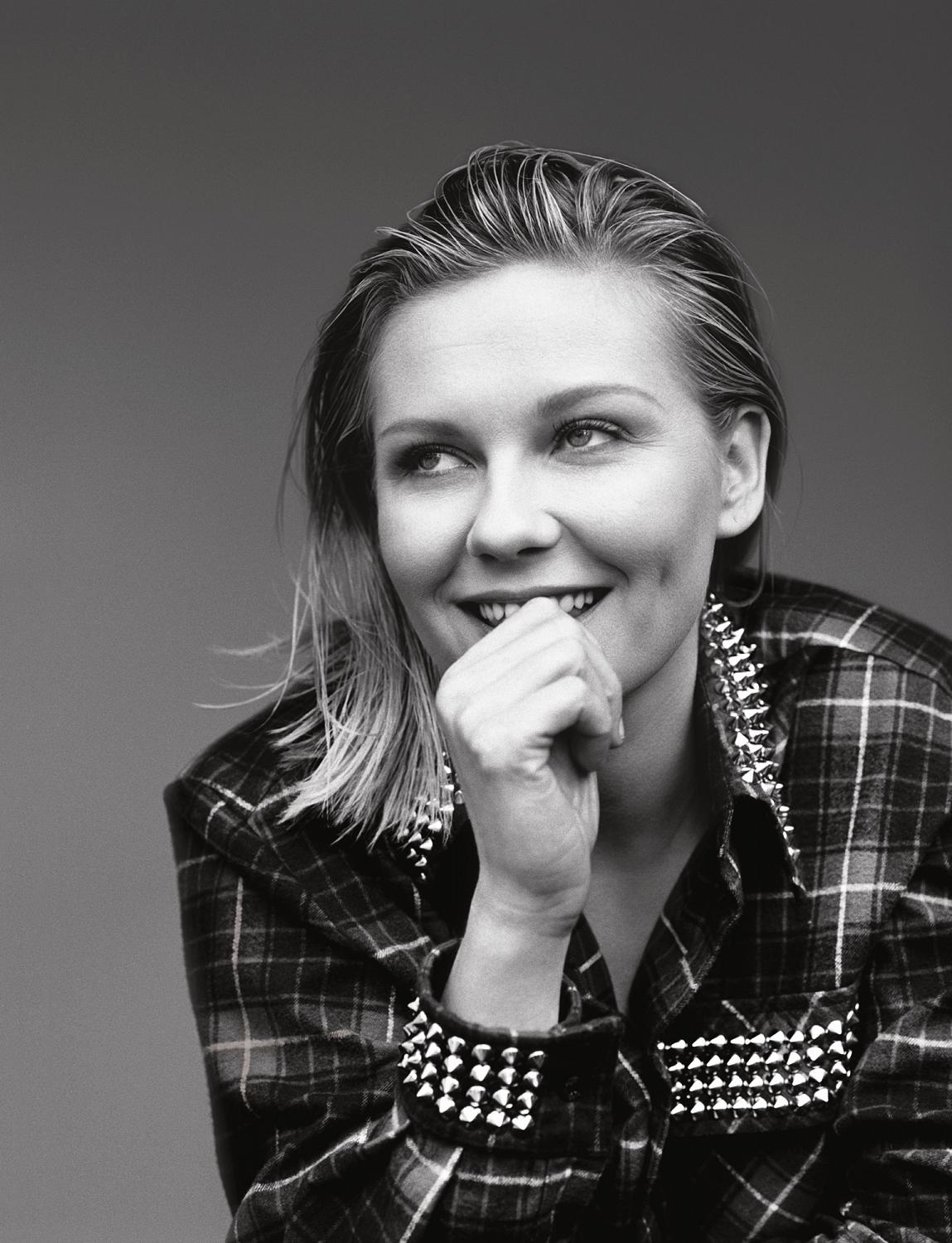 They now work together on every role, going over the script and really building the character, using dreams, memories – anything and everything that happens to be around. "You start to pick up on things, or things happen to you during that time, and if you're open to it, they can really give you major clues to how to play a role. It's always yourself giving it to you. It also makes it so much more fun. With Fargo I had so many different directors, and I felt – and I don't mean this to sound cocky or anything – that I didn't need anybody else; no notes or anything. I just needed to show up and be prepared."
The shift in her acting style didn't pay off immediately. But then she worked with the controversial Danish director Lars von Trier on Melancholia, a strange, haunting film that begins with Kirsten's character having a meltdown at her own wedding and then falling into a deep depression, and ends with the destruction of the planet. It premiered at Cannes in 2011, and Kirsten took the festival's best-actress award for her performance. "Dunst is exceptional," The Daily Telegraph's critic wrote, "so utterly convincing in the lead role – troubled, serene, a fierce savant – that it feels like a career breakthrough." Von Trier said at the time, "She's one hell of an actress. She is much more nuanced than I thought, and she has the advantage of having had a depression of her own. All sensible people have."
The director Jeff Nichols says it was Melancholia that made him look anew at Kirsten as an actress and eventually cast her in his entertaining sci-fi chase film Midnight Special, which will be released this spring and has been selected to compete for a Golden Bear at this year's Berlin International Film Festival. "She was very generous with us in that she actually came in and read for the part," Nichols says, "which was extraordinarily impressive. Someone of Kirsten's calibre doesn't really need to do that. And she was amazing." Kirsten had wanted to work with Nichols after seeing his 2012 coming-of-age thriller, Mud. "You have to fight for the things that you really want," she says.
"What I think is so interesting about her is that she's just not your typical beauty," Nichols adds. "In fact, in my film, all that is downplayed considerably. She's not supposed to wear any make-up, and we dressed her in terrible clothes. And Kirsten was completely comfortable with that. For her, it's not just about not putting your face on in the morning. It's about embodying a character and doing the real work. With those skills, I think she gets to do whatever she wants."
For the past couple of years, Kirsten has been working on a film script of her own with a girlfriend. The production hasn't been publicly announced yet, so she is unwilling to go into too much detail but it is an adaptation of a novel set in the 1950s that many women will have read, she says. "It's a book that people care about at a certain age." She plans to direct it herself and she already has an impressive lead actress in place. The actress approached her, she adds, and she wells up just thinking about such a vote of confidence. "I'm nervous. There's part of me that's like, 'What am I doing? Why would I ever put myself in the position to be ripped apart to direct this?' I know I'm going to be out of my mind for however long it takes!"
Before that, she hopes to work with Sofia Coppola again, on a film set in the American South during the Civil War. "There are two other women in the movie, too, who are incredible," Kirsten says. "So it'll be nice to just watch actresses work together instead of them always working with men. That's really exciting."
When she wasn't making films as a child, Kirsten went to a local state school in the San Fernando Valley area of greater Los Angeles; she has said it helped her to stay grounded. She met her friend Molly – one of a number of strong women around her – in sixth grade, when they were 11, and they have been close ever since. Kirsten is godmother to Molly's 1-year-old daughter, Lily, and is totally besotted. She fishes out her phone, and after scraping something sticky off the screen – "What the hell is that? It's, like, food. Gross!" – she shows me a picture of herself and Garrett all dressed up for the Golden Globes earlier that week, each holding one of Lily's hands. Garrett's looking fine in a tux, and Kirsten is gorgeous in her black gown, but it is Lily in her cute black-and-white romper suit who steals the show. "That's us," Kirsten says fondly, "pretending she's our baby."
The designers Laura and Kate Mulleavy have also been close friends of the actress for 10 years now. Kirsten was already wearing their clothes by the time they met her at a party. They got on immediately. "It just felt like, 'Oh. We have another sister!'" Laura recalls. Woodshock is the Mulleavys' directorial debut. "It's a really interesting thing to get enmeshed in," Laura says about the intense bond that tends to form around a team during the making of a film. "But after working on this, I also realised how difficult it must have been for Kirsten when she was a 6-year-old, to be around a group of people for a long time and then to suddenly not be with them." Woodshock, which will come out later this year, involves a woman falling apart emotionally. "It's something that we worked on for a very long time with Kirsten in mind," Laura says. "Kate and I spent a lot of time with her, going deep into it."

"TV pays. You can play an interesting role and support your family. You can't do that in independent film."
During the most intense part of the shoot, Garrett was away, so Kirsten stayed over with the Mulleavys rather than going home alone. "It was wonderful," Laura recalls. "We still laugh about it, because she was like the wife in a 1950s sitcom. We would sometimes have to stay later than her, so she would go to our house and set the fire, get the food and wine ready, and do all these things like a traditional, TV-show wife!"

Kirsten lived in the Hollywood Hills for a while, in a house she completely refurbished. "But then I realised it was total crap!" she says with a laugh. "I didn't have sidewalks; I couldn't have an outdoor cat because they're going to get eaten by coyotes... So I moved to New York." Her compact SoHo apartment was featured in Architectural Digest in December 2013. "I did everything in that place," she says proudly. "It was a disgusting, decrepit old warehouse space before." Kirsten likes getting dirty, getting involved in the work at every stage, and when I bring out some pictures printed from the magazine's website, she is happy to point out details. There's a beaded ship she turned into a chandelier in the main room, a big vintage mirror that her mum bought in Paris when she was younger, plus some serious designer furniture. "It's all vintage. That was when I had Spider-Man money! Some of it has tripled in price since then, so they were smart investments."
In the end, though, the constant bustle of New York didn't suit her, and she moved back to north-west Los Angeles, where she had bought a house for her mother. Kirsten and Garrett rent a place just six doors down, and they all get together on Sundays for big family lunches. People think it's odd, she says, but they've always been a close group. After Kirsten's grandfather died, her grandmother moved into her mother's house, and at the moment her brother, Christian, is living there again, as is their cousin. "If I didn't have a boyfriend right now, I'd probably live in the house too," she says. "Why not?"
Kirsten met Garrett Hedlund when they were filming On the Road (he played the feckless Neal Cassady; she was one of his long-suffering girlfriends). It is often assumed they got together as a couple on set, but she says that isn't so. They met up 18 months later; both of them were single, and it just clicked. "He's such a generous man, and so gentle," she says. "But very masculine, still. He has a good balance of everything." She makes no secret of the fact that she would like to get married and to have children – preferably in that order, although she's willing to compromise on the ring now and just get on with starting a family. "I'm pretty ready," she says.
There is still a lot she'd like to do workwise, too. "Quentin Tarantino still hasn't called me!" she says archly. Nor has Wim Wenders, Terrence Malick, Martin Scorsese or Steven Spielberg. She wants to play a villain, to do a Disney film, "and I'd love to do a movie in German with Michael Haneke – that's one of my big dreams." Her German is passable, she says. Kirsten took dual US-German nationality a few years back. "I did it for work, mostly, so I can work in Europe and be hired as a European," she says, explaining that films with foreign financing often limit the number of Americans who can be employed. "I was hired as a German for Melancholia, On the Road, and The Two Faces of January."
Towards the end of our time together, we both get distracted by the table behind us in the coffee shop. It is festooned with garish birthday balloons, and at it, three older gentlemen, clearly friends who have long been comfortable in each other's company, sit sedately over breakfast tea and cake. "They make me want to cry. They're, like, bachelors forever!" Unable to resist the scene, Kirsten starts speculating about how long they've known each other, what their lives are like, and whether one of them is celebrating a birthday or they just happened to sit at that table. When her questions are partly answered by the waiter coming out with a cake and candles, she joins in the chorus of "Happy Birthday" with real gusto and applauds enthusiastically.
Kirsten has reached a point in her life, she says, when she doesn't feel she has to panic if the right part doesn't come her way. "Having time off used to make me anxious as a kid. I was like, 'Why am I not working? I need to work!' Now, I enjoy it so much. I don't need to be a machine; I don't want to live that life." She laughs. "I could be a housewife – I'd be fine with it." Maybe she will spend some time playing house. But Kirsten will always be telling stories, one way or another: writing, directing, producing, acting. It isn't just what she does for a living. It is who she is.