Floriane
de Saint Pierre
Fashion's power broker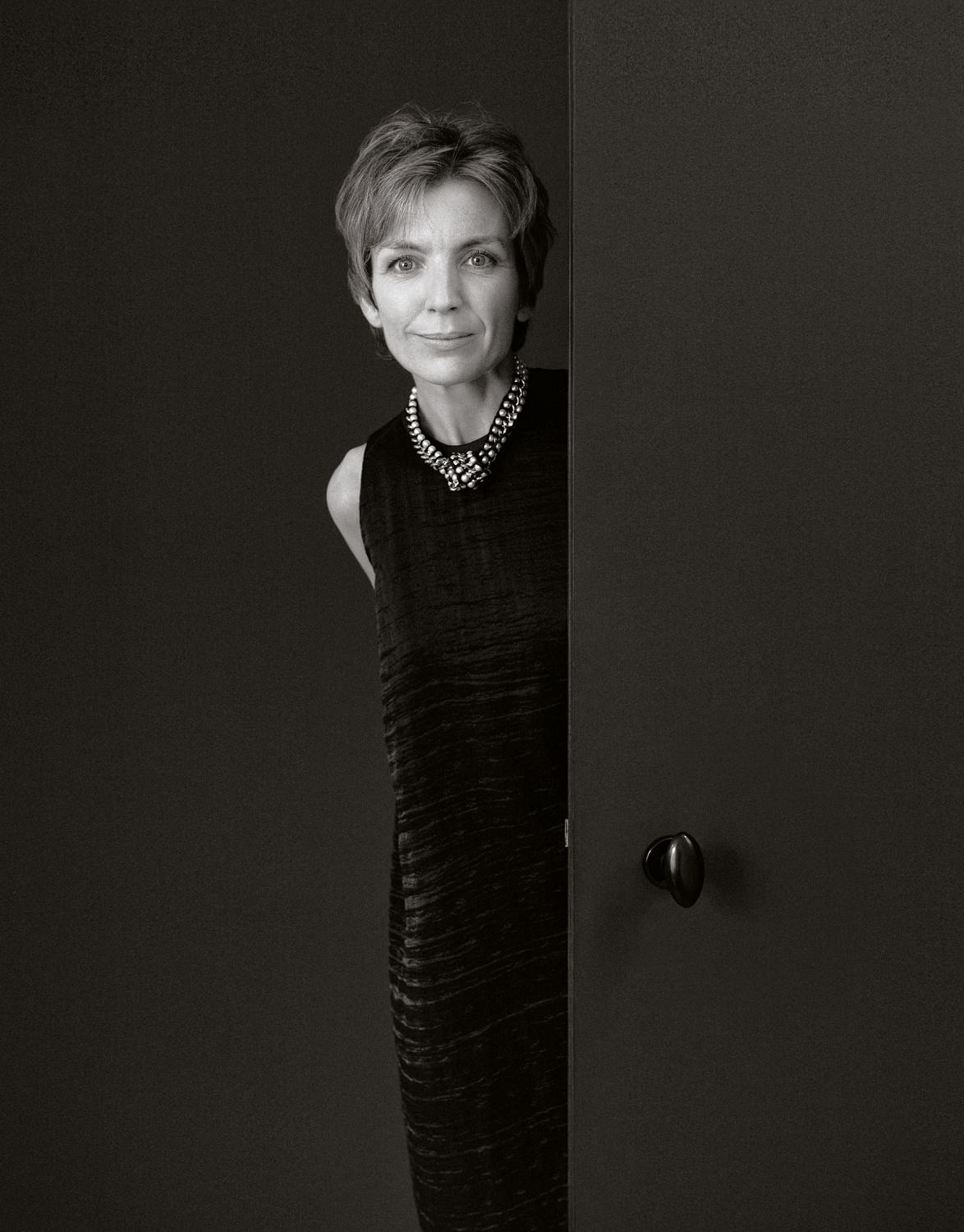 Top-level appointments in the fashion world don't happen by chance: more often than not, they're the work of Floriane de Saint Pierre. From her beginnings at Bernard Arnault's new-look Dior in 1984, Ms de Saint Pierre, 47, has stealthily built up a bespoke recruitment business that was able to place Christopher Bailey at Burberry and Alber Elbaz at Lanvin. And a matchless combination of intuition and forensic market expertise means it's perfectly clear to her just which über-MBA'ed CEO is most likely to make it in the Asian luxury market.
But far from being stuck in a fashion bubble, Floriane keeps her eye on brands like Apple and Nespresso and makes time to collect some incredible art.
When I first meet Floriane de Saint Pierre at her office on the boulevard Malesherbes in Paris – actually an elegant Hausmannian apartment in a building full of expensive cabinets médicaux and a stone's throw from the big Burberry store at number 8 – she looks like a lady who might just lunch. Super-slender in the French gamine way, sandy-haired and lightly tanned, she's sitting in a room that's empty but for a sofa, a table and metres of parquet. Her enormous, wide-set eyes and sparrow-thin wrists suggest fragility. How deceptive appearances can be.

Floriane is the recruitment mogul of the fashion industry, where salaries can still look like phone numbers. Figures circulating in the rumour mill have Galliano on €15 million before he was ousted from Dior, with Nicolas Ghesquière allegedly having been offered €20 million to replace him, and Sarah Burton €10 million. And though they may not be correct, they might not be so far from the truth either. In such a context, you can only imagine that Floriane's business, FSPSA, does very well indeed.
Hers is the company that deftly fills the slots left by hyper-mobile luxury-brand CEOs and shepherds the industry's key creative talents through a series of high-level appointments. She tracks the form of the top houses' senior staff with the assiduity of a bookkeeper before a big race, takes seven meetings a day and then swings by an auction in the evening to snap up a sensational piece of art. "She is," says Kim Jones, whom she placed as creative director at Dunhill in 2008, "one of the industry's best-kept secrets."
It was Floriane who led Francisco Costa to Gucci and Christopher Bailey to Burberry. She's the one who figured out that Alber Elbaz would work magic at Lanvin and that Christophe Lemaire and Lacoste would be a winning partnership. "It's so much more than filling vacancies for Floriane," Bailey says from Burberry HQ. "It's about connecting talented people and forming lasting relationships. And she seems to do it all so effortlessly." At the time of writing, she's probably one of the very few people in the industry who really knows what's going on at Dior in the wake of the Galliano debacle. But such is her reputation for confidentiality in this clandestine and gossipy world that it would be ridiculously rude to ask. Even outside fashion, she has a profile. In May, she was one of a handful of women to speak at the 41st St. Gallen Symposium (an annual pointy-head talking shop); another was compatriot Christine Lagarde.
Floriane definitely doesn't have time for lunch. "They throw a salad at me," she laughs later as we sit in her office discussing her average day, which begins at 6.30am. "I can't have a day without breakfast – coffee, bread, and confiture, jam – wherever I am in the world." She's changed into white jeans (she doesn't know who they're by) and a Jil Sander flower explosion T-shirt. The high-heeled tan sandals are this season's Saint Laurent. There are two bags on the floor (YSL, Balenciaga) – this woman's life couldn't possibly fit into one – and the fragrance of a Diptyque candle wafts through the room. "I'm just running all day."
For someone who's probably used to giving orders, she is charm itself, with a body that seems to strike an effortless pose. She doesn't exercise – "Before having children, yes, I was swimming, doing yoga, but now those spare minutes are for them." Maxence and Gabriel are eight and six and, according to their mother, "challenging!" On weekdays, she sees them in the morning and then jumps in her car (with driver) to be at work by 8.30. "We have a very family life during the weekend," she says.
The amount of talent that's clicked across the herringbone floors of the offices of FSPSA doesn't bear thinking about. Only a few, though, get to sit where I am now, at an extraordinary desk by Dutch designer Hella Jongerius in Floriane's inner sanctum. Long and wide, the desk's flat, functional walnut surface suddenly turns into an enormous frog at its far end. "Ah, yes, people are very surprised when they see it, but very few do," says Ms de Saint Pierre, smiling. Her English is near-perfect, the accent bearing shades of the transatlantic. "I love minimal, clean work. But at the same time, I think it's good to go a bit further and have something like this that's ironic, fantastical." An ebullient, eccentric piece of design, the desk is the purchase of a collector who is very sure of her taste. "Amazing!" says Clémence Krzentowski, co-director of Galerie Kreo in Paris, where the desk was first exhibited in 2009. "It's one thing to love a piece like this. But then to buy it, and then to use it, that is amazing."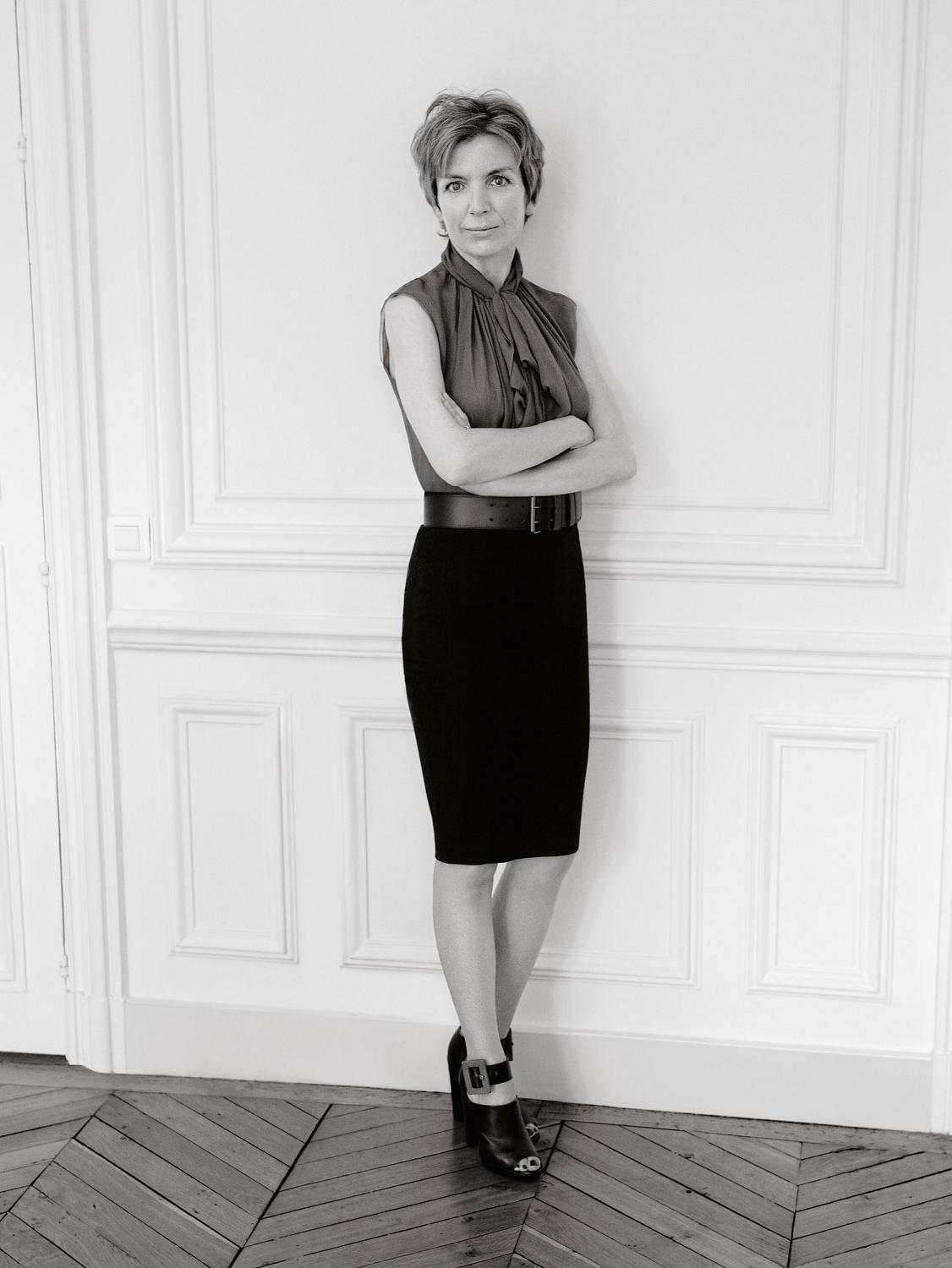 Ms de Saint Pierre comes from connoisseurship. She grew up in the 1960s in Paris's smart 16th arrondisement. "My father was an engineer," she says. "He was really like an inventor, very innovative." Her mother, meanwhile, was educating her daughter in the art of dress. "It was Yves Saint Laurent, it was Ted Lapidus," recalls Floriane. "In fact, I saw the re-edition of Ted Lapidus clothing in Barneys the other day, by his son Olivier Lapidus, and they were the clothes she actually had." For summer, it was YSL khakis with a striped sweater and espadrilles. "And for holidays, the cotton dresses and the peasant dresses. YSL was a full wardrobe."

Floriane was also learning about art. "My mother collected artists like Louise Bourgeois and really developed my eye from very early on," she says. By the age of 23, she'd bought her first piece, a painting by Martin Kippenberger, the flamboyant, madly talented German artist with a penchant for drinking that led to an early death from liver cancer in 1997. A phenomenal confection from 1989 by French artist Annette Messager – a vast heart composed of images of the body linked with yarn and dripping with black netting – hangs in another meeting room. "I went to a major show of her work at the Musée d'Art Moderne in 1984, when I was 21," says Floriane, "and I vowed one day to buy a piece of her work."
While her older brother became a geologist and her sister an interior architect, Floriane de Saint Pierre knew early on that she wanted to work in fashion. But she didn't have a creative bone in her body. "So that's why I knew I had to take a safe route and graduate in business. There was no point in me studying design. But you know, business is creative too. It's a tool for freedom. How do you create value? How do you sustain yourself? What can you do to be independent? I wanted to support myself financially, so I had this very strong entrepreneurial urge." After studying finance to master's level at ESSEC, one of France's prestigious écoles supérieures (the Financial Times ranks its master's in finance third in the world), she went straight to Dior, and by 1990 she'd set up FSPSA, first in the family apartment in Passy and later in the rue de Penthièvre off Paris's fashion street, the rue du Faubourg St-Honoré. The office in the boulevard Malesherbes is just a couple of years old. The Paris team, which is 15 strong, includes Valentina Maggi, who runs the creative searches. "I started in 1999," Maggi says, "as a part-time job when I was doing a master's in the restoration of historical monuments. I guess the fact that I'm still here 11 years later says something."
Not just talent but also timing has contributed to Ms de Saint Pierre's success. "I was extremely lucky to join Dior in 1984," she says. "It was September, a couple of months after the acquisition of the company by Mr Arnault. The first thing he did was not to change the CEO but to put a new financial direction in place, and I was part of that team. We were at the heart of the company, and the strategy was to buy back licences and to introduce better brand management."
Dior was then a muddle of ill-matched licences and design offices scattered not just in Paris but in the US and even Japan, and a load of designers – Marc Bohan on couture, Frederic Castet doing fur, Dominique Morlotti on menswear, Gerard Benoit on prêt-à-porter – who ran their departments like individual fiefdoms. But Arnault had a vision, says Floriane: "That to run a brand you really need to make it consistent, to make it interesting and creative, to take risks and to be very directional. And other brands that didn't have the vision or the resources, both financial and management, to really be able to buy back the licences and to open their own stores are today in a very shaky position." Now that brand cohesion has become key for any successful luxury business, a creative director is no longer just someone who knows how to design a beautiful dress. "For at least the past five years, we've been looking for someone with a 360-degree vision, who has a view on everything from store design to digital," says Valentina Maggi.
While not everyone in the creative world approves of the domination of the superconglomerates – Arnault's LVMH (which owns Louis Vuitton, Fendi, Céline, Loewe, Berluti, Kenzo and more) and François Pinault's PPR (Gucci, McQueen, McCartney, etc.) rule the fashion market – Floriane nonetheless learnt at the feet of the master of modernisation in the fashion industry, Bernard Arnault. "And what I realised very early on was that more international people were needed. Different places seemed to provide different skill sets. In France, most of the houses were old. But Karl had just started at Chanel (he joined in 1983), and we were watching that closely. Italy was booming, with Max Mara, with big numbers. The American designers were very modern – Calvin, Donna, Ralph."
"I think it's a statement to live with your time. I don't know why people choose to live with stuff from fleamarkets."
"That," says Christopher Bailey, "is what makes Floriane so special: her incredible understanding of the culture of the companies she works with and her grasp of the bigger picture." Her effect ripples through the entire industry. She might not, for example, have been the one who placed Christophe Lemaire at Hermès in 2010, but he probably wouldn't have got there if she hadn't previously shone a light on him with the position at Lacoste.
If French fashion was embedded in history and craft, Italy was less couture-led, and America the most observant of how to create a working woman's wardrobe (the French surely never would have brought out the unitard, as Donna Karan did in 1990). And none of the designers communicated between countries. "I realised that here in Paris everybody knew each other, and in Italy everybody knew each other, and in the States everybody knew each other," Floriane says. She, however, knew everybody everywhere.
In 1990, after a six-month stint in an executive search company, she went it alone. "It was just after the acquisition by Mr Arnault of Christian Lacroix, and the chairman of the company called me. They needed an haute couture director, a production director, someone to run the States, someone to run the sales and someone to run retail. And that was it: time to set up my own company." Twenty-one years later, FSPSA offers a bespoke package, joining the dots between the high-profile design stars that represent a brand's public face and the corporate personnel and brand development sectors that ensure its financial success.
David Bamber, a freelance design consultant who has worked for labels including Gucci, Stella McCartney, Calvin Klein and Bamford and continues to work with Tom Ford, has had a long relationship with Floriane. "Floriane first contacted me in 1992, because she was looking for people to go to Céline," he remembers. "She was so easy to talk to, you ended up telling her your life story. But that means she knows you. And she really teaches you how to do a good interview." Bamber decided to stay at Gucci, which he had recently joined and loved, "but she'd call me every six months just to check in, and I'd always have dinner with her when I was in Paris, always at Georges at the top of the Pompidou, which was the place then." (One night, he says, she was so tired, "she turned white and fainted.")
Later, he went to her to find people for Gucci. "I interviewed Christopher Bailey at the Carlyle in New York. He was at Donna Karan then, and I met him through Floriane. He was so nice, I told Tom (Ford) he had to meet him," Bamber recalls.
It was also in New York that Floriane met Alber Elbaz. "It was 1996," she says, "when he was the first assistant at Geoffrey Beene, and I was looking for a creative director for Guy Laroche. I opened the door of my room at the Mayfair Hotel, and he was standing there wearing red shoes and carrying a bunch of flowers. He said: 'I am so sorry to be late, but I wanted to bring you flowers, because I know that the ones in hotels are always dreadful.'" In a dossier tied up with ribbon was an impressive selection of personal work.
"I called Ralph (Toledano, then CEO at Laroche) and said, 'We have the right person.' Really, he was so talented." From there, he moved to Saint Laurent – the first designer to take on the brand's creative direction after its namesake's departure – and then Lanvin. "He is very, very smart," says Floriane. "He knows how difficult it is to be very successful in a company, like he was at Guy Laroche, and then to be successful in another company, like Yves Saint Laurent. Lanvin was an extremely smart move."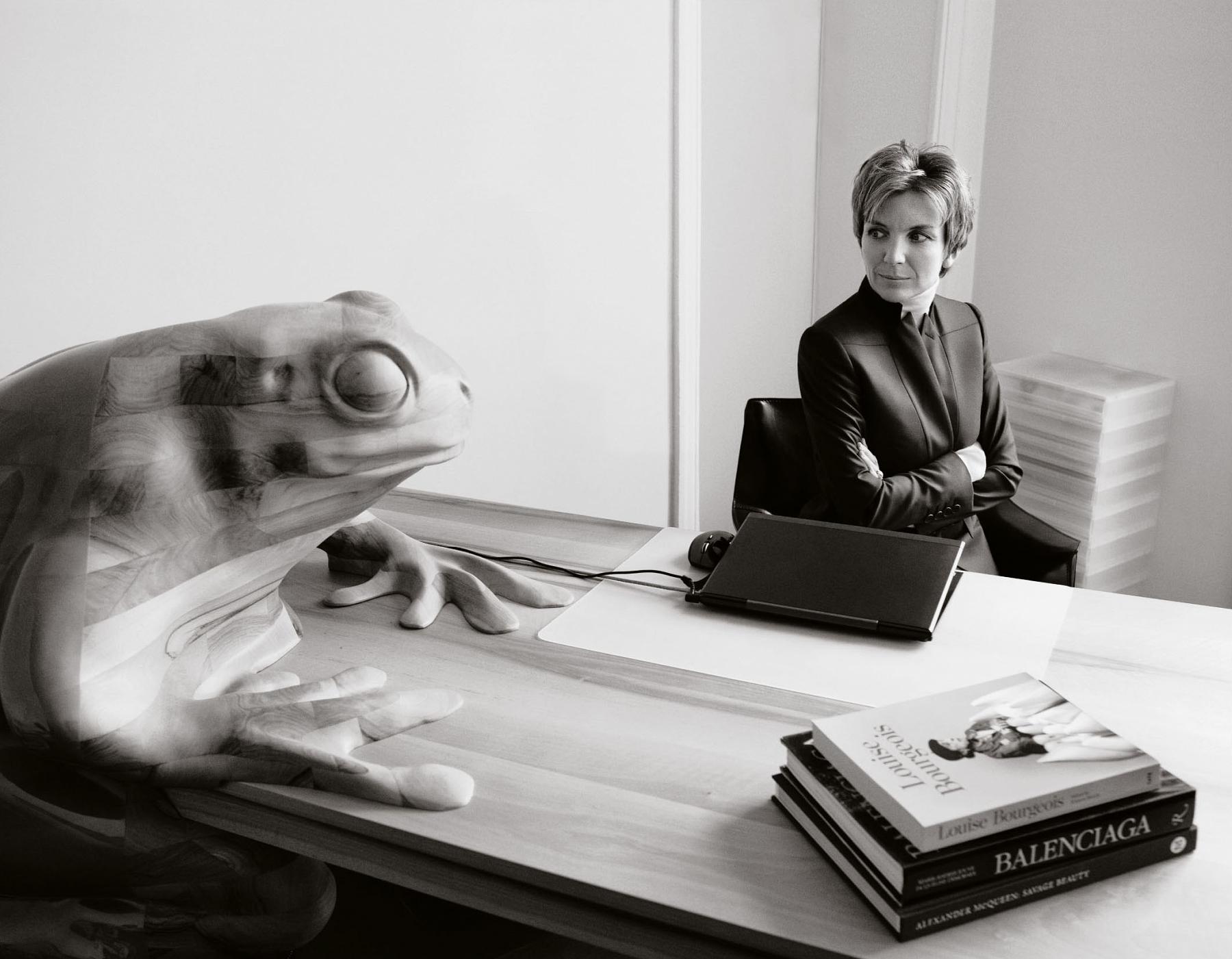 This business of matchmaking ("Headhunting?" she says. "Ugh, no!") is delicate and discreet, both highly scientific and deeply personal. The company logs every appointment and move in the industry in its vast database, but it's the constant phone calls that maintain the relationships between clients, designers and directors. "Then there's the artistic element," says Floriane, "trying to distance yourself a little bit and ask, 'What is interesting? What is going on today? What will go on tomorrow?' Just think, for example: every consumer of fashion or a luxury brand has something from Apple in his or her pocket. So it means that the level of service provided by Apple has become the norm for consumers. Or the experience of Nespresso, which is so consistent. The assistants are so chic in the store and so well trained. It's raised the bar, and it tells me that if we have to recruit someone to be the president of your brand, it could be interesting to look at Apple and Nespresso and not only fashion. I'm thinking of the final consumer, not just the product."

Floriane's husband, Patrice de Lanversin, is the senior vice president of communications at the European Aeronautic Defence and Space Company (EADS). You might not expect their worlds to collide, but that would be underestimating Ms de Saint Pierre. When Virgin announced in 2005 that Philippe Starck would design the interior of its space shuttle, Floriane reckoned EADS could use a star designer too. "So I called Marc Newson." She shrugs. "We'd had lunch a few times, and I knew he was obsessed – obsessed! – about space." She brokered the deal, and the results went on show in September 2010 at the Gagosian Gallery in New York. The de Lanversins were there to see it. "Of course we went for the opening. There was the space shuttle designed by Marc Newson, there was the Riva boat, there was a bicycle, there was a car – all designed by Marc. It was just amazing."
Floriane doesn't own any work by Marc Newson. And of the art and design she does own, little goes on display. Her home near Les Invalides (a very smart address) is packed with design, but they live with only one art piece at a time. Currently, it's an image of a parrot applied to a mirrored surface by the Arte Povera master Michelangelo Pistoletto. The apartment is astonishing – big rooms with orange resin floors, an enormous black chandelier designed by Philippe Starck for Baccarat, some Corian furniture and a quiet piece by Konstantin Grcic called 'Missing Object', a solid block of oak with two subtly sculpted-out handles. "Some people hide what they buy among lots of other objects," says Clémence Kzrentowski, "but she knows what she likes, so she puts the pieces on show and lets them breathe. The apartment is very radical, with its volume and colour, but it allows them to live very freely as a family."
Out on the terrace, where Floriane likes to spend the first 25 minutes of every day alone, is a huge armchair in multicoloured mosaic by the king of Italian postmodernism, Alessandro Mendini. "Everything is from the 21st century, except for the Mendini," says Floriane. "I think it's like a statement, to live with your time. When you look at the 18th century, they were living with their time, in terms of art, architecture, music, writers – everything was very contemporary. I don't know why people have chosen to live with stuff from the flea markets since the 1970s. Before that, every decade had its own clear style."
She doesn't just have a handle on the contemporary, though – Floriane's gearing for the future too. Unsurprisingly, FSPSA has a branch in Milan, but it also has one in Shanghai. "Now it's a fact that more than 50 per cent of turnover is coming from fast-growing countries, where the demographic is younger," she says. She started looking into Asia six years ago and opened the office in 2009. It's an entirely separate company, with Canadian and Chinese staff. "In the first two years, we worked mainly on the management side, recruiting the vice president for Asia-Pacific, president for China, merchandising director for China, whatever. But now we're going to start working for Chinese brands, which are beginning to have an international vision."
I have a train to catch, and Floriane is keen to get to the Grand-Palais, where the Anish Kapoor show is in its last few days, so we head for the door. In a few weeks, she'll be off to her house in St Malo, Brittany, for the grandes vacances. Floriane, of course, says she'll be checking her BlackBerry every day. But she wouldn't have it any other way. "Business? I love it, I love it, I absolutely love it!" She makes it sound like the fun that, for her, it really is.