Fallon Sherrock
In a boozer in Waterlooville, Fallon Sherrock draws back her pink-tipped darts and shoots for the moon.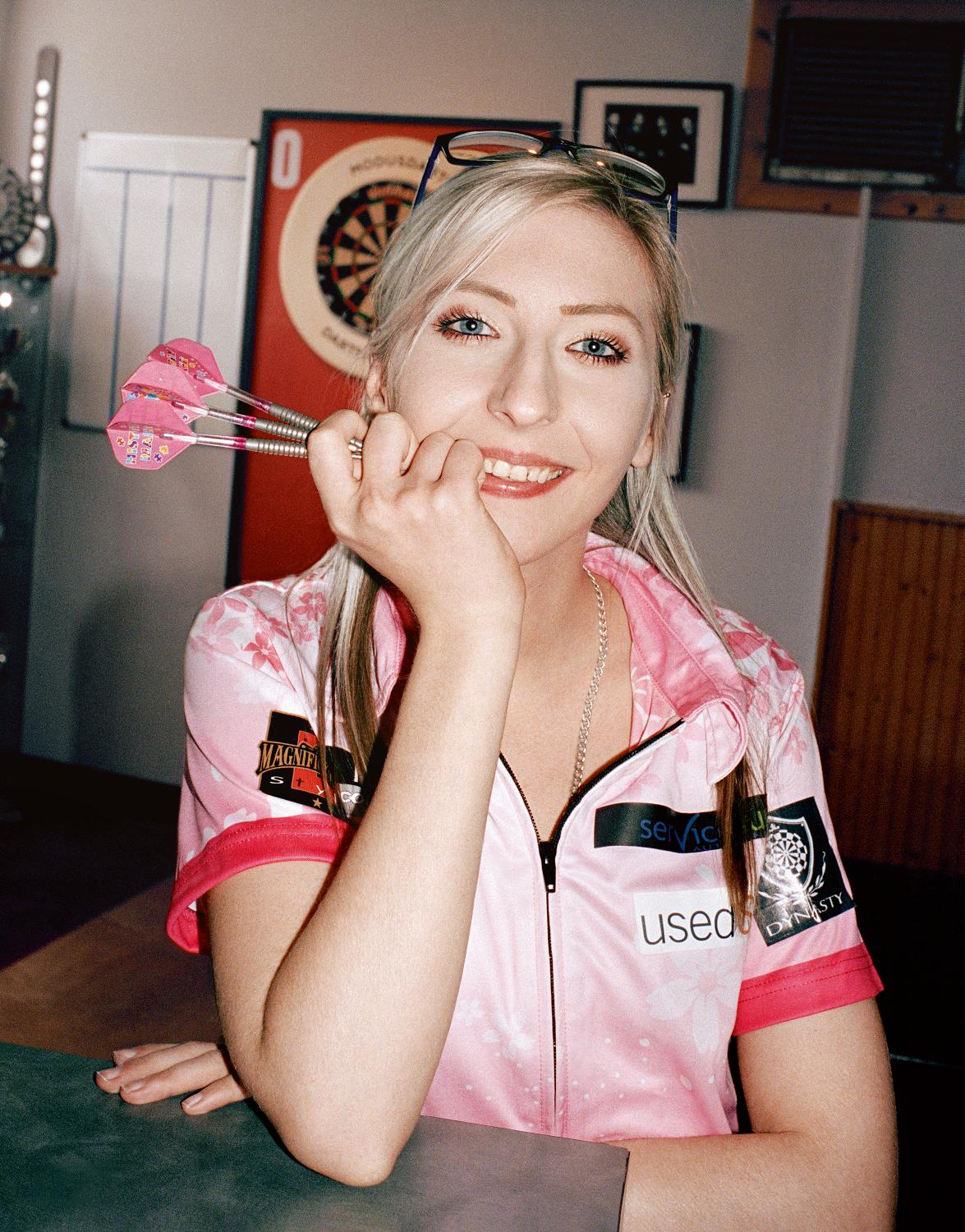 When Fallon Sherrock's pink-tipped Dynasty tungsten 23-gram dart hit the double 18 on 17 December 2019, it flew her into the history books. The 26-year-old with the moniker "Queen of the Palace" had just become the first woman to win a game in the World Championships. With nerves of steel, she beat not only Ted Evetts, seeded number 77, but also the number 11, Mensur Suljovic. Now the ex-hairdresser from Milton Keynes, who counts Billie Jean King and Sarah Jessica Parker among her evergrowing fan base, is looking towards global domination at the World Series.
Women have been playing darts for decades, and playing against men for as long. In pubs and clubs, at county level and in youth teams, and during many untelevised moments around the world, women have beaten male competitors. But the first woman ever to beat a man in a match in the PDC World Darts Championship, played at London's Alexandra Palace on 17 December 2019 and broadcast across the globe, was Fallon Sherrock, a then 25-year-old former hairdresser and single mother from Milton Keynes. And she just might have changed the sport forever.
"It's still amazing to think that the world has gone mental over a game of darts," Fallon remarks in a darts club near Portsmouth eight months after the event. But mental it did go. "Woman Beats Man at Darts Championship for the First Time," whooped The New York Times the next day, above a picture of Fallon in her shiny pink shirt, right arm stretched out like a dancer's, her arrow shooting off to victory and the world record books. Billie Jean King, one of the greatest sportswomen of all time, hailed Fallon as a "game changer"; the actress Sarah Jessica Parker posted a picture of Fallon on Instagram with the caption "Making history and our hearts stop as we watched in astonishment and awe."
Fallon, who is slight with long blond hair, wears black-framed spectacles when she plays because she is short-sighted. She beat world number 77 Ted "SuperTed" Evetts 3–2, hitting six 180s and finishing with a double 18. On stage after the match, she said, "I'm absolutely over the moon. Honestly, I'm so proud of myself for what I've achieved. What I've just done tonight, I hope it proves that women, we can beat the men. We just need more opportunities to prove ourselves."
"It was the way she did it," says Laura Turner, a professional British darts player and part of the Sky Sports commentary team that night. "The level of play she kept up. Although I've seen her play like that before – under that pressure, in that environment, that was what struck me as the outstanding part of the whole thing."
If you've never watched the darts championship, you should know that it's a riot, a cross between a Saturday night family TV show and a rave. There is loud, pumping music and synchronised laser lighting. Dancing cheerleaders wave pom-poms on stage and a male-heavy crowd plays up to the pantomime atmosphere with furious booing and cheering. In that first-round match last year, Fallon got all the cheers, while the boos went to her good-sport competitor, the baby-faced, 23-year-old Ted Evetts. As Andy Nesbitt, a USA Today sports journalist, put it: "I didn't know I had to put 'Going to a dart championship event in London' on my bucket list until I saw how awesome this crowd was right when Sherrock locked up her win."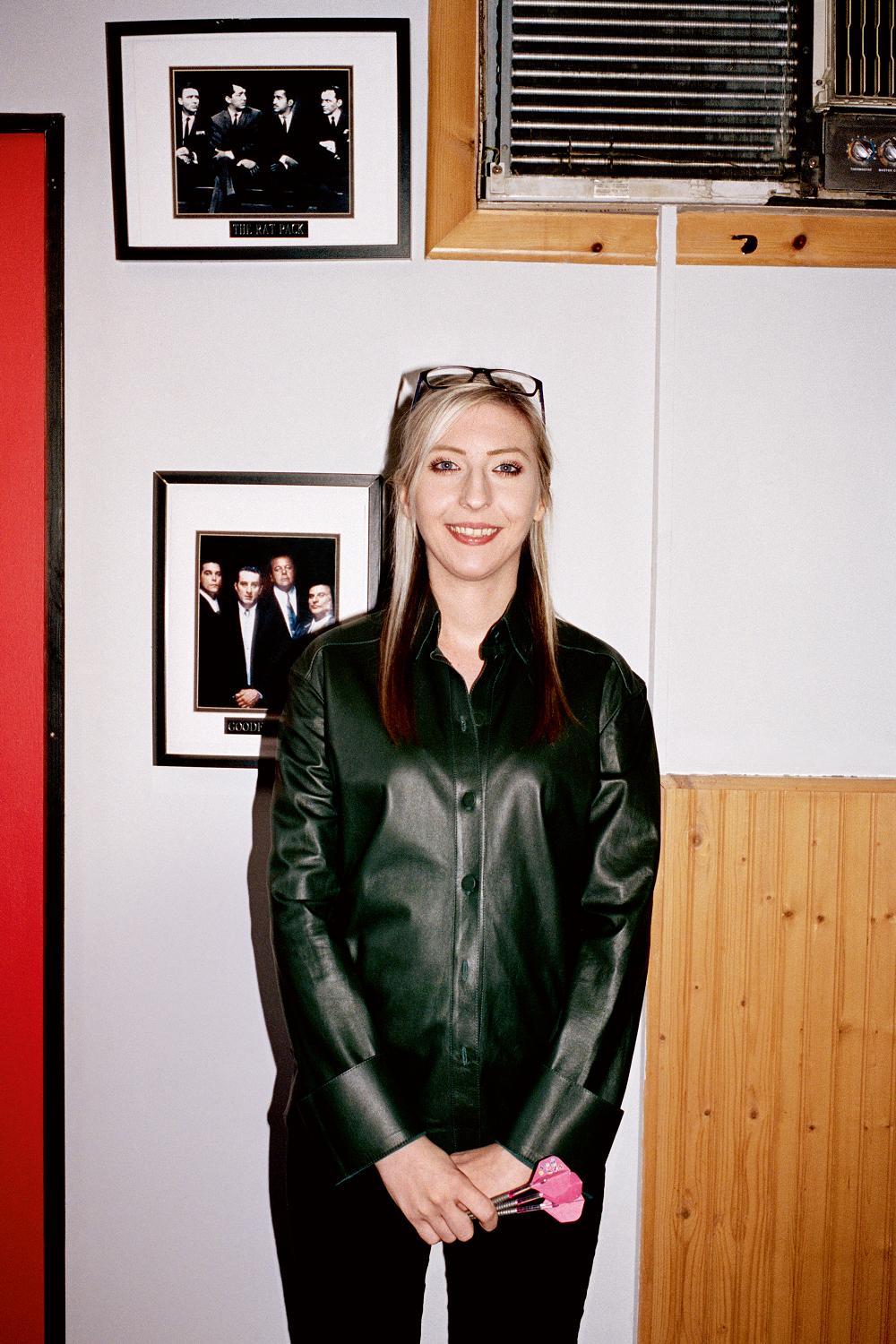 "I remember when we were first coming on the stage and I could hear the din," says Fallon, whose mother named her after the character Fallon Carrington from the 1980s American soap Dynasty. (Her father chose her twin sister's name, Felicia.) "I was just laughing, before we'd even started the game, because I was like, 'This is insane!'"
At the beginning of a darts match, each player walks through the middle of the crowd and on to the stage to the sound of their signature piece of music. A player's "walk-on" is a big part of their profile. If you look online you'll see it listed along with categories such as "laterality" (Fallon is right-handed) and the brand of darts a player uses (Dynasty signature tungsten 23-gram for Fallon, which she thinks is funny, given the origins of her name). Ted Evetts' walk-on is Hermes House Band's cover of John Denver's nostalgic "Country Roads", while the world number one and Fallon's favourite player, the Dutchman Michael van Gerwen, takes a two-pronged approach, with an eerie riff from Pink Floyd's "Shine On You Crazy Diamond" followed by the stomping bass line of "Seven Nation Army" by the White Stripes, a combination that makes for a masterclass in psychological one-upmanship.
Fallon's walk-on is "Last Friday Night (T.G.I.F.)", the 2010 hit from Katy Perry's album Teenage Dream, which the American singer has cheerily described as "a song about debauchery". That's not a description that matches Fallon's composed, specs-wearing style, or her teetotal status as the result of a chronic kidney condition. But "Last Friday Night" is the perfect uptempo pop anthem for a woman who, in the arena of her sport at least, doesn't care about the traditional expectations put upon her sex. "It sounds like a really good time, that's why I walk on to it," she says. "It gears me up, and I'm like, Yeah, I'm going to have fun now. I'm going to have fun playing darts."
"It's amazing to think that the world has gone mental over a game of darts."
It is a blowy, bright August afternoon in Waterlooville, Hampshire, and Fallon is drinking a pint of Coke in the dark bar of the Phoenix Club, above the NatWest bank on the high street. The manager says since Fallon's win the club has attracted more women dartists than ever, in a trend being repeated in clubs across the country. "Yeah, the win has definitely boosted the amount of women playing darts," Fallon says. "And I think it's just boosted everyone to believe that they can do what they want to do. I think it's given everyone the feeling of: Do you know what? Just because I'm young or I'm old or I'm little or big or anything – I can still do it."
The Phoenix is close to Fallon's management company, and this morning she drove down from her two-bedroom house in Milton Keynes, Buckinghamshire, to catch up with them and do some promotional work for Sky Sports, which has televised the PDC championship, now sponsored by the bookmakers William Hill, since its first tournament in 1994. Later, she'll meet a friend for a drink. It's the first time she's been away for the night since lockdown in March.
Fallon has been self-isolating, because after she had her son, Rory, in 2014, she was diagnosed with a kidney condition. "It's an ongoing thing. My immune system attacks my kidneys, so they're scarred," she says. "They can't get any better, they can only get worse, but they're actually quite stable at the moment."
Earlier in her career, the drugs she takes for her condition caused her body and face to bloat and swell, which led to some mean comments about her appearance on social media. She shrugs it off now, as she did then. "I've had more support than I've had negative comments," she says. "The people who make those comments have nothing better to do. I'm like, 'Well, your life is clearly boring. You don't need to try and make mine boring, because it ain't going to work.'"
With schools closed because of the pandemic, Fallon's been homeschooling six-year-old Rory, who is autistic. "Trying to get him to sit down and actually teach him something, with all the distractions at home… I think I've managed probably 10, 15 minutes a day. How do the teachers do it?"
Following her win against Evetts, Fallon went on to beat the number 11 seed, Serbia's Mensur Suljovic, in the second round, before being knocked out by England's Chris Dobey. It has not been the year that was promised after what Darts News called Fallon's "fairytale run" at the Worlds. As darts' new poster girl, Fallon – now with her own nickname, "Queen of the Palace" – was supposed to spend 2020 playing in Australia and New York, with a couple of trips to Japan thrown in, but, as we know, all sporting events were cancelled for months. Instead, Fallon has kept up her game playing live-streamed competition darts from her living room, a venue that's turned out to be more fearsome than a packed Ally Pally. "My little boy is coming downstairs, dancing behind me" – she's smiling – "and my dog's barking at the postman. And I'm right in the middle of everything. But if anything, it's probably helped me with my concentration."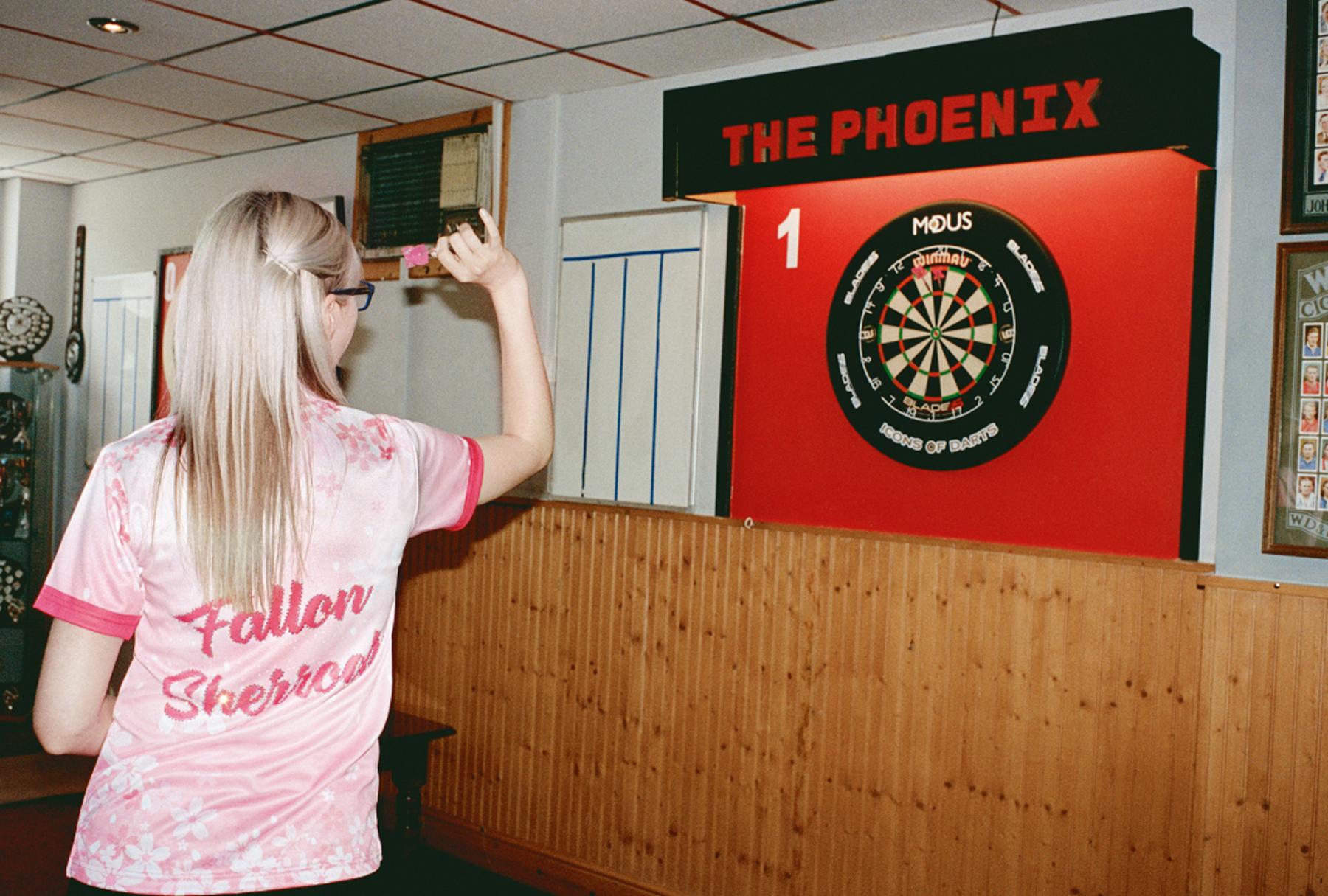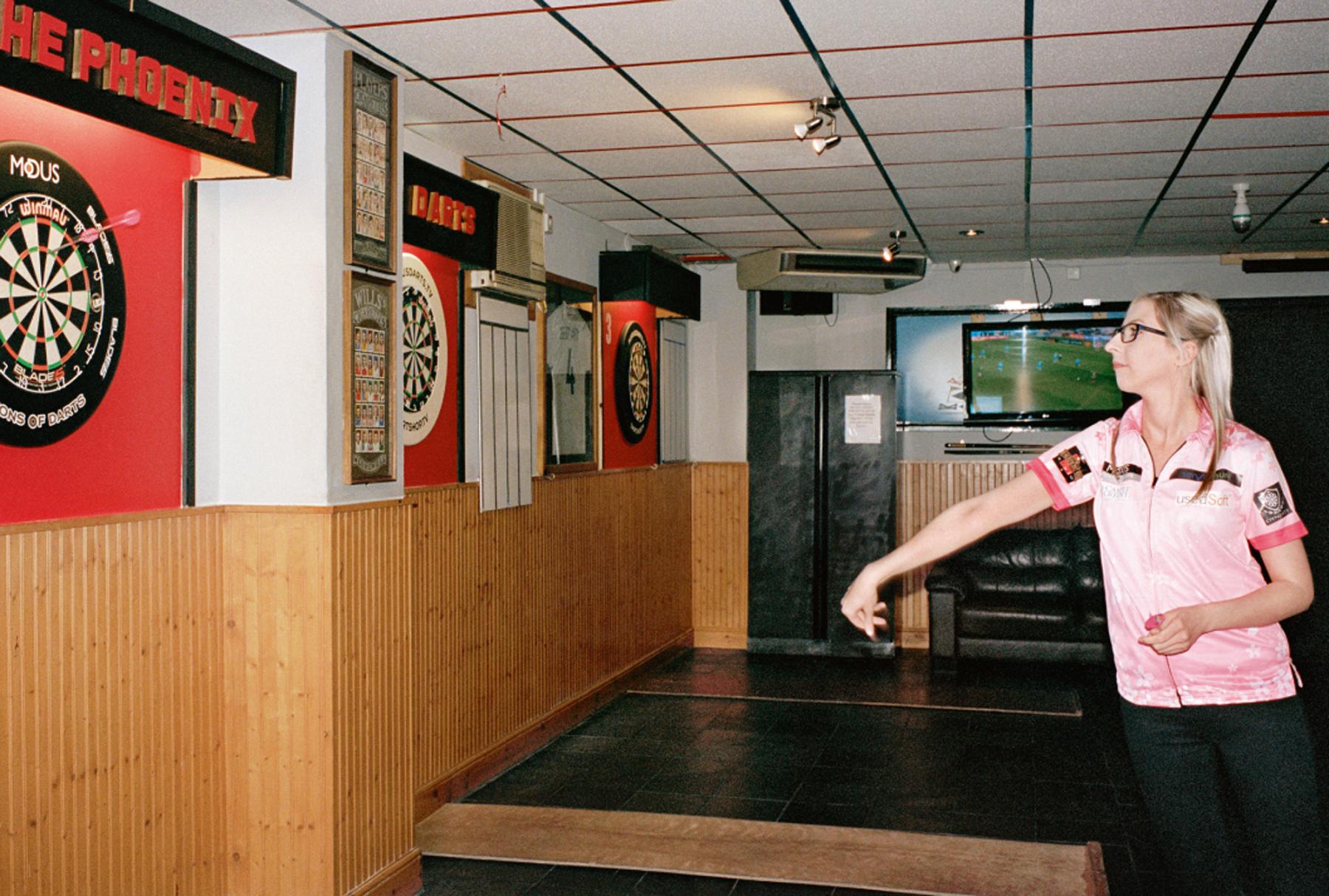 Fallon was only the fifth woman ever to play at the PDC Worlds. Men qualify through their year-round matches on the darts tour or through qualifying events. Since 2018, however, the PDC has saved two places out of 96 for the winners of two qualifying events for women. There are women-only darts competitions and championships (Fallon was a finalist in the BDO Ladies World Championship in 2015, losing to another prominent player, Lisa Ashton), but they have traditionally had a lower profile than the top men's events, as well as commanding less prize money. Participating in the PDC Worlds means literally getting to play with the big boys – and earn like them. By qualifying in 2019, Fallon won the biggest amount of money she had ever won. "So the most that I'd made was just from qualifying. And that says quite a bit," she says.
To date, her darts earnings come to more than £75,000 (£25,000 of which was for reaching the last 32 in the Worlds), but that's nothing compared to the six-figure sums her male counterparts can make with a big win. For this year's BDO women's championship, which took place in January, the organisation confirmed that prize money for the event would be reduced due to poor ticket sales for both the men's and women's competitions (the championship had optimistically moved to the O2 in London, a much bigger venue). The women's winner's prize money was said to have been reduced to £8,000 from the previous year's £12,000. (The men's was reduced from £100,000 to £23,000.)
Fallon is sanguine about it. "Whereas the men would get hundreds of people, and then that would easily cover the prize money, there wasn't as much interest [in the women's game], we weren't getting the amount of [ticket] entries to cover the prize money. I understand," she says. "So it was kind of like, you can't have £1,000 if only 20 people showed up. That's not viable."
But things are changing. Women's darts is now enjoying more attention, thanks to Fallon and Lisa Ashton, who earlier this year became the first woman to win a PDC Tour Card, one of 128 coveted tickets that allow a player to participate in all championships and European tour qualifiers. In August this year, the PDC – having previously said it would never do it – announced a new women's series that will take place in Barnsley in October 2020. "Women's darts at the top level has never enjoyed as high a profile, and this is an important development," Matthew Porter, the PDC's chief executive, said. Laura Turner puts the move down to Fallon. "I think because of the way Fallon has been received by the world, they can see the potential and the support that they can now lend to the women's game," she says. Fallon will compete in the series, with her eye fixed on winning a world championship. "Either the women's or the mixed – that's what I'm calling it now," she says.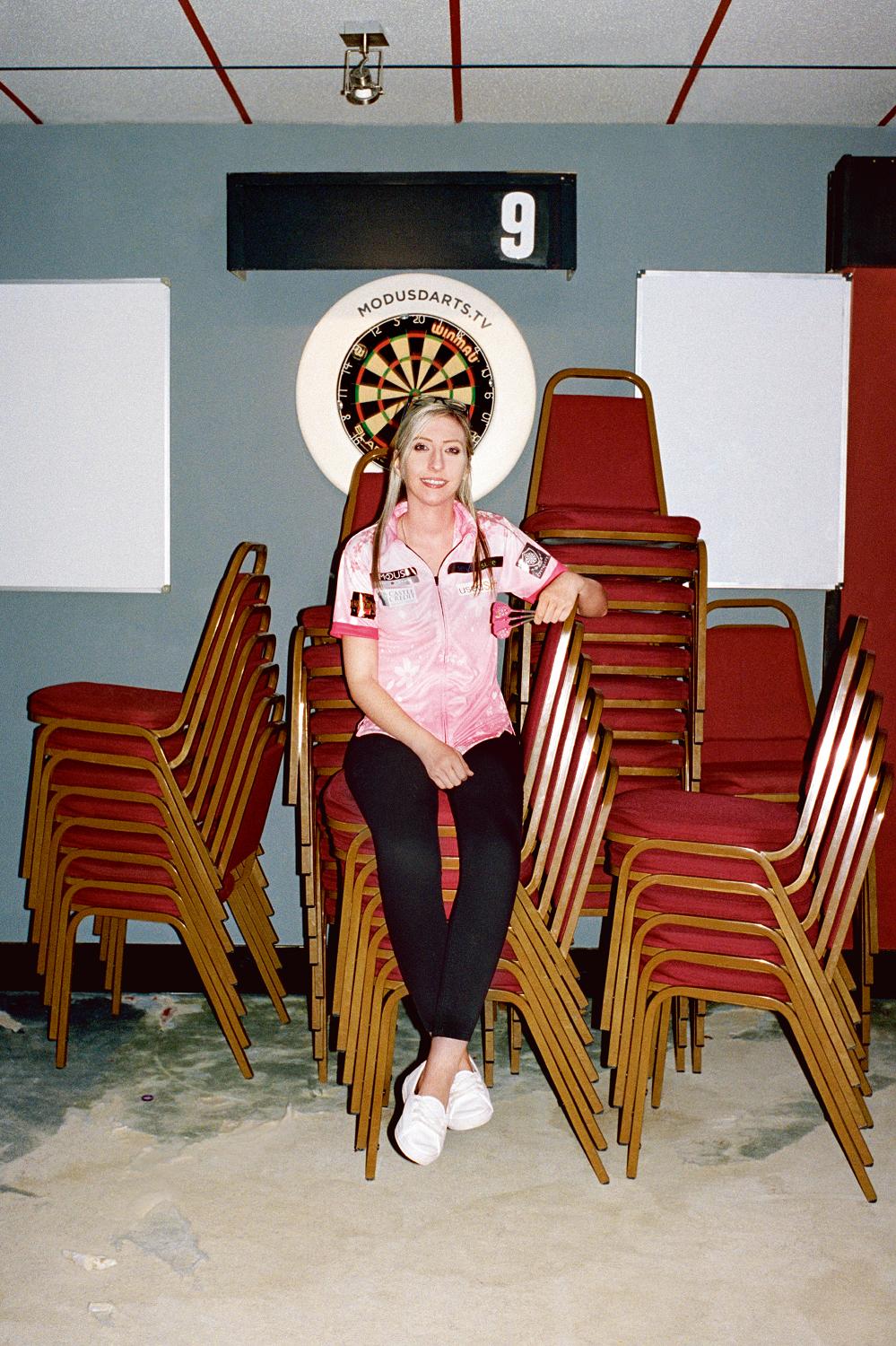 Darts is a family game, often handed down from one generation to the next. From the age of 12, Fallon watched her parents, Sue and Steve, play darts at county level for Bedfordshire. "Being around family and friends who played darts, it was a way of life and a good social meeting place," Sue tells me when we speak over the telephone a week later. "Fallon and her sister came everywhere with us." Sue now looks after Rory when Fallon's away. "All through lockdown, my mum was pretty much at mine, helping me," Fallon says. "I don't know how I would have done it without my mum."
Her twin, Felicia, who still competes, took up the sport earlier. Fallon didn't start until she was 17, when she joined Felicia playing in the Bedfordshire Super League youth team.
"After a few months, I could see she had that something special compared to the rest of us," Sue says. "Her composure and focus were noticeable, and her determination to win shone through. It wasn't just a fun night out with friends to her."
Fallon and Felicia were selected to play for England in 2011, but then Fallon just kept on winning. After her A-levels she postponed university, where she had considered studying forensic science, to concentrate on darts alongside working as a hairdresser. She doesn't do hair any more but says she'd still like to, if she had the time. "Especially dyeing someone's, when I've got to separate it," she says. "I just find that so satisfying."
Fallon's composure continues to be her secret weapon. Earlier in her career, she says, she had problems. "I'd be able to pull a game back scoring-wise, but I could never hit the double at the end or finish it off," she says. "A lot of the time I was unlucky, or I was shaking from nerves. So I thought: Do you know what? You're going to practise mentally how to control your nerves." She doesn't do any physical training – "apart from running after Rory" – but she believes in training the brain. "So now when I'm practising, I control my mind, thinking, This is for a big moment. Then when it comes to the actual big moment, I'm like, I've done this before."
Now she really has done it before, and on a global stage. And the darts world is more than ready for her to do it again. Like fans of rugby and cricket, some darts fans get into the spirit of the big competitions by wearing fancy dress. On the day Fallon won 3–2 against Ted Evetts, there were a couple of human-sized hot dogs at the front of the crowd, as well as a group in matching Where's Wally? red stripes. Now Fallon Sherrock fans have started turning up in her signature pink, donning blond wigs with a side-parting and black glasses. "It's just weird," Fallon says. "I never thought I'd have a fan base. I never thought someone like me would make such an impact."