Deeyah Khan
Risks it all  to make  documentaries that change minds. Why does she do it?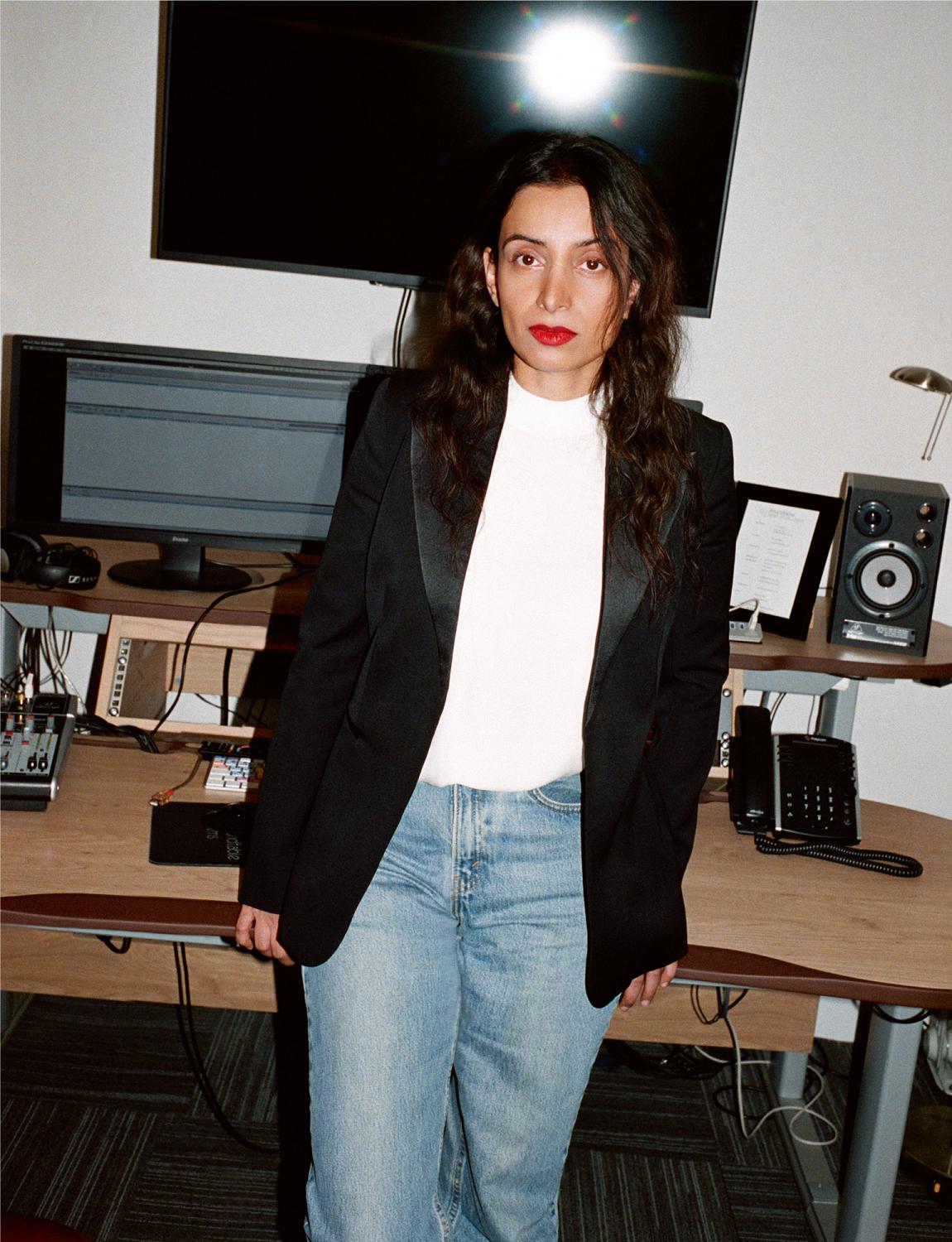 Deeyah Khan, 41, is determined to find the humanity in the people who despise her. She has been harassed by racists and radical Muslims since her days as a teenage pop star, but rather than turn against them, she has run towards them with a welcoming heart and a video camera in her hand.
In June, her latest documentary, about neo-Nazis in the United States, won an award for embodying "the spirit of the Nobel Peace Prize" – quite an achievement for a woman who learned lighting from an instruction manual, practising on a Nova Scotia retriever.
Imagine being stuck in a car for nine hours with a neo-Nazi: a man who reveres Hitler, is rabidly anti-Semitic and wants to establish an "ethno-state" for white people. Then imagine enduring this enforced proximity as a Muslim woman of colour. This may sound like the stuff of nightmares, but for the documentary filmmaker and activist Deeyah Khan, embarking on a 600-mile road trip with Jeff Schoep, the leader of the largest neo-Nazi group in the United States (or Commander of the National Socialist Movement, to use his grandiose official title), was a unique opportunity. It was, she tells me when we meet for lunch in a busy cafe in Canary Wharf on a sunny summer's day, a chance to "see beyond his loathsome ideology and try to reach the person underneath".
It was August 2017, and Schoep was on his way from Detroit in Michigan to Charlottesville, Virginia, to attend the now-infamous rally of white nationalist groups protesting the removal of Confederate statues, a march which rapidly degenerated into violence and led to the death of the anti-fascist demonstrator Heather Heyer, who was rammed by a car driven by a Nazi sympathiser, James Alex Fields Jr. Deeyah wanted to document the gathering for her latest film, White Right: Meeting the Enemy, a deep dive into the world of white supremacy movements and the resurgence of the far right in the wake of Donald Trump's election as president. When Schoep offered to drive her there, Deeyah seized the chance. "When you interview people in a formal setting, they tend to give you the official spiel, but when you're both cooped up in a car together for so long, anything is possible," she says.
Deeyah used the time to question Schoep "relentlessly" on everything from politics, immigration, racism and US foreign policy to his taste for heavy metal bands like Mötley Crüe. "I think he wanted to be a rock star," Deeyah tells me. "I said to him: 'That's why you're doing this, right? Because you have a lot of women swarming around you. But you don't really believe it, do you?' I asked a lot of rude, obnoxious things. I think I drove him absolutely crazy, but he was extremely gracious." And at the end of it, Deeyah was surprised to find that she liked him. "This is hard to say, but if you were to remove his Nazi ideology, Jeff is a really charming person; he's somebody you can be friends with and have a conversation with," she says. "If he was sitting here now, we'd be laughing and having a fun time." After Schoep saw White Right, he emailed Deeyah. "He told me the reason he spent so much time with me is because he felt very stimulated intellectually by the arguments I was making. 'Nobody has ever asked me about any of the things you asked me about,' he said."
The encounter with Schoep exemplifies Deeyah's vision as a filmmaker. Where others might choose to go undercover to infiltrate extremist groups, Deeyah negotiates with them directly, promising them the chance to tell their stories and listening to what they say. "She reaches people who might not trust the mainstream media," says Tom Giles, the controller of current affairs at ITV, the British broadcaster that has screened all of Deeyah's documentaries. "She's very good at winning their trust, and she gets an amazing amount out of them."
"My creative decision is to try and operate out of empathy," Deeyah says. "A lot of people criticise me for it. They say, 'Why don't you confront the neo-Nazis' ideology?' But I don't need to talk to them about Hitler. They want you to do it, and they want you to get upset. I am not going to fall into that trap." Above all, Deeyah says, she is "desperate to understand" those, like Jeff Schoep, who have embraced the politics of hatred and resentment.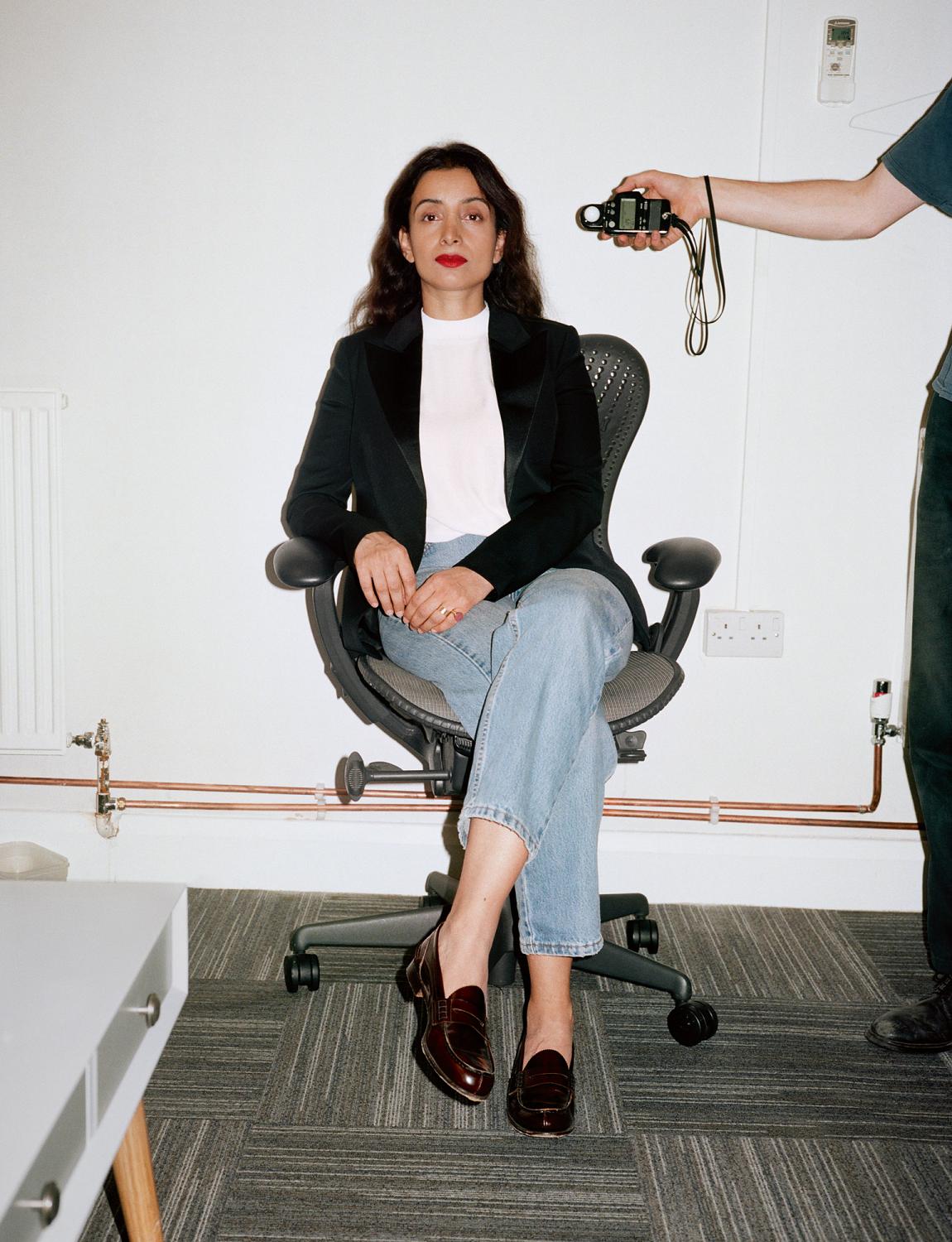 Deeyah, 41, has made four documentaries through Fuuse, the production company she set up in 2010, that have focused on both the victims of extremist violence and the perpetrators of that violence, such as the British former jihadi fighters she met for her 2015 film Jihad: A Story of the Others. Her aim, she says, is to "create the space for empathy, dialogue and better understanding, leaving less room for stereotypes."
When we meet, she is dressed down in a mustard check shirt, black leggings, a denim jacket and Nike trainers, and this casual garb combined with her slender figure and stunning features – long dark hair, deep brown Bambi eyes, full lips – give her the appearance of a Bollywood superstar trying to pass unrecognised in a crowd. Deeyah talks softly in long, well-articulated sentences delivered in perfect English, one of five languages she speaks. Norwegian and Urdu, the official language of Pakistan, are her native tongues, and she is fluent in Punjabi, her father's language, and has a smattering of Pashto, her mother's.
She was born in Oslo, Norway, as the daughter of immigrant parents. Her father is from Pakistan; in Norway he had a succession of jobs before eventually finding work as a waiter in a five-star hotel in the city. Her mother is Afghan and worked as a teacher and then a translator. When Deeyah was seven years old, her father sat her down for a conversation that would change the course of her life. The only way to be accepted by white people, he said, was to become famous. And the only way to do that was to excel at sports or music. "He didn't know anything about sports, so it had to be music," Deeyah recalls. "Then he gathered all my toys and dolls and threw them away. He gave me a crappy little Casio keyboard and singing lessons." From that moment on, Deeyah was forced to study Pakistani and northern Indian classical music for several hours at home every day. She was guided by two of the most revered maestros, Ustad Bade Fateh Ali Khan of Pakistan and Ustad Sultan Khan from India, who were brought to Norway regularly by Deeyah's father. "Music wasn't my dream, it was my father's choice," she says.
Her brother, Adil, who is five years her junior, remembers the ramifications of their father's decision. "She was always doing things with adults: singing, playing music. I feel like I lost her," he tells me by phone from Oslo, where he is a television presenter and public speaker. Deeyah had always been Adil's protector; their mother "was in and out of hospital, and our dad used to work a lot," he says. When Adil was seven, he was bullied at school. "There were very few foreigners there, which made things a bit difficult." His sister put a stop to it. "I would tell Deeyah, and she would talk to the teachers and to the kids." And it wasn't just her brother who Deeyah stood up for. "When I was nine or 10," Deeyah tells me, "there was a red-headed girl who was always being stomped on by everyone. And then when I was about 13, an Indian girl was bullied because she was heavier. The teacher did not intervene, so I had a go at the bullies and the teacher. She dropped my grade." It didn't deter Deeyah. "I liked taking the side of people who were unpopular. I always made a fuss and caused a problem, never thinking that was a bad or weird thing. I was very opinionated and confident."
The hatred of strangers was harder to deal with. When Deeyah was 12, a white man spat in her face as she was buying sweets. "'Get out of my way, you little Paki bitch,' he said. People hurried past and pretended not to notice." Adil remembers Deeyah "coming home with spit on her face, putting her head in my lap, and me not knowing what to do, not being able to help her because I was her little brother."
The abuse Deeyah suffered did not just come from white Norwegians. She gave her first public performance on national television when she was seven years old. At 13 she made her recording debut as a singer on the Norwegian saxophonist Jan Garbarek's album Ragas and Sagas, released in 1992. These performances led to severe harassment from her community. Some accused her of dishonouring her family; a girl's place is at home, they said. As she got older and performed more regularly, transitioning as a teenager into Indian-infused pop music and releasing her debut solo album I Alt Slags Lys ("In All Kinds of Light") at the age of 15, there were death threats and, on one occasion, chemicals were thrown at her while she was on stage. When she was 17, her parents told her to leave the country. They could no longer protect her, they said. And so Deeyah was driven out of her home and onto a plane to London.
"I couldn't stop crying; I tried really hard to keep it together," she says now. "I kept going into the airport toilet to wait until the tears would slow down, but they didn't, and I kept crying at the gate and on the flight. I was devastated to leave my brother and my mother, but my relationship with my father was becoming strained because he started breaking under the immense pressure from his community." For Adil, similarly, it was "one of the most devastating, catastrophic days of my life. She was my backbone, my safe haven, my safety zone. I can still see her walking away from us at the airport that day. She was wearing a blue shirt, looking back, tears in her eyes."
"My creative decision is to try and operate out of empathy."
Today, Deeyah travels to Norway to see her family three or four times a year. Both her parents are "incredibly proud" of her filmmaking career, she says. But when she first left Oslo for Britain she couldn't go back: the risk of violence was too high.
In London, she was alone. At first she stayed with acquaintances of her parents in Tottenham; not wanting to intrude, she spent her days in cafes on Oxford Street. "It was the centre, and I assumed that's where I needed to be," she says. She regarded the city as a strange, amazing place. Her mother had taken her there when she was 12, and "for the first time in my life I saw people who looked like me everywhere and felt like I didn't stand out. It was a very nice feeling." She didn't need money – she still had her earnings from Norway – but because she knew nobody, she got a job in a Levi's store on Oxford Street so she could meet people. "In time, you build a life, but it was very, very tough at first." Her second solo album, Deepika, was released in Norway in 1996, two years after her move to London. Deeyah was born Deepika Thathaal. It wasn't until 2002 that she officially changed her name to Deeyah and took her mother's maiden name, Khan. "My brother and I both decided we wanted to take her name to honour her and her heritage – and for me it was also a feminist decision," she says, adding, "my father completely understands and respects this decision." She eventually signed a deal with Warner Brothers in London under the then chairman Rob Dickens and managing director Moira Bellas and released a number of singles. But the resumption of her singing career fuelled more hatred and abuse from radical Muslims.
So in 2005, when she was 28, Deeyah walked away from it all. "I always hated performing," she tells me now, though she was persuaded by friends to release a final album, which she recorded as soon as she left the UK rather than leave it "in a drawer". Ataraxis, featuring the Police guitarist, Andy Summers, came out in 2007 on the independent Norwegian label Grappa.
Deeyah went to Atlanta, Georgia, to stay with friends she had met through her music. She suffered an almost complete breakdown. "I found myself absolutely broken, absolutely devastated, absolutely lost," she said in the commencement speech she delivered in May at Boston's Emerson College, where she was awarded an honorary degree. "I had lost my career. I had lost myself. I had lost my ambitions… And I had lost the feeling that I can own my life and my future."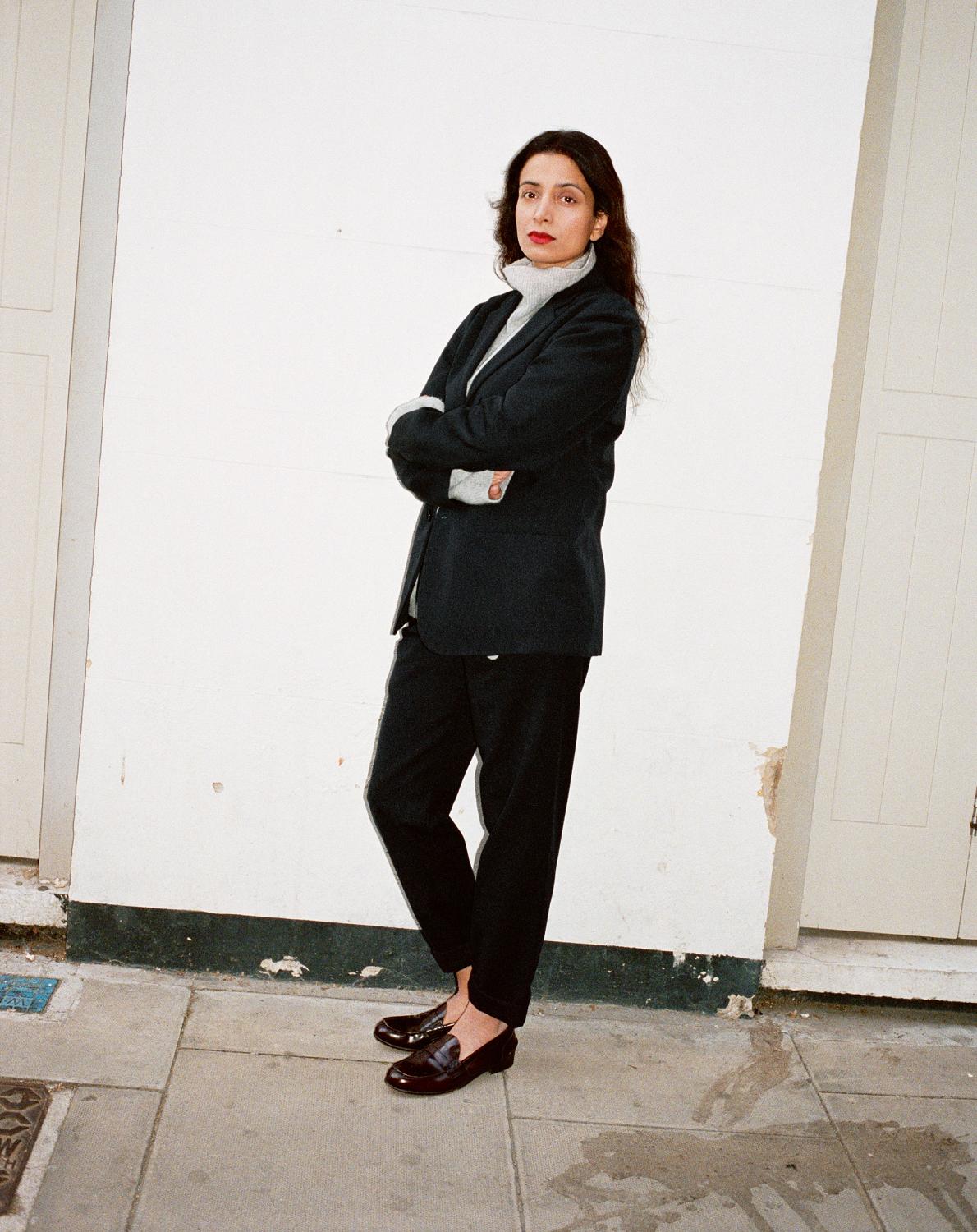 Deeyah spent, she says, two years "staring at the wall". Then she started contacting activist organisations working with Muslim women, particularly those at risk of so-called "honour" violence. It was while investigating this issue that Deeyah decided to make documentaries about the people and stories she cared about. She chose filmmaking, she says, because "I needed and wanted to address certain things in a certain way, and it was the only medium that is free enough and where you don't have to be able to film beautifully, where you can be political, you can be personal, you can be objective. It was a very good decision. I really, really enjoy it."
And first, she would tell the story of Banaz Mahmod.
Banaz was born in Pshdar, in the Kurdish part of Iraq. When she was 10 her family fled Saddam Hussein's regime and came to London. Seven years later, she was married to an acquaintance of her father's who was 10 years her senior and moved with him to the West Midlands. Within months he had become abusive. Banaz reported him to the police several times, asking for help. Eventually, after two years of marriage, she moved back to her family home in south London. She met an Iranian Kurd, Rahmat Sulemani, at a family party. They began a relationship, which eventually came to the attention of her uncle. Banaz again went to the police, even writing a note that named her future killers in case anything should happen to her. And on 24 January 2006, Banaz was raped and murdered by a group of men on the orders of her father and uncle. They stuffed her body into a suitcase and buried her in a garden.
Deeyah became "obsessed" with the case of Banaz and those of other victims of family violence. She had no training in filmmaking; she'd never even finished school. So she went to Darin Prindle, a music producer she had worked with who also ran a post-production house that worked with CNN. "I told him, 'I don't have any money, but I really, really want to do this film. Can you give me your time? It can't be that hard, right?' He said, 'Yeah, we'll figure it out.'" And so the two of them read manuals and Googled stuff, and Deeyah bought a little camera. Prindle, who also had no filmmaking experience, bought Final Cut Pro editing software. "We'd sit there late at night practising lighting on Koyo, a Nova Scotia retriever who belonged to friends. We just figured it out." Today Prindle is a producer at Fuuse and Deeyah's filming partner.
At first, Deeyah intended to make a film about several honour killings in Britain; she started working on this in 2008. But after she met Caroline Goode, the Metropolitan Police detective chief inspector who brought Banaz Mahmod's killers to justice, her focus became Banaz. "Caroline told me she loved Banaz, and that is what I was looking for. I was looking to make a film that would show the deadly consequences of us failing young women like Banaz but also the solution, which Caroline embodies." Deeyah moved back to the UK in 2012 to finish the edit of her film.
Banaz: A Love Story won a Peabody Award in 2012 and an Emmy for best international current affairs film in 2013. But Deeyah is most proud of the fact that Banaz is still used today as a training tool by police in the UK and Europe. "I made the film so that it could be useful in some way," she says, "not for awards or a commercial outcome."
As Deeyah has gained more experience, her filmmaking style has progressed. The grainy police footage and shaky handheld-camera sequences in Banaz have evolved into more polished shots, more ambitious action sequences, and the tighter editing of her latest film, White Right, which has just been nominated for an Emmy. "I've refined my craft," Deeyah says. "Having said that Banaz was intentionally very basic because I wanted the focus to rest on the police footage of Banaz, on her presence in the film." Deeyah has a bigger platform now than she's ever had before. Since June, White Right and Jihad have been streaming on Netflix in Britain and the United States.
"I'm not a gun for hire. If I don't feel passionately about a topic, I wouldn't be able to make a film about it."
She has, she says, learned to live with the anger and abuse that have dogged her life and that she still faces from racists and radical Muslims, now directed at her because of her films and because she is a prominent campaigner for women and people from minority backgrounds. Meditation has helped. "I do 20 minutes every morning, to find some level of balance. It's very relaxing and enjoyable." She knows how to stay safe. By necessity her life is extremely private; she asks me not to reveal the British city in which she lives alone in a rented flat – "I can't afford to buy a place." The money she made from her singing career is long gone, and anything she makes from her films is mostly reinvested in Fuuse.
"Deeyah is always working, making films or promoting them, giving talks or raising awareness of the issues she cares about," Jett Mall, Fuuse's director of operations, tells me. "Her work ethic is through the roof." Deeyah oversees every aspect of Fuuse's output, from making and commissioning films to producing music, organising conferences and supervising content for Sister-hood, an online magazine focusing on women of Muslim heritage that's run by the production company. She also does advocacy work with women's groups across the Middle East and was appointed Unesco's first Goodwill Ambassador for Artistic Freedom and Creativity in 2016. She focuses on the issues that matter to her. "I'm not a gun for hire," she says. "If I don't feel passionately about a topic, I wouldn't be able to make a film about it. I couldn't make a film just for the money."
Luke Moody, the director of film programming at Sheffield Doc/Fest, says that Deeyah is part of a new wave of filmmakers who want to tell stories that are close to them and to channel their rage and passion into documentaries that can effect change. "They're not simply parachuted into a story by a commissioner," he says. "That's what Deeyah does very well: tell stories of racism and extremism that are close to her in all their complexity." Clips from White Right were shown at the festival in June as part of a discussion on representation in documentary filmmaking.
Once Deeyah finds a story she wants to tell, she pitches it to ITV. Since purchasing Banaz, the broadcaster has green-lit all her ideas. She has an "uncanny ability to make a film out of anything," ITV's Tom Giles says. She describes the film she'd like to make next – about the preponderance of veterans in white nationalist movements – as "too dangerous for someone who looks like me." She recalls a rally of drunk, gun-toting neo-Nazis, many of them veterans, which she attended in Tennessee while making White Right as a "profoundly frightening experience. Someone should really look into this, but it can't be me; it needs to be someone white."
In her films, Deeyah rarely passes judgement on those she is interviewing, instead puncturing the bluster of their rehearsed slogans by catching them off guard with questions about their feelings and dreams. "The only way to break these movements is to confront them and to reduce their appeal, and the only way to do that is to understand what the appeal actually is," she says. As a result, her films are both compassionate and insightful.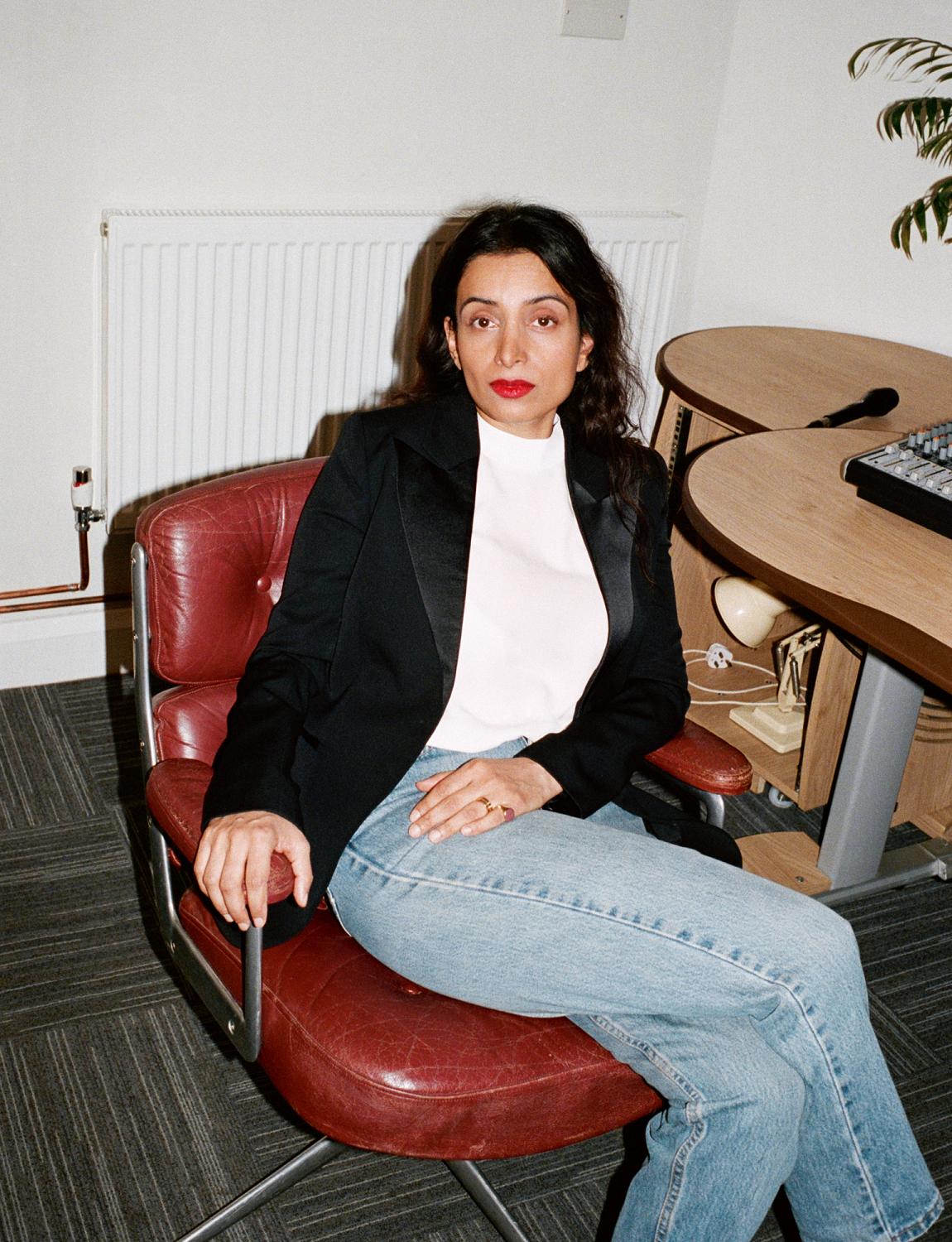 In White Right, neo-Nazis tell stories of abusive childhoods, bullying and beatings at school and at home, loneliness and dispossession. They explain how joining a white nationalist group gave them a community and the acceptance they had long craved; how it gave them power when they had always been powerless. Remarkably similar stories are told by former jihadi fighters in Jihad: A Story of the Others, Deeyah's 2015 film about radicalisation in Britain. "When someone for the first time starts to understand you, emotionally support you, puts their arm around you, shows compassion and love for you, this is enormously powerful and compelling," one former radicalised Muslim tells Deeyah.
If the underlying causes are comparable, so are the solutions, she says. "We ignore the similarities between religious extremism and ethno-nationalism at our peril," Deeyah wrote in a newspaper article last year. Now she says, "The fact that young men who join extremist movements feel so insignificant, whether personally or politically, that says something about us as a society. And I find that really interesting and also really sad. How can we support the isolated and marginalised, the returning war veterans who feel forgotten and abandoned by the country they've served and who form a disproportionate part of white supremacy movements? The young Muslims who struggle to bridge the gap between the culture of their parents and the cultures of the Western countries they are living in? These are questions we all have to face. We all have a part to play."
She has, remarkably, become friends with some of those featured in her documentaries. One of them is Abu Muntasir, the now-repentant "godfather" of the British jihadi movement who recruited scores of young men to fight overseas in the name of Allah in the 1980s and 1990s and paved the way in Britain for the ideologies of al-Qaeda and Isis. In Jihad, Muntasir sobs inconsolably when Deeyah asks him if he has forgiven himself for what he's done. She tells me, "I never thought in a million years that I would call this man my friend, but meeting him was a cathartic and moving experience." She is also in regular contact with former and current neo-Nazis she met while making White Right, including Brian Culpepper, the former PR director of the National Socialist Movement, who is shown Skypeing her at the end of the film to tell her he has stepped down from that role after 11 years, partly because he was upset at the racist insults some of his fellow neo-Nazis had directed at Deeyah. "I've made a new friend, and she happens to be of the Muslim faith; you're my first one," he tells her. Deeyah takes this friendship very seriously, she tells me. "To me friendship is really a serious thing. And since some of the neo-Nazis consider me to be their friend, I am trying to honour that.
"My obsession is trying to find the possibility of something better," she continues. "Obviously I'm interested in darkness, but in the darkness there is always something else as well, and I'm interested in excavating that, wherever that might be. To me, there's always hope. There are always incredible people who show an incredible amount of humanity, even in the worst of stories."
While Deeyah seeks out tales of redemption, she also offers glimpses of a better life to those she encounters. Take Ken Parker, a neo-Nazi who appears in White Right. A US navy veteran who for years was a member of the Klu Klux Klan before joining the National Socialist Movement, he is shown in the documentary distributing anti-Semitic leaflets around a Jewish neighbourhood in Jacksonville, Florida, where he lives. Meeting Deeyah, the first Muslim he ever spent time with, changed his life, he says. "I enjoyed the experience; she is a really intelligent woman with a good heart," he tells me by phone from his home. When his time with her was over, he adds, he watched her "walk out the door, and I remember thinking, 'I'm going to be in this movement just [a few] more months; it's not going to last forever.'" Parker has since left the neo-Nazis, is studying at a local trade school and, most surprisingly of all, has joined an African-American church, where he stood in front of the congregation and told them about his past life as a Klansman and neo-Nazi. "They've shown me nothing but love," he says. He credits the church's black pastor and Deeyah with changing his life. "Just by being nice and using conversation and being a friend, she had a huge effect on me. How can you hate someone like that?"