Christy
Turlington
The campaigning supermodel that everybody loves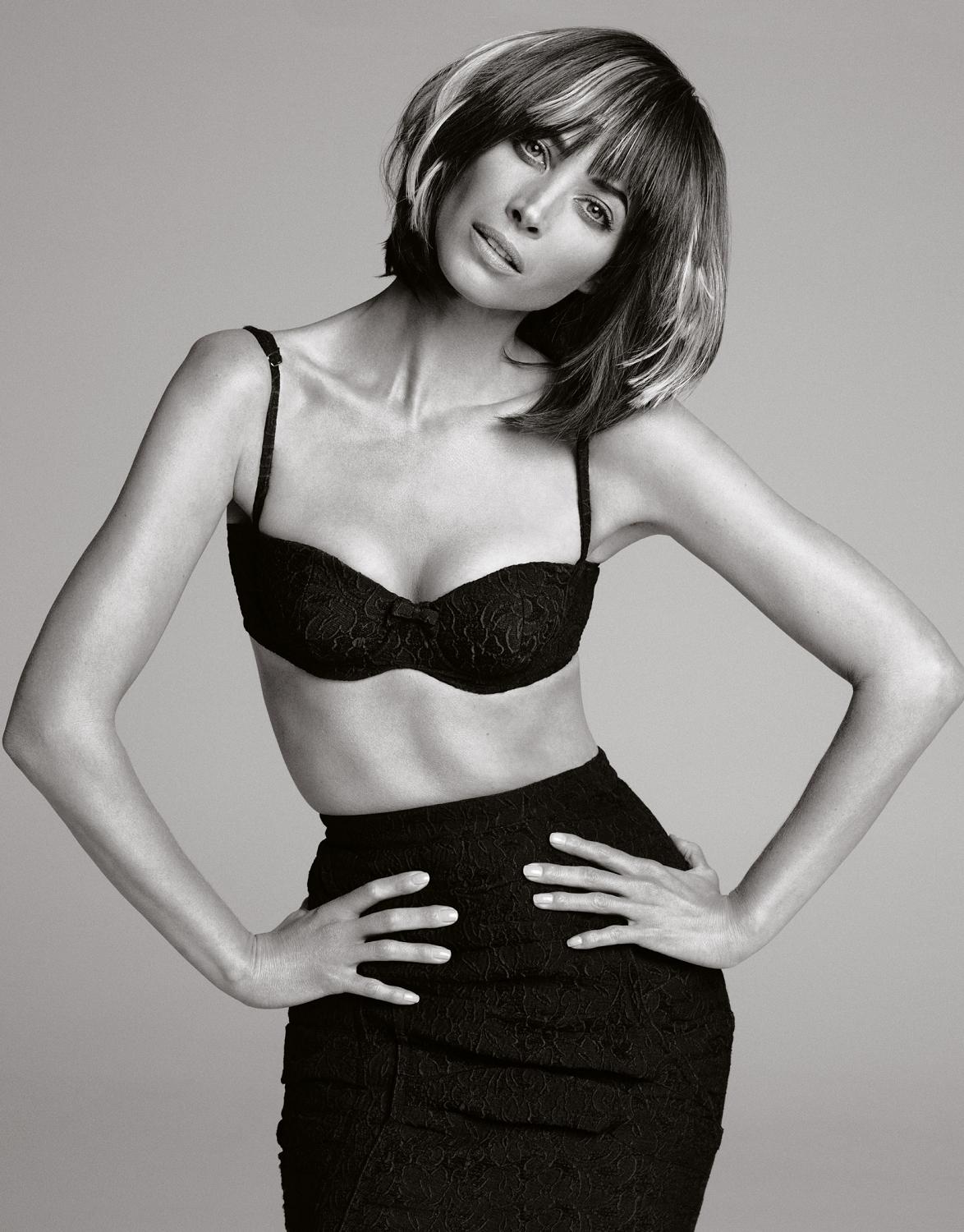 It only takes 15 to 20 days' work a year for Christy Turlington to maintain her title as the world's best-loved supermodel – one she's held for nearly 30 years. With fashion's ongoing appetite for older faces, the ravishing 43-year-old is still the industry's paragon of beauty. But modelling is just a side project for Christy, also known as Christy Turlington Burns. She devotes her other 345 days to realising the United Nations' commitment to improving maternal health through her charity, Every Mother Counts. Based in New York since her days in the notorious Ford Models townhouse, Christy loves Twitter and has been known to post 15 tweets in a day.
"She's a tomboy! I would be shocked if she wanted to." But if she did, I insist, would you let her? "No, I would not," says Christy Turlington Burns, asked whether she'd allow her 8-year-old daughter, Grace, to walk the catwalks in a few years, the way Christy did when she was 14. It's an unusually warm January afternoon, and we're eating beetroot salads at Locanda Verde, Robert De Niro's restaurant in New York's Tribeca, which happens to be across the street from the home Christy shares with her husband, the filmmaker and actor Ed Burns, and their children, Grace and 6-year-old Finn.
The model, at 43, is still among the most ravishing creatures on earth. The world knows her name thanks to the swathe she cut on catwalks at the end of the 1980s, along with Naomi Campbell and Linda Evangelista, as part of the trio of star models known as the Trinity. But what allows Christy to linger in the public imagination – the reason the world still cares about her – is the good works she's done alongside her incredible career. She hasn't exactly been idle in the intervening years. She's been busy founding successful clothing and skincare lines, setting up a charity and obtaining a bachelor's degree, all while looking after her children. One can imagine it's the life she might have lived had her mother not permitted her to leap headfirst into the bizarre world of teenage modelling. "I have had issues with my mom about her allowing me to work from such an early age," she says. "But in retrospect, I guess being given so much freedom was a way out of a lot of things I was dealing with at the time. Perhaps it's a wonderful thing that my mother thought that as a young adult I could survive this thing."
"I am positive, optimistic. When people say it's hard to effect real change, I think that's bullshit!"
Lana Turner was supposedly plucked from a stool in Hollywood's Schwab's drugstore; Gisele Bündchen was spotted hanging out with her friends in a Brazilian mall; Lara Stone was discovered on the Paris Métro. Christy, a passionate teenage equestrian, was scouted as she rode a horse back home in Florida. "He was kind of creepy, to tell the truth," she says of the man who took the test photos that started it all. "I didn't really want to do it – I didn't even really know what it was all about. But my mom agreed. The pictures are hilarious to look at now. When he was taking them, he said, 'Look bitchy.' I was 14 – I didn't know what he was even talking about!" For someone who has spent so much time in the public eye since then, Christy seems free of fuss or artifice, right down to her Manhattan-mommy mufti: a grey A.P.C. sweater (a birthday gift from her sister, who is married to Ed's brother, making them both sisters and sisters-in-law), a Rag & Bone T-shirt, and – she twists around to view her divine backside but can't confirm it – a pair of what might be "fancy" jeans.
Her casual outfit and demeanour underscore her frankness and openness. When I, a virtual stranger, ask how she has managed to emerge so unscathed and curiously unspoilt, having been let loose in that world and so young, she laughs and confesses that sometimes her husband teases her, saying things like, "Let's see, when I was trying out for junior varsity in high school on Long Island, you were having cocktails with Karl Lagerfeld."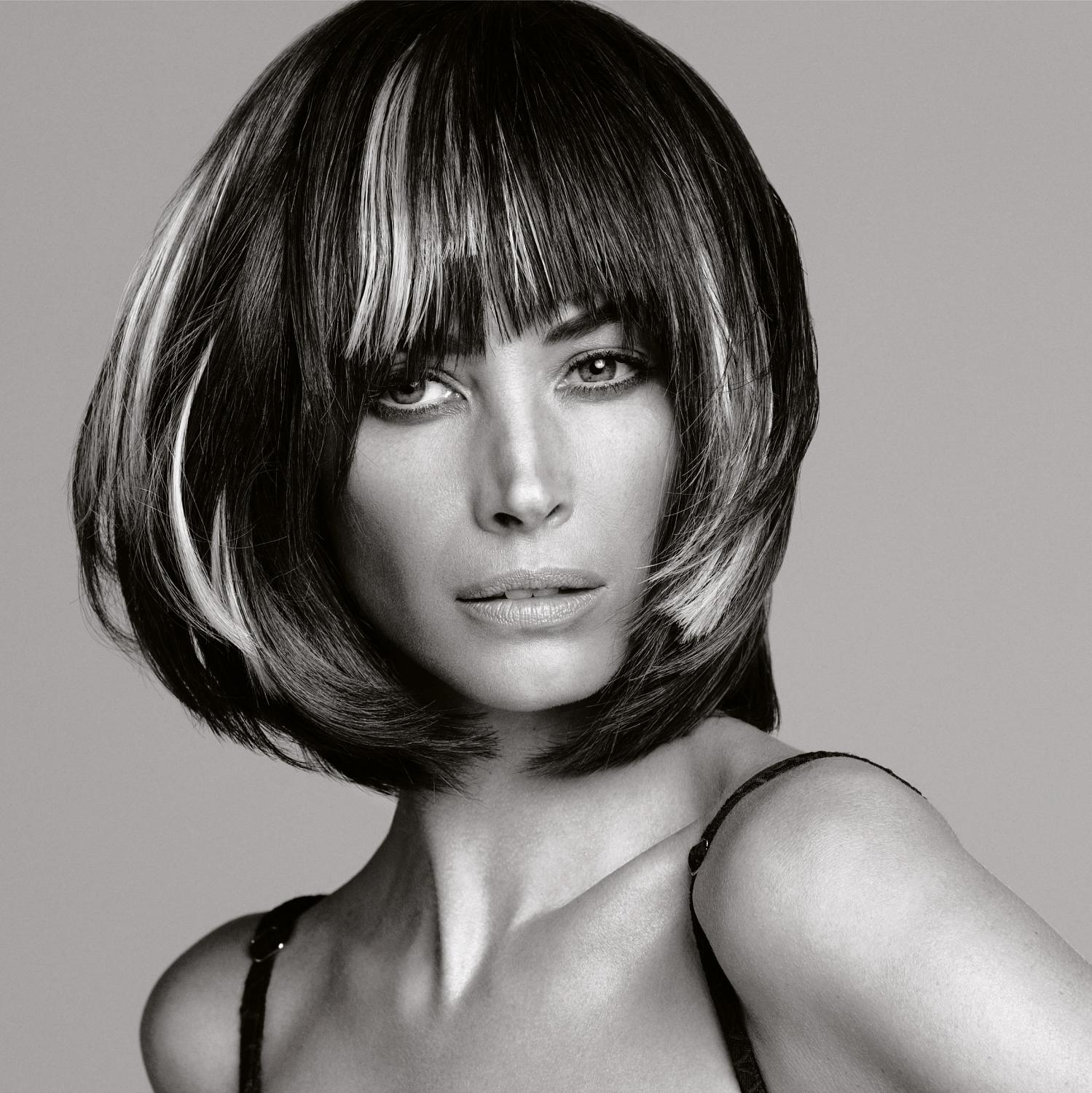 An indifferent student as a teen, Christy returned to education a decade later with considerable zeal. In 1995, she put her modelling career on hold for three years and enrolled at New York University at the age of 26, majoring in comparative religion and Eastern philosophy. She took it very seriously. "Maybe because I was paying for it," she laughs. "I'm a typical return student. I sit in the front row." Did the other students gawk and point? "I thought, 'Oh, they're so self-involved, they don't even notice me.' But later, I met people who said, 'We followed you home one night!'" Now she's studying for a master's in public health at Columbia University. "I love it, love it, love it," she says, though she's only midway through, due to the demands of motherhood, a still-vibrant modelling career and, not least, the charity she's founded.
Every Mother Counts (EMC), an advocacy group dedicated to furthering maternal and child health, grew out of Christy's own harrowing experience after giving birth to Grace, when she experienced a potentially life-threatening haemorrhage. Although her condition was quickly stabilised, it made her realise how crucial immediate access to medical care can be. By 2015, the organisation aims to reduce maternal mortality by three-quarters and under-5 child mortality by two-thirds, meeting one of the eight goals of the United Nations' Millennium Declaration. Christy uses her considerable profile to rally support, online and increasingly often in person.
Last December, she released the DVD of No Woman, No Cry, a powerful documentary depicting the dire standards of care faced by pregnant women in Tanzania, Bangladesh, Guatemala and the United States. Christy directed and produced the film in 2010 through her company, Turly Pictures. It was an official selection at several international film festivals. Now, she's throwing herself into touring it and attending special screenings. The EMC site invites bookings for Q&A sessions with the director, in person or via 30-minute videoconferences.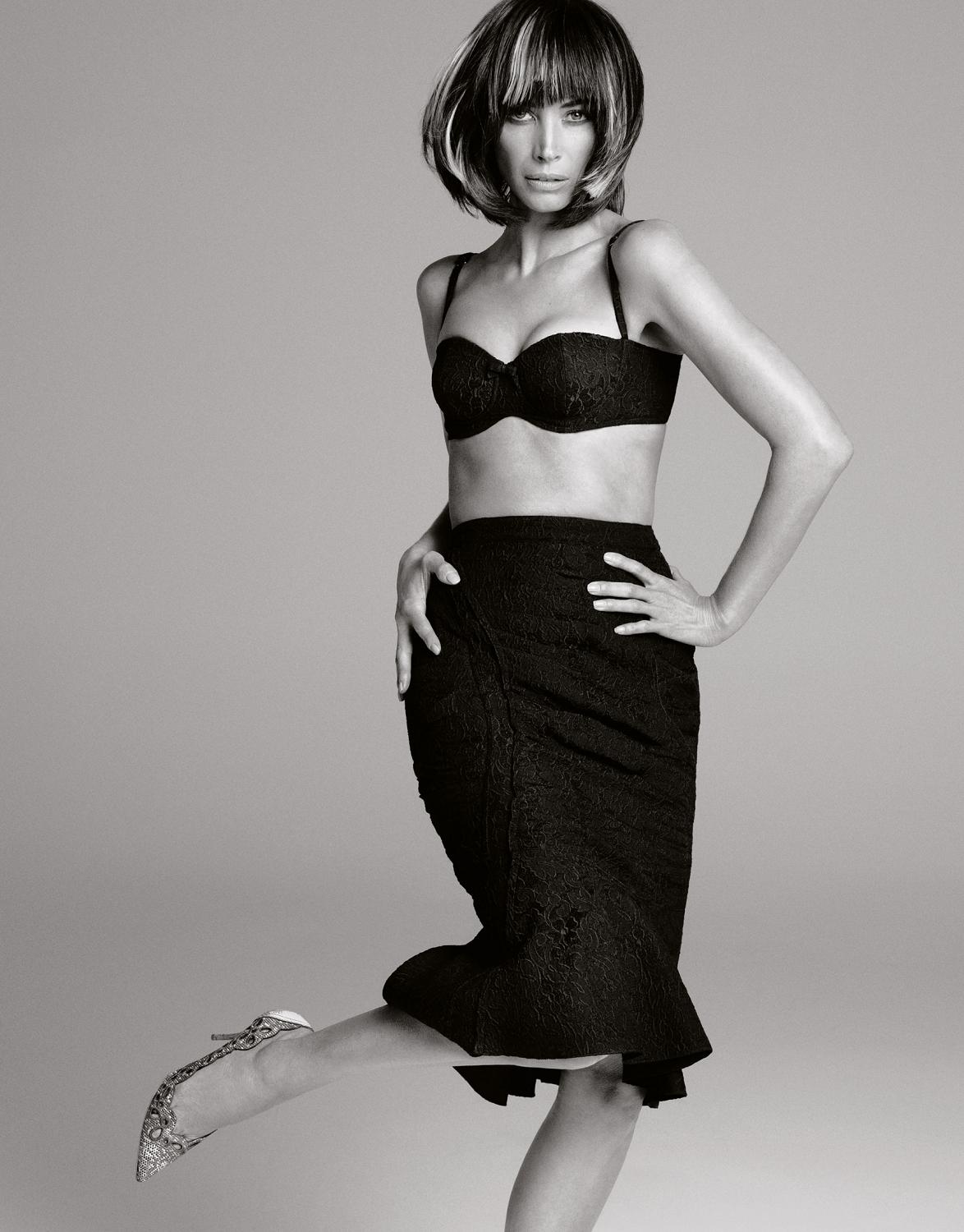 Christy's face lights up when she describes the work EMC is doing around the world. She describes herself as more of a policy-oriented person than a political one. "I don't find politics the most effective way to do what I do. But I am positive, optimistic. When people say it's hard to effect real change, I think that's bullshit! We need reform. You can't just wait for Washington." She's not too jaded, though, to feel the electric current of power that rushes through the nation's capital. "When I go there, I can feel the thrill in the air."
In the past two years, she's found Twitter a useful tool for posting new research and publicising the activities of EMC and its peer charities in up to 15 health-related tweets a day. Over 43,000 people now follow @CTurlington, whose self-penned description reads: "mom, global maternal-health advocate, author, filmmaker, public-health student, yogi," and lastly, "model."
Christy says she probably owes her endurance as a model – her longest-standing role – to her nature. Two seconds later, though, she's crediting her mother, who, in spite of their differences, travelled with her daughter in the early years. She accompanied Christy to Rome back in the early 1980s, when the Italian shows were held there and the young model was so unworldly, she spent her downtime buying porcelain dolls. If her mother hadn't given their phone number to that guy who was hanging around the stables, would we be sitting here right now?
When people began to get interested in Christy, there were rumours of family difficulties, and Christy and her two sisters running away and living rough. "It's all been so exaggerated," she says now. "We didn't live on the streets. I was having a hard time with my family – there was a lot of stress. One time, we went to a family counselling thing, and afterwards, as we pulled into the driveway, my oldest sister ran into the house to get her birth control, and my other sister and I hid in the bushes, and then we all took off. I stayed in the attic of my sister's boyfriend's house, and with other girls, but it was around Thanksgiving, and none of us were home. Our mother was devastated."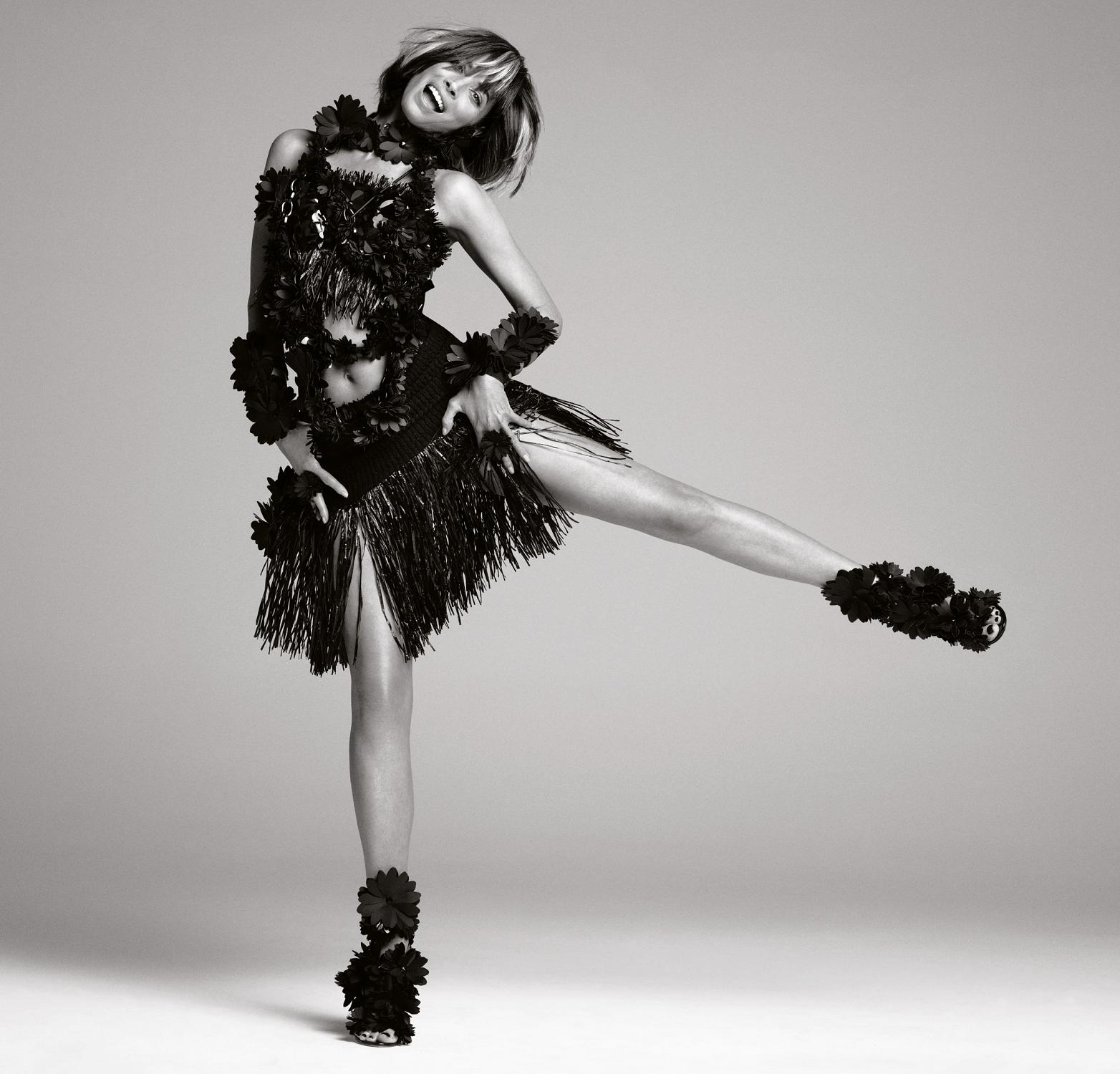 By the time Christy was 16, she was living in Eileen Ford's legendary townhouse on Manhattan's Upper East Side, having signed to Ford Models in 1984. Ford and her husband, Jerry, ran the most successful model agency of the day and the pioneering agent accommodated many of her younger models in her home. Dermatologists, hairdressers and nutritionists were on hand to keep the girls looking their best. There was a strict rule book, and a curfew.
In the early 1980s, most of the New York shows were still held in the designers' own showrooms, for an audience of professionals intent on looking at clothes, not drooling over models. There were no television cameras, no celebrities and very little glamour. But the fashion world was changing rapidly. "I first went to Europe regularly when it became lucrative in the mid-'80s," Christy says. "I mean, eventually Gianni Versace was going to fly me and Cindy and Linda over to Italy just to wear one outfit, and pay us well." It took a while for it to dawn on her that you could stay wherever you wanted, not just where your agency put you. "Once I'd worked that out, it made all the difference to come back to a nice room." In Paris, this meant the Ritz, though she doesn't stay there any more. "I stay at the Meurice now – that's my grown-up place. It doesn't have so much history for me. I don't like to go backwards."
Far from missing the frothy intensity of the old days, she says she didn't even care for it much at the time. "The cycle of the runway shows was the part I hated, the chaos of it all. I'm a homebody, a loner type. It was such a circus, and everyone had access to you." There is a record of all the cacophony. In 1993, the documentary filmmaker Robert Leacock shot a movie called Catwalk, which followed Christy on the job in New York, Milan and Paris. It's an odd chronicle, both glamorous and rather sad, in which the waifs are indeed waifish and the rigours consist of being pulled, prodded and powdered, zipped and zapped with hairspray from dawn to midnight. (The whole movie is available on YouTube. Before you judge the women too harshly and dismiss their exhausted hotel-room chatter as self-absorbed and inane, it's worth remembering they've just worked an 18-hour day and none of us is at our best at 3 in the morning.)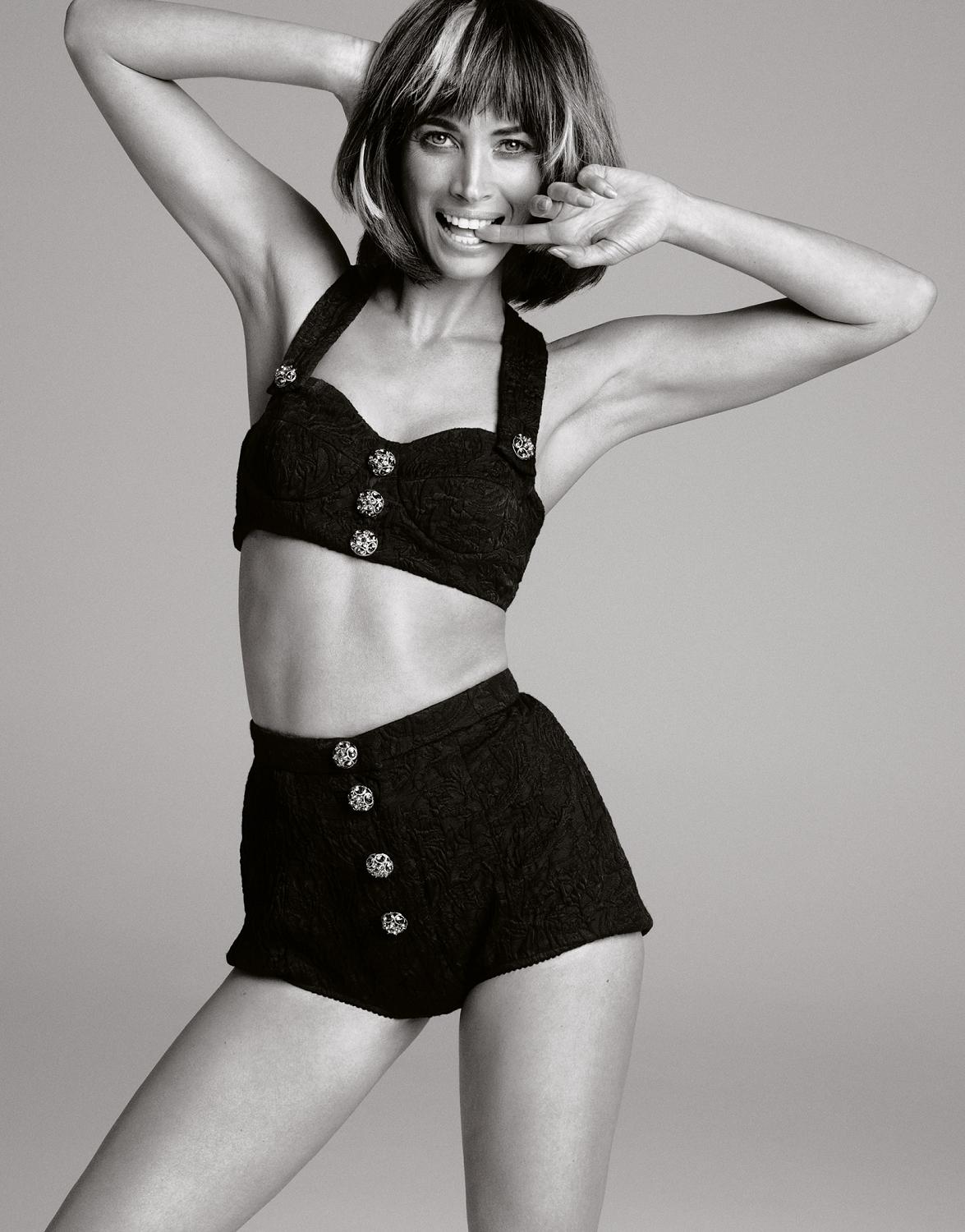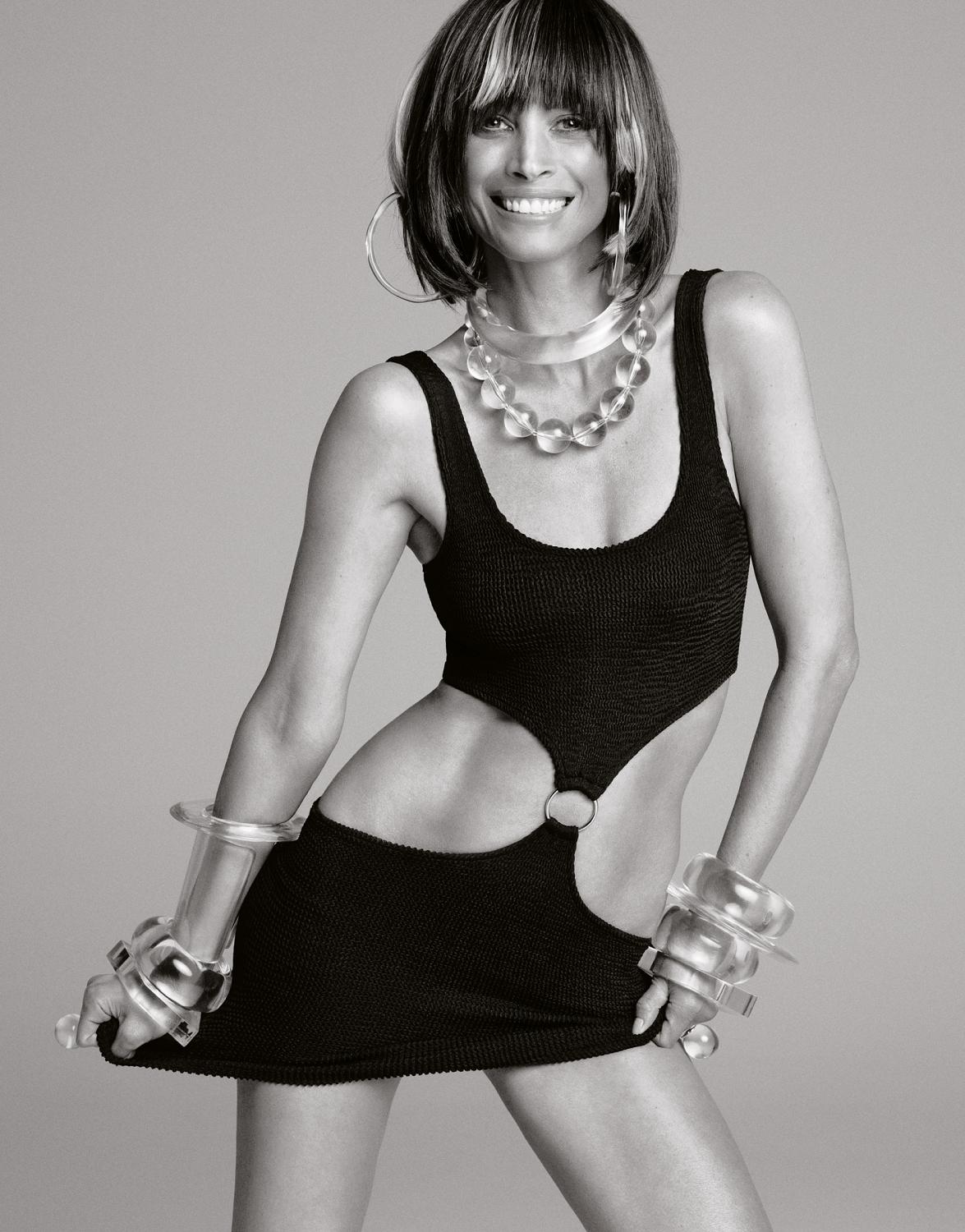 This brings us back to the Trinity, who so enraptured fashion followers during their reign, a period perhaps defined by Linda Evangelista's notorious comment in the October 1990 issue of American Vogue that she wouldn't get out of bed for less than $10,000 a day. "The Trinity was mere folklore, smoke and mirrors," Christy insists now, with a flash of – not anger exactly, but maybe pique. "I didn't want to be in this 'Trinity'. That's actually a term Michael Gross made up, I think, for his book Model. No one ever called us that, at least not to our faces. There were all kinds of different relationships – I introduced Naomi to Steven Meisel, for example, and they had their own relationship, more one-on-one and less of a group thing."
Huge as she was becoming, she says, shrugging, that she didn't even take her career seriously for a long time. "I thought it was a short-term thing. And then the travel, the good living – it just kept going and going. I didn't plan on it." And what about all the antics, the high jinks? "It was fun to go from being on your own to being in a group," she says simply. "We were friends, some more than others."
"I liked a lot of things about being in business – the creative parts, identifying a gap in the market. And once I start something, I finish it."
Come on, Christy! You were young, and the most gorgeous person in the world! It must have been amazing? "Sure, sometimes. I went to Nepal with Kate Moss, and we had a blast. The pictures were ecch, but we were riding elephants in the jungle, giggling about everything. Kate is great to travel with." They would go out dancing, too – to the Wag in London, the Palladium and Tunnel in Manhattan. "It was a great time to be in New York." She claims she never saw a drug until the mid-1990s. "To this day, I never saw anything on a set. But yes, at parties afterward." Or maybe it was all around her but she was somehow insulated – she insists that she doesn't bring out a dark side in even the most nefarious people, that they tend to think of her as a little sister. But it's also possible that she exuded sophistication beyond her years. "I did stuff when I was a teenager, but it never became a lifestyle. I learned my tolerance."
The part of the job she says she liked best, and still enjoys, was working with a favourite photographer – Richard Avedon, Steven Meisel, Bruce Weber. "It was freaky but normal. I liked the 9-to-5 of it all, the structured nature of being in the studio with a team. The shoots felt more intimate – 'a pleasant day in the office,' we used to call it." Lucky enough to work with the best photographers of the period, she remains enormously proud of her work on Calvin Klein's iconic Eternity campaigns, in which she starred from 1988 to 2007. "When I look back, I think it stands the test of time – the images are so clean and dreamy."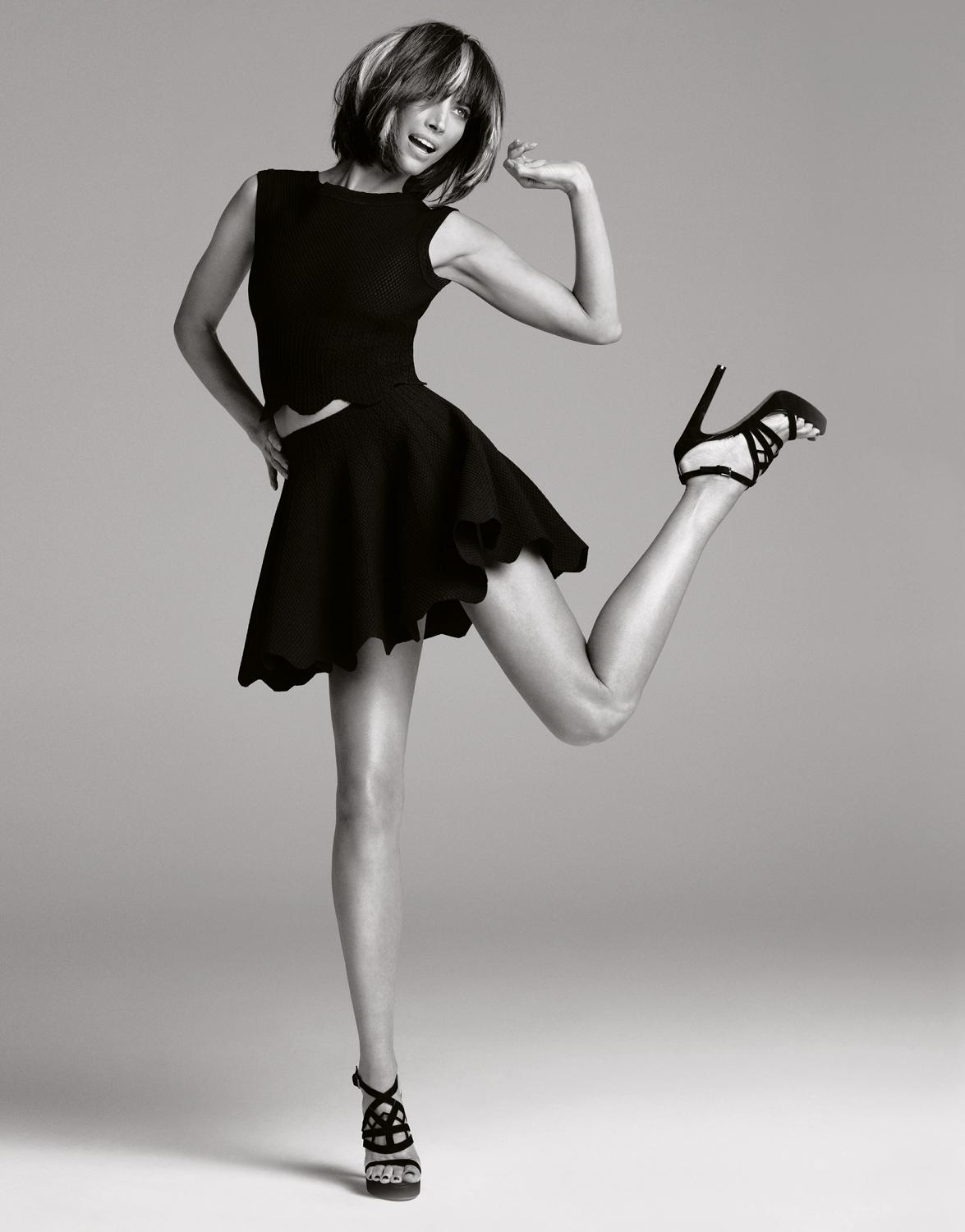 Yoga, a rather more marginal practice back then than it is now, helped to keep her sane, she says. "I'd discovered it when I was 18. I had a boyfriend who was into it. It was the only good thing I got from him, but it was a big thing. I could use those tools when I would feel uncentred. I was going straight from shoots to retreats, all dressed in white. I loved it." It also led her to start two businesses. She says she still sees Nuala, a line of yoga clothes launched with Puma in 2000, as a major achievement. "I still own it, but it kind of fizzled out. When I started it, there were no other clothes like it; now, there's tons of stuff." She sold her other endeavour, the Ayurvedic skincare business Sundãri, in 2003, but it remains a presence in her life. "My husband still uses this one product – Neem cream. He swears by it. You know, I liked a lot of things about being in business – the creative parts, identifying a gap in the market, finding out what a community needed and wanted. And once I start something, I finish it."

With the demands of her kids and her cause, does Christy still have a place in her heart for clothes? "Actually, I wasn't that into fashion, ever. But I understand that it can be a big form of expression for people." Told that Claudia Schiffer reportedly has an aircraft hangar full of clothes, Christy says she has just a few things from the old days in storage and is today a very modest shopper. "I appreciate the beautiful things I got to wear, but it's hard to justify the expense. The economy is crashing, and clothes are getting more expensive. Some fashion is art – but I'm not buying huge pieces of art either." When she needs something for a rare red carpet event, where people expect Christy to look like Christy, she says she runs down to the Stella McCartney store. And she admits she gets a kick out of her daughter's reaction. "Now, if I put on lipstick, she goes, 'Ooh!' So I guess I still appreciate the power of fashion through her eyes."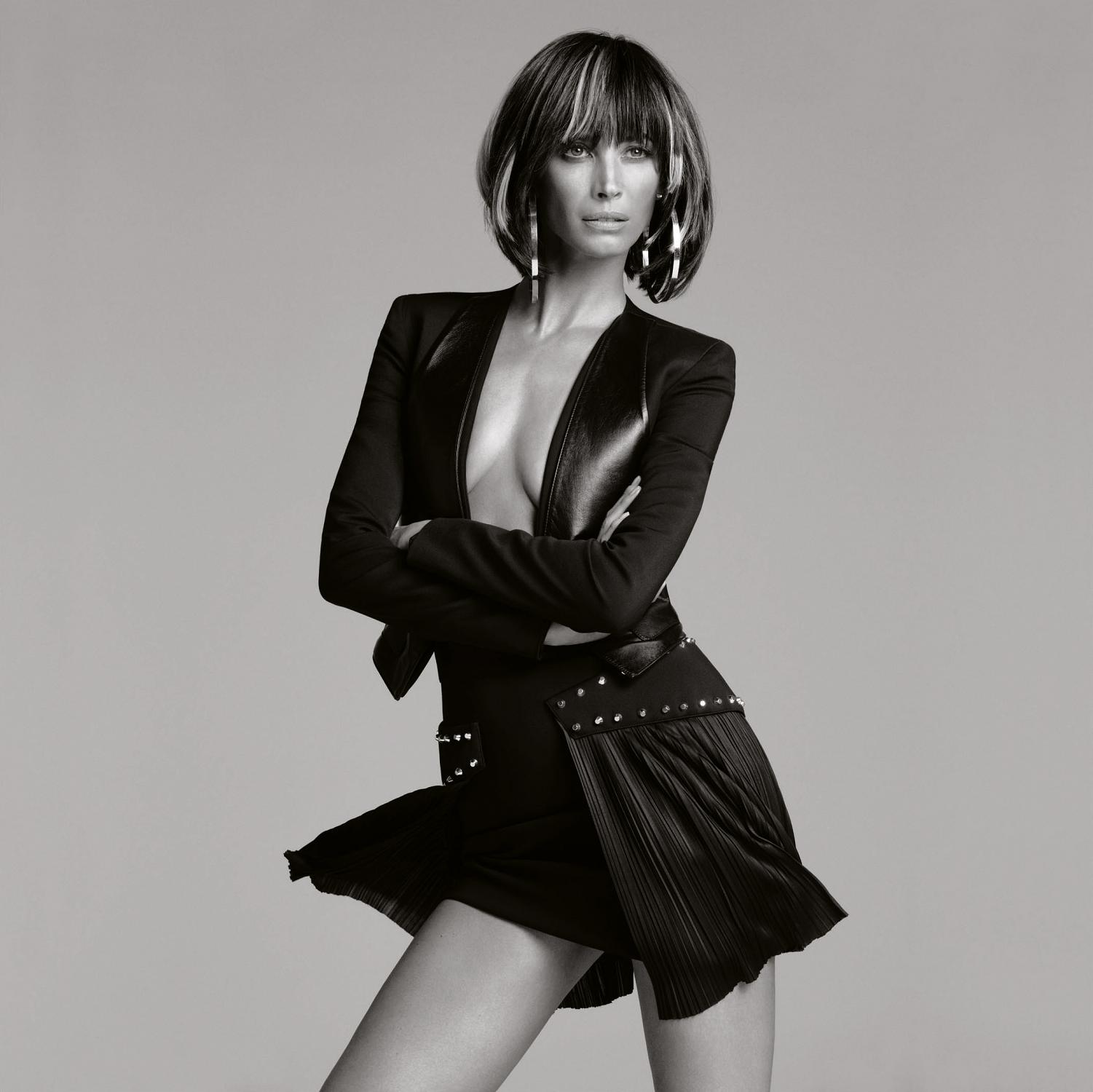 Christy estimates she still reserves 15 to 20 days a year for modelling. "If the dates work and it's not embarrassing, I do it!" She especially enjoys working with the photographers Inez van Lamsweerde and Vinoodh Matadin, with whom she's had a long relationship – and who shot the pictures on these pages. "I love collaborating with them. They get me; they never put me in a situation where I feel exploited or uncomfortable." While Christy says she's "not working so much right now," her recent campaigns include ones for Louis Vuitton jewellery, Donna Karan fragrances, Avon, and Maybelline, with which she's renewed her relationship after working with the company from the ages of 22 to 32. "We shot in Cape Town last January. It was summer there, and then, being in Africa, I could do my advocacy work afterwards."

Lately, too, she's found time to return to one of her earliest enthusiasms – the one that started it all. "Last year in the Hamptons, I went horseback riding. To be honest, it's still one of my favourite things to do." She takes a sip of tea, a look of calm amusement on that world-famous face. "I think it's because it reminds me of my pre-modelling self. My innocence."