Chitose
Abe
Japanese fashion looks to its future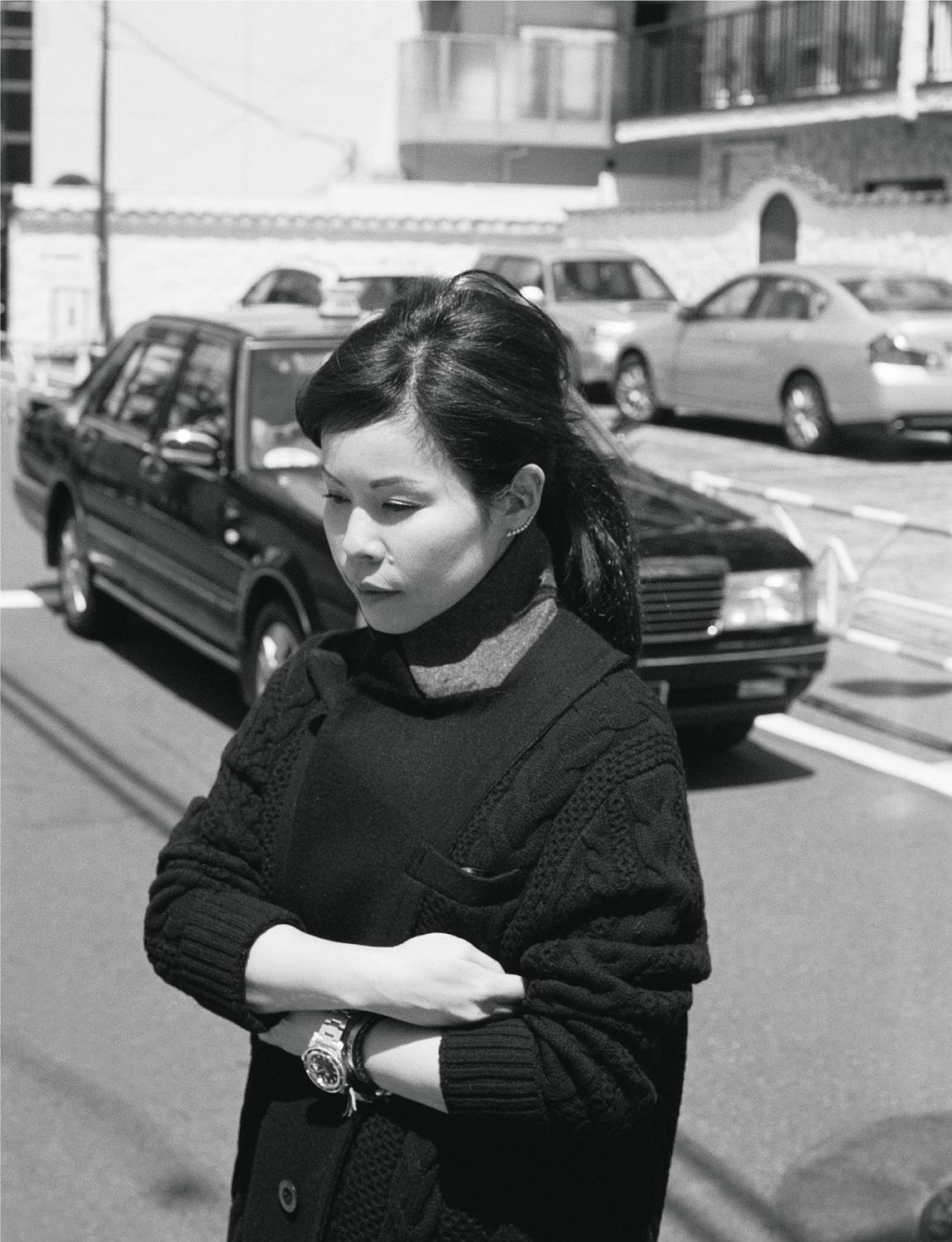 Chitose Abe makes the fashion world use up all its superlatives at once with her magical designs, which combine the key components of the classic wardrobe in the most unconventional ways. But there's nothing whimsical about her talent, honed at Comme des Garçons; her entrepreneurial determination; or her individualistic approach to expansion.
Since 1999, the 48-year-old Tokyoite has grown her three labels – Sacai, Sacai Luck and Sacai Man – at an elegantly dignified pace: she only started showing on the Paris runway three years ago. That's when Karl Lagerfeld started sending her flowers.
High-end fashion has been in thrall to its own heritage for quite a while now. Certain houses – jigsaw pieces in powerful conglomerates where big-name designers juggle legacy, relevance and vast profit requirements (sometimes at the expense of innovation) – can seem to be buckling under their own weight. Bad news for some, perhaps, but not for Sacai. Last February in Paris, the independent Tokyo brand, known for its intriguing hybrid garments in luscious colours, stepped into the spotlight in the most spectacular way. "The show of the season?" gasped journalist Nicole Phelps on Style.com shortly after the Autumn/Winter 2014 womenswear collection had danced down the runway in Paris to the bouncy Gay Marvine remix of Sister Sledge. "There are still a few days and several important names left on the Paris calendar," Phelps went on, "but the new Sacai collection set the bar very high today." Her peers largely seemed to agree. Chitose Abe, the brand's 48-year-old designer, was the toast of the town.
Sacai is in fact 16 years old: a slow burner, then, rather than an overnight sensation. It is still under the sole ownership of Ms Abe. The company has yet to do shoes, or jewellery, or any of the other money-spinners now regarded as obligatory means of parting consumers from their cash. Perfume? "I'm waiting for the right moment," Chitose told me when we met in Tokyo earlier this year. "There really is no hurry, and I'll know when it feels right. I'm in control of everything. At the end of the month, I even do the accounting."
It's hard not to relish the idea of this slight and really rather kittenish woman, whose fashion imagination runs to the most unexpected interpretations of existing typologies, sitting behind a desk balancing the books. Though maybe we shouldn't be surprised. Her designs, after all, are the product of an exacting mind. She takes the peacoat, the white shirt, the pencil skirt, the biker jacket and the kilt and splices them together in the most extraordinary combinations that can look like one thing one moment and then quite another. A parka elides into a Prince of Wales check overcoat; jumper and skirt sets are actually trompe l'oeil dresses. Kilts turn into trousers, and stripy T-shirts into knife-pleated tulle tops. Sheer hems appear from nowhere to tumble down beneath sweaters. Shaggy shearling spills out of jacket openings.
The clothes are beautiful and complicated. "But they are wearable," said Akiko Fukai, the de facto chatelaine of contemporary Japanese fashion, who's been a curator at the Kyoto Costume Institute for 35 years and is now its director. "They're not ostentatious, not for showing off. Abe-san puts odd materials together in the most delightful way, and the details are fascinating. I think this is the aesthetic for now." Indeed, you couldn't find anything less cookie-cutter, less obvious.
"We represent every category in the collection, from the T-shirt to the crazy combination biker jacket," said Jennifer Sunwoo, the VP of womenswear at Barneys New York. She herself often wears a black Sacai dress – a long-sleeved V-neck sweater-and-lace-skirt combo from 2013. "It's easy to put into an existing wardrobe. And these aren't clothes you tire of at the end of the season. These are the things you wear for years and years."
Of course, Chitose Abe is not the first Japanese woman to run her own fashion house. Rei Kawakubo, for whom she worked for eight years, set up Comme des Garçons in 1969, carefully creating a multi-tier company that produced clothing from the most avant-garde costumes to the most wearable T-shirts. Kawakubo turned a tidy profit in her home territory and then invested it in brand promotion abroad, staging her debut Paris show in 1981. But where each of Kawakubo's runway shows explores one dominant theme before moving on, Chitose's ongoing journey through swollen volumes and hybrid pieces is continuous and runs through the Sacai, Sacai Man (launched in 2008) and Sacai Luck collections ("A bit more relaxed and spirited than the main line" was how she described the last, which she started in 2006). And the results are rather sexier – you sense that the designer is a woman having some serious fun rather than a sculptor with a sewing machine. Abe's plan, meanwhile, is a little less grand and a lot more gradual than her former employer's. "I don't really have a long-term goal," she said. "I don't even mind if sales go down when I do something that I simply really want to do. It's my risk to take." She opened her first store – in Tokyo's Aoyama district, the natural home of upmarket fashion retail in the city – only three years ago.
Chitose and I had arranged to meet there, in the showroom on the top floor. The building, a former Chinese restaurant, is down a little street (Prada's faceted Herzog & de Meuron-designed store is on the corner) and up a little path. I'd gone on a recce the evening before and discovered a surprisingly gritty interior filled with customers spanning several generations on energetic post-work shopping missions.
Instead, we met outside. It was a balmy Tokyo morning, and Chitose was standing by the front door checking her phone when I arrived at 9am. She was sporting a perky combination of backcombed hair, a stripy T-shirt and a navy lace knee-length skirt with a mini-lining and a shadow of lightly tanned thigh flashing through. (Back in London several months later, a not dissimilar lace skirt with mini-slip could be found on the rails in Topshop.) On her feet were box-fresh Air Max. On her wrist was a sizeable Rolex glittering with rubies, sapphires and diamonds. "It was a gift to myself, but it actually exceeded my card limit, so I put it on my husband's," she said.
Upstairs, we drank strong coffee in a room lined with clothes rails holding more than a decade of collections. "I had my daughter in 1997, and suddenly I was at home on my own and felt pretty lonely," Chitose said, with the help of an interpreter, as we sat with three pieces of handcrafted knitwear on the table in front of us. "So I made these samples and found a factory to make them up. I didn't think of doing anything big." The first buyer was the prestigious Tokyo multibrand store Beams. "I turned up with four or five samples in my bag and tried them on in front of the buyers," she said. "They'd ask me what the markup was, and I didn't know what they were talking about." Other stores started tracking her down. They found themselves directed to her apartment in Nakameguro, about 20 minutes from central Tokyo. "People were asking, 'Who do I contact at Sacai?' And they'd be told, 'It's just Abe-san. She answers the phone and makes all the clothes,'" she laughed. Sakai, incidentally, is her maiden name, "though I changed the spelling from K to C, and made it lower-case" for the logo.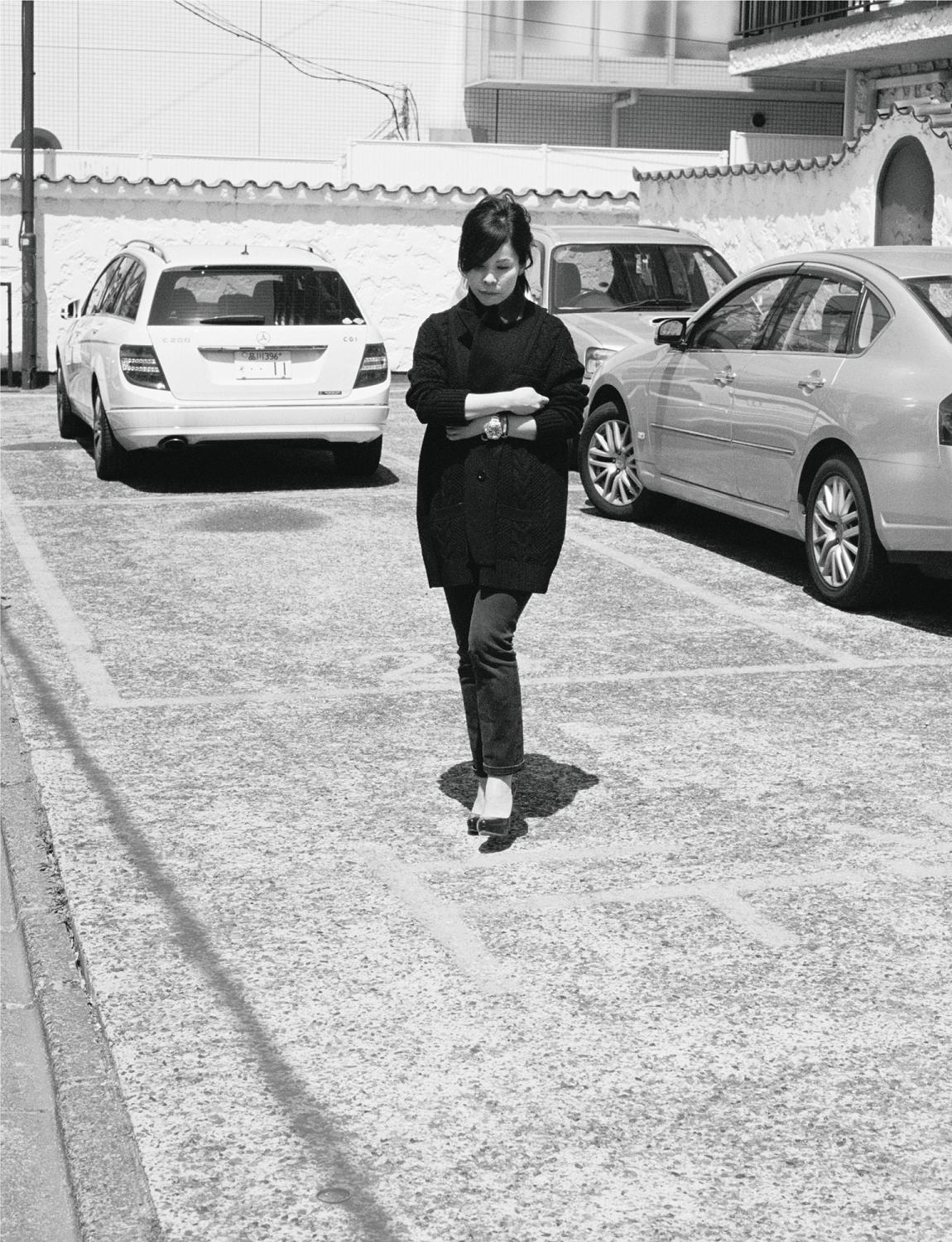 In 2002, she made her first hire. Chico Hashimoto, a quiet woman with a long bob, is still with her today, though she's moved from the role of pattern cutter to textile developer. "A friend introduced us, and I immediately felt inspired by Chitose and her ideas," Ms Hashimoto said when we met in Sacai's studio in nearby Daikanyama, an increasingly trendy part of town. "Of course, then we worked in her home. Things have changed, especially for me. I've got a 1-year-old daughter now, so I leave at 4pm these days." Around us were vases of arum lilies, bolts of fabric and boxes of grosgrain ribbon. In another room, twenty-something boys in plaid shirts and beanies and girls in pale jeans and Converse worked on designs with the concentration of students in a library (Sacai's overall staff now numbers 30).
Chitose appeared with dolls dressed in scaled-down samples, which she uses to test out ideas in miniature. We turned to the situation of working mothers. "It's quite tough, but I want to create a corporate situation where women can have children and be able to go home at a decent time," she said. "From a business point of view, it would be best to have people with no kids who could work late every day. But I want my employees to have the choice."
It wasn't until 2003 that Chitose rented her first office space – a warehouse far from central Tokyo but costing an affordable 100,000 yen (£600) a month. As the noughties progressed, increasing numbers of fascinated foreign buyers and journalists found themselves navigating a busy local shopping street and an ugly industrial area in search of this Japanese label, which arguably had a lighter touch than Japan's established stars – Issey Miyake, Yohji Yamamoto and Kawakubo, known as the "second generation". It was here, said Chitose, that the real Sacai was finally minted. "The previous collections were based on hand-knitting, and they were wonderful, but you didn't yet see the Sacai DNA. Then I looked at what I was wearing – classic men's-style sweaters and turtlenecks and V-neck cardigans – and I added something feminine, like this bit of ruching, or satin or tulle." But more than mere customisation, her extensive textile innovation is what underpins the brand – every fabric is created from scratch. "I'll go to a denim factory in Wakayama, for example, to weave a jacquard," she said. "The denim looms are completely different from other looms, and you get a unique fabric. I like a challenge. Sometimes the factory staff look terrified when I walk in. Sometimes I think they must hate me." Among the garment samples in the showroom, I found a men's chesterfield coat in a double-faced fabric that was navy-and-grey tweed on one side and a light wool pin-striped suiting on the other. A stiff wide mesh developed for Spring/Summer 2014 was created from white cotton shirting, bonded and then cut by laser.
Also in 2003, Chitose took a room at the Hôtel de Crillon during Paris fashion week. By 2004, she was selling in Barneys New York and Colette in Paris. According to Adrian Joffe, president of Comme des Garçons and husband of Rei Kawakubo, Sacai is now one of the bestselling brands at all three Dover Street Markets. "We like to work with designers who have their own vision," he said. "A customer might buy Sacai and Saint Laurent, or Sacai and Comme. She crosses boundaries and is pleasurably difficult to put into a box." This year, the brand looks set to take a place in Barneys' top ten. "It's one of the few shows when I personally go back and greet the designer," said Jennifer Sunwoo. "Chitose's never disappoints. It's always nice when you're able to congratulate someone with total sincerity."
In fact, quite a few fashion folk go a bit gushy when asked about Chitose. The influential fashion commentator Tim Blanks, who first met her in Tokyo a year ago, said, "The whole package is so coherent, so charming." He's gone on to become her regular karaoke partner; the Carpenters are a favourite. "We had dinner last week," he said. "It started with a lot of sochu, which is like drinking neat vodka. Then we went off to karaoke and sang 'Superstar'." The dazzled Karl Templer, an in-demand stylist who works with Valentino and Alexander Wang, said, "Chitose is an incredible talent. I think she's a genius." He liked the label so much, he now works on Sacai's runway shows. "I look at the collection and see ideas I've never seen before."
I suspect there was never much doubt that Chitose Sakai would end up in fashion. "It was a happy family," she said of her childhood household in Gifu, a small city in central Japan. "My father was a research engineer and got home at 6pm everyday. My mother stayed at home making clothes." Even as a child, she wanted to dress differently from other people. "I was always getting my mother to alter my clothes. I'd buy bell-bottoms but have them made skinnier. I was very concerned about having my own look. According to my mother, if I went to meet a friend and she'd copied my clothes or my hairstyle, I'd go straight home again." Her older sister had no such preoccupations. "She's still living in Gifu, working in a bank, and doesn't have kids. I'm rather grateful that she's there to look after my parents."
Unsurprisingly, Chitose's dream was to attend the famous Bunka Fashion College, the Tokyo school whose alumni include Kenzo Takado (a major player in Japan's "first generation" of influential designers) and Yohji Yamamoto. And just as unsurprisingly, given that girls are not expected to leave home to attend university in Japan, her parents wouldn't let her. Instead, she went to study at fashion college in Nagoya – "a three-hour daily commute," she said. A star student, she was employed directly from there by World, a huge clothing conglomerate based in Tokyo producing a range of high-street labels with Euro-sounding names: Coup de Chance, HusHusH, Shoo-la-Rue. "My mother didn't approve at all of my moving to Tokyo, even after college," Chitose said. "For the month before I left, she wouldn't speak to me. And my parents didn't lend me any money. I came to this city with two cardboard boxes."

At World, freshmen were given thorough corporate training. "They taught you everything," she said. "How to answer the phone, how to greet people. Social graces. Business etiquette." At lunchtime, clad in Vivienne Westwood or Jean Paul Gaultier, she'd see the designers from the nearby Comme des Garçons studios in their black clothes and polka dot shirts. After two years, she became one of them.
If her job at World was all about collecting magazine clippings for inspiration, Comme could hardly have been more different. "I learned the importance of innovation and doing things from scratch," said Chitose. "They don't do storyboards at Comme. The job is to create something that doesn't exist. That's the biggest thing I learned." She worked with Junya Watanabe on the house's Tricot collection for two years. Then, when Junya was granted his own label under Comme's aegis, he asked her to join his tiny team. She worked for him from 1991 to 1996. "He's very warm and kind," she said. "He really looked after his people. But when it came to work, he was very tough. You know, the company is the epitome of avant-garde. But you go there and it's very proper and serious. At that time, Japan was still in the middle of the bubble economy, and people were pretty carefree. At World, people would start drinking beer after 6pm while still working. At Comme, there wasn't even chatting." Tim Blanks said, "I still keep pinching myself that she's from the school of Rei Kawakubo. That's not an easygoing place, and Chitose has so much joie de vivre."

From Junya, Chitose said she learned how to set up a new label and a new identity. It was also in his four-person team that she met Junichi Abe, who went on to become her husband. In 2004, Junichi set up his own label, Kolor, whose sporty mens- and womenswear is defined by lively combinations of fabrics and slender cuts. They've never been to each other's catwalk shows – more a consequence of diaries than of intention, she said. They married 16 years ago, with Chitose wearing a kimono made by her husband's family's company, at an inn owned by another relative in Fukushima. "We just turned up empty-handed," she said. "Now I'd be more interested. I'd make my own dress." She ate throughout the reception, to her mother's dismay. "In Japanese ceremonies, the bride and the groom are meant to sit there a bit like dolls at the wedding feast," she explained.
In a country where women's lives are still circumscribed by traditional roles and difficult career advancement – Japan came 105th out of 136 in the World Economic Forum's Global Gender Gap Report of 2013; just 6 per cent of its career-track employees are women – it's fair to say that Chitose stands out. "It's not easy for a woman to be a boss," said Akiko Fukai of the Kyoto Costume Institute. "Since Shinzo Abe became prime minister, the government announced they would encourage promotion for women. The words sound good, but nothing's happened yet." Chitose said, "Japanese business journalists often ask me the gender question. And I say that fortunately the fashion industry is open to everybody – men, women, all nationalities. Running a business is hard, not because you're a woman but because it's business. But fashion itself has great power, and it's a global industry. It follows different rules."
As does Ms Abe. One night we met in a woody little restaurant in Hiroo – part of Tokyo's Shibuya shopping district – and ordered generous amounts of cold sake, which we drank from tiny porcelain cups. We ate mussels with cucumber; sea eel and tuna sashimi; and generous helpings of delicious uni, though Chitose wasn't starving, as she'd had takoyaki, balls of octopus coated in a wheaty batter, for lunch. We were joined by friends of hers, Tokyo's It couple, the locally feted DJ Verbal and his beautiful wife, a jeweller called Yoon, who arrived laden with her own pieces – huge gold cuffs and a large gold chain necklace. Verbal, with his delicately bleached hair, was wearing Sacai Man in its most elaborate form, layering an already layered jacket over a Comme des Garçons shirt.
Sacai's menswear is as complex and demanding as its women's line, though Chitose doesn't base her decisions on trying the clothes on herself, as she does with the womenswear. The A/W '14 collection majors in outer skins and inner linings – baseball jackets have parts of their wool shells cut away to reveal the insides – but there are also plenty of woollen sweatpants and polo shirts with drawstring hems (a Sacai motif). "I wear as much of it as I can fit into," said Tim Blanks. "I've ordered cardigans from the new collection. They're quite psychedelic. One's a pinstripe with its lining showing. There's something beautifully dishevelled about it all."
At dinner, Chitose was wearing a mesh dress that finished above the knee and ankle socks with high-heeled shoes. Her hair was more bouffant than before, like a black-haired Bardot, and she had a black lacquered whistle hanging round her neck. A safety pin, subtly encrusted with diamonds, was in one ear. The effect was hip-hop washed over with a minimal Japanese elegance. There was plenty of unrepeatable fashion gossip, and talk of various travels, including the observation that there isn't a decent hotel in the Marais in Paris, where Sacai now has its showroom during fashion week. In London she likes to go to the Punchbowl, Guy Ritchie's old pub, for fish and chips, and since the Edition, Ian Schrager's new hotel, opened last autumn, it's where she likes to stay. "I tried Claridge's, but it was too…classy," she said. In Tokyo, every other night, she's at home cooking dinner for her daughter, Tohko, who's nearly 16. Junichi does the nights in between, and they share the housework. "I'll stay in the office till 1am sometimes when Junichi is at home," she said. "This year they had to go on holiday without me. I was just too busy." On Sunday mornings, her trainer comes to the house and she works out with dumbbells.
Also at the table was Daisuke Gemma, a charming bilingual creative consultant with a round, open face; he and Chitose met seven years ago through a friend. "I'd been a buyer at Browns in London for five years before I came back to Tokyo in 2002," said Daisuke, who was casually dressed in a blue polo shirt and navy shorts. "By the time we met, Abe-san was interested in making the brand into something more European. So I started off by making a lookbook, and for Sacai that was a big step. There was no press or promotional material until then. It was 2008 – the seminal collection with the hems hanging down."
Sacai's clothes, in their complexity (a jacket might fasten many ways; a skirt can be worn to show a lot of leg or wrapped closely for modesty), don't necessarily sell themselves on their hangers. But when someone appears to be wearing a shearling jacket and it morphs into a heavy wool coat as they turn in the street or on the catwalk, there is pure magic. Daisuke urged Chitose to put the clothes on models. "She still insisted on not doing runway," he said. "So in March 2010, we did a presentation in that place behind the Ritz in Paris – the Hôtel d'Évreux – and invited 150 people. That was when we met Karl Templer. He came backstage and said, 'Why aren't you working with me?' He's brought us to a different place."
The first runway show, in September 2011 at the École nationale supérieure des Beaux-Arts in Paris, showed just how successful the designs could be once Chitose let them move. It also delineated her personality. Sacai shows have become renowned for their feelgood atmosphere and fun music. "I want people to leave happy," said Chitose. "And if that means playing Kylie for the finale, we'll play Kylie." I think she designs in the same spirit. "Chitose understands women's lives," agrees Karl Templer. (Incidentally, the other Karl is also a major admirer.) "She designs for herself. Sacai is one of the few shows where the models want to take the clothes away. They fall in love with them."
For several years, Daisuke and Chitose had been looking for a spot in Tokyo to open a store. The building they eventually found by chance was old and decrepit, damaged from spending years as a restaurant and then lying empty for quite a few more. At the back of the first floor, the walls of the former kitchen were still covered in oil. The pair had recently seen a book about a new library in Tokyo's Musashino district designed by the young Japanese architect Sou Fujimoto, also responsible for the white gridded Serpentine Gallery Pavilion in London's Kensington Gardens in 2013. The library challenged assumptions. "It was full of windows and light," said Chitose. "It was controversial; usually libraries are dark to protect the books." So they gave him a call. "He'd never designed a shop," said Chitose, with satisfaction. "Retail specialists just talk about circulation routes and where the counter should be. But that wasn't what we talked about. I told him that I wanted somewhere uplifting."
Fujimoto knocked down some walls and created framed spaces that are visible, one after the other. "I used colours like black, silver, concrete and white and tried to layer them in the way Abe-san creates her clothing, blending together textures and materials," he said when we met in London (he was wearing a white Sacai Man shirt with a drawstring hem beneath a black jacket). "I was immensely inspired by the building she'd chosen. I added sharp, clean glass to bring the green of the courtyard right into the building," he said, referring to the big new windows. Inside, the walls are sometimes plaster, sometimes concrete, and sometimes, messily, both. The clothes look light and fresh in the space. As well they might. Their designer is one of the lightest and brightest of them all.