Chaka Khan
Funking it up as she celebrates 50 years of fabulosity.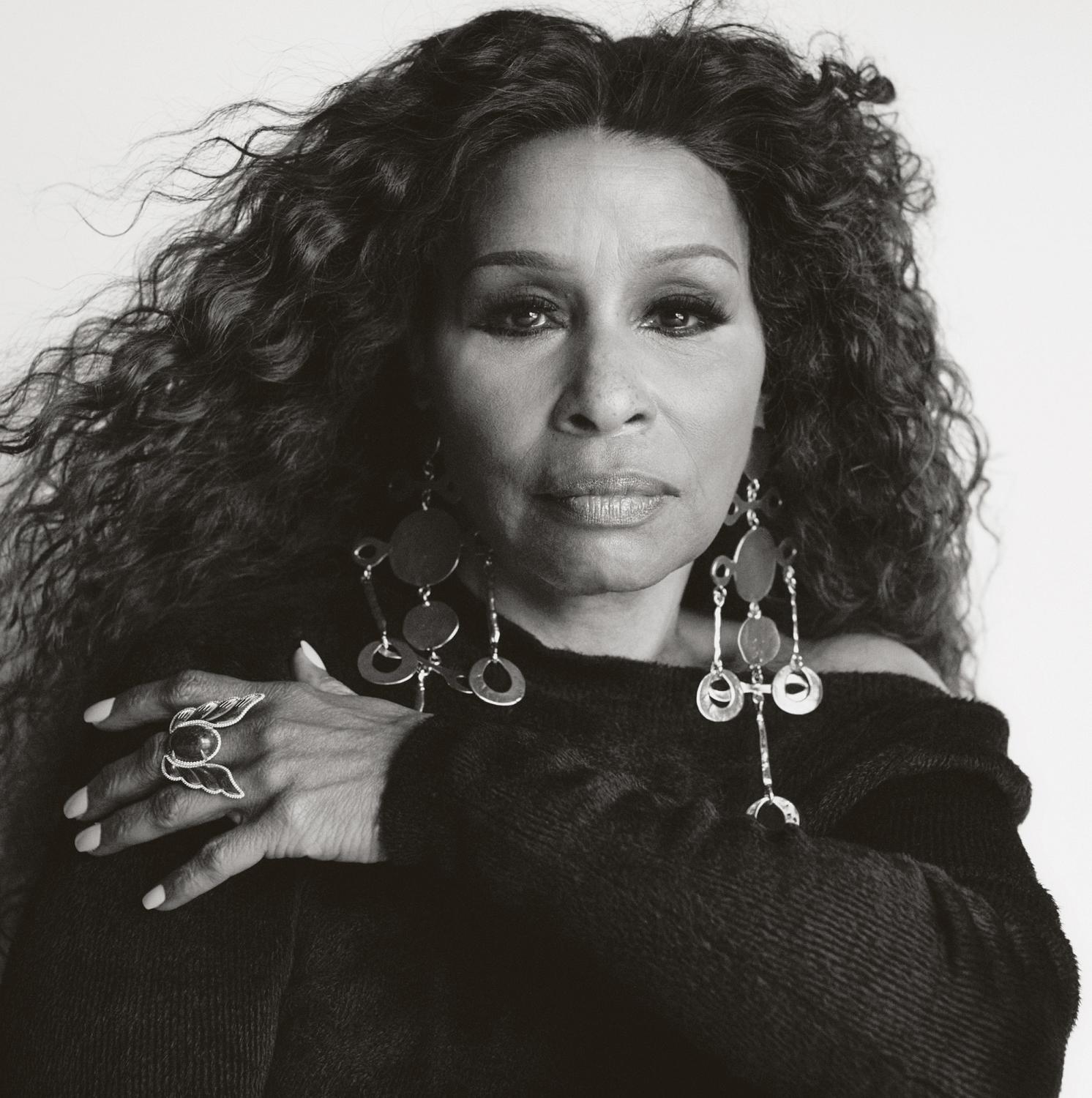 It's not just the majestic mezzo-soprano roar and scintillating stage presence that distinguish Chaka Khan from other vocalists of her generation. Her singular command of every genre, from funk rock to jazz standards to folk, has kept her at the top of the charts for five stellar decades. This year, as the 10-time Grammy winner enters the Rock & Roll Hall of Fame – with new music, a fragrance and a musical on the way – Chaka is doing it naturally.
It is tempting to ask Chaka Khan right off the bat about that voice. Where do those otherworldly notes come from? And what about her lyric-writing process? Her vocal-arranging technique? How does she do it?
But that would be the wrong tactic entirely. Chaka is not into explaining her art. "It's very natural," she says when we talk by phone in late June.
For every day of her 50-year career – which stretches from an early-1960s Chicago girl group called the Crystalettes through the 1970s with funk sensation Rufus to four decades as a genre-defying solo powerhouse – those notes have risen from her lungs as easily as most of us expel a yawn before bedtime. Reflexive. Inexplicable. When it comes to her art, Chaka doesn't think, or practice, or plan. She feels. She flows.
Her interactions with other people are much the same: she connects on a spiritual level. And so, with Chaka, this is the real place to begin: the spirit. "A lot of people don't give credit to that aspect of their make-up, you know?" she tells me. "They don't trust that part of themselves. And that's the most powerful part of you."
I hope she can connect with my spirit through my voice alone. I'm on one side of Los Angeles and she's on the other. Chaka's home is close to the water, so she's got that Pacific breeze going. She rarely gets into the sea, though. "I'm an earth girl," she says.
At the age of 70, Chaka is about to receive yet another honour in a lifetime of honours: an induction into the Rock & Roll Hall of Fame. After 10 Grammy Awards (she won eight as a solo artist and two as a member of Rufus), seven gold and three platinum albums, plus awards for her charitable work and leadership in the Black community, some would say the Rock & Roll Hall of Fame is late to the party. But Chaka doesn't pay them any mind. "I don't do what I do for awards and accolades," she says. "I don't at all. This is not for me to win a cookie at the end. You know what I'm saying?"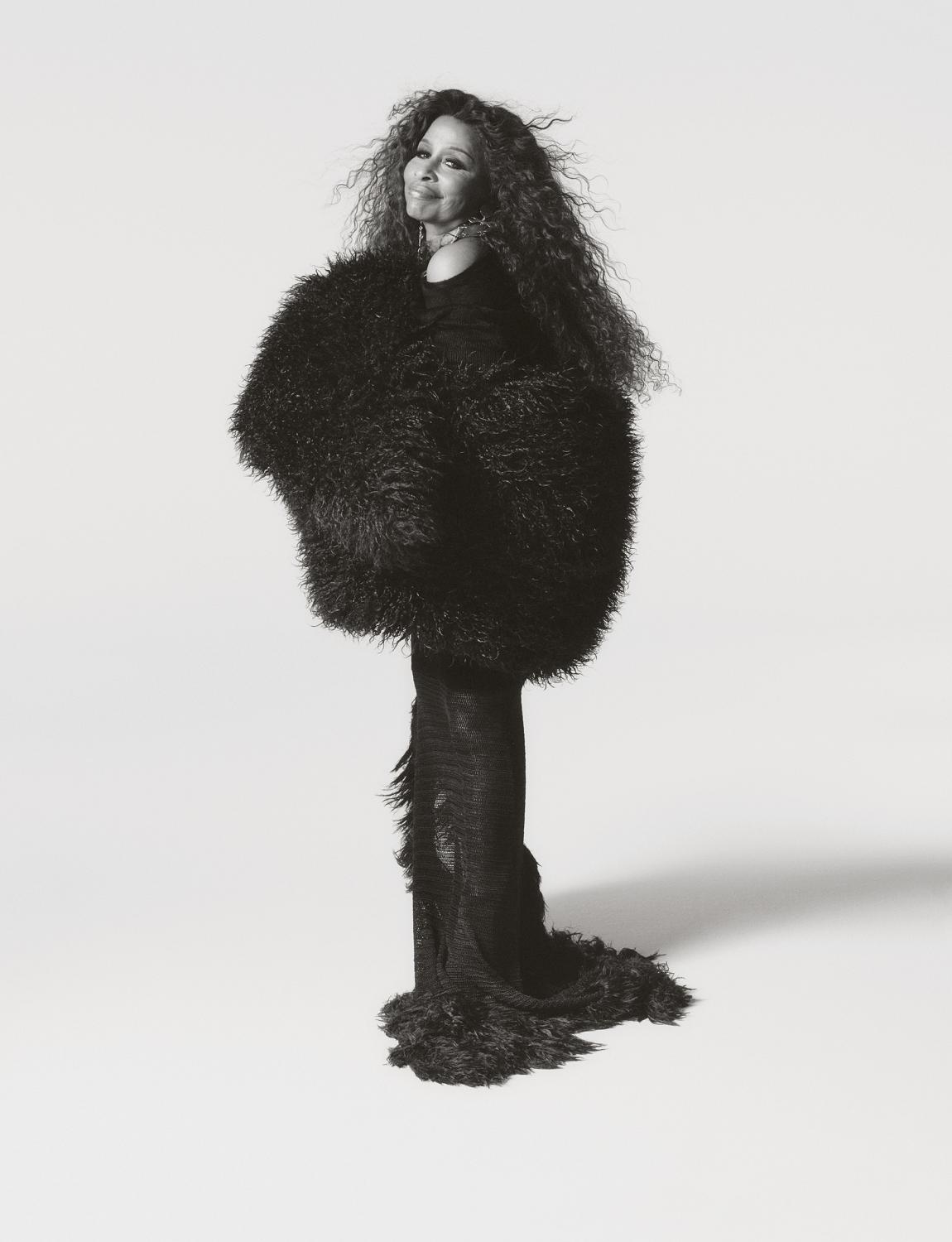 "When it to comes to music, I'm an out-the-box kind of girl. Period. Nothing boxy about me."
Chaka was born Yvette Marie Stevens to young parents, both 19. Her father, Charles, was in the Air Force when he met her mother, Sandra Coleman. He was discharged when Chaka was three months old. A big reader, Charles worked in bookshops and as a printer. Sandra was a researcher at the University of Chicago, and they lived near it, on the South Side, in an apartment that Chaka's mother painted with murals. Her beatnik father played bongos and instilled in her a love for jazz. (Her name, Yvette, was taken from the 1951 Stan Getz song.) "They were both very strong people, and they believed in themselves," Chaka tells me. "They passed all that down to me" – and to her younger sister, Bonnie, now 68, and brother, Mark, 62. Both parents were also always singing – and fighting; they split up when Chaka was 10. (Both parents remarried, and Chaka has two half-sisters, Tammy Michelle, 55, and Zaheva Knowles, 63.)
She and her siblings were brought up by a tight tribe of women: their Gramma Maude, who played the Billie Holiday records that captivated young Yvette; great-aunt Anna Mae, who taught her to play cards and let her cuss; and their paternal great-grandmother, Naomi Bagby, a seven-times-married former bootlegger who ran a spiritualist group. "There's always that one aunt, that one uncle or cousin or somebody, who was in the family who wants to help liberate you as a child, which is beautiful," Chaka says. "And I had a few people in my family that were definitely about that." (These days, the roles are reversed, and she tries to be a liberator for her two great-grandchildren. "I learn more from children than I do from anybody," she says. "And I'd rather be in a room full of kids all day long than in a room of adults for 10 minutes.")
Chaka, who did not love school, had a knack for performing. By the time she was 11 she and Bonnie were singing with two other neighbourhood girls in a group called the Crystalettes, in matching outfits sewed by their mother. They entered local talent competitions, where judges told Chaka she sounded like Aretha Franklin – something she would hear quite a few more times as her career got off the ground.
As much as she loved singing, Chaka didn't picture herself as a lifelong performer. "I went through all my stages," she says. "I wanted to be a policewoman. I wanted to be a teacher." For a while, she even wanted to be a nun. But when she and Bonnie hit their rebellious teenage years, they clashed so fiercely with their mother that they and Mark eventually moved out to live with their father and stepmother in Hyde Park near the University of Chicago; it had "lots of good jazz, cafes, open-air concerts, beatniks and hippies." The first record Chaka bought was by Led Zeppelin, and she got heavily into Hendrix. She smoked weed with her dad and took every ounce of freedom he afforded her. "Bonnie and I were wild most of the time / I used to sing for Mama's company / I guess that was the start of the woman I came to be," she sings in 1998's "This Crazy Life of Mine", which she co-wrote with Prince.
Chaka wasn't interested in applying to university and, encouraged by her father, instead read up on everything she wanted to know. As a young teenager, she (along with Bonnie) met the activist Fred Hampton, the deputy chairman of the Black Panthers in Chicago, and was soon selling The Black Panther newspaper on the street. "Well, I was cutting a lot of classes anyway. We were doing a lot of stuff with the Panthers. So Fred said to me, 'Maybe y'all could start a breakfast student programme.'" She and some other activists approached a local church, which agreed to let them use its facilities to make free meals for children every morning. "I got to understand at an early age how beautiful it feels when you can help somebody," she says. "If you can experience that, it's the best habit in the world." For her, it became a lifelong one; she would go on, some decades later, to set up the Chaka Khan Foundation, which provides support for at-risk children. "It's devastating to see youngsters who aren't receiving the fundamental care and affection they so rightfully deserve," Chaka tells me. "The number of young people taking their own lives is a chilling reality. I'm doing all I can to address this crisis."
Her years with the Panthers also taught her "to look at things for what they are," not for what she might wish they were. "I got a real glimpse into what a delusion racism is, and why it's here, and what it's here for," she says. "It is just a distraction. And there are lots of those in this life, in this country especially."
Chaka instigated protests in her high school. She read Eldridge Cleaver and James Baldwin. At that age, she was "so alive! So aware!" The Crystalettes disbanded, and she and Bonnie founded a more Afrocentric group called Shades of Black and started spending time at the local Affro-Arts Theater. It was there that she met a Yoruba priest who gave people names based on their guiding spirits. He named her Chaka, which means "woman of fire".
Chaka will be the first to tell you that she grew up fast. Shades of Black disbanded when she was 17, and she started doing gigs around town with established musical acts – sometimes seven or eight shows a night. She'd clock out at 3am, full of schnapps, and wake up unsure of how she had got home. She hooked up with an Afro-Indian bassist named Hassan Khan, and together they dropped acid and listened to records. They wanted to get married, but her mother said they were too young, so Chaka lied and told her she was pregnant. After they married at City Hall, she took his name, and her lifelong moniker was complete.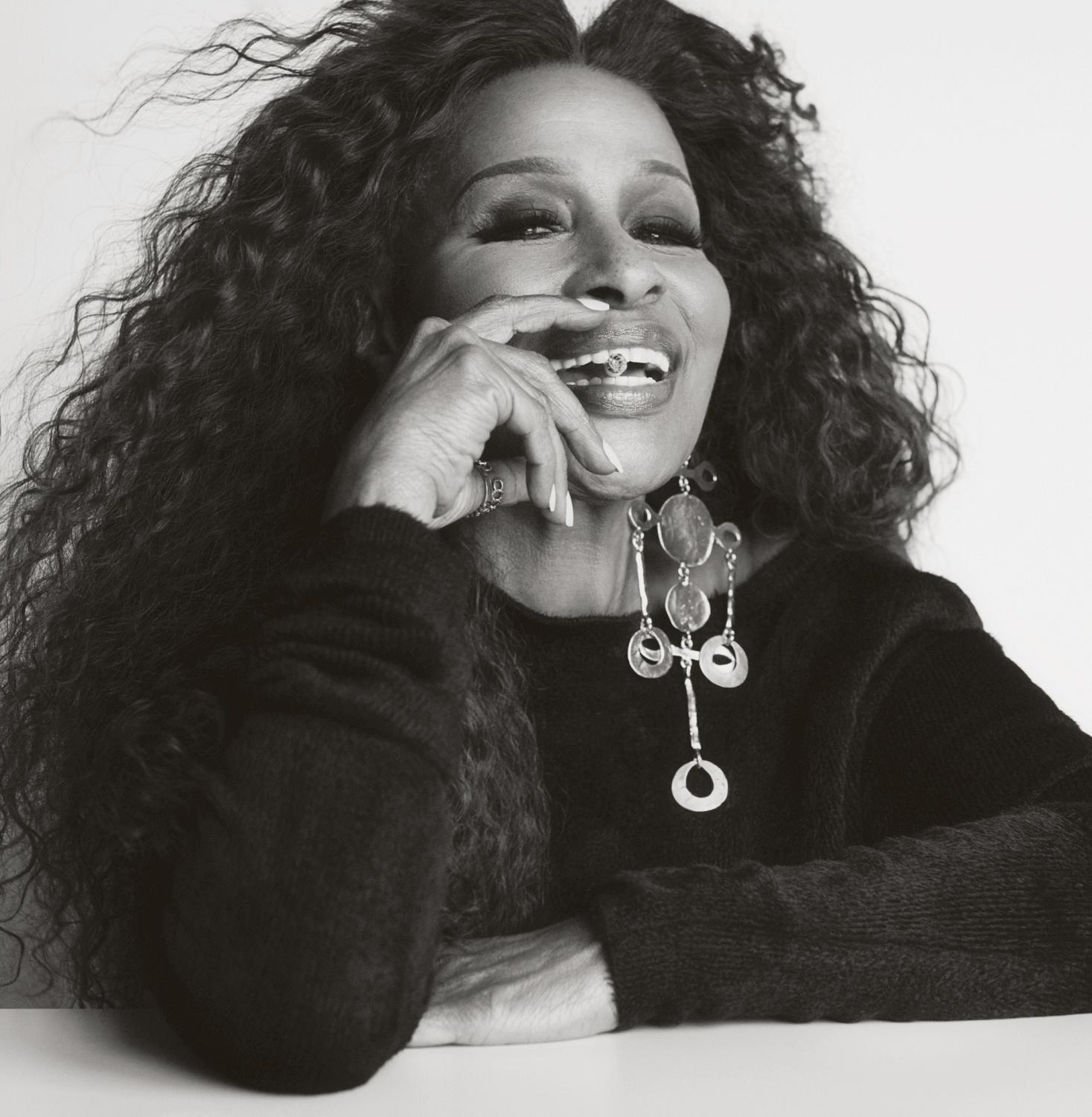 "Everybody touches aspects of substance abuse sometime in their life. It's not a big secret."
Chaka Khan was a sensation from the start. A fixture on the Chicago music scene, she was a fan of Ask Rufus, a local country-funk band made up of five men fronted by Paulette McWilliams, who became one of Chaka's best friends and "played a big part in my becoming me," Chaka tells me. When Paulette left the group to go solo, she convinced the boys to replace her with Chaka. Soon, a still-teenage Chaka Khan was performing four times a night in Chicago with a major act. Ike Turner got wind of the up-and-coming group and asked Chaka to become an Ikette. "Hell no!" was her response. That was "not what I wanted."
In the spring of 1971, an A&R man for ABC/Dunhill Records named Bob Monaco caught the last two numbers of one of their shows in a venue in the Chain o' Lakes area. He later said, "I thought I'd just heard the next Aretha Franklin, or the next coming of Christ. She floored me!" Monaco got them a record deal, they trimmed their name to Rufus and the rest is history.
Well, not quite. Chaka's life is not a Cinderella story of overnight transformation. To hear her tell it, her ascent to vocal superstardom was more of a natural progression. The first time she walked into a studio, she was like a fish in water. It was, she says, almost like coming home.
Rufus's breakthrough came in 1974, after Monaco arranged for Stevie Wonder to join them in the studio to work on some new material. When Wonder started playing the first new tune, it left Chaka and her bandmates cold. "You got anything else?" she asked him. "What's your sign?" he replied. "Aries," Chaka said, and Wonder launched into "Tell Me Something Good". (Chaka contributed some lyrics, though she is not credited on the track.) It would become Rufus's breakout hit.
Chaka might have loved the music and the recording process, but, especially in those early days, she found the business incredibly isolating. The promotional tours, with all their planes and hotel rooms, were especially rough. "It's a very lonely walk in life, there by yourself all the time," she tells me. When Chaka found out she was pregnant when she was 20 – her relationship with her husband was by then on-again, off-again – a music executive scolded her: "How are we going to make a star out of you if you're going to have babies?" Chaka shot back, "Listen, motherfucker, I'm gonna have babies and be a star – with or without you. How 'bout that?"
Chaka was eight months pregnant when she recorded the next Rufus album. She sensed that the baby would be a girl, and she was right. She named her Indira Milini Shobha Khan; everyone called her Milini. Chaka and Khan split up before Milini was born, so Chaka left her daughter with her mother in Chicago while she went on tour, in low-cut jeans that showed off her Caesarean scar.
Chaka pinpoints this choice – and the mix of guilt and anger she felt over having to choose between nurturing her music career and being present for milestone moments of early motherhood – as the root of the drug problems that arose soon after. "I think a big part of my drug thing was escaping those feelings," she writes in her 2003 memoir, Chaka! Through the Fire. "Whenever I started feeling shit I didn't want to feel, I got high." Reviews of Rufus's performances from the mid-1970s describe her as "in outer space", incoherent, barely present on stage. Sometimes drugs – pills, heroin – were the only way she could unwind to go to sleep. It was a problem that would dog her for decades.
In 1975, Chaka left Chicago to live in Los Angeles full time, moving her family with her to help care for her daughter. She was in a new relationship with a man named Richard Holland – they'd connected over a love of books and music – and they bought a sprawling ranch in the mountains of Calabasas. The idea was that the surrounding natural beauty would ground and calm her. But instead, they partied to the point where they became "sex-drugs-and-rock-'n'-roll clichés".
Chaka's onstage aesthetic was very "feathers and leathers," she says, full of visual references to the Blackfoot blood on the maternal side of her family, and her look became the focus for most observers. She embraced the role of sex symbol with no thought for the possibility that it might attract unwelcome attention from obsessive male fans or cause strangers to label her as "all body, no mind" – a perception that still haunts her. (These days she mostly performs in all black.) "Singing was the only part of myself I was secure about," she has observed. "It was the only place I felt at home."
By the late 1970s, Chaka had settled into her stardom. With the release of Rufusized, their second platinum album of 1974, the band began calling themselves Rufus featuring Chaka Khan, and this billing led to the impression they were her backing band. Rufus was winning Grammy Awards and having chart hits but splintering as a group; one member even came to blows with Richard, by then married to Chaka. And so Chaka started looking to do her own thing. In 1978 she flew to New York to record her first solo album. ("I'm a quick learner and I like to move on," she told me. "I'm a next girl.")
Chaka was her declaration of independence. It also marked the beginning of her long-running collaboration with the late Arif Mardin, a Turkish American producer with wide-ranging taste and expertise in everything from jazz to rock, disco to country. One of the most successful record producers of the 20th century, he died in 2006. When Mardin told Chaka the legendary Motown songwriting duo Ashford & Simpson had written a song just for her, she was eager to hear it. She knew instantly that "I'm Every Woman" was a song she had to sing, and it turned her disco-infused debut solo album into a mega hit. The anthem was an R&B number one in the US and made the top 20 in the UK, with its release perfectly timed for the peak of disco mania. It was an R&B hit yet again in the early 1990s, when Whitney Houston recorded it (the video features Chaka Khan), and the song's message about stepping into one's power still resonates. "I have that feeling all the time," Chaka tells me. "Whether I'm singing or not. That's part of me, that's one of the many things that I am."
Her sister Tammy, now her COO, says "I'm Every Woman" shows Chaka's versatility as an artist. "She has always defied categorisation. She embodies the 'everywoman' spirit in her musical journey," Tammy tells me in an email from Los Angeles. "And she has experienced life's highs and lows, faced numerous challenges; 'I'm Every Woman' serves as a testament to her enduring resilience, strength and artistry."
Shortly after recording this signature anthem, Chaka found out she was pregnant. Although her relationship with Richard was on the rocks, they decided to stay together and hope for better days – which never arrived. In one particularly bad bust-up, when Chaka was eight months pregnant, she fired a shotgun in his direction. The incident was emblematic of the chaos of her life at that point. She was the mother of a five-year-old with a baby on the way, a tumultuous marriage and piles of bills.
But over the next two decades, Chaka was unstoppable. She collaborated with the likes of Prince and Miles Davis, toured the world, racked up Grammy Awards and released albums in almost every genre. She went jazz on 1982's Echoes of an Era. Two years later, she dominated dance floors with the Prince-penned "I Feel for You", which turned her very name into a memorable rap lyric: "Chaka-Chaka-Chaka-Chaka Khan / Chaka Khan, Chaka Khan, Chaka Khan / Chaka Khan, let me rock you / Let me rock you, Chaka Khan." "That is so wack!" she exclaimed the first time she heard it. She tells me that it was embarrassing "to hear someone repeat your name over and over again, saying that they want to rock you! How would you feel?" (And now? "After 40 years of it? I'm over it!") Mardin convinced her it would be a hit. "He said it would be, and I trusted him. He was right. To this day, it is my biggest commercial hit. Arif was pure brilliance. I miss him so much."
By then she and Richard had split up, and Milini and Damien, Chaka's son with Richard, had moved to New York to live with her. Chaka was soaking up everything 1980s New York had to offer. She recorded one of her all-time favourite albums, the 1988 jazz-leaning CK, which featured a guest appearance by Miles Davis. He became a friend with whom she would often hang out at downtown jazz clubs. "Working with him was a highlight of my life," Chaka says. "My dad listened to him when I was growing up, so for my dad to hear me with Miles, me with Dizzy and all of the people that he loved was truly a blessing." Davis once told her, "You sing like my horn." It was the best compliment Chaka has ever had from a musician. "I was beyond honoured," she says. "I love and miss him so much as well!" Davis somehow understood, she says, what she had long known: that she was never really singing so much as playing her voice like an instrument.
Somewhere along the way, the press started calling her the Queen of Funk. "That does piss me off," she says now. "When it to comes to music, I hate to be put into some kind of box. I'm an out-the-box kind of girl. Period. Nothing boxy about me."
As the 1980s came to a close, she was ready for another change. She had just released Life Is a Dance, a remix album that was wildly popular in the UK. She left her children with her mother in Los Angeles and decamped to London, where for the first time in her life she lived by herself, in a three-storey mews house in Hampstead Heath, north London. The following year, she bought a six-bedroom, four-bathroom red-brick Edwardian house in nearby West Hampstead and set about renovating it. She also had her first experience performing gospel, playing a church singer in the 1995 West End musical Mama I Want to Sing. (Chaka is one of the few Black singers of her generation who didn't get her start singing in church.) Her sister Tammy had moved over in 1993, and together they founded a management company named after Chaka's first granddaughter, Raeven. But by 1998 she felt the urge to move again – back to Los Angeles – though she continued to live in London off and on for another decade.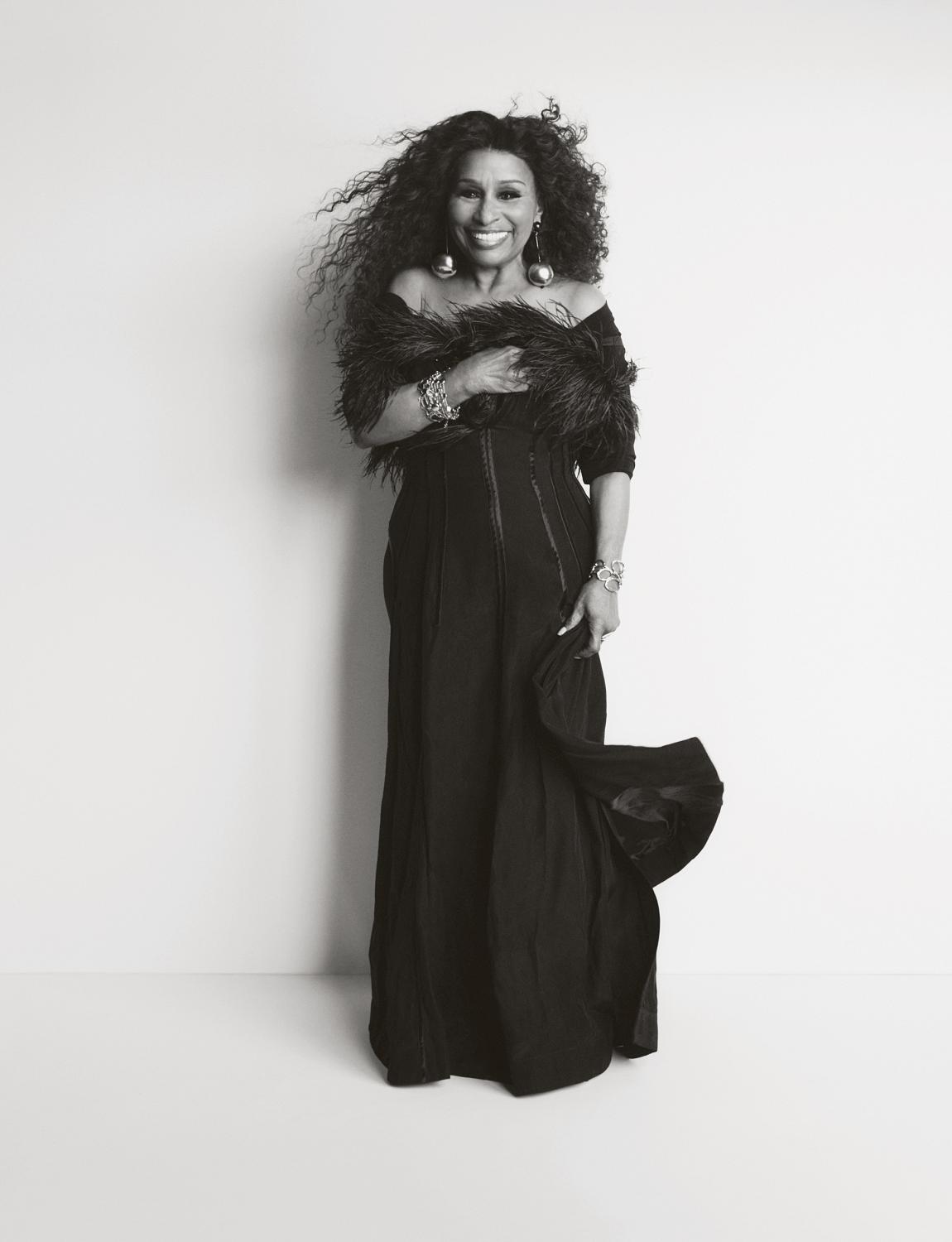 "To hear someone repeat your name over and over again, saying that they want to rock you! How would you feel?"
In the mid-1990s, Chaka had managed to leave her label, Warner Music. They didn't love that she was always switching genres, and she didn't love them telling her what to do. Her friend Prince had also recently undergone a very public battle to leave his major-label contract, and the two decided to fulfil a long-discussed dream of making an album together. "I want you to write your life story in a poem," Prince prompted her. They would hit the studio in the late afternoon, hang out until 8pm or so, then work for a few hours before parting ways for the night. "We were very like-minded," she tells me. "He was my brother and a genius." After three weeks they had an album, with the production costs fronted by Prince.
"I believe that every song is already written in spirit world," Chaka says. "When I hear the music, I can hear the lyrics. I can really hear what the song is playing, and I write it down. That's it. It's that simple." She won't write down a song if she doesn't feel the music is right for her. And she has always been able to tell whether a song is or isn't a fit. "I'm closer to music than to any other entity on the planet," she says. "So I can really hear that right away." Working with Prince is one of the only times in her career when she's written the lyrics before hearing the music.
Prince released Chaka's Come 2 My House on his own NPG label in 1998. Vibe called it a "certified masterpiece", but compared to her other releases it was a commercial flop; you can't even find it on streaming services these days. Still, Chaka regards it as her best album to date, in part because she loved working with Prince. "We both trust what we do and put it down," she says. "It comes out amazing, 'cause we don't psychoanalyse things, because it's natural for us."
This is something Chaka looks for in all her musical collaborators. "They have to have God-given talent," she says. "I can hear when they've been called to do it from a higher place."
These days, Chaka's family is her primary professional support system. "It's sometimes difficult," says Tammy, her half-sister and COO. "I need to separate familial emotions to make the best business decisions, and that's not always an easy task. And, of course, the stakes are incredibly high. But the trust and communication is truly special. We can have honest and transparent conversations, which helps us navigate the complexities of the music industry. Anyway, it's not just business, it's about preserving a legacy, respecting a talent and cherishing a relationship that extends far beyond the stage lights." Chaka's mother was her accountant for many years. Her sister Bonnie is her "best friend". Her brother, Mark, is a musician and one of her long-time collaborators.
Working with family works for Chaka. "You don't want to sully them up with this ugly business," she says. "But I think it's worth it, because it's better to have people around you that do love you for real than people who say they love you all day long and you can't be sure of that. You know what I'm saying?"
She has bought a large piece of land in Georgia and is building a communal homestead for her family, which now includes four grandchildren and the two great-grandchildren. She's looking forward to planting her own food, fishing, riding and playing with the kids on her land. "I really am feeling good about my family, feeling that when I do leave this plane and continue on with the rest of my life, everybody will be OK," she says. "Everybody's going to have a soft place to land."
Bonnie briefly interrupts our conversation to ask what kind of salad Chaka wants for dinner. "She's a great cook," Chaka says. "She already made a tuna salad and a Chinese chicken salad today. God bless her."
This is pretty standard for Chaka these days: at home, with family, trying to live as healthily as she can. (Tammy tells me Chaka is a "healer. She intuitively knows what vitamins and herbs will heal a person. I believe this has been the secret to her health and longevity.") "I occasionally drink," Chaka says. "Alcohol was never an addiction for me." She let go of drugs in 1999, when she was in her late 40s. She had, she says, always been able to pull herself back from the brink in the nick of time, but she decided she was tired of ending up at the brink in the first place. She has been remarkably candid about the process. "It's not a big deal to me. It's just another life experience that we all go through," she says. "Everybody touches aspects of substance abuse sometime in their life – if not themselves, somebody close to them. It's not a big secret."
Chaka soothed herself by playing Joni Mitchell and kd lang albums on repeat. Joni is a friend; they got to know each other back when they lived on the same block in Laurel Canyon, early in Chaka's career. "Joni is my ride or die. There's a kinship there that's unshakeable," Chaka says. "It's about more than just music, it's about life, love, struggles, triumphs and having someone who gets it all. I'm blessed to call her a friend, but she's more than just that. She's a sister."
Chaka also started to understand the difference between freedom and escapism. For her, freedom lies in the simplest things. After a life on the road, her home is now her centre, where she does "as little as humanly possible. There's nothing wrong with doing nothing." She's given herself the gift of limiting the amount of time she spends performing and recording. "After 50 years, I got a whole new thing going here where I'm not trying to tour every five minutes," she says. "I'm giving myself a break, which I richly deserve."
Chaka has also left rocky romances behind. "Well, I call my TV my boyfriend. I call my bed my husband." She laughs. She's not interested in a human lover or partner. "No, no, not at all. No farting, no snoring – no. None of that shit," she insists. In the past, she only found time to read when she was on a flight. Now, she's free to luxuriate in books. Lately, it's Douglas Preston and Lincoln Child's Pendergast series. "Little big mysteries," Chaka says. "Dean Koontz, Patricia Cornwell – I love detective novels."
The West End has come calling again. I'm Every Woman – The Chaka Khan Musical, produced by Adrian Grant, who brought Thriller Live to the stage, is in development, but Chaka won't be on stage herself. Mainly, her role is to answer the writers' questions about her life and support the project from afar. There is more new music on the way, talk of a documentary and a film. And a fragrance is to be launched "for the holidays" – a unisex scent with top notes of cinnamon and bergamot, heart notes of ylang-ylang, and base notes of patchouli and sandalwood. "The bottle is really cool!" Chaka says, laughing. "I'll give you a hint: it embodies what I do!"
When Chaka does perform publicly, she does the songs she wants to do, jazz and swing standards such as "Stormy Weather" and "Round Midnight" from ClassiKhan, her 2004 album featuring the London Symphony Orchestra. "I want to do open harmonic shit," she says. "I get joy, real joy, out of doing that kind of music." She adds a caveat. "That's what I'm feeling right now. I might live long enough to feel something else. I've always been an in-the-moment gal."
And the accolade of this moment is her induction into the Rock & Roll Hall of Fame. "All I can really say is that it came in a nice timely fashion," she jokes, then gets a bit more serious. "The thing finally happened, which is nice." But Chaka's not hung up on prizes. This, after all, is a woman who doesn't even keep her Grammys and gold records at her own house but at her mother's.
So if not the awards, what is she proud of? "I'm still here, for one," she says. "I mean, I could have been out of here at several different times of my life. And by the grace of God, I'm still here." She realises that the only way to learn a lesson is the hard way. And she's proud of all the learning she's done.
I wonder if the meaning of Chaka – woman of fire – feels as if it still fits her. "Look," she says, "you think I'm taking that shit literally? It's a handle, boo. It doesn't, like, define me. It never did. Never did. It's all good. I'm just a woman."
Hair and make-up: Tinaya Weems. Set design: Jack Paradise. Movement direction: Jerome AB. Lighting: Justin Leveritt. Photographic assistance: Harris Mizrahi, Skye Anderson. Styling assistance: Emilia Fishburn, Niki Ravari. Tailor: Keke Chang at Carol Ai Studio. Stand-in: Saundra Johnson. Digital operation: George Brooks. Production: Erin Karr, Ilona Klaver, Second Name.
This profile was originally published in The Gentlewoman nº 28, Autumn and Winter 2023.