Beyoncé
She runs her world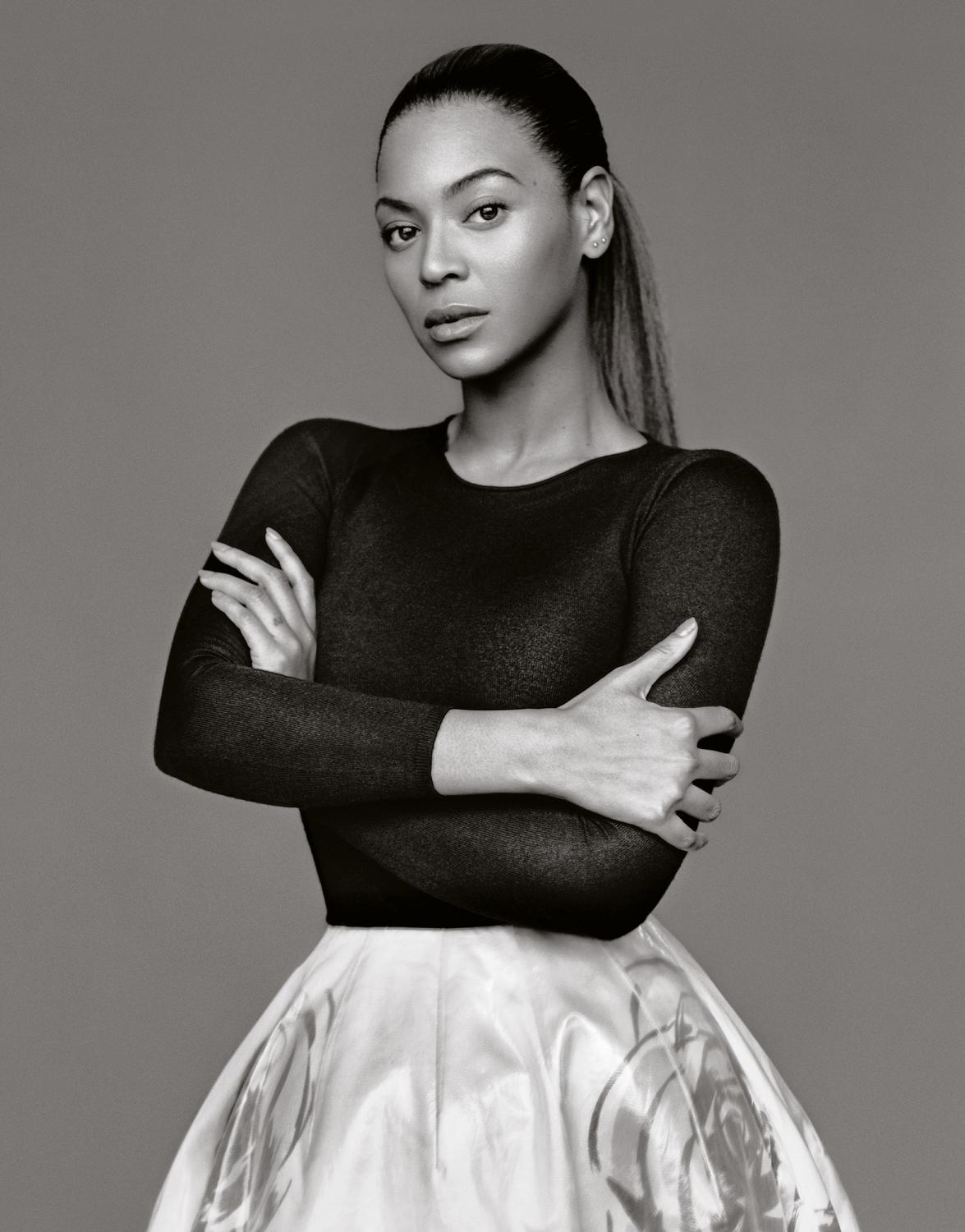 Everyone knows Beyoncé Knowles-Carter, the incandescent megastar with the mesmeric voice, dazzling dance moves and stage costumes that resemble miniature suits of sparkly armour. But beyond the rump-shaking entertainer, there's an elegant, reflective 31-year-old who's also a recent mother and a no-nonsense businesswoman.
This Beyoncé, CEO of her company, Parkwood Entertainment, in Manhattan, is adamant that the female independence she celebrates in her music translates into the way she runs her organisation and her personal life. Making steps towards greater transparency – via her self-authored Tumblr page and the candid autobiographical documentary she's just directed – Beyoncé is determined to maintain her connection with the real world.
At 9 on a Thursday morning, I sat down to watch a rough cut of the documentary film Life Is But a Dream, which is not just about Beyoncé but also directed by her. The venue was the HQ of her company, Parkwood Entertainment, which occupies one floor of an upscale corporate office block in midtown Manhattan. In the boardroom, the standard plate of fruit and bottles of iced coffee, juice and water were laid out on a table towards the back. The only sign of the CEO's extraordinary artistic success was a glass cabinet filled with small golden gramophone statuettes. I'd never seen a Grammy before. Beyoncé has 16. She's been nominated 44 times.

Etched into one award's plaque was "Crazy in Love" – the title of the song that turbo-charged Beyoncé's solo career after her seven years as the focal point of the girl group Destiny's Child. "Crazy in Love" turns ten this year.
Like anyone about to release a documentary she's directed, written, produced and starred in, Beyoncé's a little nervous. "I am scared," she says when we meet later that day. "Not because I don't think people are going to like it but because it's the first time I've given away this much of myself." Having spent most of the day in a photo shoot, she's wrapped in a pristine white bathrobe and wearing white slippers and almost no make-up. Her hair is scraped back from her face. "I never really told anybody who I really am," she says. "I battle with it, because at the end of the day, my life and my family are so much more important than any of this." She gesticulates around the studio.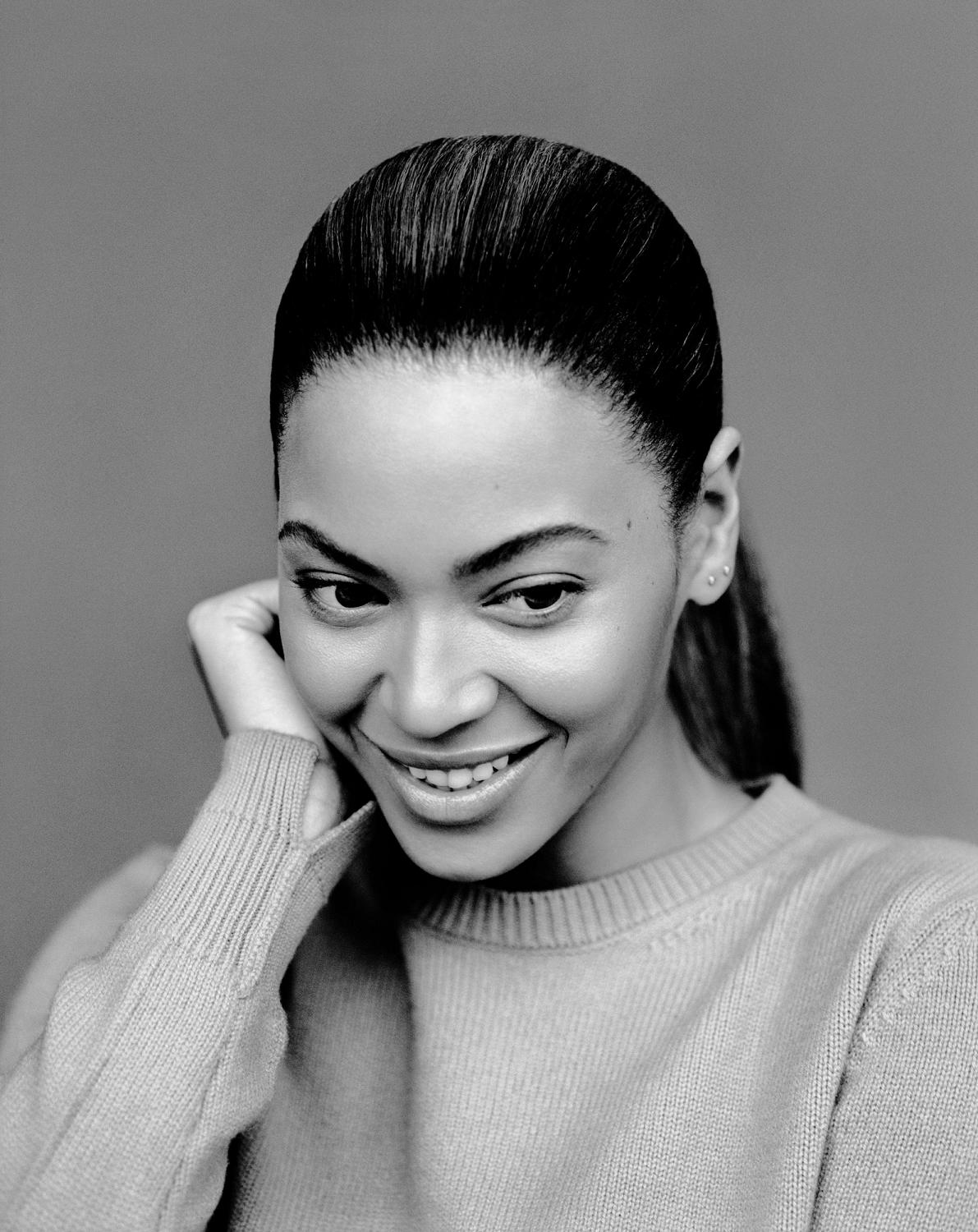 In the last decade, the singer, actress and businesswoman has earned herself a position at the top of the pop performance world. "There's quality in everything she does," says Emily Eavis, the co-organiser of the Glastonbury Festival, who booked Beyoncé as the all-important closing act in 2011. "You can tell by watching her perform that she couldn't do anything else. She's completely committed. The field was totally lifted by her performance. She burns with passion on stage. It was a great moment – it made me feel incredibly proud." For this crowd-storming moment, Beyoncé had rehearsed for 80 hours off site in the week prior to the event. I had interviewed her during the preceding month and wanted to see the results of all her hard graft first-hand. Watching from a fast-food van to the left of the stage, I saw the BBC creative director Alan Yentob impulsively performing the signature hand choreography for "Single Ladies (Put a Ring on It)" in front of a tray of sizzling sausages.

Beyoncé's talent seems to unite audiences. Women like her because she's powerful, and men like her because she's hot. Lesbians adore her for providing a new Sapphic anthem, "If I Were a Boy", and for a certain type of gay man, well, she's our Radiohead – the standard by which all other music has been judged over the past 15 years. Her hits are joyous punctuation marks on the pop timeline, pre-digital and beyond. "There's just enough edge to her songs," says Eavis. "She appeals to people across the board."
I'd met Beyoncé twice before and was surprised on both occasions by the difference between her on- and offstage personas. Her level of stardom is such that you can't help but bubble up with nervousness at the prospect of meeting her. And when you do, it seems that it might be she who's the shy one. She once told me she hadn't minded not going to college, not because of any fear of academia but because she didn't make friends easily and would have found the social angle too challenging.
"I need to be able to go places and have normal conversations with people. You don't have to alienate yourself from the world."
But in Life Is But a Dream, despite her shyness and love of privacy, she opens up about some of the major challenges she's faced in the last two years. These include a miscarriage, the sacking of her father as her manager, and the birth of her first child, but the film's no mawkish confessional. "That was important to me," she says. "Doing things for the right reasons, telling the story for the right reasons. I was really, really careful about the editing and making sure it was told in an elegant way. I felt like, kind of, it's time. But it was very important that it was not about me being a singer or an entertainer. At the end of the day, it's a story about being a woman, overcoming the struggles and keeping on trucking – accepting the things you can't control."
Beyoncé's default setting is flawlessly polite and accommodating. She was media-trained from an early age – Destiny's Child signed its deal with Columbia Records, a division of her current label Sony, when Beyoncé, Kelly Rowland, LaTavia Roberson and LeToya Luckett were just 14 – and she's well schooled in keeping happy the facilitators of her career both inside and out of the music industry.
Yet steps towards greater transparency seem to be proving increasingly attractive to her. She began a personal Tumblr blog, iam.beyonce.com, in April 2012, and her post after Obama's second presidential victory – "Take that, Mittches!" – went viral in minutes. She is the president's designated pop star and sang the Etta James evergreen "At Last" at the White House for his first inaugural ball, bringing new significance to the lyrics, and "The Star-Spangled Banner" at his second this January.
"I think about Madonna and how she started the label and developed other artists. There are not enough of those women."
On her blog in December, she posted snapshots featuring her mother, her cousin and her former bandmate Kelly Rowland from a girls' holiday to Miami for the Art Basel fair. A collector herself (among her favourite artists are Sophie Calle, Keith Haring and Al Loving), Beyoncé says she's begun painting, too. "Those female trips are like food for my soul," she says. Though, as much as she loves the fair itself, she admits, "It's kind of hard when there's so many people taking pictures."
Despite the fact that she can't step out the door without causing a stir, Beyoncé sounds determined to reframe her life. "I need to be able to go places and have normal conversations with people," she says. "You don't have to get to a point where you alienate yourself from the world." She's happy watching TV, currently enjoying Lena Dunham's semi-autobiographical HBO series Girls, though she has yet to get to the episode where Dunham's character attempts the freeform dance routine to the Beyoncé song "Halo". "I haven't seen that! Oh, I got to see that!" she says. "I just love the show, seeing women with that sense of humour. I know a lot of people like those characters. It's just great to see a comedy that tells a truth about women."
Meanwhile, her own documentary tells some truth about the superstar herself. At one point, in a darkened room, she sings, a cappella, the first song she wrote after the miscarriage: "I guess love just wasn't enough for us to survive/I swear, I swear, I swear I tried/You took the life right out of me/I'm so unlucky I can't breathe." It's unlikely the song will make it onto an album, she says. "I don't think so – it was part of a moment.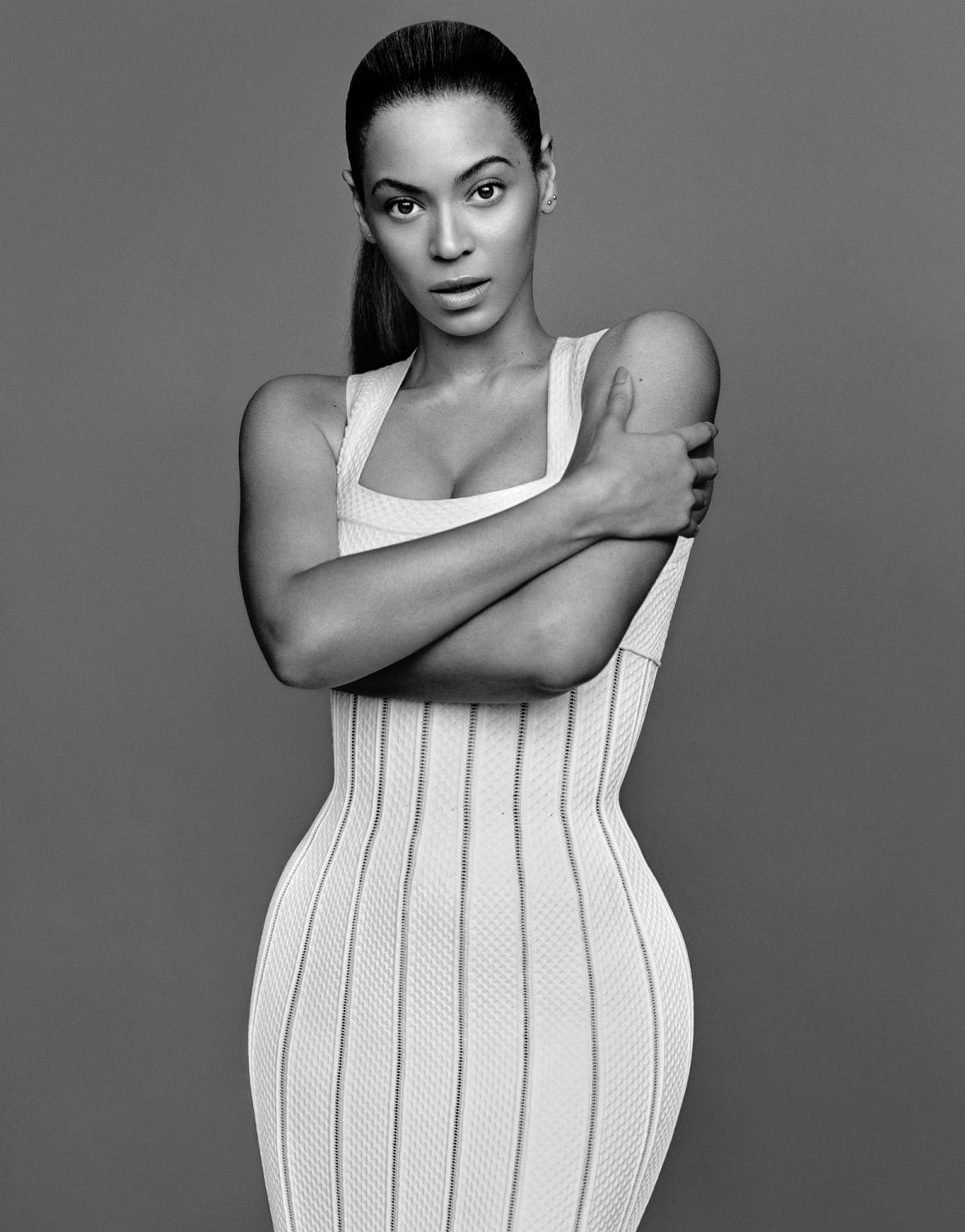 I look back, and it was a difficult time. And it was the best lesson I've probably learned in ten years, in that one year. In the end I became a mother, which is the biggest accomplishment of my life." There's plenty of happier footage too, of life with her husband, the rapper and entrepreneur Jay-Z. On a summer evening, they sing Coldplay's "Yellow" to one another over dinner. In another scene, they frolic on the deck of a yacht; Beyoncé delivers a sweet tribute to the loveliness of their life together before jumping into an aquamarine pool as the opening bars of Sade's "By Your Side" play. Jay-Z, born Shawn Carter in 1969, famously evolved from a minor-league teen drug dealer in Queens into a skilful rapper, celebrated businessman and new paragon of the American dream. In 2012, Forbes estimated his worth at $460 million. Until last year, however, Beyoncé was the bigger earner. Prior to her $50 million deal with Pepsi in December, she was reputedly worth $300 million.

They first met singing a song called "Bonnie and Clyde" in 2002. "I know," she says, breaking into laughter. "It is funny." At the turn of this century, it was customary for notable pop females who could anchor a strong hook to partner with first-rate rappers, in a cross-fertilisation between R&B and hip-hop aimed at doubling a track's market share. In 2003, there were none more notable than Beyoncé and Jay-Z.
"I do remember that recording," she says. "I don't really sing that song much now, because I don't feel right doing it without Jay." Listening a decade later, her delivery retains its magic; there's a purr in her voice that seems to be finding a new bass note as she sings. "I was so young," she says. "But because I was with the older guy, I was trying to be like: I know what I'm doing, I'm gon' put some bass in my voice and I'm down. But I was a baby." They married in 2008; no photographs from the wedding were leaked.
On 7 January, 2012 Beyoncé gave birth to her daughter, Blue Ivy Carter. Over the preceding six months, a rumour had circulated on the Internet that the couple were having the child via a surrogate. What stung most, she says, was the implication that she was vain. But the fact that she had miscarried less than a year earlier compounded the hurt. "If people want to make things up, then it's a part of it," she says of fame, "and it doesn't affect me to the point where I feel I have to prove myself."
Beyoncé's life has always been a family affair. It was her father who spotted her abilities as a performer, just as the father of Michael Jackson ("my fellow Virgo") spotted his. But Mr Knowles waited a little longer than Joe Jackson before shopping his eldest daughter's talent to major record labels. According to Beyoncé, it wasn't her vigorous singing and dancing technique but a comic-book goofiness that alerted scouts to her commercial potential. "The woman who gave us our record deal, I met her when I was ten, when Destiny's Child auditioned for Columbia Records," she says. She goes on to paint a picture of father and daughter having a minor meltdown beside the swimming pool behind their mock-Renaissance ranch house in Houston suburbia in front of the lady from the record label. "My dad stopped the music and said, 'Beyoncé, your nose is snotty,' and it was humiliating. They showed the tape to Sony, and it was so ridiculous and hilarious that they were like, 'We got to fly them out.' It wasn't because they liked us. It was because they couldn't believe that this crazy man and these little country girls stopped the big moment because my nose was snotty."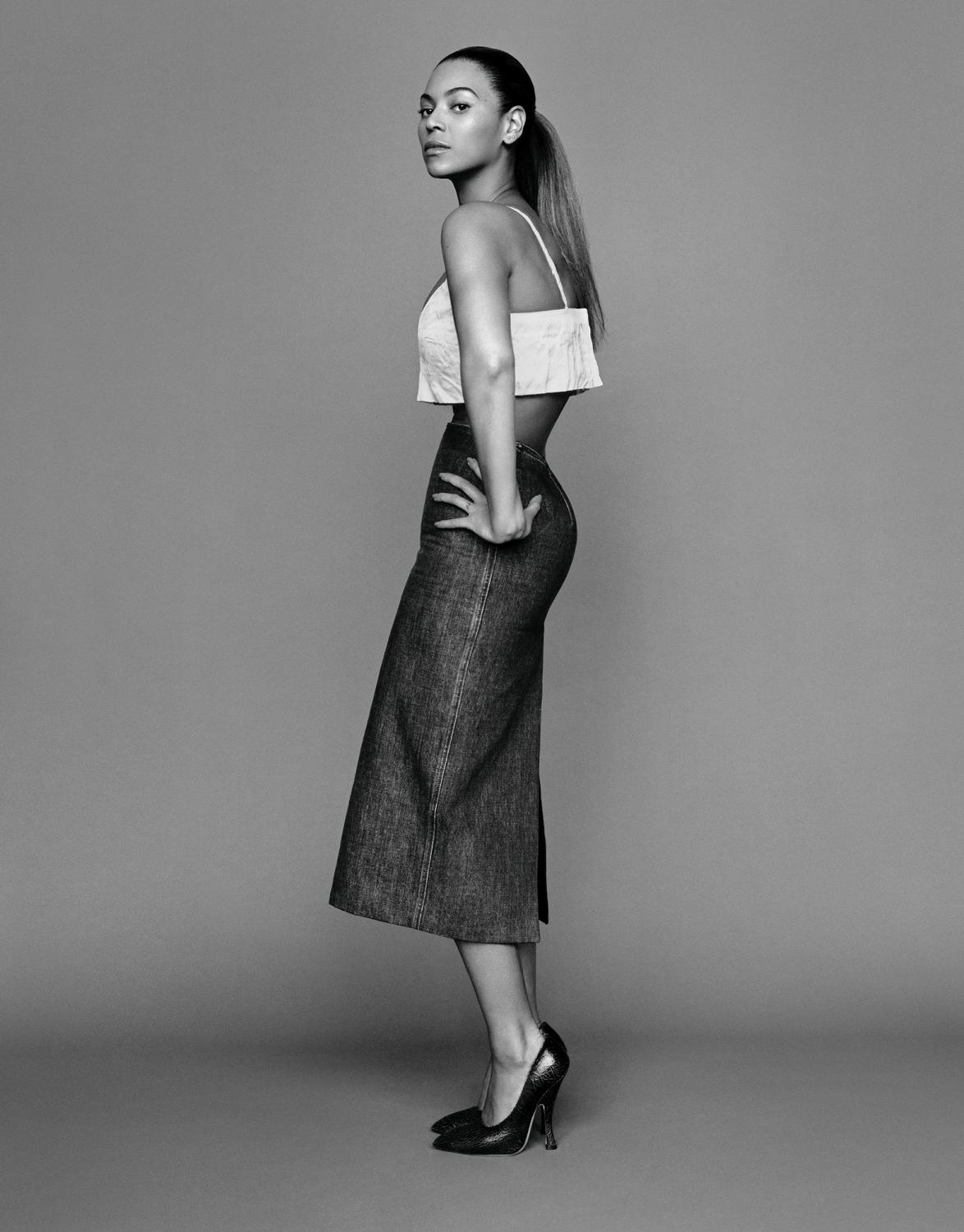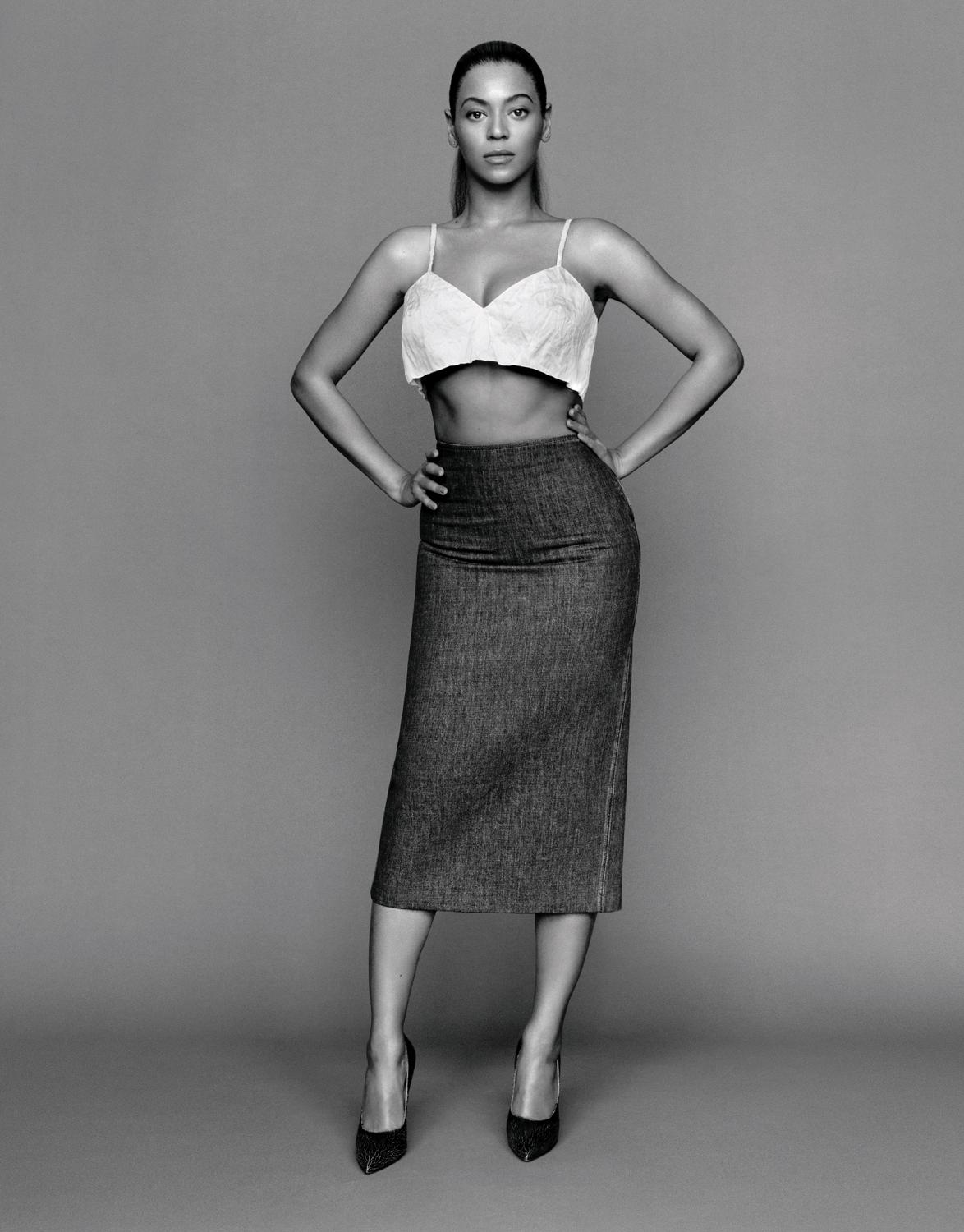 When Beyoncé starts relaxing in company, her conversation becomes dotted with such anecdotes. She recounts how, because they were operating out of Texas and travelling around the world in coach class, Destiny's Child were left to their own devices. "Columbia let us do whatever we wanted, because they really didn't care. They weren't concerned about what we were doing. At that time, the label had no idea who we were."

In fact, the group was slowly preparing for extraordinary success, not least Beyoncé. After the announcement in 2000 that each member would embark on individual projects, Beyoncé built up a solo career, starting with the album Dangerously in Love, released in 2003. Over the following eight years, she put out three more, B'Day (2006), the two-disc I Am...Sasha Fierce (2008) and 4 (2011), amassing over 75 million album sales worldwide. The last was launched only three months after the March 2011 press statement in which she announced that her father, Mathew Knowles, was no longer her manager. Still signed to Columbia in a joint venture with Parkwood Entertainment, she made herself her own CEO, moved her company 2,500km from her home city of Houston to New York's Chelsea, not far from her marital home in Tribeca, and went on to release her rawest, most personal record, 4. "When I recorded 4, I decided it's OK, I'm going to be independent," she says. "I just have memories of when there was no air conditioning in the new building and we didn't have an office, and it was like camping. It was like, 'If you want to be a part of this, you got to grind it out.' It's a different level of commitment, because it comes from love and respect, and that's how I try to lead. I think about Madonna and how she took all of the great things she achieved and started the label and developed other artists. But there are not enough of those women."
"In this industry, the biggest mistake is not being in your right mind, and then not making the right judgement."
After sacking her father, she sent out the mission-statement song, "Run the World (Girls)", premiering it with a spectacular, state-of-the-art performance at the Billboard Music Awards in May 2011. Some see it as pop in the service of female empowerment; others aren't so sure. A response video, "Run the World (Lies)", in which an articulate young woman argues against its simplistic content, quickly went viral. Beyoncé's feelgood, pop-psychological perspective on female power may not be entirely accurate, but at least it points any impressionable listeners in roughly the right direction, argues the feminist pop cultural critic and journalist Elizabeth Mendez Berry. "Look," she's been quoted as saying, "if Beyoncé's going to write an aspirational anthem, let it be about running things, not buying things."

In other ways, Beyoncé is a long way from the original Material Girl – her documentary could hardly be more different from In Bed with Madonna, that ferocious homage to one woman's ambition (titled Truth or Dare in the US). "It's a different personality and a different approach," says Beyoncé. "But we're doing the same thing." And that thing is being ambitious women and running the show? "Yes. And I feel like my father taught me so much, and he prepared me for this. I always ran my stuff, since we were 15 years old. Now I'm controlling my content, controlling my brand and archiving it for my daughter and making sure she has it and she respects it. You see Puffy and you see my husband and you see these male artists that become moguls, and the female artists might become legends, but there's not enough of us that become moguls. And I think there are many ways to get there."
Not long ago, Beyoncé treated herself to a home screening of BAD 25, Spike Lee's documentary on the making of Michael Jackson's Bad album. "I thought it was incredible," she says. "I knew the story so well that I was like, how are we going to see this story again and make it different? I thought he did a really great job. It was a celebration. Just seeing Michael Jackson's costume sketches and how much he was a student... People don't understand the amount of studying and research that goes into greatness. But I absolutely understand it."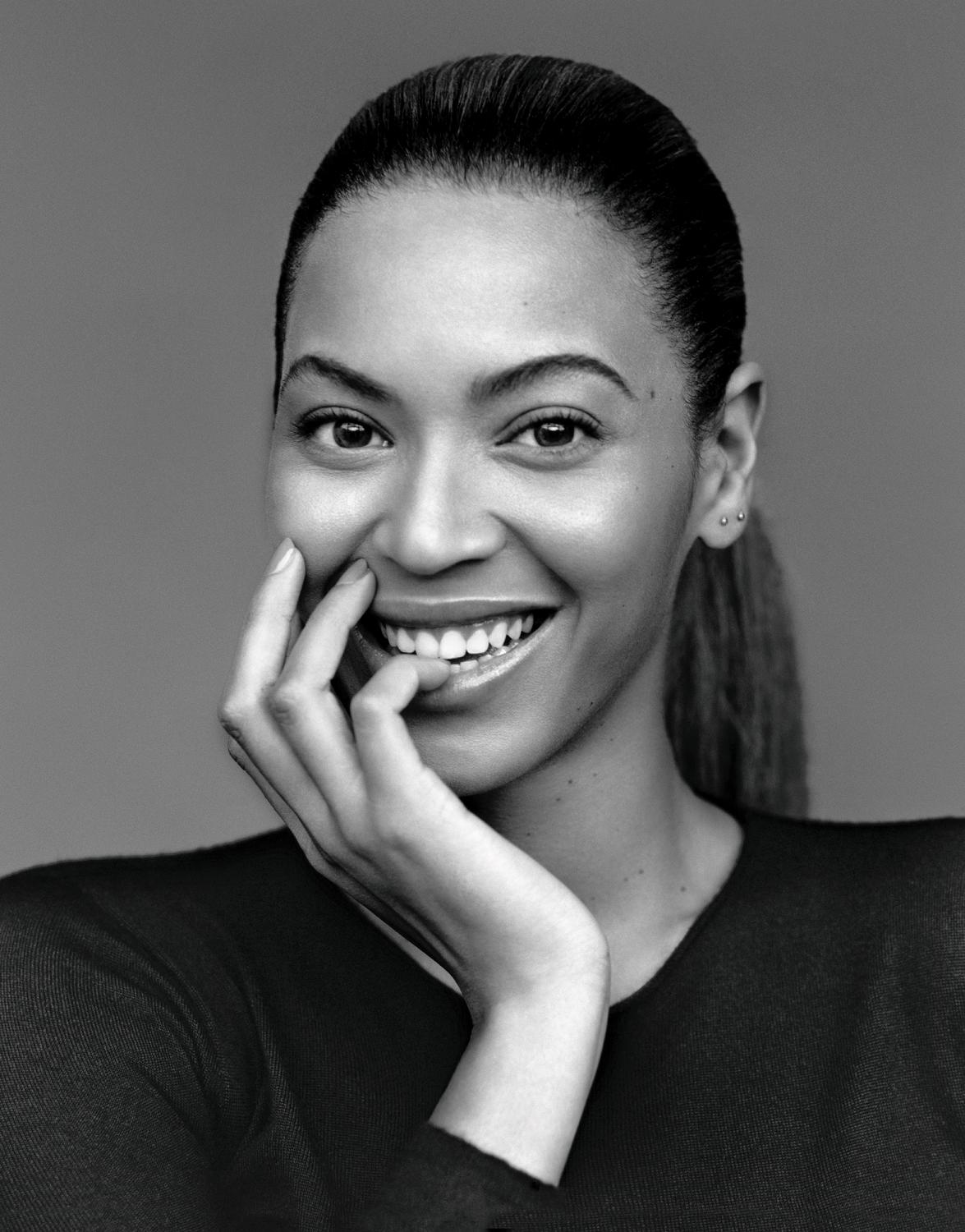 Until the release of her all-conquering I Am...Sasha Fierce, Beyoncé's ambitions seemed as enormous as Jackson's. She was clearly interested in the potentially epic proportions of stardom. After Thriller, Jackson became consumed with the idea of not just repeating but bettering his achievements. With an addict's compulsion, he searched for bigger, better, brighter hits, each consecutive attempt selling less than the last. In the absence of any discernible personal happiness, he demanded the event recur, again and again. After Sasha Fierce, Beyoncé didn't. "It's just not interesting for me," she says. "At the end of the day, I want to live a full life."

Beyoncé's first professional engagements after giving birth were four shows held over consecutive nights in May 2012 at the Revel hotel and entertainment complex in Atlantic City, New Jersey. "That was the hardest thing I've done in my life. Rehearsals started three months after I gave birth. I did that consciously, so that I knew that I still loved to perform. Because when I got on the stage, I was nervous that I wouldn't feel the same. And when I still felt the need to work just as hard and I still felt the same release, I was like...OK." And she exhales deeply.
Having convinced herself there was still pleasure in being Beyoncé on stage, at the start of summer 2012 she stepped tentatively back into the studio to see if she might like to record a follow-up to 4. For the new album, she drew on her own history, exploring the golden snap and bounce of '90s R&B that she helped to shape and sell. She worked with the producers Timbaland and Pharrell Williams – both pioneers of the period – and recorded a second duet with fellow Michael Jackson devotee Justin Timberlake ("His record? I don't know whether I should be talking about this, but it is just brilliant"). She also invited fellow Destiny's alumnae Michelle Williams and Kelly Rowland into the studio. "When I heard their voices, I literally fell on the floor," she says of the reunion. She's since decided their contribution should be saved for a separate project.
Beyoncé says she's recorded perhaps four different albums' worth of material but has edited it down to one for the time being. She launched the campaign for the new record in early February with a halftime performance at the Super Bowl, the most watched television show on the planet.

For someone with such excessive stardom, Beyoncé seems to remain remarkably sane. "I don't want to direct this at any specific artist, but taking care of your body has a lot to do with it," she says. "In this industry, the biggest mistake is not being in your right mind, and then not making the right judgement. There are so many snakes out there. I will never even entertain anything that will cloud my judgement." Apart from that, she says, it's all about knowing what she wants. "I still have to work on my time management, because I have great opportunities and it's really hard saying no. The Super Bowl's one thing, but after that, I'll be very selective. What I love is performing and making the album. I don't really have to do anything that I don't want to do anymore. And that feels damn good."