Angela
Lansbury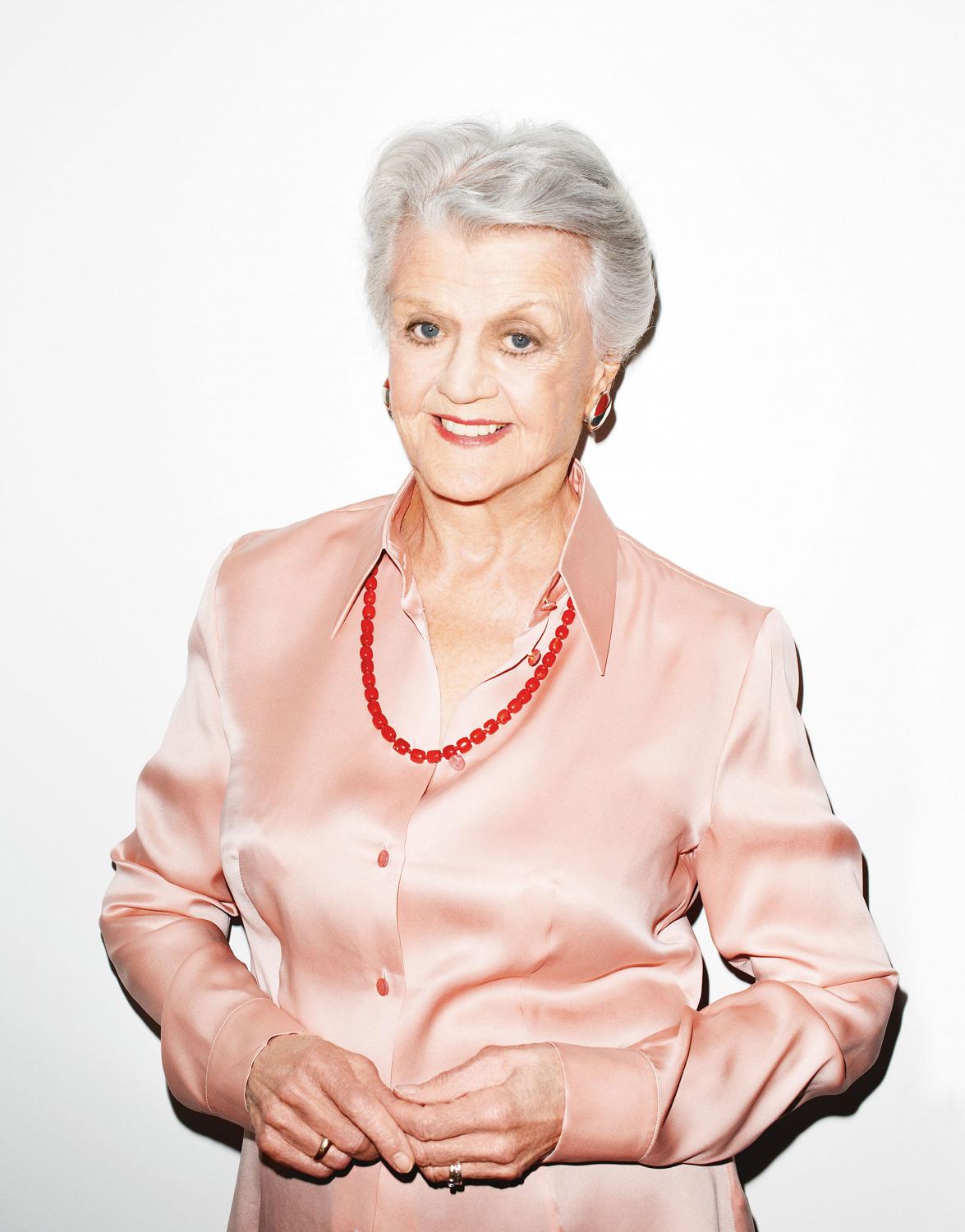 One of the most remarkable icons of Hollywood's vintage Golden Age, Angela Lansbury still works every day. At the age of 86, she's an inadvertent role model for how to live one's later years with absolute imagination and style.
Her whole life is one of amazing accolades, from her first Oscar nomination at the age of 19 to her status as a Commander of the Most Excellent Order of the British Empire, her homeland, since 1994. In fact, Angela is so fabulous, she's honoured with not just one but two stars on Hollywood's Walk of Fame. And while her charming New York apartment may be a modest affair, her staggering career – encompassing highlights from The Manchurian Candidate to Murder, She Wrote – has been anything but.
It was never about her looks. While other actresses were paid to let the camera linger over the play of light and shadow on their faces, Angela Lansbury was signed as Ingrid Bergman's maid or the sister of Elizabeth Taylor or Hedy Lamarr. The heroine, the siren, the ingénue who gets the guy was always somebody else.

You could argue that the roles in which she made her mark were in many cases more substantial: the power-mad, manipulative mother from hell (The Manchurian Candidate); the newspaper magnate conniving to install her lover as president (State of the Union); the stage mother who indentures her daughter into burlesque (Gypsy); the serial killer's love-struck accomplice who turns his victims into meat pies (Sweeney Todd); and, of course, Jessica Fletcher, the analytical writer of detective novels who nails the murderer hiding in plain sight (Murder, She Wrote). While the beauty queens said no to any role that might prove unbecoming, Lansbury kept right on working, with no apologies, getting speared to a door (Samson and Delilah), playing Elvis's mother (Blue Hawaii) and Santa's wife (Mrs. Santa Claus).
Articles in the press at the time of her contract negotiations for Murder, She Wrote in 1993 cited the kind of figures ($400,000 per episode, according to one report) that would suggest she'd be living in a penthouse overlooking Central Park these days, not the modest apartment she recently renovated on a busy block in midtown Manhattan. Wearing a linen shirt, casual trousers and minimal make-up, she opens the door herself and extends her hand. "I'm Angela," she says – not because she needs any introduction but because she presumes nothing.
Though she maintains houses in Los Angeles and Ireland, where, combined, she spends three months or so a year, New York is home now. The furniture is unprepossessing and comfortable. Her living-room walls showcase a suite of watercolours by her brother Edgar: scenes of the Irish coast he painted as a souvenir of a trip they took together.
In interviews over the years, Angela has talked about her love of making beds and ironing. On this particular day, though, there's a housekeeper (no uniform), who checks on a load of laundry running in machines stacked behind a closet door. An assistant returns from an errand. As domestic operations go, Angela's appears no more elaborate than that of your average self-employed middle-class New Yorker. Not only has stardom not gone to her head, it hasn't even gone to her home.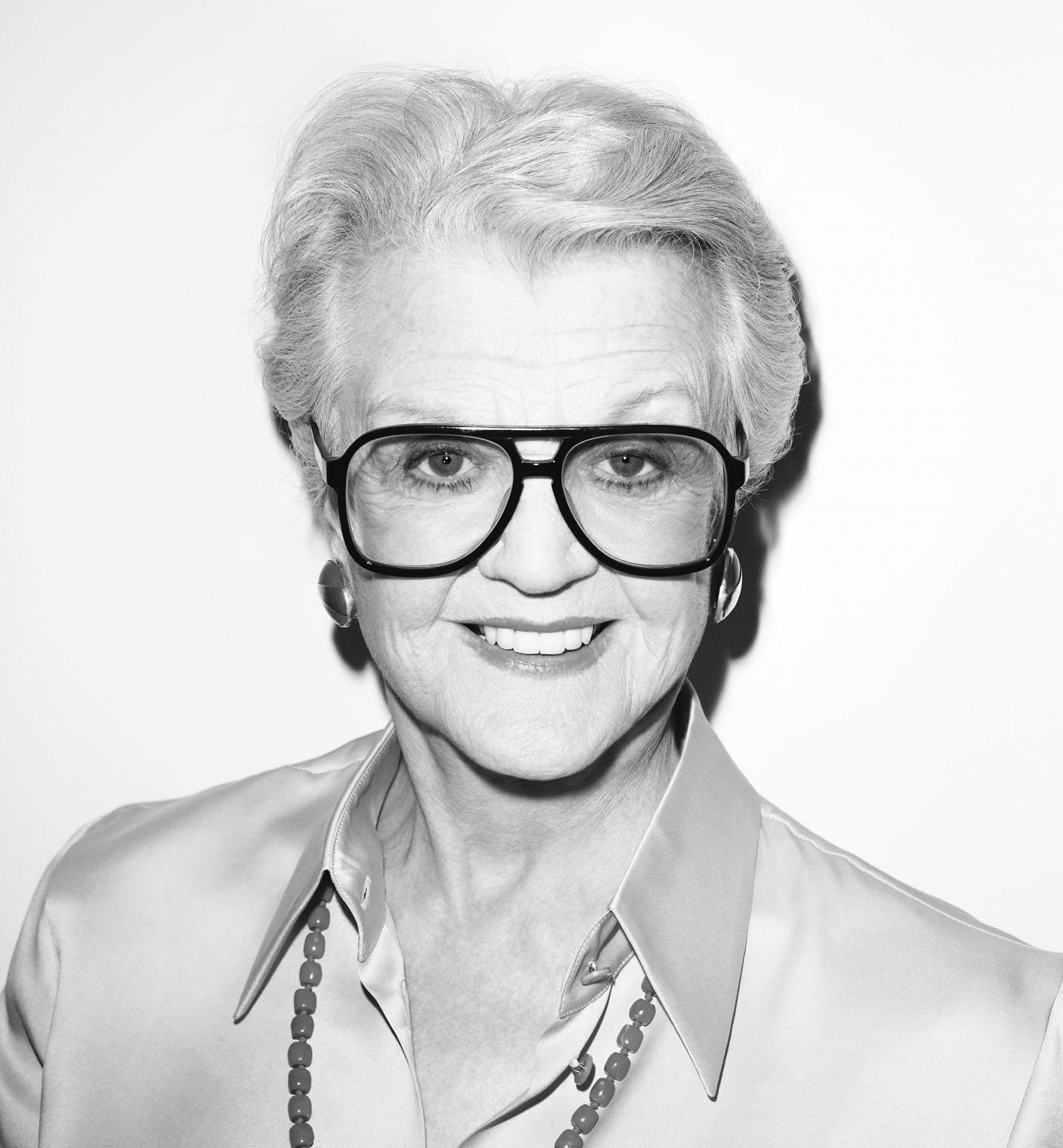 To hear Angela tell it, she's had the career she deserved. After all, she says, "What do I have? Big eyes." To hit the jackpot in Hollywood, you needed high cheekbones and a lush mouth too. "All I could do as an actress was give the illusion of being a much more beautiful woman than I am."

Nearly 70 years after her film debut, at 18, in Gaslight (for which she earned an Oscar nomination in 1944), Angela has professionally outlasted the pin-ups and bombshells of her generation. The camera loved them until they changed; then the camera moved on. But you can't lose what you never had. "I don't think my appearance was ever in any way responsible for my success as an actress," Angela says. Time went by, and she simply shifted gears – from film to theatre to musicals to television and back to theatre again – and kept going, without interruption.
Angela confessed to Martin Gottfried, writer of one of her three biographies, that she "suffered from a certain lack of self-regard in the looks department." Does that become easier with age? I wonder. "Yes," she says, "it really does." Her reward for missing out on being cast as the sweetheart – more often than not an insipid, one-dimensional stock character – has been to play an assortment of complex and fascinating women with qualities sweethearts never possess: perspicacity, extravagance, treachery, voracity, megalomania.
Born Angela Brigid Lansbury in London in 1925 and known as Brigid to her family and childhood friends, she arrived in New York in August 1940 with her twin brothers and their widowed mother, an actress named Moyna Macgill. Moyna found work on Broadway, and Angela studied drama until, after two years, they decamped to Los Angeles. Moyna was on tour at the time, so it was left to Angela to organise the move – packing and closing the apartment, making travel arrangements for herself and her brothers. She was 16, pretending to be 19.
In LA, she got a job as a gift wrapper at Bullocks-Wilshire department store to help support the family. Early responsibility obliged her to grow up fast, and an air of maturity dogged her from the start of her career. In her 30s, she found herself in a series of mother roles, which she played – convincingly, to great acclaim – without ageing make-up. Only three years separated her and Laurence Harvey, her son in The Manchurian Candidate.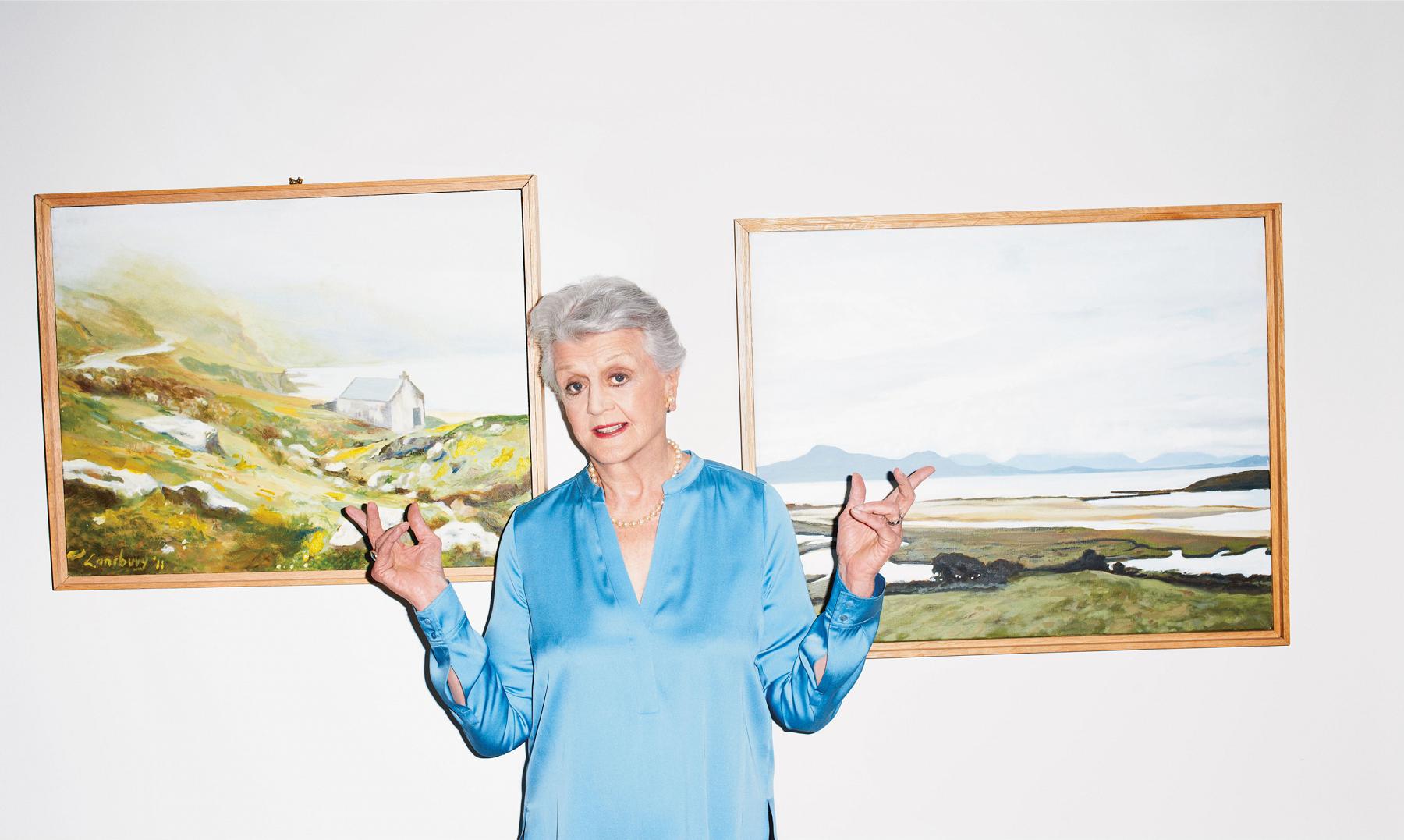 "I had no adolescence," she says. "And I was too busy preparing to become an actress. It never occurred to me not to go on, not for one second. Nor did I think I was missing anything." But some skills she never acquired: how to play, how to flirt. "I'd get crushes on boys, but I didn't know how to reveal it to them."
This will come as news to anyone who has seen her precocious performance as Nancy, the maid in Gaslight. (She celebrated her 18th birthday with a party on the set.) In her scenes with Charles Boyer, Nancy's employer, whom she tries to lure away from his wife, Angela projects the insolent allure of a woman who knows she has something a man wants.
"I took a lot of direction from George Cukor, the director," she recalls. "He was able to show me in a physical way the essence of her character, the louche side. I was a young virgin, for God's sake. But instinctively I recognised the sort of girl she was. Being an actor, you can often do things that you wouldn't dream of doing in your own life. Some women have such a feeling of confidence about themselves, and it enables them to put out that attitude that makes somebody notice them."
Brigid – which is to say the woman Angela always was, as opposed to the one who became identified with certain characters – may never have got the hang of how to flirt, but from an early age she was experimenting in a variety of techniques for getting attention, which over time paid off in a quality we call stage presence. "I did want people to notice me as a child. At the age of 11 or 12, I remember sitting on buses and trying to look interesting. Or I would get people's attention by saying something kind of outlandish that simply sounded as if I knew something they didn't know."
She was, she says, "taking on the emotional and mental aspects of somebody other than Brigid. So I was acting through a great deal of my life without even realising that that's what I was doing."
"It used to be thought that women lost interest in sex after menopause, but now we know that just isn't the case."
Some of the characters Angela has played have been more like Brigid than others. During the out-of-town try-outs prior to Mame's opening on Broadway in 1966, the producers found Angela's performance as the madcap, bugle-playing New York bohemian Mame Dennis too muted. So she commissioned Kenneth, the renowned hairdresser, to chop and dye her hair into a boyish blond crop, completing an overhaul that had begun with her body, made longer and leaner by hours of dance rehearsals. The transformation enabled Angela to locate something in herself she hadn't had access to before: a burst of glamour that ignited the show.

Do the attributes she develops for a role ever stay with her after the run is over? "Yes, definitely. It is only through the doing of life, the involvement, that you recognise how to make so much more of yourself than you have when you look at yourself in the bathroom mirror in the morning. That's all part and parcel of acting."
In which case, is she acting her way through life? "Yes, sometimes it's necessary. However, I must hasten to say that I have managed, I believe, to absolutely separate what I do in the theatre and movies and television from my own life, thank God. It has been an accomplishment. And the women I admire most have done the same thing." Pressed for an example, she cites Meryl Streep. "I admire her work so much, and equally, I admire her as someone who has managed to maintain a separation between her professional and her private life."
Streep, Angela says, is not a personal friend. Her friends in the business tend to be dramatists, screenwriters, authors, creators of musicals. "Those are the people I consort with," she says. "They seem to get me." And it's no wonder, given the fact that she views the world with the street-level curiosity and fine-tuned radar that characterise those who deconstruct human nature for a living.
These days, when Angela is recognised on the street, it's most often by fans of Murder, She Wrote, the TV series that dominated the US Sunday-night ratings from 1984 to 1996. Angela was 59 when she took on the role of mystery novelist Jessica Fletcher, the show's protagonist, who plants flowers and rides a bicycle around her small Maine town while cracking cases that have stymied law-enforcement experts. Self-possessed, with a career she loves, Jessica has the courage to expose corruption and ineptitude and the audacity to talk back to the FBI. Her personality was tailored to Angela's strengths, and Angela coloured in the contours of Jessica's character. No wonder viewers think Angela is Jessica. By the time the series hit its stride, not even the people working on it seemed to know where Jessica left off and Angela began.
The resemblance continues. Sixteen years after the series ended, Angela finds herself in circumstances similar to Jessica's. Both are women alone – active, independent – who have led fulfilling lives. Both loved their husbands and lost them. Angela's marriage, to Peter Shaw, a British-born actor and businessman, was an equal partnership from the start, she says, based on love, mutual admiration and a strong professional rapport.
"I give Peter credit for so much that I probably wouldn't have done had I been left to my own devices," she says. "He would say, 'Go do it; I will take care of things here. Go.' And I was always thankful that he did." So strong was their bond that when work took her away from him, she was "never bored and never looking for anything else."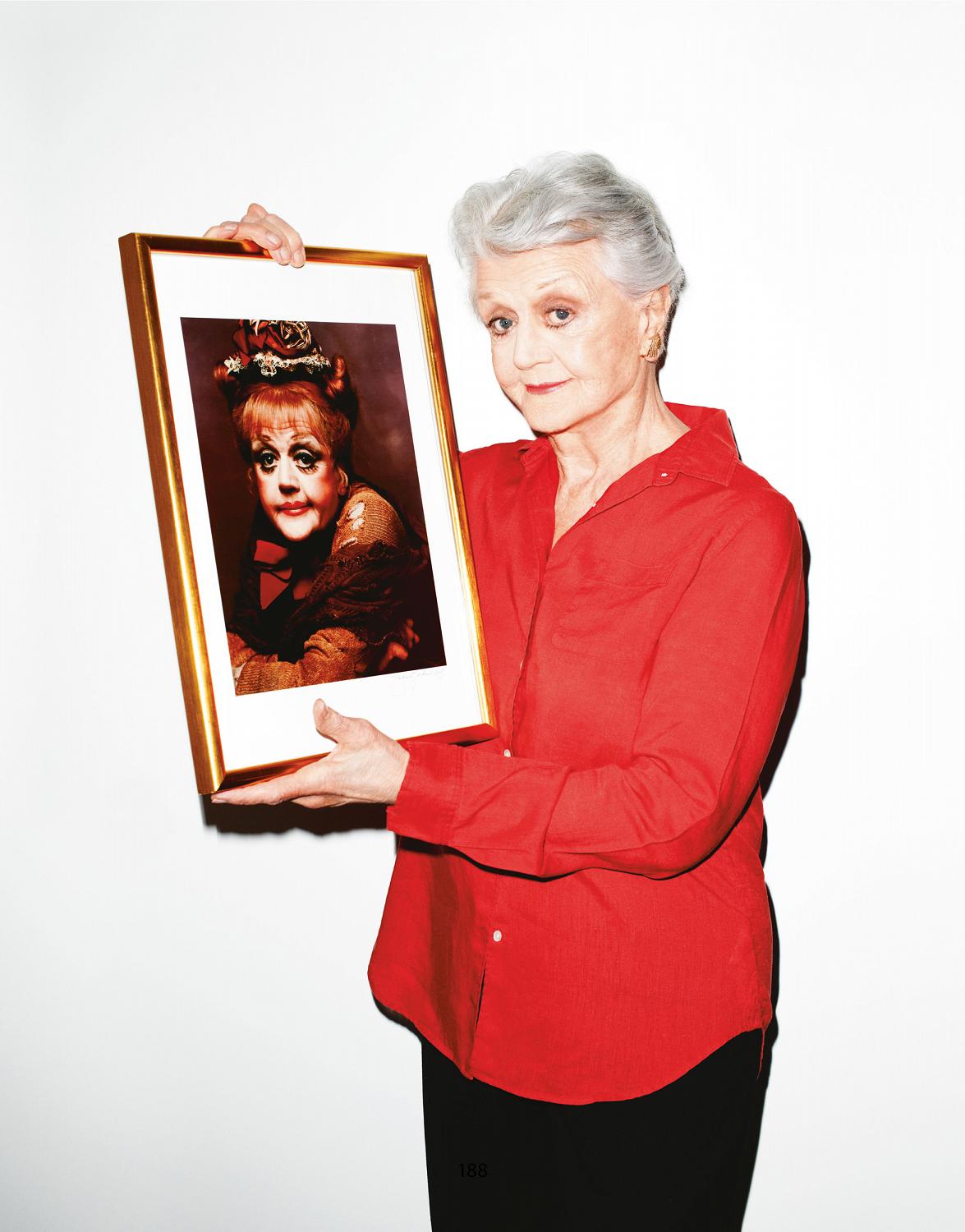 When he died in 2003, they had been together for 53 years. Angela took it hard. "It's not the life plan that one has. And it never occurs to you until suddenly it happens and that special person is gone." There was, she admits, a period when she let herself go. "And then I said, 'All right, enough already. Get off your ass and start moving forward.'" She went to England to make a film with Emma Thompson, and she returned to the theatre. The work revived her, she says, and helped her remake her life on her own.

Writers of the Murder series repeatedly tried to pair Jessica off with one or another of the bachelors they wove into the story – to no avail. It was at Angela's insistence that Jessica remained unattached. "I felt that was 100 per cent of her mystique," Angela says. "Jessica Fletcher didn't want to begin a whole new cycle of life with somebody new, because she had a very complete life as an authoress. She had success and the comfort and cosiness of her home, her pursuits, her friends." Do Angela's friends try to find her a mate, setting her up with eligible men now that her husband is gone? "No, they don't," she says. "Thank God."
Though she's made her home and career primarily in America, Angela hasn't bought into the great American notion that success is measured in money. By her own standards, she says, the measure of her success is "the fact that I've had an audience." She is, she laughs, "not at all" interested in her own fame or the trappings that come with it. Even her wardrobe is sensible – impervious to fashion trends, not stacked with designer labels or big-name luxury brands. An everyday parade of shirts and trousers from Gap and Uniqlo is interrupted only by the occasional grand evening gown made for her by Carmen Marc Valvo, worn at awards presentations and other formal events that fall in the line of duty.
Celebrity, as Angela describes it, is a condition brought on by circumstances and confined to public places, not a personal attribute or a mantle to be worn. She is one of those rare stars (most of them British, it seems) who regard acting as a job. "I don't go to premieres these days, but if I did, I would know what's expected. You go through motions for a show or any event where you are being lauded for what you do, not who you are. So to a degree, you play that role."
"It's worth continuing to present yourself as a woman of loveliness and dignity who knows she's looking her best."
Life these days consists of post-performance dinners, usually at New York theatre-district canteens like Orso and Joe Allen's; her schedule rarely permits a leisurely evening at some hot new restaurant. She loves to read – biographies, especially, and novels (she is currently recommending Old Filth by Jane Gardam to friends). And she needs to do things with her hands, she says – cooking, if she's at home, or knitting, in her dressing room. "I find that very calming," she explains. "Which might give you the idea that I'm a nervous person, which I'm not. But sometimes one's mind goes too fast, and by doing something with my hands, I slow myself down."
At 86, she could, of course, retire. "But what would I do?" she says. Diagnosed with a hairline fracture of her right hip three days before opening in the Broadway revival of Gore Vidal's The Best Man in March, she simply added a cane to her role as Mrs. Sue-Ellen Gamadge, chair of the women's division at an unnamed political party's nominating convention. (The fracture healed, and Angela kept the cane, which had by that time become part of Sue-Ellen's character, she says.) The play gave her occasion to work with James Earl Jones, an ambition she'd harboured for a long time and one that turned out to be mutual. They've since agreed to appear together in Driving Miss Daisy, embarking on a tour of Australia in January.
Meanwhile, in December, she'll go to Germany to shoot Wes Anderson's The Grand Budapest Hotel, in which she plays "a woman of mystery." It is, she insists, "a minuscule role – I'm on the screen probably for less than five minutes." Still, one wonders where she gets her stamina. "I ask myself the same question," she says. "Because it keeps coming back, and I can't account for it. I don't have a routine or a regimen." Does she drink? "No." Stay out late? "In the theatre, you do." Both hips and both knees have been replaced, but that doesn't seem to have slowed her down. In the end, she says, she believes she has her grandfather George Lansbury to thank. A British politician and former head of the Labour Party, he walked for miles through the streets of London to see his constituents. "So I think stamina is built into my constitution."
Angela says her influence as a role model for several generations of women has been inadvertent. "It's only by dint of being a certain age and having the bearing of a younger person," she says. "I don't do it consciously or for effect. I just act the way I feel, and I don't feel physically old." But it is about rather more than age. Those of us who admire Angela have been admiring her for years for any number of reasons: the level-headed professionalism she brings to everything she does; her refusal to climb onto the pedestal from which most movie stars seem to view the world; her sense of solidarity with other women, from the characters she plays to the people she meets.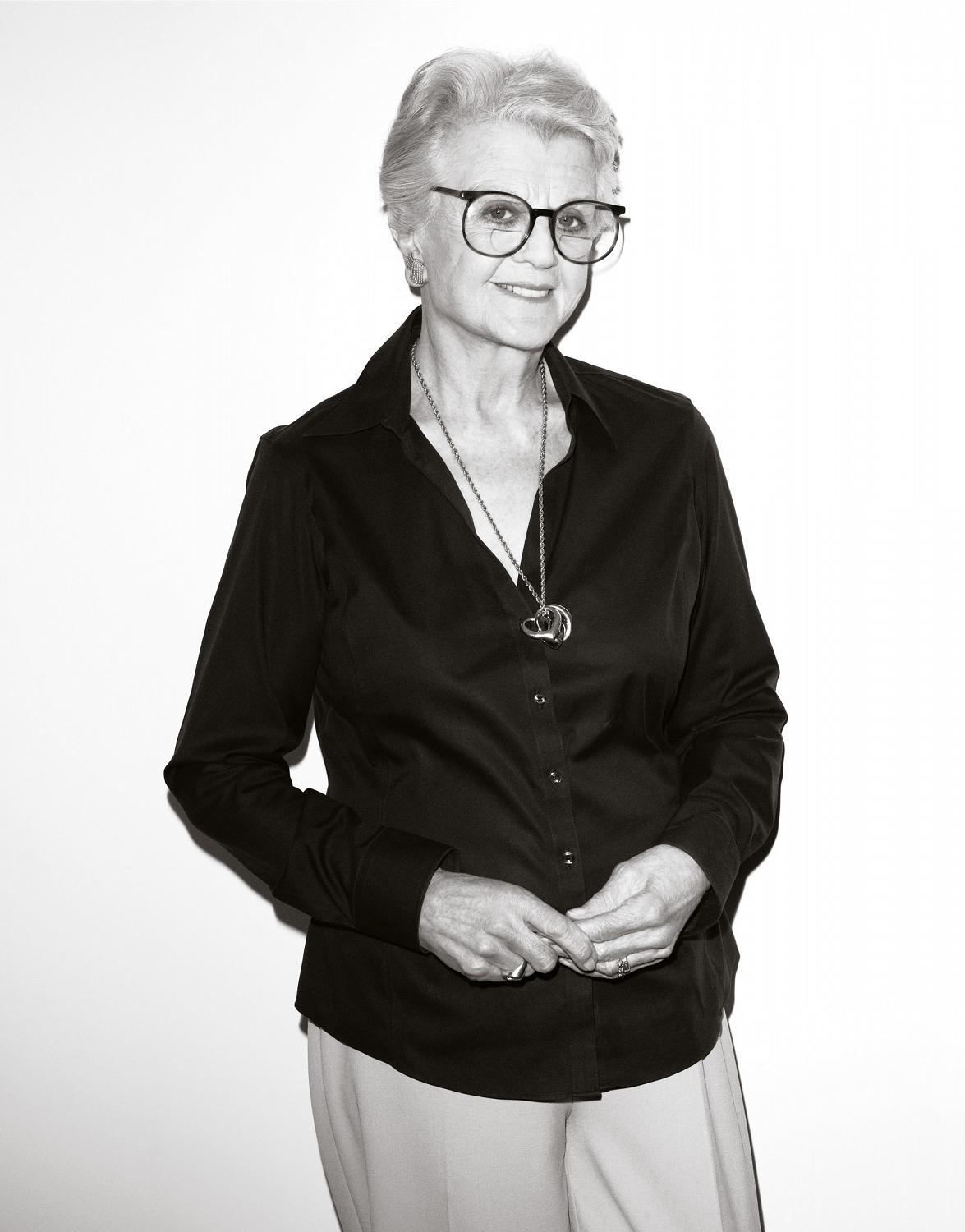 Back in the '80s, when Jane Fonda became aerobics' self-appointed drill sergeant, exhorting a female army in spandex to feel the burn, Angela released a workout tape (which can be seen on YouTube), soon followed by a book (with Mimi Avins), both entitled Positive Moves. Where Fonda's manic jouncing is vintage school-of-Flashdance, Angela's peach jumpsuit and wafting arms seem descended in a straight line from the Isadorables. More remarkable than the exercises she demonstrates is the candid girl talk that precedes them, in which she urges women to "stay in touch" with their bodies as they grow older. "It used to be thought that women lost interest in sex after menopause, but now we know that just isn't the case," she confides to the camera as she performs her morning massage. "It's so easy to give up or get lazy. It's worth it to continue to present yourself as a woman of loveliness and dignity, a woman who feels good and knows she's looking her best."

Though Angela goes on to address women with long-time partners by their side, what's striking is the emphasis on the relationship not between a woman and a man but between a woman and her own body. The sexual invisibility that supposedly sets in when a woman hits 50 is a myth, though, she insists today. In fact, she claims, younger men often find older women more attractive than women their own age – a prospect that popular culture conveniently reduces to a 'cougar' scenario.
"During the years when younger women are hoping to find the man who's going to marry them and give them a family, they're unsure of their own sexuality and their ability to attract and to hold a man," says Angela. "The hopes and expectations they bring become a burden, and men feel the weight of it. Whereas I think women who have settled those questions in their own minds don't present such an enigma to a young man. Because they are what they are."
It occurs to me, listening to Angela, that the frontier of feminism has shifted. Back in the '70s, it was all about the formative years of a woman's life: the education she received, the career options she faced, the pleasure she found in sex. The hard-won result has been a range of new opportunities to which young women already feel entitled. Now the business of subverting the status quo has moved on to later decades of life. Women have rallied around Angela as if she were the spokeswoman for a cause. Which, in a sense, she is.
That cause is the overturning of certain longstanding assumptions: that 'old' for a woman means obsolete; that a woman on her own must be unfulfilled. Far from waiting for permission to age with her dignity and even her career intact, Angela's just doing it. This time around, there are no public protests, no banners. As more and more women refuse to get old in the manner of their mothers and grandmothers, Angela stands at the forefront of a revolution, though she seems entirely unaware of the hordes eager to fall in behind her example.