Adele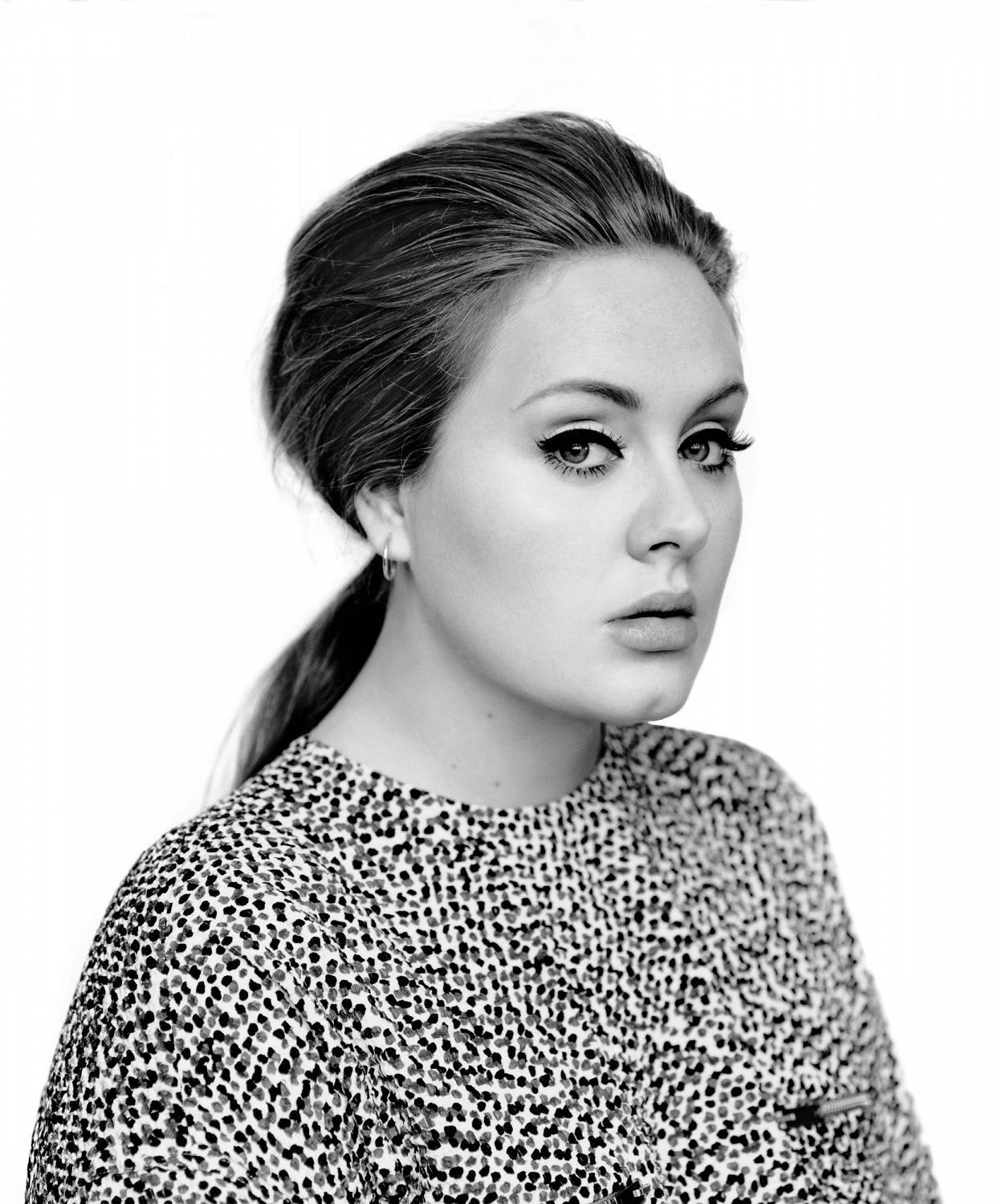 2011 saw a perfect start for Adele Adkins, a British singer with incredible international appeal. When her second album was released in January, it went straight to the top of the iTunes charts in 16 countries. Meanwhile, her debut album returned to the top 10. Born in north London into a clan of strong women, Adele grafts hard over her songs, which are based on her own experiences – in the case of this particular album, a crushing break-up. The events behind her lyrics still sting, and you hear it as soon as she starts to sing. Adele is a legitimate heiress to the great tradition of amazing torch singers. She's also an adorable, down-to-earth girl.
There are young women who inform us about the way we live today: manufactured X Factor finalists and the like, providers of fodder for celebrity culture. And then there's Adele. On a bright morning in an intimate photography studio in Shoreditch, east London, it's the singer's unusual beauty that hits you first: the alabaster skin, the feline olive-green eyes. Then there's her unabashed, open-access personality, a refreshing weapon in a pop star's arsenal if she manages to sidestep the media training.
Here Adele is in her make-up chair, a curler clamped to her eyelashes, hands crossed for a manicure, talking 19 to the dozen in the south London accent that's utterly absent when she starts to sing. Here she is rummaging in her Chanel handbag to find a cigarette, which she smokes out of a window, like a down-to-earth diva watching the denizens of east London breeze by. Here she is scooping up her wiener puppy, Louie, as he scampers behind the studio screens, curling her arms around him like an old-fashioned dame, Mae West meets Marie Lloyd. You see how she cherishes her closest companion of the last two years, and you think about the peculiar journey she's made.
Adele wanted to call her second album something other than 21. Her debut album – called 19 after the emotional year it documented in her life, one in which she experienced her first major break-up and turned "from a girl into a woman", she says – made her an award-winning international star. Her voice had a lot to do with it. Deep and heartfelt, barbed and beautiful, it froze me to the spot when I heard it at her first official album gig, at a tiny church in Soho in January 2008.
But Adele also stood for something else. Here was a new, vital cog in the machine of the British music industry, a woman who followed the lead of the feisty female singers who'd come before her, helping change the way women were seen in mainstream pop. Before her, Lily Allen had sung about revenge and bad sex, Amy Winehouse the perils of gin and ill-advised affairs. Adele's world was more ordinary, more accessible: she plumbed the depths of the loneliness young women can experience and sprinkled it with magic. When she sang, "What am I supposed to do to make you want me properly?" in 'Best for Last', and "I ain't lost, just wandering," in 'Hometown Glory', everyone understood where she was coming from.
She also looked like she came from this world, as a fast-talking, "size-14-to-16" woman rather than a silent, size-0 skinny. She has never been edgy; early in her career, she told one newspaper she was a cool kid in the outside world, but would sneak home to listen to ballads. She's that shameless side of all of us, but she's also warm and welcoming.
The way she became famous so quickly came under scrutiny. Adele attended the BRIT School, an arts institute for 14-to-19-year-olds in Croydon, south London, which has launched a thousand pop careers in the UK, from Simon Cowell protégé Leona Lewis to singer-songwriter Kate Nash. Adele didn't come from a blessed background; she was brought up by a single teenage mother and is resolutely working-class. Her story is like that of a modern-day Cinderella. She even went to the ball, propelled from her housing estate in West Norwood to the offices of US Vogue and then the 2009 Grammy Awards, where Adele won Best New Artist and Best Female Pop Vocal Performance.
Since that glimpse of the high life, she has grown in confidence, but also endured more heartbreak. Later on, she'll admit to me that she can write about no other lives than her own and that the music she's drawn to is soaked with sadness, like the country and blues she heard while touring the southern United States, which wended its way from the radio into her head as she travelled down the long, lonely highways.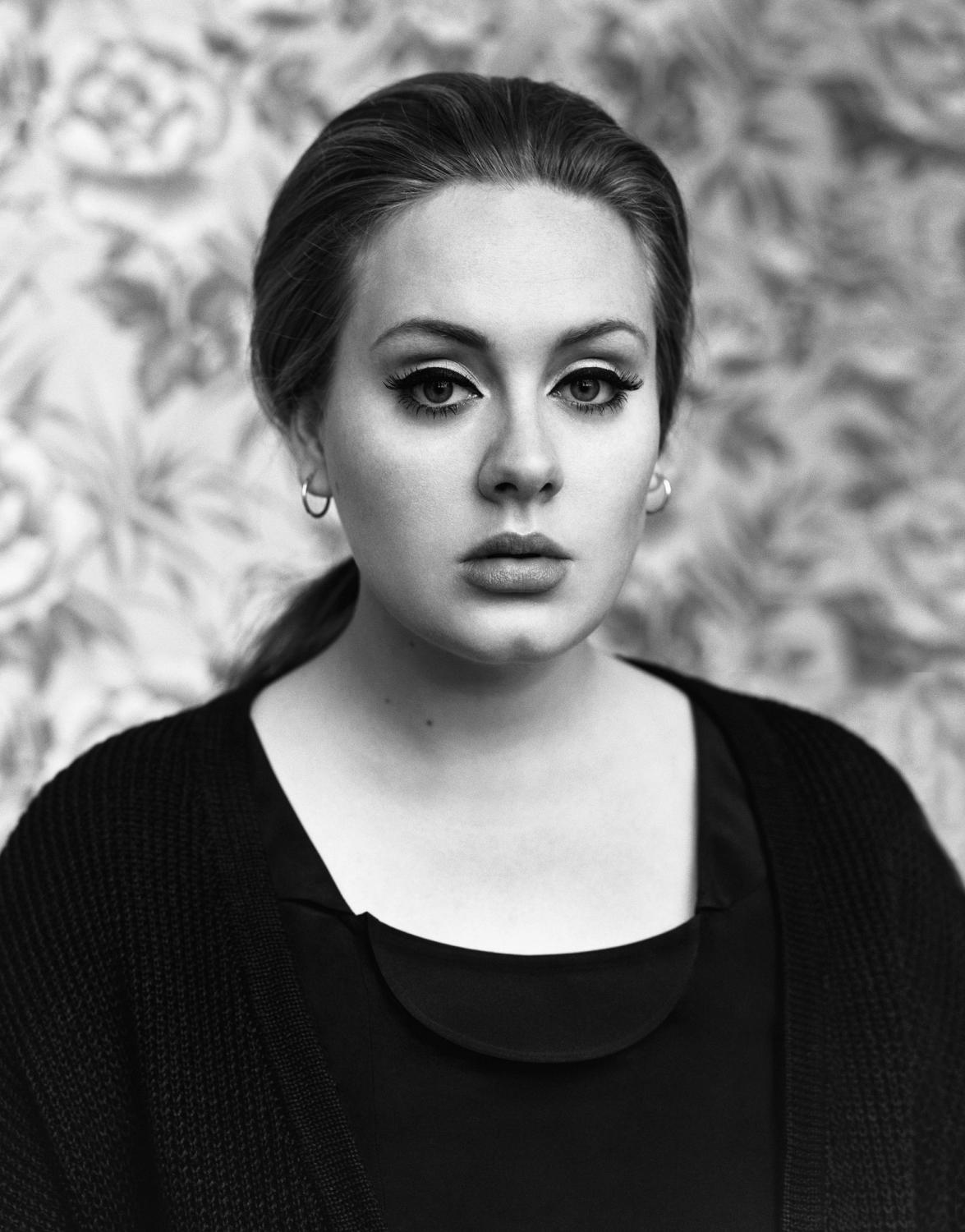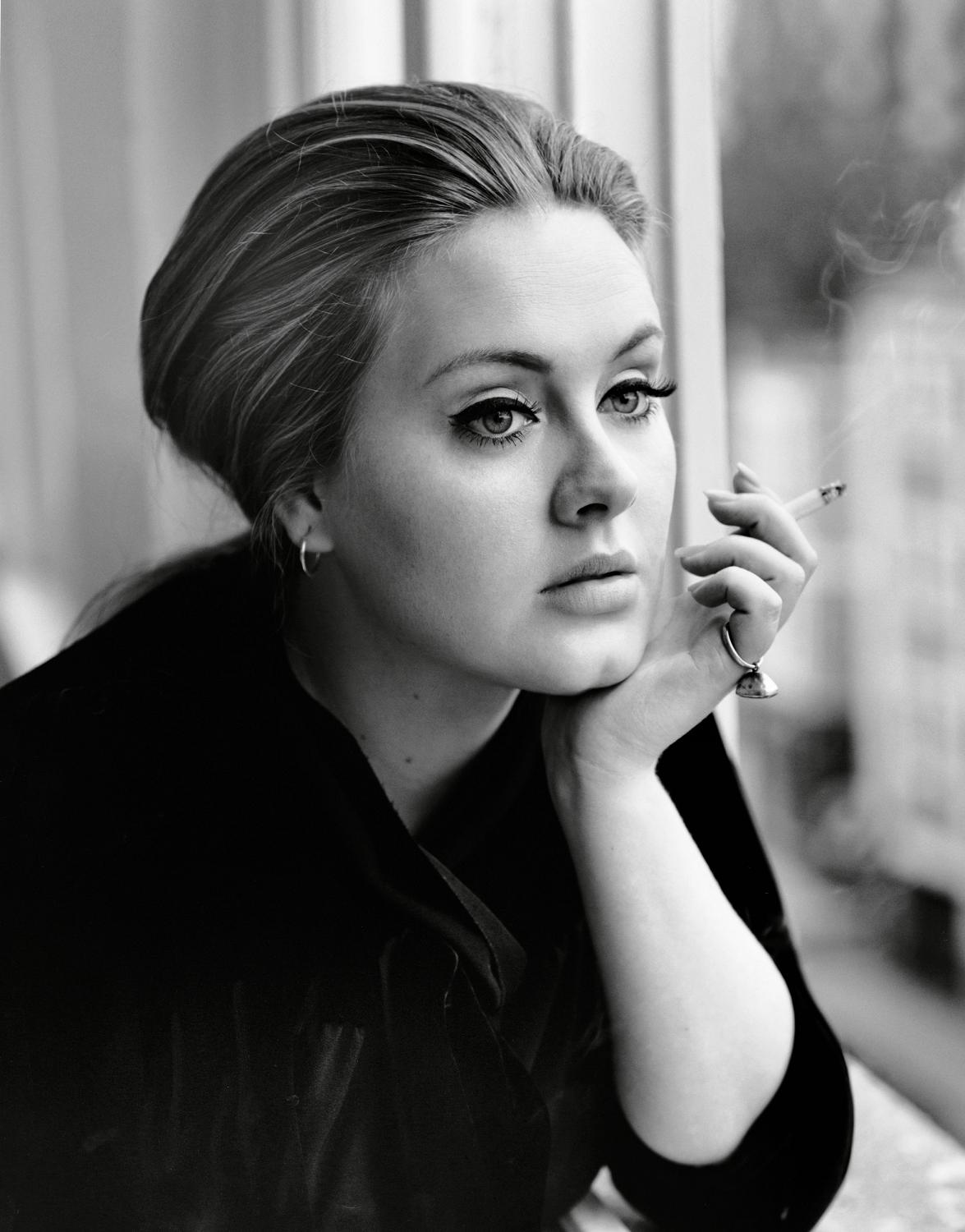 We meet at 10am sharp, surrounded by coffee, flowers and fresh fruit. To Adele's left, her best friend, Michael, who's been applying her make-up since her first photo session, is stroking heavy charcoal grey across her eyelids. To her right, a manicurist files away. I always end up speaking to Adele in these funny, behind-the-scenes situations. The first time was in the inauspicious setting of her publicist's office, a month before her debut album was released. When she saw me, she swung herself round on her chair, slapped the table and laughingly said, "Come into my office!" Hers is a devilishly dirty Malboro Lights cackle. Today, she notices my Welsh accent again in a millisecond. "My dad's Welsh," she says, beaming. I ask her about him. "I know him, but I haven't really seen him for years," she says. She mentions a half-brother, Cameron, 16, who she says looks scarily like her, and a Welsh grandmother, to whom she's close. Then she wells up, widening her eyes so the mascara stays put.
Adele Blue Laurie Atkins was born in Tottenham, north London, in May 1988 (this makes her nearly 23; 21 was written in that year of her life). Thrown into a family of strong women who'd survived hard times, she learned a lot from them, she says. "All of them have put up with a lot of shit, but they never resented it. They've always been, 'Well, shit happens. Get on with it, embrace it.'" She says her mother was 19 when she was born and obsessed with music like a typical teenager. "I was really lucky that my mum had such good taste, because I honestly don't think I was born to sing, you know." She shrugs her shoulders. "It was all down to her."
She was told constantly how much she resembled her great-grandmother, in looks, in attitude, in old-fashioned élan. "I never met her, but I've been told how she always went with her instinct. Went with her gut. I've always felt connected with her."
Adele's mother remarried, and her daughter's obsession with music took on its own momentum. Around age five, she'd watch the Brit Awards, speaking into a can of Elnett hair spray during the adverts, thanking the audience for a fictitious award. Then there was her early, obsessive love of the Spice Girls, "that incredible feeling of being completely united with the entire world as a fan – the same sort of rush you get when you love someone so much," she says. Next came an addiction to singing at home, a can of Impulse body spray now standing in for a microphone. She recalls the night she hit one note perfectly in her early teens, "and my stepdad's face dropped – and I knew suddenly that I could do it."
"I'd like to go to Austin or Nashville, or even Manchester or Birmingham, places with real musical history. I don't think you can ever know enough."
She found the musicians who would change her life while scouring the CD racks at HMV – not for music, but for ideas for hairstyles. It was there that, as a 13-year-old, she found Etta James. "I loved the attitude on her face on the cover of the CD. You wouldn't want to mess with her, she was so fucking fierce. And then I heard her voice, and I nearly died." She got into other gutsy, strong vocalists with personalities to match – Jill Scott, Peggy Lee, Erykah Badu – and knew she wanted to be one of them. But her mother couldn't afford to pay for professional lessons, let alone send her somewhere like London's famous Sylvia Young Theatre School. But then Adele heard of a friend's brother attending the state-funded BRIT School and went to an open day there, and her life turned around.

Adele will defend the school forever. "Everything people say about the BRIT School is wrong. They go, 'Ah, stage school, rich bitch,' all that." She arches her eyebrows in anger. "I come from nothing, man. God knows where I'd be if I hadn't gone there. It also exposes you to everything – people of different backgrounds, sexualities, styles, tastes. There were no frustrated teenagers at the BRIT School, because everyone was so open about everything."
Adele didn't just perfect her singing at the school; she also played piano, clarinet and guitar and learned to write songs. Critics often forget she writes the bulk of the music on her records and plays piano and guitar on them too. "But not clarinet anymore, because I smoke too much," she laughs. When she was 16, a friend posted some of her songs on MySpace. Because she was one of the 'top friends' of classmate and rising star Jack Peñate, himself 'top friends' with Lily Allen, record company scouts started to show interest – and then the hugely respected label XL Recordings, which has Radiohead, the White Stripes and M.I.A. on its books, got in touch.
Adele says she thought the email was a wind-up, and she's glad they ignored her first, rude reply. "I'd said, 'Can you not email me, please? I'm busy.' And then he [Nick Huggett, who also signed Dizzee Rascal] went, 'I'm sorry, I just wanted to check: are you signed?' And I was like, 'Signed to what?' And he said, 'Have you got a record deal?'" The eyes widen again, the hands lift, and Adele rises up on her chair, remembering how it felt when her dreams suddenly became real. "And I was just, 'Nooo! I do not!'"
We stop for photographs. Adele is utterly un-self-conscious, gamely letting the stylist try her in various looks. When the time comes, she stays fantastically still for the portraits. Afterward, she curls up at a table with her puppy and surprises me by saying she doesn't find this part of the job easy. "I'm in the worst profession – I've got a fear of flying and a fear of cameras."

Does she feel pressure being a different shape and size from other young female pop stars? "Not really," she says, and you believe her, despite the hint of self-doubt. "I've never looked at a magazine cover and gone, 'That's what I need to look like if I'm going to succeed in life.' If you think that, you're naive. Even if I looked like Katy Perry, I'd never do a shoot in my underwear. I hate that idea, that people might say, 'Look at her – she's only doing well because she's got an amazing body.'"
But she had her own high-profile magazine moment in March 2009, when she was featured in US Vogue's annual 'shape issue'. Critics slammed editor Anna Wintour for only celebrating a range of body types once a year, but Adele says the magazine editor was nothing but welcoming. "Anna has said things in the past about plus-size girls, which people probably want to hang her for, but when I went in to meet her, she was so nice. Beforehand, everyone was going, 'Don't talk to her unless she talks to you,' and I was like, 'Fucking hell, bring on Meryl Streep!'" With nine hours blocked out in Adele's diary for her shoot, the session with Annie Leibovitz took only 10 minutes. Adele says she loved the experience, despite it being alien. "I don't read Vogue – it's not part of my life – but obviously I'm completely aware of its importance."
Way before Vogue came along, Adele was simply an artist in development. Her record label gave her time and space to find out what she wanted to do and who she wanted to be. Over 2006 and 2007, she slowly wrote songs (80 per cent of those on 19 are hers alone), some about an old boyfriend who had left her, controversially, for a man. She also collaborated with producer Paul Epworth and songwriter Eg White, with whom she wrote her biggest hit, 'Chasing Pavements'. "I prefer working with other people, just because I throw away my material really easily," she says. "When I work with other people they tend to catch it and encourage my fiercer side." When the album was finished, hype started to build around it, and the record industry's fixation on new talent caught her in its whirlwind.
A month before 19's January 2008 release, Adele won the Brits' first Critics' Choice award. Winning a Brit was great at the time, but she grew to hate the pressure it put on her, she says, tapping her cigarette packet on the table. She also despised the way she was compared to other female soul singers, like Duffy, whose retro soul album, Rockferry, was released in the UK in the same month as 19. "I read how we had a big fight down in the toilets of some club, and we'd never even met each other!" She says. "When we did, it was literally like two sisters meeting – we knew everything about each other because of what the papers said." She still expresses anger about the way female singers were treated in the wake of Lily and Amy. "The whole thing was crazy, as if the world was surprised there were female singers. And I was like, 'Hello! Joni Mitchell, Janis Joplin – we ain't got shit on them lot. Why are you making such a big deal of us?' Journalists were just really treating our gender like a genre."
But then the success came. 19 went straight to number one in the UK before going double platinum with 600,000 sales. A nomination for the UK's Mercury Prize cemented her status. I was a judge that year, and remember how Adele silenced the audience at the huge, flashy ceremony, singing alone behind her acoustic guitar.
Then America came calling. Columbia Records signed her in the US – "I was in the lobby, literally weak at the knees, looking at Bob Dylan, Bruce Springsteen," she recalls – and a performance on Saturday Night Live saw her rocket into the Billboard top 10. Rick Rubin, the producer who made the careers of the Beastie Boys and Rage Against the Machine before making his name in the mainstream with Johnny Cash's American Recordings, was there that night. The pair hit it off, and Rick invited Adele to LA to make her new album.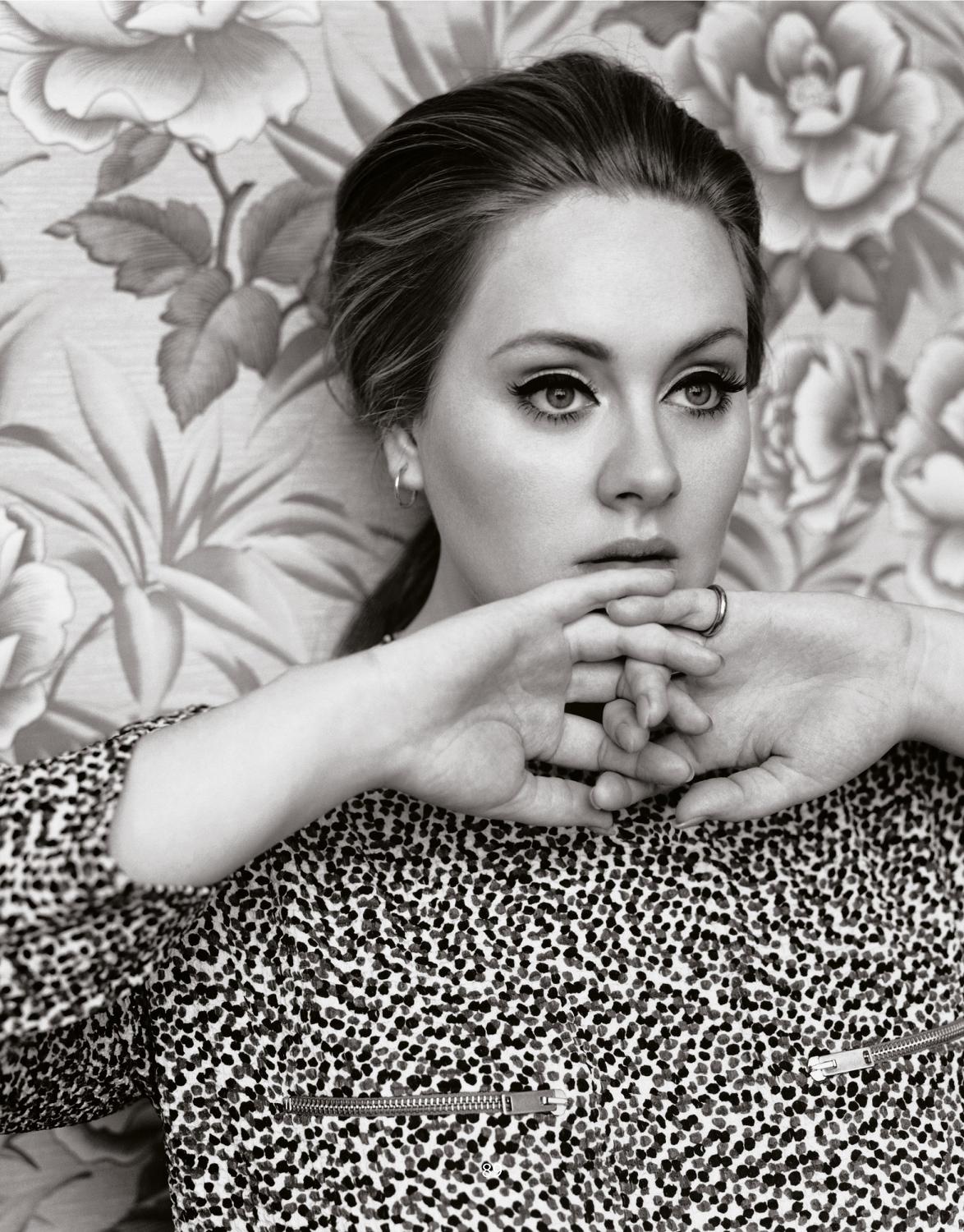 Adele is still awestruck by that experience. It's five weeks of her life she says she'll always remember. "It was incredible. To make a record in such an old-school and organic way so early on in my career was a true, true honour."

But when she started writing 21, there were other things going on in her life. Adele had fallen in love, hard, with London-based actor, musician and model Slinky Sunbeam, who had worked with Laura Marling and Girls Aloud. They went out briefly, then broke up, as did Adele's heart.
"Yes, it's about my ex. It's all about my ex." Adele sighs. "It was devastating learning to be on my own again. I feel such a failure for not making it work. I'm sure this sounds quite naive, but for me, he was absolutely the love of my life. It was just bad timing." She shrugs. "So there's a sort of disgusted bitterness in me, but also I'm looking forward to meeting the person who's going to help me get over him."
The music Adele heard in America on her last tour has already done its share. She made friends with her tour-bus driver, Bee, who was from Nashville – she had to sit at the front of the bus to smoke, she says, laughing, because that's where the windows are. "And the music he played... I was like a four-year-old in a candy shop." She loved the simplicity of traditional artists like The SteelDrivers and Steve Earle. "And in the first ten seconds you know exactly what the song's going to be about. Unlike all the modern, egotistical trendy music over here."
21 takes this lead and runs with it. 'Rolling in the Deep', the gutsy first single, was written the day after her relationship fell apart. "My heart was pounding, and the speed of the song is the beat of my heart," Adele says. "I didn't want to write a ballad about it. I wanted people to listen to it and be like, 'Shit, it sounds like she's going to kill him.'" 'Rumour Has It' is a masterpiece of fierce southern soul in which a girl dreams that her boy wants to come back to her. The album also features a cover of 'Love Song' by the Cure, the first band she saw live, with her mother, as a five-year-old. "I was achingly missing my mum when I recorded that in LA," she says. "It only took one take. It was completely for her."
And then come the ballads – 'Turning Tables', 'Take It All' and 'Someone Like You', the song she says means the most to her, the one she needed to sing first. It tells of her man settling down with someone new, and how she hopes to find someone else like him. Adele sang it on BBC2's Later with Jools Holland last November. "I got really upset, actually," she says. "You could see it in my performance, I think. I suddenly just started really thinking of him, and I was really hoping he was watching. And I watched it back and started crying. I never watch myself back."
Adele no longer lives the celebrity lifestyle she did, albeit briefly, when her first album came out. "No more Bungalow 8 with Lily Allen for me," she says. Now she catches up with friends in London over takeaways and meals out. She loves Kai's Chinese restaurant in Mayfair, she says, but her heart belongs to the Satay Bar in Brixton, "behind the Ritzy cinema." She worries that she doesn't see her friends as much as she should. "I get scared that they'll get upset that I didn't remember little details of their dates or their boyfriends – I don't want to become someone absent from their lives."
She's recently become a good cook and says she makes a mean fish pie. And she also loves buying handbags. "I will become bankrupt. I really will." She now has the money to buy "Chanel, Mulberry, Marc Jacobs, my God... But mainly Chanel." But she still confesses to getting "a little thrill" when she runs around Primark.
Adele is living with her mother again these days, in a house she bought for her in Battersea. She'd briefly moved out to her own flat in Notting Hill. "But it was no fun without my mum. I just like hearing her pottering around here and there. I enjoy it."
Recent months have seen Adele's star rise further, for reasons beyond her control. Her version of Bob Dylan's 'Make You Feel My Love', the fourth single off 19, was covered several times on the UK X Factor and thus propelled back into the top 10. Adele, in turn, has been propelled back to older musicians such as Dylan, and after promoting 21, she says she wants to go and study music in detail. "Not in university, but I'd like to go to Austin or Nashville, or even Manchester or Birmingham, places with real musical history. Because I don't think you can ever know enough about your craft. I want to work hard. I want to do things properly."
I ask her who her own role models are. "My mum, of course. And Bette Midler. Actually, one day I'd really like to be the British Bette Midler – someone who's the best at what she does in every area that she does it. She reminds me of people I know, which is what I really want to do. I want people to feel at home when they see me, to immediately feel comfort." She does worry sometimes, though, she says, that she's still young and has "a lot of time to fuck up. But the nicest thing is when I meet some of my fans, and they make me really happy and comfortable to be me."
I leave Adele behind in the white studio, the lunchtime light streaming through the windows, the assistants all beaming as they pack up around her. As I go, I hear her singing to herself.