The Calling
Atten-tion! The redoutable Roman fashion designer Veronica Leoni is preparing to roll out her debut, tour de force collection this autumn for 2 Moncler 1952. With its dramatic silhouettes and beautifully engineered fabrics, it is as commanding as the 36-year-old designer herself, who earned her stripes in the renowned ateliers of Jil Sander and Celine. This brave new fashion world needs heroes. And here she is.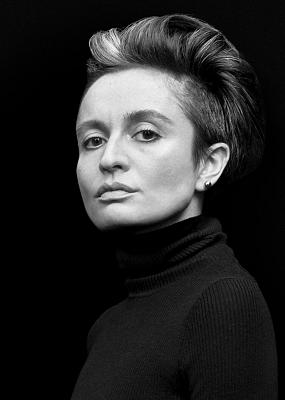 Veronica Leoni
---
Richard: Veronica, are you taking this call at your office in Milan?

Veronica: Yes, I am.
R: What's it like there?
V: Well, Milan is hot – 32º C – and my office is a cool, white box. Very simple, with just a square white desk, which is currently littered with black fine-tip Sharpies and classic Staedtler H and HB pencils – I use those for sketching. I find the white surrounding calming; they encourage me to fill the space with newness.
R: Here's to newness! What are you working on at the moment?
V: Right now, the creative for the 2 Moncler 1952 collection and launch, which is in shops from the end of August. The rest is top secret for now!
R: It sounds like you're running a tight ship there.
V: It's the nature of the fashion system now: schedules are tight, deadlines are fast. It's important to be flexible, but so is preserving creativity – that's essential. My team and I are constantly talking through ideas. I find it focuses and motivates, and leads to a deeper understanding and kinship among us, which ultimately brings out the best in people. And what more do you want? We spend so much time together that by now they know from even a simple gesture what I'm saying!
R: How do you hire?
V: I follow my instincts. I can sense almost immediately if I'll have a creative connection with a person or not – and I'm not one for second guessing my decisions.
R: Are you as decisive when putting together a collection?
V: I like to keep evolving ideas and the vision of the collection or a garment right up until I have to make a final decision. I will keep pushing for that extra consideration and complexity in the design that will ultimately distinguish it.
R: I'm curious then, how are you on deadlines?
V: Deadlines are a healthy way to progress creativity. It's an opportunity to let go and start again, build on what has been done and refresh.
R: How do you feel when you see your work being copied?
V: I love it – it means I've been successful, you know.

R: Veronica, you're unstoppable! Were you this relentless, growing up?
V: Ha! I had a lot of energy. I used to do rhythmic gymnastics and studied classical and contemporary dance. And I was obsessed with my pink ballerina tights; I wanted to wear them all the time, regardless of the outfit. Dance was very useful in teaching me discipline and focus.

R: When do you think you became a leader?
V: When my younger brother was born. I used to boss him about – until he grew taller than me.

R: What would you say has been your greatest achievement?
V: I have dreamed of being a fashion designer since I was a little girl. My grandmother was a pattern-maker, seamstress and knitter – she used to make everything for herself and things for me and my cousins. She was the one who introduced me to fashion. So to now do a job I love in this industry is my great fortune.

R: What would you like your legacy to be?
V: I think it would be a little boring to say I want to have a legacy in style and fashion. It's important to me to set a good example, personally and creatively, to other women, hopefully. I've worked with some extraordinary women in this industry – Jil Sander, Phoebe Philo – and I hope I can show the same passion for quality and beauty that they did, and demonstrate a modern way of being a woman.

R: Amen to that, sister. Any regrets?
V: No, I told you, I'm a lucky girl.


---
September 2019. Interview by Richard O'Mahony. Portrait courtesy of Moncler.