The Calling
Few people know the beauty biz like Sue Y. Nabi. During her tenures as CEO of Lancôme and L'Oreal respectively, she masterminded the launch of both the world's best-selling perfume and a renowned advertising campaign that left an indelible mark on pop culture. But this phenomenal 50-year-old businesswoman has always reached for the stars, plotting cosmic adventures as a teenager in her native Algeria. With her latest endeavour, Orveda, a clean, green, vegan skincare range, Sue plans to change the industry once again. Here, we unlock the secrets to her stellar success, as Sue Nabi answers The Calling.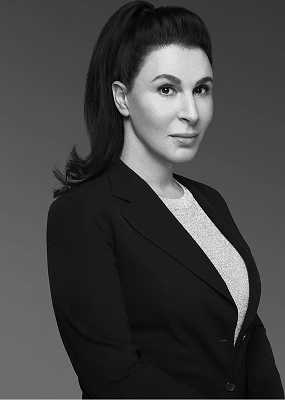 Sue Y. Nabi
---
Richard: How do you start your day?

Sue: I'm not an early riser. I like to get eight hours sleep, minimum. So I'm usually up at 7.30 or 8am. I like to prepare a green tea, eat a banana and read the news, which is probably not a good idea first thing in the morning. But I like to know what's going on. Then I shower, with just lukewarm water.
R: Nothing else?
S: Nothing. Certainly not shower gel – that's very bad for the skin. It strips its natural oils and good bacteria so it ends up needing huge amounts of body lotion to recover. After showering, I start my skincare routine: a mild cleanser with micellar water for the face, some eye cream. And then I make my bed, which is just enough time for the skincare to penetrate. After that, make-up: some concealer, a little bit of correctors – only for areas of concern though, not the whole face. Then I choose the perfume of the day.
R: What are you wearing today?
S: It's a special blend I've created for myself with cyrus, patchouli and white musk. My perfume usually depends on the weather: if it's a bit gloomy, it's usually something dark and strong, then lighter for sunny days. Maybe one day I'll launch these blends on the market. Then, I check I have everything in my bag, order a taxi and I'm out the door.
R: That's quite a strict morning ritual.
S: It's a programme that helps keep my stress levels down. I adhere to it on weekday mornings, when I'm working; weekends are more leisurely.
R: Are you equally particular when dealing with email?
S: No, my approach to email is far more straightforward: once I leave the office at 6pm, I stop. Email feels like slavery, so it's company policy not to send any after 6pm. It's important that my employees have downtime and a private life, so they can take care of their children, read books, learn new things.
R: Are you calling from your office right now?
S: Yes.
R: Describe it to me – what are you looking at?
S: A beautiful arrangement of white roses that's sitting on my desk, which is made from reclaimed wood. All the furniture in our office is made from recycled or up-cycled materials. Nicolas Vu, the co-founder of Orveda, built the desk – he's very good with his hands. My office is surrounded by glass, overlooking Vauxhall Cross. Then I have some pieces of bamboo in water dotted around the room. I love bamboo. We use it in our skincare line instead of water.
R: What are you working on right now?
S: A fabulous SPF, which is taking some time to perfect. We've discovered that chemical SPF tends to penetrate the skin quickly and measures of it have ended up in people's blood stream. Even if it's not toxic, that's not ideal. There are also some questions over the adsorption of non-mineral SPFs, which leaves us with your classical mineral SPF as the safest bet. But those make people's skin look very whitey, which isn't a good look, especially if you have dark skin. So we're trying to find something pure and safe, with proper UV protection that looks good on the skin. We're spending a lot of time talking with scientists and lawyers to figure out the best solution. But it will only be launched when it's truly ready.

R: Do you not impose deadlines?
S: We usually set a time frame of one year for product development, which is a lot – most other companies would do this in six months. But here we launch a product only when it's as near perfect as possible because, of course, there's no such thing as perfection. When I arrived as CEO of Lancôme in 2009, I was tasked with launching a new fragrance within six months. It ended up taking three years! But I wanted to make something that I could be proud of. We launched La Vie est Belle in 2012. Today it's the best-selling fragrance in the world.

R: There's no arguing with numbers, Sue. You were also responsible for L'Oreal's "Because you're worth it" campaign in the late-1990s, right?
S: That phrase was first used by L'Oreal in the 1970s when they launched a new hair colour that was twice the average price of any other in America at the time. The ad starred Cybill Shepherd and the line was actually, "It's expensive, but I'm worth it." Then it was abandoned for two decades. When I was promoted to CEO of L'Oreal, I thought it would be fun to revive it.

R: It's become an iconic part of pop culture.
S: It's funny, I remember it not being very well received in the UK at the time. People here thought it meant, I'm better than you, which was not the intention at all.
R: But so catchy. How do you feel when you see your work being copied, which I gather is rife in the beauty industry.
S: This is true – it's a copycat industry. I've seen other, big brands already copying Orveda, sometimes blatantly, and we're only two years old! But I can't control this. It's important to remember: don't try to control every thing in your life, that will make you sick. Part of me is a little proud, in fact – only good things are imitated.

R: Tell me, what was your first encounter with the beauty industry?
S: My mother! Seeing her using makeup from Estée Lauder. She had a palette in a green box, and inside there was everything – lipstick, blush, concealer, eyeshadow. I must have been 7 or 8 years old, but I can recall it so vividly. My father also travelled a lot to France for his job – he was an engineer – and he would always bring fashion magazines back home to Algeria. I remember being obsessed with the beauty adverts.

R: What were your ambitions as a child?
S: My dream was to be an astronaut and go into space. But you need 20/20 vision, which I unfortunately don't have. Still, I'm a huge science fiction fan.

R: Any recommendations?
S: You must read Axis by Robert Charles Wilson and Le Problème à trois corps by Liu Cixin. Those are two of my favourites.
R: Who or what has had the greatest influence on you?
S: Oh, Steve Strange, the singer from the 1980s electro-pop group Visage, had a huge impact upon me as a teenager. "Fade to Grey" was my first ever record and his whole gender-free attitude was a revelation. It's stayed with me to this day.

R: Viva Visage! What would you say to your teenage self now?
S: You were right! You were right to be different and to fight for who you are. Because all the success I've had has been down to being different and staying true to who I am, not trying to fit into a mould.


---
June 2019. Interview by Richard O'Mahony. Portrait by Charles Helleu, courtesy of Orveda.