The Calling
As the rest of us were making vague, wellness-related resolutions at the start of this year (hello, Dry January), Polly Staple was busy committing to a rather different programme. The woman known to the art world as the curator's curator kicked off 2020 with a grand new title: Tate's Director of Collection, British Art. As such, Polly will lead acquisitions of new and historical works for the prestigious art institution. While she's keeping schtum about precisely what's on her hit list, the remit is clear: to define the world's greatest collection of British art for the 21st century. Polly is known for the excellent taste and cultural prescience that defined her tenure as director of Chisenhale Gallery in east London from 2008 to 2019, where she nurtured a generation of new artists whose work is already adorning the hallowed walls of Millbank. The woman of the moment answers The Calling.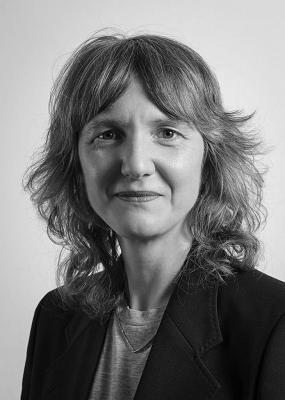 Polly Staple
---
Richard: Polly, how's the new job going?

Polly: I've had to process a lot of new information very quickly and get to grips with using a PC! And coming from a smaller institution, it's been intriguing to see how a large-scale organisation like Tate can move simultaneously very slowly and very fast.
R: What's your office like?
P: The Tate offices are in a former military hospital building just behind Tate Britain and the curatorial department is organised largely by department chronologically. So the first floor is historic, the second is modern and the third floor is contemporary. That's where I am.
R: Is it a corner office?

P: It does have three windows – overlooking the staff canteen though. Having my own office has been a major shift for me because at Chisenhale it was open-plan. It's been quite nice to sit in silence rather than having to put my headphones on.
R: Does being director of Tate's British art collection mean you get to choose a fabulous painting for your office?
P: I wondered the same! But sadly not. The offices aren't climate-controlled for one. But I am thinking of hanging a large screen print I have by the artist Celine Condorelli, which just says 'No!'.
R: What time do you arrive at work?
P: I'm normally there by 9.30am, but, I mean, arriving at the office is interesting these days. Do you arrive physically or are you "in the office" when you're checking your email? Sometimes I might arrive at 8.30am on my phone. Acknowledgement of those kinds of working practices is important to me. At Chisenhale, people didn't send emails outside of working hours. We did a project and exhibition with the artist Maria Eichhorn, 5 weeks, 25 days, 175 hours, in 2015 that looked at how we work and what work is, where she closed the gallery for the entire run of the exhibition and all the staff had to leave.
R: I'm not sure you'll get away with that at Tate.

P: It's unlikely. But it's important to me to bring those values into such a big institution. I've never worked in a museum before and I've always been quite curious about it, particularly as the new generation of British artists we had been seeking out over the last 10 years at Chisenhale, like Helen Marten or Lynette Yiadom-Boakye, are now the artists entering the Tate collection.
R: What makes you so good at picking them?
P: I have a good eye.
R: Ah, this mysterious curator's eye we hear about – what exactly does that mean?
P: Well over the years I've realised the one thing I can do well is hang a show!
R: Ha! An essential curatorial skill, one would imagine.
P: "A good eye" is a cryptic descriptor for something that's like any other expertise; a rigorous analytic ability based upon years of experience, education, travel, dealings with artists, discussions with colleagues, conversations with the public. And then being able to coalesce all of those factors quickly, to say, "OK, this is a good work of art." We could only do four major commissions a year at Chisenhale so we had to be precise in our choices. The questions I always ask are, how does the artist understand what they're doing? And how will this artist's work be judged, historically?
R: Are you a thoughtful manager?
P: I enjoy the psychology of it; thinking about how people work, and how they can do the best work possible. The nature of Chisenhale meant that we were often giving young people their first jobs and mentoring was an important part of that.

R: What was your first job?
P: When I was 15, I was a Saturday girl in Peter Jones on the King's Road, in Chelsea. I wasn't particularly academic then and I just wanted to work in the world so I got a job in the China and Glass department. It was run by Mr Pilgrim. He was an incredibly good manager.
R: So we have Mr Pilgrim to thank!
P: I learned a lot from him. I must say though, joining Tate, I was looking forward to no longer being the only person in charge anymore. Running a small organisation is quite precarious – you are plate spinning all the time.

R: Where do you go to think?

P: I walk everywhere as much as possible. I live in Clerkenwell, in central London, which makes that slightly easier, of course. But charging along the road is very useful for clearing the head and providing invaluable thinking time.
R: So Polly, what fabulous new horizons lie ahead?
P: Museums by their nature move slowly and it will be three to five years before any kind of impact of my arrival is really felt. I've been brought in to make very specific decisions about the works acquired to ensure the collection represents our time and the diversity of British art. It will be really exciting to be able to look back in a few years and think, Oh wow, we acquired that.


---

January 2020. Interview by Richard O'Mahony. Portrait courtesy of Polly Staple.