The Calling
Paola Antonelli's esteemed career is down to embracing opportunities — as a teenager she worked with Giorgio Armani, and taking chances — she's the person who acquired Pac-Man to the Museum of Modern Art's collection after all. Now, after 23 years as senior curator of architecture and design at MoMA, New York, Paola is, she says, exactly where she should be.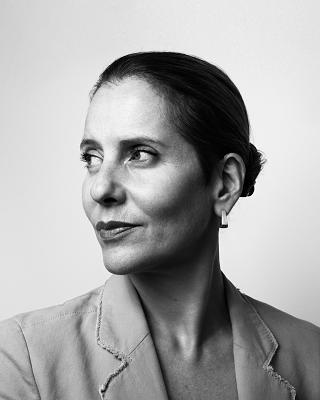 Paola Antonelli
---
Richard: How do you start your day?
Paola: I wake up at six and make myself an espresso, glance at the news and check emails. Then I'll FaceTime my parents in Italy. After that, I go to the gym, return home to shower, talk to my husband and then take the subway to work. On the way from the subway to the office I usually speak to my sister via WhatsApp.
R: That's a very specific routine. Are you equally particular about your office?
P: Well, almost all the offices at MoMA have USM Haller furniture in white and black Aeron chairs. Mine is not kept especially orderly, but it is my woman cave. At home, I also use an Aeron chair – they really are the best – and my desk is a wooden extendable table that I bought at the liquidation auction of the old Dorset Hotel on West 54th Street. It cost $50.

R: If you were to draw a pie chart of an average day, how would your time be apportioned?
P: In normal circumstances, communication of all kinds – from meetings to emails – takes up the lion's share. Email is my preferred medium, but I get so many messages that I'm always behind – and it doesn't help that I'm incapable of writing brief ones. I dictate them into my phone or computer and then correct the typos. When we're working on a show installation that becomes my sole focus – it can be an excuse not to respond to people outside the exhibition team! Then I'm always working on research projects and the MoMA R&D Salons.
R: What are you working on right now?
P: I'm guest curating the XXII Triennale di Milano, an international architecture and design exhibition, which opens in March 2019. The theme is Broken Nature: Design Takes on Human Survival; it looks at design strategies to deal with major issues such as the current environmental crisis and social inequality. And MoMA's renovation and extension will also be completed by 2019 so we'll re-install the entire collection for its reopening.
R: Did you always want to be a curator?
P: I never set out to become one. Things happened, as they do, that led me to here. I saw the job listing for MoMA in I.D. magazine — the international design magazine, not the British style one — applied and was offered the job. And, hello, you don't say no to MoMA!
R: So what were your ambitions as a schoolgirl?
P: Oh, I had no idea. But I was fortunate enough to have parents who could support me while I figured it out.

R: What was your first job?
P: I worked as an intern in the Giorgio Armani press office in Milan every afternoon for three years when I was teenager. After school I would grab a piece of focaccia then walk three blocks to the showroom on via Durini; it was all black carpets, black curtains and black aluminium. This was in the mid-1980s when everyone was wearing Armani — it was very glamorous.
R: Was that your first encounter with design?
P: In Italy design is very commonplace. I grew up surrounded by design classics such as Joe Colombo dressers and Bialetti coffee machines. But you also had heirloom furniture that had been handed down through decades, even centuries. Everything lived together seamlessly.

R: Who has had the biggest influence on you?

P: Oh, there have been many, but two in particular stand out. Italo Lupi, who I still adore to this day — he was the art director at Domus when I worked there, he really pushed the magazine with his idosyncratic graphics, creating some of its most memorable covers. A true genius of design. The other is Giulio Castelli, the founder of Kartell, the plastic furniture company. In my mind, he was the most perfect representative of Italian design and its symbiotic relationship between creatives and manufacturers that was all about exchanging knowledge; that taught me a lot.

R: What would you say has been your biggest achievement?
P: I've been working and living in New York for 23 years now, but when I arrived here from Los Angeles, it was such a culture shock – the city was so brusque, the weather was freezing, and I knew nobody. Every day for the first month, I would go to the bathroom and cry. Now I'm proud to be a New Yorker. When the exhibition Items: Is Fashion Modern? opened in October this year, there was an article in The New York Times that described me as a "no-nonsense New Yorker born and raised in Milan". I was like, Oh God, The New York Times called me a New Yorker! I was almost in tears of joy.


---
December 2017. Interview by Richard O'Mahony. Portrait courtesy of Museum of Modern Art, New York.