The Calling
As head of modern textiles and fashion at the Victoria & Albert Museum, Oriole Cullen may have an astonishing collection of sartorial treasures at her white-cotton-gloved fingertips, but the 42-year-old curator enjoys a no-nonsense relationship with clothes. You're more likely to find her sleeves rolled up in the storeroom than swanning around in couture. Should the occasion call for some showmanship though, Oriole will be front-of-house, radiating her considerable Irish charm – as at the recent opening of Christian Dior: Designer of Dreams, her third major exhibition for the beloved London institution. It's all in a day's work for this most contemporary of curators, who likes to keep meetings brief, preferring to walk and talk.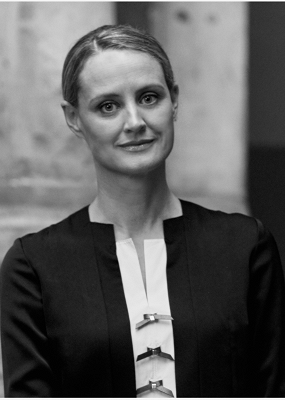 Oriole Cullen
---
Richard: What are you working on at the moment?
Oriole: I've just finished the installation for Christian Dior: Designer of Dreams. So we had our lighting team in working at heights; the exhibition text panels placed; and our textile conservators setting up the dressed mannequins. There was a lot of "a centimetre to the left" and "just a touch to the right".
R: Ah, the curator's eye.
O: I tend to become obsessive over the tiniest details at that stage. Maybe people won't even notice it, but things have to look good. It's one thing presenting historic pieces as they would have appeared in their time, but how do they now stand up to the other objects in the exhibition around them? Or against the expectations of visitors to the museum who are already exposed to so much in their own lives on a daily basis? There is a pressure to strike a balance.
R: How many people do you manage?
O: For this show it was 40 people; we had about 100 working on it in total. As the exhibition's curator I'm weighing-in with sign-off on pretty much everything – it's just endless questions!
R: Do you enjoy managing people?
O: I suppose, yeah. I mean, being a curator can be one of those situations where you got into the job because you love being with certain objects or doing specific research or working on a show. But, as you advance, your time is diverted away from those hands-on aspects to dealing with more managerial things. But I don't mind that.
R: What's your advice on hiring the right people?
O: This might seem very obvious, but it's more important that they have a genuine passion for the subject – in my case dress history – and the material they are working with, than the idea of the job alone. I think "curator" is one of those job titles where its image is perhaps more glamorous than the actual day-to-day.
R: I guess curators are known for a particular look. What do you wear to work each day?
O: You mean my Issey Miyake pleated dress and large amber beads? I've been up ladders, in-and-out of the goods lift and crawling around on the floor the last few days so I've been wearing jeans and a sweatshirt. Not quite the curatorial look you allude to!
R: What were your ambitions as a schoolgirl?
O: When I was little I loved acting and performed in school plays. But by the time I turned 12 I realised that my future did not lie under the bright lights of theatre.

R: You put on shows of another kind now.
O: It is quite interesting how the role of the curator has shifted. When I went into museums in 1998, after my MA at the Courtauld Institute of Art, it was a behind-the-scenes figure – nobody really talked about them or wanted to know about them. Now there is such a focus on being front-of-house and people wanting to know who's behind it all.

R: It's curator as auteur, right?
O: I find that amusing, because actually you've got this extraordinary team behind you – no curator produces a show alone.

R: Can you tell me about the attitude towards work in your family, growing up?
O: My parents are really focused people, full of energy and always doing something. My dad worked in finance and my mum was a primary school teacher. I have two younger siblings who are incredibly high achievers – I do wonder how I'm related to them – and another who's very relaxed. So I think I land somewhere between them on that spectrum.

R: What was your first job?
O: I was a Saturday girl in a clothes shop on Grafton Street in Dublin – oh, it was fantastic! The customers were women from all walks of life and I loved helping ones who didn't have a clue about clothes or found choosing an outfit overwhelming, and then seeing them leave transformed.

R: Who or what had the biggest influence on you?
O: Years ago, I was advised by a friend's grandmother who has a tremendous collection of historic fashion, never collect anything. So I don't. It was good advice.


---
February 2019. Interview by Richard O'Mahony. Portrait by Jamie Stoker, courtesy of the Victoria & Albert Museum. Christian Dior: Designer of Dreams runs until 14 July 2019.