The Calling
The Austrian composer Olga Neuwirth's opera Orlando, which premieres at the Wiener Staatsoper this December, brings Virginia Woolf's epic, 1928 time-hopping exploration of gender crashing into the 21st century, with Comme des Garçons, the milliner Stephen Jones and the performance artist Justin Vivian Bond along for the ride. Such theatrical promiscuousness is Olga's signature, her work a thrilling symphony of riotous instrumentation and multimedia technology, where everything from trashy-sounding synthesizers to computer-controlled grand pianos to slapstick special effects can find its way in. It's a provocative style that has ensured Olga her share of the spotlight in a profession where the old-boys' club still occupies centre stage.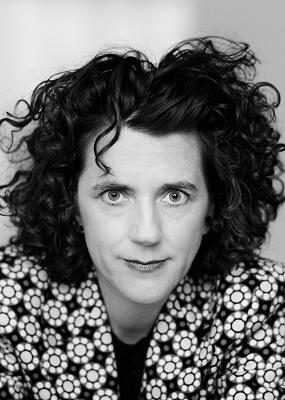 Olga Neuwirth
---
Richard: When people ask, what do you say you do for a living?

Olga: I tell them I'm a freelance composer, to which the usual response is, "Does that still exist?"
R: What, then, is the daily routine of a freelance composer?
O: I need a lot of coffee because I like to get up early. Once I've had my coffee, I go back to bed for 20 minutes to free my brain. Composing music requires a clear mental space – the poet Marina Zwetajewa said, "During lying, the soul opens up." Most of my work is done alone, in my brain, imagining and inventing sounds and music, which I try to get down on empty white pages. Then it's to my desk until noon, a one hour break, and back to my desk until 7pm.
R: How do you dress for working from home?

O: It has to be comfortable, like pyjamas. For my opera The Outcast, at Wiener Konzerthaus, and my current opera Orlando, I got myself work overalls to remind myself everyday to go to my desk, like Bartleby the Scrivener.
R: Do you use a particular writing instrument when composing?
O: I use pencils – I like their scratching sound.
R: What are you working on right now?
O: A new orchestral piece for the New York Philharmonic with the British countertenor Andrew Watts and the Brooklyn Children's Choir. And also an opera for the Théâtre du Châtelet in Paris, after a libretto that the writer Barry Gifford and I wrote together in April.
R: How do you know a composition is finished?

O: I just have to decide – which is a skill that I've had to learn. Otherwise I would just carry on, continuing to change things all the time to make them better. But as a freelancer, you have to stick to deadlines – otherwise you don't get paid.

R: With so much of your work going on in your head, Olga, where do you go to escape?

O: I've found that the best place for me is a silent seaside, that's why I used to live in Venice and San Francisco – we don't have access to an ocean in Austria.

R: What were your ambitions as a schoolgirl?
O: It was either to become a female Albert Einstein, a female Albert Schweitzer or a female Mile Davis. I grew up in a semi-bohemian family – my parents both had regular jobs and worked a lot, but there was also a lot of leisure time with their many friends who would visit us – our house was open to everybody.

R: What was your first encounter with music?
O: My father was a professional jazz musician, with a record collection of more than 12,000 vinyls, so music has always been in my life. Like my father, I enjoy rummaging around in record shops. I love their atmosphere of time passing while you're searching for the unknown.

R: If you hadn't become a composer, what else would you like to have done?
O: My one regret is not becoming a scientist. I think I probably would have pursued geology or neurology or perhaps medicine and have helped in third world countries.

R: What would you say has been your biggest professional achievement?
O: Being able to make a living as a freelance female composer for the last 30 years in a still, very male-dominated domain.

R: What's next for you after Orlando?

O: Orlando is my opus summum, where I have brought together everything I was interested in for those 30 years. I want to continue my wild exploration of sounds, and the camouflage of emotions through music, the simultaneousness of the sublime and the banal, and the transformation of the everyday. I've been trying to realise my next opera for the Théâtre du Châtelet since 2012, and finally someone is interested.

R: Do you ever consider what your legacy might be?

O: I have not started thinking about that yet.


---

December 2019. Interview by Richard O'Mahony. Portrait by Harald Hoffmann.