The Calling
From ruling the catwalks of the 1980s to fashioning the blueprint for 1990s trip hop – not to mention the years working with William Burroughs and Herbert Huncke – the songwriter, producer and model Leslie Winer brings fresh meaning to multitasking. Since 2000 she has been living the good life in the French countryside, making music, tending her farm and fronting the occasional perfume advertising campaign for Gucci.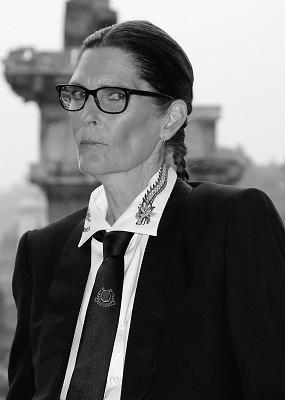 Leslie Winer
---
Lucy: What do you do between waking up and starting work?

Leslie: We have a little stove in our room, so the first thing I do is stoke the fire to get the smell of wood smoke going. Then I'll meditate for an hour or so before getting dressed. I'm usually in long johns and perhaps an old French hunting suit. I feed the animals: we have all sorts – dogs, cats, rabbits, chickens, fish. My philosophy is, I'm happy if the animals are too. Then the rest of the day is spent writing and recording.
LM: Does working on something every day make it difficult to know when it's finished?
LW: Well, every album is different. If it's my own work – it's a feeling more than anything else. But if I'm working on stuff for other people, you don't always agree on when something's finished. I've learned to let go of that. I have two perfectionists in my family, so I like to watch them fool themselves into thinking nothing's ever good enough. It's taught me to say, "Meh, that will do."
LM: So, a deadline doesn't bother you?
LW: When it comes to work, I don't care so much, but if I know I have to go and see the doctor at 6.30pm, I would not be able to do a thing between now and 6.30 – I don't know how to explain that. I guess I need a large source of free time in order to get anything creative done.
LM: What were your ambitions as a young girl?
LW: To work with animals. But mostly I just wanted to ride a bike with my shirt off, like my brothers, and enjoy the same rights they seemed to have. That and to own a pair of desert boots. I've since fulfilled both ambitions.
LM: What was your first job?
LW: Working in my stepfather's deli – I used to deliver groceries in Boston's financial district. And I had to wake up at three to get there on time. He'd say, "Run this poultry down to State Street for me, would you?" I must have been eight years old!
LM: Who do you think had the biggest influence on you, growing up?
LW: God, so many different people. William Burroughs, because I spent so many years working with him as his recording engineer. The writer and poet Herbert Huncke is another – I'm co-editor of his estate. Mostly though, I enjoy the company of people with the vacant courage to let their freak flag fly.
LM: Your work has attracted copyists. How do you feel about that?
LW: I just think, good for them for trying. I'll give you an example: I saw a video of this woman dancing to one of my songs and sent it to my daughter saying, "Oh my God, look at this lady." She replied with this very insightful message, saying, "I think she looks cool actually, she looks like she's just letting herself go." She was right. I was embarrassed because it was my music.
LM: What would you say has been your greatest achievement?
LW: My daughters. All five have survived to the age of 21 and I think that's pretty miraculous. They also seem a lot smarter than my generation. You know, they actually pay attention to what's going on outside of their little Walmart minds, and that's encouraging.


---
August 2019. Interview by Lucy Milligan. Portrait courtesy of Getty Images for Gucci.