The Calling
Halima Aden stepped on to the world stage at Eden Prairie High School Performing Arts Center, Minneapolis, in 2016 – the first hijab-wearing Miss Minnesota USA contestant – championing a new ideal for how Muslim women were represented in US pop culture. In the four short years since, this crusading 23-year-old Somali American has transformed the fashion industry, stalking its catwalks and fronting campaigns for star-spangled brands such as Tommy Hilfiger and American Eagle, all the while advocating for wider inclusivity. Halima's message is simple: if something's not right, go fix it.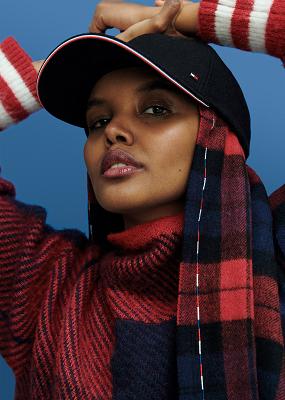 Halima Aden
---
Richard: What's happening in Minnesota, Halima?
Halima: I'm at home being a dog mother to Koko, my red coat toy poodle. He's five months old and has started going to City Paws Pet Club for one-on-one training and socialising with other dogs. It's so modern and cute: you can actually watch from home on a camera.
R: Big Mother is watching. Are you based in Minnesota full time?
H: Yes. That's something people are often surprised to learn. But I was adamant about it, going into the industry. It's important for me to be able to go back home to St Cloud, sleep in my own bed, see my mom and hang out with my girlfriends. It helps to keep me balanced and grounded.
R: Fashion is basically three cities, isn't it: New York, London and Paris. Did you face pressure to relocate?
H: In the beginning, but I resisted, and now people are used to it. My management is here in Minnesota and my three agents are in New York. There are seven on my team altogether – all women. I guess I've been able to find success in the fashion industry in a way that works for me.
R: What was your first foray into fashion?
H: Do you remember when Rihanna dyed her hair red? My hijab-wearing girlfriends and I were so obsessed with it that we searched all over St Cloud to find headscarves in the same colour. And we wore gold hoop earrings! I was 13.
R: A far cry from the Max Mara runway, perhaps.
H: Or watching America's Next Top Model with Tyra Banks! But then, I never thought modelling could be an option for me – I didn't see women who looked like me on billboards, on TV or in magazines; it was hard to imagine myself in that world. It was only after the attention I received over the Miss Minnesota pageant that fashion came calling – modelling really sort of fell into my lap.
R: How did the industry live up to your preconceptions?

H: I grew up in a refugee camp in Kenya and my attitude towards clothes was, "Do I have something on my back? Do I have shoes on my feet?" I didn't know about photographers, stylists, make-up artists. So going onto my first set for CR Fashion Book with Carine Roitfeld was a real eye-opener. I mean, it takes a small village! There's so much going on behind the scenes. I must say I'm proud of how the fashion industry has opened up to greater diversity over the past couple of years. There are now several hijab-wearing women on runways, billboards and covers. Three years ago, a hijab-wearing model didn't exist.
R: You've walked in four Tommy Hilfiger shows and this is your second campaign: what do you think they saw in you, specifically?

H: I've been very intentional with my partnerships, working with brands that share my values, and Tommy Hilfiger has always stood for all Americans. I mean, it started out as a small store in upstate New York, selling jeans and records, and became this iconic brand: what's more "American Dream" than that? Maybe a Muslim refugee from Kenya who moved to the Midwest to become the first hijab-wearing fashion model?

R: Yours is quite a story.

H: I was born in the United Nations Kakuma camp in north-west Kenya, after my mother fled the Somali civil war in 1994. It's one of the biggest refugee camps in the world. Kakuma means "middle of nowhere" in Swahili – I was born in the middle of nowhere. When my family got resettled to the US in 2003 it was like winning the lottery – refugees don't get a say or have a choice in where they're relocated. It's crazy to think about the extremes I've experienced so far. I never take any of my good fortune for granted so I work as an ambassador for Unicef. It made such an impact on my life that I have to pay it forward.
R: Who or what would you say has had the biggest influence on you?
H: My mom, for sure. She taught us the value of working hard and that education was first and foremost; everything else can wait. It's partly why I entered the Miss Minnesota pageant – college is expensive in the United States, you know!
R: Then money is important to you?
H: I'm not a materialistic person, but money means opportunity and security. I remember seeing my mom in Kakuma selling tomatoes and mandazi – a fried dough confectionery, often called African doughnuts. She would trade these for things we needed and, let me tell you, she knew how to hustle. So I learned a lot from her. A few years after we moved to America, at 10 years old, I started earning pocket money braiding the hair of residents in our apartment block. I charged $10. The larger the person's head, the more money I would charge!
R: So, you're entrepreneurial, as well: what's your next project?
H: I'd like to get into television. I enjoy the platform fashion has given me to effect change in how women are represented in imagery but I don't see enough hijab-wearing women on TV. And you know, if something's wrong, don't complain, do something about it.


---
November 2020. Interview by Richard O'Mahony. Portrait courtesy of Tommy Hilfiger.