The Calling
Emma Allen is cartoon editor of The New Yorker. It's her job to maintain the cerebral wit and satirical humour for which the venerable publication is renowned, selecting cartoons that appear on thenewyorker.com, as well as in the weekly magazine, edit the "Daily Shouts" comic essays, write its cartoon newsletter and be the magazine's social media funny guy. In these increasingly serious times, the 29-year-old Manhattanite tells Mattie Kahn to never under-estimate the power of a good cat joke.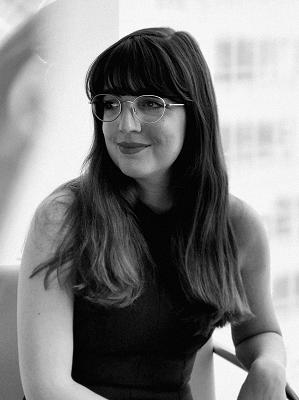 Emma Allen
---
Mattie: Your Twitter biography says that you work in the Department of Hoopla. What does that mean?

Emma: When I first started at The New Yorker in 2012, I worked as a writer in the "Talk of the Town" section. Each piece that runs there needs a title and a "rubric", which are these kind of classifications that the magazine has had for decades. A bunch of them were made up by EB White, who worked for the magazine from 1927–1976; he's arguably the magazine's most important contributor. Some of them are outdated, like There'll Always Be Ad Men, but some are hilarious. My favourite was the Department of Hoopla, which we used for stories that sort of dealt with innate absurdities and wild and wacky people. Many of the "Talk of the Town" pieces that I wrote, like the one on the post-reality TV reinvention of Nicole Richie, ended up under that rubric. I think hoopla is more or less what I'm drawn to.
M: You've commissioned many new voices to write for the magazine's website. And you've turned "Daily Shouts" into one of my greatest sources of comfort. Was it your intention to diversify the section?
E: When we're talking about the magazine, The New Yorker, there's always a real estate problem. We only publish one "Shouts & Murmurs" piece each week. We only run 15 cartoons out of the 1,000 weekly submissions. And we have this great stable of people who are the best in their field. One of the things about expanding onto the web is that you have a lot more room, so it's not this cutthroat battle: do you publish the person who's contributed to the magazine for 15 years or do you try to include new people? We worry about that a lot less now. So over the years I've been editing Daily Shouts I've sought to introduce a wider range of voices, experiment with different lengths, and try out weirder or more niche comedic styles. Online has also served as an incubator for new talent who eventually end up in the magazine; it's been amazing to see this next generation of cartoonists come up on our website.
M: I read that people still come in every Tuesday to pitch their ideas to you face-to-face.
E: The tradition of having people come in with their cartoons is a very old one at The New Yorker. I've been used to keeping my head down and editing for, like, 12 hours straight and then going home and quietly eating takeout. So this is kind of a nightmare for me. It's not like over email. People come in and you have to go through the process in person. It's weird.
M: So why keep it up?
E: Because the cartoonists love to come in. Many of them work alone, and they just want to spend time with each other. They all wait to be seen in this little side room. The older guard mentors the younger. Everyone chats and people have lunch afterwards. And they like to chat to me – the nonagenarians tell me about how their fathers fought in First World War. You'd think all these cartoonists would be used to the process by now, but they're very neurotic and needy and emotional. Basically, all they want is to be held.
M: What's it like to have a job in the humour business during perhaps the least funny moment in modern American history?
E: Well, first, you have to satirise power in order to chip away at it, and we've never had greater goons in charge, so you can either hide under the covers and despair or go after them with the funniest and most scathing lines you've got. And then, when every single second seems to bring even more depressing news, humour is a great source of relief. I think everyone working in humour today is figuring out that balance; landing as many punches to the gut as possible, but sometimes just telling stupid cat jokes – anything to get our minds off the latest breaking news for a few seconds.


---
October 2017. Interview by Mattie Kahn. Portrait by Emily Rhyne, courtesy of Emma Allen.