The Calling
The gold standard of international fashion acclaim may be the single-name eponym (Rei, Rick, Phoebe, Raf), but there's only one woman whose initials are enough: DVF. For nearly half a century Diane von Fürstenberg has been synonymous with easy glamour and womanly sophistication, the company's iconic wrap dress, which DVF launched in 1972, a symbol of female liberation. At 73, the celebrated designer, businesswoman, author and philanthropist, is routinely listed as one of the most powerful world leaders, but there's something uniquely special about recognition from her European homeland, she says. On the occasion of her receiving the Légion d'Honneur in Paris, Diane von Fürstenberg answers The Gentlewoman's questionnaire for creative visionaries.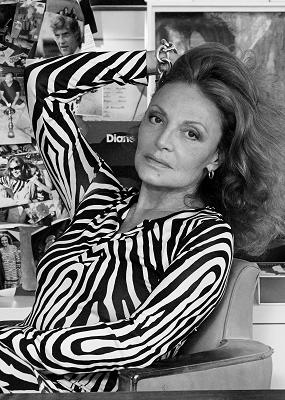 Diane von Fürstenberg
---
Richard: Hello – Ms von Fürstenberg?

Diane: Hold on, I'm going to put you on speaker. OK – Hello, this is Diane.
R: Congratulations on the Légion d'Honneur!
D: I was very surprised when they wrote two months ago to tell me – I wasn't expecting it at all. I'm the godmother of the Statue of Liberty, but the French government wanted to recognise my fundraising work for the museum in Paris, as well as my work promoting women's rights.
R: You've received so many awards and recognitions over the years, Ms von Fürstenberg – is it still a thrill for you?

D: Please, call me Diane. I'm Belgian, you know, I'm of the French culture, so any recognition I receive from home feels especially significant. It reminds me of being a little girl, learning about Napoléon – he established the Légion d'Honneur, so it has a particular resonance for me.
R: So the fabulous DVF empire all started with Napoléon?
D: Well, my ambition in life was always to be a woman in charge. To be independent; pay my own bills; be my own person. My mother had a big vanity mirror in her bedroom and I would stare at my image, not that I especially liked my appearance, but I realised then that I had complete control over that image. If I made a face, she would. If I jumped, she jumped. I realised early on in life that I had the power over my actions.
R: At what age was this?
D: 7 or 8 years old. I was lucky to become my own best friend very early.
R: Who do you think had the biggest influence on you, growing up?

D: My mother. She was a survivor of the Holocaust. 18 months before I was born, she was in Auschwitz and weighed 49lbs, so wasn't supposed to survive. My mother never allowed me to be afraid. If I was afraid of the dark, she would lock me in a closet – she'd probably go to jail for that today! But she never allowed me to be a victim.
R: When do you think you became a leader?
D: Well, if I am, I think I've always been. Do you know what I mean? It's in my personality. It comes from trusting myself more than I trust others. And taking responsibility for myself. Because the secret of life is in owning it. Own your imperfections – they become your assets. Own your vulnerability – it becomes your strength. I'm writing another book about this right now.
R: Out of all your achievements across fashion, business, politics, what would you say is your biggest?
D: The family I created, and that my children and grandchildren are wonderful people. They are independent, they are themselves. Along with my family, I guess one of my biggest accomplishments has been my brand and how through it and through my little dress I have been able to help other women. My goal in life was to become independent; I did so through a little dress. The more confident I became, the more confidence I would sell through that little dress.
R: The iconic wrap dress was more than a "little dress", though.
D: In French we call it le petite robe – it's a nothing little dress. And certainly, when it first appeared in the fashion world in 1972, it wasn't a revolution. It became one because of the women who wore it in their legions. At 25, I was selling 25,000 dresses a week! And every few years it gains a new lease of life as the next generation of women discover it, in vintage shops or in their mother's wardrobes. It's supposed to be the friend in your closet – it can always be counted on.
R: How do you feel when you see your work being copied?
D: I'm flattered by it. I mean, in this business, if you start getting upset about that, forget it.

R: Did you enjoy fame as a young designer?
D: I did. The nice side of fame is that it gives you a voice. I used to go around the United States in the 1970s, a time of great liberation for women, and meet my customers in department stores and boutiques. And I wasn't saying that I knew better, but through talking with them and sharing my experiences, I think I helped push that button of strength that's in every woman. And I still try to do this. I have a little game: every day among the first 25 emails, I do two that absolutely don't benefit me, where I introduce or connect two people. You know, wave my magic wand – and everyone can do this. With email you don't have to talk or leave a message – you just have to pay attention to what you write. It can be a powerful thing.
R: Diane, that's the most proactive use of email we've ever encountered in the history of this questionnaire! Tell me, what's next for you?
D: I'm writing books and focusing on my work for women. I have a CEO and creative director to take care of the business. I'm now 73 and I cannot pretend I'm a year younger. Yet, inside, I feel like I'm the same person I've always been.


---

February 2020. Interview by Richard O'Mahony. Portrait courtesy of Diane von Fürstenberg.