The Calling
Reality show mavens can tszuj until the cows come home – television's most influential interior designer is still Grace Adler in the American sitcom Will & Grace. Played by Debra Messing since 1998, the wisecracking straight gal cohabiting with her GBF in NYC has landed the 51-year-old actor squarely in the upper reaches of the comic pantheon. But stage was where Debra started, and a return to her beloved Broadway was slated for this month when, well, you know the rest. All being well, Birthday Candles will premiere in the autumn. In the meantime, the show must go on… And a new episode of Will & Grace this April sees Debra embodying Lucille Ball, her antecedent in iconic screwball. Legendary!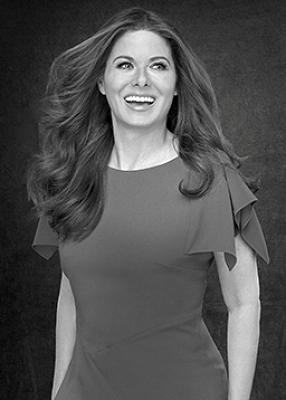 Debra Messing
---
Mark: Hello, Debra. And hello, New York. It's half past eight on Friday evening here in Amsterdam.
Debra: Then I hope you have a glass of wine in your hand.

M: Do you enjoy talking on the telephone?
D: You know what? I rarely answer it. There is something about being contactable 24/7 that makes me uncomfortable. And to be so preoccupied with missing something "important" that when the phone rings, I have to grab it – forget it!

M: You should come and live in Holland, Debra. If you get on a tram or approach the teller at a supermarket while on your phone, you'll be given very short shrift.

D: I completely love that. Americans, we're so distracted all the time.

M: Speaking of distractions, let's talk about Birthday Candles, your new Broadway play.

D: It follows the character I play, Ernestine, from age 17 to 107. I never leave the stage, and there is no intermission. So that blew my mind when I first read it. That, and the fact that it's all about one woman's interior life. I really relate to Ernestine, because she's very clear that she wants to get out of her small town. Most of my friends from high school in Rhode Island married each other!
M: So you saw acting as a means of escape?

D: When I was a young girl, my family used to drive up to Manhattan to see all the big musicals. And I remember levitating off my seat, amazed that there were these people, arm's length away, singing and dancing. It's always been magic to me.
M: Are you superstitious when it comes to theatre?

D: I won't utter the name of the Shakespearean play that you're not supposed to say backstage – but that's mostly out of respect for the other actors. And I cannot leave the theatre between shows; if I'm doing a matinee and an evening show I have to stay in my dressing room. It's something about having the world of that first performance still in the air and entering it again.

M: How do you fill that time?
D: I eat the dinner I brought with me that morning. Then I'll turn off all the lights and meditate for half an hour to let my system calm down – you're on a high after coming off stage. And then it's time for dressing, warming up my voice again, drinking tea and playing the music that I've compiled for the particular character.

M: And what about playing Lucille Ball for this tribute episode of Will & Grace, how did you prepare for that?

D: It was really about her big eyes and the wild way she used them. And her mouth, of course! Doing her lips in make-up was one of the more painstaking aspects of the transformation because the bow of her lip is very, very wide and she drew it to exaggerate it even more. Then I watched her performances endlessly to get the musicality of her delivery and the pitch of her voice, which is higher than mine.

M: How has the sitcom changed since the heyday of I Love Lucy in the 1950s?

D: I think the advent of the single-camera comedy, where sitcoms are shot more like television drama and cinema, like Modern Family for example, really changed that. I Love Lucy was a multi-cam, shot with a laugh track. And, you know, 25 years ago, when I was working on Ned and Stacey, I definitely felt there was a prejudice against sitcoms from people who were more involved in filmmaking – it was thought of as a lesser art form. And certainly comedic actors were not treated as if they were artists.

M: Tell me about your family's attitude to work.
D: My parents were adamant that you could do whatever your heart desired so long as you were willing to work for it. My father was in charge of sales at a jewellery manufacturing company and I don't recall him ever missing a day of work. My mother was a wonderful singer who recorded albums when she was a teenager as part of an all-girl quartet called the Brookstones. They used to record on the weekends at the Brill Building, on Broadway and 49th, in between Carly Simon and Carole King. Pat Boone even asked them to open for him on his European tour in 1959, but my grandmother was the only one who would let her daughter go. And within a year all four were engaged and the group disbanded.
M: That sounds like a coming-of-age movie begging to be made. When did you first feel successful in your own career?
D: The definition of success is self-sufficiency. Could I act in regional theatre while being able to pay my rent, utilities and food? My brother – he's a businessman – I don't think he thought I was a success until I was on television.

M: So what advice would you give to your teenage self now?

D: I would tell her to trust her instincts – everything is going to be OK.


---
March 2020. Interview by Mark Smith. Portrait by Andrew Eccles.