The Calling
Carrie Brownstein is busy. She's back with her old muckers Corin Tucker and Janet Weiss for a new, fiery St.Vincent-produced Sleater-Kinney album, just when we needed it most. In the 1990s Carrie and Sleater-Kinney were at the centre of the Seattle indie music scene, wielding songs as forthright as their feminist politics. In the interim, the 44-year-old has chalked up television credentials with equally progressive shows Portlandia, which she co-created and co-writes, and Transparent, in which she stars. She's currently deep in rehearsal for Sleater-Kinney's forthcoming American tour, but thankfully Carrie's got time for a chat with Hanna Hanra and to answer The Calling.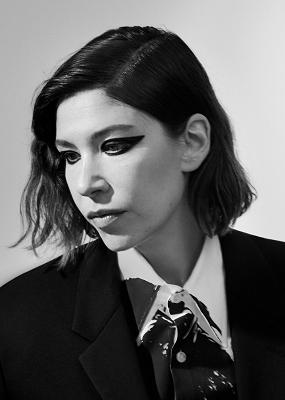 Carrie Brownstein
---
Hanna: How do you start your day?

Carrie: I love getting up between 6am and 7am. I think really clearly in the mornings and get a lot of ideas then. I let the dog out, make a coffee, put on NPR. Then I shower; afterwards, walk the dog. Then it's time to do some work. I mostly work from home. And I like wearing shoes in the house; it makes me feel like a professional. I would never work in my pyjamas – ever.
H: What do you say you do for a living when people ask?
C: I say that I'm a writer because it covers nearly everything I do. Sometimes I say I'm a director because that sounds exciting. But I never say that I'm in a band – inevitably the person asking hasn't heard of us.
H: Collaboration is part of most of your work, how do you choose your accomplices?
C: I formed Sleater-Kinney with Corin, who I knew and loved growing up, so the band was an extension of our friendship. It was the same with Fred Armisten, the co-creator of Portlandia. There's this idea that you can manufacture alchemy. I've lived in Los Angeles for the last few years and there's a lot of positioning people, putting them together to test compatibility. I'd rather just be around people who I enjoy and create something together.
H: When do you know something's complete?
C: When it's just shy of air-tight. Things should still have breath in them and not be finished to an inch of their life. There needs to be a little bit of room for a mistake, a surprise or something graceful or ugly. Then it's done.
H: What were your ambitions as a teenager?
C: Oh, I was filled with self-doubt as a teenager. During my first year at Western Washington University, I couldn't speak up to voice an opinion without sounding like I was going to cry.
H: What would you say to that student now?
C: To worry less. I guess that's what everyone says? But at that age every misstep feels like it's going to derail an entire life. Everything feels so fraught and fragile. You don't realise that life is about missteps and some of those will take you to the place you're supposed to be. Things are really terrible when there are no stakes.
H: What about with Sleater-Kinney – looking back on your years together, is there anything you would have done differently?
C: I think we did all the right things, in that we were brash and irreverent in a way that suits youth. And I don't bemoan that we came out of a scene that questioned and eschewed ambition. Music is tricky because it's one of the few artistic realms where people ascribe wisdom to youth.
H: How do you like to spend your time off?
C: I don't differentiate between work and life. I love hiking and I like the woods and walking helps me think. I've also got really into games nights in the past couple of years.

H: What games do you play?

C: Hmm… let's say, role-playing parlour games.


---
August 2019. Interview by Hanna Hanra. Portrait courtesy of Chalk Press Agency.