The Calling
Beneath the mangled surfaces, twisted shapes and searing colours of Angela de la Cruz's paintings is a rollicking sense of humour, something the 55-year-old Spanish artist believes is integral to survival – and living in London. A wheelchair user since a stroke in 2005 – she works remotely with a team of six assistants to realise her wondrous visions – Angela's ascent has not been without its complications. But for the La Coruña-born, Slade-educated artist, a love of slapstick, an insatiable curiosity and regular double shots of espresso are the stuff creative ingenuity is made of.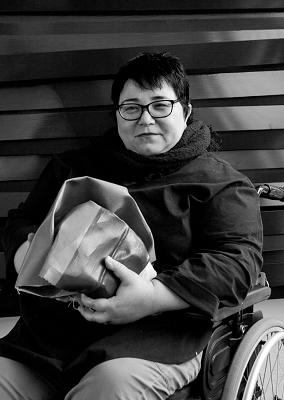 Angela de la Cruz
---
Richard: What do you tell people you do for a living?
Angela: I always say that I'm an artist.
R: When did you start referring to yourself as one?
A: At 22, when I went to do my pre-foundation at Camden Arts Centre in north London.
R: Were you a precocious child?
A: Ha! I wanted to be a genius! I wanted to be Marie Curie. I used to cut out and collect the culture sections of various newspapers as a teenager because I wanted to know everything – that became my introduction to art. And comic books, which I also was really into.
R: Is that where you get your sense of humour?
A: Humour has always been an important part of my art. It can be a great release; it certainly helped me through my time in hospital in 2005. It can be a useful way of processing and coming to terms with the reality of your circumstances.
R: What are you working on at the moment?
A: I'm using this time to think and prepare. In a funny way it's going to turn out to be a very fertile period for artists. Freed from conventions, you can begin to think about the fundamentals. So I'm spending a lot of my time working on the computer at home, researching new ideas and reading everything from Carlos Fuentes to Heat magazine.
R: How do you like to start your day?
A: I drink a lot of coffee as I can't smoke any more. It takes me little time to prepare, but it's an important part of my day and it gives me a lot of pleasure.
R: Do you have a uniform for work?
A: I love fashion. Even right now, I like to be well-dressed at home. But comfort is also important. People who wear their pyjamas all day piss me off! You'll always find me in Converse trainers though, whether I'm wearing high fashion or COS. I enjoy modifying clothes: at the moment I am transforming an old bra into a face mask, with shoe laces to hold it in place.
R: Inventiveness comes with the territory, I suppose. How long on average do you spend...
A: On turning a bra into a face mask? About 20-30 minutes.
R: Ha! I was going to say on a work of art, but that would have been my follow-up.
A: It depends on the piece. I've been approaching painting as an object since about 1996, so a piece could take anywhere from 24 years to one minute. I also recycle and repurpose works: stretchers and canvases from old paintings are often used to make new ones.
R: When do you know a piece is finished?
A: I just do.
R: Do you impose deadlines?
A: I don't; the market does.
R: Is money important to you?
A: Yes and no. Money brings the freedom to be able to produce more work and to explore different materials. But I hate spending a lot on production costs. When I started out in the late 1990s, I was on the dole and had very little money. I was in a studio near Spitalfields Market, in east London – Spitalfields was a dump then. I used to have people shooting up, shitting and pissing outside my door.
R: How do you think your work has changed since then?
A: My colour palette has little by little become brighter. I used to use a very sombre palette – the paint was cheaper to source for starters and it reflected the dirtiness around me. I was also navigating a new way of working with painting then, and now my work is more assured. And obviously, I'm not an active participant in its rendering, and work more remotely. So a lot of my work at the moment reflects that.
R: What's the last thing you do before you leave the studio?
A: I usually leave around 4.30pm after drinking some more coffee.
R: Where do you go to think?
A: I do a lot of thinking in bed at night – I'm an insomniac.
---
May 2020. Interview by Richard O'Mahony. Portrait by Ione Saizar.